Solly Baby and Moby are one of the best baby wraps right now and each of them has thousands of fans among babywearing parents. If you've narrowed down your choice to these two options, you've done a really good job! Now let's find out which wrap will work best for your baby.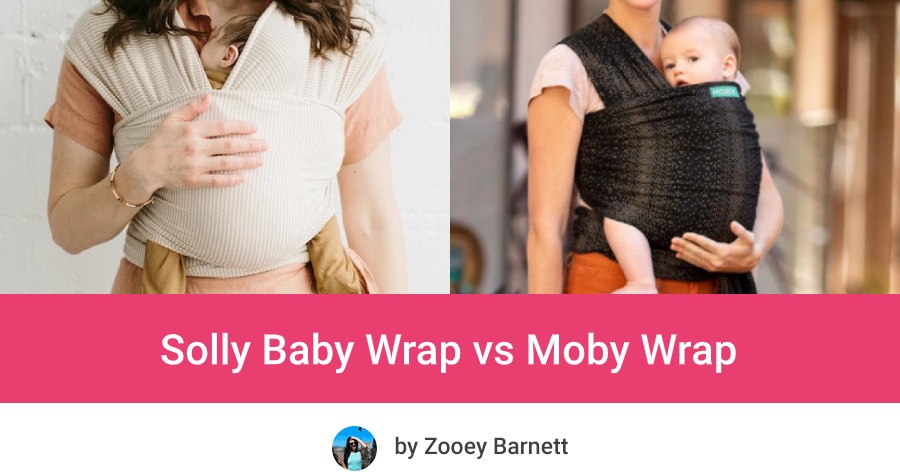 This article is NOT a substitute for medical care or advice
In general babywearing has tons of benefits, and with wraps you can even do it skin-to-skin.
Lots of experts say that wearing a baby in a wrap helps to reduce crying, soothes infants with colic and acid reflux, promotes bonding, gives the child sense of security, and of course gives mom (or dad) hands free moments to do some household tasks or have a much-needed "me time".
Both baby carrier wraps, that I compare here, are top choices: they has been recognized as hip-healthy1 which means they are safe for newborn's hips. Both allow to hold the baby in an ergonomic M-shaped position and support their legs from knee to knee, allowing their hip joints to develop naturally. Both keep infant's back C-shaped, and don't force the child to straighten their legs or back, when their body is not ready for it.
But what about the comfort? Which wrap: Solly or Moby feels more comfy for newborns and babies? Which one is more convenient to wear and easier to tie?
Let's start with a short comparison: Solly Wrap vs Moby Wrap, and then we'll move onto more comprehensive reviews. I hope my article will help you choose baby wrap carrier that will fit your needs (and budget – look out for discounts below!).
| Wrap | Image | Favorite Color | My Personal Choice For | Price |
| --- | --- | --- | --- | --- |
| Solly Baby | | Favorite color: Basil (check it here) | Best features: Softest baby wrap ever; amazing for any type of weather; keeps baby in safe & ergonomic position | Current Sale: Get up to 25% OFF your wrap |
| Moby | | Favorite color: Terrazzo | Best features: Good for cold & mild climate; feels strong; suitable for heavier and older babies (up to 33 lbs) | Are you on tight budget? This is one of the cheapest baby wraps! (Check current collection here) |
Solly Baby Wrap vs Moby – Main Differences
These baby carriers are wrap type – which means you get a long piece of fabric that you need to tie around your body. But when we take a closer look at each model, we will notice a few important differences. These can make you prefer one over the other.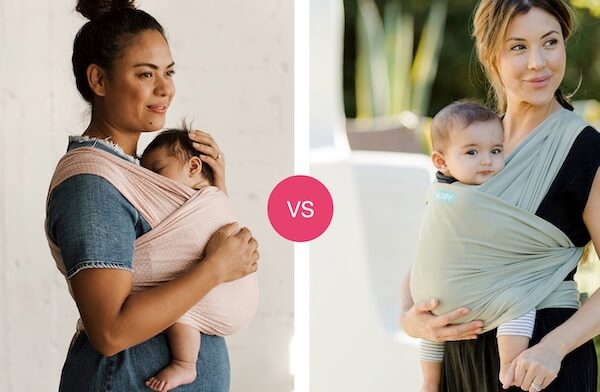 The major differences between Solly vs Moby wrap are:
Fabric
Solly Baby Wrap is made of 100% certified Lenzing Modal, which is silky-soft, lightweight and has just enough stretch in it. You won't find more breathable wrap than Solly!
On the other hand, the Moby Wrap comes in two types: the classic version is made of 100% cotton, while the Evolution version is 70% viscose and 30% cotton knit.
The cotton one is obviously thicker and may get hot pretty quickly. The viscose one is lighter, more stretchy and allows the air to flow through the material. But it's not as breathable as Solly Wrap.
Moreover, parents who have tried both wraps say that wrapping process with Solly is easier because the fabric is more stretchy and softer.
Length
Solly is 5.5 yards / 5 meters long, while Moby is 6 yards / 5.5 meters long. You can also order longer version of Moby – 6.5 yards / 6 meters long. According to previous buyers Solly Wrap is long enough to fit plus-size moms (wearing size 18 or even 22).
Since Moby Wrap is even longer, taller parents with bigger chest won't have problems with fitting in it. However, for a smaller person, Solly may be a better choice (less fabric around your body). For a chubby person, with tendency to sweat or heat rush, Solly seems better too because it's more breathable.
Babywearing Positions
With Solly you can wear your newborn on your chest, facing inward. With Moby you have two positions: front inward and hip carry.
Weight Limit
Solly can be used for a child up to 25 lbs, Moby – up to 33 lbs. For me 25 pounds is enough, because with heavier child I prefer to use soft structured carrier anyway. But if you want to use wrap for bigger infant or even a toddler, the max weight capacity of 33 pounds may give you some extra time to use Moby.
Price
Moby is a bit cheaper. Solly has higher prices probably due to more "advanced" and airy fabrics.
LittleBabyGear Verdict: Which baby carrier wrap is better, Moby vs Solly?
Personally I prefer Solly Baby wraps – mainly because their fabric is buttery-soft, so gentle and delicate and it has just the right amount of stretch to make babywearing convenient for moms and babies.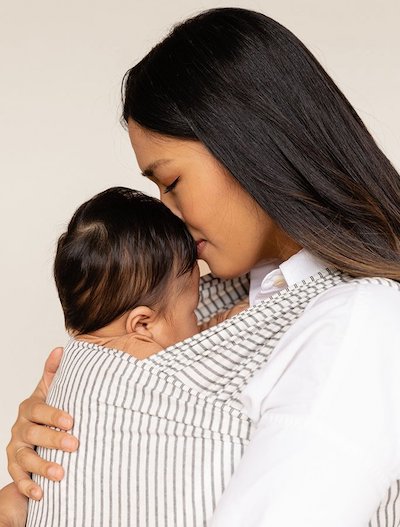 For me the breathable fabric is what makes these the best baby wraps. Honestly, I haven't found anything better during my 5-year journey of motherhood.
It's perfect for summer and warm weather, and it doesn't make you or the baby sweaty. With Solly I don't have to worry about overheating and I can feel that my little one feels safe and comfy in it.
The length of this wrap is ideal for most body types, including plus-size caregivers. Besides, it feels for me much easier to tie and adjust, because it's not stiff and it's not excessively long.
In my opinion, it's totally worth the money. On Solly website you can also read over 900 positive customer reviews who seem to love it as much as I do!
SALE ALERT: Solly Wraps are on sale and now they are more affordable! If you decide to buy more than 1 wrap you can save even 25% off! >> Grab your 25% discount here << The sale ends soon, so don't miss out on this opportunity to save money! If you just want to buy one wrap, you can still get 10% OFF with code LITTLE10 here (this discount applies to ALL wraps).
Solly Baby Wrap Review
This is a unique wrap. As I mentioned above, it is made of Lenzing modal which is sourced from the pulp of Austrian Beechwood trees. This fabric has fantastic properties: it's thin, but very strong and supportive, it's lightweight, breathable and wicks the moisture away. This way it doesn't make you all sweaty and hot while babywearing, and it doesn't make your child overheated.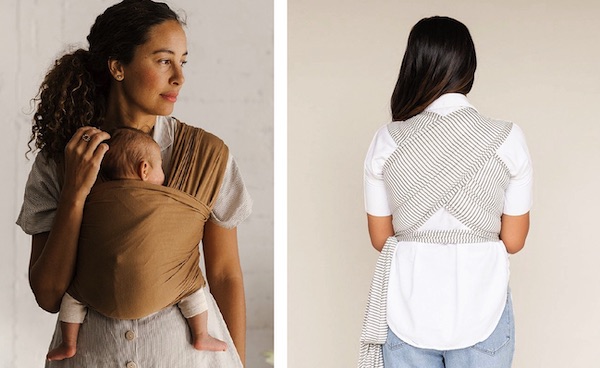 Majority of parents who have tried Solly agree that it works magic during summer walks, and it's the best baby wrap for all-year-round use.
Moreover, this wrap is stretchy and silky-soft therefore putting it on and wrapping around is easier than this other wraps.
Of course it does have a learning curve, but lots of parents say they've got used to it after few tries. Solly also has useful tutorial videos which make the whole process easier.
With this stretchy wrap you have two fabric straps X-crossed on your back – and one or two layers of fabric around your waist. This helps to distribute baby's weight evenly across your upper body, without straining your neck, shoulders or pelvic area.
I've read dozens of babywearers reviews saying that it's possible to wear a baby in Solly for longer periods because it's so comfortable and doesn't cause back pain. Babies actually feel light it in!
As you can see in the YouTube video below, while tying the wrap around your body, you need to make sure there is good neck support, because newborns lack neck and head control. Therefore the wrap needs to support them properly, so their head doesn't dangle or bump from side to side.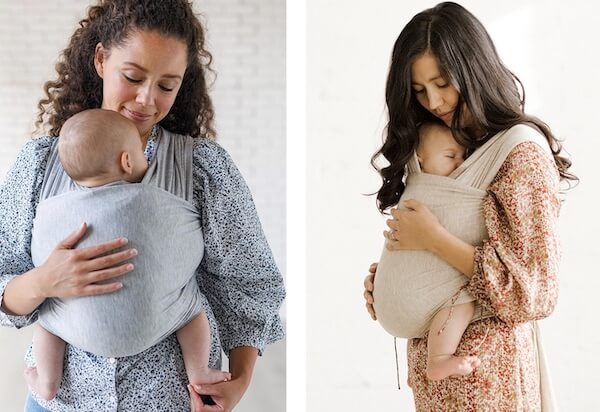 Another advantage is that this wrap doubles as a nursing cover – giving you more privacy when you need to breastfed on-the-go.
This baby carrier wrap is machine-washable and folds down neatly. If you're wondering whether it will fit in your diaper bag, I've got good new for you – it fits in majority of mommy bags.
SollyBaby is available in dozens of beautiful, cute colors and patterns. Some are gender-neutral, but there are also fashions that may better fit baby girl or boy.
If you'd like to learn more, I encourage you to read my in-depth review of Solly Wrap.
Reasons To Buy Solly Baby Wraps:
Most breathable stretchy wraps EVER – no sweating, no overheating.
Perfect for all year round use, including warm summer (and warm, humid climates).
Ultra-soft and cozy fabric – delicate for baby's skin.
Provides safe and cozy place for naps.
Easier to tie than other wraps.
Comfortable for the wearer – it doesn't strain your back.
Fits different body types and shapes – whether you're a petite or chubby parent.
>> You may also want to read my comparison of two best breathable baby wraps: Solly Baby vs Beluga Baby. Check it out here.
Moby Wrap Review
There are two versions to choose from: Classic – made of cotton, and Evolution – made of viscose and cotton blend.
If you'd prefer a stretchy wrap, Moby Wrap Evolution would be a better options. Although it's not as soft or stretchy as SollyBaby, it has more elasticity than cotton version which makes wrapping easier. Here you can see and compare all Moby fabrics >>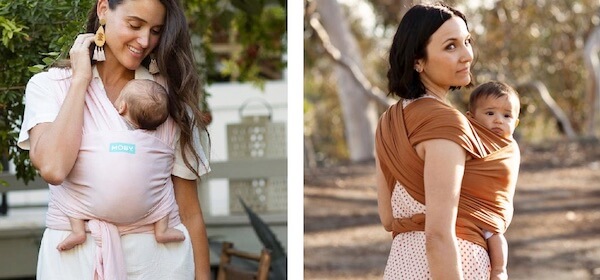 According to some parents the cotton Moby is a bit stiff and may be hard to tie, especially until you get a good hang of it. Moreover, there are also complaints about it being too hot for warm weather.
I find Moby better for mild or cold climate. It is also advisable to wear just one thin layer (like a breathable T-shirt) if you plan on wearing your babe in Moby.
Moreover, the Classic Moby may be a better choice if you don't want that much stretch in your baby wrap
Once you master the tying technique, this wrap will be convenient to use. Just like SollyBaby, it has X-crossed straps on wearer's back and distributes your child's weight across your body, so he/she doesn't feel heavy at all.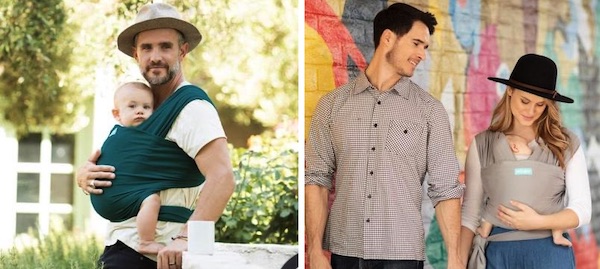 Moby baby wrap is suitable from 8 to 33 pounds. Usually it's most comfortable to wear up to about 12 months. It is noteworthy that with this wrap you can carry your baby on your hip. The hip carry position is not suitable for newborns, but you can start to practice it once your baby has good neck and head control (around 6-8 month).
What's important Moby is really long. The standard version has 6 yards, but you can also order special longer version (6.5 yards). For a short and petite person it may be less convenient to wear, because there will be more layers of the fabric which means more hot and sweat.
However, if you're a tall person, and/or wear size higher than 22, you don't have to worry whether it will fit you or not. IT WILL! Moby is one of the largest wraps out there, perfect for bigger person.

Moby baby wrap is available in a variety of styles. My two favorite patterns for Classic model are: Terrazzo and Strolling in Salvador. From the Evolution collection I really like this fashion called Starry Nights Of Salvador.
Reasons To Buy Moby Wraps:
It's a more pocket-friendly option.
Cotton is a good choice for cold climate.
Longer fabric makes it suitable for women wearing sizes 22 and higher (of course your partner can use it too!).
Offers additional hip carry position.
Distributes baby's weight evenly and doesn't cause back or shoulder pain.
It has higher weight limit so it should last you for about 12 months.
There are also two other popular wraps to carry babies, Boba and Baby K'tan. I compared them too, and you can read my article here: Boba Wrap vs Baby K'tan.
If you're just starting babywearing or feeling overwhelmed with the wrap technique, it's best to schedule an appointment with the babywearing consultant. In many cities there is a babywearing community (you can also find it online) which offer lots of support and share great knowledge with moms and dads new to babywearing!
---
The purpose of this article is informative. It's not a substitute for medical consultation or medical care. Remember: safety first! The author of this article does not accept any responsibility for any liability, loss or risk, personal or otherwise, incurred as a consequence, directly or indirectly, from any information or advice contained here.
Source of pictures:
All pictures of Solly wrap belong to Solly Baby. Source: https://sollybaby.com/
All pictures of Moby wrap belong to Moby. Source: https://mobywrap.com/