The Baby K'tan and the Boba are two very highly rated baby wraps with an impressive following on the Internet today. They come at around the same price and are suitable right from birth, and very useful especially during the first year of baby's life.
But how do they stack up against each other in terms of design, parent and baby comfort, and ease of use?
That's what we'll be checking out in this Boba vs K'tan wraps comparison review.
Boba Baby Wrap Carrier Review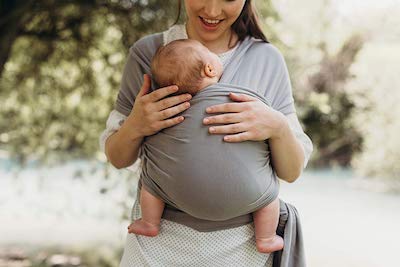 Design
This wrap comes in only one size and measures 198 inches/5.5 yards. I really like that you can get it in 15 colors and styles. There are also three types of fabric: cotton, bamboo and organic cotton.
Boba Wrap can be used right from birth until when the baby is around 18 months or 35 pounds – whichever comes first. Usually parents say it's most comfortable for infants up to 12 months.
Ease Of Use
Wraps are generally not so easy to use especially if you are a first timer – and the Boba Baby Wrap isn't any different. Learning how to make a correct and secure tie takes time. But it gets easier and easier as you get a good hang of it.
On this note, it's very impressive that the manufacturer cared to include a comprehensive instruction booklet with a step-by-step guide on how to wear the baby using the baby wrap. I also found this instructional video posted by Boba very easy to follow.
On the same subject regarding ease of use, you'll definitely like that Boba Wrap is machine-washable and safe in the tumble dryer at low temperature. So, cleaning shouldn't be another daunting task.
Parent & Baby Comfort
Boba seems to have put a good amount of effort in trying to make this one of the most comfortable wraps in the market – and they seem to have succeeded for the most part.
This carrier's size – 198″ (L) by 19″ (W) is its first telltale on matters regarding the users' comfort. Its one-size-fits-all design, for instance, eliminates all the struggles that come with determining the right size of the carrier more so if you are buying it before the baby arrives and if you are a plus size mom or dad.
The Boba Baby Wrap Carrier fabric includes 5% of spandex. This gives it a 4-way stretch feel that offers real support by offering optimum flexibility and adjustability.
With regard to the wearee's comfort, this carrier continues to rake in a lot of positive reviews due to its formfitting design that makes it perfect for preemies as well.
Another unique feature of the Boba Baby Wrap is the way it allows you to leave your kiddo's arms and legs either in or out depending on their age and weather.
Its length also makes it possible to use a portion of the wrap as head support and you can also use it to adjust the seat for excellent support.
Lastly, while this manufacturer suggests 2 ways of wearing the baby – Newborn Hold (for 2-10 pound babies) and Love Your Baby Hold (8-35 pound infants) – its lack of structure means that there are endless options when it comes to getting a personalized fit.
Pros
Cons

Available in a single size that fits all moms and dads
Easy to get a personalized fit (you tie it around your body so it actually adjusts to your shape and size)
Available in great and exciting colors and patterns
Ease to use for newborns and babies up to 12-18 months
Machine-washable

Offers only 1 babywearing position- facing in
Some users find it annoyingly long
Its length makes it unavoidable to wrap several layers that often leads to sweating
Reasons To Buy Boba Baby Wrap
Boba Wrap is designed to be tied around wearer's body. It's a long piece of fabric, so it will be sufficient for plus size moms and dads.
It serves as a few additional layers of clothes, so it's good choice if you live in a cold or mild climate.
It keeps the baby in natural position that is good for their hips, legs and spine.
Baby K'tan Carrier Review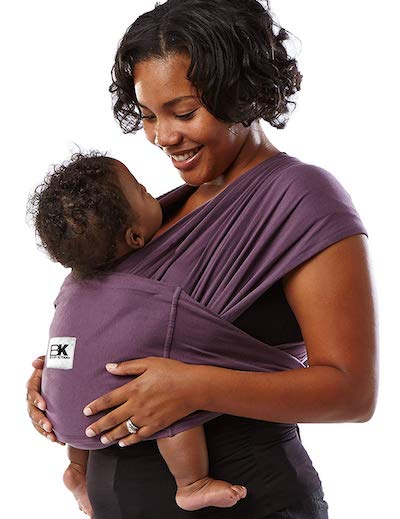 Design
The Baby K'tan isn't the usual long swath of fabric that we are used to with traditional wraps. This is more or less a combination of a wrap and sling and brings the versatilities of these two carriers.
The regular model is made of 100% cotton and now comes in 4 colors; black, denim, eggplant, and heather gray. You can also get Baby K'tan Wrap made of a different fabric (for example mesh or organic cotton which are more breathable).
The Baby K'tan is designed for use from birth to 35 pounds – most parents recommends it up to 12-18 months, depending on baby's size and weight. Unlike Boba Wrap, this one doesn't come in a one-size-fits-all design. This carrier is available in several sizes ranging from XXS to XL. To get the right size, simply use your dress' size (or jacket size for guys). On Baby K'tan website you can find some useful tips on how to choose your size properly.
Ease Of Use
This wrap is one of the best that I've come across in terms of ease of use – and the reasons are obvious. For instance, unlike a traditional wrap that requires you to wrap it around your body while still holding your infant, this one comes already wrapped and it's actually marketed as "a wrap without the wrapping".
The Baby K'tan has a patented double loop design that eliminates all wrapping and tying. You just put it on like a scarf and then put your arms through the loops (like a T-shirt).
The fact that it is always ready to wear makes it a great pick for parents who don't have the time to fumble around with excess fabric but instead want something that they can just put on and go.
Keeping the wrap clean is quite easy too in that it is fully machine-washable and can also go in the tumble dryer at low heat. You can also spot clean it on the go thanks to its soft fabric that scrubs and dries easily.
Parent & Baby Comfort
Now that the Baby K'tan does not involve any wrapping, you could think that its babywearing options are kept to a minimum too, which isn't correct.
As a matter of fact, this is one of its major strengths in that it provides a total of 5 positions to wear and carry the baby including facing in, facing out and hip carrying positions. Keep in mind that not all positions are suitable for newborn babies!
Pros
Cons

Very easy to put on (no wrapping and tying involved)
Secures the baby snuggly
No excess fabric to deal with
Available in different sizes, materials and colors
Multiple carrying options

One-size does not always fit all – you might be need to purchase another one for your partner
Choosing the right size may be difficult (some parents purchase two different sizes at first to check which one works best)
Reasons To Buy Baby K'tan Carrier
If you like the idea of carrying your baby in a wrap but tying is too confusing for you, Baby K'tan carrier is a perfect choice. It's ready to wear right out of the box.
It doesn't require wrapping a few layers around your body, so it doesn't make you sweaty. For warmer months or a hot climate it's a better choice than a traditional wrap.
Learning how to use it is really simple and quick.
Boba Wrap or Baby K'tan Carrier – Which One Should You Buy?
Both these carriers are fantastic and have lots of advantages. Boba wrap comes in one size that fits both – petite and plus size parents. It can be easily adjusted to wearer's body and shared with other caregivers – so you just need one wrap and you don't have to spend extra money on another one for your partner. Baby K'tan wrap is ready to use out of the box and doesn't require any wrapping or tying. It's so easy and quick to use.
Nevertheless both wraps have also its own drawbacks. Boba wrap is long and when you put it around your body it may make you feel sweaty and hot. On the other hand, Baby K'tan carrier doesn't come in one size that fits all. Choosing the right size is not that easy, especially if you're buying it when the baby is not born yet. Besides, if other caregivers have different body size that you, you may need a second or even a third carrier (for example for your partner or grandparents).
As you can see both these wraps are quite different, which is actually good because all parents have different preferences and needs.
I hope that my comparison of Boba Wrap and Baby K'tan Carrier will help you to decide which one will work best for you and your baby.
If you'd like to see more fantastic baby carriers for newborns, read this article. If you'd prefer a buckle baby carrier check my ranking here.
---
Picture of Boba Wrap belongs to Boba. Source: https://boba.com
Picture of Baby K'tan Wrap belongs Baby K'tan. Source: https://www.babyktan.com