Ergobaby, brand well-known from ultra-comfortable baby carriers and innovative stroller with reversible handlebar, is now adding a new stroller to the collection. Meet new Ergobaby Metro stroller!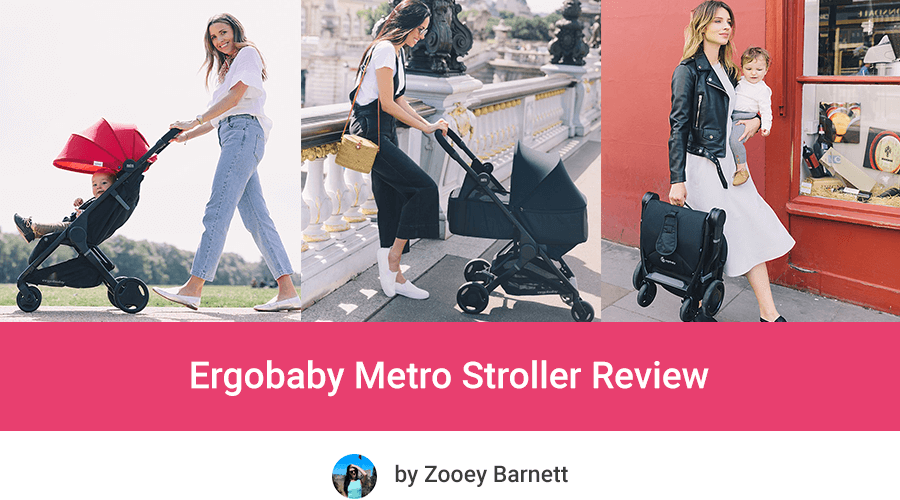 The new Ergobaby Metro is brand's debut among lightweight and compact city strollers. It is designed for parents who are often on the go and travel a lot.
I am thrilled to tell you more about this brand-new stroller that has been recently launched in the US. You know that I am a stroller maniac so I couldn't resist to review this new little thing.
Without further ado, I am presenting you the new Ergobaby Metro stroller.
This article contains affiliate links.
Ergobaby Metro Stroller Review – All You Need To Know Before Buying
Ergobaby Metro is all about comfort, convenience and portability. This stroller has all the features to provide comfy ride for your little one and be user-friendly at the same time. And all of that at less than 14 pounds!
Erobaby Metro – Seat
This new Metro stroller from Ergobaby comes with a regular seat that I recommend from 6 months. Upgraded Metro 2020 has capacity of 50 lbs (check the new version here).
The size of the seat is rather typical for a lightweight strollers – it's 13 inches wide and 10.2 inches deep. The seatback is 17 inches long, and there are about 6 more inches above it, to the top of the canopy.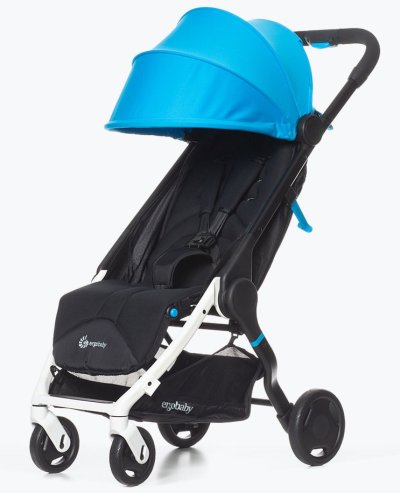 This is all-season seat thanks to a large mesh top which provides nice airflow for the baby during summer months. Of course you can close with a cover when the weather is more chilly.
To recline the backrest you need to squeeze a buckle with two straps. It's the same mechanism that we can find on Ergobaby 180 Reversible Stroller. I would prefer one-hand lever, but hey – this is a lightweight stroller! It can't have it all!
The recline is not fully flat, but it's really, really deep – very impressive as for a compact stroller.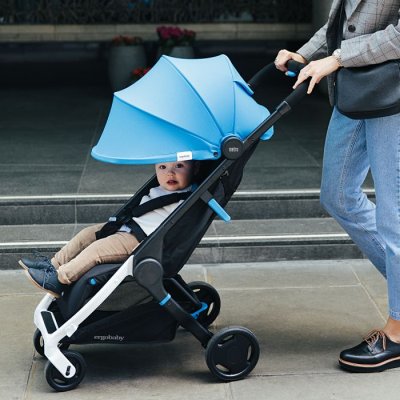 There's one more noteworthy thing: Ergobaby Metro is the only stroller (at the end of 2018) that is certified by the AGR of Germany as "Back Healthy" both for the baby and parent. I can tell you one thing – the padding is cushy, plush and comfy. It's probably one of the richest padding I've ever seen on a lightweight stroller!
Moreover, the seat pad is removable and machine washable so you can easily get rid of all stains from baby's drinks and snacks.
I also love that it has adjustable leg rest – something that all parents missed in Ergobaby 180 Reversible Stroller. With Ergobaby Metro your little one can prop his little feet up during the nap time.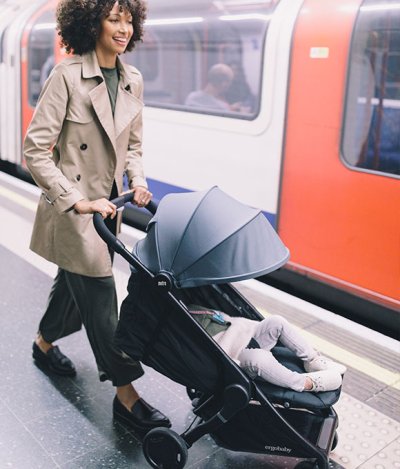 Ergobaby Metro – Canopy
Lots of lightweight strollers have tiny canopies that don't provide much cover for the baby. But not Ergobaby Metro!
It has really good-size extendable canopy that keeps the sun rays out of baby's eyes. The material has UV 50 protection.
There is also a peek-a-boo window so you'll be able to check what your little adventurer is up to, whenever you want.
What I also like about Ergobaby Metro stroller canopy is its height. The hood is mounted really high up on the frame giving your baby a lot of head room (above the backrest). This is a great solution for tall kiddo.
Using Ergobaby Metro From Birth
Although the main seat is suitable from about 6 months, parents have option of using this lightweight stroller for their newborn baby.
It's really awesome that Ergobaby Metro stroller allow you to attach Newborn Kit which converts this stroller into a pram. It looks very similar to UPPAbaby MINU with From Birth Kit actually! Ergobaby Newborn Kit is finally arriving in the US! You can already pre-order in on Ergobaby website (here).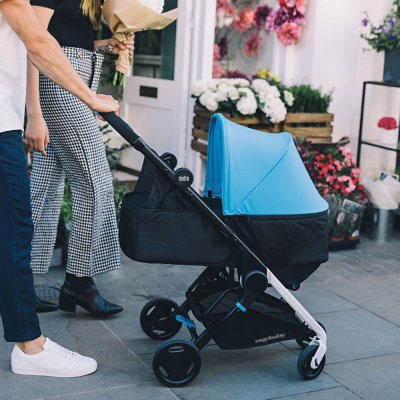 This small bassinet offers flat position for newborn baby, there is also big canopy and apron to protect a newborn baby from sun and wind.
The Metro Newborn Kit is very easy to install and you can also fold the stroller with carrycot attached!
And when not in use, you can fold the Newborn Kit itself and store it conveniently as it takes a little space.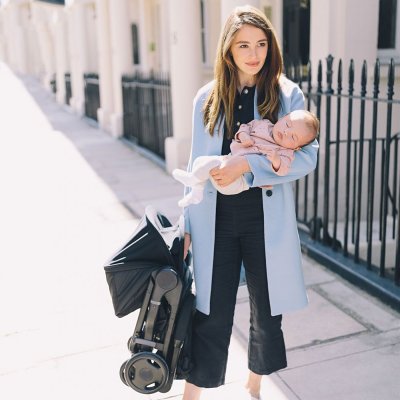 Ergobaby Metro – Wheels & Suspension
As other lightweight strollers, this one is designed for city use, not off-road cruises, but it handles surprisingly good! It has rubber & shock-absorbing tires, bigger in the back, smaller in the front. The tires are non-inflatable and you don't have to worry about punctures.
There is also a spring suspension system that makes the ride more cushy and you'll feel it on cracked sidewalks or bricks.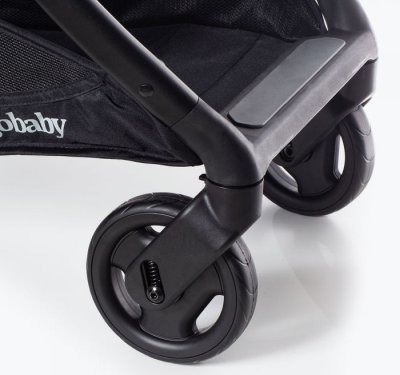 Of course when you hit bigger bump or crack the stroller may shake a bit (the wheels are still pretty small, not like on joggers or all-terrain strollers). But on even surfaces it rides smoothly.
Manufacturer recommends this stroller for walks on pavement, as well as cobblestone.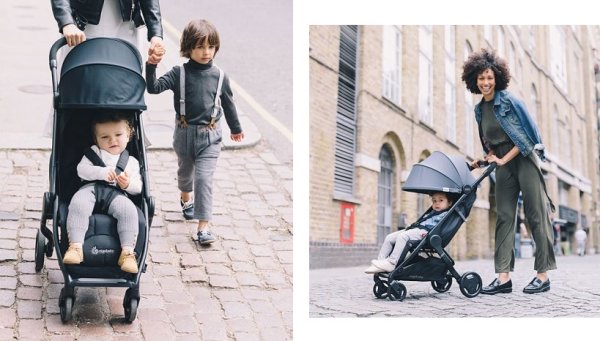 Another feature that is pretty usual among lightweight and compact strollers is the large parking brake. I love it! With many other strollers I often have a problem with finding the pedal and pressing it.
But with Ergobaby Metro it's super convenient. There is a big pedal right in the middle of the rear axle. Its size make it very easy to tap and lift.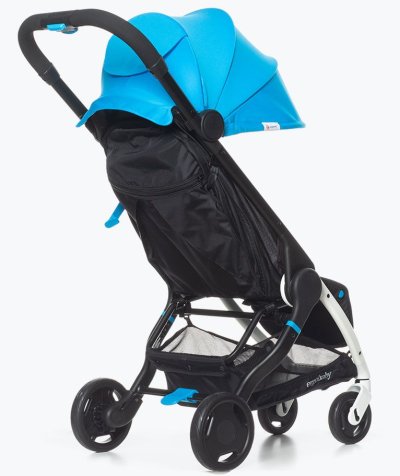 Ergobaby Metro – Storage
The storage basket underneath the seat is not huge, but it's decent. Its size is similar to other lightweight strollers' baskets like BABYZEN YOYO+ or Baby Jogger City Tour.
It should be sufficient for a small diaper bag or mom's purse. It can hold up to 10 pounds of your essentials.
You'll also love the additional pocket, hidden on the seat back. It's perfect for keeping your valuables like phone or wallet at hand.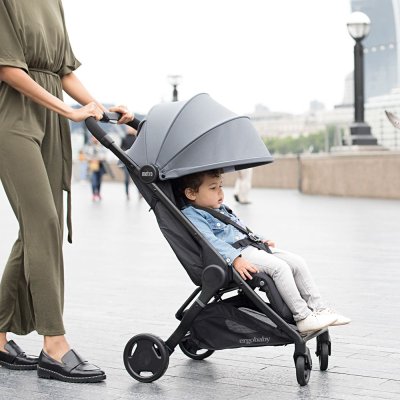 Ergobaby Metro Weight & Fold
If you haven't already fallen in love with Ergobaby Metro, these two features will make you love this stroller for sure.
First of all, it's really light and portable. It weighs less than 14 pounds so lifting it and carrying is a piece of cake.
But that's not all. Ergobaby Metro offers compact fold as well, which makes it very easy to transport and store. It may be your new travel lightweight stroller!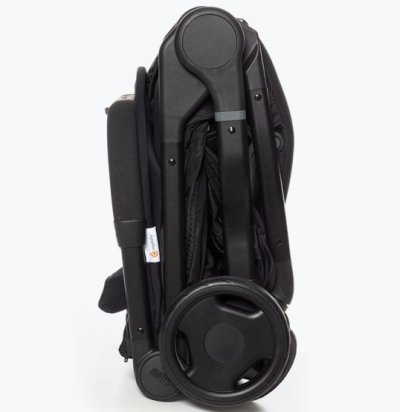 It folds down insanely simple and you can do it all with just one hand. It takes literally few seconds – just check the video at the end and see it for yourself.
Ergobaby Metro folds into a small package, and what's most important – you can fold it with one hand! This is a feature than many other compact strollers are missing.
The dimensions of folded Ergobaby Metro are: 20.8″ x 16.9″ x 9″. It meets carryon regulations of some airlines (at least some of the European airlines) – make sure to check it before your trip!
But it definitely looks very small so if you often use public transportation, travel by train or car, this stroller is perfect companionship. It fits in a small car trunk or even behind the driver's seat. You won't have any problems with stashing it under a table in a restaurant.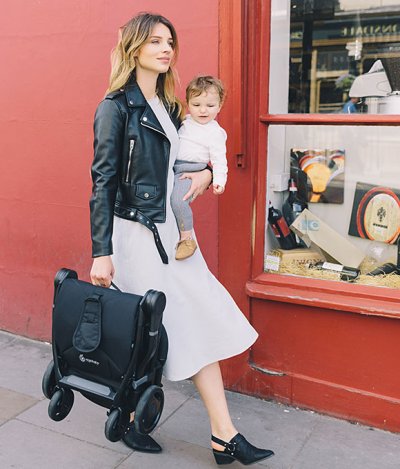 It has also a carry handle right in the middle of the seat which makes carrying even more convenient. Frankly, this stroller is so light and small after folding, that carrying is a pleasure 🙂
So whenever you enter the metro, museum or simply when your toddler prefers to walk, you'll be able to fold Ergobaby Metro within few seconds with just one hand and carry it effortlessly. Some parents wish there was a shoulder strap though.
Ergobaby offers a backpack carry bag for Metro stroller to make it even more portable (you can get your bag here).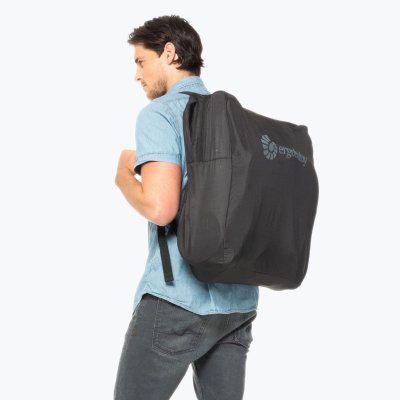 Ergobaby Metro – Colors
The newest 2020 Ergobaby Metro stroller comes in multiple colors: Marine Blue, Black and Grey. They all have black frame. You can choose your favorite color here.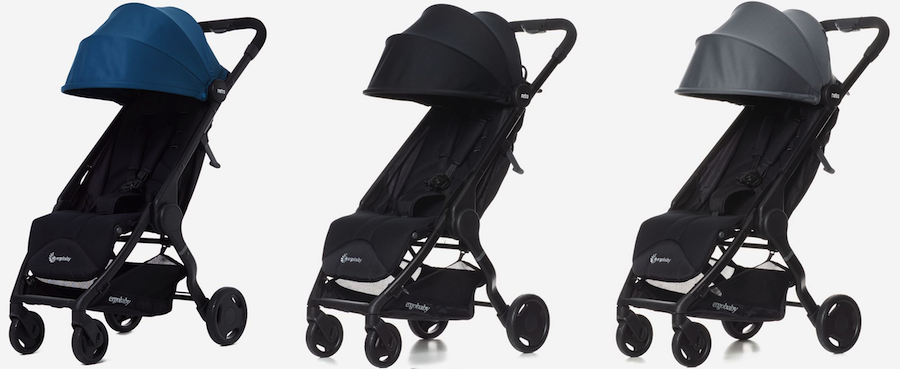 Important: In other countries Metro 2020 is also available in Plum color. You may be also able to get the Metro 2019 in Blue, Grey, Red or Black, but they are not available in the US anymore.
Stroller Specification
| Stroller | Data |
| --- | --- |
| Stroller Type | Lightweight |
| Stroller Weight | 13.9 lbs |
| Weight Limit | 40 lbs |
| Stroller Dimensions | 34.3" x 16.9" x 40.9" |
| Fold Dimensions | 20.8" x 16.9" x 9" |
| Handlebar Height | 39.4" |
Accessories
Currently Ergobaby offers three accessories for this lightweight stroller: carry bag with backpack straps, weather shield and stroller support cushion. Unfortunately, there is no cup holder or parent organizer for this stroller, at least not yet.
Image
Description
Backpack-style Carry Bag

– Very useful bag for keeping Metro clean while stored in a car trunk or overhead bin. It's also perfect for carrying the stroller around when it's not in use (in a ZOO, theme park, museum etc).

Weather Shield

– This cover keeps the stroller and your baby dry during rainy or snowy days.

Comfort Cushion

– This pillow provides additional supports for baby's back, bum, head and neck. It helps to keep baby's legs and hips in ergonomic and healthy position.
Ergobaby Metro Release Date
2019 Ergobaby Metro release date in the US was set for March 2019 and the stroller hit the stores on time! In 2020 the stroller has been designed and now has higher weight limit.
You can already buy your lightweight, ultra-compact Metro stroller on Ergobaby website or on Amazon.
Keep in mind
This stroller is not compatible with infant car seats.
3 Reasons Why You Will Love Ergobaby Metro
1. This is a compact and lightweight stroller, but it doesn't compromise baby's comfort. That's why it can be your main stroller for daily use, and not only for travel.
2. One-hand fold works like a breeze. It's very important especially when you're on your own and have to quickly fold the stroller and load it to the car trunk.
3. It allows baby for a comfortable nap time thanks to near-flat recline and adjustable footrest (very rare features on lightweight strollers).
Pictures belong to Ergobaby. Source: https://ergobaby.com
Your trust is really important to me: This post contains affiliate links. If you choose to buy something using these links, I receive a small commission, at no extra cost to you. Your support helps me run this blog. Thank you so much 🖤 Zooey