Do you plan on going on a vacation with your child? Or maybe your toddler has already outgrown your standard stroller? Then Baby Jogger City Tour 2017 should be your choice! No matter if you need a light stroller for your toddler for city use or a compact travel stroller, this model won't let you down.


This article contains affiliate links.
If you are looking for a travel stroller you want it to be as much compact as possible, but still comfortable for the little passenger to sit and convenient to push for you. Lightweight and easy to steer, yet sturdy.
Thanks to City Tour from Baby Jogger traveling with kids can be so much easier and less stressful! No more travels with bulky and heavy strollers. Moreover, this is not only one of the best lightweight travel strollers, but it also works great as secondary everyday stroller!
Image
Weight
Verdict

Baby Jogger City TourCheck It On Amazon

Type: Lightweight Stroller

Weight: 14.2 lbs

Capacity: 45 lbs
LittleBabyGear Verdict:



Great stroller for traveling by plane, car and train, running errands and using public transportation
Baby Jogger City Tour Review (2017)
Here are the most important functions that Baby Jogger City Tour stroller may offer you. Let's start with the features that make this stroller so awesome!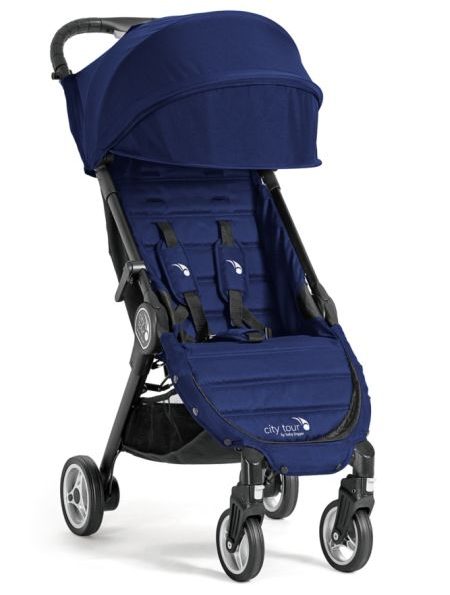 Size, Weight & Fold
This stroller is very compact and light – weighs only 14.21 lbs. Such a small weight is convenient for quick taking the stroller in and out of the car trunk. Moreover, it's SO EASY to lift and carry.
City Tour can be folded in a few seconds with just one hand! You just need to push the button in the middle of the handlebar to collapse the upper part of the stroller. Then pull the strap places in the middle of the seat and the stroller folds down. Piece of cake!

Folding is actually so easy that you can do it with only one hand, while holding the baby in other arm.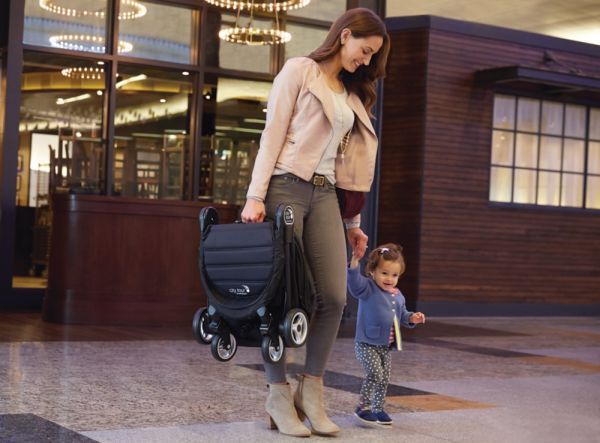 It features automatic lock which prevents stroller from opening, which simplifies transport and storage. And thanks to a compact size after folding (22.04" x 17.71" x 9.05") this stroller is very portable – you can put it in a travel bag and carry it as a backpack or a bag without any effort! And you don't have to take off the wheels or anything.

Thanks to backpack straps you can carry the stroller and have your hands free! And what's really great about it – the travel bag is included with the stroller! Big plus for Baby Jogger City Tour. I only wish the stroller itself had a shoulder strap, because it would be easier in some situations just to fold it and carry on a shoulder without using the travel bag. However, the travel bag itself is awesome and super useful!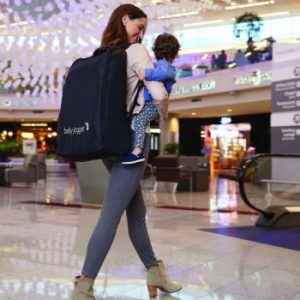 Unfolding requires using two hands and gets more easy after doing it few times. Just practice it couple times and you will be unfolding City Tour stroller in few seconds!
This weight and size makes it a perfect stroller for travel by plane or car. Baby Jogger City Tour stroller meats carry-on requirements for most of airlines and fits into the overhead compartments on most of airplanes. You don't have to worry anymore that your stroller will get beaten up during flight as a checked baggage and you don't have to wait for it after landing!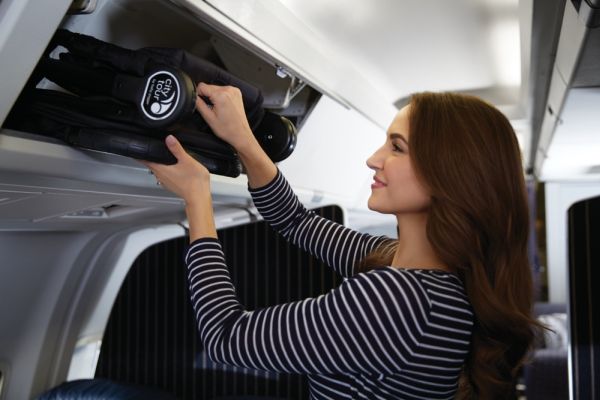 This is one of the best lightweight travel strollers for parents who plan many trips with their kids or frequent visits to grandparents. Besides, it doesn't take up the whole car trunk. Therefore it's not only a great lightweight travel stroller, but also a stroller you can keep in the car for small trips or quick errands.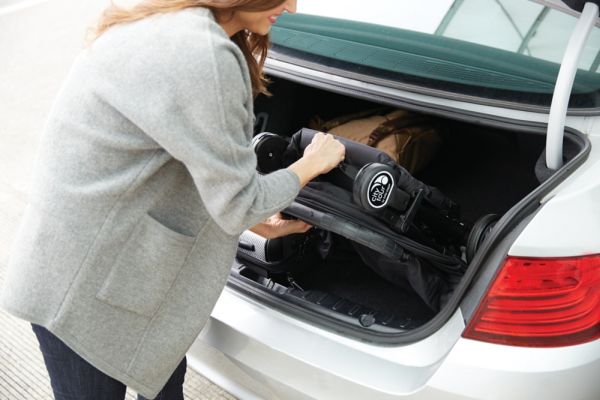 It so small you can literally fit it behind the seat and leave the space in the car trunk for the shopping bags. 😉 Such a compact size is very important if you don't have a lot of room in your car. Baby Jogger City Tour size is brilliant!
Thanks to such a small folding size you can also easily put it under the table in the restaurant. It's also perfect for frequent use of public transportation and trains, because it folds and opens easily and it's very light to lift and carry.
Assemble
Assembling is also very simple. If you order your Baby Jogger City Tour from Amazon, it will arrive in such a small package you won't believe it contains a stroller inside! Putting all together takes literally two minutes and you are ready to hit the road with your kid.
Seat
Although this is a lightweight stroller it is nicely equipped and has many features like a full-sized stroller! Its seat is one example of that.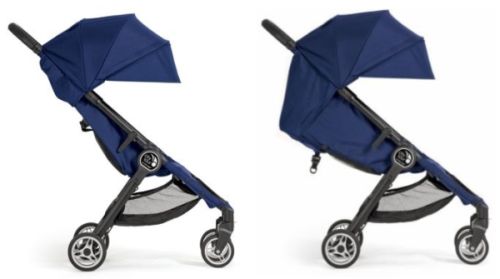 It features multi-position recline and near-flat position so your toddler can sit upright and watch surroundings or lay back and take a comfortable nap. To recline the seat you need to squeeze the buckle and pull the strap on the back of it. This reclining system is two handed.
The seat doesn't recline completely flat but it goes down quite a bit so it is suitable for toddler to sleep (check the picture above). Full recline is about 150 degrees. When the seat is fully recline you can get some extra air-flow thanks to vented top or you can cover it with the stroller fabric.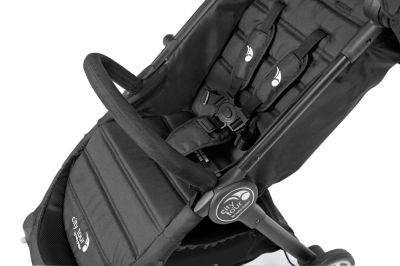 There is also an adjustable 5-point harness with nice padding to prevent baby from sliding down and falling out.
The seat is also equipped with leg rest and a footrest – it is not adjustable but it is a comfortable place where the little passenger can put his feet. It's also made of a material that can be easily clean with a wet cloth in case it get dirty with baby's muddy or wet shoes.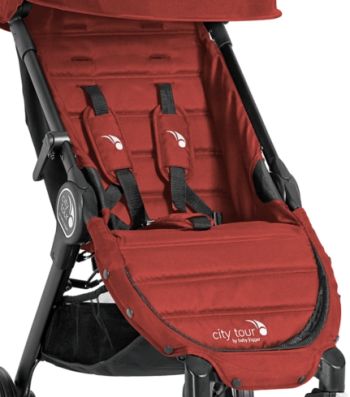 City Tour can accommodate a child up to 45 lbs. The seat is 12″ wide and 8.5″ deep, the seat back is 17″ long and from the bottom of the seat to the top of the canopy there are 28″. It makes it a great stroller for kids with longer torso. Taller kid can ride in this stroller, because the canopy is fairly high, but he won't be able to take a nap, because of the short back rest.
This seat is not suitable from birth – we can only use it for children who can sit and hold their heads up unassistedly. City Tour stroller doesn't feature compatibility with infant car seats, it's designed strictly for toddlers.
Baby Jogger City Tour doesn't accommodate a car seat or bassinet but you won't need it – this is an excellent secondary stroller and lightweight travel stroller. If you are looking for a lightweight stroller that can accommodate newborns you may want to read my new review of City Tour LUX!
Canopy
3-panel canopy extends with a pop-out sun visor provides decent shade and UV 50+ material protects the baby from harmful sun rays. It covers baby to the thighs or knees, depending on the child's height.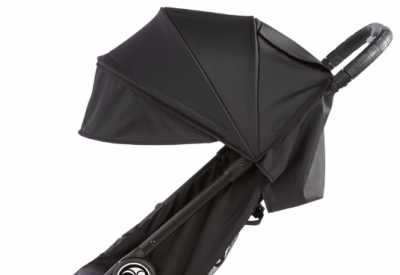 There is also a mesh peek-a-boo window that provides extra air-flow which is very useful during summer strolls. I only wish it has a magnetic closure instead of Velcro, which can be a little bit noisy during opening. But besides this, it is really great and you can check on your little one the whole time.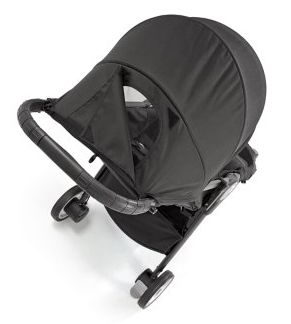 Handlebar
In this stroller you have one solid push bar, instead of two small handles like in most umbrella strollers. It's really nicely designed and convenient to push. You don't need to hunch over it.
It's not adjustable, but its height (38'' from the ground) makes the stroller perfect for short and average parents. It will be comfortable to push if you are 5 or 6 feet tall, although I've read in some reviews that even 6'4″ parent pushed it without problems.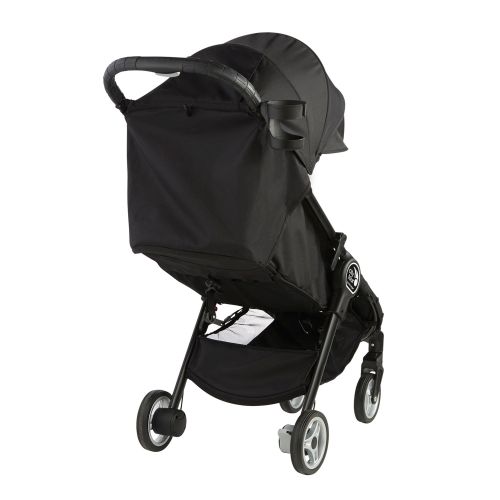 Moreover, the handlebar is place at the right distance from the back of the stroller so you don't have to worry about kicking the back with your feet during strolling or stooping.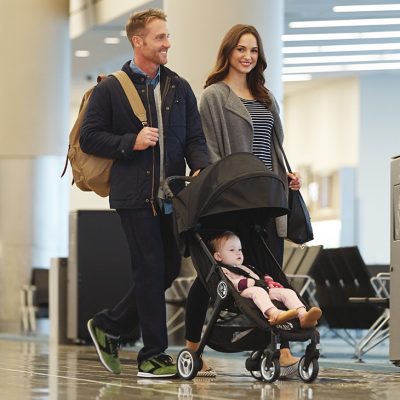 The handlebar features nice rubber grip and proper thickness. Thanks to it you can push and turn the stroller with one hand which is very important when you're strolling around all day on holidays.
Wheels
The rear wheels are 6'' and the front ones are 5''. Front wheels are 360° swivel and can be locked straight for more difficult terrain (gravel or grass).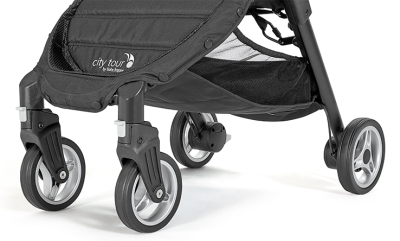 As a lightweight travel stroller Baby Jogger City Tour works best on smooth surfaces. It glides like a dream over store floors and parking lots.
Although the wheels are fairly small, they can also handle sidewalks, gravel trails and cobblestone. I've read in many reviews written by other parents, that they had taken this stroller for a trip to Europe, for example to Rome, and it worked on cobbled streets really well. Just don't take it to the sandy beaches. 🙂
Brakes
There is a single action brake, places right next to the right rear wheel. The pedal is easy to push and lift and it locks the stroller pretty well.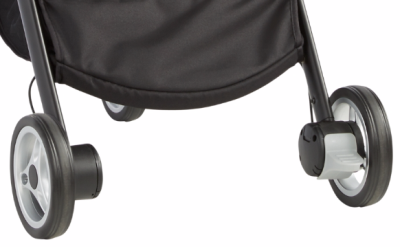 Maneuverability and ease of use
Of course many lightweight travel strollers fold into a small package but not everyone of them has so many features and is so easy to maneuver like Baby Jogger City Tour 2017!
When going over flat surface it can be easily pushed with one hand. Remember that it is very light stroller and not designed for running or going over very bumpy terrain. However it handles streets, pavement and grass in parks very well and thanks to the medium size wheels it's more sturdy than regular umbrella strollers.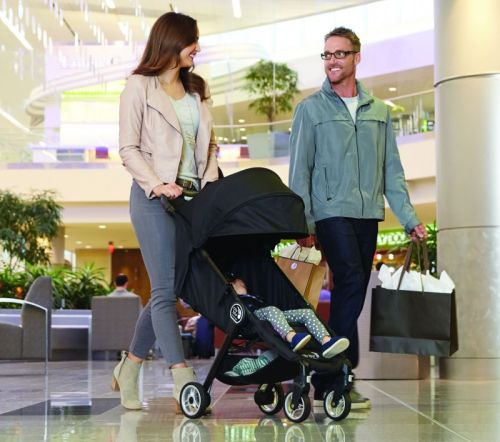 It can handle off-road strolling, but not a rough terrain. It's pretty obvious, because it's not a jogger, just a lightweight travel stroller. It serves its purpose perfectly.
We can also take it for running quick errands or going to the mall – it handles narrow aisles very well, rolls and turns smoothly.
Baby Jogger City Tour 2017 is light as an umbrella stroller, but has definitely more features and is more comfortably and easy to use.
Storage space
There is a mesh basket underneath the seat where you can keep our necessities during trips and strolls. It easily fits medium size diaper bag, some snack, drinks and toys.
It is not the biggest basket on the market but it is enough to hold the essentials. It is a decent storage basket as for a lightweight travel stroller. The storage usually isn't huge on this type of strollers, so I guess it's not a big deal. Besides, it is a stroller for toddlers so you will probably need less gear than when traveling with an infant.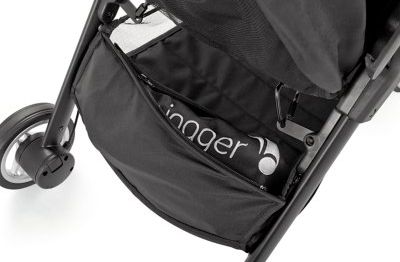 Thanks to a stretchy net you can access the basket from the back and from both sizes (if you want to take out some small items). Besides it protects things from falling out. Nice design!
The basket has also a special zippered pocket for the travel bag, but you can also keep there other small items.
There is also a mesh pocket on the back of the seat for your phone or keys so you could keep them within reach.
Pros and Cons
As every other stroller City Tour has some advantages and disadvantages. In the table below I put all pros and cons that I found, however this list is of course subjective. Every parent has different lifestyle and needs, therefore different features may be considered as assets and flaws. Here's my list:
Pros
Cons

Pros

---

+ Quick and one-hand folding

+ Super small fold – you can take it on most of airplane as a carry-on

+ Takes up small space in the car trunk, fits behind the driver seat

+ Very light (only 14 lbs) – easy to lift and carry

+ Travel bag included with the stroller – makes transportation and storage even more easy

+ Nicely padded seat with 5-point harness

+ Mesh peek-a-boo window provides nice ventilation

+ Decent storage space as for a lightweight travel stroller)

+ Wheels can handle flat surfaces, sidewalks, cobblestone roads and streets

Cons

---

- Unadjustable handlebar – it's great for short and average parent, but might be too low for really tall parent (above 6 feet)

- Not compatible with infant car seats

- Noisy Velcro closure on peek-a-boo window

- Except for the Travel Bag, other accessories must be purchased separately
Need more reasons to buy Baby Jogger City Tour Stroller?
Check out over hundred reviews written by other parents on Amazon!
Video: Baby Jogger City Tour Stroller – Features
Baby Jogger City Tour – Stroller Specification (2017)
| Stroller | Data |
| --- | --- |
| Stroller Type | Lightweight |
| Stroller Weight | 14.21 lbs |
| Weight Limit | 45 lbs |
| Stroller Dimensions | 35.8" x 17.7" x 38.7" |
| Fold Dimensions | 22" x 17.7" x 9" |
| Handlebar Height | 38" |
Color versions
Baby Jogger City Tour 2017 comes in five beautiful colors. I'm sure you will something that will suit your and your child's tastes. Personally, I think the Cobalt version looks awesome and this is my favorite.
Keep in mind that price and available discounts vary for different color versions. If you want, you can compare prices here.

Accessories
This lightweight travel stroller comes only with one accessory: travel bag with backpack straps. However, there are also other great accessories that parents can purchase additionally to customize their Baby Jogger City Tour stroller.
Image
Description

Parent Console for Baby Jogger City Tour

– Very useful item, where parents can keep they phone, keys, wallet or baby toys within reach. There are also two places where we can put the beverages. This organizer easily straps to the handlebar and doesn't get in the way during strolling.

Cup Holder for Baby Jogger City Tour

– Mommy needs her water and/or coffee especially during long strolls, day trips and shopping. This cup holder attaches to the stroller frame.

Weather Shield for Baby Jogger City Tour

– This cover blocks the wind and protects baby from rain. It provides proper ventilation at the same time. It is a must if you live in an area where it rains often or plan on visiting such a place.

Belly Bar for Baby Jogger City Tour

– Your toddler can hold to this bar during strolling, it also an extra protection from falling out.

Hand Muff for Baby Jogger City Tour

– You can easily attach it to the handlebar, it will keep your hands warm so you could enjoy strolling during cold winter days.
What other parents think about Baby Jogger City Tour
Last time I checked Baby Jogger City Tour stroller on Amazon it had few hundreds reviews (mostly positive ones). It could have changed, so better check the rate on your own here.
Parents praise its compact size the most – it's perfect for travel by plane and using public transportation. Another advantages are: easy folding and unfolding, one-hand smooth pushing (even with a heavy toddler in it), slim design that allows to move effortlessly through narrow spaces (in stores or restaurants) and crowded places. Parents also like deep recline, oversized canopy that completely blocks the sun rays and convenient backpack travel bag for carrying the stroller.
Some parents complain that 5-point harness is difficult to use, especially if you have impatient toddler and it's better to use only 3 points. The biggest disadvantage is the seat back, which is not very long. According to many parents this stroller is not suitable for tall child. Few customers also mention that the seat is rather shallow, however other parents say that the seat width is fine, even for a big toddler. Some parents also thinks that lack of accessories like parent or child tray is also a flaw.
If you want, here you can read more reviews written by other parents
Baby Jogger City Tour Review – Conclusion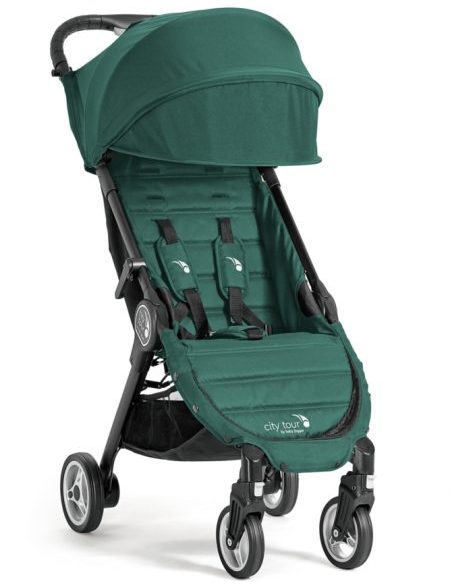 Keep in mind
Although the stroller can accommodate taller child (the canopy is very roomy and high), the back rest is pretty short so the tall toddler won't be able to nap in it, because there will be no head support. He will be only able to ride in upright position.
3 Reasons Why You Will Love Baby Jogger City Tour
1. This is one of the best lightweight travel strollers. You can use it on holidays, travel with it by plane, car or train and easily use public transportation. It handles cobblestone, so it's perfect for visiting old town (for example in Europe).
2. It's also perfect for city dwellers. If you don't have much space in your home or car trunk – Baby Jogger City Tour is perfect for you, because it takes really small space. You can keep it in your car and use it for quick trips and errands.
3. This stroller is made for parents who are often out and about with their child and can be used for running everyday errands, shopping or taking baby to the daycare.
Are you thinking about buying Baby Jogger City Tour? Before you decide to purchase this stroller, make sure it meets your needs. Read more reviews written by other parents and check available discounts on Amazon.
If this stroller doesn't suit your style here are other awesome lightweight strollers.
---
Pictures of Baby Jogger City Tour and its accessories belong to Baby Jogger. Source: https://www.babyjogger.com
Your trust is really important to me: This post contains affiliate links. If you choose to buy something using these links, I receive a small commission, at no extra cost to you. Your support helps me run this blog. Thank you so much 🖤 Zooey