Are you looking for a high-quality travel system that won't ruin your family budget? Don't go anywhere, I've got something for you – Evenflo Sibby Travel System.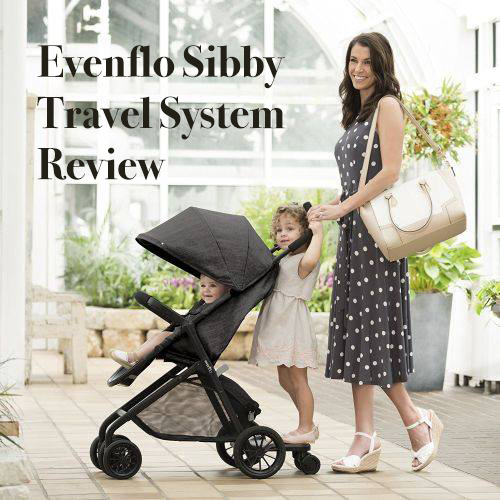 Evenflo Sibby Travel System is a great cheap stroller with car seat, that you can use since day one even up to 5 years! It is light, full-featured, high-quality and costs less than $200. Can you believe that?! Keep reading and find out why this stroller is so awesome!
Image
Weight
Verdict

Evenflo Sibby Travel System

Type:
Lightweight Travel System

Capacity:
From birth to 50 lbs
LittleBaby Gear Verdict:

Excellent choice for parents on a small budget who want all-in-one stroller
Evenflo Sibby Travel System Review
Evenflo Sibby Travel System really grows with the baby! It adapts to family's needs – if you have two children close in age, you can attach a board for the older one that already walks.
What's included in the set?
This travel system comes with stroller with regular toddler seat, Evenflo LiteMax 35 Infant Car Seat that can accommodate a baby from 4 to 35 pounds, LiteMax car base that parents can keep installed in the car and Ride-Along Board for older sibling.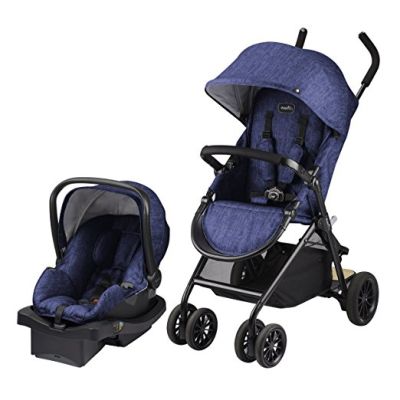 This infant car seat is super lightweight which makes it very easy to lift and carry with its ergonomic handle. The interior of the car seat is nicely padded to provide maximum comfort for your newborn or infant. The stay-in-car LiteMax Base weighs only 6 lbs! It was designed to fit in most cars currently available on the market.
The stroller has a maximum capacity of 50 pounds and can accommodate a child up to 5 years according to the manufacturer. I would say the main seat is rather up to 2-3 years. Older child can ride on a standing board.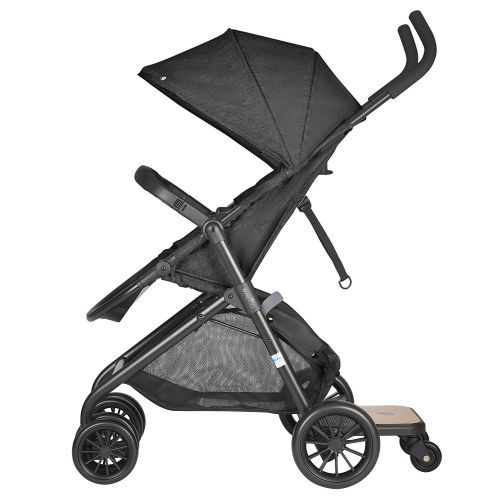 It's really awesome that the Ride-Along Board is included with the stroller! It's perfect accessory for older child that usually walks, but sometimes needs a place to rest during the stroll.
Infant Car Seat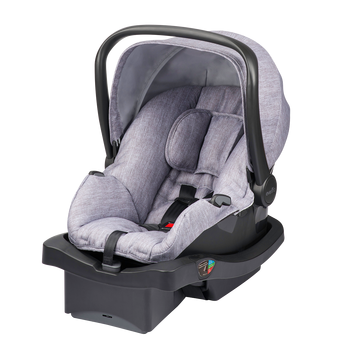 The LiteMax Infant Car Seat weighs 10 lbs, is rear facing and has a capacity of 4-35 lbs. The height capacity is 17-32 inches. This car seat is pretty long, therefore it gives more room to grow and it's suitable for taller babies. It will definitely serve you for a longer period of time.
Car seat base is very easy to install with the belt-lock and 2-position recline.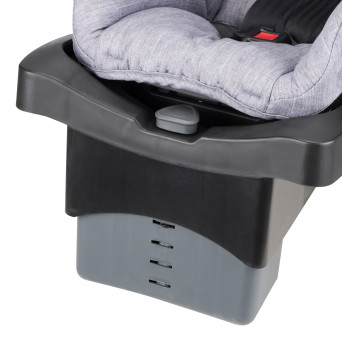 Transferring between the car base and the stroller is very easy and quick thanks to one secure click.
Besides, this infant car seat is super light and has the ergonomic handle, therefore you can easily carry your baby to and from the car. This is a big advantage, because you will be using infant car seat not only for your newborn, but also for a 6-month-old baby who weighs a LITTLE more. 😉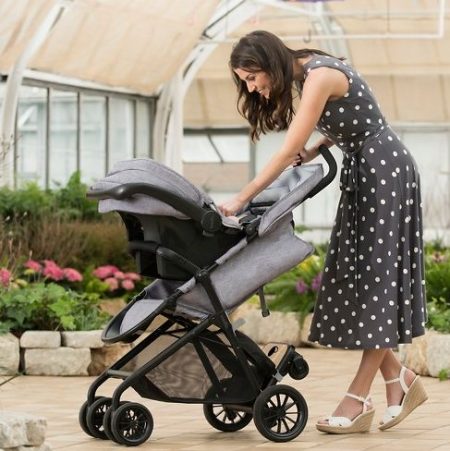 I've read other parents opinions about LiteMax 35. Many of them often carry this infant car seat in the crook of arm without feeling any pain and the baby doesn't get bumped around. Parents love how easily they can move around with this car seat.
Evenflo LiteMax features full canopy and infant head support to provide comfy and safe ride for the little one. This pillow can be removed as the baby gets bigger.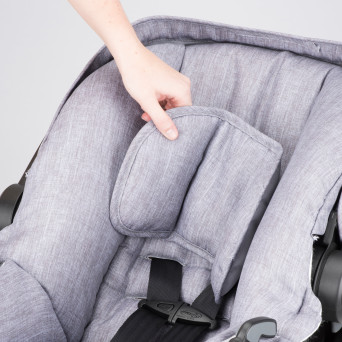 The buckles in the car seat might feel a little hard to open at the beginning, but they loosen up over time. The straps can be adjusted as the baby grows: the crotch strap adjusts at the bottom, the shoulder straps adjust in the back and the belly strap adjust under the seat padding.
Everything is also very clearly described in the manual so just follow the steps and it will be super easy!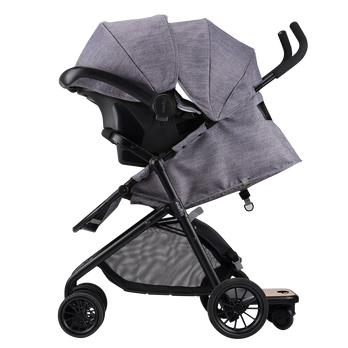 The canopy on the LiteMax Infant Car Seat isn't the biggest one, but when you attach the car seat into the stroller and use two sunshades the baby is fully covered and protected from the sun, wind and rain! All parents love this double protection.
The car seat is backward facing, therefore you can keep an eye on your precious cargo during the stroll.
Evenflo LiteMax Infant Car Seat can be bought separately in many different color versions. Keep in mind that the price may vary depending on the color you choose.
Evenflo Stroller – Toddler Seat
It can accommodate a child up to 50 lbs/ 38 in/ 5 years (whatever comes first). After testing this stroller and reading tons of other parents reviews I would say the seat is most comfortable for a 2-year-old, maybe a skinny 3-year-old.
This regular seat has multi-position recline and it is facing forward so the baby can watch surroundings. There is a strap with a clip that you need to pull or push to adjust the seat angle. You can stop in any position. It's super easy to lower and raise the seat.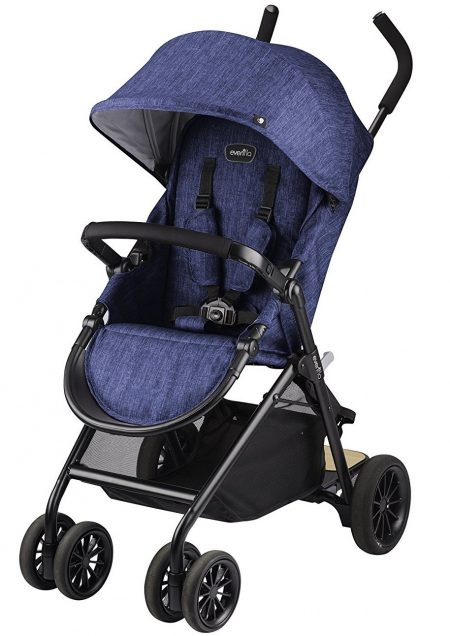 The seat is also equipped with an adjustable leg rest that offers 3 different positions. You can adjust it as the baby grows, for the most comfortable strolling.
For napping you can lift the leg rest all the way up and when the baby is older and doesn't need it any more, you can lower it all the way down. Thanks to that it doesn't get in the way, even when the seat is used by older kid or bigger child with longer legs.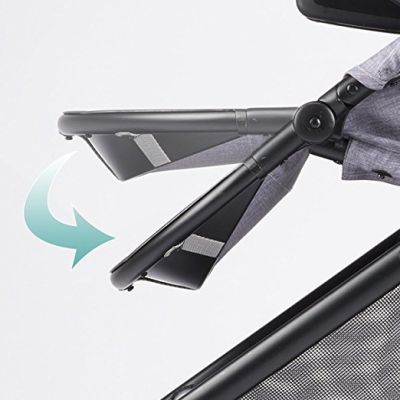 With fully recline seat and flat leg rest you can have a perfect space for changing a diaper!
There is also 5-point harness which is very well made. At first straps may seem hard to use, but they are just sturdy. They hold the baby securely in place and prevent baby from slumping to one side.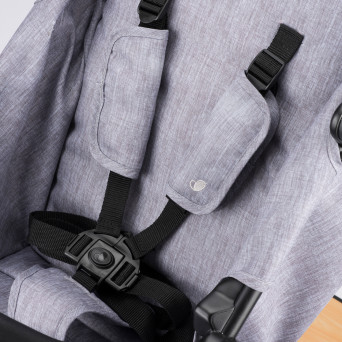 The seat fabric is very easy to clean with wet cloth – thank God, because there's always something that spills out during the stroll. With two kids it's more than guaranteed. 🙂
Ride-Along Board
It can be a great alternative for having a double stroller. especially if you have children of different ages (like infant and older toddler or preschooler).
No more struggles to load bulky and heavy stroller into the car trunk, no more problems with getting through doorways and elevators!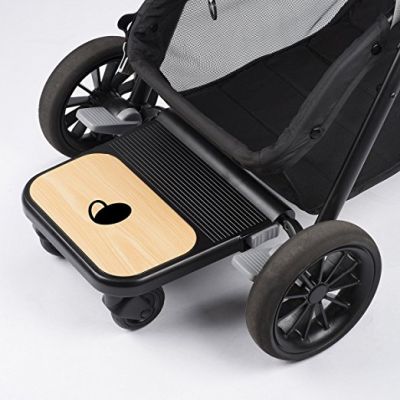 If you don't use the board you can fold it away or detach it and it won't get in your way during strolling. The board can accommodate a child up to 50 lbs so it's perfect for toddlers and preschoolers. If your child can already walk, but gets tired on long distances or day trips he can just hop on the board and his little legs can rest a little bit.
Children can ride on the board facing forward or backward and during riding the child should hold on to the handles. This Ride-Along Board is great option for older sibling when they get tired of walking and need a little break.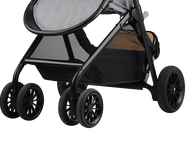 Wheels
Sibby Travel System has dual front wheel design and bigger rear wheels. The front wheels swivel for better agility. Thanks to new Cruiser Tires your child will have a comfy and smooth ride and you will be pushing the stroller effortlessly!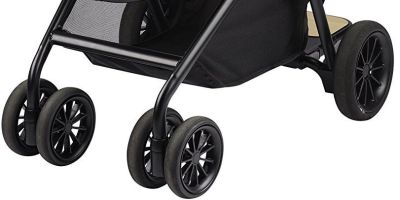 The wheels are plastic therefore they work best on flat surfaces. This is a perfect stroller for going over city streets, pavement, running errands and shopping at the mall.
Brakes
This cheap stroller with car seat has double action brakes, the pedals are placed next to rear wheels. They are easy to push and lift, even in flip flops and high heels.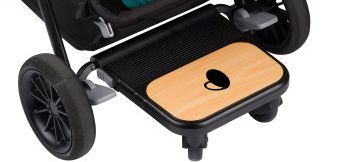 Canopy
There is a 3-panel extendable canopy that provides nice coverage, up to baby's hips or knees. At first, there was no peek-a-boo window, which was the biggest downsize I could find about this stroller. However, Evenflo added a mesh viewing window to the newest model of Sibby.
If you plan on buying this stroller, make sure you're getting the new version with the peek-a-boo window.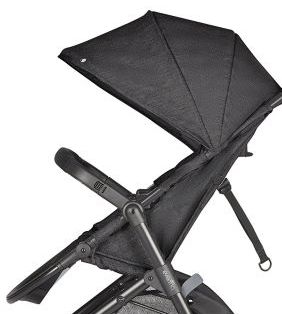 When the seat is fully recline, there is a mesh vent above baby's head. It gives extra air-flow and you can also use it to check on your sleeping baby, if you bend a little bit.
Handles
Evenflo Sibby Travel System has two ergonomic handles, which is very common solution in lightweight strollers.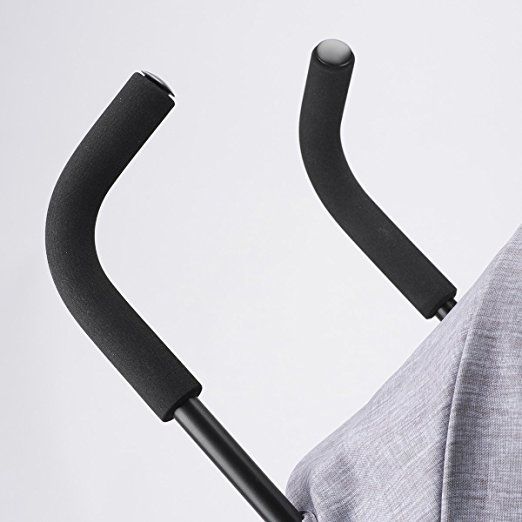 I'm a fan of single handlebar, but these handles are surprisingly easy and comfortable to push even during all-day trips! I guess this is because of their shape, which is more comfortable than the horizontal-shaped handles.
Maneuverability and ease of use
Many parents were wowed with this stroller maneuverability! It is very easy to control and turn. Even with 1-year-old in the toddler seat and 3-year-old on the Ride-Along Board it turns in tight corners almost effortlessly. Turning radius is really small!
Sibby steers better than many other lightweight and even full-sized strollers! I've read many reviews written by other customers and they all couldn't believe how smoothly Evenflo stroller glides!
Evenflo cheap stroller with car seat is very easy and convenient to use. The infant car seat fits in the base and the stroller well and clicks in securely. It's also very easy to remove the car seat from the base and stroller frame. Transition from the car, stroller and home is simple and quick. Everything clicks perfectly.
Moreover, Evenflo Sibby Travel System is lightweight and easy to operate, yet remains very sturdy and balanced.
Storage space
This travel system has large storage basket under the seat. I've read other parents reviews and they all agree this storage bin is large (which is rare thing among lightweight strollers). It can accommodate mom's purse, diaper bag, extra bottle of water and towel and there will still be some free space.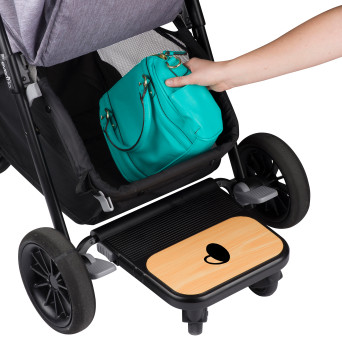 Seriously, it is one of the biggest basket I've ever seen, especially on a lightweight stroller! And it's easy accessible from the back and front (when the leg rest is lifted up).
The newest version of the stroller is also equipped with a storage pocket on the back of the seat, where you can stash a few small items like a wallet or diapers.
Weight, size, folding
This cheap travel system has actually a weight of an umbrella stroller! The stroller weighs only 13 lbs which makes it very easy to lift and carry.
This stroller is so light that you won't have any problems with carrying it up and down the stairs. It's suitable for moms who had C-section or parents with back problems, who can't lift heavy things. Sibby's compact size and small weight make it also convenient for travel.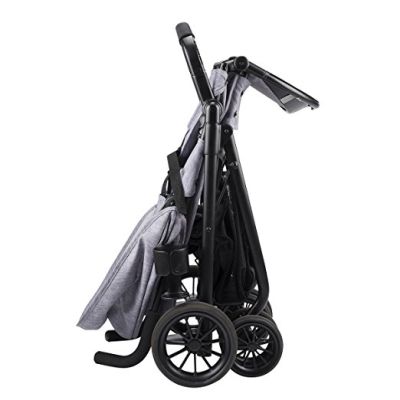 This travel system is very easy to fold which simplifies storage and transportation. You just need to pull the strap hidden under the seat fabrics and the stroller will fold down. Folded Evenflo Sibby stroller takes up fairly small space thanks to slim profile, so it fits into most of car trunks without any problems. Besides, it stands up when folded!
Assembly
Many parents praise this stroller for very easy assembling. It literally takes few minutes to put all together. Actually you just have to put the wheels on, that's it! Everything clicks perfectly which you can hear and see, so you can be sure it's done correctly. Installing the base and attaching the infant car seat is also very simple and well described in the manual.
Accessories included
Evenflo Sibby Travel System not only comes with the Ride-Along Board for the second child, but also includes parent cup holder. It adjusts to the size of the beverage which makes it perfect for bottles, cups and cans! Remember to take it off when folding the stroller.
Really not every stroller comes with these extra accessories, especially for such a low price!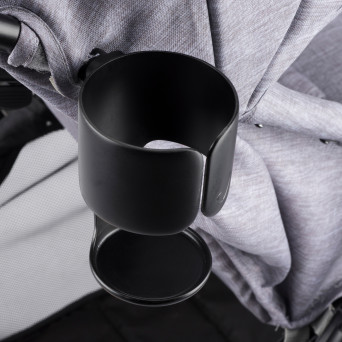 If this travel system doesn't meet your needs, check out other great strollers in my ranking of the best travel systems.
Pros and Cons
Sibby Travel System from Evenflo has many great advantages and, as every other stroller, few small flaws that could be improved in the next version. Apart from these little nitpicks this is a top-notch cheap stroller with car seat.
Pros
Cons

Pros

---

+ All-in-one stroller, can be used since birth to toddlerhood

+ Comes with infant car seat that passed safety tests above standards and norms

+ Very easy to maneuver and turn in tight spaces

+ Quick fold

+ Very lightweight – easy to carry and perfect for travel

+ Multi-position reclining seat with adjustable leg rest

+ Big basket under the seat

+ Excellent single stroller with option of expanding to a double for older sibling (with Ride-Along Board)

+ Ride-along board and cup holder are included with the stroller

Cons

---

- No parent organizer/tray

- You need to take off the cup holder before folding the stroller, otherwise it will fall off

- Dual front wheels may get stuck of rough terrain
Color Versions
Evenflo Sibby Travel System comes in four color versions: very stylish and neutral Grey Mineral (currently unavailable), Charcoal, Slate Blue and Raspberry (which can be perfect for a baby girl). All fabrics are very light and breathable and don't make the little passenger overheat.

The price and available discounts may vary for different colors.
Stroller specification
| Stroller | Data |
| --- | --- |
| Stroller Type | Travel System |
| Weight | Stroller: 13 lbs, infant car seat: 10 lbs |
| Capacity | Stroller: 50 lbs / 38 in / 5 years; Infant car seat: 4-35 lbs / 17-32 in |
What other parents think about Evenflo Sibby Travel System
I checked this stroller on Amazon, as I always do before I decide to buy a gear for my babies. Sibby Travel System doesn't have much reviews yet, but it is getting more and more popular. At the time of writing this, the stroller has over 25 reviews and almost only positive ones.
According to other customers Sibby has many assets: it's simple, functional, lightweight and operates smoothly. Another advantages are: quick and simple assembly and big storage basket. Moreover, parents like how easily the car seat fits in the base and stroller. Transition between car and stroller is very quick.
Not every parent likes the folding mechanism but it is easy to do and works well. Some parents complain about the material being scratchy, but they think it's not such a big deal. Few customers also mention that the board is impractical, because when the child stands on it, he's very close to the canopy and his view is blocked. However, many other parents think the board is awesome.
Evenflo Sibby Travel System Review – Final Assessment
Evenflo Sibby Travel System is an inexpensive stroller with car seat, yet it has really long-term value. No matter if you are just about to start the parenting journey or already have multiple children, this stroller will make your life easier.
It grows with the baby and the whole family. You can start using it since birth with the backward facing infant car seat. Then, when the baby can sit upright and holds the head up, you can switch to regular seat.
This cheap stroller with car seat is a perfect choice for:
parents who are on the budget, but want a durable stroller
parents who have one baby and want to use only one stroller, therefore they are looking for an all-in-one buggy that will serve them from infancy till toddlerhood
parents with two children of different age: one can ride in an infant car seat or regular seat and the other, older one can ride on the board
parents who have one child and plan on having second baby soon – then the older child could use the Ride-Along Board.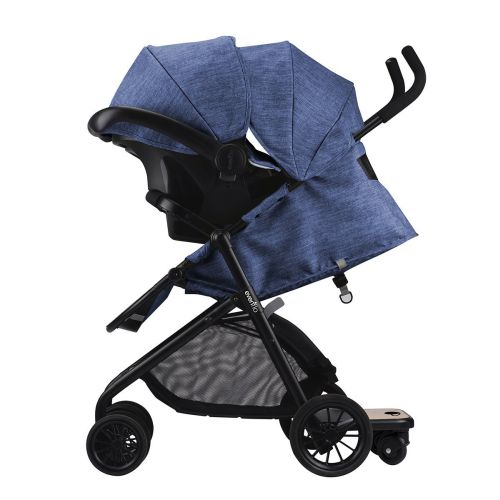 Keep in mind
If the basket and storage pocket are not sufficient for your stuff, you will need to purchase a parent organizer separately. Also, remember that the wheels are small and dual front ones make cause the stroller to stuck on gravel or dirt roads.
3 Reasons Why You Will Love Evenflo Sibby Travel System
1. It's really great that everything is included with one stroller. You don't have to buy another piece of baby gear when your child gets older – with Evenflo Sibby Travel System you just change the seat! This stroller will definitely serve you for couple of years.
2. And when your family gets bigger, you don't need to buy new stroller or a bulky double stroller. You can make this travel system to accommodate two kids! The older child (toddler or preschooler) can ride on the board.
3. When you're on the go with one or two kids, you need a lightweight stroller that is easy to handle and maneuver. Sibby gives you all of that for really pocket-friendly price!
Are you considering buying Evenflo Sibby? Before you make your decision, check available discounts and read what other parents who have this stroller think about it.
---
All pictures belong to Evenflo. Source: https://www.evenflo.com