Lots of expectant moms wonder if it's safe to use body and face scrub during pregnancy. Are you one of them? Then, you're in a good place. In this article I'm going to talk about pregnancy-safe exfoliators, as well as benefits and risks of exfoliation for moms to be. Keep on reading to see the best and safest exfoliating scrubs for pregnancy!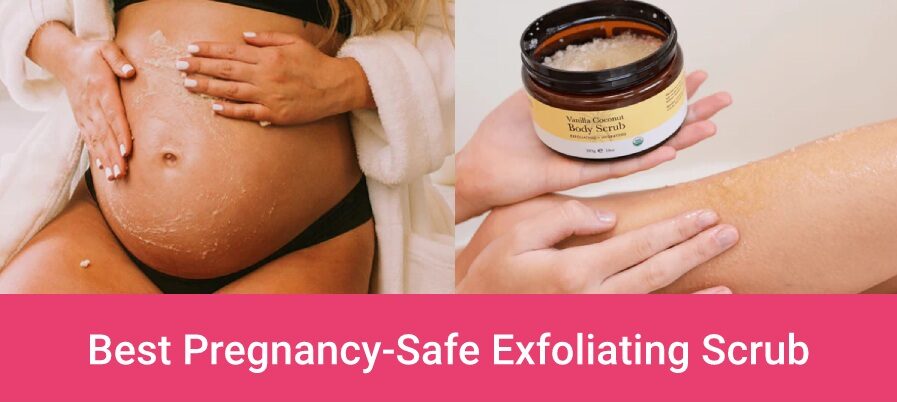 Article by Macy Tollefson – doula, breastfeeding specialist & prenatal yoga teacher
The moment you find out your pregnant, doubt may enter your mind about what beauty products in your home are safe for your baby. There's an overwhelming amount of information and warnings out there – especially when it comes to exfoliation.
You may be wondering… What products are safe to exfoliate with? Or Is it safe to exfoliate at all?
Unfortunately, many popular body scrubs out there are full of harsh chemicals, BHAs and other risky ingredients that are not safe for you or your baby. So, while there are many benefits to exfoliating during pregnancy, there are important safety tips you should follow in order to find one that is REALLY safe.
I know that it can be overwhelming, so I'm here to help you on your journey to find the best body scrub for pregnancy! Keep reading to see some of my favorite pregnancy safe options and answers to questions you may be wondering.
This article is not a substitute for medical advice. It may contain affiliate links.
Best Features
❤️ Only natural & clean ingredients = safest body scrub for pregnant women
❤️ Exfoliates and moisturizes your skin
❤️ Firms & tightens the skin, clears up acne
✖️ May not be perfect for sensitive skin (salt scrub provides harsher rubbing than sugar scrub)
❤️ Works well for great for combination skin, acne prone skin, eczema, psoriasis, sensitive and oily skin
❤️ Less abrasive than other scrubs
❤️ Doesn't cause breakouts & doesn't irritate sensitive skin
✖️For some moms the scent is too sweet (while others say it's addictive!)
❤️ Helps with itchy skin
❤️ Works miracles for reducing the visibility of stretch marks
❤️ Leaves the skin ultra soft for a long time
✖️Contains some essential oils which you should avoid especially in first trimester
advantage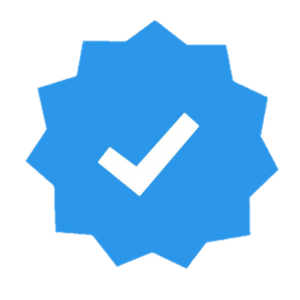 Recommended by 86% of verified buyers!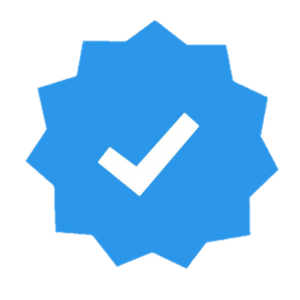 Recommended by 86% of verified buyers!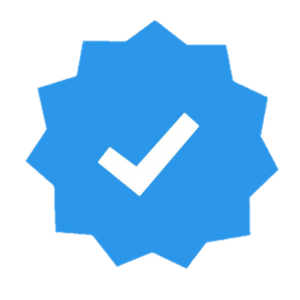 Recommended by 93% of verified buyers!
Moms' Favorite Choice
Best Features
❤️ Only natural & clean ingredients = safest body scrub for pregnant women
❤️ Exfoliates and moisturizes your skin
❤️ Firms & tightens the skin, clears up acne
✖️ May not be perfect for sensitive skin (salt scrub provides harsher rubbing than sugar scrub)
advantage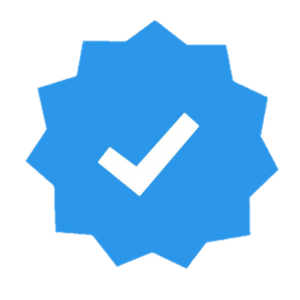 Recommended by 86% of verified buyers!
Best Features
❤️ Works well for great for combination skin, acne prone skin, eczema, psoriasis, sensitive and oily skin
❤️ Less abrasive than other scrubs
❤️ Doesn't cause breakouts & doesn't irritate sensitive skin
✖️For some moms the scent is too sweet (while others say it's addictive!)
advantage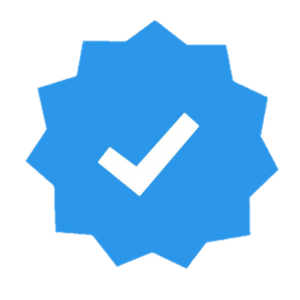 Recommended by 86% of verified buyers!
Best Features
❤️ Helps with itchy skin
❤️ Works miracles for reducing the visibility of stretch marks
❤️ Leaves the skin ultra soft for a long time
✖️Contains some essential oils which you should avoid especially in first trimester
advantage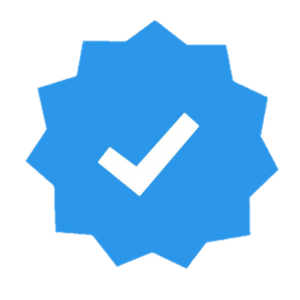 Recommended by 93% of verified buyers!
Last update on 2023-09-30 / Affiliate links / Images from Amazon Product Advertising API
What Body Scrubs Are Safe For Pregnancy? – Ranking Of Best Gentle Exfoliators
If you are looking for the best body scrub for pregnancy, here are some great options made with safe ingredients!
I picked only those body scrubs that work well for removing dead cells and stimulating skin renewal, and are at the same time super gentle, so moms to be can add them in their beauty routine.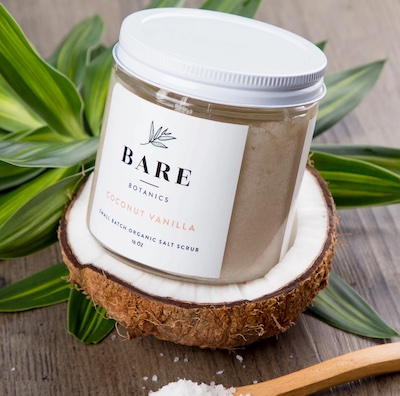 This pregnancy safe exfoliant by Bare Botanics is made with deeply hydrating ingredients like avocado oil, argan oil, jojoba oil, coconut oil and aloe vera. The sea-salt in it provides a detoxifying and gentle exfoliator that is both vegan and cruelty free.
Overall, moms love the all natural, safe, enriching ingredients. They also love how many different scents there are available – including coconut + coffee, matcha green tea + eucalyptus, as well as this unscented version, just to name a few!
Keep in mind, if you have very delicate, sensitive skin, you may find that a salt scrub (like this one) is more abrasive than a sugar scrub. Salt takes longer to dissolve than sugar, which could lead you to harsher rubbing.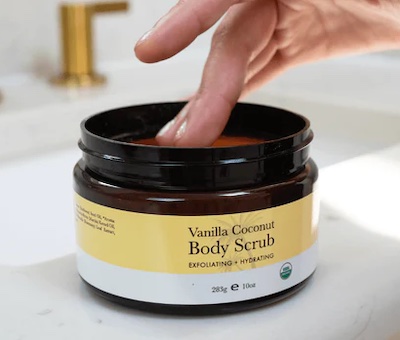 This short ingredient list is packed with certified organic antioxidant and anti-inflammatory, such as apricot kernel oil and rosemary leaf extract – which are great for acne prone skin, eczema, psoriasis, sensitive and oily skin.
This scrub will gently scrub away dead skin cells and leave you with soft and smooth skin.
Some women have said that this scrub in particular does not irritate their sensitive skin, or cause breakouts. Other reviewers said this scrub is not as "harsh" as other scrubs they have tried, and love how moisturized they feel afterward.
The downside of the intense moisturizer is that some people felt it was too greasy, but it really comes down to personal preference. Others also felt that you did not get enough product in the jar for the price you are paying.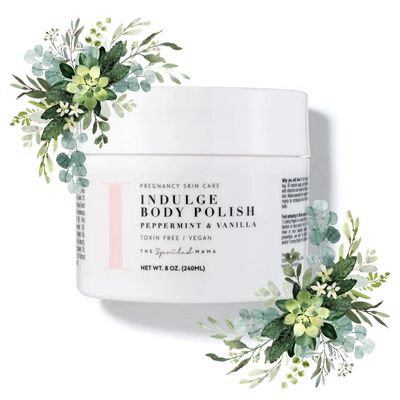 This non toxic, vegan scrub is designed to be used on your pregnant belly to help prevent stretch marks. Made with organic sugar, shea butter, apricot fruit extract and pumpkin seed oil, this scrub will buff away dead skin and leave you glowing.
Moms love that this exfoliant leaves their belly feeling moisturized and combats the itchiness they feel from their dry, stretching skin. Many women said they even continued to use the scrub after their baby was born, because they loved how it made them feel!
While it is free from artificial fragrance, moms should keep in mind that this scrub contains essential oils, which may not be a good choice for the first trimester.
Many medical professionals suggest avoiding essential oils entirely at the start of your pregnancy, to avoid the risk of causing uterine contractions. When in doubt, talk to your healthcare provider!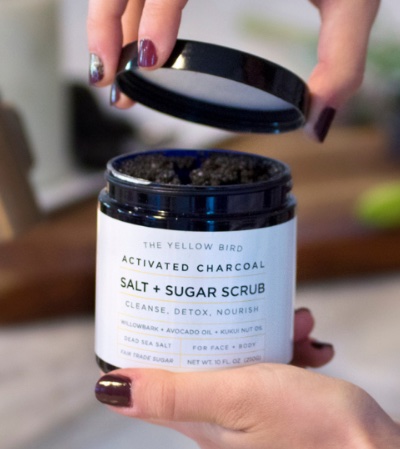 This scrub by The Yellow Bird provides the benefits of both a salt and sugar scrub, with the added bonus of activated charcoal. Designed for deep cleansing and detoxification, this scrub aims to tighten and improve skin's elasticity – which will inadvertently help with stretch marks!
Moms love the mix of organic sugar and dead sea salt, which leaves their skin feeling both clean and soft. When used as a facial scrub, reviewers found that it helped effectively manage excess oil and control their breakouts.
It's important to note that this formula contains willow bark, which is a naturally occurring salicylic acid. While salicylic acid is generally considered safe when applied topically (in low doses), high concentrations can cause serious pregnancy complications.
This scrub also contains rosemary and lavender essential oils, which should be used with caution as well. Always consult with your healthcare provider before using a product with these ingredients.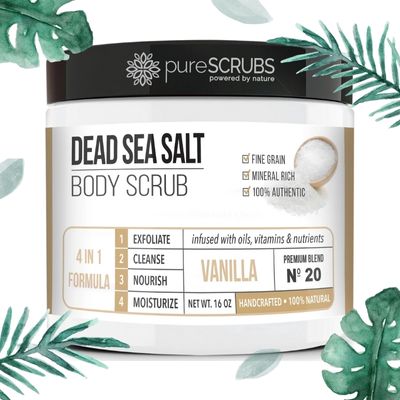 pureSCRUBS has a line of mineral rich, dead sea salt body scrubs that work as a very effective exfoliator. Made with natural ingredients like argan oil, shea butter, avocado oil and vitamin e, this scrub removes dead skin cells while nourishing dry skin.
Many reviewers love the fine-grain texture of the salt, and the way it exfoliates the skin gently. They also love the range of scents available, from cucumber to rose and even eucalyptus – just to name a few.
Again, these formulas use a variety of essential oils, which expectant mothers should approach with caution – especially the cinnamon one. Even this unscented option contains essential oils, so be sure to talk with your doctor and do your research on which oils are considered pregnancy safe!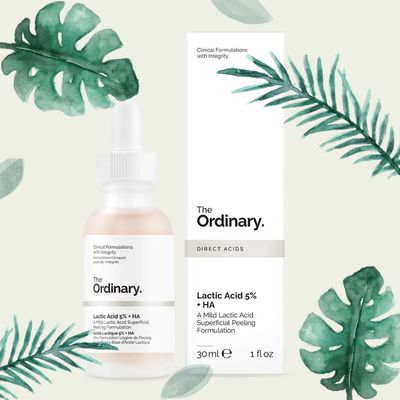 Unlike the previous scrubs on this list, this is a chemical exfoliant, meaning it is a smooth liquid with no physical "grains". Although it may sound intimidating, rest assured that lactic acid is gentle, mild and safe to use during pregnancy.
While physical exfoliants (such as sugar or salt scrubs) can be harsher on delicate skin, this one has been clinically tested and shown to reduce irritation, redness and sensitivity.
Many women claim that this exfoliator helped clear up their uneven skin tone, clogged pores, blackheads and even acne scars! Even those with sensitive skin say that it is great addition to their skincare routine.
Of course, everybody is different, so be sure to do a patch test before applying the product to your entire face.
Keep in mind that a chemical exfoliant should only be used at nighttime, as it can make your skin extra sensitive to the sun. It also should not be used in conjunction with certain products such as vitamin c, niacinamide or peptides.
Always consult the product directions to ensure you are using it correctly.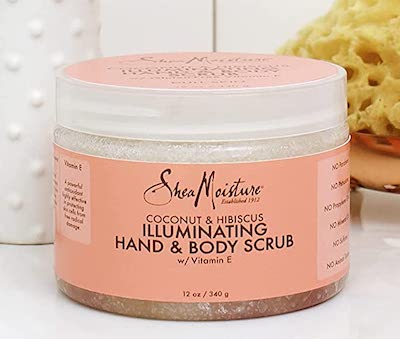 Made with natural ingredients such coconut oil, jojoba oils, mango and cocoa butter, this rich formula is designed to make your skin feel nourished and moisturized. It also contains unique ingredients, such as Songyi Mushrooms, that work to even out your skin tone.
Many reviewers love how soft and moisturized it makes their skin feel. They also found that this brightening scrub provided a glow for their whole body. These ingredients are also great for preventing stretch marks.
This product does contain artificial fragrances, which expectant moms with sensitivities should be aware of. Likely as a result of this synthetic fragrance, some reviewers complained it had a strong scent that they didn't care for.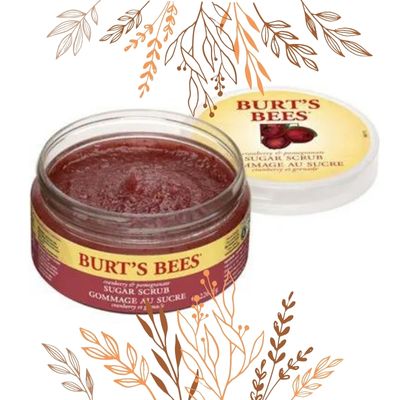 Burt's Bees is known for their natural products that are free from harmful chemicals, and this sugar scrub is no exception! It's rich formula is loaded with moisturizing ingredients such as pomegranate fruit oil, olive oil, coconut oil, grapeseed oil and shea butter.
It also contains multiple forms of cranberry – a powerful antioxidant that helps prevent the clogging of pores, the formation of wrinkles and the breakdown of collagen.
Because of the rich oils this product is made with, women loved that their skin felt supple and soft after using it. Some reviewers also loved that this pregnancy safe body scrub contained no nut oils, like so many other scrubs do. This is a great option for those who have nut allergies!
Keep in mind, this product does contain added fragrance (parfum). While they list it is as "natural" fragrance, they do not specify exactly what it is. For that reason, this may not be the best choice for those who prefer no additional fragrances.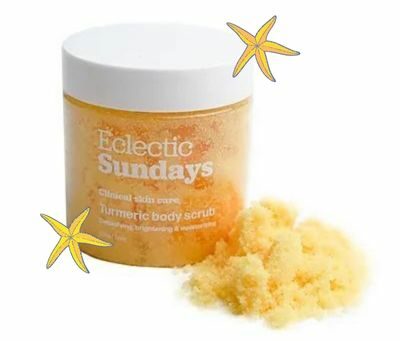 This unique scrub contains turmeric, which has antioxidant and anti-inflammation properties, to help bring out your skin's natural glow. Turmeric is also a natural exfoliant that helps control sebum production, making this a great option for those with oily skin.
Many women said that this scrub leaves their skin feeling moisturized long after their shower is done. They also love the "sandy" texture, which provides a more gentle exfoliation in comparison to courser grinds.
This formula contains lemon extracts and lemongrass essential oil, which some people found energizing, but others found it too strong.
Again, because of the use of essential oil, it is always best to consult your doctor first. Further, this scrub is not as creamy as other formulas, and may need water added to help you spread it on your skin easier.
Other Popular Exfoliating Scrubs That You Should Be Careful About
I want to point out a couple popular body scrubs you may see other people recommend, that I think should be approached with caution. Both of these products contain potentially harmful ingredients that expectant mothers may not want to use during pregnancy.
While the risks may be low and they are generally considered "safe" on the market, the point is that there are much better options out there. Pregnant women ESPECIALLY should be cautious and consider consulting a doctor before using them.
You'll see on their website that they claim this formula was medically researched to be "clean" and "safe" to use during pregnancy or nursing- but it is LOADED with chemicals and irritants.
For starters, it contains phenoxyethanol- a nasty preservative/stabilizer that is actually banned from baby care products because of it's toxicity and ability to be absorbed into your body1. In addition to your skin, it can irritate your lungs and digestive system, and potentially trigger rashes, hives and eczema.
The European Union classifies phenoxyethanol as an irritant, and of the 3,000 known allergens they have studied, it ranks in the top 10 most harmful2. It has been shown to cause reproductive issues and even birth defects, when used in large quantities.
On top of all of that, some studies suspect it to be carcinogenic- aka cancer causing.
Other ingredients that are cause for concern in this scrub include:
Sodium Laureth Sulfate (SLS or SLES) – Often contaminated with carcinogens and other toxins that harm your nervous system3.
C12-15 Alkyl Benzoate – An irritant.
Mentha Arvensis Leaf Oil – AKA peppermint essential oil, which some medical professionals advise avoided during your pregnancy.
Glycereth-2 Cocoate – Listed as a toxic substance in Annex I of the Canadian Environmental Protection Act (1999)4.
Acanthopanax Senticosus (Eleuthero) Root Extract – Reccomended to avoid taking during pregnancy or breastfeeding, due to lack of safety research5.
Iodopropynyl Butylcarbamate – Potential human toxin, allergen and irritant6.
For the most part, this one is much better than the last, as it contains more natural, pregnancy safe ingredients. However, there are still a couple of ingredients I would look out for:
Phenoxyethanol – toxic irritant, allergen and potential carcinogenic (see above for full break down).
Ethylhexylglycerin – Reported to cause dermatitis and skin irritation.
Citrus Sinensis (Orange) Essential Oil – Because your skin is more sensitive while pregnant, essential oils like orange can cause skin reactions (phototoxicity) when exposed to the sun.
Pregnancy-Safe Exfoliating Scrubs – FAQ
Here are some answers to some common questions that expectant mothers ask when looking for an exfoliating body scrub safe for pregnancy.
What Exfoliators Are Safe During Pregnancy?
Scrubs that are made up of natural (organic, if possible) ingredients are a great option for a pregnancy safe exfoliator! Look for ones with a non irritating, hydrating formula, with a gentle texture that won't be too abrasive on your skin.
Some of my favorite pregnancy safe scrubs are:
Creating your own homemade sugar scrub is also a great option! That way, you know exactly what you're putting on your body, and you can add specific ingredients for your unique skin needs.
If you are wary of your body scrubs, manual exfoliation is a great way to safely exfoliate during your pregnancy.
Examples of manual exfoliation include:
Dry brushing.
Using a loofa.
Using a gentle sponge.
Using a washcloth.
I would recommend using the loofa, sponge, or washcloth while you are in the shower – just make sure not to overdo it or scrub your body too harshly.
Is It Safe To Exfoliate While Pregnant?
It is possible to safely exfoliate while you are pregnant, however there are ingredients you should be wary of, like salicylic acid and certain essential oils. You should also be careful not to overdo it!
In general, a pregnancy belly scrub provides gentle exfoliation and promotes good blood circulation. They are a great way to help buff your skin during pregnancy and combat stretch marks, by improving the elasticity of your skin.
Manual exfoliation also removes dead skin cells safely and effectively, and is another great option for pregnant women to deal with dry skin.
Can You Scrub While Pregnant?
Yes, you can scrub while pregnant and it actually has many other benefits on top of removing dead skin cells!
When we physically rub or massage our skin, it can help with collagen production and improve the skin's elasticity. This is especially useful during the nine months of pregnancy, when our skin is constantly stretching and changing.
Is AHA And BHA Safe During Pregnancy?
AHAs and BHAs are very popular chemical exfoliants used to treat acne prone skin, however most of these ingredients are NOT considered pregnancy safe.
Many scientists believe that salicylic acid, retinols and benzoyl peroxide are absorbed into your bloodstream and can cause birth defects, if used while you are pregnant7.
Is AHA Peel Safe During Pregnancy?
While most dermatologists will recommend switching from an AHA to a physical exfoliant during pregnancy, there are a couple of AHAs that are considered pregnancy safe: glycolic acid and lactic acid.
Regardless, always consult your doctor or dermatologist before using an AHA peel!
Can You Use Glycolic Scrub When Pregnant?
Many pregnant women are looking for good alternatives to salicylic acid and retinoids, and glycolic acid is a great option. It is one of the most effective ways to slough off the layer of dry skin, and it can find it in a variety of forms, including cleanser, moisturizer, toner, exfoliant or peel.
Although it is considered pregnancy safe, stick to a lower concentration (7% or less)8 and always consult a professional before using it.
What Is The Best Skin Care For Pregnant Woman?
I know it may seem tempting to skip your skincare routine all together, out of fear of not knowing which ingredients are pregnancy safe, but don't do it! It's so important to keep up a good skincare routine during your pregnancy- especially because your skin needs extra love and care during these changes.
If you are concerned that your usual skincare products are not pregnancy safe, feel free to simplify it! All you really need for healthy skin is a good cleanser, moisturizer and SPF, with the occasional exfoliation to remove dead skin cells.
Stick with products that are natural, organic and free from harmful chemicals.
Can You Get A Salt Scrub When Pregnant?
Yes, you can get a salt scrub when pregnant! Salt scrubs are a great way to slough off those dead skin cells, stimulate oxygen and blood circulation, while leaving your skin soft. One thing to note, however, is that salt scrubs can be more abrasive if you have very sensitive skin.
If you are going to a spa for this treatment, just confirm with them that techniques and scrub they use is pregnancy safe- but in general, it should be fine.
Is Peppermint Foot Scrub Safe In Pregnancy?
Peppermint is a popular oil used in foot scrubs and lotions, however many experts are divided on whether it is safe to use throughout your entire pregnancy.
Because a scrub is something that you wash off, it can be argued that the risk is low. If you have any concerns, I recommend you talk it over with your healthcare provider!
If you want to know more about peppermint scrub safety during pregnancy, read my detailed article here where I discuss benefits and risks of this ingredient for pregnant woman.
---
Article By Macy Tollefson
Macy Tollefson is a full spectrum doula, breastfeeding specialist and prenatal yoga teacher. She is passionate about guiding the modern mama on her journey through the beautiful (and wild) transformation of pregnancy, birth and postpartum. Macy envisions a world where every mother has access to the resources she needs, and follows her intuition to make the best decisions about what is right for her and her baby.
---
The purpose of this article is informative. It's not a substitute for professional medical advice or medical care. Remember: safety first! Consult your doctor/pediatrician in case of any doubts. The author of this article does not accept any responsibility for any liability, loss or risk, personal or otherwise, incurred as a consequence, directly or indirectly, from any information or advice contained here. This article contains affiliate links which means when you make a purchase through our links, we may get a small commission at no extra cost to you. This helps us to run this website.
---
Source of pictures:
Pictures of Indulge Peppermint Sugar Scrub For Stretch Marks belong to The Spoiled Mama Brand.
Pictures of Bare Botanics Natural Body Scrub belong to Bare Botanica Brand.
Pictures of Beauty By Earth Organic Body Scrub (Vanilla & Coconut) belong to Beauty By Earth Brand.
Pictures of Natural Activated Charcoal Body & Face Scrub belong to The Yellow Bird Brand.
Pictures of pureSCRUBS Premium Organic Body Scrub belong to pureSCRUBS Brand.
Pictures of Lactic Acid 5% + Ha 2% Peeling Formulation belong to The Ordinary Brand.
Pictures of Illuminating Hand & Body Scrub belong to SheaMoisture Brand.
Pictures of Sugar Scrub Cranberry and Pomegranate products belong to Burt's Bees Brand.
Pictures of Turmeric Body Scrub products belong to Eclectic Sundays Brand.
References:
https://balmonds.com/blogs/blog/what-is-phenoxyethanol-and-why-is-it-dangerous
https://www.mustelausa.com/blogs/mustela-mag/is-phenoxyethanol-safe-for-you-and-your-newborn
https://davidsuzuki.org/living-green/dirty-dozen-sodium-laureth-sulfate/
https://attitudeliving.com/blogs/lifestyle/under-the-microscope-5-ingredients-to-avoid-in-unscented-products
https://www.utep.edu/herbal-safety/herbal-facts/herbal%20facts%20sheet/eleuthero.html
https://www.ewg.org/skindeep/ingredients/703111-IODOPROPYNYL_BUTYLCARBAMATE/
https://www.verywellfamily.com/