Snoo alternative is a great solution for parents on smaller budget. If you don't want to spend a fortune on Snoo Smart Sleeper, there are 5 fantastic alternatives and knock-offs that are even 6 times cheaper!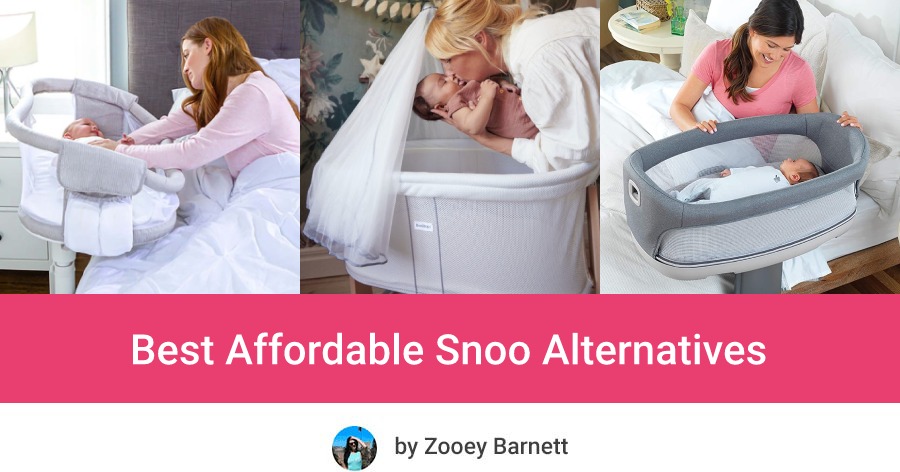 Bassinet with soothing sounds and gentle rocking can be a great help for boosting your baby sleep – and it can also help you with your sleep deprivation.
But do you really need the $1500 Snoo Smart Sleeper to keep your baby safe at night and help them fall asleep?
Of course not!
I found 5 amazing Snoo knock-offs and more affordable alternatives that can provide your little one with safe sleep space.
If you're looking for reasonably-priced baby bassinet with built-in white noise and rocking motion, you're in the right place.
This article is not a substitute for medical advice. It contains affiliate links.
Best Features
❤️ Detects crying and adjusts all calming function to soothe your baby
❤️ Wheels make it easier to move it from one room to another
❤️ Storage pockets underneath the cradle
❤️ Sits over your bed so your baby is really close to you
❤️ Makes feeding at night much easier thanks to push-down bedside wall
❤️ Features 360-degree swivel and 2 useful storage pockets for diapers and wipes
❤️ 5 unique motions - it rocks the baby just like mommy
❤️ One of the most breathable baby bassinets out there
❤️ You can steer it on the control panel or smartphone app (via Bluetooth)
advantage
✨680+ parents recommend it!
✨ About 5x cheaper than Snoo!
✨ Even the Snoo doesn't have these unique motions!
Best Alternative With Cry Detectors
Best Features
❤️ Detects crying and adjusts all calming function to soothe your baby
❤️ Wheels make it easier to move it from one room to another
❤️ Storage pockets underneath the cradle
advantage
✨680+ parents recommend it!
Best Bedside Sleeper That Rotates
Best Features
❤️ Sits over your bed so your baby is really close to you
❤️ Makes feeding at night much easier thanks to push-down bedside wall
❤️ Features 360-degree swivel and 2 useful storage pockets for diapers and wipes
advantage
✨ About 5x cheaper than Snoo!
Bassinet With Most Unique Motions
Best Features
❤️ 5 unique motions - it rocks the baby just like mommy
❤️ One of the most breathable baby bassinets out there
❤️ You can steer it on the control panel or smartphone app (via Bluetooth)
advantage
✨ Even the Snoo doesn't have these unique motions!
Last update on 2023-09-30 / Affiliate links / Images from Amazon Product Advertising API
What Is Comparable To The Snoo? – Ranking Of The Best Snoo Alternatives In 2022
I am going to share with you my favorite Snoo cheaper alternatives. Each of these bassinets is suitable from birth and comes with a flat, thin and firm mattress – in accordance with AAP recommendations.
Here are the best bassinets that are comparable to Snoo.
In my opinion, this smart bassinet is the best Snoo alternative. Just like its pricier competitor it detects and automatically reacts to your baby's cries by activating calming functions.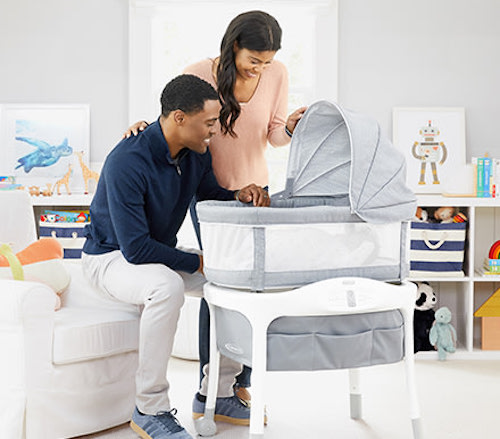 When your baby starts fussing, Graco bassinet detects it using the built-in microphone, then adjusts head-to-toes soothing motion, vibrations and sound to help baby get back to sleep without fully waking up.
Crying sensor is designed to distinguish baby's fussing from other sounds like TV or radio or conversation.
Overall, I think that Graco bassinet is a fantastic Snoo "knock off" at more reasonable price! I'm really impressed with Graco cry detection technology and frankly, I prefer this one to Snoo's technology!
Why? Simply because Snoo only increases speed and volume when it detects crying, which not all babies like – sometimes it makes the child angrier and crying even more!
I really like that Graco tries 5 different calming settings and cycles through them to find the best setting that will help to calm your baby down. There's one more advantage: Graco smart bassinet has the Parent Mode – which allows you to save soothing settings that work best for your little one. When the sensor detects crying, these settings will turn on. Of course you can adjust the settings manually at any time.
I really like that this bassinet doesn't just switch off, but gradually turns off in 10 minutes, after the crying has stopped. Then the white noise turns on and plays for 8 hours.
Thanks to cry detection technology, your little one can get more sleep because the bassinet helps him to drift to next sleep cycle.
If your a sleep-deprived parent this feature may be really helpful, but don't forget that YOUR reaction to baby's needs has huge impact on your bonding and baby's sense of trust and attachment.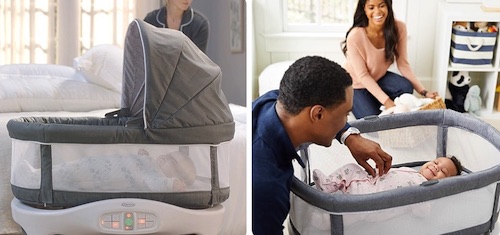 Graco Sense2Snooze has lots of soothing features: there are 3 speed settings for the auto rocking motion, vibration with 2 speed settings, and a wide selection of songs, soothing nature sounds and white noise.
Graco smart bassinet can be used from birth. You can use it as long as your baby in under 20 pounds, can't roll over or push up on hands and knees.
Just like other baby bassinets, this one also has breathable and transparent mesh sidewalls to boost air circulation inside the cradle, as well as to allow you to keep an eye on your child.
There are 3 more features that distinguish Graco from Snoo:
It has two wheels that allow you to easily move it around the house, without compromising its stability or sturdiness
There's a reversible canopy which can be useful for protecting baby from light
Under the cradle there's a storage – I found it very useful for keeping diapers, wipes, diaper rash cream and cloth nappy at hand
And last, but not least, I love Graco Sense2Snooze because it's over 4x cheaper than Snoo!
My rate:
Halo BassiNest is one of the most popular cheaper alternatives to the Snoo. There are 3 versions of the BassiNest Swivel Sleeper and depending on which one you choose, it may cost you even 6 times less than Snoo!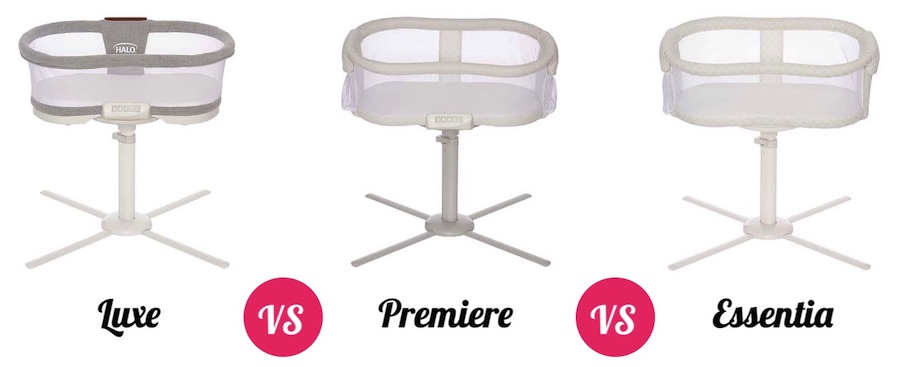 Halo Luxe Series – It vibrates, plays white noise and other calming sounds, there's 1 storage pocket, plus you can use the bed on and off the base
Halo Premiere Series – This one has soothing sounds and vibrations, and 2 storage pockets
Halo Essentia Series – Basic bassinet with storage pouches, but no vibrations or sounds
It doesn't have cry detectors, but there are some cool and useful features that you won't get with the Snoo.
All BassiNest versions feature 360-degree swivel which means you can rotate the cradle when you need to get out of bed, This means no need to scoot down the bed when you're in pain after the delivery.
Besides, all Halo versions have height-adjustable base therefore you can bring the bassinet closer to you – it can actually sit over your bed. This way you will keep your newborn baby really close to you, but they will still have their own, safe space for your baby's sleep. It's so convenient for anxious parents and sleep-deprived moms.
There is one more unique feature that is really useful for feeding at night. The bedside wall pushes down to make taking baby in and out a bit easier.
These features make Halo a much better bedside sleeper than Snoo, and also one of the best bassinets for C-section moms.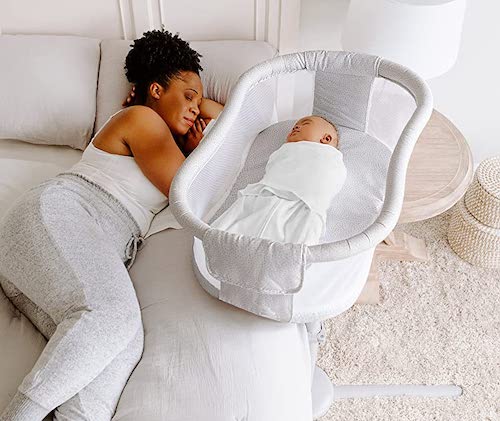 Halo is not ideal – there are some drawbacks. It's heavy and quite bulky. The legs stick out pretty far so you need to be careful not to trip over them. On the positive note, you can set the bassinet close to your bed and one of the legs will be under your bed. I also wish there was some built-in storage.
PRO TIP: If you're wondering which Halo BassiNest is best – I recommend you this Premiere Series. It's a fantastic Snoo cheaper alternative. It has all the bells and whistles that soothe babies and help them to stay asleep longer. It's also cheaper than Halo Luxe.
If you're unsure if Halo BassiNest is good enough, read my in-depth comparison: Snoo vs. Halo.
This high-tech bassinets is a great alternative to the Snoo. It features 5 unique motions which I LOVE (and babies do too)! It can be used from birth up to 25 pounds (or when the baby is able to roll over, which ever comes first).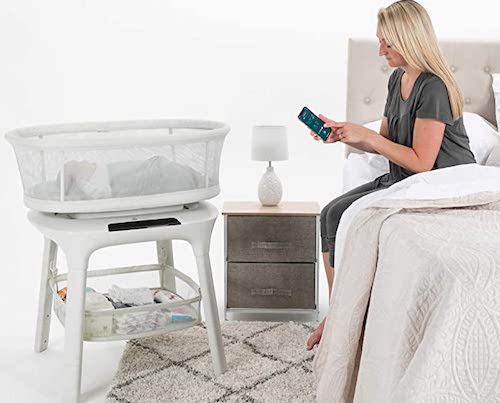 mamaRoo bassinet offers 5 unique motions that mimic parents' movements when they try to lull their baby to sleep.
You can choose motions like: car ride, kangaroo, tree swing, rock-a-bye and wave. For each movement you can also adjust the speed (5 settings).
Since the mamaRoo bassinet bounces and sways just like parents, it helps babies fall asleep and sleep longer – and it actually works!
What's noteworthy, this is the only bassinet that offers these special movements – even the $1500 Snoo doesn't have this feature! But keep in mind that there's no cry sensor and you need to turn on the bassinet manually.
You can control and adjust the settings on the bassinet control panel or via 4moms app that uses Bluetooth.
4moms mamaRoo bassinet plays only 4 soothing sounds: ocean, rain, fan and shh. I wish there were some lullabies or white noise.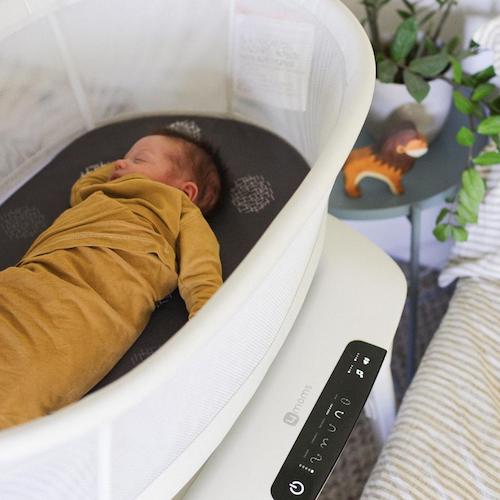 mamaRoo bassinet provides your little one with safe sleep space thanks to flat, thin and firm mattress and mesh walls that allow to see your baby the whole time.
What's also important, this is one of the most breathable sleepers out there. This means that it ensures proper air circulation inside baby's bed and reduces the risk of overheating.
I love mamaRoo design – it's minimalistic and modern, and fits all nursery styles. You can also adjust its height so it sits perfectly next to your mattress.
There's one more advantage: the assembly is extremely easy and doesn't require any tools. I was able to put everything together on my own and it took only a few minutes.
4moms mamaRoo is about 4 times cheaper than Snoo bassinet, but it's aa bit more expensive than other alternatives. You can also get this large storage basket – I wish it was included with the bassinet tho.
Chicco Close To You is one of the most versatile bassinets because you can use it in 3 different ways.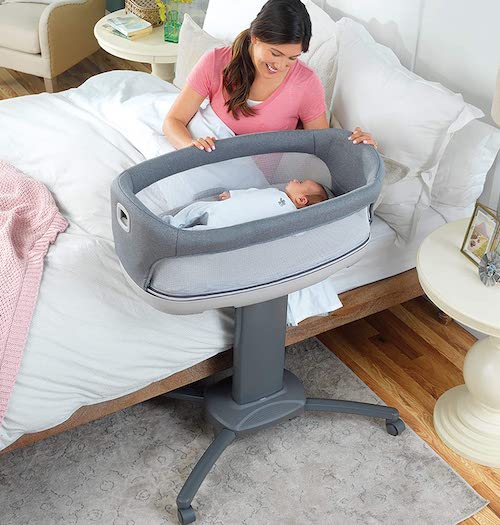 Bedside Sleeper
it has height-adjustable base which means you can raise it and slide it closer to your bed so it sits over your mattress. This way you can feel like the baby is in your bed, without actual bed-sharing (and all the risks it carries).
Thanks to this feature you'll be able to keep your baby close to you for all those midnight feedings and diaper changes.
Plus there is a convenient handle that you can use to push the bassinet away when you need to get out of bed. This may seem like an irrelevant feature, but it's a game changer because you don't have to scoot down the bed when you're recovering from delivery.
Snoo doesn't have these convenient features!
To help your baby sleep more soundly, this bassinet features 6 soothing melodies and 2 vibration settings. There's also a night light.
Portable Bassinet
Chicco Close To You has 4 lockable wheels, and the handle doubles as a brake. These two features make the bassinet really easy to move from nursery to your bedroom. It's really awesome that you can roll it, because carrying it is challenging (33 lbs!).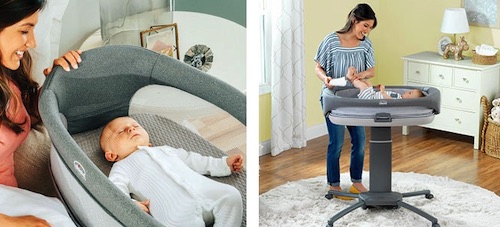 Changing Table
If you adjust the height and lower the mesh sidewalls, you'll be able to use Chicco Close To You as a changing table. The mattress is reversible – quilted side of the cover is for sleeping, the waterproof side is for diaper changes.
Thanks to this feature, there's no need to worry that a diaper blowout will ruin the mattress! What I also like is that you can take off this zippered cover at any time and put in the laundry.
What's very important – as a bassinet Chicco is suitable up to 20 pounds (or when the baby starts to push on their hands and knees or roll over). But it will serve you longer as a changing table – even up to 35 lbs.
PRO TIP: If you're looking for really inexpensive Snoo alternative, check out this Chicco LullaGo Bassinet. It's really simple and doesn't rock, but it's ultra lightweight (only 12 lbs), has 4 mesh sides for improved breathability and has pockets for a few diapers or burp cloth.
What's noteworthy, Chicco has mesh walls only on 2 sides, not on 4 sides like most of other bassinets. Two other sites are reinforced and padded with soft fabric. I wish all walls were made of mesh, because the bassinet would be more breathable this way.
On the positive note, the mesh is really transparent. Moreover, you can zip off the whole fabric and mesh for washing – in contrast to Snoo which has non-removable mesh.
Chicco doesn't have any storage pockets, it's not a huge deal-breaker but you should keep that in mind.
I picked BabyBjorn Cradle for my ranking because it has really sleek and modern look that reminds me of Snoo. I love how stylish it looks and matches different nursery styles.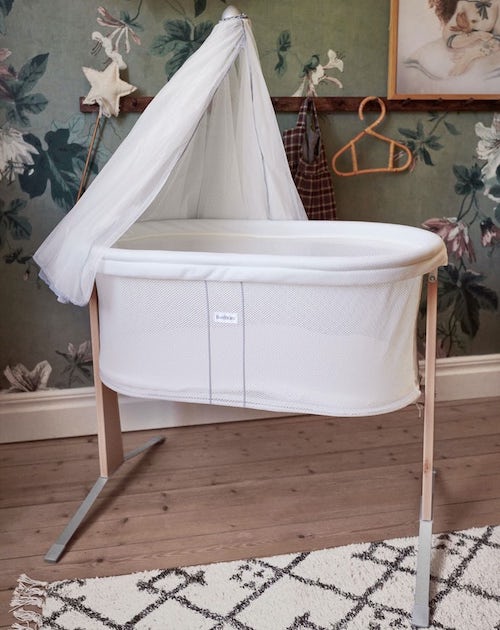 What's important, this cradle doesn't have all those bells and whistles like other bassinets, but I still think it's a great Snoo "knock-off".
The design is really simple and the assembly takes literally a few minutes. The walls are made of transparent mesh so you don't have to worry about your baby's breathing being restricted. I love how lightweight and airy it is. There's also a flat and firm foam mattress which is about 1 inch tall.
What are really like about BabyBjorn Cradle is that the mattress cover, as well as the whole mesh fabric is removable and machine-washable. In case of a diaper blowout or spit-up, or if mesh gets dusty, this bassinet will be so easy to clean.
The legs are wooden, while the feet are made of steel and they are a bit springy.
The cradle gently bounces using baby's natural movement. When baby sleeps, it stands still, when the baby wakes up and wiggles, the cradle slightly rocks and bounces. This may help the baby to fall back to sleep. You can also sit next to it and manually rock it to lull your baby to sleep.
Because there's no crying detector or automatic motion with a timer, this cradle may actually promote self soothing, as well as encourage parents to respond to baby's cries and fussiness – which helps with bonding.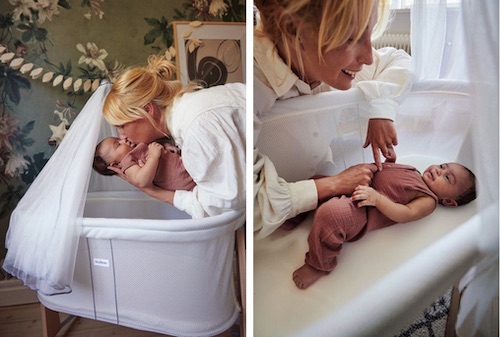 Another thing that I love about BabyBjorn bassinet is how lightweight it is – it weighs only 13 pounds which makes it so easy to move from one room to another. And it folds down neatly for travel or transportation.
I know that some parents have their bed on the floor and look for bassinet that sits low to the ground. This cradle is a fantastic solution because it's only 26″ tall and the base is only about 12″ from the ground.
It's suitable from birth up to 18 pounds (or when the baby can roll over or push on hands & knees).
Even though this baby bassinet is about 4x cheaper than Snoo, for some parents it may still seem a bit pricey, especially that it doesn't feature any automatic motions and doesn't play white noise. If you want this features, check out other smart bassinets.
Snoo Alternative & Cheaper Versions – FAQ
Before you decide to get Snoo cheaper alternative instead of the actual Snoo, here are a few details about this smart sleeper. I hope they will help you to choose the best bassinet that will meet your need.
Why Is The Snoo So Expensive?
There are a few reasons why Snoo is expensive: its functionality, smart features, modern design and famous founder.
First of all, Snoo is expensive because it uses this smart technology that detects when the baby is crying and automatically responds by adjusting its soothing features. Moreover, these detectors differentiate cries from other noises like talking, TV, radio etc. With smartphone app Snoo can also track your baby's sleep patterns. Obviously high-tech functions are pricey.
Moreover, Snoo comes with a swaddle sack that keeps baby snuggly throughout the night and prevents from rolling to unsafe position.
Another reason why Snoo is so expensive is its gorgeous, beautiful look. It looks awesome in all nursery styles and… in Instagram pictures. That instagrammable look costs extra. Snoo bassinet is extremely popular in social media and because of all that hype the brand can set the price higher.
There's one more reason for Snoo high price tag – it's found by famous pediatrician Dr. Harvey Karp. Because of his name, this brand is kinda luxurious. This means you are also paying for for the name and logo.
Do I Really Need A Snoo?
Speaking from my experience, I don't think the Snoo is must-have. If you can afford it and you like its features, go ahead and buy it. But if you can't afford it, don't feel bad about it – you don't really need the Snoo to keep your baby comfy and safe at night.
Even if you decide to get an alternative or cheaper bassinet without all these bells and whistles, your baby can sleep soundly at night – just keep in mind all those convenience and safety features.
In all Snoo alternatives, you can put your baby to sleep in a swaddle to prevent rolling over to tummy.
Some of the bassinets that I recommend here have the built-in music, you can also get a white noise machine – for less than $1500. 🙂
Moreover, the cry detectors can now be found even on Snoo cheaper alternatives (Graco)! Some bassinets have even more breathable sidewalls and some bassinets – like Halo – work even better as bedside sleepers than Snoo!
Whichever alternative or knockoff you choose, make sure it has all safety features and functions your baby may need to feel cozy and comfy at night.
Baby should sleep in supine position, on firm and flat surface (1″ mattress is great) in their own safe sleep area like bassinet, sleeper or crib. Remember: back to sleep, tummy to play.
---
The purpose of this article is informative. It's not a substitute for medical consultation or medical care. Remember: safety first! Consult your doctor/pediatrician in case of any doubts, and before you introduce tummy time. The author of this article does not accept any responsibility for any liability, loss or risk, personal or otherwise, incurred as a consequence, directly or indirectly, from any information or advice contained here. The article contains affiliate links – your support helps us run this blog!
Source of pictures:
Pictures of Snoo Smart Sleeper belong to Happiest Baby brand. Source: https://www.happiestbaby.com/
Pictures of Halo Swivel Bassinet belong to Halo brand. Source: https://www.halosleep.com/
Pictures of BabyBjorn Cradle belong to BabyBjorn brand. Source: https://www.babybjorn.com/
Pictures of Chicco Bassinet belong to Chicco brand. Source: https://www.chiccousa.com/
Pictures of Graco Bassinet belong to Graco brand. Source: https://www.gracobaby.com/
Pictures of 4moms Bassinet belong to 4moms brand. Source: https://www.4moms.com/