The average face moisturizer is FULL of harmful ingredients such as parabens, alcohols, harsh chemicals, and heavy metals. Even seemingly innocent ingredients (ex. added fragrance) can have harmful effects on your skin – and the baby growing in your womb. Find out what are the best pregnancy-safe face moisturizers and which creams you should avoid!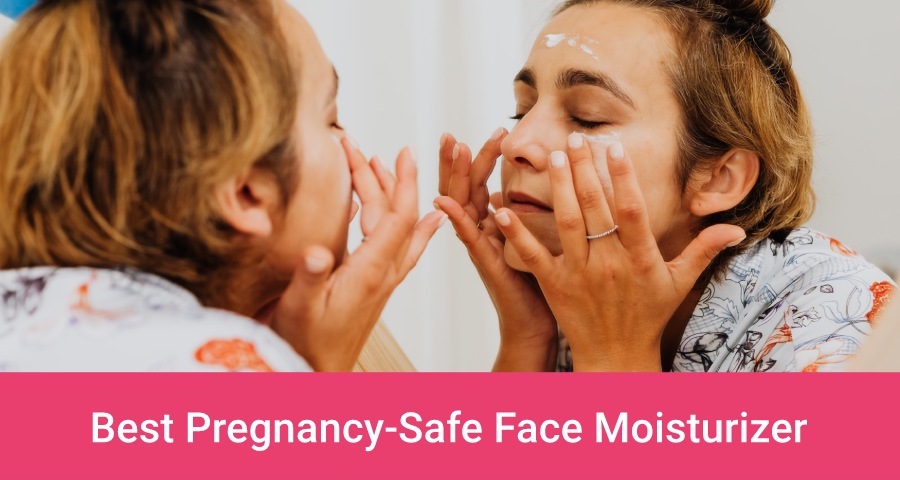 Medically reviewed by Macy Tollefson – doula, breastfeeding specialist & prenatal yoga teacher
During pregnancy, it's so common to experience dry and sensitive skin. Some women also have to deal with uneven skin tone and dark spots.
But before you reach for your usual moisturizing cream or your favorite facial lotion for fine lines, you need to make sure it's pregnancy safe. Your skin absorbs everything you put on it (some even goes to your baby), which is why it's so important that you are choosing products with SAFE and effective ingredients.
I know it can be hard searching for all that best skincare products to use during your pregnancy. You're constantly on the lookout for non-toxic, non-irritating AND moisturizing ingredients. In an overwhelming sea of creams, lotions, serums, butters – which is the safest option for you?
I know how frustrating the hunt can be, so I'm here to help. Keep reading to see some of the best pregnancy safe face moisturizers, plus my tips for avoiding harmful ingredients!
This article is not a substitute for medical advice. It contains affiliate links.
Best Features
❤️ Only clean and safe ingredients
❤️ Perfect for extremely dry skin
❤️ Evens out skin tone and reduces the appearance of wrinkles
✖️On the high end
❤️ Doesn't clog pores
❤️ Only natural ingredients
❤️ Suitable even for reactive skin
✖️A bit too lightweight formula
❤️ Absorbs quickly
❤️ Packed with hydrating and nourishing ingredients
❤️ Provides moisturizing for a whole day
✖️Doesn't smell that good
advantage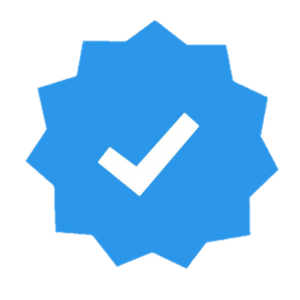 Recommended by 2,070+ verified buyers!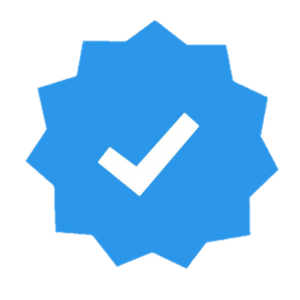 Recommended by 88% of verified buyers!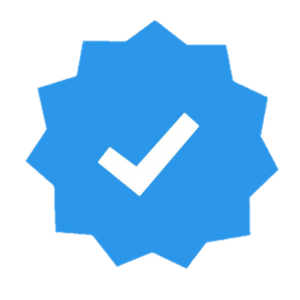 Recommended by 81% of verified buyers!
Moms' Favorite Choice
Best Features
❤️ Only clean and safe ingredients
❤️ Perfect for extremely dry skin
❤️ Evens out skin tone and reduces the appearance of wrinkles
✖️On the high end
advantage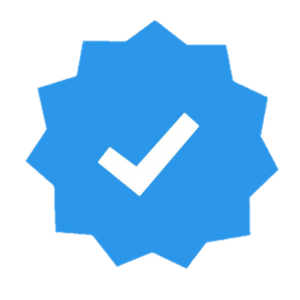 Recommended by 2,070+ verified buyers!
Best Features
❤️ Doesn't clog pores
❤️ Only natural ingredients
❤️ Suitable even for reactive skin
✖️A bit too lightweight formula
advantage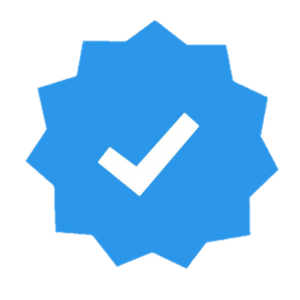 Recommended by 88% of verified buyers!
Best Features
❤️ Absorbs quickly
❤️ Packed with hydrating and nourishing ingredients
❤️ Provides moisturizing for a whole day
✖️Doesn't smell that good
advantage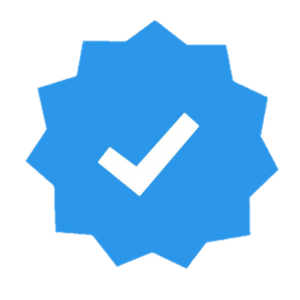 Recommended by 81% of verified buyers!
Last update on 2023-05-30 / Affiliate links / Images from Amazon Product Advertising API
Best Face Moisturizer For Dry Skin During Pregnancy
Keeping your skin hydrated during pregnancy is essential. The right pregnancy facial lotion will also minimize the fine lines and wrinkles visibility and even out your skin tone.
Here are some of my favorite pregnancy safe moisturizers that you can add to your skincare routine:
This pregnancy safe face moisturizer by Mad Hippie is PACKED with peptides and antioxidants, that will leave you with soft, rejuvenated and healthy skin. While this ingredient list is longer (and seemingly more complicated) than some other ones in this article, rest assured that all of these ingredients are clean, SAFE and effective.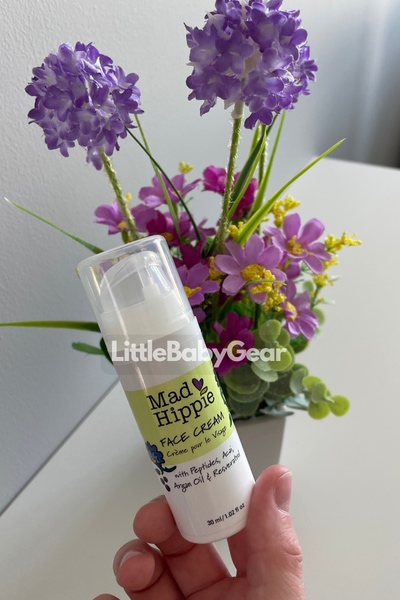 What Moms Love About It
The number one thing women love about this moisturizer is that it is lightweight, absorbs easily and doesn't leave you with greasy, oily skin. Even those with very sensitive skin say that this face cream is one of the only ones that doesn't irritate or cause breakouts for them. Many women say they love the light, pleasant scent as well!
Another benefit of this cream is that it help to minimize the visibility of wrinkles!
What To Keep In Mind
For a pretty high price tag, you only get 30ml bottle which makes it one of the most pricey facial creams. But lots of mamas say this moisturizer is well worth the money because it has also anti-aging properties and reduces the appearance of fine lines.
PRO TIP: If you have acne-prone skin, you should also check out this Mad Hippie Night Cream, which contains the powerful vitamin C. It's a great safe way to treat pregnancy acne and brighten dull skin. Plus many mamas report less visible fine lines and wrinkles after only a few weeks of use… who doesn't want that?! Remember to use it only at night, and during the day use the peptide face cream.
Botanical Green Care has a certified organic moisturizer, made with all natural ingredients and no harmful chemicals. With moisturizing organic aloe vera, apricot oil, grapeseed and avocado oil, this cream is deeply nourishing – and perfect for dehydrated skin! It's also non greasy and non-comedogenic (meaning it won't clog your pores), making it great for all skin types.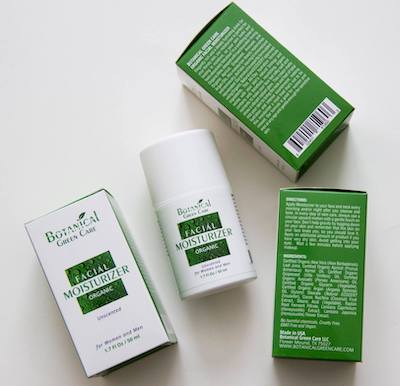 What Moms Love About It
Moms love that this light formula is unscented and hypoallergenic. Even those with very reactive and sensitive skin love how hydrated and nourished their face feels after using it! They say it's calming, clean and effective.
What To Keep In Mind
Some moms, on the other hand, thought this formula was too lightweight and didn't feel like it moisturized their skin enough. If you have extremely dry, thirsty skin, this may be something to keep in mind. You may need a richer formula.
Acure's ultra hydrating face lotion can be another perfect addition to your pregnancy skincare routine. The cocoa seed butter, safflower seed oil and aloe leaf juice provide intense, but soothing moisture. This formula is also specially formulated with plant-based squalane and ceramides, to help nourish your skin barrier and retain moisture.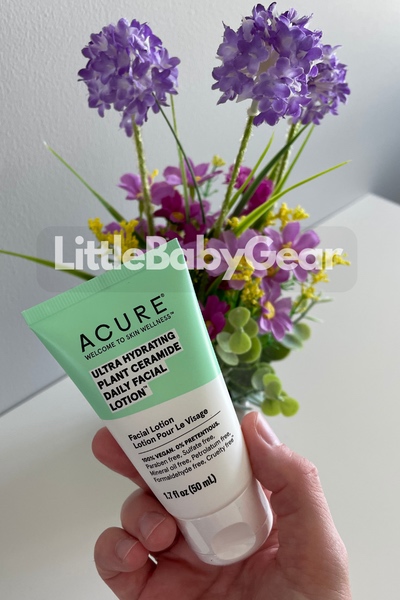 What Moms Love About It
Many moms love that this moisturizer is gentle enough to be used as a daily moisturizing cream, especially if you have very dry. Many people commented that they felt hydrated all day long, after they only applied it in the morning. The formula is also fast-absorbing.
What To Keep In Mind
As with any product, not all women liked this cream light scent. Also, it may not be the best option for very sensitive skin or reactive skin.
This unique formula by Earth Mama contains soothing ingredients like organic colloidal oatmeal, organic rooibos and black cumin seed. It is also made without artificial preservatives (a common skin irritant) or fragrance, and is approved by the National Eczema Organization.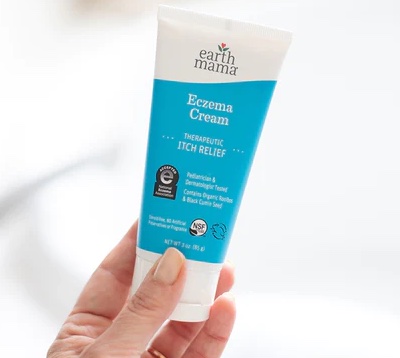 This moisturizer soothes irritation and itchy skin – which is very common for pregnant women to experience!
What Moms Love About It
Moms who have tried this cream love that a little bit goes a long way. They also love the versatility of relieving eczema or dermatitis AND deeply moisturizing the skin. Many moms to be used this cream throughout their pregnancy and postpartum period, as well as on their babies and kids!
What To Keep In Mind
One thing to note is that this cream is not designed specifically as a facial moisturizer. Because of this, it contains very rich ingredients that are great on your body, but might not be the best option for moms with oily skin.
Coconut oil in particular is one ingredient you need to be cautious with when using it on your face- especially if you have acne prone skin. On it's own, coconut oil can clog your pores, leading to breakouts.
With that being said, everyone's skin is different. A very rich moisturizing cream may work for you, or you may want to use it as a spot treatment for any irritation or dermatitis on your face.
This pregnancy safe moisturizer includes powerful peptides, that help boost your skin elasticity and promote collagen production (which is great reducing skin aging!).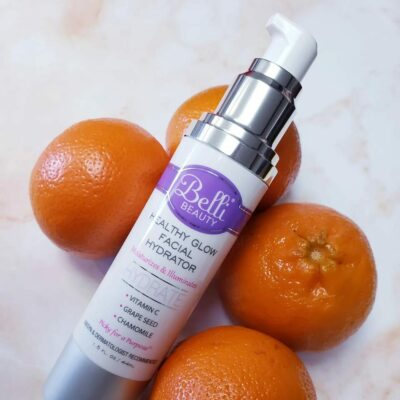 What Moms Love About It
Belli has even had their moisturizer medically researched, to ensure that they are avoiding the use of any potentially harmful ingredients for both pregnancy and nursing.
Moms-to-be love the creamy formula and say that it really hydrated their skin. Some women loved it so much, they continued to use it long after they were pregnant!
Thanks to included vitamin C, this is one of the best facial moisturizers for those who have a acne-prone or oily skin.
What To Keep In Mind
Keep in mind that the vitamin C and orange peel oil included in this moisturizer will make your skin VERY sensitive to the sun and increase your risk of sunburn. If you are using vitamin C in your skin care routine, it's best to follow up with good sun protection. Mineral sunscreens provide a great protective barrier and actually REFLECT harmful UV rays off of the skin surface.
Perfect for sensitive skin, this gentle moisturizer by Pipette includes colloidal oatmeal to soothe itchiness and irritation. The superstar of this formula is the squalene, which helps provides deep but lightweight moisture, and protects your skin barrier.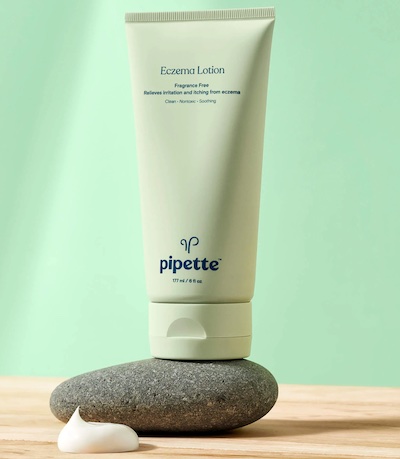 What Moms Love About It
Moms love the moisturizing, clean ingredient list, and say it smoothes onto the skin easily. They rave that it is gentle, while still being effective, and the hydration lasts all day long. One women in particular writes that she initially bought it as a face moisturizer, but was quickly using it to cure dry patches all over her body!
What To Keep In Mind
One important thing to note is that this formula includes Ethylhexylglycerin. There is limited data available around the safety of Ethylhexylglycerin, however most experts seem to agree that it is safe for pregnancy. There have been reports that this ingredient has caused irritation in a small number of people, so if you have super sensitive skin, maybe keep this in mind.
With that being said, seeing as this moisturizing cream is designed specifically for those with eczema and other sensitive skin issues (not to mention it's approved by the National Eczema Organization and dermatologist recommended), I think it should be ok.
This pregnancy safe moisturizer from FARMSTEAD APOTHECARY is made with moisturizing ingredients, such as safflower oil, jojoba oil and vitamin E. The hydrating jojoba oil, in particular, provides great antioxidant and anti aging properties. It also helps with oil production regulation, making it perfect for your ever-changing pregnancy skin.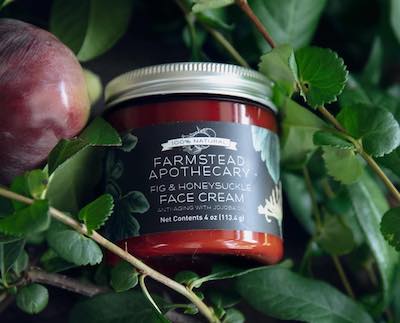 What Moms Love About It
What moms to be who have tried this moisturizer say, is that the thicker consistency leaves their skin moisturized and nourished- but not greasy. Many women also love that this product comes in a few naturally scented versions (with NO artificial fragrance) and one unscented version. You're sure to find an option for you- no matter your skin type.
What To Keep In Mind
Keep in mind, this formula includes phenethyl alcohol, which is a preservative that can cause skin irritation and dryness for some people. With that being said, the moisturizing ingredients included in this cream certainly outweigh the drying effects of this alcohol. Regardless, phenethyl alcohol is also considered pregnancy safe!
Cocokind is known for their clean ingredients and effective products- and this pregnancy safe moisturizer is no exception. This lightweight, nutrient-rich cream claims to help improve skin tone and the look of pores, all while hydrating and controlling shine.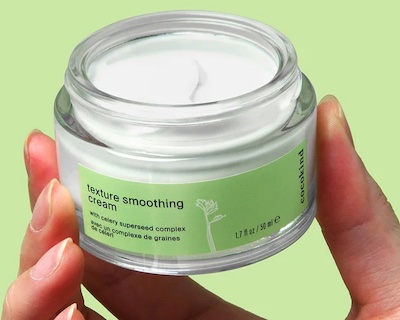 Some of the unique, antioxidant ingredients in this blend include: celery superseed complex (to combat large pores) and tsubaki seed oil (to smooth fine lines and support the skin's barrier).
What Moms Love About It
According to moms who have tried Cocokind's cream, this facial moisturizer is light enough for daily use, but powerful enough to keep them feeling hydrated all day. Women with acne-prone skin in particular, say that using this cream doesn't cause more breakouts and they love how it makes their skin feel overall.
What To Keep In Mind
This formula also includes ethylhexylglycerin, which has been known to cause sensitivities in some people. While it is largely considered pregnancy safe, the irritation risk of this ingredient is up for debate. Do your own research and consult a professional to decide if this is a good ingredient for you!
This moisturizer also includes peppermint extract, which should be avoided in large amounts during pregnancy. There is only a small amount in this moisturizer, but it's important to note. Again, do your research and consult your doctor if you have any concerns.
This facial moisturizer by The Honest Company is made with Safflower Oil, Jojoba Esters, Shea Butter and Vitamin E. It is designed for all skin types- they even say it's gentle enough to use on your baby! The sensitive skin version is unscented (no artificial fragrance) and made with nourishing aloe and calendula.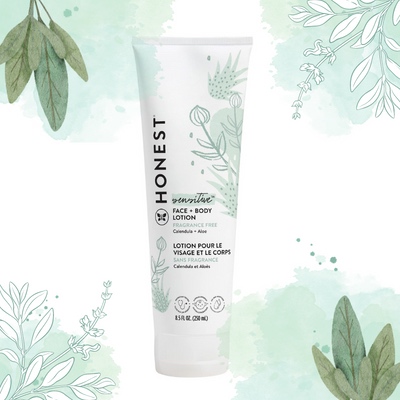 What Moms Love About It
Moms love that this moisturizing cream absorbs quickly and is gentle on their skin. They also love that the clean ingredients feel hydrating and nourishing, but not greasy. And lastly, moms rave about the versatility of being able to use this on their face, as well as on their babies and children.
What To Keep In Mind
The main complaints for this lotion come from the smaller size of the bottle, in comparison to the price you pay. Many moms felt that there was not enough product in the bottle and did not want to continue spending their money on so little cream.
In terms of ingredients, there is one that I think should be addressed – soybean oil. On it's own, soybean oil is a comedogenic and could clog your pores, making acne or breakouts worse. Soy is also an endocrine disrupter, which means that it could play a role in hormone imbalances. Because there is such a low amount in this cream, it's likely not going to have major adverse affects, but many people are sensitive to soy, so it's important to point out.
Final Decision: Which Is The Best Face Moisturizer For Dry Skin During Pregnancy?
In my opinion, the best pregnancy safe face moisturizer for extremely dry skin is this Mad Hippie's Face Cream with peptides.
Unlike other lotions on this list, this moisturizer is designed specifically for your face, which means it only uses ingredients that won't clog your pores. I love the use of peptides and niacinamide, which are two powerhouses in the skin care world. This cream is packed with antioxidants and nourishing ingredients that will help you tackle many skin care concerns you may have!
Just remember- in order to get the maximum benefit from this cream, avoid using it with a vitamin C, and always follow up with a good SPF.
Best Face Moisturizing Cream For Pregnancy – FAQ
Here are some commonly asked questions pregnant women have about moisturizers.
Which Facial Moisturizer Is Safe During Pregnancy?
There are a number of different ingredients that pregnant women need to avoid in their skin care products, for multiple reasons.
Some common skincare ingredients to avoid:
Retinols
Salicylic Acid
Benzoyl Peroxide
Essential Oils
This is not a comprehensive list, so be sure to do your research! Always consult your doctor or dermatologist if you have questions about the safety of certain products or ingredients.
Especially if you want to use a cream with Alpha Hydroxy Acid (AHA's), for example glycolic acid, make sure to consult it with your doctor or OB-GYN because this ingredient is in the "grey area" (there was no experiments showing its safety, therefore its safety during pregnancy is unknown). Some experts classify it as unsafe for pregnant women, while others say it can be used during pregnancy but only in low concentration1.
Rest assured, it is still possible to use more active ingredients (think: acne treatments, exfoliate dead skin cells, improve skin texture) in your pregnancy skin care.
Some pregnancy safe face moisturizers may include:
Hyaluronic Acid
Niacinamide
Peptides
Vitamin C
Vitamin E (Tocopherol)
Again, this is not a comprehensive list, and many active ingredients do not mix well together. Consult a dermatologist for the best pregnancy safe skincare choices!
Both of these companies use certified organic ingredients, and are committed to never using harmful chemicals. Earth Mama in particular is dedicated to creating safe products for pregnant women and their babies, so you can rest assured that their products are always pregnancy safe.
What Helps Dry Skin On Face During Pregnancy?
If you have very dry skin, it's important to choose products with hydrating, non-comedogenic ingredients.
Look for good a moisturizing agent such as:
Squalane
Jojoba Oil
Shea Butter
Aloe Vera
While the moisturizing agent is important, it's only really effective when paired with a humectant, which will help RETAIN the moisture on your skin. Examples of pregnancy safe face humectants can include:
Hyaluronic Acid
Peptides
Glycerin
Choosing a good, pregnancy safe moisturizer is important, but there are other ways you can help combat dry skin at home. Even something as simple as applying pure aloe vera on damp skin BEFORE your moisturizer can help!
Here are a few other homemade remedies you can try for your dry skin:
Use a humidifier by your bed while you sleep, to add moisture in the air.
Watch your shower temperature – don't use water that's too hot, as this will quickly dry out your skin.
Wash your face twice a day with a GENTLE and natural cleanser (best if it's unscented), and always follow up with a good moisturizer.
---
Article By Macy Tollefson
Macy Tollefson is a full spectrum doula, breastfeeding specialist and prenatal yoga teacher. She is passionate about guiding the modern mama on her journey through the beautiful (and wild) transformation of pregnancy, birth and postpartum. Macy envisions a world where every mother has access to the resources she needs, and follows her intuition to make the best decisions about what is right for her and her baby.
---
The purpose of this article is informative. It's not a substitute for professional medical advice or medical care. Remember: safety first! Consult your doctor/pediatrician in case of any doubts. The author of this article does not accept any responsibility for any liability, loss or risk, personal or otherwise, incurred as a consequence, directly or indirectly, from any information or advice contained here.
Sources of pictures:
Pictures of Mad Hippie and Acure creams belong to LittleBabyGear.com.
Pictures of Botanical Green Care Facial Moisturizer belong to Botanical Green Care Brand. Source: https://www.facebook.com/BotanicalGreenCare/
Pictures of Pipette Eczema Cream belong to Pipette Brand. Source: https://www.pipettebaby.com/
Pictures of Earth Mama Organics Eczema Cream belong to Earth Mama Organics Brand. Source: https://earthmamaorganics.com/
Pictures of FARMSTEAD APOTHECARY Face Cream belong to FARMSTEAD APOTHECARY Brand. Source: https://farm-stead.com
Pictures of Honest Face+Body Cream belong to The Honest Company Brand. Source: https://www.honest.com
Pictures of Cocokind Cream belong to Cocokind Brand. Source: https://www.cocokind.com
Pictures of Belli Hydrator belong to Belli Brand. Source: https://www.facebook.com/belliskincarepage
Other resources:
https://www.ncbi.nlm.nih.gov/