There's no doubt that babywearing is crucial for strengthening the bond between mom and baby. But one thing that never comes out clearly is that babywearing is for everyone. Yes, baby carriers fit plus size parents too! It only boils down to getting the right carrier that best fits your size and body shape, and offers large adjustability. I'll show you how to pick the most comfortable carrier.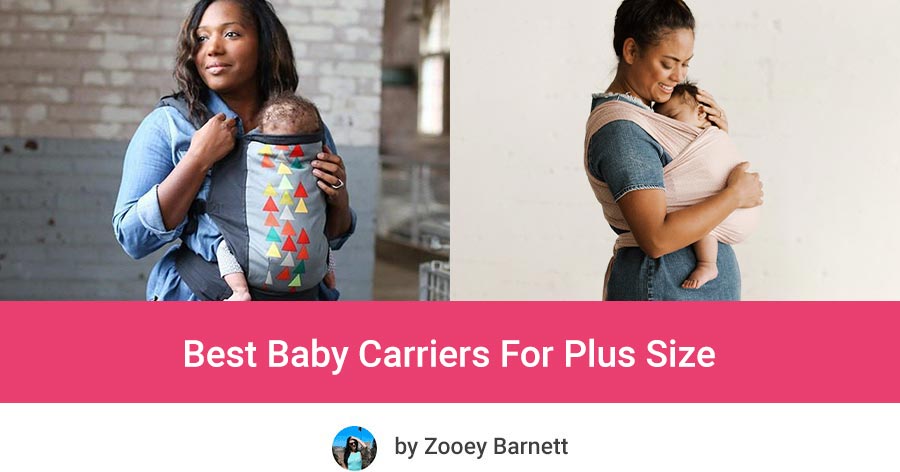 In this article, I'll share some essential tips on choosing the best baby carriers for plus size moms. I've also identified 4 top picks to make your search somewhat easy. I will prove that babywearing is possible for plus-size moms!
4 Best Plus Size Baby Carriers
First, let's see what are the top choices for mothers and father for wear larger size. Then we will move onto important factors that every plus-size parent should keep in mind before starting babywearing.
The Ergobaby Omni 360 Mesh is a popular choice among active parents living in warmer climates thanks to its lightweight and excellent breathability. But there are tons of other reasons why this could be your go-to baby carrier.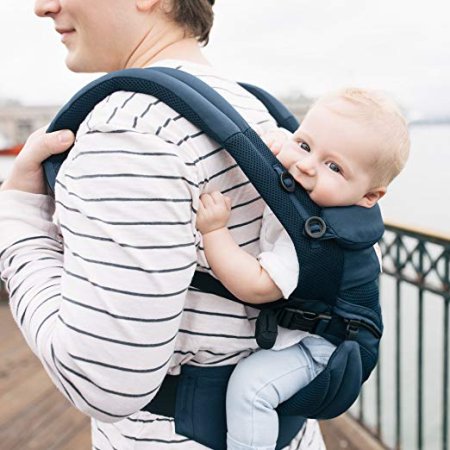 To start with, this is an all-in-one baby carrier that accommodates your baby from birth up to about 2-3 years (7-45 lbs). For those who are new to baby carriers, an all-in-one carrier means that you don't need additional insert for your newborn sweetness to place them in the carrier. With the Omni 360, you only need to set the leg width to infant mode, and you're good to go.
What I find even more exciting about the Ergobaby Omni 360 is that it grows with the baby, and it can be used in all 4 baby carry positions. You can wear the baby at the front facing either in or out, at the hip, and the back. This versatility, coupled with this carrier's wide weight range, means that this is probably the only babywearing product that you'll ever need from infancy to toddlerhood. Investing in it makes a lot of sense!
Another thing about the Ergobaby Omni 360 is that it's engineered around comfort and safety. The seat itself has a bucket-style design, and it's among the most heavily padded out there. Besides, it holds baby's legs in M-shaped position which is the best for their hips. As the baby grows, you can easily adjust the bottom panel width into 3 sizes (most baby carriers allow 2 options only) for maximum leg support (from knee to knee) and comfort.
What Makes It A Great Carrier For Plus Size?
The waist belt adjusts from 26″ to 55″ while the extra-cushioned shoulder straps adjust easily from 28 ¾" to 48 ¾".
Ergobaby carrier fits plus size parents – thanks to wide range of settings you can adjust it for larger body frame. Even moms above 200 pounds, wearing size 24 and 26, find it very comfortable.
This incredible adjustability makes it also super easy to share baby-carrying with other family members of all sizes.
Other great features of the Ergobaby Omni 360 include the ability to cross the shoulder straps in X position. This position comes in handy when you're wearing the baby for extended periods as it offers additional support at the back.
I specifically recommend here Omni 360 Cool Air Mesh version because its fabric is much more breathable than cotton version. According to parents it allows you to babywear for longer period without being sweaty.
Keep In Mind
Some plus size parents report difficulties when tightening the straps, especially in the back carry position. But this is usually common among first-time users, and it tends to get more comfortable with time. Once you get a good hang of it, Ergobaby will be a breeze to adjust.
By the way, if you're looking for less expensive alternative, I'd recommend the Ergobaby Embrace. It costs a fraction of the Omni 360 Cool Air Mesh and doesn't require an insert either. Its thin, lightweight materials and long shoulder straps are perfect for plus size mom. However, it's usable throughout baby's first year only.
The Complete Airflow is designed to accommodate your little bundle of joy right from 7 lbs to when they are around 45 lbs. This means that in most cases you can use it immediately after birth until the baby is about 3 years of age.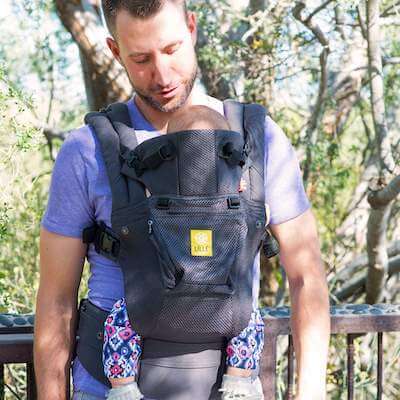 The best part here is that you won't need to purchase a carrier for every stage of your baby's life. What's more, the Lillebaby won't be leaving anything to be desired, considering it supports up to 6 ergonomic carry styles.
The baby's comfort is critical, especially when a carrier claims to grow with them. This is the key selling point for the Lillebaby Complete Airflow. The seat is nicely padded, and you can adjust between wide and narrow settings depending on the size and age of the baby.
Another interesting bit is that this seat doesn't require an insert for 7+ lbs babies. Knowing that the seat is designed to offer optimum comfort without an additional insert is good. To add, this baby carrier has tons of neck support, which is crucial for the infant comfort before they develop strong neck and head control.
Regarding temperature management, the Lillebaby Complete Airflow has a 100% cotton exterior fabric and a 3D mesh lining. This combination makes this carrier a great choice if you want something that will keep the baby cool throughout summer and more so in hot climate states, including California. It will also keep you from sweating while babywearing.
What Are The Best Features For Plus-Sized Dads & Moms?
Lillebaby says that they make this carrier to accommodate wearers of all types. True to this claim, this baby carrier has a wide and comfortable waist belt that measures 52″ at its fullest length. This belt should fit most moms wearing 22/24 in pants size.
In case it won't fit you, Lillebaby also sells this waist belt extension buckle that should offer you an additional 9 inches. Lillebaby makes babywearing much more convenient for plus size parents.
The shoulders straps are fully adjustable too, and what's so good is that you can wear them in an X position for a much more comfortable fit.
By the way, some petite parents say that Lillebaby carriers feels too large for them and recommend them for moms and dads with larger frame.
Lillebaby has amazing, unique lumbar support at the back. If you have back problems, you'll appreciate how this lumbar support distributes the weight of the child across your waist and back to minimize back pain.
Keep In Mind
It takes a few steps to switch the baby carrier between the inward- and outward-facing baby carry positions. You may need someone else to hold the baby for you or place the baby on the bed.
The Boba 4Gs is another highly recommendable baby carrier for plus size mom. Compared to the Ergobaby and Lillebaby above, this baby carrier has more simple design, and it's also much more affordable. If you're on a tight budget but want to babywear your child – this is your best choice.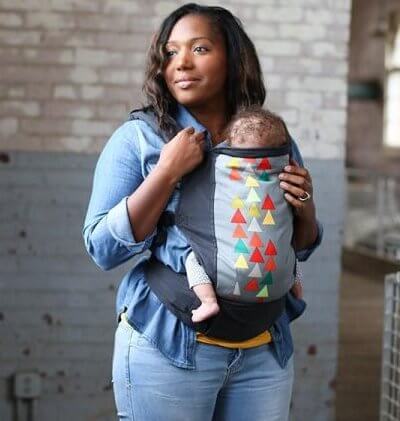 All in all, this baby carrier is of high-quality, and it's super comfortable, safe, and easy to use, even for plus-sized moms, and that's all that matters.
To start with, this is a buckle baby carrier. There is one buckle on the waist belt and another one that connects the shoulder straps across your shoulder blades. As long as you can reach the buckle at the back, it will always be easy to pop the baby in even when you're alone, without any issue.
The Boba 4Gs is designed for infants and toddlers between 7 lbs and 45 lbs. It comes with a detachable insert that is meant to accommodate babies until they are 15 lbs in weight. This insert stays in "ball shape" and holds little legs in a natural fetal tuck without spreading the thighs too widely.
The insert also raises the kiddo high, so the two of you have close eye contact throughout the stroll while the headrest offers appropriate head support. Once baby outgrows the insert, you'll be able to use this buckle carrier until around 4 years, which is quite impressive. Lots of toddler-wearing plus size moms love Boba 4Gs.
An important thing to note about this baby carrier is that it's designed for 2 carrying positions only. You can only use it for front facing-in and back carries. The fact that it doesn't support front-facing-out and hip carries make it quite limiting. However, Boba explains that they do this on purpose as a way of ensuring that the baby carrier remains comfortable and safe for both the mom and the passenger.
What Makes This Plus-Sized Carrier To Stand Out?
According to the manufacturer, the Boba 4Gs fits plus size. It is comfortable to use for XS to XXL wearers within 5'0″ – 6'3″ height range. The waist belt adjusts between 25″ and 58″. In addition, for caregivers who happen to be outside this range, Boba also has waist and chest strap extenders – they will send it to you for FREE. The shoulder strap adjustments ranges from 20″ to 40″.
As far as comfort is concerned, most caregivers affirm that the waist belt and the shoulder straps help a lot in distributing the weight of the baby. In addition, this carrier is made of 100% cotton, and it tends to remain cool for both of you, if you don't live in a very hot and humid climate.
In case you or the baby get sweaty, you'll be able to quite clean the carrier because it's machine washable.
Keep In Mind
This baby carrier does not support front facing-out and hip carry positions. So, if these positions matter to you, you might want to consider Ergobaby or Lillebaby backpack carriers.
Solly Baby Wrap is a lot different from carriers for plus size that I reviewed above. This wrap comes as a long piece of fabric that you tie around your waist and upper body to create a seat for your baby.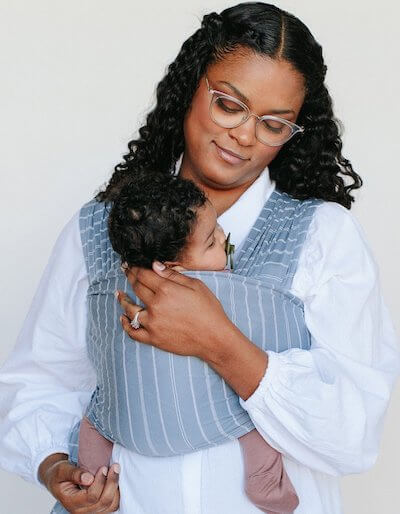 While structured backpack carriers are relatively quick and easy to use, purists highly recommend wraps due to the instant calmness that they give the baby. Lots of parents who have been using Solly Baby say it's a miracle for soothing colicky infant or baby who has trouble with napping during the day.
This wrap is approximately 5.5 yards in length. This is about the longest that these wraps get and it will comfortably fit most plus size moms. It's also easily adjustable to fit petite wearers in case you would like to share it with other caregivers.
The good news is Solly Baby Wrap won't make you hot or sweaty thanks to the material used to make it.
Worth mentioning, Solly Baby Wrap is safe for the baby's proper hip development and it's actually certified by the International Hips Dysplasia Institute as "hip-healthy".
Although tying a wrap is always intimidating at first, Solly Baby has a couple of straightforward YouTube videos to guide you.
Why Plus Size Parents Will Love This Baby Wrap?
This baby wrap is 5.5 yards long and has just enough stretch to make baby-wearing easy for everyone. I think it's a huge advantage that it comes in one size because you can adjust the fabric to fit size 18 or size 22. Again, there are a lot of different tying configurations for different body types.
It's made of 100% Lenzing Modal. Lenzing is an eco-friendly fiber that performs much like cotton only that it's more lightweight, stronger, and more water-absorbent. That being said, the two of you won't be sweating uncontrollably with the Solly Baby Wrap as it's usually the case with most wraps. It's the best plus size baby carrier for summer and warm weather. Another advantage – it is machine washable.
Another important aspect of this fiber is that it's much softer than cotton and has a notably delicate and soft touch. For that reason, merely placing the baby in this wrap tends to soothe them into sleep thereby leaving you with ample time to engage with other kids or carry on other activities.
What to keep in mind
Solly Baby Wrap has a weight limit of 25 lbs. This means that you'll be able to use it for your baby's first 9-12 months only.
There are other possible alternatives for Solly Baby Wrap. Moby Wrap fits plus-sized moms too. However, Solly Baby gets much more praise for being airy and having just the right amount of stretch (not as stretchy as Moby) to make baby-wearing easy without sagging over time.
Boba Wrap also fits plus-sized parents, however according to parents who have tried both wraps, Boba fabric is less breathable, while Solly Baby fabric wicks moisture away and allow you to babywear without sweating, even during summer. However, for mild climate or average temperatures Boba Wrap may be a good plus size baby carrier for infants.
Important Tips For Plus Size Parents Looking For Baby Carrier
Here I'd like to focus on the most important factors you need to consider when searching for carriers for plus size. This list of features will help you to make sure that babywearing is safe and comfy not only for your little one, but also for you!
Types of carriers
Both structured carrier and carrier wrap will help a lot when you don't want to move with a stroller. Both of them will keep the baby close to you, thereby promoting bonding and keeping off dirty hands. But the two differ significantly in terms of ease of use and convenience.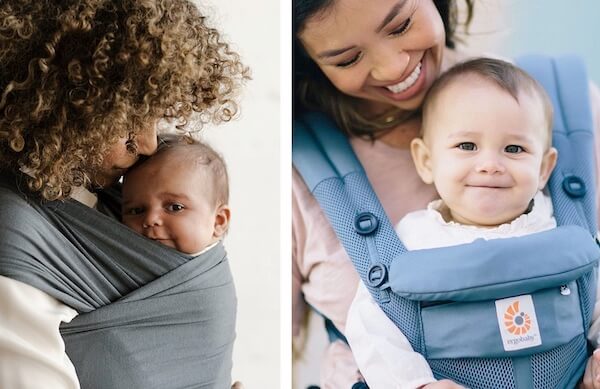 A structured baby carrier is a breeze to put on since you only need to adjust the waist belt and the shoulder straps into a comfortable fit. However, baby carriers may feel bulky and heavy, especially with a newborn.
A baby wrap, on the other hand, requires patience and know-how to wrap around your body. But they are hard to beat in terms of closeness and snug feeling.
Of course there are other carrier types as well like ring sling, mei tai (called also meh dai), but in this review I focused on two types that I think are most comfortable option for plus sized parents.
Fabric
Whether you're going for a baby wrap carrier or a buckle carrier, the material of the fabric means everything. For a wrap, you want a fabric that is long enough to allow adequate wrapping. It should also be stretchy but it shouldn't sag after prolonged baby-wearing.
The type of fabric also matters a lot in terms of heat management. Cotton is the most popular material thanks to its durability. But it tends to get hot quickly. If you live in hot climate areas or have tendency to sweat, you should check structured carriers made of mesh fabric for increased airflow.
Modern fabrics, such as the Lenzing Modal that is used on Solly Baby Wrap are a great recommendation too. This fabric wicks moisture away and allow your skin to breath, even though wearing a wrap means wearing additional layers of clothing. Among wraps Solly Baby is the most breathable one and that why's I think it's one of the best baby carriers for plus size.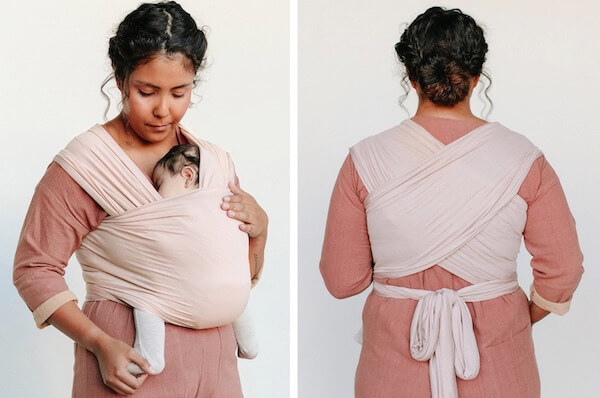 Waist belt length
When searching for the best baby carriers for plus size moms, the length of the waist belt is going to be among the first things you need to consider. The waist belt is responsible for distributing the weight of the baby all around your waist. So, it needs to be long enough to fit snugly around your waist.
Most of the carriers that are recommended for plus-sized moms have super long waist belts ranging even up to 52'' and 58''. In addition, some of them have the option of adding an extender, which offers a few extra inches in length. If you're not the only person who will be wearing the baby, ensure that that the waist belt is fully adjustable to fit different body types.

Shoulder straps length
The shoulder straps need to be long enough too to offer a comfortable fit. Most carriers have adjustable straps that extend from 27″ to 50″ in length. This is sufficient to accommodate different wearers. Ensure that the straps are decently padded so they won't be digging into your skin, especially when wearing a heavy baby or toddler for a long time. Best carriers – that I reviewed above – provide proper weight distribution across your body and don't strain your shoulders or back.
Adjustability
Comfort and safety when using a baby carrier come down to the degree of adjustability. A carrier that offers several adjustment options will be so easy to fit to your body type and shape. But being able to wear the baby ON and OFF and change carrying positions easily when alone is even more important. If you can't try out the baby carrier or wrap before purchasing it, do your research on its ease of use and read other users' feedback.
How Many Calories Does Babywearing Burn?
The fact that babywearing burs calories is one of the things that may encourage you to try it.
Usually, how many calories you burn when babywearing your little one depends on your weight and that of your kiddo, and how long you carry the baby. Generally, if you weigh 180 lbs and your baby weighs around 15 lbs, you should be able to lose 150-250 calories every hour.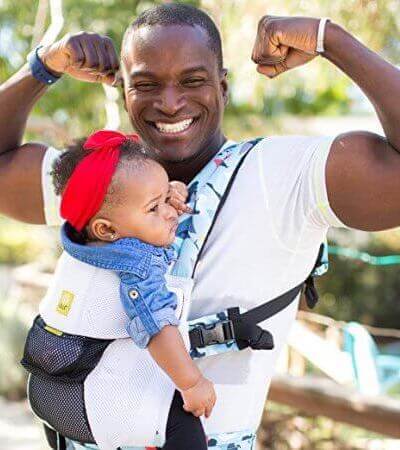 What Is The Best Baby Carrier For Plus Size Moms?
After reviewing these 4 carriers, I think the best baby carrier for plus size mothers and fathers is Solly Baby Wrap – if you're looking for a quality wrap carrier. It's long enough to accommodate most plus size moms and it won't be soaking you in sweat.
If you want a structured carrier, then Ergobaby Omni 360 Cool Air Mesh is the most recommendable plus size baby carrier. It's stylish, very durable, and breathable too. It offers multiple carrying positions (including facing out), provides good back support for the wearer.
Regardless of the type of carrier you'll choose, make sure to get hip-healthy carrier that will keep your baby in frog position with M-shaped legs and back rounded. It's the best and natural position for babies and it's safe for their hips. All the plus sized carriers that I recommended above have been recognized as hip healthy by the International Hip Dysplasia Institute1.
---
Still hesitating which baby carrier to choose? Check my other rankings:
>> Best Hip-Healthy Carriers For 2021
>> Safest Newborn Baby Carriers
>> Toddler Carriers With Higher Weight Capacity
---
References & Sources
International Hip Dysplasia Institute
Pictures of Ergobaby Omni 360 belong to Ergobaby
Pictures of Lillebaby Complete Airflow belong to Lillebaby
Pictures of Boba 4Gs belong to Boba
Pictures of Solly Baby Wrap belong to Solly Baby
---
The purpose of this article is informative. It's not a substitute for medical consultation or medical care. Remember: safety first! Before you start babywearing consult pediatrician and/or licensed babywearing advisor! The author of this article does not accept any responsibility for any liability, loss or risk, personal or otherwise, incurred as a consequence, directly or indirectly, from any information or advice contained here. This article contains affiliate links.
Your trust is really important to us: This article includes affiliate links to products that we think are useful for our readers. If you make a purchase through these links, we may earn a small commission at no extra cost to you. Your support helps us run this blog – thank you!