I tested and carefully studied ingredients lists of 32 baby oils. The result? Lots of popular baby oils contain mineral oil which is full of nasty chemicals. Instead of soothing infants' skin, it can cause rash, irritation and even make them more prone to cancer! I'm sure you don't want that oil anywhere near your little one!
But don't worry! I also found 8 best oils for baby massage, that are free from harmful chemicals and contain only safe and natural ingredients, and have EWG certification mark for being non-toxic.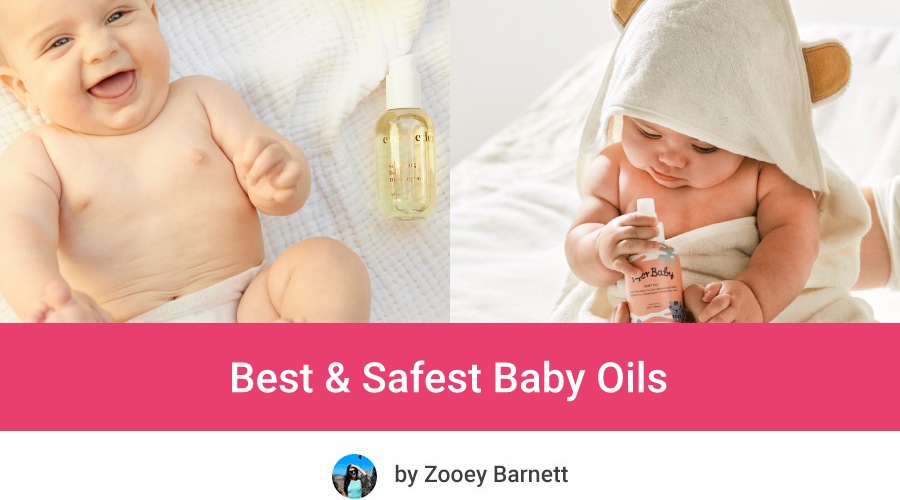 This article is not a substitute for medical advice. It contains affiliate links.
For new parents, it can be quite a challenge to navigate the first few weeks of parenting and find the right baby skin care routine – those adorable cheeks and bums just look so delicate.
And the truth is, they are.
On top of that it doesn't help that skin actually absorbs many ingredients which then end up in our bodies.
This is why it is important that you choose the right baby oil for your little one with ingredients that are REALLY safe and nourishing.
Baby oil can be beneficial for infants, but that doesn't mean you can use ANY. In fact, lots of popular baby oils are actually UNSAFE for babies because they contain petroleum-based mineral oil and fragrance!
Mineral oil can irritate the skin, cause a rash and burning feeling, as well as may increase the risk of cancer1!
I know it may already feel quite overwhelming! But don't worry – I'm here to help you find the right and SAFEST baby oil for your little one that won't cause any skin irritations or other health problems.
When I'm choosing oils for baby massage, I refuse to focus on just what the brands promise. Instead, I focus on the list of ingredients, the research and science behind the product, and the experiences of moms who have been using it.
All the baby oils I shortlisted here are designed to nourish your little one's skin and are free from irritants and chemicals that may harm them.
Best Features
❤️ Safe for dry and sensitive skin, helps with cradle cap and eczema
❤️ Doesn't cause allergic reactions or skin irritation
❤️ Non-greasy formula, absorbs quickly and doesn't stain clothes
✖️Not all moms like its scent
❤️ Contains squalene which mimics skin natural barrier
❤️ Extremely moisturizing
❤️ Great for infant massage
✖️Bottle may sometimes leak
❤️ Clean ingredients help to soothe irritated skin
❤️ Suitable for babies with cradle cap and eczema
❤️ Amazing light scent (all natural!)
✖️On higher end
advantage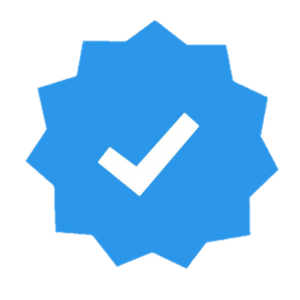 Recommended by 94% of verified buyers!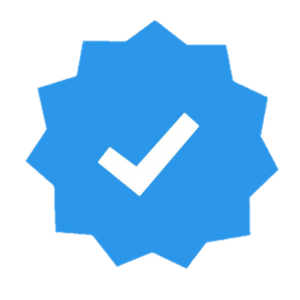 Recommended by 84% of verified buyers!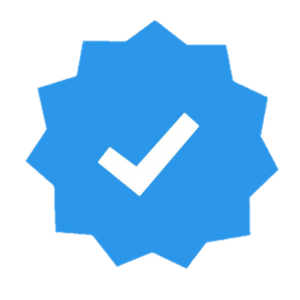 Recommended by 88% of verified buyers!
Moms' Favorite Choice
Best Features
❤️ Safe for dry and sensitive skin, helps with cradle cap and eczema
❤️ Doesn't cause allergic reactions or skin irritation
❤️ Non-greasy formula, absorbs quickly and doesn't stain clothes
✖️Not all moms like its scent
advantage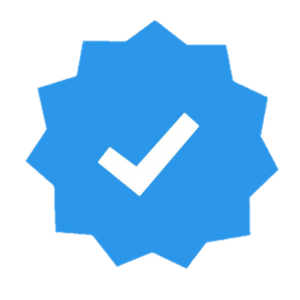 Recommended by 94% of verified buyers!
Best Features
❤️ Contains squalene which mimics skin natural barrier
❤️ Extremely moisturizing
❤️ Great for infant massage
✖️Bottle may sometimes leak
advantage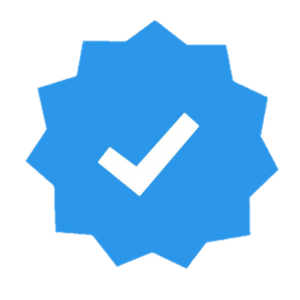 Recommended by 84% of verified buyers!
Best Features
❤️ Clean ingredients help to soothe irritated skin
❤️ Suitable for babies with cradle cap and eczema
❤️ Amazing light scent (all natural!)
✖️On higher end
advantage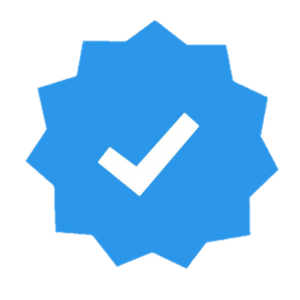 Recommended by 88% of verified buyers!
Last update on 2023-09-30 / Affiliate links / Images from Amazon Product Advertising API
Baby's Safest & Best Oils For Babies
Since babies' skin is sensitive and prone to skin conditions, I strongly believe baby oil should use ingredients you feel good about, and leave the skin feeling soft and not greasy.
They should absorb quickly, moisturize the baby's skin, and come in a handy bottle that is easy to grab and use. All these criteria were my top priorities as I searched for the safest and best oils for babies. Of course, affordability, shelf life, and natural ingredients were all important considerations.
Here are my favorite safest and best oils for a relaxing baby massages, dry skin and scalp: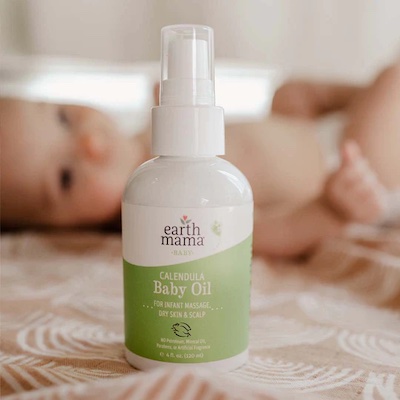 Earth Mama Calendula Oil makes it to the top of the list, and frankly, I'm not surprised. For one it has an EWG rating2 of 1 because of the low chemicals. That means no parabens, no petroleum and no mineral oil. Yep, this Earth Mama product is so safe that hospitals use it for babies in NICU.
The calendula-infused grape seed baby oil is a winner for me because it's a non-greasy formula that works great for babies with eczema-prone skin and cradle cap.
Why Moms Love It
Apart from it being one of the safest baby oils, moms love the easy-to-use pump on this bottle. A squirmy baby and oily hands can make massage time quite a slippery challenge. It's hydrating and nourishing, making it ideal for babies with sensitive skin. And because it absorbs quickly, it's less likely to stain those cute onesies!
Keep In Mind
For some, Earth Mama calendula oil doesn't smell too great, and many moms weren't too keen on the packaging, which tends to leak. So, if you're traveling, maybe just don't throw it in your bag with your clothes.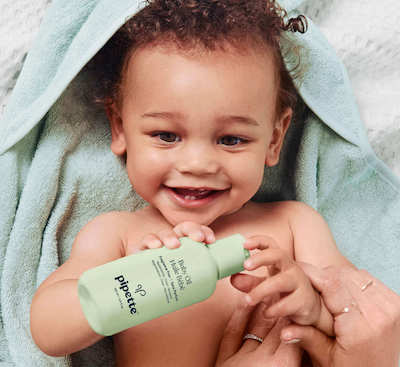 It has squalene! I don't think I need to say more but this massage oil stands out thanks to the wonderful benefits of plant-derived squalene and the way it mimics the skin barrier. This oil has ceramides and antioxidants as well as fatty acids which are not only great for your baby's skin but extremely hydrating for moms with dry skin too.
Why Moms Love It
Let's just say this, this oil is so good that moms kind of want in on the nourishment. They appreciate how clean it is and how quickly it absorbs, even when applied to wet skin. It is also a great massage oil for babies with eczema-prone skin.
Keep In Mind
Unfortunately, you might have to store baby oil in a bowl because the bottle leaks and has been known to get a bit messy. If Pipette improves packaging, it is a 10 outta 10 for me!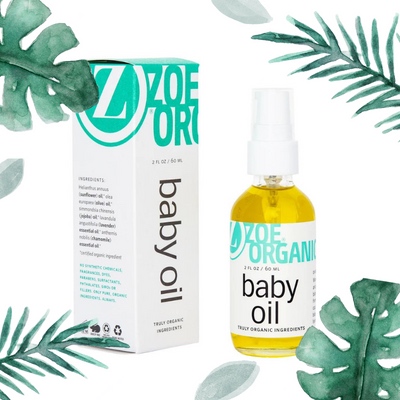 Made from sunflower, jojoba, olive, lavender and chamomile oils, the Zoe Organics massage oil has one purpose: to soothe and nourish dry skin whether it is your baby's or yours. The formula is free from harmful mineral oil and artificial fragrance. I just love these clean ingredients. What's more, a little goes a long way so you only need a few drops for infant massage.
Why Moms Love It
According to moms it works wonder when it is time to moisturize those extra dry patches, plus it helps to get rid of cradle cap. Moreover, it seems to be a very good choice for babies with sensitive skin as it doesn't lead to allergic reactions. Moms also love its delicate scent.
Keep In Mind
This is one of the most pricey baby oils. I recommend getting this bigger bottle (9.5oz.) because it's cheaper in the long run, than buying these small bottles!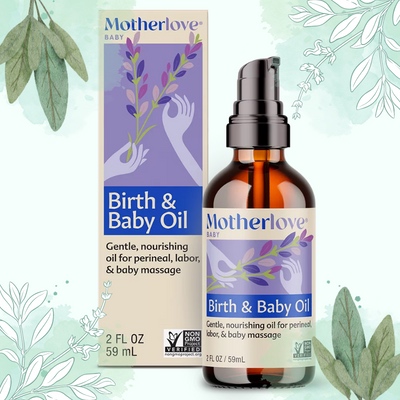 This two-ingredient massage oil is a simple but effective oil that contains apricot oil and lavender flower, both USDA certified organic ingredients, so yay! The multipurpose oil is ideal for post-bath baby massage as well as perineal massage to avoid tearing.
Why Moms Love It
Mums love the subtle lavender scent and the oils' soothing effect on a baby's skin. The ideal time for application is right after a bath and just before bedtime.
Keep In Mind
Some babies are allergic to lavender and lavender oils, so make sure you do a patch test first. Many moms felt that the consistency was too thin and some shared that it didn't help their baby's eczema.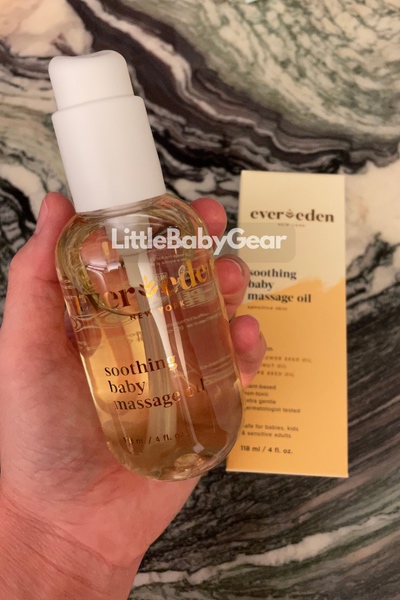 With an EWG score of 1, this scentless wonder oil is made from natural ingredients and cold-pressed oils. Not only is it clean, it is a light weight formula that quickly absorbs in to your baby's skin to leave it soft and nourished.
Why Moms Love It
Moms love this oil for its health benefits. Sunflower seed oil is recommended by dermatologists for healthy skin barriers, while jojoba oil packs a punch of much-needed vitamin E. Moms with babies who have sensitive skin love it because it is hypoallergenic, contains no parabens, and doesn't result in any skin irritation.
Keep In Mind
Apart from being a bit on the pricier side, this product did not work for a lot of babies and failed to keep the skin moisturized for long periods.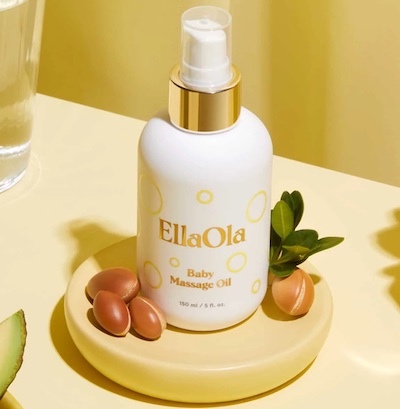 Ellaola Massage Oil packs the power of 6 oils, which include sunflower seed, grape seed, avocado, jojoba, coconut, and argan. The end result is a nourishing oil for baby skin that is non-greasy, quickly absorbed, and smells divine.
Why Moms Love It
This oil has been a blessing for moms with babies with cradle caps. They love its non-greasy, soothing formula that has just a light scent of coconut oil.
Keep In Mind
Unfortunatly, Ellaola isn't cheap. The only upside is that a little goes a long way so the bottle should last you for a few months.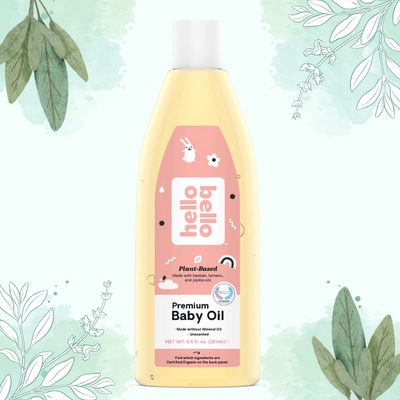 This hypoallergenic oil is a win for many mums because it's made from organic ingredients including olive oil. Plus it has no mineral oils, or nut oils and is paraben free.
Why Moms Love It
The inexpensive oil is value for money. Many moms love that they can generously lather it on as and when needed- without worrying about it running out. Unlike some other oils, it doesn't leave any residue on the baby's skin.
Keep In Mind
While it works for the baby's skin, it isn't the best oil for the baby's scalp.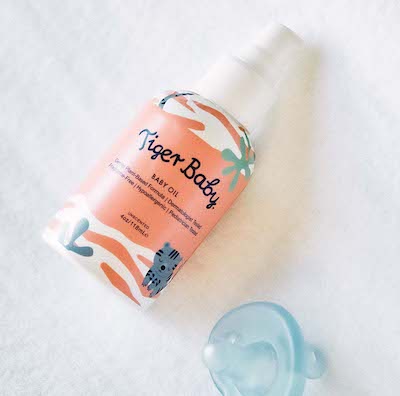 Loaded with carrot seed oil, olive oil, and Vitamin E, this unscented oil has been approved by dermatologists and pediatricians to soften a baby's skin. It is a gentle hydrating oil that has no scent and leaves the baby's skin soft. Did I mention that it is also hypoallergenic?
Why Moms Love It
Mums love the cute packaging and love rubbing this over a baby's tummy, legs and arms for a bonding experience. It does, however, lean towards a thicker consistency but it absorbs quickly making it a great option.
Keep In Mind
While the oil is great, and the bottle looks cute, the pump isn't very functional. Many mums found their pumps got stuck making it a struggle to get more product during a massage session. Yep, not fun!
How To Choose The Best Baby Oils?
Choosing the best massage oil becomes easy once you know the problem- or problems you wish to address.
Are you looking for an oil to gently massage your baby after bath time?
Or are you looking for something that will not only moisturize your little one's skin but will also help in treating eczema or cradle cap?
What may work for your firstborn's super dry skin may not work for your secondborn's delicate skin. You might need an oil that is more suitable for sensitive skin.
Finding the best massage oil may require some trial and error. But remember, the best baby oils will have the following in common:
Formula free from mineral oil.
Be EWG certified and ideally contain USDA Certified Organic ingredients.
They should be fragrance-free and have only mild

natural

scent.
Hypoallergenic and free from ingredients that may cause skin irritations.
Be nourishing and make the baby's skin healthy hydrated.
Ingredients That You Should Look For In The Best Baby Oil
If it doesn't list squalene as an ingredient, you might as well put that bottle back. That's because plant-derived squalene not only hydrates but also reinforces the skin's protective barrier.
However, squalene isn't the only ingredient you should focus on although it is important. The best massage oils will always include ingredients like natural oils. We mean Calendula oil, Coconut oil, Sunflower oil, Grape Seed Oil, and Jojoba Oil etc.
Even olive oil and cocoa butter, shea butter are wonderful additions to have in an oil.
Ingredients To Avoid In Baby Oils
That term may look innocent, but is basically a loophole to conveniently avoid transparency. It could mean anything and everything so its best to avoid baby oils that list "fragrances" as an ingredient.
Lots of regular baby oils has formula based on mineral oil which is derived from petroleum. It's not recommended for babies (or pregnant women) because it can cause skin irritation, rash3, and even have adverse effects (like increasing the risk of cancer)!
Other Synthetic Ingredients
Also avoid formaldehyde and parabens that may cause skin irritations and allergic reactions, plus can cause serious health problems.
Which Natural Oils Are Best For Babies?
There are a few natural oils that you can never go wrong with and good ol' multi-purpose coconut oil is at the top of the list. Honestly, is there anything that this oil can not do?
Similarly, oils like jojoba oil, soybean oil, and calendula oil are super nourishing, making them best for a baby's skin.
Best Baby Oils – FAQ
Got questions? We get it!
Moms like you and me have wondered the same thing and there's no such thing as a silly question when it comes to concerns about your baby's soft skin. Which is why I have answered the most common ones in our FAQ section.
What Oil Can I Use On Newborn Baby?
We're always rooting for natural oils like coconut and safflower because they help keep the baby's skin soft and healthy. If you prefer baby oils, there are some great options.
Natural oils like coconut oil, almond oil, and safflower oil are all suitable for newborns because they are organic, safe, and even beneficial for the baby.
Multiple studies4 show the benefits of a coconut oil massage on a pre-term baby and prove that it improves their skin maturity and neurodevelopment.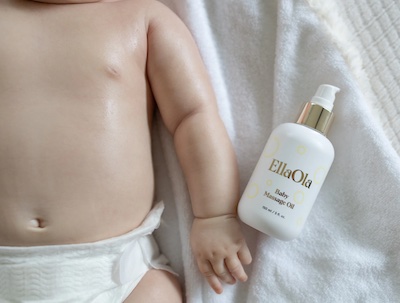 What Are The Benefits Of Baby Oil?
Baby oil strengthens moisture barrier. It is hydrating and helps lock in moisture, keeping your baby's skin soft and nourished. Baby oils have additional benefits and help with diaper rashes, cradle cap and eczema.
Plus they're the perfect choice for an infant massage that helps you bond with your baby and create bedtime routine.
Studies have found that the benefits of natural oils like coconut oil triumph over those of mineral oils.
Is Baby Oil Safe For Babies?
Yes, baby oil is safe for babies. However, you have to make sure you pick one with the right ingredients. Baby oil that is free from harmful ingredients like phthalates, sulfates, and other toxins is completely safe for babies. Make sure to avoid baby oils that contain mineral oil (it is derived from petroleum) or fragrance.
Are Baby Oils With Mineral Oil Safe?
No, mineral oil is not safe for babies, therefore baby oils that contain this ingredient are not safe either.
Here's why mineral oil is bad:
Mineral oil is derived from petroleum. When it is highly refined it can cause skin irritation, rashes and burning sensation. Breathing mineral oil can also cause shortness of breath and coughing because it irritates the lungs5.
On the other hand, when the petroleum is not highly refined, it may contain carcinogenic PAHs (polycyclic aromatic hydrocarbons). This means that using mineral oil can increase risk of cancer6.
Mineral oil is not safe and not recommended for babies and children under 6 years old, and it should be used by pregnant moms either.
Are Any Essential Oils Safe For Babies?
Here's the thing you need to know about essential oils: they are very concentrated compounds from plant extracts that have a calming effect, anti inflammatory properties, and have been used in medicine for decades.
However, in their concentrated form, they are strong and can cause skin irritation, even in adults. These oils in their undiluted form are not suitable for a baby's sensitive skin and should never be ingested.
Keep in mind that doctors strictly advice against using any essential oil for babies under 3 months. You may also want to consult with your pediatrician before starting to use any of the baby oils I recommend.
For babies older than 3 months, you can use any diluted essential oil for baby massages. For example, chamomile oil has a soothing effect and can be used diluted to help babies who have trouble seeping.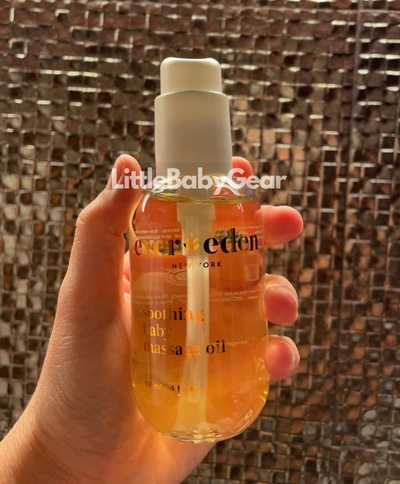 What Essential Oils Should I Avoid For My Baby?
Some oils like dill are safe, but others like lavender oil and tea tree oil should be avoided.
One study found that lavender oil and tea tree oil can result in the growth of breast tissue in boys7. Some babies may also be allergic to lavender so it is best to avoid lavender oil and opt for safer options like dill or use natural oils like coconut oil instead.
Similarly, eucalyptus globulus is an essential oil that is safe for adults but is not recommended for use by children under 2 because it has detrimental health consequences.
How Long Does Baby Oil Last?
Check expiration date on the bottle to find out how long your baby oil can last. Usually once the baby oil is open, it should be used within 3 months, but it may differ for each brand. Make sure to check if your baby oil has not expired, before you apply it on your infant's skin.
How To Get Rid Of Baby Oil Stain?
Some of the best solutions for removing baby oil stain for clothing or bedding are: baby powder, dishwashing liquid, baking soda and baby-safe stain remover. For more effective and fast methods check out my article about baby oil stains.
Can A Baby's Complexion Change From Regular Massages With Oil?
Regular massages do a lot for your baby's delicate skin. They ensure bonding, hydrate, and soothe but they do NO change a baby's complexion.
That's pre-determined by genetics and no amount of shea and cocoa butter can change your baby's DNA code. Of course, sun exposure and other environmental factors do impact a baby's complexion.
How Can I Warm Up Baby Oil?
You can warm up baby oil by gently rubbing your hands together. Always be sure to check before applying it to the baby.
Can't I Use My Own Body Oil On My Baby?
If your body oil contains only natural oils (like coconut oil, chamomile oil and jojoba oil), then by all means you can use it on your baby. However, if your body oil contains harsh chemicals, mineral oil or fragrance, it can be harmful to your baby.
Is Johnsons Baby Oil Healthy?
While Johnsons baby oil doesn't contain any parabens, phthalates, or dyes, it isn't necessarily healthy and safe. It contains fragrance which can irritate baby's skin, as well as mineral oil – which according to experts is NOT SAFE for children under 6 years old8 and can cause severe health problems which I mentioned above.
I don't recommend baby oils with mineral oil-based formula – it's just too risky to use them! On my list you can find many great and safer alternatives.
Can I Use Baby Oil And Baby Lotion Together?
Yes, you can use baby oil and lotion together, for extra hydration and to lock in that moisture. After bath time, apply the lotion on your baby's skin and later put on baby oil.
Keep in mind that there are some differences between baby lotion and baby oil – you can read our detailed comparison here to know better which one is actually necessary for your baby. If you're unsure how to choose the right lotion for your baby, check out our list of recommended safe baby lotions.
---
The purpose of this article is informative. It's not a substitute for professional medical advice or medical care. Remember: safety first! Consult your doctor/pediatrician in case of any doubts. The author of this article does not accept any responsibility for any liability, loss or risk, personal or otherwise, incurred as a consequence, directly or indirectly, from any information or advice contained here.
Sources of pictures:
Pictures of Earth Mama Organics oil to Earth Mama Organics. Source: https://earthmamaorganics.com/
Pictures of Zoe Organics oil belong to Zoe Organics Brand. Source: https://www.zoeorganics.com
Pictures of Pipette oil belong to Pipette Brand. Source: https://www.pipettebaby.com/
Pictures of Motherlove oil belong to Motherlove Brand. Source: https://www.motherlove.com
Pictures of Ever Eden Oil belong to LittleBabyGear and were taken by the owner of this website. All these pictures are copyright protected.
Pictures of Ellaola oil belong to Ellaola Brand. Source: https://ellaola.com/
Pictures of Hello Bello oil belong to Hello Bello Brand. Source: https://hellobello.com
Pictures of Little Tiger oil belong to Tiger Baby Brand. Source: https://littletigerbaby.com
References:
https://www.ewg.org/
https://academic.oup.com/
https://www.nih.gov/
https://www.medicalnewstoday.com/
https://www.nj.gov/
https://www.verywellhealth.com/