Best wooden blocks for kids have been proved by many studies to have a tremendous impact on cognitive, social and motor skills development in children.
But how to choose the right set of blocks for your little ones so they won't get bored after a few days? After extensive research with my three kids, I picked 9 block sets that will occupy little explorers for hours, stimulate their important skills and facilitate early STEM learning.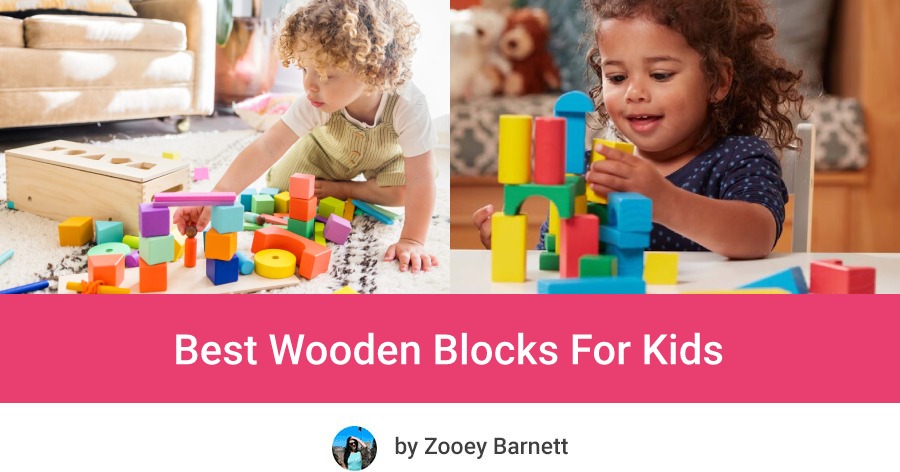 STEM toys are designed to encourage child's natural curiosity and help learning. They incorporate science, technology, engineering and math concepts in an entertaining and engaging way. Kids of all age can benefit from STEM toys because they are fun and provide plenty opportunities for hands-on learning.
The good news is that there are amazing STEM toys that won't cost you an arm and a leg! Simple blocks made from wood are the perfect educational toy.
According to many studies, engaged playtime with blocks is very important for training critical skills for school and life.1 In fact, early introduction in toddlerhood to construction toys has statistical relationship with achievement in math at school (for both boys and girls)!2
In this article I am going to share with you my favorite brilliant sets of blocks made from wood, that will be entertaining for your little one to play with and beneficial for their development.
This article contains affiliate links.
Best Features
❤️ Most versatile blocks - engages kids in various activities as they grow
❤️ Provides great entertainment and educational values for kids from 18 months up to 5 years
❤️ Helps to strengthen all important skills for preschool, school and life
❤️ Includes shape sorter which doubles as a storage box
❤️ One of the most inexpensive block sets
❤️ Helps to learn the alphabet and numbers
❤️ Comes with a storage pouch
❤️ Delightful gift for a toddler or preschooler
❤️ Set includes lots of pieces in various shapes
❤️ Blocks have natural finish, don't contain any chemicals or sharp edges
❤️ To train their creativity, kids can decorate the blocks on their own
❤️ Amazing quality at reasonable price
advantage
✨ Recommended by 1100+ parents!
✨ Recommended by 3700+ parents!
✨ Recommended by 790+ parents!
Best Overall Block Set
Best Features
❤️ Most versatile blocks - engages kids in various activities as they grow
❤️ Provides great entertainment and educational values for kids from 18 months up to 5 years
❤️ Helps to strengthen all important skills for preschool, school and life
❤️ Includes shape sorter which doubles as a storage box
advantage
✨ Recommended by 1100+ parents!
Best Features
❤️ One of the most inexpensive block sets
❤️ Helps to learn the alphabet and numbers
❤️ Comes with a storage pouch
❤️ Delightful gift for a toddler or preschooler
advantage
✨ Recommended by 3700+ parents!
Best Features
❤️ Set includes lots of pieces in various shapes
❤️ Blocks have natural finish, don't contain any chemicals or sharp edges
❤️ To train their creativity, kids can decorate the blocks on their own
❤️ Amazing quality at reasonable price
advantage
✨ Recommended by 790+ parents!
Last update on 2023-09-30 / Affiliate links / Images from Amazon Product Advertising API
Best Wooden Building Blocks For Toddlers & Older Kids
Babies and kids love building blocks – which they can stack, build cities with, and then topple them over. With the best block toys your little ones will not only have a lot of fun, but will also gain important abilities, by engaging in various types of activities depending on their age3.
Plus they will keep them busy for longer time, allowing you to take care of other chores. Even when you kiddos get older they will still enjoy playing with blocks.
Here are the the best wooden blocks that have the most educational and entertaining value for toddlers and kids:
This is probably the most versatile set of wooden blocks for toddlers, designed by child's development experts. There are more than 20 ways to play and learn with these construction blocks in bright colors. It allow children's imagination run wild so they could create unique masterpieces. This developmental toy is beneficial to all ages.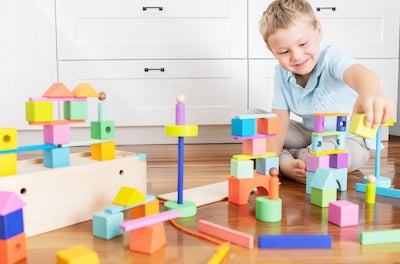 They allow kids to learn through play and engage them in activities that vary in complexity, depending on their developmental stage. Lovevery blocks are a perfect gift for 1 or 1.5-year-old child (supervised play) and they are a great investment FOR YEARS.
Lovevery Block Set includes 70 pieces, in different shapes and colors, with various modular features.
There are 15 colorful wood cubes and 5 cylinders that your toddler can use for counting, stacking, creating different buildings and toppling them over.
The Lovevery set also includes 18 building planks in 18 different colors, 9 geometrically shaped wooden blocks and 2 arches, 4 wooden people, and 6 threadable wooden blocks.
With these Montessori block toy in various shapes and colors children can build cities, towers, bridges and then topple them over, and engage in open-ended play.
With threading blocks they can practice fine motor skills, precise movement of their little fingers, and hand-eye coordination, spatial awareness, explore cause and effect concept, which are so important for other motor skills.
By playing with wooden figures, your kiddo engages in pretend play and creating stories. These activities develop child's imagination and empathy, and teaches them to talk about feelings.
Wooden planks can be used for creating a domino trail – this is a great exercise for hand-eye coordination and balance.
There is also a wooden box, 4 magnetic wheels and dowels with a toggle string. By following simple steps, your little ones can create a car and pull it around!
The best thing about the box is that is has 3 more functions: it's a casket for easy storage, shape-sorter, and a ramp! Playing with a shape sorter allows to learn to differentiate shapes, as well as practice sorting and categorizing.
With Lovevery block set there are endless possibilities and so many things can be constructed! Your child will be engaged in imaginative play, practice creativity and cognitive skills. And this is why I think Lovevery offers the best wooden blocks for toddlers and older children.
I also have to mention that Lovevery block sets are super durable and should last you for many years, because they are made of solid, sustainably harvested wood (FSC-certified) and water-based paints. This also means they are non-toxic and safe for babies! They don't contain any plastic or harmful chemicals. These blocks come with a drawstring cotton bag for convenient and easy storage.

Speaking from my experience, this is one of the best educational toys and it keeps children occupied for a long time. As they grow older and develop more skills they can play with these blocks in so many ways (more complex with each growth stage) which is awesome. I think this blocks are well-worth the money and your kiddo is going to play with them even up to 5 or 6 years.
>> Is Lovevery Play Gym Worth The Money? Read My Review Of Lovevery Play Gym
These blocks are a huge hit! They are one of the most popular and best-selling wooden blocks with over 15.000 (!) positive reviews on Amazon.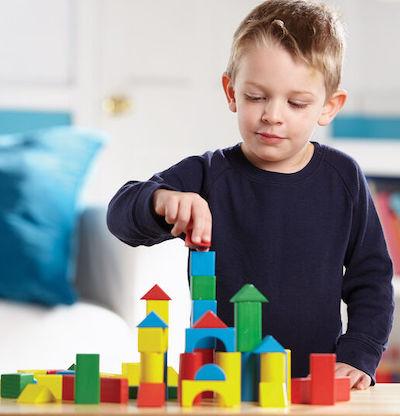 This set consists of 100 wood blocks in 4 bright colors and 9 different shapes like cubes, cylinders, rectangular prisms, arches, planks and triangles. This educational toy gives toddlers the opportunity to build various constructions: towers, castles, cities and more. Kids can experiment with building and knocking the blocks over, learn about simple math and physical concepts, practice fine motor skills, hand eye coordination, as well as improve patience.
With such a huge block set kids can have hours of fun, screen-free play. These colored blocks will help them to strengthen their creativity, train their social skills, resilience and self-confidence, as well as practice cognitive skills and spatial abilities.
Melissa & Doug block set is made of solid, yet lightweight wood. Moreover, the blocks have sanded smooth edges so they feel safe for little hands. The pain doesn't chip off with time.
Lots of parents are happy with the durability and say these are the best blocks for children ages 2 to 8 years, at low price. This also makes these wooden blocks a perfect gift for toddler and preschoolers.
Keep in mind that this set includes a few smaller blocks therefore there might be choking hazards for younger children and babies.
If you're looking for more creative block set for 3-year-old and up, then I recommend wooden Tegu blocks.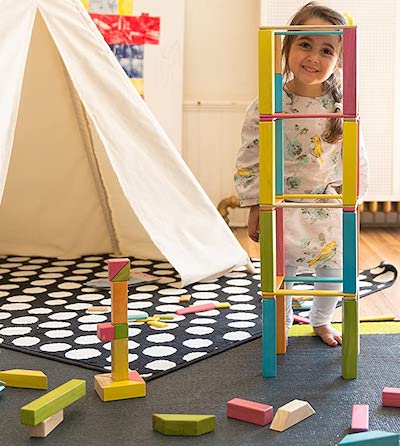 Tegu brand offers lots of block sets that differ in the number of pieces but my favorite one is the 42-piece set of blocks in 9 shapes. It includes cubes, planks in 3 different lengths, columns, magnetic wheels and more.
These wooden blocks have built-in magnets that allow children to mix and match different shapes and create various constructions. Keep in mind that magnets are located on specific side of each item, that's why connecting the blocks may be a bit difficult for young children, especially if they don't understand how magnets work. The good news is that the packaging shows where the magnets are places.
Here you can see some examples of what children can build with Tegu blocks – they will be occupied for long hours!
Tegu block sets are amazing for older kiddos and developing their creativity. They support open-ended and unscripted play, and help to train important skills through play: dexterity, problem solving thinking, balance, sense of scale, pattern recognition and storytelling.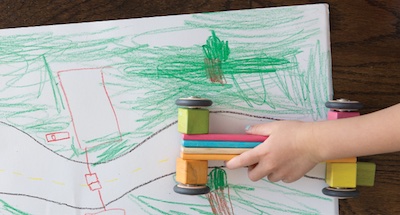 Because Tegu blocks are made of wood and use water-based paints, they are non-toxic and safe for little children. They don't contain plastic or lead, and there are no tiny elements so there's no choking hazard. These wood blocks are designed for years of creative play.
By the way, some parents say that Tegu is a great safer alternative for Magna-Tiles STEM building block set – if you prefer wood toys over plastic ones.
This is my second favorite wooden block set from Melissa & Doug toy collection. It contains 50 elements with letters, numbers (in four colors), and mathematical symbols, as well as pictures of animals, vehicles, fruits and more.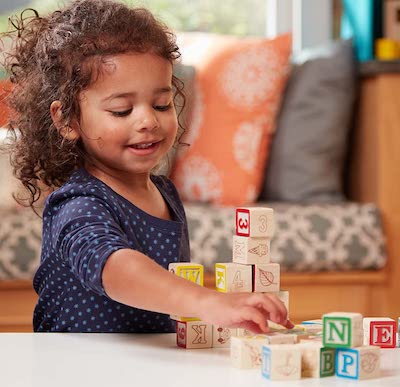 It promotes learning the alphabet and word recognition. Moreover, block play trains skills like matching, sorting, stacking, problem-solving skills, as well as independent and cooperative play.
This classic set of building blocks provide endless hours of fun and learning by building towers, balancing, counting and comparing.
This wooden block set is pretty inexpensive, therefore if you're on a tight budget and looking for an educational and developmental toy, this is a great choice!
Each block is 1″ big, therefore the brand recommends them from 2 years. They are made from solid wood and hand-pained. The blocks are sanded smooth and easy for little fingers to grasp and stack.
You will also like the fact that this blocks set comes with a cloth bag for easy storage.
Keep in mind that if you want your toddlers to spell longer words or names, you will need more than one set.
This exciting and stimulating construction set is an amazing gift for 4-year-old & up who has already developed passion for building blocks.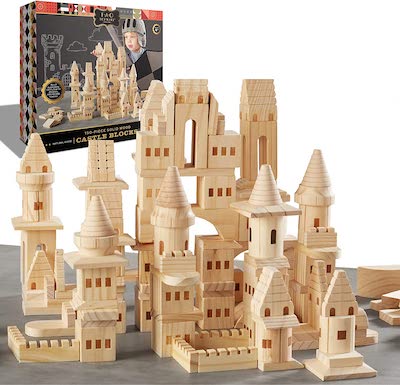 These natural blocks encourage preschoolers to use their imagination and build different medieval castles of various designs. This set includes variety of shapes and sizes that can be mixed and matched for building and re-building castles.
There are so many different pieces for endless building possibilities – children can unleash their creativity and transport into 3D fantasy world with fantastic castles, bridges, towers, knights and princesses.
There are two block sets to choose from: 75-pieces and 150-pieces. I recommend that bigger set of architectural blocks because they will definitely serve you longer and allow your preschooler build more fun things!
They are made from durable, solid pine wood, but they may feel a bit sharp because they are not sanded down enough to make them completely smooth. For older kiddos they're fine.
With this STEM toy children can gain important skills by training precise movements of hands and fingers, developing spatial awareness, problem solving skills, and creative thinking.
This natural solid wood stacking toy is a great gift for kids of all ages (from 2 years) and has lots of benefits for their brain's development.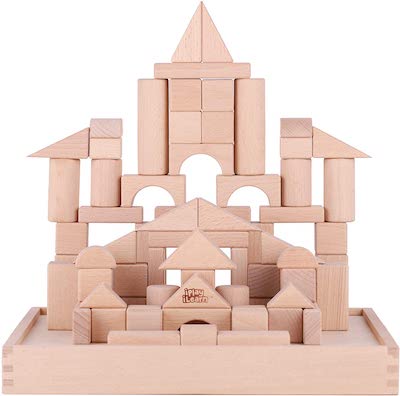 It helps spark your children's imagination, promotes independent play, as well cooperative play, improves dexterity, and hand-eye coordination.
There are so many combinations to be build! These baby blocks have 72 pieces and include 13 shapes like squares, rectangles, circles and half circles, triangles, cylinders, arches and more. teaches concepts like symmetry, proportions and size. Just let your kid's imagination to run wild so he could build all sorts of cities, castles, garages, houses and more!
This classic wooden blocks set includes a nice storage crate made from wood. It's a great choice for home, as well as daycare and preschool.
This is one of top picks at affordable price. These smooth-sanded hardwood blocks have natural finish. They don't contain any chemicals which makes them non-toxic and safe for little explorers. Thanks to high quality these unit blocks will provide hours of educational play and fun.
If your child likes building cities with traditional blocks, it may be the time to upgrade to this construction block set.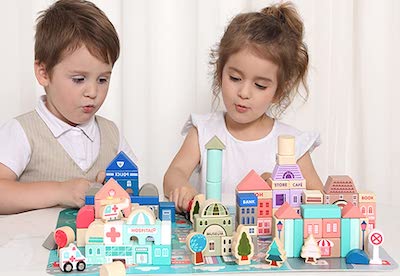 It includes 115 pieces in vibrant colors like city buildings (e.g hospital, police station, shop, museum), and vehicles (e.g. ambulance and fire truck).
This set is a great tool that nurtures children's creativity as they can build and re-build cities and towns in so many ways. This set comes with a city map that children can use to build the city, or they can use their own imagination to mix and match the blocks as they want. And then it's time for pretend play.
There are also blocks with numbers and words that help to learn the alphabet and number recognition.
With this wooden toy kids will be occupied for hours and enjoy fantastic educational experience while having a blast!
This set of blocks have lots of educational benefits:
it improves fine motor skills, hand-eye coordination, and dexterity
it inspires children,
it improves attention span,
it's an exercise for cognitive skills: problem-solving thinking, spatial awareness,
it's great for social skills, teamwork and communication skills.
This is definitely one of the biggest block sets and it's perfect as a gift for a 3-year-old kiddo. I've heard that lots of children play with these blocks as they grow older and even 9-year-old children enjoy them!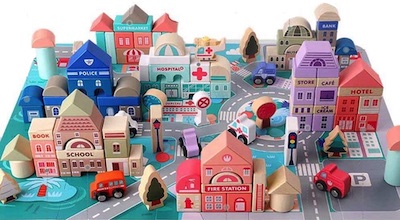 This toy is very popular and can be found in many classrooms. Thanks to its durability, it can serve many kids, for many years.
These toddler building blocks are made of natural wood, sanded smooth and painted with non-toxic water-based inks. Because they are hand-stained there may be some natural markings and unique variations in wood grain or texture. They are BPA-free.
This brand offers tons of beautiful wooden blocks: lowercase and uppercase ABC, with sea creatures, star constellations, planets, dinosaurs, nursery rhymes, Spanish, flowers, birds and even the periodic table for older kids!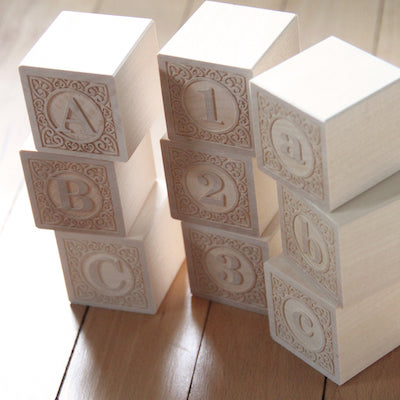 My absolute favorite is this set of naked wood blocks with capital letters. These blocks not only teach alphabet but also nurture child's creative nature. Your kids can decorate them in any way they want. You can purchase some mouth-safe inks, or try natural food coloring. Here are a few non-toxic solutions that you and your kids can try in your kitchen:
Green – rub fresh spinach on the blocks,
Purple – smashed and boiled black berries and blueberries,
Yellow – turmeric,
Brown – tea or cocoa,
Pink – raspberries,
Red – beets,
Orange – carrots,
Seal it with coconut oil.
Each cube is 1.75 inch big, so there's no choking hazard. They are beautifully handcrafted from sustainable Michigan basswood and have classic feel. One set includes 14 classic cubes with 2 letters. Lots of parents recommend getting two sets to be able to spell longer words.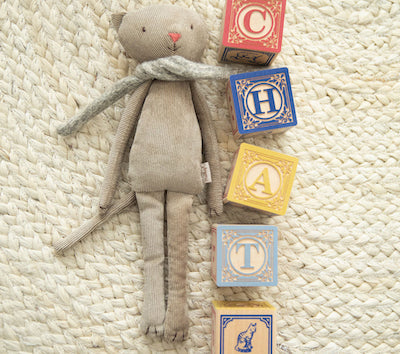 However, there's one thing to keep in mind: these blocks are unfinished and some may have sharp edges so they are not appropriate for young babies. They works excellent for pre-k age child and older kiddos for practicing their language skills.
PRO TIP: Lots of parents also recommend these Uncle Goose Blocks with American Sign Language. Lots of child's development experts agree that teaching a toddler sign language has lots of benefits on their communication, social skills and cultural sensitivity. With these Uncle Goose blocks your child can learn how to fingerspell the ASL alphabet.
This is my recommendations for kids above 3 years who are no longer interested in standard unit blocks or traditional blocks. This modern stacking toy includes 36 wooden rocks that vary in size, color and weight. Each block in this set is a polyhedron.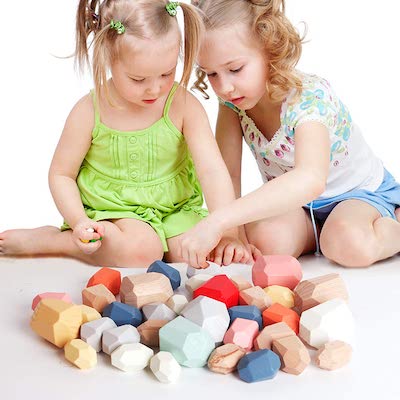 Because the stones are so different this game is more challenging and enhances kid's creativity to build something different each time.
Each block has many flat surfaces so you can stack the stones and build a tower or various constructs.
If regular building blocks are boring or not challenging any more for your kiddo, he will love this balancing game. It's perfect for training dexterity, color recognition, visual and spatial skills, resilience, patience and persistence, and stimulate independent thinking and logical reasoning.
Stacking and balancing the stones, keeping them from falling down, making new patterns each time – all of these activities inspire children to explore, encourage their curiosity and imagination.
These stone balance building blocks are also a fantastic interactive game for children and parents and it promotes bonding. Lots of moms say that it helps kids (and adults) to relieve stress, calms anxiety and teaches to focus.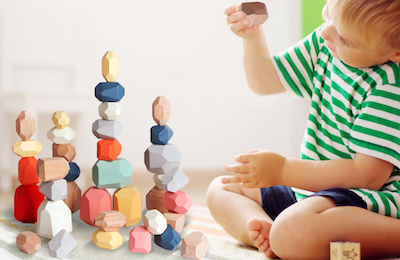 By the way, these stacking rock blocks double as a beautiful home decor item in the nursery or kid's playroom. This can be also an adorable gift for a new mom.
What makes them one of the best wooden blocks is their amazing quality and eco-friendliness. Moreover they are designed with child's safety in mind: they are made of natural wood, coated with non-toxic paint and hand-polished. Keep in mind that some pieces are less than inch big so they are not appropriate for kids under 3 y.0.
Best Wooden Block Sets – FAQ
Here are some additional details and safety tips that may help you to narrow down your choice and pick the best wooden blocks for your little ones.
What Age Are Wooden Blocks Good For?
Wooden blocks are good from about 18 months and can be entertaining and educational even for 8-9 year-old kids. Block sets are most beneficial for toddlers and preschoolers.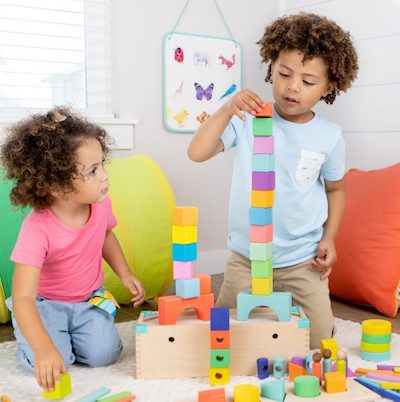 Are Building Blocks Good For 1-Year-Old?
I was pretty lucky because when my babies turned 1 they never mouthed their toys. So when they were like 13 months old we bought them their first block set, even though it was recommended from 2 years. We only used it for SUPERVISED playtime and before we purchased them we made sure all pieces are too big for baby's mouth.
I would say, use your parent intuition on when to introduce your little one to wooden blocks (and all other toys).
Safe alternative: you can introduce your 1-year-old to blocks by choosing soft fabric block toys or simple stacking toys made from wood or silicone. Then you can choose one of the best wooden blocks designed for younger children (from 12 or 18 months) like the ones from Lovevery. If your child is mouthing all toys, it's important to check if the elements are big enough and don't pose a choking hazard.
Are Wood Blocks Safe?
Wooden block toys are designed to be safe – they are make of natural materials – in contrast to plastic blocks. Moreover, the best wooden blocks sanded smoothly so there are no shape edges or sprints. Plus, some of them have natural finish, while others are painted with non-toxic and mouth-safe inks.
The best think about baby blocks is that they are durable, don't break over time and grow with the child (and help to train more and more complex skills). Another benefit of playing with block toys is that they keep kiddos away from smartphones, tablets and TVs!
Besides, toys made from from wood are quieter and support noise-free, calm playing environment, to prevent overstimulation (in contrast to plastic toys which often make noisy sounds, and have flashy lights).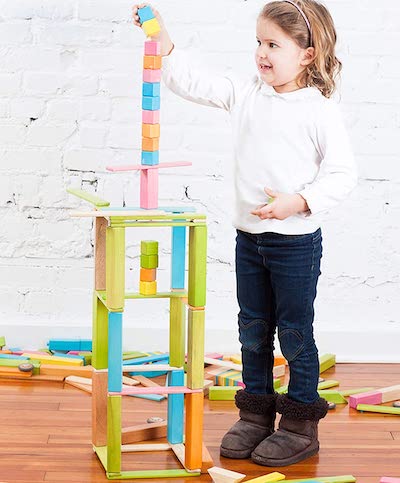 How Wooden Blocks Benefit Kid's Development?
All children's development experts agree that block play has lots of benefits for their cognitive, social and motor skills. It's a fantastic educational toy for screen-free playtime.
Playing with wooden block sets help to strengthen skills like:
Color & shape recognition, categorization
Dexterity and hand-eye coordination
Understanding physical concepts (cause and effect, gravity, magnetism)
Problem-solving thinking and logical reasoning
Outside-the-box thinking
Ability to follow instructions
Spatial awareness
Math skills and understanding concepts like length, measurement, comparison, symmetry, balance
Creative abilities and imagination
Motor skills (jumping), balance, strength
Individual play, cooperation, taking turns and sharing
Language Skills
Self-expression and self-esteem
Patience, resilience, persistence (it increases attention span)
How To Engage Kids In Playing With Blocks?
To make your children more interested in blocks, mom and dad should join them in building activity. You can also try a game of building challenges – ask your baby to make a specific structure. It's a good idea to combine it with a story-telling.
To get the most from wooden block play, you can your kids can create entire city following a scenario and engage in a pretend play (e.g. use city construction blocks to build a town, as wooden cars and figures that will go to school, shop, bank, hospital). It's great for kids social and language skills.
---
RELATED ARTICLES:
>> Best Non-Toxic Playmats For Babies
>> Lovevery Babbler Play Kit Review
>> Lovevery Pioneer Kit Review
---
The purpose of this article is informative. It's not a substitute for medical consultation or medical care. Remember: safety first! Consult your doctor/pediatrician in case of any doubts. The author of this article does not accept any responsibility for any liability, loss or risk, personal or otherwise, incurred as a consequence, directly or indirectly, from any information or advice contained here.
Your trust is really important to us: This article includes affiliate links to products that we think are useful for our readers. If you make a purchase through these links, we may earn a small commission at no extra cost to you. Your support helps us run this blog – thank you!
Sources of pictures: