I'm here to help you pick the best Spectra pumping bra that will fit the breast flanges and allow you to pump hands free! Most nursing and pumping bras are not compatible with Spectra, but I found 4 bras that work with Spectra S1 and S2 pumps.
Spectra is one of the most popular breast pumps, but it does have abnormal flanges which means most of the nursing and pumping bras don't work with it!
With regular nursing bra, the one-piece Spectra flange and bottle connector can't fit through the cup hole therefore you have to disconnect the bottles after pumping session, before undoing the bra. This often means a lot of spills. And you don't want to loose your precious nutritious liquid, right? No to mention, the mess you would need to clean up every time you pump…
But don't worry, I found 4 awesome hands-free Spectra pumping bras that fit and hold the breast shields securely. With these amazing pumping bras, using Spectra will be even easier and faster, and truly hands-free.
This article is not a substitute for medical advice. It contains affiliate links.
Image
My Personal Choice For

Kindred Bravely SublimeONLY TODAY - Selected colors 12% OFF!

Moms Top Choice: Best Pumping Bra For Spectra


Why you will love it:


Fits Spectra flanges with no problem and holds the bottles really well
Seamless wire-free design = nothing digs into your skin
Provides full coverage and great support even for large breasts
It's ultra-comfy so you can wear it all day long
Gives quick access whenever you need to nurse or pump
Adjusts to changing size of your breasts
Awesome limited-time discount: buy 3 bras & save $15 OFF (no code needed)
4 Best Hands-Free Pumping Bras For Spectra In 2023 – Picked By Moms & Lactation Counselors
Because breast shields in Spectra are bigger than in majority breast pumps, they don't fit through holes in most pumping bras. However, there are a few nursing bras that will allow you to pump hands-free with Spectra.
Here are the best pumping bras for Spectra, recommended by other mamas.
This is my absolute favorite. Sublime Pumping Bra works excellent with Spectra, and it's also compatible with many other electric breast pumps like Medela, Lansinoh, and Ameda.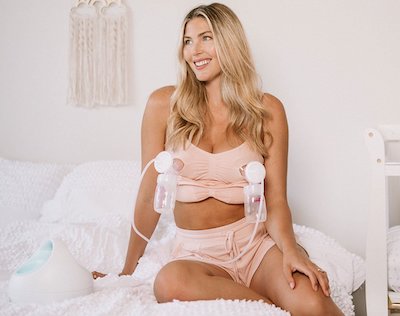 It's made from stretchy fabric which easily expands and contracts when your breast size changes throughout pregnancy, postpartum and the whole breastfeeding journey. This may be the only maternity, nursing & pumping bra you will ever need!
It doesn't have wires, therefore nothing digs into your skin or puts pressure on milk ducts. The cups are molded and there are knitted ribbed seams that mimic the support of underwire. This awesome pumping bra provides excellent support even for large breasts, and ensures good lift and separation. No more uni-boob, no more sagging breasts.
Each cup has a slit which allows you to connect your electric pump and enjoy hands-free pumping. The best thing about Kindred Bravely Sublime is that the slits are large and elastic which makes this bra suitable for Spectra. Its breast shields easily fit through the holes.
I went through dozens of customer reviews on Kindred Bravely website and lots of moms recommend these bras and they are really pleased with how it works with Spectra.
PRO TIP: Right now you have the chance to get this bra at way cheaper price. I recommend you to get 3 hands-free pumping bras so you could always have one at hand when the others are in the laundry. Kindred Bravely has great deal for bras bundle: grab $15 discount here when you buy 3 bras >>. This offer ends in a few days so don't miss out on your opportunity.
What's more, Sublime is also a perfect nursing bra thanks to clip-down cups which give you quick breastfeeding access. They are double-layered and there's a removable padding for more discretion.
Overall, this pumping bra is an excellent choice for EPing mamas, women who mix pumping and breastfeeding, as well as tandem breastfeeding. It's so comfy you can wear it all day long!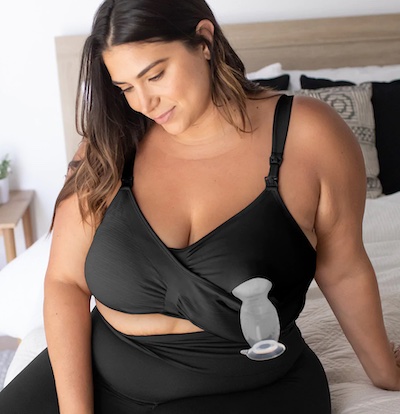 What I also love about Kindred Bravely pumping & nursing bra is its wide range of sizes. It fits cup sizes B-I and band sizes 30-44. It's an amazing option for petite moms, bustier ladies, as well as plus-size women! This Spectra pump bra is available in 6 colors, but keep in mind that the collection changes from time to time. My favorite is Pink Heather and Twilight.
PRO TIP: I also recommend you other clothes by Kindred Bravely that make pumping easier. I love this Sublime Hands-Free Pumping Tank (last time I checked it was 30% OFF). It's one of the most useful things when I was pumping and nursing. You don't have to wear a bra underneath, because there's a built-in shelf bra. It's ultra comfy, and gives quick access whenever you need to pump or breastfeed. And it looks so flattering and helps to smooth out postpartum belly. And if you're an active mama and prefer sports bras – check out this Sublime Pumping Sports Bra.
If you're looking for the best pumping bra for Spectra S1 or S2, Simple Wishes is one the best-sellers.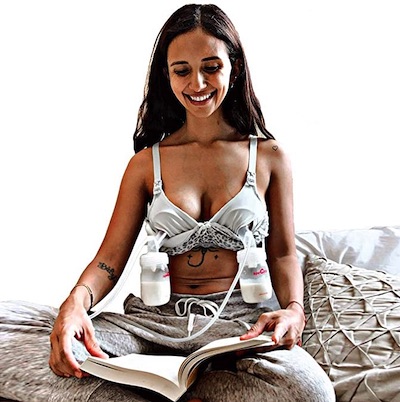 This bra features dual claps design. When it's time for the pumping session you just need to undo the lower clasp to remove the top layer of cup fabric. This way you will reveal the cup openings. They are large enough to fit Spectra flanges with no problem. When you want to breastfeed you need to unclip the upper clasp. This reveals the whole breasts and also allows for skin-to-skin contact with your newborn baby.
What's unique about Simple Wishes SuperMom Bra is that it comes with the Comfort Sling – it's an additional strap with padding that you can attach to your bra for extra support during pumping session. It's super useful, because it holds the bottles really well. With many regular pumping bras, as the bottles fill they tend to tip away and you end up hold the bottles anyway. That doesn't sound like hands-free pumping, right?
With the Comfort Sling the bottles don't tip away and you can maintain optimal suction. This design is really ingenious.
You should note that it may be a bit tricky to use at the beginning tho. Some moms complain that it takes practice, but once you get a good hang of it, pumping with the Comfort Sling will be much more convenient.
This bra has hook and eye closure with multiple width settings, and it also includes band extender that offers you 2 extra inches in the rib area. The non-slip shoulder straps are convertible and you can wear them in tank or racerback. I think it's really useful because it's easier to find the right fit and I can wear this bra under my favorite racerback dress.
Lots of moms say that Simple Wishes SuperMom is really supportive as for a wire-free nursing bra, even for large bust. Molded cups with inner side slings ensure good lift and separation.
The wide underband has special stitching that basically acts like an underwire, but it's much more comfortable and doesn't put pressure on your skin. I found it to be just as supportive as bras with wires, but with Simple Wishes bra nothing digs in.
According to mamas who have been using Spectra, this BRAVADO! DESIGNS Clip & Pump is a must-have. It just makes pumping so much easier and quicker.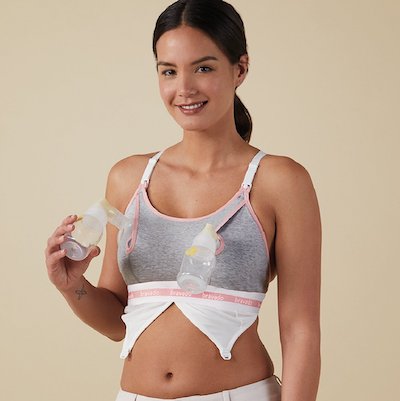 The one-piece Spectra shields easily fit through the slits in cups and feel very secure. Once you're done pumping, you can take them out with no hassle – and no spills! There's no need to unclip the bra or detach the bottles from the shields.
Lots of moms recommend BRAVADO! DESIGNS as the best hands-free pumping bra because it's so intuitive and easy to use, it feels supportive for the bust and holds the pump really well, and there are no issues with leaks.
What distinguishes this nursing & pumping bra is its design. It has patented figure 8 opening which allows to insert and remove the breast shield more easily. Besides, this unique opening fits shields of different sizes, even the larger ones like Spectra's.
Thanks to double layers of fabric the bra provides just the right amount of discretion and modesty.
In contrast to other bras in this ranking, this one is made for a cotton modal blend which makes it buttery soft and more breathable. This is a good choice for summer or hot climate.
This bra is wireless, and there's a wide stretchy underband with hood and eye closure at the back.
I also like the wide range of sizes that fit band sizes 32-46 and cup size B-G.
Keep in mind that this is accessory designed to be used with BRAVADO nursing bras – it attaches with Bclips. It's strapless, and you can't use it without a bra. Nevertheless, it won't cost you a fortune, because this accessory and BRAVADO bras are pretty affordable.
PRO TIP: I think this accessory is perfect to be paired with this Body Silk Seamless Bra. It's ultra comfy and supportive thanks to molded cups and knitted panels. It doesn't have underwires therefore it doesn't compress or squeeze your breasts. In contrast to many other nursing bras, this one offers really good lift and separation, without creating pressure points. And you can use it through pregnancy and the whole breastfeeding journey.
The last place in my ranking goes to Simple Wishes Hands-Free Pumping Bra. You can use it as a pump strap if you decide to wear it strapless, or it can serve you as a regular pumping bra with shoulder straps. Besides, those shoulder straps will provide extra support when the bottles fill with milk and get heavier.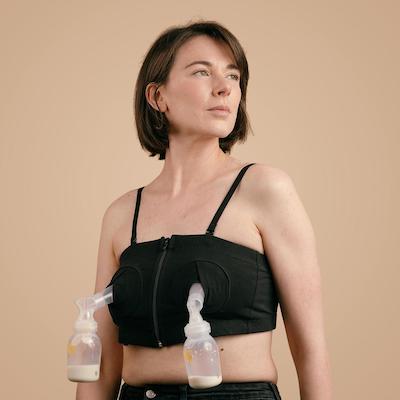 The openings for flanges are big enough and compatible with Spectra, so you won't have to squeeze them through. If you worry that fabric may stretch out over time, moms recommend to wash it regularly.
What's unique about this pumping bra is that there are no hooks for width adjustment. Instead, the brand used stretchy fabric and added Velcro closure in the back so all moms could find the perfect fit. Moms seem to like the Velcro and say it's easy to adjust the tightness of the bra.
What I love about this hands-free pumping bra is that it fits all sizes and body types. Whether you have extra small breasts or you're a bustier mama this Simple Wishes bra will fit you and you'll find the snug fit with ease! It fits cups size AA-J cup, and band size 30-48. Here you can check sizing and available colors.
Speaking from my own experience, whether you're a nursing or EPing mama, your body changes a lot. That's why it's so important to have a bra made from elastic material just like this Simple Wishes bra. It adjusts to your body, holds the breast pump flanges securely and helps to maintain a tight seal to prevent milk spills.
It also has a zipper in the front which makes putting it on hassle-free. You can unzip it fully at any time for interrupted skin-to-skin contact or breastfeeding.
Although I found some comments that this pumping bra is a bit weak, most moms agree that it's just right and supports flanges well. It works excellent with Spectra pumps. Some mamas say it's not a bra to wear all day long, and it's not designed for tandem breastfeeding. But it's definitely comfy and useful for EPing moms.
Best Spectra Pump Bra – FAQ & Pumping Tips
You've got some questions?
I've got you covered!
Below you can find basic information about pumping bras and how to pick the best hands-free pumping bra for Spectra.
Do You Really Need A Pumping Bra?
If you're EPing or mixing breastfeeding and pumping you may need a pumping bra – it will make everything much easier. Pumping bra frees your hands, even if you use electric breast pump with cord – which allows you to multitask or simply have a moment just for yourself.
Moms who got back to work and still want to give their babies breast milk, find the hands-free pumping bras really useful.
If you only pump occasionally, pumping bra may feel like an unnecessary expense. Getting 2in1 pumping and nursing bra may be a better option for you.
How Many Pumping Bras Do I Need?
It's best to get 3 pumping bras, especially if you're an exclusively pumping mom. It's also important to choose a comfy pumping bra for sleep. I think that for pumping at night it may be better to wear hands-free pumping tank top (like this one from Kindred Bravely), because it's more comfortable to sleep in it and it offers light support – just what you need at night.
>> Check out best pumping & nursing bras for sleep
Can You Pump Hands-Free With Spectra?
You can pump hands-free with Spectra but you need a special pumping bra for this purpose.
It's important to note that Spectra has larger flanges and they don't detach from bottle connectors. Because of that design, lots of pumping bras don't fit Spectra (the openings in cups are too tight).
It's pretty hard to find a nursing bra with openings large enough to fit Spectra shields through.
Those 4 bras that I recommend in this article are the best hands-free pumping bras for Spectra that you can get right now.
What Pump Bra Works With Spectra?
There are a few pumping bras that work with Spectra S2 and S1, but the best ones in my opinion are: Kindred Bravely Sublime, Simple Wishes Supermom, Simple Wishes Hands-Free Pumping Bra and BRAVADO! DESIGNS Clip & Pump Accessory.
I've heard that some moms have been using Spectra with Dairy Fairy pumping bra. The one-pieces flanges do fit through the holes but barely and the fabric stretches out. I think there are better options than Dairy Fairy if you want to pump hands-free with Spectra.
Besides, Dairy Fairy is more pricey, while the bras that I recommend in this article are more pocket-friendly options.
Does The Medela Pumping Bra Work With Spectra?
Medela Pumping Bra does not work with Spectra Pump. Medela has smaller, two-piece flanges, while Spectra's shields are one-piece are larger. Because of that, Spectra does not fit in Medela Pumping Bras.
Is There A Difference Between Nursing Bras And Pumping Bras?
There is a difference between nursing and pumping bras: the nursing bra has drop-down cups that ensure quick breastfeeding access, while the pumping bra has special openings in cups so you could fit the breast pump shields through them.
There are also 2in1 nursing and pumping bras that have both features: clip-down cups and openings for flanges, which makes breastfeeding and pumping much easier. These bras are a great choice for tandem breastfeeding and mixing nursing and pumping. In my opinion, the best hands-free pumping bra that also allows for easy nursing is Kindred Bravely Sublime.
>> My comparison: Willow vs. Spectra Pump
---
The purpose of this article is informative and entertaining. It's not a substitute for medical consultation or medical care. Remember: safety first! The author of this article does not accept any responsibility for any liability, loss or risk, personal or otherwise, incurred as a consequence, directly or indirectly, from any information or advice contained here.
Source of pictures:
Picture at the top of the article was created with photos that belong to Kindred Bravely and Simple Wishes brands.
Pictures of Kindred Bravely bras belong to Kindred Bravely brand. Source: https://www.kindredbravely.com/
Pictures of Simple Wishes bras belong to Simple Wishes brand. Source: https://simplewishes.com/
Picture of BRAVADO! DESIGNS bra belongs to BRAVADO! DESIGNS brand: https://bravadodesigns.com/