Your 30-pound toddler has "carry me" phase, but after a while your hands hurt. Besides, you have plenty of household duties to complete and you need your hands to be free, right? Or maybe getting through the airport with your frisky 2-year-old is a huge challenge.
Maybe you often go to the zoo or the woods where your stroller is unusable, but you need a solution for your 3-year-old who gets tired on longer distances.
Whatever your reason is to look for toddler carriers, I'm here to help you find the best one that will suit you and your not so little anymore kiddo.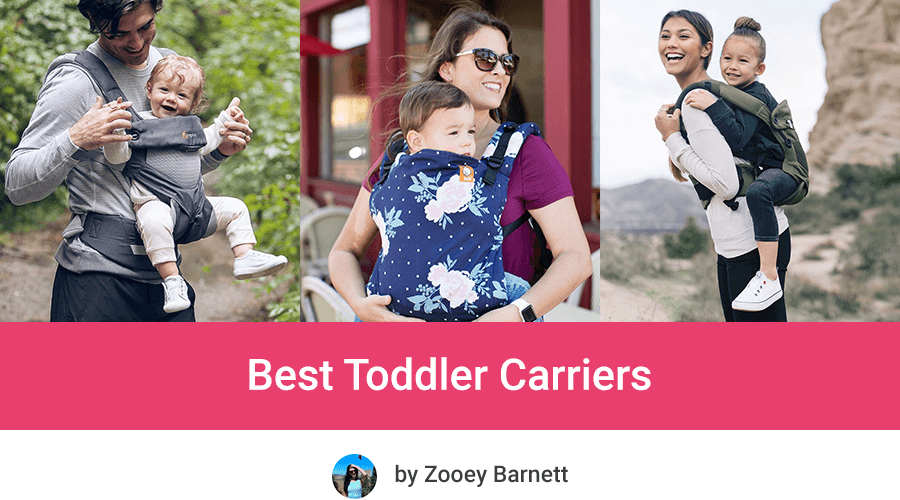 You know how much babies love being cradled in your arms. Snuggling against mom and dad gives babies a sense of comfort and helps them build a special bond. However, unless you have arms of steel, you'll find it's impossible to carry them around all day — not to mention get anything done.
Whether you're just doing chores around the house, or you're on the go, investing in a safe and practical baby carrier can be a major parent hack. From nap time at the grocery store to go-time at the airport, from visits to the zoo and museum to light hiking, toddler carrier can be a game changer for mobility, comfort, and convenience.
Baby carriers are helpful not only with infant, but also older babies. The best toddler carriers give you the hands-free power needed to tackle your day while keeping your bigger and heavier kiddo safely and comfortably nestled against your body – without straining your back and weighting you down.
Ready to keep calm and carry on? Browse my selection of best toddler carriers!
Suitable from 12 to 45 lbs (with infant insert from 7 lbs)
Most flexible carrier: 4 carrying positions, including facing out position which is entertaining for toddlers
Many colors to choose from and 2 different fabrics available: cotton or breathable mesh

Check availability & price: Selected colors now 30% OFF!
Suitable from 20 to 60 lbs – it fits toddlers and older children
3 carrying positions
Includes large lumbar support and crossable shoulder straps that provide equal weight distribution

Check price & current sale: Lillebaby Website
Baby Tula Toddler Carrier

Suitable from 25 to 60 lbs = carrier for older & bigger kids
Lots of fashions, colors and patterns to choose from – all options are super adorable and cute
Also available in mesh version

Check availability & price: Amazon
Suitable from 7 to 45 lbs (infant insert included)
Most inexpensive carrier for toddler in this ranking
Minimalist design – it's super easy to put it on, adjust & position the child
Includes detachable hood and convenient storage pocket

Check availability & price: Selected colors now 20% OFF
This article contains affiliate links.
Best Baby Carriers For Toddlers In 2021
Baby carriers have boomed in recent years, even making a fashion statement with trendy design options. Toddlers and infants tend to love these cozy things, as do their parents who have regained control of their upper extremities.
There are literally hundreds of baby carriers on the market, but they are certainly not created equal. Choosing a baby carrier can be a bit overwhelming with so many different options. It's even harder to find a toddler carrier – strong and durable enough to hold bigger and heavier child!
Fortunately, I've done the grunt work for you and I've narrowed down your choice to four best baby carriers – suitable for toddlers who can sit upright and have good neck control. These carriers have higher weight limit, and some of them can accommodate even a 5-year-old child!
If you're looking for high-quality toddler carriers, read on for my top picks.
Recommended Weight: 20 – 60 lbs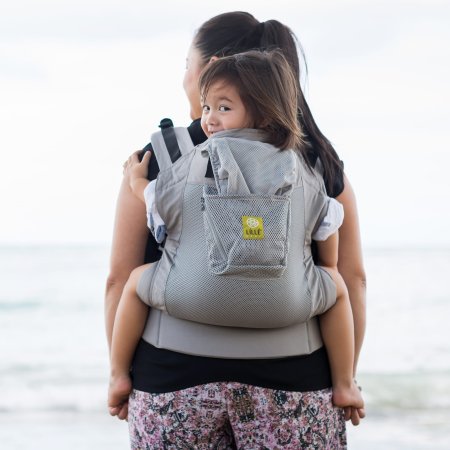 Get ready to strap your little traveler in, and take them on the next adventure!
The Lillebaby CarryOn Airflow is a perfect carrier for growing toddlers and bigger kids no matter the season or destination. Designed for year-round temperature control, this carrier is made with a breathable 3D mesh, therefore it can keep your baby cool in hot climates.
This product offers three carrying positions, including front, back, and hip. The ergonomic design and roomy torso panel allow you to use this carrier for many years to come as your child grows.
Other features include three-way straps, a sleeping hood with two different adjustment points to better cover your baby's head, convenient pockets, and a waist belt for lumbar support.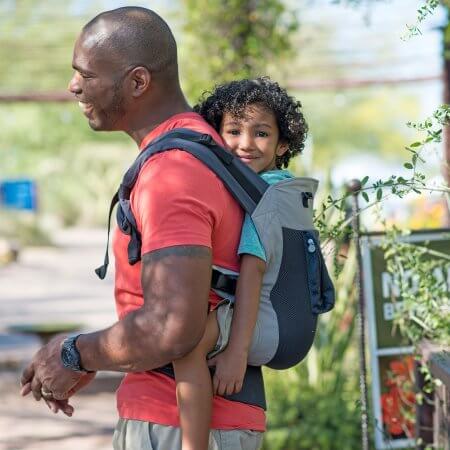 What Makes Lillebaby CarryOn Airflow One Of The Best Carriers For Toddlers?
The main feature that distinguishes the Lillebaby CarryOn Airflow from other products is its breathable design.
Babywearing can make you can your baby sweaty and hot, especially if you live in a warm climate. This can be very uncomfortable for both you and your little one when they are nestled against your body. Thanks to the Lillebaby CarryOn Airflow's 3D mesh material, however, your baby can stay nice and cool all year long.
The mesh panels offer the perfect temperature control for toddlers, allowing them to fall asleep in the carrier if needed without getting overly sweaty. Whether you're going for a stroll in the woods or traveling through the airport, the Carryon Airflow makes it easy to take your toddler on the go.
In addition, this product is great for chunky toddlers or bigger kids. With an impressive weight capacity of 60 pounds, this carrier features a roomy torso panel with plenty of room to grow into. This allows you to use the carrier for years to come.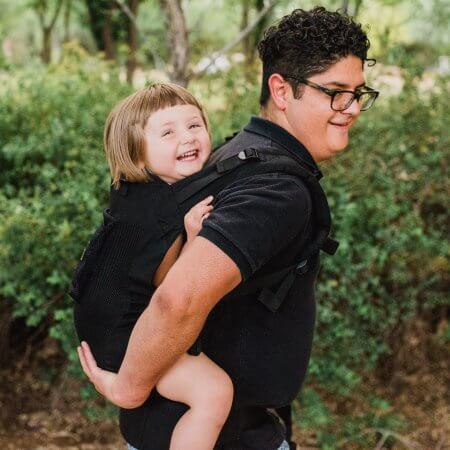 Additional Features
Unique Lumbar Padding: Any parents with back pain should invest in this option, as it is one of the only carriers that provides extra padding for the back for easier carrying, hence it protects the spine. Many customers with back pain have purchased this model and commented on its impressive comfort and support.
Padded Adjustable Shoulder Straps: These straps assist in alleviating carrying pain with dual adjustment buckles. The adjustments allow for proper weight spread. The straps are crossable – useful feature especially for shorter wearers.
Zippered Pocket: This can come in handy for stowing away small toys or your valuables like keys, ID or change.
What Parents Say About This Toddler Carrier?
Parents continue to praise how comfortable the Lillebaby CarryOn Airflow carrier is. The mesh materials offer the perfect temperature control while making this product extremely lightweight. If you live in a hot climate, the mesh material is a must to keep both you and baby cool.
In addition, parents love that this carrier grows with their kids. The weight capacity is 60lbs, therefore CarryOn Airflow is one of the best baby carrier for 1 year old, 2 year old and up (even for preschoolers). Many parents say they've used their CarryOn Airflow for years, and it's still comfortable to wear even with chunky toddlers or bigger and taller kids.
This toddler carrier is easy on parent's back, even with 30+ pound kiddo! Some parents use it even for 45-pound toddlers (back carry position) for a few hours at a time without any back or shoulder pain!
Lastly, many parents say they've used this carrier in the airport (as a stroller alternative) with great success. The lightweight material and comfortable design allows you to wear this carrier for hours without back pain. I love that this carrier doesn't weight you down, while still being ruggedly sturdy.
Whether you're going through the airport, hiking outdoors, visiting zoo, strolling around the city or simply going to the grocery store, this carrier can keep you cool and offer a comfy ride for your child.
With plenty of room to grow into, your growing baby, toddler, or preschooler will love riding in this carrier for years to come.
Pros
Cons

Pros

---

+ Mesh material is extremely breathable and offers great temperature control

+ 3 positions including backpack, front, and hip

+ Roomy torso offers a comfy ride

+ High weight capacity is perfect for growing babies, chunky toddlers, and bigger kids

+ Convenient pockets

+ Sleep hood is adjustable to two positions to better fit your baby's head

+ Dual-adjustable straps

+ Lumbar support

Cons

---

- Does not offer forward facing position

- Limited color options

- Finding proper fit may be a little bit harder for very short and very tall parents (but the customer service on Lillebaby website is very helpful)
Browse Lillebaby CarryOn Airflow carriers on the brand's official website by clicking here. You can find these trendy toddler carriers on Amazon as well. They are available in multiple colors, including gender neutral colors. Keep in mind the price may vary for different fashions and the availability may be limited sometimes.
Recommended Weight: 12 – 45 lbs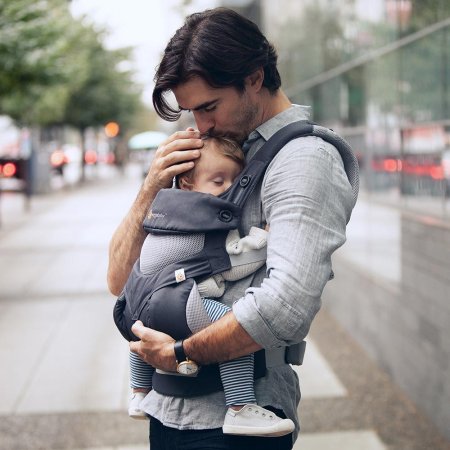 Chosen by parents as Baby Center's "Best of 2018 Mom's Pick" carrier, the Ergobaby 360 Baby Carrier allows you and your little one to go anywhere — and see anything — together.
Whether you're traveling, running errands, or need to accomplish daily tasks like laundry or preparing a meal, Ergobaby's 360 carrier will allow you to comfortably carry your baby with you on any adventure.
True to its name, this carrier is extremely versatile, with 4 different positions including front carry facing parent, front carry facing out, hip carry, and back carry. The ergonomic design offers optimal comfort for both parent and baby, with cushy straps, a lumbar support belt, and breathable mesh options.
You can read more about ergonomic & safe babywearing in this article.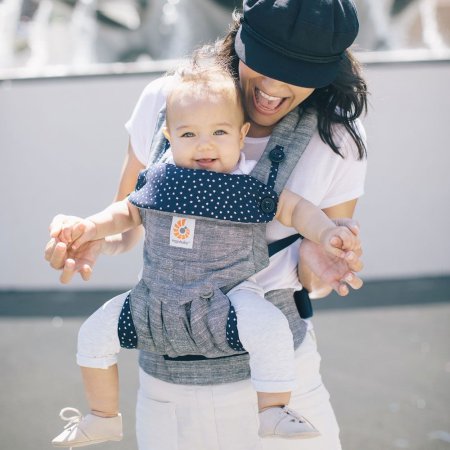 What Makes Ergobaby 360 One Of The Top Carriers For Toddlers?
One of the major advantages that Ergobaby 360 has over any other model on this list, is its front-facing option.
While infants may prefer to cuddle inward against your chest, you'll notice your little bundle of joy beginning to squirm around as they become more alert. As they approach the toddler phase and have better neck support, they'll want to start peeking around to see what all the big kids are up to.
When this time comes, having a front-facing carrier allows baby and parent to experience everything together. From grocery store trips to long-distance walks in the woods, you and baby can do everything, and see everything, together.
Facing-out allows them to see the world from your perspective and look around, indulges their curiosities and keeps them entertained — which is all great cognitive stimulation for your little one.
What's really great is that 360 carrier keeps your child in an ergonomic position, while facing out, and doesn't puts pressure on the crotch area.
However, keep in mind that you should carry your child in this position only for short periods, to prevent them from overstimulation.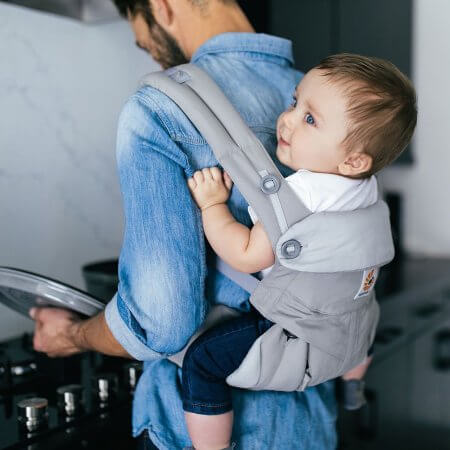 Additional Features
Variety of Colors & Designs: This model comes in a variety of designs in colors and patterns such as Icy Mint and Khaki Green, making this baby carrier for toddler easy to coordinate with an outfit or personal style.
Two Fabric Choices: This versatile toddler carrier can be purchased with two fabric choices: cotton and mesh. This way, parents can choose what is most comfortable for them to wear. While the cotton might be more fashionable, the cool mesh will keep you and your child cooler during the summer months. It's definitely a better option if you live in hot climate.
From Infancy to Toddlerhood: One other advantage of this product is that it is suitable for newborns as well as toddlers (as long as you purchase special infant insert). This is great for momma's that plan on having another baby in the future as it can be easily reused. Besides, it can be your only carrier – that grows with the baby from infancy through toddlerhood.
Are you looking for a baby carrier that can be used from birth to toddlerhood? Click here to see my ranking of the best carriers suitable for newborns.
What Parents Say About It?
Many parents have called the Ergobaby 360 the best carrier for 1 year old and 2 year old children. It's so comfortable to wear that even with heavier and baby you don't experience back aches or shoulder strain. Some reviews have even called this product a "godsend" — especially praising its forward-facing option for toddlers.
The ergonomic design and versatile positions make it easy to wear this carrier out and about no matter what you're doing that day. Changing position from facing inward to outward is also quick and simple.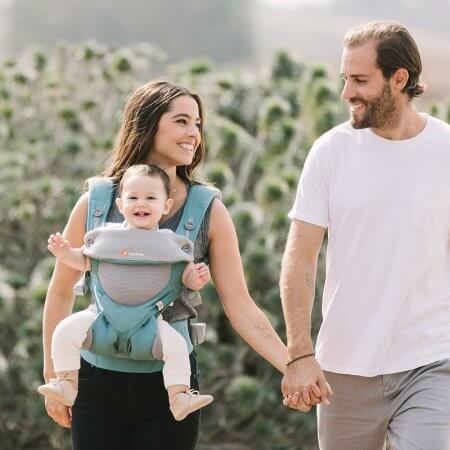 I personally recommend getting a mesh option, as the fabric is more breathable – it's very important especially if you plan on doing outdoor activities or you live in warm climate. Other parents have also recommended the mesh over the cotton carrier. In fact, even mothers that live in cold climates seem to prefer it.
Mothers across the country have praised Ergobaby 360 as a fantastic baby carrier for 2 year old, some parents have used it even with 3 year old kiddos.
Here you may have already noticed a difference between Ergobaby 360 and Lillebaby Carryon (as well as Baby Tula Toddler – described below). Ergobaby 360 weight limit and its size make it a good choice for a child up to 3 years. If you need something that will fit even a 4 or 5 year old child – choose the Lillebaby or Baby Tula toddler carriers.
One negative that parents note is its lack of storage pockets, which can be convenient when traveling to provide additional places to store items.
Pros
Cons

Pros

---

+ 4 positions including forward-facing – many toddlers love this position

+ Recognized as hip-healthy by the International Hip Dysplasia Institute

+ Comfortable fit featuring a lumbar support waistband and padded shoulder straps

+ Breathable mesh options available

+ Baby privacy hood offers protection from the sun

+ Adjustable seat

+ Many different color and design options to choose from

Cons

---

- Some users reported the shoulder straps were bulky

- No storage pocket
If you're looking for a high quality and versatile baby carrier, Ergobaby 360 may suit your needs. Click here to check pricing and browse available colors on the Ergobaby website. Availability and price may vary, depending on the fabrics and patterns.
Recommended Weight: 25 – 60 lbs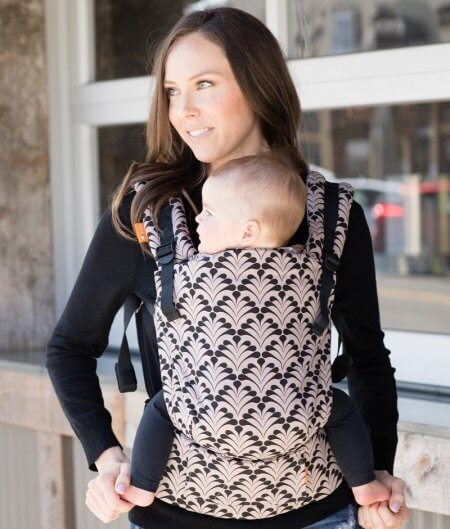 Who said parenting and toddlerwearing can't be fashionable?
Baby Tula Toddler Carriers add a stylish twist that both baby and mama will absolutely love. Offering endless patterns and colors, the Baby Tula Toddler Carrier is unlike any other and will make you feel like an instant fashion mom.
This ergonomic toddler carrier features the widest and tallest panel of any Tula brand carrier, perfect for bigger kids who still love to snuggle. The weight recommendations and the design of this product make it an ideal baby carrier for 18 month old or bigger children.
Some of the other key features include, the ergonomic M-position seat, padded and adjustable shoulder straps, 100% cotton fabric, added leg padding for longer wearing, and a removable hood for sun protection.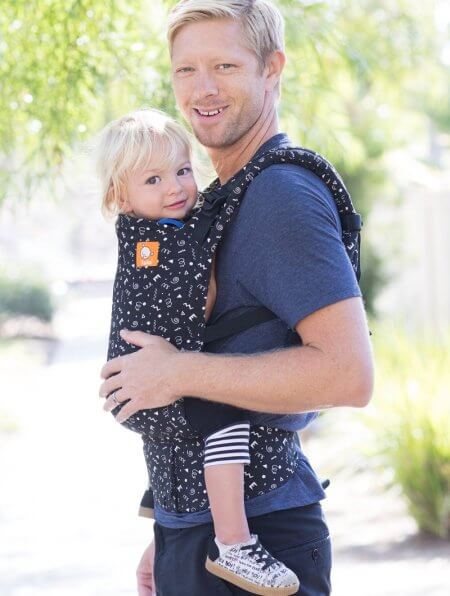 What Makes Baby Tula Toddler Carrier One Of The Best Options For Toddlers?
This baby carrier is designed for older and bigger babies as it has high weight limit (up to 60 lbs!). Carrying a toddler in your arms is more exhausting than carrying a 1-month-old infant, but Baby Tula has thought about everything.
This toddler carrier is extremely comfortable and even when you're babywearing for longer period of time you don't feel the pressure of your toddler's weight.
For me, even my 2-year-old kiddo felt weightless thanks to this carrier. The weight distribution is so great I could hardly tell I was carrying 20 lbs + baby. It was a lifesaver for us, when we visited Disneyland.
In addition to its ergonomic design and impressive weight capacities, I love how fun and unique this product is! There are cow print, gingham, stripes and floral patterns – I'm sure you'll find something that will suit your style and your baby will love. It's time to add some fun to your toddlerwearing style! 🙂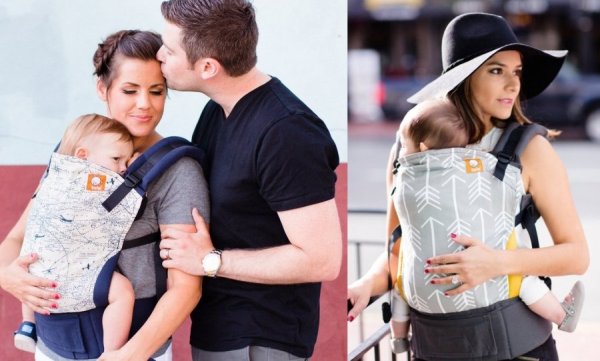 As a mom, I know parenthood doesn't always seem glamorous, which is why I appreciate the fun and trendy touch Tula adds to their products. With so many fun patterns to choose from, you can find a carrier that is both functional and stylish.
Not only will you want to show off your new carrier to your mommy group, but your little one will appreciate the fun design too — making it a treat for them to ride in style.
Additional Features
Extra Padded Adjustable Shoulder Straps & Wide Waist Belt: This entire model contains extra padding to provide ultimate comfort for the parent and equal weight distribution. The waistband is padded with a thick cotton coating, which decrease pressure from the baby's weight onto the parent's hips and promotes healthy posture. With the Tula carrier, parents with sensitive backs and hips can move easily.
What Previous Buyers Think About This Product?
A quick look at reviews will make it clear that parents love the Baby Tula Toddler Carrier. A perfect baby carrier for an 18 month old and up, parents praise the personalized touch that these carriers offer.
In addition, the sturdy design can safely carry your bigger kids too—which is perfect for traveling with your toddler (going through security at the airport is much, much easier!).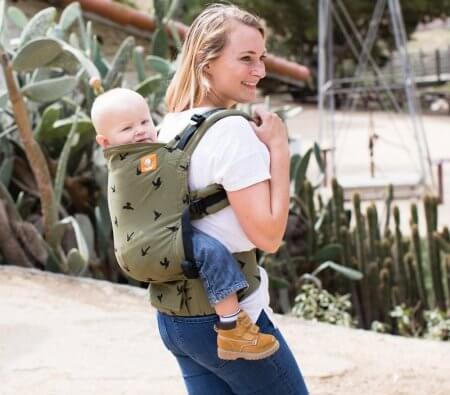 In fact, this product is ranked as a top baby carrier for 2 year old children and up. In customer reviews on Baby Tula official website I've read that parents use it even for a special need 6 year old child!
It's also a great solution for long walks, when even an older kiddo gets tired, but you can't use a stroller (for example the terrain is too rough). Baby Tula proves that you can tote around a 30-pound kid and stay comfortable!
For the fashion-forward moms out there, the Baby Tula Toddler Carrier is a must. With this carrier, Baby Tula proved you can have both functionality and style—creating a product that both parents and baby will look forward to using.
Pros
Cons

Pros

---

+ Countless fun and trendy patterns that parent and child will love

+ High weight capacity up to 60 lbs is perfect for older and bigger kids

+ Leg opening with extra padding

+ Dual-adjustment padded straps

+ Some designs include mesh panels

+ Waistband offers lumbar support

Cons

---

- Only offers 2 positions (no forward-facing option)

- Some patterns are only available in cotton fabric, which is less breathable than mesh
Would you like to check this fabulous carrier and its rating on Amazon? Just click here. You can find there multiple color versions, some of them are super cute!! My boys love the Slow Ride version with cars and motorbikes.
Recommended Weight: 7 – 45 lbs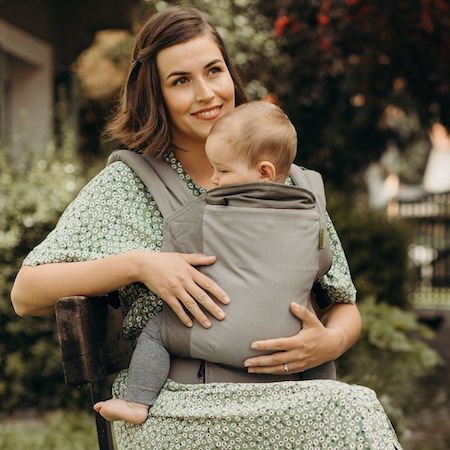 Get ready to cuddle up to your little one with this inexpensive toddler carrier. Boba 4GS Carrier features a minimalist and ergonomic design, lightweight fabric, adjustable straps, and highly extendable waist belt to fit even plus-size parents.
And the best part? It's one of the most affordable toddler carriers on the market!
Boba 4GS is not only a great option for parents on a budget, but it's also one of the best toddler carrier options in general. Featuring a comfortable seat for baby and a naturally rounded back, your toddler can enjoy a safe and comfy ride anywhere you go.
This carrier is also comfortable for the wearer, featuring thick padded adjustable straps and convenient storage pouch to keep your small valuables at hands. What distinguishes Boba is its simple design – this toddler carrier is so easy to put on and adjust. It's one of the most user-friendly carriers!
Minimalist design makes it also a fantastic carrier for dads.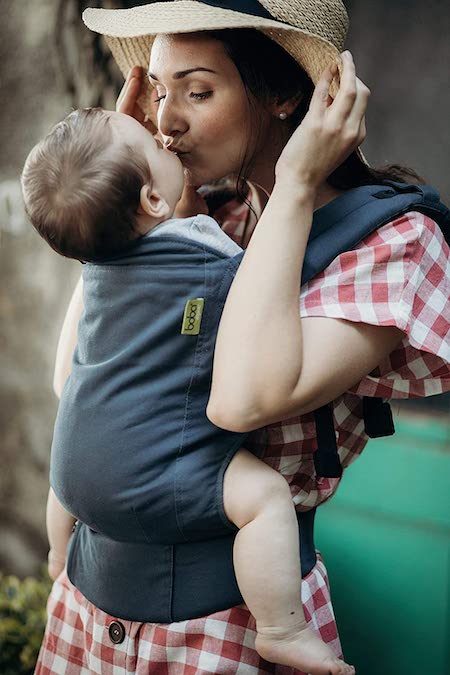 What Makes Boba 4GS One Of The Best Choices For Toddlerwearing?
Boba 4GS is one of the best baby carrier for toddlers thanks to its outstanding value. It's much cheaper than other carriers, but it still offers many of the great features that parents need with a convenient and safe design.
The price of this carrier is truly unbeatable, offering an affordable option for parents on a budget who want to take their toddler on the go without breaking the bank.
Thanks to the high weight capacity (45 lbs) and sturdy material, toddlers can easily fit into this carrier and ride safely with mom or dad.
Considering its size and body panel length, this toddler carrier is most comfortable up to about 2-2.5 years.
You can babywear your toddler on your front or back. Whichever position you choose, this carrier will keep your toddler in ergonomic position with knees higher than the bum. It supports their thighs from knee to knee, and it's safe for their hips.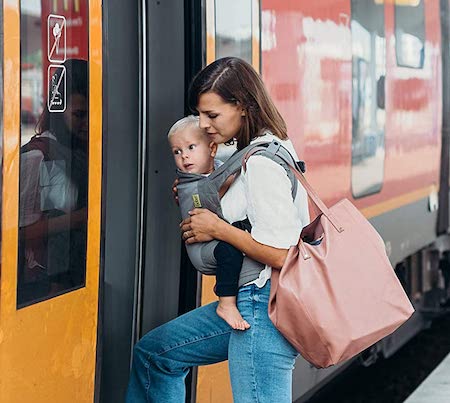 Additional Features
Included Infant Insert – This can be actually the only baby carrier you will ever have to buy because you can use it from day one with infant insert and it will grow with your little one. Once your baby gets bigger (15 lbs) you can remove the insert. This carrier offers your baby so much room to grow!
Detachable Hood: This will protect children from intense heat or torrential downpour. This is an ideal feature that will come in handy, regardless of your local weather climate. During breezy, warm and comfortable weather, the hood can be tucked away. It will also provide extra head support.
What Other Parents Think About This Toddler Carrier?
Boba 4GS has received outstanding consumer reviews. Parents love the value that this carrier offers, delivering a comfortable, safe, and stylish product. It's a low-budget alternative for more trendy and pricey carriers.
This carrier works great for toddlers thanks to its higher weight capacity and roomy seat. Kids seem to love this carrier too, thanks to its comfortable and snug fit. Many parents reported that their little ones regularly fall asleep in the carrier since it is so cozy.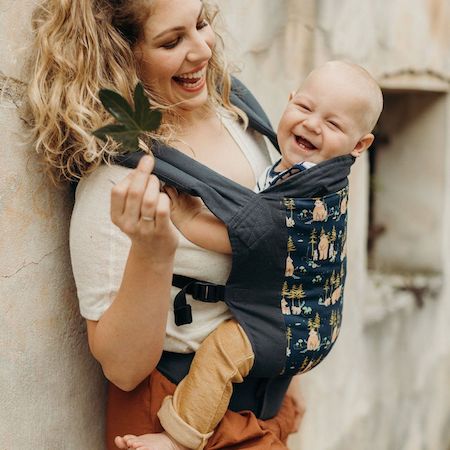 Overall, Boba 4GS is a great product that offers the best value of any baby carrier on the market. Moms and dads love cuddling their little cubs in Boba carrier. With a safe and comfortable design, you can cuddle up to your little one anytime you're on the go. Thanks to minimalist design, putting this carrier on is easy-peasy!
Pros
Cons

Pros

---

+ One of the most affordable baby carriers on the market

+ All straps are highly extendable making it very comfy for plus size parents

+ Putting it on and adjusting is very simple

+ Detachable hood protects baby from the sun

+ Hip-healthy product with ergonomic and roomy seating area that grows with your child

+ Comfortable and adjustable straps

+ Storage pouch for your phone or wallet

+ Naturally rounded back offers comfortable ride for baby

+ Machine washable – doesn't lose shape or color during washing

+ Even weight distribution - doesn't strain your shoulder or back

Cons

---

- The sturdy material is a bit bulky and can get hot in certain climates

- Only offers 2 positions
If you're looking for an affordable carrier for toddlers or prefer a simple design, get Boba 4GS. > You can choose your favorite print here <
PRO TIP: If you are on a really tight budget (under $50) and need a toddler carrier, check out this Infantino Cuddle Up. This cute baby carrier fits bigger toddlers and could serve you up to 2 years. You can wear it on your front or back. It's east to adjust and comfortable to wear without back pain! Infantino carrier comes with adorable teddy bear hood.
Toddler Carriers – FAQ
Here's everything you need to know before getting a carrier for your toddler.
What Is The Best Carrier For A Toddler?
All of the above toddler carriers offer a variety of incredible features that make them unique among competitors. There really isn't one option that's the best. Rather, there's one that is perfectly meant to suit you, your lifestyle, and your baby.
When you're on the go, toddler carriers can be a lifesaver, giving you the peace of mind that your curious toddler is safely strapped against your body — and not roaming around the grocery store or airport. The best toddler carrier gives you hands-free power while offering a comfortable place for your little one to rest and even take a nap if they need to.
Above I've listed some of the best toddler carrier options on the market based on functionality, comfort, and design.
Ergobaby 360 with forward facing position is the best carrier for toddler, if you're looking for something versatile and all-purpose.
If you prefer something stylish with really high weight limit, adorable Baby Tula Toddler will not disappoint you.
If you want something roomy and breathable, the best toddler carrier for you will be the Lillebaby Carryon Airflow.
And if you need something affordable and very easy to use – Boba 4GS seems like the best choice for a toddler.
Can You Babywear A Toddler?
Of course you can babywear a toddler, you just need a proper carrier that will keep him safe and comfy. Choose a carrier that has a higher weight limit (above 40 lbs) – this will ensure a few years of use. The best toddler carriers offer children a lot of room to grow, making it a fantastic investment for years. Some parents use Tula Toddler or Lillebaby Carryon even with 4 and 5 year old kids!
Toddlerwearing has so many emotional benefits for kids and parents, just like babywearing!
How Do You Carry A 2 Year Old?
If you want to carry your 2 year old, choose a versatile carrier that will at least have two carrying positions: front and back carry. Toddlers are heavier than babies, therefore you need to make sure your carrier is comfy for you and ensures even weight distribution.
For some parents it may be hard to carry a 2-year-old on their front – back carrying position may be much more comfortable, and also more enjoyable for a toddler.
Older kids may also like the outward facing position. If you want to carry a 2-year-old facing out, make sure to choose ergonomic carrier that offers this position without putting pressure on the crotch area (Ergobaby 360 is one of the best options).
---
More awesome baby carriers for kids at different age you can find in my ranking for 2021.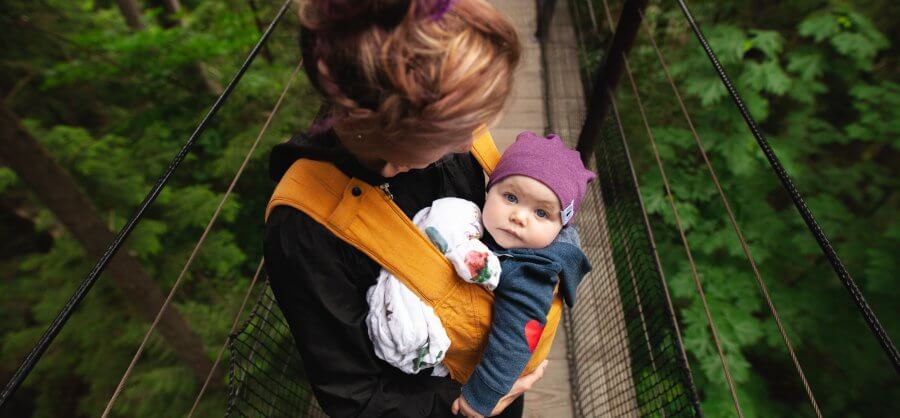 Pictures of Lillebaby CarryOn Airflow belong to Lillebaby. Source: https://www.lillebaby.com/
Pictures of Ergobaby 360 Baby Carrier belong to Ergobaby. Source: https://ergobaby.com/
Pictures of Baby Tula Toddler Carrier belong to Baby Tula. Source: https://babytula.com/
Pictures of Boba 4GS Carrier belong to Boba. Source: https://boba.com/
Your trust is really important to me: This post contains affiliate links. If you choose to buy something using these links, I may receive a small commission, at no extra cost to you. Your support helps me run this blog. Thank you so much 🖤