If you are a nature enthusiast and want your little one to join you in outdoor adventures, you need a quality child carrier suitable for hiking. You can still enjoy long walks in the woods or trekking, together with your toddler.
Read along and find out what mistakes to avoid when searching for hiking carrier.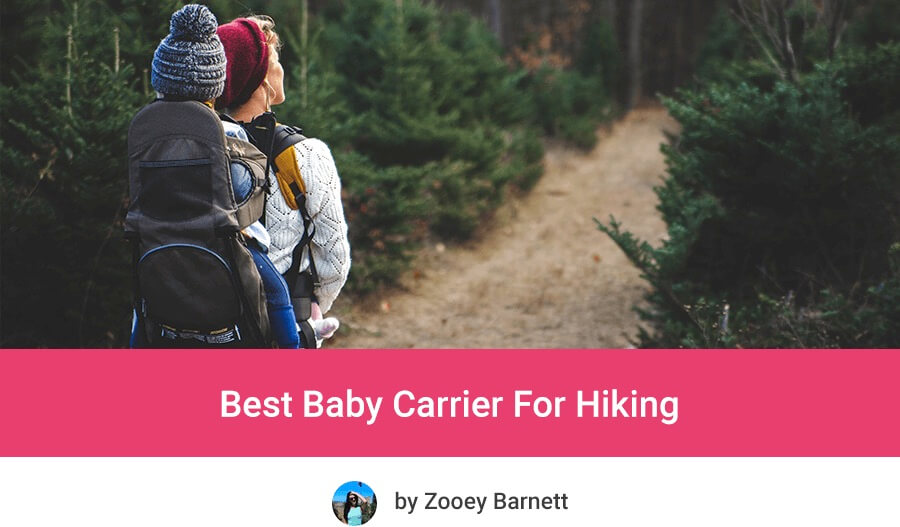 This article contains affiliate links.
With the several options on the market, it can be difficult to narrow down the selection to just one. That's why I did the busy work for you! I have reviewed dozens of the best hiking carrier for toddlers and narrowed down the selection to the top two: Deuter Kid Comfort and Luvdbaby Premium Baby Backpack Carrier.
I took into consideration important features including build, harness, padding, suspension system, weight, and price. I considered all these features so that when you decide to invest in a child carrier for hiking, you will benefit with hours of fun on the trail with your child.
Parents don't have to give up their active lifestyle – instead, they can take their child on the journey and give them a comfortable, fun and safe experience! Here's all you need to know about the top 2 baby carriers for hiking on back.
Let's get started!
Preview
Name
Luvdbaby Premium Baby Backpack Carrier
Best Features
Mesh, breathable padding; perfect weight distribution; suitability for parents of all heights; lots of storage pockets; easy to fold kickstand; stirrups and sun roof included
Lots of storage pockets (including thermal pocket); adjustable wearer's torso length; lots of mesh padding; many accessories included (sun cover, rain cover, diaper changing pad); affordable price
Drawbacks
Sun roof design could be better
Kickstand is not user-friendly
Best For
Parents with bigger budget who want a durable, ultra-safe carrier for light and moderate hiking, trekking, exploring city and day trips
Parents on a smaller budget who want to have good-quality lightweight carrier, with all necessary items included, for light and moderate walks and hikes
Preview
Best Features
Mesh, breathable padding; perfect weight distribution; suitability for parents of all heights; lots of storage pockets; easy to fold kickstand; stirrups and sun roof included
Drawbacks
Sun roof design could be better
Best For
Parents with bigger budget who want a durable, ultra-safe carrier for light and moderate hiking, trekking, exploring city and day trips
Preview
Name
Luvdbaby Premium Baby Backpack Carrier
Best Features
Lots of storage pockets (including thermal pocket); adjustable wearer's torso length; lots of mesh padding; many accessories included (sun cover, rain cover, diaper changing pad); affordable price
Drawbacks
Kickstand is not user-friendly
Best For
Parents on a smaller budget who want to have good-quality lightweight carrier, with all necessary items included, for light and moderate walks and hikes
1. Deuter Kid Comfort Review
After reviewing dozens of options, I concluded that the Deuter Kid Comfort is possibly the best child hiking carrier on the market. There are a few versions of the Deuter Kid Comfort, and after reviewing all of them, I confirmed that the standard model surpassed the others. It's simply the best value for money.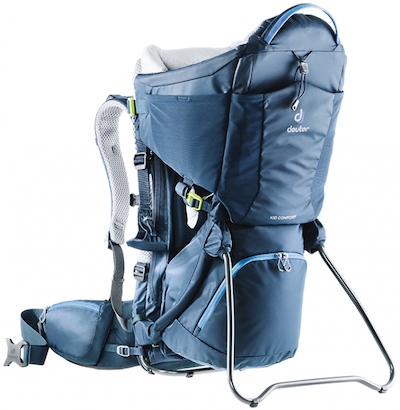 Its frame is made of spring steel which is flexible and resistant to breaking at the same time. It holds the mesh back in the right place, making it always sturdy and tense. It also ensures there is a space between wearer's back and the rest of the carrier which allows for proper ventilation. Thanks to this the warm air and the moisture dissipate and your back don't get hot so quickly.
This amazing ventilation system (called Aircomfort Sensic Vario) was recently updated and now works even better, allowing the air to pass through the mesh back.
On both sides of the back there is a deep padding for wearer's ultimate comfort, which is essential when you're carrying heavy toddler.
There are also thick shoulder straps, fully adjustable, designed in an ergonomic way to relieve neck strain especially when you're walking on the uneven or steep terrain. Thanks to all this padding the carrier doesn't dig into your skin.
Moreover, thanks to the design and shape of the frame, child's weight is distributed across your shoulders, back and hips – and doesn't strain your back like many other hiking carriers.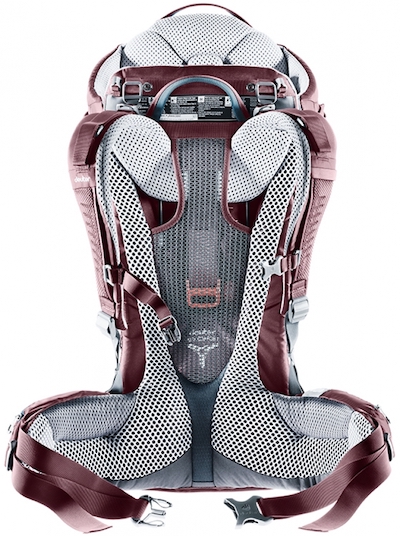 Additional features and benefits for the child include:
Soft chin pads. These give your child support throughout the entire hiking experience. The pads give your baby a comfortable way to take a nap and are removable so that you can wash them after every hike.
Comfortable ride for the child – there is height- and width-adjustable seat so the child could always sit in an ergonomic and healthy position with hips well supported.The is also integrated headrest for a quick rest and height-adjustable foot rests which prevent child's legs from dangling. Thanks to all those adjustments, this carrier is comfortable for growing toddler and may serve you for years.
Included sun roof – This is the best upgrade. Previously only the most advantage and expensive Dueter carrier had included sun roof. Now, also the medium-price standard model has it. I do wish it folded away to a zippered pouch, which would be more convenient than detaching it every time and putting in a storage pocket, but it's still great that you don't have to pay extra for the sun roof.
A Comfortable Experience For Parents
Now let's talk a little bit about how this option is comfortable for you as a parent!
There is a padded hip belt, which you can adjust to your size. The pad around the hips molds to your body and ensures proper weight distribution. The hip pads move along with you and follow your every movement no matter the terrain you're on. This ensures proper fit and prevents your hips and back from getting overstrained.
Shoulder straps can be adjusted to the width and angle of your shoulder are. There is also strenum strap which you can adjust so the carrier feels stable and fits securely to your body. Thanks to VariSlide System you can also change the backrest length. With all of these adjustment this hiking carrier feels comfortable to wear and child weight is evenly distributed across parent's body. Besides, with all those adjustable straps both mom and dad can use the same carrier, whether they short or tall.
To make the adjustments easier, this carrier has color coded buckles. What you're also going to love is that the shoulder pads are perforated and allow the air to circulate through. You won't be sweating as much as with other hiking carriers for toddler.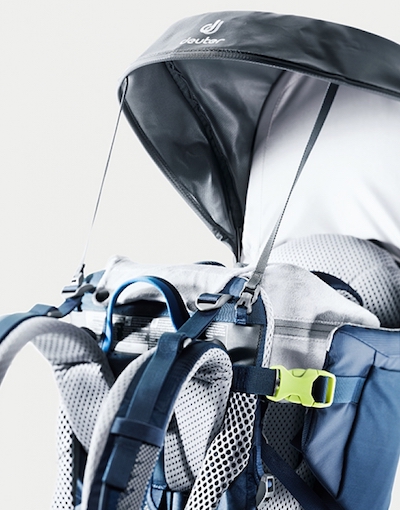 Another great features are:
Hydration System Compatible – Deuter Kid Comfort allow you to bring a hydration system with you (up to 3.0 l).
Foldable kickstand – Thanks to this feature this carrier stands on its own which simplifies packing. It also makes putting the child in and out of the backpack carrier much easier and safer.
Multiple storage compartments – there are 3 zippered pockets and 3 additional pouches, designed for you to store away baby essentials as well as your personal items.
Deuter Kid Comfort weighs 7lb 1oz and its dimensions are: 28 x 17 x 13 inches. It's not the lightest carrier out there, but considering all its features, amount of storage and ergonomic design, it's doesn't feel bulky.
Pros & Cons
Pros
Cons

Pros

---

+ Amazing AirComfort ventilation system

+ Easy adjustments to all torso lengths

+ 5-point safety harness system keeps baby in place

+ The clips are color-code so it's clear where to put each clip

+ It gives babies a comfortable and healthy sitting position

+ Sun roof included

+ Top quality – you can't beat it!

Cons

---

- The sun roof is detachable, not built-in, and you need to store it in one of the pockets where it may deform (you need to be very careful with it)
Versions Of Deuter Kid Comfort Carrier & Their Main Differences
Like I briefly touched on earlier, there are multiple versions of this hiking carrier, available in 2022:
The collection includes:
Deuter Kid Comfort
Deuter Kid Comfort Pro
Deuter Kid Comfort Active
Deuter Kid Comfort Active SL (Women's Fit)

Check available color versions on Amazon & read customer reviews
Comparison: Deuter Kid Comfort Pro vs Comfort vs Active vs Active SL
There are a few differences between the 4 models from the current collection. Only the standard Deuter Kid Comfort comes in two color versions – you can choose red or blue version. Pro is the only model that come with an included daypack (small backpack), more storage pockets and higher backrest for the child. Its sun roof is integrated, in contrast to standard Deuter Kid Comfort which has detachable sun roof.
The Active carrier comes with mesh sides of the child cockpit and more mesh on the back for the wearer. It's also much lighter than Standard and Pro models. The Active SL is similar to Active, but it has slimmer shoulder straps and redesigned hip pads – because it was designed especially for women. Pricing and liter capacity also vary among all of these carriers. I encourage you to visit Amazon to view and compare current pricing and specifications.
The standard Deuter Kid Comfort model is my top pick when it comes down to the best baby carrier for hiking because it gives parents and their toddlers an enjoyable experience and best quality price ratio. It has plenty useful features, without being too bulky, heavy and overpriced.
However: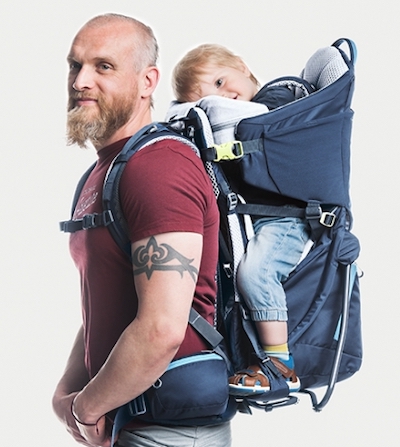 Why Is Deuter Kid Comfort One Of The Best Baby Carriers For Hiking?
There are several reasons this option is one of the top for hiking. It is comfortable for both the parent and child, and it's practical and made from durable material. Consequently, it has plenty cargo space where you can store away all your belongings.
Its frame is sturdy, giving user's maximum stability and support. It's fully adjustable both for the parent and the child making the experience more comfortable. Your back is not strained, while your child is sitting in an ergonomic position.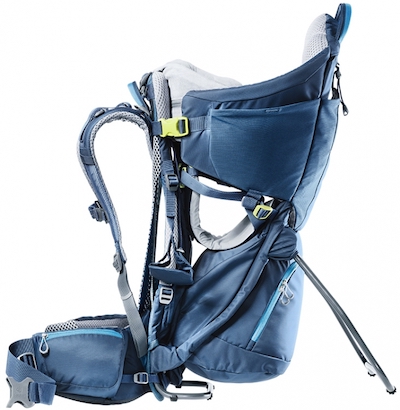 The soft chin pad is essential to giving your child comfortable naps – it's also removable and can be easily washed. There is also included sun roof – something that all parents wanted with the old version. Overall, this is a great selection for parents who are searching for a quality carrier for light to moderate hiking.
Deuter Kid Comfort is perfect for you if:
You need a hiking carrier for toddlers for light or moderate hiking/trekking
You want a carrier for long-distances walks during trips to the woods (not too heavy)
You need a high-quality carrier that will be comfortable for 2 year old or 3 year old
Deuter Kid Comfort is not a good choice if:
You're on a tight budget (then check more affordable alternative below)
Your kiddo is older than 4 and very tall
Safety Rules
There is a wide kickstand that brings stability when you're taking your baby in and out of it. The child seat is equipped with redesigned, improved 5-point safety harness which you can adjust to fit the size and height of your child.
It can hold a child up to 40 lbs (18 kg), and additional 8.8 lbs (4 kg) of baggage load. Most parents use it up to 3-4 years.
PRO TIP: You can start using carrier for hiking when your child has good neck and head control and can sit upright unassisted. Never use backpack carrier when the infant lacks neck control, doesn't sit on its own or still rests in frog position. Make sure to consult this with your pediatrician.
Customer Reviews
According to customer reviews on Amazon this hiking baby carrier is highly adjustable and doesn't feel heavy, even with a bigger toddler in it. Parents love it for long hikes.
Customers share that they love the design of this carrier and its adjustability. The compartments are great for toys, personal items, and baby supplies like diapers.
Moreover, this awesome baby carrier for hiking is comfortable for naps on the go. It's a good choice for both beginners and more advanced hikers.
Out of the few complaints, not everyone likes the sun roof design, as it needs to be detached every time and stored in a special pocket where it may bend.
You can read more customer reviews on Deuter Kid Comfort Amazon page.
Final assessment: If you want to introduce your child to healthy outdoor activities or explore wilderness with your little one in a safe and comfortable way, Deuter Kid Comfort is perfect choice.
2. Luvdbaby Premium Baby Backpack Carrier Review
My next top pick is the Luvdbaby Premium, which runs closely along Deuter in terms of quality, comfort, and functionality. With this one, you will be able to transport your child from place to place safely and comfortably.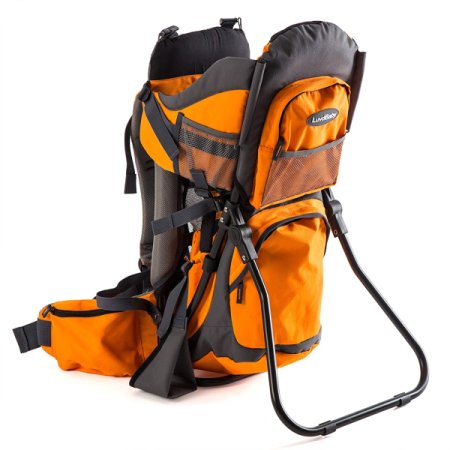 The backpack is padded throughout, includes safety straps and stirrups, tons of storage space, as well as few useful accessories.
The designers of this model kept in mind that you will be carrying around your child for prolonged period of time. This is why they made the carrier to be adjustable to your height. In addition, the straps are padded, and there is a wide waist belt included that spreads the weight of the cargo evenly, without straining your hips.
The Luvdbaby Premium comes with several pockets and compartments among them being an insulated pocket for a baby bottle! This gear is designed specifically for the parent and their child comfort.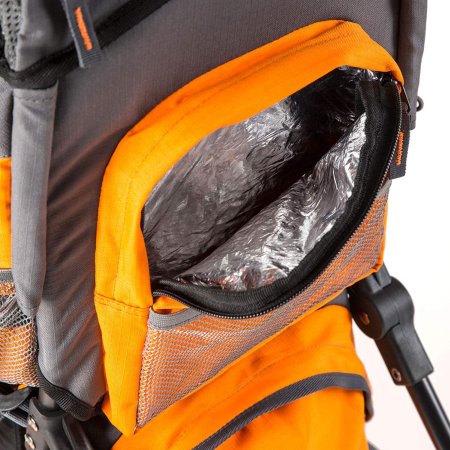 It has pockets on the waist belt for your personal items that you want to keep within reach. There is also a large pocket on the back where you can put bigger items, like a towel, some snacks and toys.
This backpack carrier is built to last users for several years. It's made with premium materials (the main one is waterproof) which are strong, durable and look good as well. The kickout stand is made from lightweight aluminum that also stands the test of time.
Parents Convenience
This carrier is equipped with adjustable shoulder straps, as well as adjustable torso height. All to spread the weight of the child evenly and reduce the shoulder and back strain.
Besides this carrier weighs only about 6.4 lbs which is definitely manageable.
Moreover, there is a mesh padding on the back which allow for nice air-flow and doesn't get hot that quickly. We all don't like having sweaty back when we're on a long train.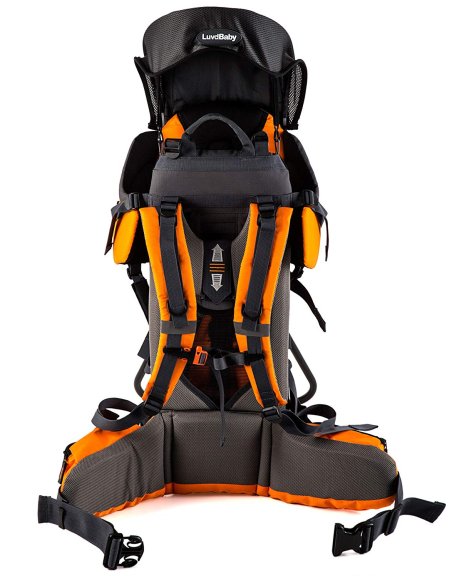 There are also few other features added for parents convenience:
Tons of storage – you'll be able to take all your necessities even for a day trip.
Thermal insulated pocket – This zippered pocket will keep a bottle or food warm for the baby (or you!). Who would like a warm snack after long hike? 🙂
Foldable changing pad – Luvdbaby included a diaper changing pad to this carrier, isn't it great?! No matter where you'll go you will always have a clean surfaces to for changing a diaper. And when you're ready to go back on the trail again, this pad folds up neatly and doesn't take up much space in the carrier.
Comfortable & Enjoyable Experience For The Child
It allows the child to sit up high and observe surroundings. And when your toddler gets tires, Ludvbaby Premium padded seat and chin pad are very comfy for a nap on the go.
This high-quality baby carrier for hiking includes removable mesh hood and rain cover. Nice touch! You don't have to spend extra money on these accessories which is really awesome. And you'll be prepared for all weather conditions during exploring outdoors – rain, wind and harmful sun rays.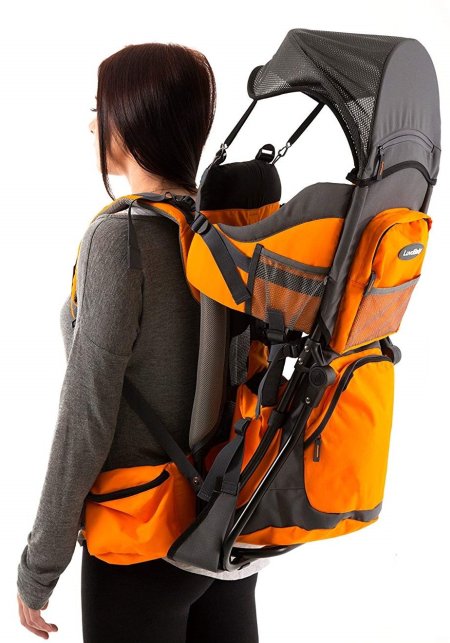 There are also adjustable stirrups that prevent little passenger's feet from dangling and kicking parent when you're on the move. Luvdbaby really cares about child and parent comfort.
Pros & Cons
Pros
Cons

Pros

---

+ Includes sunshade, rain cover and diaper changing pad = saved money

+ Multiple compartments for storing your stuff

+ Insulated baby bottle pocket

+ Easy height adjustment

+ More affordable price

Cons

---

- Kickstand cannot be folded when you have the backpack on
What Makes This Model One Of The Best Hiking Carriers For Toddlers?
This model is widely considered as the awesome hiking carrier for a toddler because it equips parents with everything they need to have an enjoyable day in nature with their little one.
Padded in all the right places, children can sleep comfortably in this carrier. There is also a mesh sun hood included to protect your little one from the harsh heat of the sun, as well as a rain cover to keep them warm and dry.
As for parents, they will enjoy a zero back-strain design. This is considered as best carrier for hiking on back because it has great suspension and distributes weight very evenly. The mesh back will allow air to flow through and prevent sweaty backs. Finally, it's lightweight and easy to adjust.
Pocket-friendly price is the cherry on top. No wonder this hiking baby carrier is so popular!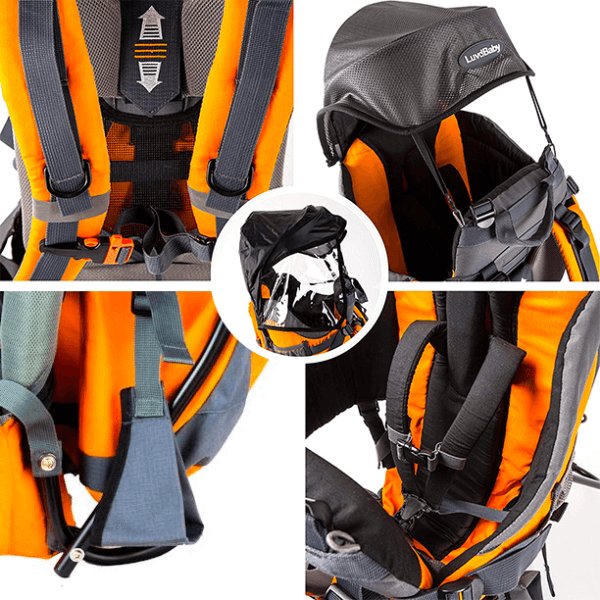 Customer Reviews
Buyers love the features included within this carrier. Everything they need is there, providing an easy way to carry a baby. Lots of storage pockets, easy adjustability to parents height and included sun/rain shields are the biggest advantages. This carrier works great for short and tall parents and makes carrying a baby very convenient (even with a heavy 3-year-old!).
Parents also praise this hiking carrier for being well-padded and super comfy for the baby. There is nice padding on the crotch are, as well as comfy place for child's head to rest on, harness is soft too.
Want to read other parent's reviews? Click here & skip to Amazon customer reviews
Something that customers may complain about is the hip strap adjustable being a bit difficult. Some parents also complain about the kickstand folding mechanism – you can't fold it when you have the backpack on – you have to fold it before you put it on by pressing two side buttons.
There are few negative customer reviews on Amazon, mainly from parents who receive a defective product or without the accessories that should be included. But these are only few reviews and in most cases the customer service was quick to answer and helpful.
Final assessment: If you have smaller budget and need a comfortable child carrier for hiking with all accessories included, this model will meet your needs. It's great for light and moderate hiking. But if you need a carrier only for city exploration, choose something smaller like Deuter Kid Comfort Active.
Luvdbaby Backpack Baby Carrier vs Deuter Kid Comfort – Main Differences
Unlike the Deuter model, Luvdbaby carrier has rain cover and foldable changing pad included for your convenience. Buyers really like the fact that these accessories come included with the purchase.
Consequently, the Luvdbaby Premium is less expensive than the Deuter. Considering it comes with two additional accessories, Luvdbaby is definitely worth considering. Especially if you have smaller budget.
On the other hand Deuter Kid Comfort has stirrups designed to prevent the baby from standing up in the carrier and a kickstand that can be folded in and out when you have the backpack on. This kickstand is much more convenient to use, than the one on Luvdbaby carrier. Standard Deuter is also compatible with hydration system up to 3L.
These small differences make it a close call between the two in terms of which one is the better.

Being able to take your child on a hike and explore the wilderness is really wonderful and in this matter hiking child carrier wins over baby stroller. With your little one in a backpack carrier, you can go much further than with a stroller. And easily maneuver even a difficult terrain. But if you want the adventure to be safe and enjoyable, you need a proper equipment.
All in all, both the Deuter and Luvdbaby Premium are exceptional choices when looking for the best child carrier for hiking, especially for 2 year old & 3 year old.
I encourage you to check out the latest pricing on Amazon and check available colors as this information may slightly change.
---
I thought I add Q&A section as I get a lot of questions about carriers for hiking from other parents. Making a decision which one to buy is not easy, but I hope my Q&A will give you all the information you need before buying. These are the questions that I also had when I was looking for a hiking carrier and it's all based on my experience.
Deuter Kid Comfort – All You Need To Know
Q: What's the minimum age for Deuter carriers?
A: The brand doesn't actually give any age recommendations, but the child should be able to sit upright without assistance and hold their head up. So around 6-9 month should be fine. You can also consult it with your pediatrician.
Q: Does Deuter Kid Comfort carrier fit a 5 or 6 month old baby?
A: It really depends on whether the infant can hold their head up unassisted. The size of the infant is not the most important factor, because you can adjust the harness straps and the sitting place to secure small infant properly.
Q: Does a 3 year old child fit in Deuter Kid Comfort carrier?
A: Yes. Child weight limit is 40 lbs (plus additional 8.8 lbs for storage). Usually 3 and 4 year old kids fit in it comfortably. However, if the 4 year old is tall for their age, the harness and the feet rest may be too small for them.
Q: Is the rain cover included with Deuter Kid Comfort and Pro?
A: No, it's sold separately.
Q: Does Deuter Kid Comfort carrier fit a plus size mom or dad?
A: Yes, it's easily adjustable even for a person who is over 6ft tall and 200+ lbs.
Q: Will Deuter Kid Comfort fit in a large suitcase?
A: It depends on your suitcase. Compare its dimensions with the dimensions of the carrier (13 x 28 x 17 inches – for Deuter Kid Comfort). Most airlines will let you gate check it, if you're using it instead of a stroller. Some parents have positive experience with taking it on board as carryon and storing it in the overhead compartment. Of course the best solution here is to consult it with the airline you're traveling with.
Q: Does Deuter Kid Comfort fold?
A: Not really. You could flat it a little, but the length stays the same (the frame doesn't fold). But if you often press it to make it more flat, it may deform – especially the shoulder straps.
Q: Is Deuter too bulky for using public transportation?
A: It's rather designed for outdoor and hiking, it may be a bit bulky for crowded and tight places.
Q: Can a child fall asleep in Deuter hiking carrier?
A: Yes! It's very comfortable and has a padded pillow where the child can rest their head while sleeping (the chin pad is the same in Deuter Kid Comfort and Comfort Pro). It doesn't interfere with your balance.
Q: Can you use Deuter for daily errands, like shopping?
A: It's better for hikes, local walks. It may feel too big and inconvenient for running daily errands. For shopping, especially in tight stores you may prefer a buckle carrier – here is my list of the best carriers for toddlers (they are soft structured, they don't have a "chair" form).
Q: Is Deuter adjustable for tall person?
A: Yes, you can not only adjust the length of the shoulder pads, but also extend the torso.
Q: What is the difference between Deuter Kid Comfort and Deuter Kid Comfort Pro?
A: The Pro model has a different hood that protects the child from sun. This makes the carrier a bit taller, and of course heavier (0.3 lb). It offers more storage space – there is a backpack included. Because of that the price is also significantly higher. I recommend it for advanced hikers and for travel.
Q: In Deuter Kid Comfort Pro does the sun hood get in your way when it's not in use?
A: No, it folds away and you can store it in a pocket.
Q: How does Deuter Kid Comfort work for a person with back problems?
A: Some parents who struggle with shoulder and lower back pain have been using this carrier and they say a lot of good things about it. If you wear and adjust it properly, it doesn't feel heavy and doesn't hurt your back. It has a good balance and good weight distribution.
Q: Does Deuter Kid Comfort Pro fit small person?
A: It's most comfortable for average and large person – above 5'5″. Parents who are below 5'5″ also wear it (even those who are 5'1″), but the weight distribution may be worse and it may feel a bit awkward to wear, although it doesn't feel super heavy.
Q: Is the fabric removable from the frame and machine-washable in Deuter carriers?
A: No. It's recommended to hand wash it.
Q: How does the Deuter Kid Comfort Active model stand out?
A: It has more mesh fabric which provides better ventilation for the child and the wearer. The mesh prevents your back from sweating and transferring the heat to the child. However, there's no place for a hydration bladder, only pockets where you can put bottles. The biggest advantage of this model is its lighter design – it weighs 5 lbs 10 oz.
Q: Which Deuter carrier is the lightest?
A: Among all Deuter models the Active SL is the most lightweight one at 5.84 lbs.
Luvdbaby Premium Hiking Carrier – All You Need To Know
Q: What is the weight limit for Luvdbaby carrier?
A: 40 lbs.
Q: What's the minimum age?
A: You can use Luvdbaby when the infant has good neck and head control.
Q: Is the kick stand foldable?
A: Yes.
Q: Does a 3 year old fit in Luvdbaby Premium Carrier?
A: If the child is under 40 lbs then yes. Parents usually use it up to around 3 years. There is no height limit and the canopy is retractable (for a tall child).
Q: How to adjust all straps on Luvdbaby?
A: I recommend you to e-mail the brand. They will send you instructions.
Q: Does Luvdbaby carrier include a sun and rain cover?
A: It has a built-in hood that protects the child from the sun rays and a plastic rain shield.
Q: What's the smallest size that Luvdbaby carrier fits?
A: Waist size 31-32″.
Q: Will Luvdbaby carrier fit a tall person?
A: Yes, it's highly adjustable, even for person above 6ft tall.
Q: Does Luvdbaby carrier have foot straps?
A: Yes.
Q: Is it possible to put the child in the Luvdbaby without any assistance?
A: Yes, just put the carrier on the ground and flip the kick stand out. For the first time it's good to have someone to help you, just in case. But after a few times you'll master it. The only thing is that it's very hard to fold the kick stand on your own, you will probably need assistance for that.
Q: How much does Luvdbaby carrier weigh?
A: 6.4 lbs.
Q: Does Luvdbaby carrier come with a bug shield?
A: No, it has only a sun hood and a plastic rain shield.
Q: Can you wear Luvdbaby carrier while being pregnant?
A: You should definitely ask your doctor first, because with a baby in the carrier it is a bit heavy and puts the pressure on the hips. It actually applies to all baby carriers.
Q: Can Luvdbaby carrier work as a seat for a child when standing on the ground?
A: Yes, with the kick stand out. But never leave your child unattended, because they may fall to the side or tip forward.
Q: Does Luvdbaby have a padded front part when the child can rest their head while asleep?
A: Yes.
---
Source of pictures:
Pictures of Deuter Kid Comfort Carriers belong to Deuter. Source: https://deuter.com/
Pictures of Luvdbaby Carrier belong to Luvdbaby. Source: https://luvdbaby.com/
---
Keep in mind this article is not a substitute for medical advice! To make hiking with a baby safe and enjoyable experience, consult with your pediatrician whether your child is ready for this activity.
Your trust is really important to me: This post contains affiliate links. If you choose to buy something using these links, I may receive a small commission, at no extra cost to you. Your support helps me run this blog. Thank you so much 🖤