I prepared a list of my favorite eco-friendly baby products that are made of organic and non-toxic materials. These green baby products are much safer for babies, and of course our planet! On my list you will also find some baby utensils and dishes that are made of silicone – which is more durable and long-lasting than plastic (meaning it's better for the environment).
Best Non-Toxic Play Gym: Finn+Emma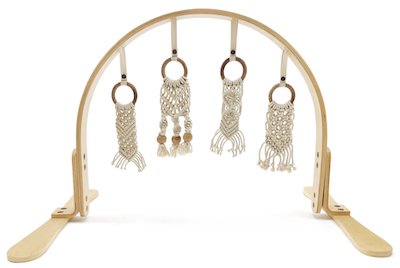 In my opinion this is the best non-toxic baby gym. The arch is made of 100% birch wood frame and finished with stains and lacquers that are free of: lead, phthalate, nickel, mercury, and VOCs. This organic baby gym is so much safer for little babies than plastic activity gyms!
You can choose the hanging toys for your play gym – you have three options:
Wooden toys made of untreated Indian hardwood

Knit toys made of G.O.T.S. certified organic cotton yarn
Hand-knotted macrame toys made of organic cotton rope
Whichever toys you'll choose, you can be sure they will promote development of fine motor skills and encourage your baby to reach and grasp. Thanks to various textures, they will stimulate baby's tactile sense. It doesn't make any noises and you can switch the hanging toys to attract your baby's attention.
Design and the amount of toys is perfect for preventing overstimulation (which is common with plastic, colorful and noisy play gyms).
Finn+Emma Wooden Baby Gym is height-adjustable to grow with your little bundle of joy. You can pair it with Finn+Emma wooden rocker, place it on a play mat, or put it inside the crib.
>>Read more about best organic wooden baby gyms
Best Non-Toxic Baby Crawling Mat: Toki Mats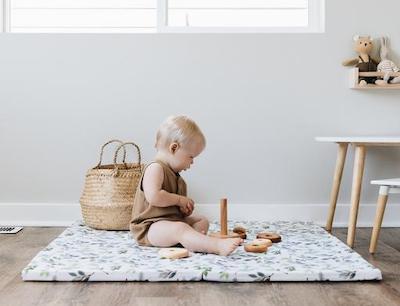 Toki Mats is my favorite brand when it comes to non-toxic baby crawling mats. They are free of PVC, EVA foam, PU foam, phthalates and lead! These chemicals can be found in many popular foam playmats, but not in Toki Mats!
The insert is made of natural latex foam, it doesn't contain any flame retardants, and it's biodegradable. Toki Mats insert is certified as organic, meaning the latex contains at least 95% of certified organic raw material, and it doesn't contain synthetic latex1).
Toki Mats cover is made of 100% cotton and it's also chemical free which makes it safe for baby's delicate skin.
These playmats come in multiple gorgeous designs, I'm sure you will love these simple, but cute patterns. They allow the baby to explore new shapes and colors, but don't overstimulate them.
You can use Toki Mats for tummy time, overhead play and for learning your baby to crawl.
>>Here's my full list of the best non-toxic baby crawling playmats
Best Wooden Toys For Babies: PlanToys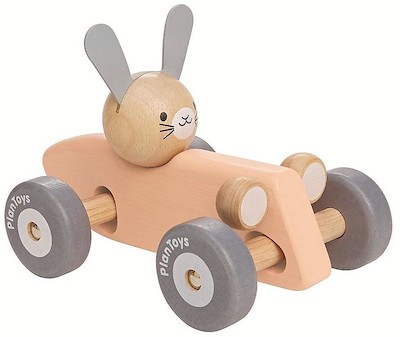 What I like about this brand is that they are devoted to make the whole process of manufacturing a toy more eco-friendly. They use green and renewable materials + water-based dyes. Their toys don't contain formaldehyde glue.
The brand uses eco-friendly manufacturing methods, and eco-friendly packaging with plant-based ink. In their factory they use renewable energy: solar energy, biogas and biomass energy2.
They offer toys for infants, toddlers and preschoolers. My favorites are their toys for crawlers (like this Chicken Racer), as well as toys for pretend play (for example this wooden hairdresser set).
PlanToys has also fantastic sets of wooden blocks and educational toys for cognitive and fine motor skills development: shape sorters, stacking rings, 3D puzzle cubes and many more.
Wooden baby toys by PlanToys have so many advantages: they are eco-friendly, long-lasting, great for baby's healthy brain development, and they also look super cute! I'm sure you child will adore them!
Best Biodegradable Chemical-Free Diapers: Eco Pea Co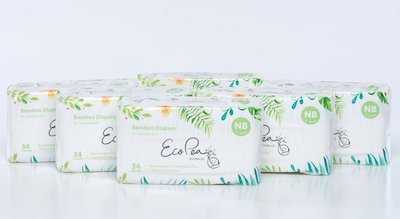 When it comes to organic baby diapers, my absolute favorite is Eco Pea Co. These chemical free diapers are made of bamboo which is biodegradable. Regular diapers take about 500 YEARS to decompose, while the Eco Pea Co diapers take about 2-3 months to degrade in half.
Moreover Eco Pea Co baby diapers are chemical free which makes them ideal for baby's sensitive skin. They are free of chlorine, phthalates, dioxin, alcohol, latex and fragrances.These organic diapers are hypoallergenic and don't cause skin irritation.
There are 5 available sizes:
NB: 0 – 10 lbs
Size 1: 7 – 17 lbs
Size 2: 14 – 24 lbs
Size 3: 21 – 31 lbs
Size 4: 28 – 44 lbs
What's noteworthy, size 3 and 4 are also available as training diapers (which pull up & down).
If you want to purchase these organic baby diapers, you can choose one pack, box of 6 packs or subscribe and get a box of diapers every 1-3 months (this is the cheapest option).
If you're looking for safest diapers for little one, Eco Pea Co is your best bet.
>> Read more about non toxic, eco-friendly & biodegradable diapers
Best Organic Cotton Baby Apparel: Finn+Emma

Finn+Emma baby clothes are buttery-soft and you can literally FEEL the quality. They are made of 100% organic cotton that is G.O.T.S. certified. Moreover, Finn+Emma uses only non-toxic and eco-friendly dyes for their baby apparel collection. Even the snaps are toxin-free and don't contain lead or nickel.
Beside of being organic, Finn+Emma clothes are ADORABLE! Their collection is full of cute prints for newborns, toddlers and preschoolers ( up to 4 years). I'm sure you and your little one will love these lovely graphics. And if you have a baby and toddler, you can even get matching clothes for them!
Finn+Emma organic clothes collection includes: bodysuits, footies, t-shirts, pants, pajamas, dresses, rompers, bibs, blankets and more.
Best Tencel Baby Apparel: Loulou Lollipop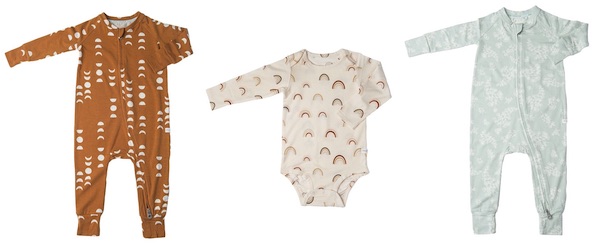 I have picked Loulou Lollipop as the best brand for Tencel baby clothes. This material is very soft, gentle for baby's skin and more friendly for the environment than many other fabrics.
The production process uses less water and solvent that is not as harmful for the environment as solvents used for fibers like polyester or bamboo (or non-toxic at all). Moreover, Tencel biodegradable and compostable.
Loulou Lollipop collection includes: sleepers, bodysuits, pants, headbands, sleep bags, blankets and more. Design is simple, but gorgeous and stylish.
Tencel is not only cozy and nice to the touch, but it also has thermal regulating properties which is a huge plus. It allows the skin to breathe and wicks away the moisture. It's perfect for every season and weather! It helps to protect the child from sweating and overheating, and decreases the risk of skin rash.
Best Bamboo Baby Spoons, Bowls & Plates: Avanchy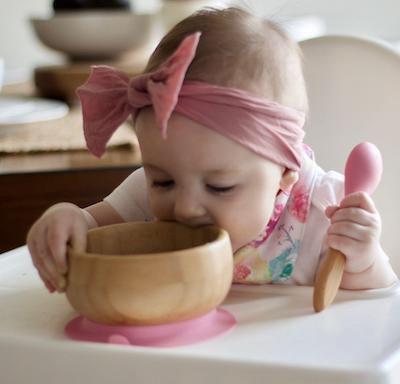 Bamboo baby dishes and utensils are a great choice for eco-conscious families and Avanchy is one of the best brands in that field. They have a wide offer, but my favorites are:
Bamboo bowl with silicone suction base
Bamboo divided plate with silicone suction base
Bamboo baby spoon with silicone tip
Bamboo dishes are made from plant-based materials, instead of petroleum material that you can find in plastic dishware. That's why they are a safe choice for babies. They are durable, free of harmful chemicals and better for the environment.
>>Here you can find more awesome baby bowls & plates
Best Silicone Baby Spoons, Bowls, Plates and Platemats: Green Sprouts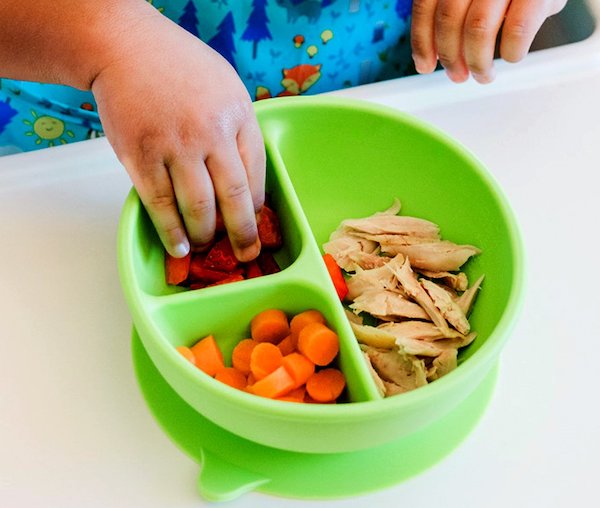 I know that silicone is not organic, but it's still much safer choice for babies since it doesn't contain all those chemicals that you can find in plastic. Besides, it's better for the environment too, because it's more durable and long-lasting than plastic, it doesn't wear or tear.
Silicone dishware by Green Sprouts is one of my favorites when it comes to baby bowls, plates and spoons for learning self-feeding. Green Sprouts makes their feeding dishes from hypoallergenic LFGB silicone. It's free of PVC, BPA, BPS, BPF, BFDGE, NOGE and BADGE additives.
If you're looking for non-toxic baby dishes, this is an amazing option. The Learning Bowl and Learning Plate are in my opinion the best. They work great when you want to transition your baby to pureed foods. Divided compartments fit portions ideal for babies. They are recommended for spoon-feeding, BLW, as well as self-feeding.
>>Looking for the best baby spoon? Here's my full ranking with spoons for every budget
Best Skincare Products For Baby & Mom: Earth Mama Organics
This brand offers fantastic products for babies' sensitive skin, made from organic ingredients: diaper balm, baby oil, baby wash, eczema cream and many more. They also have awesome skincare products for pregnancy and postpartum to keep new mom's skin moisturized and nourished.
My absolute favorite from Earth Mama Organics collection is Belly Oil. It's an amazing moisturizer, makes your skin glossy and elastic. It really helps to prevent stretch marks and makes old scars less visible. It has very simple ingredients list: no nasty chemicals, only organic stuff. This makes it perfect for sensitive skin, plus it's safe for use during and after pregnancy.
In my opinion, this is the best belly oil for pregnancy stretch marks, and it's pretty inexpensive! You don't have to spend a fortune to take a good care of your precious belly. By the way, you can apply it on your whole body, wherever you need hydration.
---
The purpose of this article is informative and entertaining. It's not a substitute for medical consultation or medical care. Remember: safety first! The author of this article does not accept any responsibility for any liability, loss or risk, personal or otherwise, incurred as a consequence, directly or indirectly, from any information or advice contained here.
Source of pictures: