Choosing the right dishware for your baby can make the self-feeding lessons easier and more enjoyable. Plus, it will help to keep all messes contained – saving you time on the post-meal cleanup. The best baby dishes are made of baby-safe materials, are designed to stay in place and survive in case frisky toddler knocks them to the ground.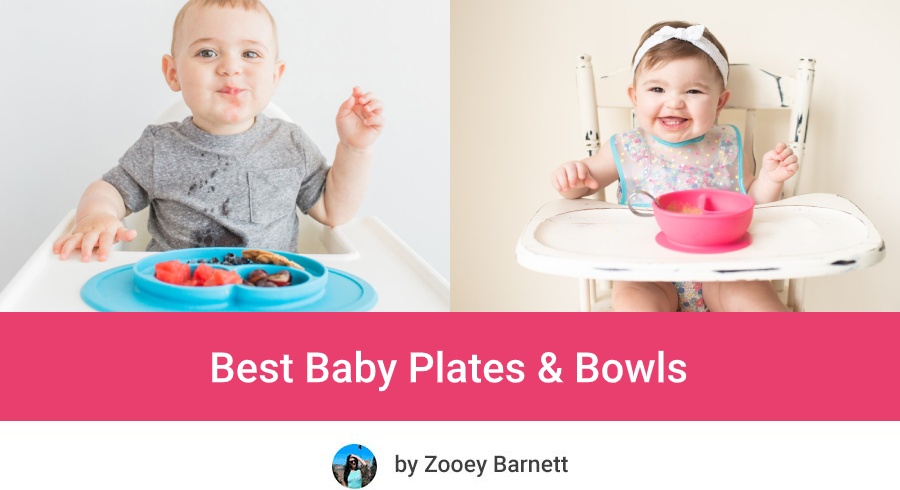 This article is NOT a substitute for medical advice. It contains affiliate links
The best baby bowls and baby plates have a suction bottom, and some of them have also divided compartments for baby's foods – making the self-feeding lessons easier.
I picked the best baby dishes: bowls, plates, placemats and feeding sets for babies & toddlers which are useful during the parent-led weaning, baby-led weaning and self-feeding stage. Just take a look at these dishes – they are so cute and stylish!
Best Baby Bowls
Here are moms' favorite amazing baby bowls for infants and toddlers:
These are my favorite best baby bowls, designed to promote self-feeding and support development of fine motor skills.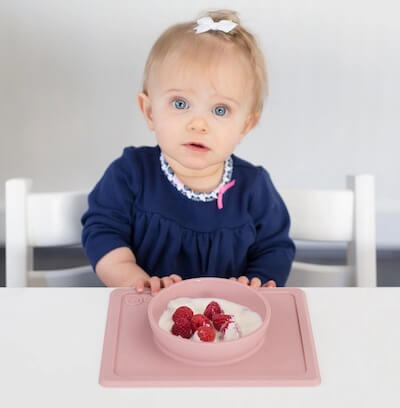 As you can see in the picture, this is actually an all-in-one placemat with built-in baby bowl.
Each mat has strong suction base so you can be sure it will stay put. You don't have to worry about tipped bowls and food landing on the floor anymore! EZPZ dishware is stable and sticks to the surfaces really well.
They are free of BPA, BPS, PVC, latex, phthalates and other chemicals. The silicone is very durable and dishwasher-safe, plus it stands out high temperatures (up to 350°F).
There are 3 sizes available:
EZPZ Tiny Bowl – This is the smallest bowl, suitable from 4 months. The bowl fits 5 oz. portion and it's perfect for first purees or yogurts. Tiny Bowl can be very useful when you transition your little one from parent-led weaning to baby-led weaning.
EZPZ Mini Bowl – This bowl is recommended from 12 months. The portion size is 8 oz. You can use it for BLW and it will help your toddler to learn to eat independently.
EZPZ Happy Bowl – This is the biggest bowl with the portion size of 12 oz. It's designed for 2-year-old kids and up. Great choice for toddlers and preschoolers who have mastered self-feeding.
Great thing about EZPZ dishware is that the bowl is built onto the mat which captures spills and crumbs. This means less mess on the table and floor.
Another advantage is that once your child outgrows the placemat you can use it for other purposes (for example, for art projects).
PRO TIP: If you're looking for the best feeding set I recommend you this EZPZ First Food Set. It includes the Tiny Bowl, Tiny Cup and two Tiny Spoons. This set of baby dishes is perfect for introducing solid foods and starting to teach your little one to self-feed.
Green Sprouts offers one of the best baby bowls at medium price level. They are made from food grade non-toxic silicone.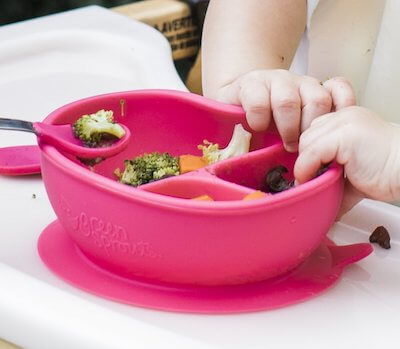 There are two types of baby bowls that you can choose from:
Feeding Bowl – Perfect from 6 months for the first mashed foods, as well as for older children who eat bigger portions.
Learning Bowl – This one has 3 divided compartments – which are great for smaller portions for younger babies. It's a good choice for BLW, as well as picky eater.
Each bowl has a strong base that sticks to the surface and doesn't tip over or slide off. They are easy to remove for parents, but hard to toss for tiny hands.
Green Sprouts baby bowls are built to last: they are dishwasher-safe, plus the material is heat-resistant.
This is another divided bowl, perfect for picky eaters, as well as younger infants who eat smaller portions. It's designed to support BLW and promote self-feeding.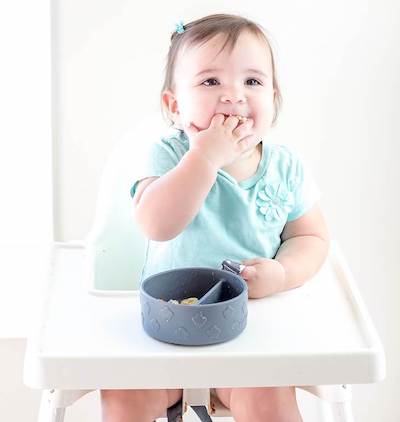 The suction bottom sticks to almost any surface. The whole bowl is made of food grade silicone, free of BPA, PVC, phthalates and other harmful stuff.
Grabease baby bowls have adorable design which I'm sure your little one will love. They come in three colors: grey, teal and pink.
PRO TIP: This baby suction bowl is perfect to pair with Grabease spoons or Grabease spoon+fork. If you choose to buy them as a set, you will save a few dollars! >> Check out available sets here

<<
Olababy bowl is very unique because it is a 2-in-1 steam and serving bowl. It's so convenient that you can prepare a healthy steamed meal, full of rich nutrients for your little one and serve it in the same bowl.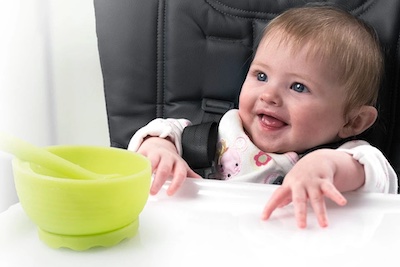 It's made of BPA-free non-toxic silicone that is dishwasher-safe.
Olababy bowl is designed to make scraping and scooping easier for babies learning to feed themselves with a spoon.
This is a great choice for parent-led weaning, baby-led weaning, as well as toddlers who eat independently.
One thing to keep in mind: If you're looking for baby suction bowl, choose a different one from this ranking. Olababy Steam Bowl doesn't have suction bottom.
This is a great option for more eco-conscious parents. This set includes a bamboo bowl with removable silicone suction base, and a bamboo baby spoon with silicone tip.
What's noteworthy the Avanchy Spoon has been chosen on LittleBabyGear as one of the best baby spoons in 2021.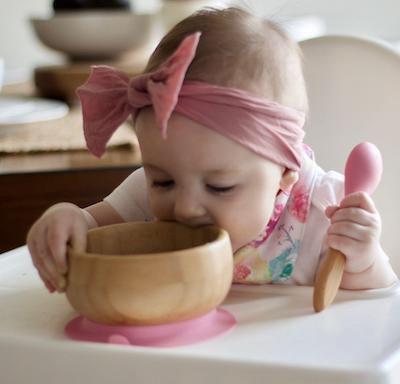 The suction bottom sticks to the table and high chair trays and stays put. It's easy to remove it for adults, but not for babies. No need to worry about bowls knocked to the ground and food all over the floor!
You can also detach the silicone base from the bowl for easy cleaning.
The silicone used to make these dishes is free of: plastic, BPA, BPS, PVC, lead and phthalate. The bamboo is renewable resource and it's hypoallergenic.
This baby feeding set is perfect for feeding your infant with a spoon, for BLW, as well as toddler self-feeding. It's recommended from 4 months up to 6 years.
PRO TIP: In addition to this baby suction bowl, I also recommend this divided plate for toddlers with suction bottom. This is a fantastic bamboo baby dishes set.
This is an inexpensive alternative. If you're on a tight budget and looking for cheap baby bowls, this may be a great choice.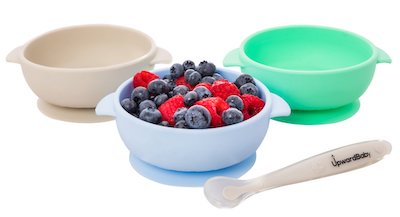 UpwardBaby offers a set of 3 silicone bowls + 1 baby spoon. Majority of parents agree that it's an excellent deal and the bowls are great for the price.
The silicone is non-toxic and safe for baby's food. You can put these bowls in a dishwasher, freezer or microwave. The suction is really strong and the bowls stick to almost any flat surface.
This baby dishes set is a fantastic choice when you want to transition your baby from milk to solid foods. It's also an amazing gift idea for 6 months+ baby!
Best Kids Plates
Here are the best high-quality and top-rated divided plates for babies and toddlers:
These suction plates for babies are made of silicone and they are free of any petroleum materials so they are fully safe for wee ones. Green Sprouts Learning Plates don't contain PVC, BPA, BPS, BPF, BFDGE, NOGE or BADGE.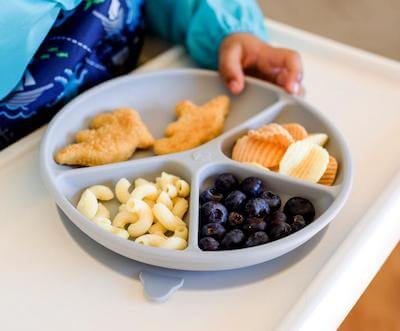 Of course you can throw them in to dishwasher (or even a sterilizer) for quick after-meal cleanup.
These kids plates are designed to stick to the surface with the suction base – this will prevent toppling. Even if your child will manage to knock the plate to the floor, it won't break. The silicone material is very durable and heat-resistant.
Green Sprouts plate has 4 compartments: 1 large and 3 small ones. This helps to prepare balanced meal, as well as encourages baby to practice self-feeding, and taste and differentiate flavors.
These divided plates for toddlers come in multiple colors that are attractive for kids: pink, aqua, navy, green, grey and white (check out all available colors here).
The Learning Plate will definitely serve you through all feeding stages. It's recommended from 12 months (although some parents start using it at 10 months) and you can use it until your kiddo is ready to move onto big-kid dishes.
Olababy offers fantastic divided plates for toddlers made of silicone. The material is non-toxic, free of BPA, PVC, lead, phthalate and other nasty chemicals.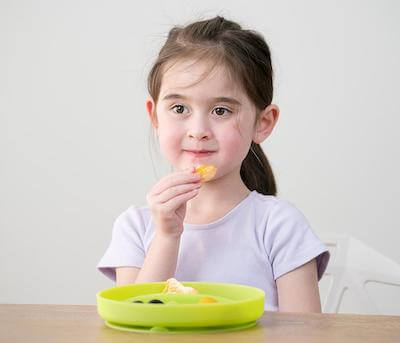 It has 1 large compartment and 2 smaller ones which help to prepare portions perfectly sized for toddlers. Overall, Olababy plate is great for babies and toddlers who are learning to self-feed. Your little one can master this new skills and you don't have to worry about broken plates, messy floor and long after-meal cleaning. Besides, it is built to last and will serve you well into independent-feeding stage.
Olababy kids plates are dishwasher-safe, but in case you need to wash them by hand, they are super easy to clean thanks to their unique design. They have curved dividing walls which means they are no corners where food debris could accumulate.
You can put these baby plates in a freezer or microwave and heat them up to 428°F/ 220°C.
According to parents who own Olababy kids plates they stick to the surface really well, ensuring the mealtime is mess-free.
They come in two cute colors: kiwi and lemon – you can check out the price here.
The Mini Mat by EZPZ stands out from other kids plates in this ranking. This is an all-in-one suction mat and plate. It has strong suction so it sticks to the table and high chair trays really well, minimizing the risk of knocking the plate to the floor. At the same time the mat gives extra protection for your table ensuring no-mess mealtime.
LittleBabyGear has also picked EZPZ Mini Mat as one of the best placemats for kids.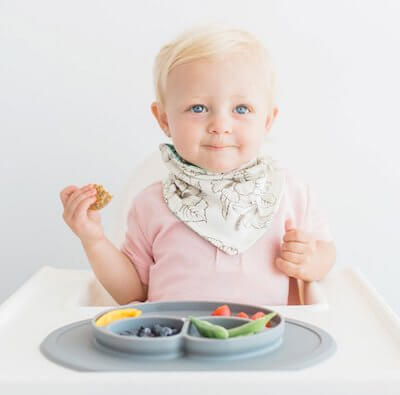 Thanks to the mat with built-in plate all messes and spills are contained, and there's less crumbs on your table and floor. This makes the after-meal clean-up a breeze!
EZPZ baby suction plate has 3 compartments that look like a happy, smiling face – which helps to create positive mealtime experience.
Of course EZPZ baby platemat is made of food grade silicone which is safe for babies (it's free of: BPA, BPS, PVS, phthalate and latex). You can put your EZPZ mat in dishwasher, microwave and oven (up to 350°F). It's durable, the color doesn't fade and the mat doesn't wear or tear.
EZPZ Mini Mat has one more huge advantage – it comes with a reusable bag so you can pack your platemat to diaper bag for dinners out. Safe and convenient solution!
The Mini Mat is suitable from 6 months when you start to transition your baby to purees.
PRO TIP: EZPZ also offers this bigger platemat called The Happy Mat which is recommended from 24 months and it's perfect for kids who have mastered eating on their own and who have fully transitioned to solid foods. If you're looking for mat+divided plates for toddlers the Happy Mat will be a great choice.
This baby plate has unique design because it doesn't have a suction bottom. Instead, there is a weighted base which prevents the child from sliding it off the table or tipping it over.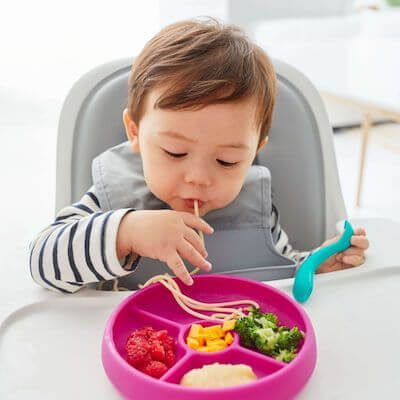 According to parents who have been using OXO Tot plate, it works great – it's sturdy and heavy enough to stay put therefore toddlers can't move it or throw it off. This makes it one of the best baby feeding dishes.
It has 1 larger compartment, 2 smaller ones and there is additional small rounded compartment in the center – according to parents it's perfect for dips, apple sauce or yogurts. The size & height of the plate and its compartment is perfect for baby's and toddler's portions. The way the dividing walls are designed makes it easier for the child to scoop foods into the spoon.
Just like other kids plates that I recommend here, the OXO Tot is made of BPA-free food-grade silicone, and it's dishwasher-safe. However, some parents say they have to hand wash it to avoid any residue.
Parents use it for baby led weaning with 6months+ babies, as well as toddlers who can already eat independently.
It comes in three beautiful colors, you can choose your favorite one here.
This colorful baby plate has one of the strongest suction bases, so you can be sure it will stay put. No more purees on the floor!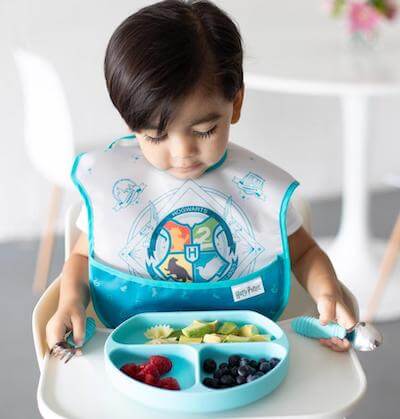 The shape of Bumkins Dish is also unique – one side is straight so the child can belly up to the plate. This means less crumbs on the table and less mess.
There are 3 divided compartments which are perfect for baby's portions. This silicone plate can withstand low and high temperatures (up to 400°F/204°C) so you can prepare and heat up the meal for your little one in a breeze.
What I also like about Bumkins Dish is the possibility to add a lid and storage the leftovers in the refrigerator in a safe and clean way! It may be a great portable baby feeding dish for picnics. You can buy the plate and lid separately or as a set (pick your favorite color here).
Bumkins Dish is perfect for BLW and learning to eat independently.
My last recommendation goes to kids plate that is made from FDA-approved HDPE recycled plastic or recycled polypropylene (for example from recycled milk jugs). It's free of BPA, PVC, phthalates and other harmful chemicals. They are safe for babies and safer for the environment than plastic dishware.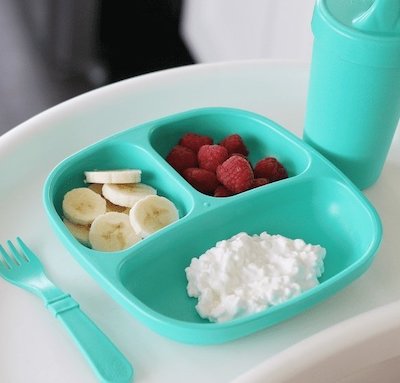 Divided Plate has 3 compartments with high walls to make the first attempts to eat independently a bit easier. It's perfect for baby-led weaning.
Once your toddler becomes expert in self-feeding you can switch to a standard Re-Play plate – it's a great choice for older children. Both types of baby dishes are available in 20+ colors and they are stackable! Great for everyday use at home, and for eating out. These are one of the best inexpensive kids plates.
You can also purchase a lid to easier and clean leftovers' storage.
Keep in mind that Re-Play dishware doesn't have a suction base, so it may be a better choice for babies who don't have a tendency to throw everything. Moreover, it's dishwasher-safe, but it's not recommended for use it in microwave (because of hot spots, as well as staining).
Best Baby Plates, Bowls & Dishes Sets – FAQ
Choosing the best baby feeding dishes may be a difficult task, especially if you baby is picky.
Here you will find answer to most common questions parents usually have when they search for the best baby feeding bowls and kids plates.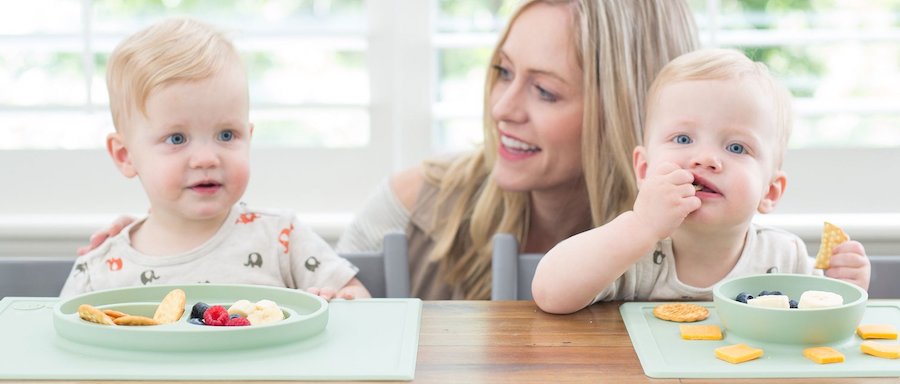 Are Bamboo Plates Safe For Babies?
Bamboo plates are safe for babies because they are made from plant-based instead of petroleum-based materials. They don't contain harmful chemicals that you can often find in plastic dishware.
Are Silicone Baby Plates Safe?
Baby plates made of food-grade silicone are safe and approved by the FDA. Silicone can be now found in baby bottles, bottle nipples, plates, bowls, spoons, sip cups (and kitchen utensils in general) and it's approved as food-safe material. Since it's approved by the FDA as food-grade, it means it is tested and verified and doesn't contain chemicals like: BPA, BPS, PVC, lead and phthalates.
Why Are Baby Plates Divided?
Baby plates are divided because smaller compartments are useful for preparing well-balanced meal and fit portions that are perfect for babies and toddlers.
In general divided bowls and plates are great for self-feeding and spoon feeding and thanks to the dividing walls scooping and scraping the foods is easier.
Divided feeding dishes are also great for picky eaters.
How Many Baby Bowls Do You Need?
At the beginning you will need two baby bowls. In case one is in the dishwasher, you need to have a spare one. Choose two different baby bowls and see how your baby likes them, check which one sticks to the table better and is more difficult for the baby to move and throw.
When Should A Baby Eat Off A Plate?
It highly depends on your baby and it really doesn't matter if your baby is eating off a plate, bowl, placemat or tray, as long as he/she is eating healthy! There's no age recommendation for eating off a plate.
When you start to introduce your baby to purees and solid foods and encourage them to self-feeding, you may want to try different types of dishware and see what your baby likes better: plate, bowl or placemat. The choice of baby feeding dishes is so vast right now, I'm sure you'll find something that will suit your baby.
---
The purpose of this article is informative and entertaining. It's not a substitute for medical consultation or medical care. Remember: safety first! The author of this article does not accept any responsibility for any liability, loss or risk, personal or otherwise, incurred as a consequence, directly or indirectly, from any information or advice contained here.
Source of pictures: All pictures come from official website of each brand and belong to that brand. Sources: