Kids placemats come in very handy as they provide safe and clean eating surface for babies and toddlers, while protecting your table (and floor) from all those messes, spills and crumbs.
That saves time on after-meal clean up!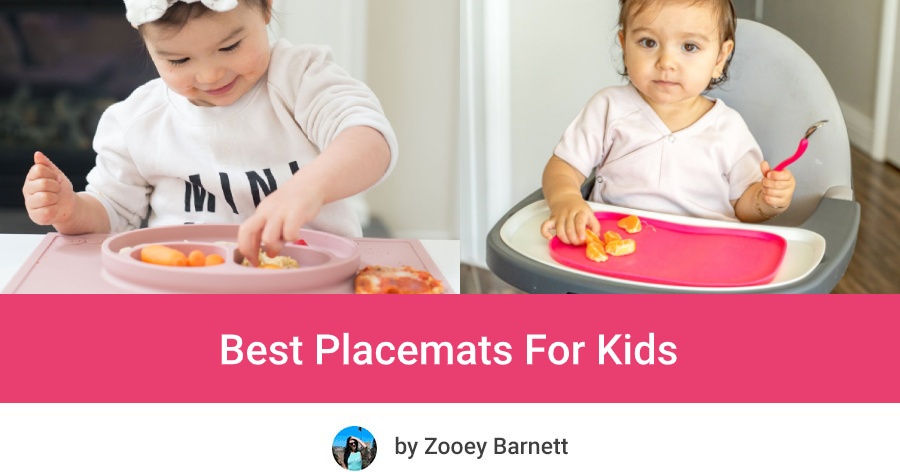 This article is NOT a substitute for medical advice. It contains affiliate links.
Most of the kids table mats are made of food-safe silicone. With a great suction on the back they don't slip off the table, they are waterproof and dishwasher-safe, and many of them withstand very high and low temperatures.
The best placemats for kids are versatile and can be used for multiple purposes: as a protective mat when your little one is doing some art projects or as a hot mat, a countertop protector or even a pet food placemat.
I've tested dozens of table mats with my toddlers and checked things like: durability, ease of cleaning, suction and possibility of using it for other purposes once the baby outgrows it.
Below you can see the best kids placemats that I truly recommend 💜
Img
txt

EZPZ Mini MatCheck It On EZPZ Website

Best all-in-one placemat with built-in plate
Supports babies in self-feeding
Cutest design ever!
For older babies with bigger appetite I also recommend this EZPZ Happy Mat

Green Sprouts Mini MatCheck Available Colors

Durable and heat-resistant
Usable for multiple purposes (as protective mat for playtime, hot mat or pet food placemat)
Folds up for easy storage

UpwardBaby Suction Placemats For KidsCheck It On Amazon

Thicker than many other placemats - keeps messes and spills contained
Adorable design, 3 cute colors
Foldable & long-lasting

UpwardBaby Food Catching Baby PlacematCheck It On Amazon

Works great for finger foods and self-feeding
Protects the table and floor during mealtime and collects all crumbs
It rolls up and doesn't take up a lot of space

Merka Educational PlacematsCheck It On Amazon

Gives babies and toddler an opportunity to learn while eating
The brand offers 5 different educational sets, each includes 4 placemats
May help in speech therapy

Munchkin Silicone Placemats For KidsCheck It On Amazon

Inexpensive option for parents on a small-budget
Versatile - can be used for other purposes in the kitchen
Useful for playtime and art projects - protect the table from scratches and marks
Mom's Favorite Kids Placemats
The smaller the baby, the bigger the mess he can make 🙂 That's why baby placemats are so useful! They are also super handy because they support baby learning to self-feed. Baby placemat can be a game-changer for successful BLW experience and can be very helpful when your little one starts solids.
Check out my reviews of the best placemats for babies and toddlers.
My favorite baby placemat is EZPZ Mini Mat. It is designed for infants from 6 months. The best thing about it is the fact that Mini Mat is all-in-one placemat and plate with 3 separate compartments for baby's food. These compartments are designed to resemble a smiling face to encourage a positive mealtime experience.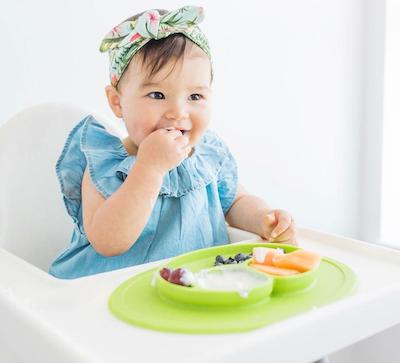 There are two 2 oz. compartments and one 4 oz. compartment for a well-balanced meal.
The EZPZ placemat suctions to the table and it's strong enough to prevent your little from pulling it up and throwing the food on the floor.
So you don't have to worry about tipped bowls and plates and all that mess they can create. At the same time your infant can start learning self-feeding. This also creates an amazing opportunity for the baby to practice fine motor skills and precise fingers movements.
It is made of silicone which makes it super easy to clean. It's dishwasher safe. It's important to notice that the material is food-safe, and free of substances that are harmful for babies: BPA, BPS, PVS, phthalate and latex.
Moreover, the EZPZ Mini Mat is microwave safe and you can even use it oven to warm your baby's food (it is safe up to 350 degrees). But keep in mind you should serve your little one food at room or body temperature to avoid burning their little mouth.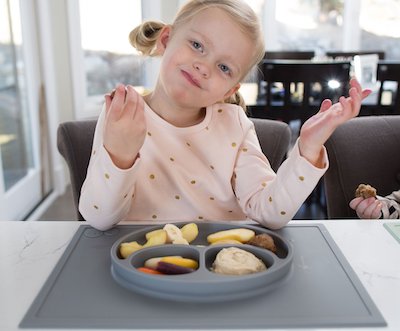 What's also important is that silicone is very durable and it doesn't tear or fade after time. It's size (10.75″ x 7.75″ x 1″) ensures it fits most high chairs' trays.
PRO TIP: As your little one grows and their appetite gets bigger too, you can switch from EZPZ Mini Mat to EZPZ Happy Mat which is 15″ x 10″ x 1″ and recommended from 24 months. >> Check EZPZ Happy Mat <<
If you're looking for toddler placemats, the EZPZ Happy Mat is your best choice. It has strong suctions so there's no need to worry about mess. Its long-lasting material ensures it's a great investment.
This silicone platemat was designed to serve babies from 6 months well into toddlerhood. You can use it as a plate for finger foods when your little one starts to eat solids. And as the child grows and starts to use dishes and utensils, Green Sprouts mat will serve you as a protective placemat.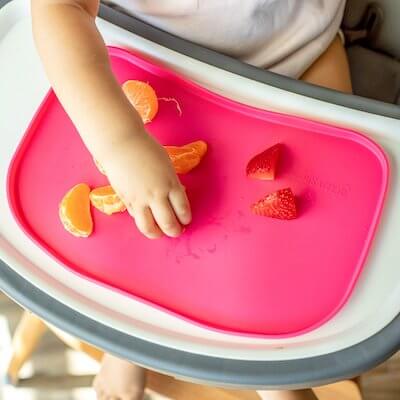 It has higher edges to keep messes and spills contained and to make post-meal clean up a breeze! This platemat fits on majority of high chairs' trays (size: 10.6″ x 6.9″).
The platemat is made of LFGB silicone which is hypoallergenic and 100% food-safe. It doesn't contain substances that can be harmful for babies: PVC, BPS, BPF, BFDGE, NOGE.
This type of material is very easy to clean – whether you choose to clean it by hand or put it in the dishwasher.
Moreover, it has slip-resistant grip to ensure it will stay in place while the baby enjoys their meals.
What you are also going to love about this kid placemat is the fact that it's flexible. You can roll it up or fold it for more convenient storage at home or whenever you are dining out and need to fit it in your diaper bag. If you're looking for baby placemats for restaurants, this one is very convenient to use.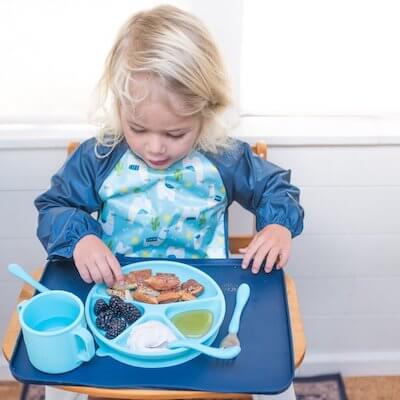 If your kiddo needs more spaces, you can always switch to this Green Sprouts platemat which is a bit bigger (14″ x 10″) and easily accommodates kids bowl and plate.
Both, the Mini Mat and the Standard Mat come in 5 colors: pink, green, aqua, navy and gray.
The best part about these simple silicone placemats is that they are heat-resistant and very durable, and once your kiddo doesn't need them anymore, they converts into play mat, or even a pet food placemat! The surface of these mats is flat, there are no compartments built-in, so you can use them for multiple purposes. This is an investment for years.
PRO TIP: If you're introducing solids or starting out BLW, you need the right equipment. Check out the best bibs for baby-led weaning to make it easier to clean.
UpwardBaby offers a set of three suction placemats for kids made of food-safe silicone. Each mat has slightly lifted edges to keep all messes, spills and crumbs on its surface.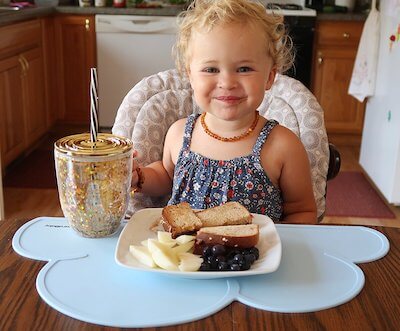 The silicone is BPA-free, lead-free and phthalate-free. Cleaning is really simple because you can wipe it with a damp cloth or toss in a dishwasher. Moreover, this baby placemat is microwave-safe and even freezer-safe!
The material is very durable and doesn't wear or tear after time. And, what's really convenient, you can roll it up for easier storage or transportation. It's also very useful for on-the-go dining when you can't find a safe and clean surfaces for your baby's mealtime. You can also bring it to a restaurant – it doesn't take up a lot of space in a diaper bag!
It fits most high chairs' trays (size: 10.5″ x 19″) and sticks to basically all flat surfaces, even wooden table and stone-like tiles. You can also use a suction bowl or plate on it, as they stick to it really well.
Parents also like the fact that this placemat's surface is tacky and has more resistance than for example high chair tray. So when your little one is learning to pick up small snacks, the small pieces don't slide or push away from baby's fingers.
Besides, it has a cute design and shape of a cloud which I'm sure your toddler will love!
UpwardBaby set includes not just 1, but 3 placemats, and each has a different color: teal, light blue or gray. If you're looking for silicone placemats at affordable price, this is a fantastic option.
This placemat has a unique design because it has a built-in compartment for catching food! This means less food on the floor and saves your time on cleaning after your baby's mealtime. This special design, makes this placemat a bit more expensive option.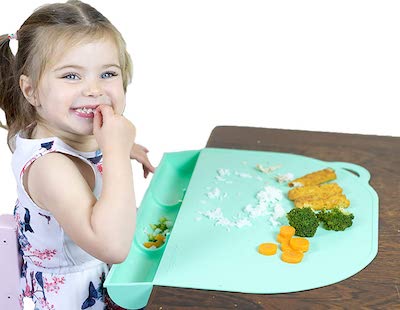 This placemat is pretty big (14.25″ x 17.5″) giving your little one plenty space for their bowls, plates or finger foods, and keeping all messes contained.
This suction placemat works great on all flat surfaces and doesn't slide off.
And just like the previous placemats from UpwardBaby, this one is also heat-resistant – which means you can clean it in a dishwasher, use in a microwave or even store in a freezer.
The silicone is safe for food as it doesn't contain harmful substances like BPA, lead or phthalate.
This toddler placemat easily rolls up and fits in all diaper bags. The package includes a wrapping band to make store and transportation easier. Whenever you're out and about and need a clean eating space for your baby, this placemat will be super handy!
Some parents complain about the durability as their mat has ripped on the side of the container part after a few weeks or months of use.
These are one of the most popular table placemats that help children to learn new things while eating. It's perfect for toddlers and preschoolers.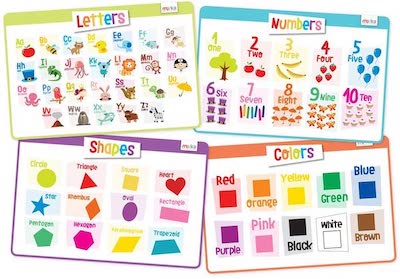 There are different sets and each includes 4 Montessori education placemats that focus on various learning subjects:
Alphabet: letters, colors, shapes and numbers. Most suitable for 0-6 year old children.
Explorer: Solar System, human body, United States of America, the world. Most suitable for 6 year olds and up.
Time: clock, calendar, seasons, money. Most suitable for 3-9 year old kids.
USA: United States of America, U.S. Presidents, famous people, periodic table. Most suitable for 6 year olds and up.
Opposites: opposites, numbers, days and months. Most suitable for infants and kids up to 6 years.
According to many parents these placemats can be a great help in speech therapy!
These mats are very useful for keeping your table clean during mealtime, but they also double as protective placemats for playtime (playing with dough, finger paints, coloring etc.).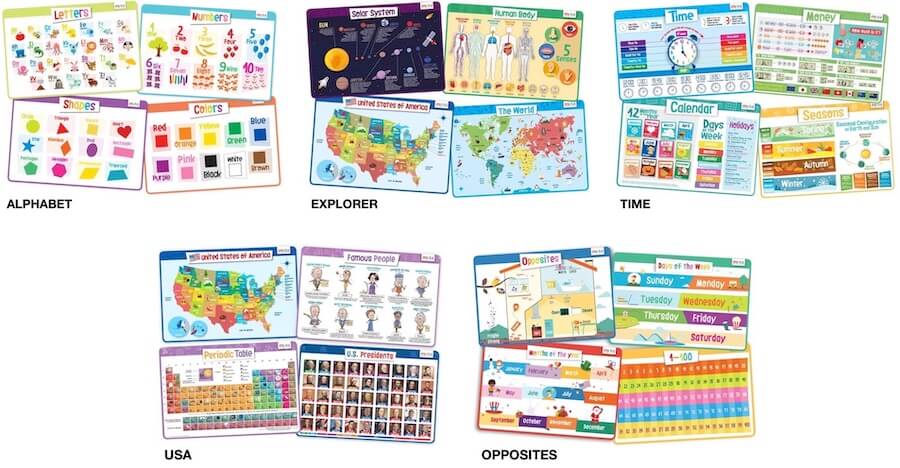 It's important to notice major difference between Merka mats and other placemats that I review here. These educational mats are plastic, specifically they are made of Polypropylene, which is a non-toxic polymer. They are free of BPA and phthalate.
Because of the material they are made of, you cannot put them in a dishwasher! However, it's very easy to clean them with a damp cloth.
Only the back has a silicone suction which ensures that mats stick to the table and protect your floor from mess.
There is two small downside that some parents mention: the anti-slip back rubs off after some time, and the blue color on the mat with colors looks more like purple. Other than that, parents find these mats very handy.
Considering each set includes 4 mats, the price is really affordable! These mats not only keep your table from mess, but also support your baby learning process. It's an amazing investment!
This is the cheapest set of 2 placemats that I review and recommend in this article. If you're on a tight budget and need simple, rollable silicone placemats, this is the best option.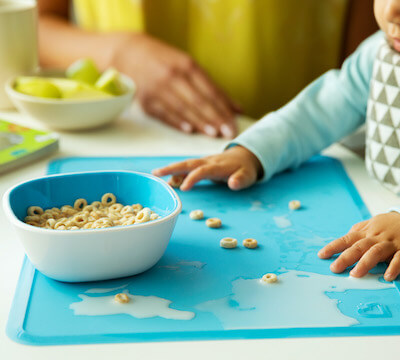 This set contains two placemats, each 11.1″ x 15″, BPA-free and dishwasher-safe. Its bottom surface clings to most tables and high chairs' trays and doesn't slip, so you don't have to worry that your baby's meal will end up on the floor!
These toddler placemats are also super versatile. You can use them for multiple purpose: as a clean eating surface for your child, as a playmat to prevent your table from scratches and stains from markers and paints, as a hot mat, a hot pad, countertop protector and many, many more!
These mats are made of food-safe silicone that is free of BPA, phthalate and lead. They are heat-resistant, and you can easily clean them by hand or in a dishwasher.
Munchkin placemat rolls up neatly for convenient storage and transportation. They are very useful for traveling, dining out, restaurants and schools.

Among other advantages parents mention that this baby feeding mat is very durable and doesn't have any bad smell like many other silicone mats. There is one downside that parents mention: this mat is pretty thin and the edge is not high therefore it rather won't protect your table from spills.
But still, parents say that this is a good choice, because the mats are flexible, durable, you can use them in the kitchen for multiple purposes and the price is pocket-friendly.
Buying The Best Kids Placemats – Things To Look Out For
There are couple of things that you should pay attention to when searching for kids table mat:
The most important thing is to choose kids placemats that are made of non-toxic materials, that are safe for food. There are mats made of paper and plastic which work well for on-the-go dining. For more frequent use silicone placemats are definitely a better (and much more eco-friendly!) choice. Most of the food-grade silicone mats are heat-resistant and can be tossed in the dishwasher for quick cleaning. Thanks to material that withstands high temperatures many of these placemats can be used in the kitchen for other purposes: as a hot mat, hot pad, or counter protector mat.
All plastic and silicone mats are easy to wipe with a wet cloth. However, the silicone ones have a huge advantage: they are dishwasher-safe.
Whether you want to use the placemat for finger food or use it with a suction bowl or plate, make sure it's big enough to accommodate everything and that it fits baby's high chair tray (or your table).
Some brands like EZPZ or Green Sprouts offer separate placemats for toddlers and infants. Of course the latter ones are smaller.
The best placemats for kids are the ones that have good suction or an anti-slip back. This ensures the mat will stay on the table during the mealtime and keep the mess contained.
Can I Use Kids Placemats For Other Purposes?
Yes! In fact I recommend getting a universal, multi-purpose placemat because this is the best investment.
Flat placemats, that don't have any plates built-in, can be also used for playtime (coloring, painting, play dough…). Once the baby outgrows it, you can use it also as a food placemat for your dog or cat!
Silicone mats that are heat-resistant have a wide range of applications in the kitchen: as hot mat, hot pad, or countertop protector mat.
Do I Need A Placemat For Kids?
A placemat is not a must-have but it's definitely very handy, especially when the baby is learning self-feeding. It helps to keep messes contained and saves you time on cleaning after the meal.
If you're hesitating whether a placemat is a worthy investment, choose a universal, silicone one that can be used for other purposes in kid's room or in the kitchen (like the Green Sprouts or Munchkin Platemats).
How To Prevent My Child From Pushing The Mat On The Floor?
The best solution would be to get a suction placemat or a mat with anti-slip back. This way you can be sure it won't slide off the table and your baby's little finger won't be able to lift it.
Are Disposable Baby Placemats Worth It?
Generally speaking I'm not a fan of disposable plastic items, but I know that parents sometimes need a quick and easy to use solution and Tidy Tyke is exactly that. If you're looking for disposable baby placemats for restaurants, this is the affordable option.
If you often eat at restaurants but you are worried about the mess your toddler is capable of making (or likes to lick the tables), these mats may be a solution for you.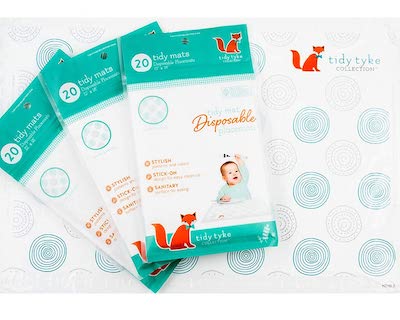 The Tidy Tyke set includes 3 packages, each has 20 disposable placemats for baby (check this set on Amazon). They are made of plastic that is free from BPA, PVC, phthalates and lead. It is food-safe and you can serve your baby's meal directly on the placemat. And when your toddler is done, just peel up each side with the leftovers inside.
The mats are 12″ x18″ and have sticky straps on all four sides so they remain on the table the whole time. They are useful for stress-free meals, as well as play time. They protect the table from scratches and marks from crayons and markers – we all want to avoid that mess in a restaurant!
Because of the design (sticky sides) the brand recommends not to use these mats on delicate surfaces (like polished wood).
Disposable placemats for toddlers are useful for dining out, but I wouldn't recommend them for frequent use at home, as your trash can would quickly fill up. Besides, lots of silicone mats fold up and roll up neatly and also work wonderful for eating at restaurant, and they are much more eco-friendly. Just think about what's more convenient for you in the long run.
---
The purpose of this article is informative. It's not a substitute for medical consultation or medical care. Remember: safety first! If you have any doubts about your child's health consult with your GP or pediatrician. The author of this article does not accept any responsibility for any liability, loss or risk, personal or otherwise, incurred as a consequence, directly or indirectly, from any information or advice contained here. The article contains affiliate links – your support helps us run this blog!
Pictures of EZPZ mats belong to EZPZ.
Pictures of Green Sprouts platemats belong to Green Sprouts Baby.
Pictures of UpwardBaby placemats belong to UpwardBaby.
Pictures of Merka mats belong to Merka.
Pictures of Munchkin mats belong to Munchkin.
Pictures of Tidy Tyke disposable placemats belong to Tidy Tyke Collection.