Are you debating between mamaRoo vs. rockaRoo? In this comparison you'll find helpful hints to make your decision easier. These innovative high-tech devices are quite pricey – keep on reading to avoid wasting your money on the wrong one!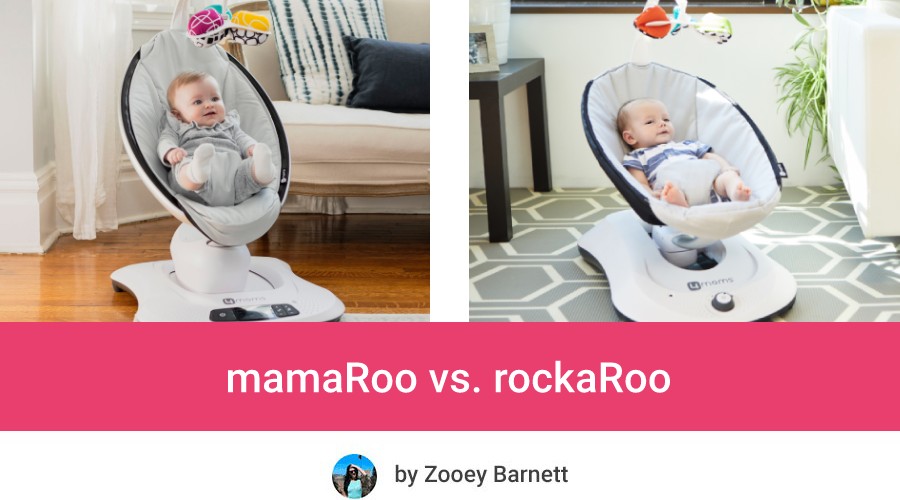 Bouncers, baby swings and rockers are fantastic devices that can be really helpful for new parents. With gliding motion, soft music and white noise, lots of them has ability to soothe fussy newborns and colicky infants.
If you're on the hunt for the best baby swing or rocker, and you like smart devices with modern design, it will boil down to 2 option: mamaRoo versus rockaRoo from 4moms brand.
In this article I'm going to show you key differences and similarities between these two swings and hopefully, this will help you choose the right device for your little bundle of joy.
In short, 4moms mamaRoo and rockaRoo differ a lot in terms of size, weight, built-in soothing features and motions, and of course – price. Which one has the best features and performs better?
This article is not a substitute for medical advice. It contains affiliate links.
Table could not be displayed.
Last update on 2023-09-30 / Affiliate links / Images from Amazon Product Advertising API
mamaRoo vs. rockaRoo – 4moms Baby Swings Comparison
Both swings are suitable from birth up to 25 pounds (or when the baby is able to sit up) and come with 3 reversible hanging toys. Let's see which one is better: pricier mamaRoo or more affordable rockaRoo?
Below you can find all differences in main features between mamaRoo rocker and rockaRoo rocker.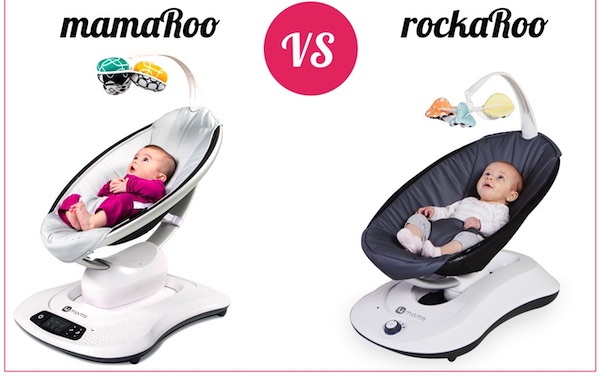 mamaRoo
rockaRoo
5 motions:

car ride, kangaroo, tree swing,

rock-a-bye, wave

1 motion: forward and backward
It can play music (4 sounds)
No built-in sounds
Seat has 4 recline positions
Seat doesn't recline
Bluetooth enabled
Only AUX plug-in
Weighs 19 lbs
Weighs only 11.5 lbs
Size:

33" x 19.5" x 25.5" (LxWxH)

Size:

29.6" x 16.5" x 27.5" (LxWxH)
1. mamaRoo vs. rockaRoo – Motion Settings
This is one of the biggest differences between these two devices. mamaRoo offers 5 motions which cannot be found on any other baby swing or rocker (car ride, kangaroo, tree swing, rock-a-bye, wave). It is actually a baby swing, rocker and bouncer in 1 device.
On the other hand, rockaRoo has only 1 rocking motion – it moves a bit like a rocking horse, forward and backward.
Both swings have 5 speed settings.
So which gliding movements are better? Some babies prefer unique motions of mamaRoo which replicate the feeling of being lulled by mom and dad. What's noteworthy, these moves are quite soft and slow which may annoy some infants.
On the other hand, back-to-forth motion is one of babies' favorites and it helps them to calm down. What's more, rockaRoo moves faster than mamaRoo.

2. mamaRoo vs. rockaRoo – Calming Sounds
More expensive 4moms rocker has build-in sound (4 types of white noise). The cheaper swing – rockaRoo, doesn't play music, but it does have an AUX plug-in so you can connect your smart device to it and play some lullabies. mamaRoo also has the AUX cord plug-in.
3. mamaRoo vs. rockaRoo – Seat Recline
This special feature can be found only on mamaRoo rocker – there are 4 seat angles for relax and play time. rockaRoo has only 1 seat position and it's way more down than mamaRoo.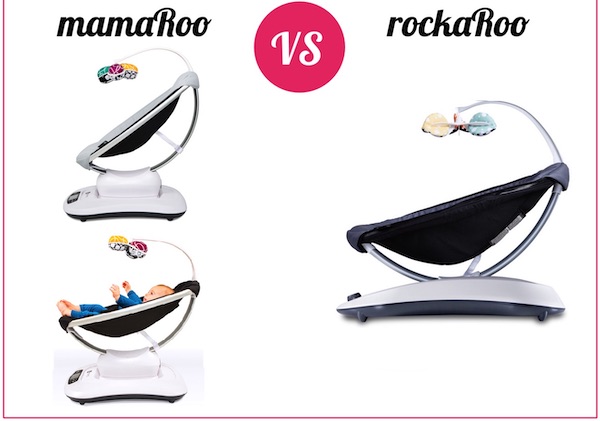 4. mamaRoo vs. rockaRoo – Bluetooth Connectivity
Only the mamaRoo is Bluetooth enabled which allows you to steer this bouncer with your phone (through smartphone app).
5. mamaRoo vs. rockaRoo – Weight & Size
This is where rockaRoo is a winner for sure. It WAY MORE lightweight and compact. It weighs about 7.5 lbs less and it has smaller base which takes up less space than mamaRoo.
rockaRoo is actually one of the most compact baby rockers and a great space-saving baby gear for small nursery.
My Personal Choice: I prefer the mamaRoo because it has much more to offer than rockaRoo and it's only a bit pricier. I mean, if you can afford the rockaRoo, it's worth it to pay a few bucks more and get a device that is more versatile and functional. In my opinion, this version with grey fabrics is the best one because it doesn't get dirty so fast!
4moms mamaRoo Review
mamaRoo is extremely versatile and functional – it a rocker, bouncer, swing and infant seat, all in one. With this thing, you won't need a separate baby swing or glider, that would cost you extra (and clutter the nursery).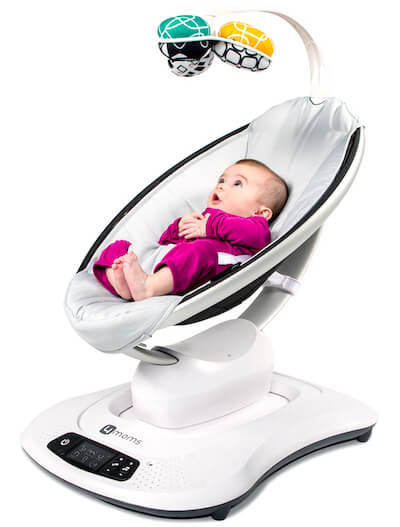 What distinguishes mamaRoo from traditional swings and rockers is that it features 5 unique motions that are designed to mimic parents' movement when they rock and comfort their babies: Car ride, Kangaroo, Tree swing, Rock-a-bye, Wave.
These motions give the baby soothing feeling, similar to being lulled in mom's arms.
Of course there's no guarantee that your infant will like this rocker, but I've read tons of positive reviews from other parents saying that mamaRoo works miracles and helps them to soothe their babies. Because it mimics parents movements, there's a huge chance your baby will like it too! You can also adjust the speed from 1 to 5.
By the way, I know that some customers complained about clicking noise when this rocker was moving, but it seems like it's no longer an issue for the newest version (mamaRoo 4, released in 2017).
mamaRoo plays 4 calming sounds. You can choose: ocean, rain, fan or shh. There are no lullabies tho.
What's really great is that you can connect this baby swing to your MP3 device and play other sounds to your little one.
You can steer this baby swing with the built-in control panel (it's very intuitive and simple) or with the smartphone app, because this baby swing is Bluetooth enabled.
Another noteworthy feature of mamaRoo is the recline – you little angle can lie back and relax or sit more upright for playtime. There are 4 seat angles, in contrast to traditional swing which usually has one default seating position.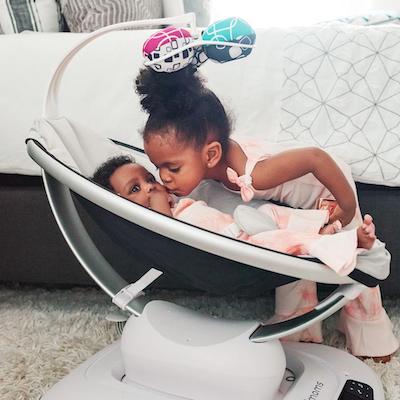 Speaking of playtime, 4moms mamaRoo comes with a removable toy bar with 3 reversible balls. On one side the balls have black and white pattern which is awesome for newborns and their developing sight. One of the balls has also a small mirror attached to it. Moreover, one ball rattles and the other one crinkles which stimulate baby's hearing.
Once the baby gets a bit older you can put the balls upside down to show your baby the blue, orange and yellow patterns. For most infants these balls are very interesting and attract their attention, plus they stimulate their vision.
Now let's move onto some technical details. mamaRoo is not super bulky, but it does take up some space. Its dimensions are: 33″ x 19.5″ x 25.5″ (LxWxH). It weighs 19 lbs which means it's not excessively heavy. It works with AC adapter, and doesn't require batteries. There's a 3-point harness for your little one's safety.
What Age Is mamaRoo Suitable For?
mamaRoo is suitable from birth up to 6 months (its maximum weight limit is 25 lbs). You should stop using mamaRoo if your baby can sit upright unassisted or climb out of it – whichever comes first.
You can also get this newborn insert for extra support for your baby's head, neck and body. It will make the mamaRoo more cozy and snuggly for a small newborn baby.
What Is The Difference Between The mamaRoo Swings & Which mamaRoo Is The Best?
There are 3 versions of mamaRoo swing and the only difference between them is the type of fabric. You can choose your mamaRoo with the classic seat fabric – grey or black, with plus seat fabric – available in multi-color version and silver, or cool mesh seat fabric which comes in dark grey.
If you're wondering which one to choose, I would say this mamaRoo is the best option. The fabric is nice to the touch and feels comfy for the baby. It's also the cheaper version of mamaRoo.
If you worry about your baby getting overheated, you may want to consider getting the Cool Mesh fabric which is a bit more breathable.
The plush version is the most expensive version (in most stores) and frankly, I'm not a fan of it. Everything sticks to plush fabric and it collects dust really easy therefore it gets dirty quickly.
Nanit
Miku

Is mamaRoo Worth The Money?

---

- I would say that mamaRoo is worth the money because it has 5 built-in unique movements that no other swing has. There are also 4 sounds to entertain and comfort your fussy infant. When your baby is occupied with colorful hanging balls, calming white noise or relaxing bouncing, you will finally have your hands free to take care of home duties, multi-task or simply have a little "me time".

What To Keep In Mind

---

- I've heard from other moms that even though mamaRoo has 5 speed settings, it moves quite slowly. Speeds 1-4 are REALLY slow, the 5th setting is noticeably faster but it still may be not sufficient for some babies. Some infants doesn't like to be rocked slowly and may get annoyed with this rocker soft bounces.
4moms rockaRoo Review
rockaRoo baby swing offers one motion – it glides forward to backward. It's similar to parents' movements when they soothe their little one in a rocking chair. No wonder this gliding motion is one of babies' favorites and helps them to calm down.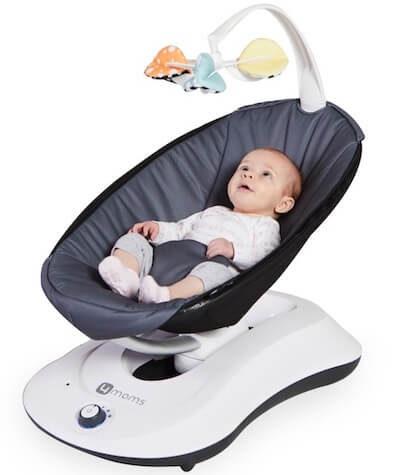 rockaRoo has 5 rocking speeds, but there are no other soothing features. It doesn't have built-in music, but there's AUX cord plug-in so you can connect your MP3 device if you want to play soothing music or your baby's favorite lullabies. rockaRoo doesn't have Bluetooth connection – you can only steer it with control panel, not through smartphone app.
The seat is slightly reclined (it's non-adjustable) which seems to be comfortable position for babies for overhead play and resting.
4moms rockaRoo comes with a bar with hanging toys. There are 3 reversible and removable toy balls. On one side there have black and white pattern which is great for stimulating newborn's baby vision. On the other side there are colorful patterns which attract baby's attention when they get a bit older. They are not flashy which I think is a plus and they encourage baby to reach and grasp which helps to develop fine motor skills.
As you can see the rockaRoo is pretty simple, there are no vibration settings, different motions or built-in sounds for baby's entertainment. But what distinguishes this electric swing is its modern design and compact size. I actually like it this way, because it's not too flashy and doesn't overstimulate the baby.
What's noteworthy, rockaRoo is narrower and takes up less space than traditional swings. Its dimensions are: 29.6″ x 16.5″ x 27.5″ (LxWxH). It weighs only 11.5 lbs. In contrast to cheap and plastic baby swings, rockaRoo is more sturdy and stable.
It comes with AC adaptor (no batteries required) and there's a 3-point safety harness to keep your baby secure.
What Age Is rockaRoo For?
rockaRoo is designed for babies from 0 to 6 months / 25 lbs. You should discontinue using this baby swing if your little one is able to sit unassisted or starts to show signs of being able to climb out of it.
To make the seat more cozy for a newborn baby you can also add this infant insert – it provides additional head and body support.
Different Versions Of rockaRoo Baby Rockers
There are two versions of seat fabrics. The classic one (grey) is made of a woven polyester material and it's smooth do it doesn't collect dust that easily. The cool mesh fabric (dark grey) has more breathable surface that allows the air to get through. All fabrics are removable and machine washable.
Nanit
Miku

Is 4moms rockaRoo Worth It?

---

- If you're looking for simple, compact and lightweight baby swing, then rockaRoo is definitely worth consideration. It's a good choice if your baby prefers the back-and-forth rocking motion. It's a great medium-priced option - it's less expensive than mamaRoo, yet better than plasticky, cheaply-made swings. Plus, it doesn't take up a lot of space and it's lightweight.

What To Keep In Mind

---

- It doesn't have any sounds and there's no Bluetooth. You can only connect your phone via AUX plug-in or you will need a separate white noise machine.
Which One Is Better: mamaRoo vs. rockaRoo? – Final Decision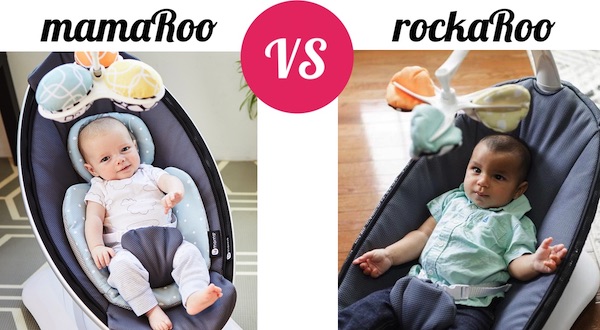 If you're still hesitating "is rockaRoo or mamaRoo better?", I would say you need to consider which features you want to have, what type of motion will work better for your baby and of course, how much you want to pay for this type of baby gear.
In short, if you have more flexible budget and want more versatile rocker/swing with various motions and calming sounds – then mamaRoo is definitely better than rockaRoo.
On the other hand, rockaRoo is a good choice if you're on smaller budget or if you're looking for baby rocker that can bounce your baby back and forth, just like a mommy sitting in a rocking chair. It's cheaper, more compact and weighs less than mamaRoo.
To sum up, mamaRoo has more bell and whistles than rockaRoo, but it will depends on your preference and your baby "taste" whether all these fancy features will come in handy.
rockaRoo vs. mamaRoo – FAQ
Can Newborn Sleep In The mamaRoo Or rockaRoo Overnight?
mamaRoo and rockaRoo are not approved for overnight sleep and they are not safe for sleep during nap time either. AAP recommends flat and firm surface for infants to sleep on. It's not okay to let baby sleep in mamaRoo or rockaRo (or any other swing). If your baby falls asleep in mamaRoo or rockaRoo swing you should move them to safe sleep space like a bassinet, bedside sleeper or crib.
>> 5 Best Affordable Bassinets That Are Comparable To Snoo Smart Sleeper
Are mamaRoo & rockaRoo Seat Fabrics Interchangeable?
Both swings have different seat fabrics and you cannot swap them. On the positive note, they are machine washable.
What's noteworthy, the newborn insert is exactly the same for mamaRoo and rockaRoo.
What Is Better Than mamaRoo? – More Affordable Alternatives In 2022
If you're in the hunt for high-technology swing that has multiple soothing functions and motions, but mamaRoo feels a bit too pricey, here are 2 more affordable alternatives.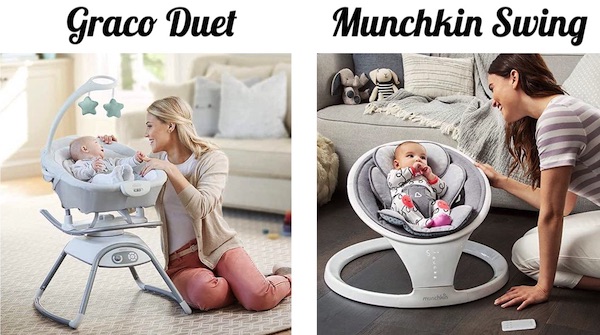 This is a 2in1 swings and baby rocker. It offers 4 calming motions: swinging, gliding, side-to-side and front-to-back. It has built-in sounds just like mamaRoo. Additionally, it has vibrations with 2 speeds.
You can only steer it with control panel, it doesn't have Bluetooth or smartphone app, but there's one feature that distinguishes Graco Duet.
The swing doubles as a portable rocker – you can remove the seat from the frame and move from one room to another without any hassle. This way you will always be able to keep your baby close to you.
The best part? It's WAY CHEAPER than mamaRoo (check current price here).
This swing doesn't have as many motions as mamaRoo (only side-to-side sway which mimics parents' comforting movements), but it has some cool high-tech features.
It is Bluetooth enabled, there's touchscreen display and extra remote control. It's super quiet even on the highest speed and it has elegant modern design.
What I love about this swing is how lightweight it is – it weighs less than 9 pounds! Plus, it folds down neatly for easy storage – great choice for small apartments.
Is The mamaRoo Better Than A Swing?
mamaRoo has much more functions than regular baby swings – it's actually a 3in1 device: rocker, bouncer and swing in one – thanks to various unique motions. It can be also steered in phone app via Bluetooth which is rare feature. It's well-made and feels strong, in contrast to many plastic and cheap swings.
If you want something more versatile and functional then traditional swing, then mamaRoo is an excellent option.
---
The purpose of this article is informative. It's not a substitute for medical consultation or medical care. Remember: safety first! Consult your doctor/pediatrician in case of any doubts, and before you introduce tummy time. The author of this article does not accept any responsibility for any liability, loss or risk, personal or otherwise, incurred as a consequence, directly or indirectly, from any information or advice contained here. The article contains affiliate links – your support helps us run this blog!
Source of pictures: All pictures of 4moms mamaRoo and rockaRoo belong to 4moms brand. Source: https://www.4moms.com/