Choosing the best lightweight stroller isn't easier than choosing the first stroller at all. Mostly because there are plenty of crappy and poor light strollers, that are rather for dolls than kids. You don't want that kind of stroller for your baby right?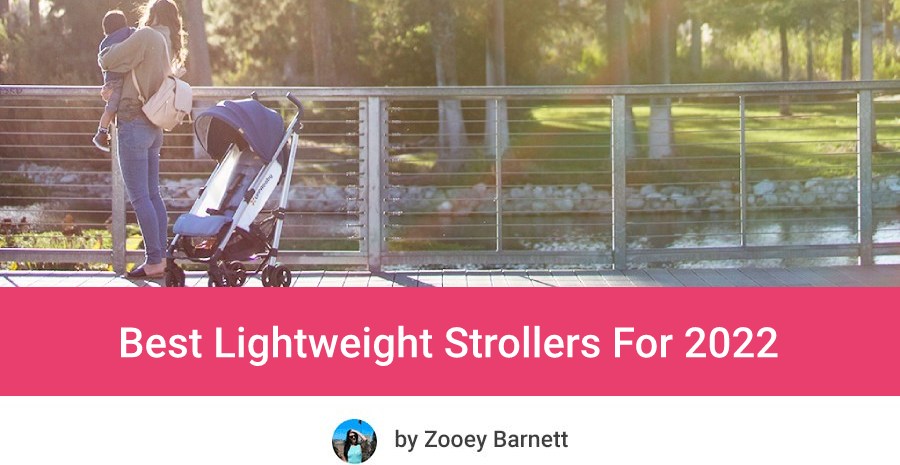 This article contains affiliate links.
I've tested literally dozens of strollers to make my list of the best lightweight strollers in 2022 and show you only high-quality, safe and reliable models.
Some of them are suitable from birth, while others can serve you as a second stroller when your child is at least 6 months old. Few of them fold up so tiny that you can even take them on board on many airplanes!
And what's the most interesting finding: some of these light strollers are suitable for daily use and can serve you as your only stroller!
Here's a short summary of my research on single strollers under 17 lbs. Below you can find more detailed reviews.
Stroller
Info
Verdict

BABYZEN YOYO2Check It On Amazon

Stroller Weight: 13.6 lbs

Suitability From Birth: Yes (with infant car seat or carrycot)

Price Range: $$$$$

LittleBabyGear Verdict:

Beautiful and luxurious lightweight stroller for travel and daily use in the city

GB Pockit Plus All CityCheck It On Amazon

Stroller Weight: 13.2 lbs

Suitability From Birth: Yes (with infant car seat or carrycot)

Price Range: $$
LittleBabyGear Verdict:

Improved & tiny stroller that comfortably fits newborns, toddlers and big kids

Ergobaby Metro+Now $150 OFF!

Stroller Weight: 16.9 lbs

Suitability From Birth: Yes (adapters for compatible car seats available here)

Price Range: $$

LittleBabyGear Verdict:

Convenient lightweight stroller with the most cozy seat ever

Baby Jogger City Tour 2Check It On Amazon

Stroller Weight: 14 lbs

Suitability From Birth: Yes (with infant car seat or bassinet)

Price Range: $$
LittleBabyGear Verdict:

Medium-priced stroller for air travel, suitable from birth

UPPAbaby MINUCheck It On Amazon

Stroller Weight: 14.8 lbs

Suitability From Birth: Yes (with infant car seat or carrycot)

Price Range: $$$$
LittleBabyGear Verdict:

Stroller with high-quality fabrics and option of 3-in-1 travel system

GB PockitCheck It On Amazon

Stroller Weight: 9.5 lbs

Suitability From Birth: No

Price Range: $$
LittleBabyGear Verdict:



Smallest stroller ever that fits in mommy's handbag; perfect for travel by plane

UPPAbaby G-LUXECheck It On Amazon

Stroller Weight: 16.3 lbs

Suitability From Birth: No

Price Range: $$$
LittleBabyGear Verdict:



Excellent umbrella stroller for travel with bigger/older child

Summer Infant 3Dlite Convenience StrollerCheck It On Amazon

Stroller Weight: 13 lbs

Suitability From Birth: No

Price Range: $
LittleBabyGear Verdict:



Most inexpensive umbrella stroller in my ranking
Ranking: What Is The Best Lightweight Stroller For 2022?
I present you my ranking of the best lightweight strollers for toddlers and infants in 2022: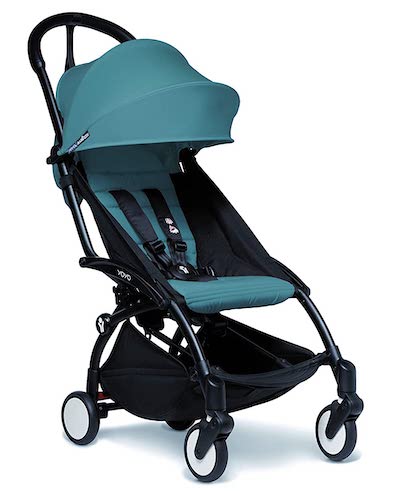 This is an example of more advanced lightweight stroller that has many features which make using and riding really convenient.
It can accommodate a passenger up to 39.7 pounds;
The newest model has improved independent suspension built in all 4 wheels for more comfortable ride and single front-wheel-design which makes it easy to push and maneuver;
Spacious storage basket underneath the seat with weight limit of 11 lbs, therefore you can be sure all of your baby's gear will fit there;
YOYO2 has very nice, extendable canopy with UPF 50+ protection. According to many parents it gives wonderful coverage;
This stroller is compatible with many popular infant car seats but you have to buy an adapter;
YOYO2 is a good long-term investment. It can be used from birth with the Newborn Pack – a small and light carrycot (check it here). The newest YOYO has one more option for newborn baby: Bassinet. This is a completely new accessory. If you want to use your lightweight stroller for newborn, and provide your little one with the safest and coziest place for naps on-the-go, the bassinet is your best choice (choose the bassinet in your favorite color here).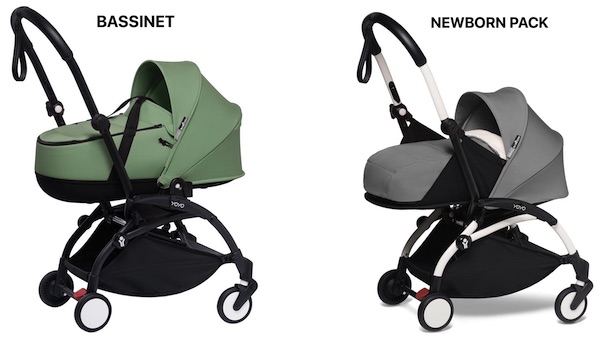 Folding BABYZEN YOYO2 is pretty simple and after that we can use the strap to carry the stroller on a shoulder. Folded stroller takes up a little space and is very convenient to store or transport. It is very popular among parents traveling with their kids, because it fits in overhead compartments on many airplanes. Its folded dimensions are: 20.5" x 17.3" x 7.1".
This stroller weighs only 13.6 lbs which is not so much, as for such a good-quality and well-equipped stroller. It has reclining seat with soft padding and recently redesigned harness which is now easier to adjust. In my opinion, this is the best lightweight stroller on the market right now, considering its useful features and compact size for travel by plane or using public transportation.
BABYZEN YOYO2 is a high-end product. Make sure it really meet your needs! Check what parents who own this stroller think about it, by reading customer reviews on Amazon or take a look at my summary below.
What other parents think?
I always check other parents opinions before buying product for my babies. I've read many reviews of this stroller and I must tell you, it's really popular! Here are the main advantages and disadvantages mentioned by other parents.
Pros
Cons

Pros

---

+ User-friendly

+ Not complicated

+ Easy to operate with one hand

+ Compact and practical at the same time

+ Nimble and sturdy

+ Compatible with infant car seats - allows for quick transfers from car to stroller

Cons

---

- Unadjustable handlebar

- Reclining mechanism is not convenient for parents

- Assembly may be difficult, since the manual is a bit confusing
Keep in mind
This is a lightweight stroller with small wheels so it may be challenging to go over thick grass or harsher terrain. But I've seen so many parents with it in Greece and Italy, where the streets are old, cobbled and quite bumpy. So it's definitely travel-approved!
3 Reasons Why You Will Love BABYZEN YOYO2
1. It is accepted as carry-on regulations by most airlines. Other parents will envy you that you can take your stroller on board.
2. Although this is a small and light stroller, it is equipped like a full-sized stroller, so it is convenient also for everyday use. It offers 3 seating configurations for newborn baby, so you can use it from birth and you won't need to buy another stroller as your child grows.
3. Thanks to so many useful features traveling with a baby will be move easy and enjoyable.
BABYZEN YOYO2 is an expensive lightweight stroller. Before you order it, make sure it suits your needs and style. You can learn more in my full review of BABYZEN YOYO. which also includes a comparison of YOYO2 and previous model YOYO+.
---
Many parents often ask about the differences between Nano and YOYO. Here is my comparison: Mountain Buggy Nano vs BABYZEN YOYO+.
Mountain Buggy Nano vs BABYZEN YOYO+
Mountain Buggy Nano
BABYZEN YOYO+
Weighs 13 lbs
Weighs 14 lbs
Fold size: 12" x 22" x 20"
More compact fold: 20.5'' x 17'' x 7''
There is additional Cocoon Carrycot for newborns
There is additional Newborn Pack for newborns
Compatible with infant car seats
Compatible with infant car seats
Includes: infant car seat adapters, travel bag, carry strap
Includes: rain cover, carry strap
Medium price range
(Check It On Amazon)
High price range
(Check It On Amazon)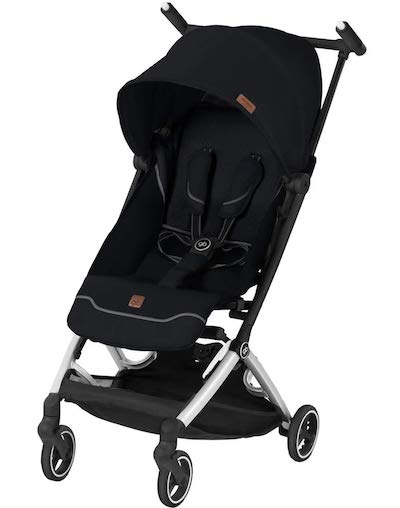 My ranking of the best lightweight strollers 2022 wouldn't be complete if I didn't include GB Pockit Plus All City. This new version includes all the features that original GB Pockit was missing, as well as improved features that parents didn't like on GB Pockit Plus.
The biggest upgrades for Pockit Plus All City are:
The wheels are now single and bigger, plus there is a spring suspension built in the front wheels which give smoother ride and easier pushing.
Improved folding mechanism (when compared to GB Pockit+) which operates more smoothly.
New seat design which makes the stroller more suitable for winter.
Adjustable calf rest for more comfortable naps on the go.
Bigger basket that can accommodate more of your stuff.
Slightly bigger canopy for better protection from the elements.
Similarly to GB Pockit+, the All City version is compatible with infant car seat, as well as the bassinet Cot To Go, so this tiny travel stroller is actually suitable from birth.
Now let's talks about the most important features: weight and fold size. Compared to GB Pockit Plus, All City model is only slightly heavier (13 lbs vs 13.2 lbs). It means that it's about 3.7 lbs heavier than the original Pockit which is a noticeable difference. But it's still very lightweight and easy to carry.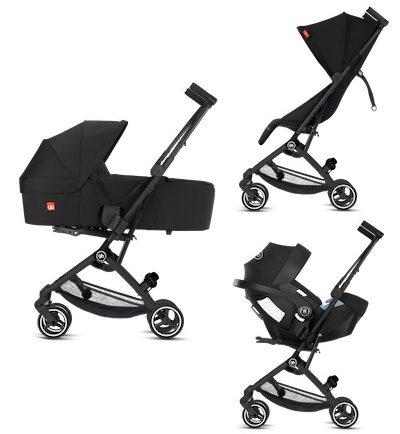 You're probably wondering if all those upgrades have affected fold size. Fortunately GB Pockit Plus All City is still ultra-compact after folding and only slightly differs from the original GB Pockit (13.4″ x 7.9″ x 16.5″ instead of 11.8″ x 7.1″ x 13.8″), as well as regular Pockit Plus (12.5″ x 7.8″ x 14.9″).
You'll still be able to travel with this stroller, take it as carry-on on most airplanes, put it behind the driver's seat or fit in a small car trunk. You can even store it under the table in a restaurant or simply fit it in your handbag.
It's truly amazing that GB Pockit Plus All City makes traveling with toddlers and newborns so much easier!
What other parents think?
GB Pockit+ All City is the newest addition to GB Pockit strollers family, so it doesn't have as much reviews on Amazon as older versions. However, parents have a very positive opinion about it!
Below you can read what features parents love the most and what are their main concerns.
Pros
Cons

Pros

---

+ Feels light and easy to carry on a shoulder or in a backpack

+ Tiny fold - no problems with transportation or storage

+ Most airlines allows you to take it as carryon

+ Folding mechanism works smoother than on GB Pockit Plus

+ It's small and narrow - perfect for navigating in tight places

+ On cobblestone and uneven pavement it works surprisingly well

+ Roomy seat can accommodate older children

+ Reclining backrest and adjustable calf rest are a nice addition when the baby wants to take a nap in a stroller

+ Feels sturdy

+ Looks more elegant

Cons

---

- Although the basket is bigger than on other Pockits, it still won't fit larger diaper bag
Keep in mind
Although Pockit Plus All City has suspension in the front wheels, it's still a small and lightweight stroller – so it won't handle off road trails, and may get stuck on bigger cracks.
3 Reasons Why You Will Love GB Pockit Plus All City
1. Thanks to compatibility with carrycot and infant car seat, you can use this lightweight stroller for newborn baby.
2. Storage and transportation is a piece of cake thanks to ultra-compact fold. And you won't have to struggle with folding because the mechanism has been improved.
3. It's perfect for travel and trips to Disneyland with older and bigger kids.
If you want to read more about GB Pockit Plus All City features and see more photos – check my full review.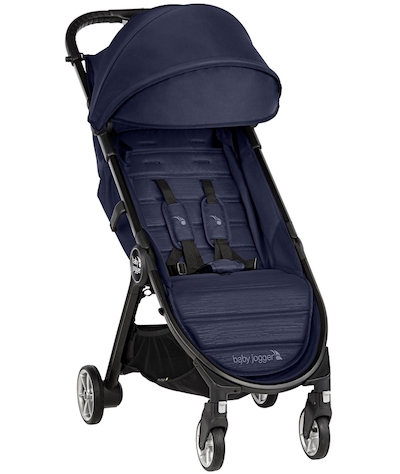 For over 2 year Baby Jogger City Tour has been one of my favorite lightweight strollers, but its new improved version has just taken its place!
This upgraded model – City Tour 2 – has all the features that parents were asking for: deeper seat and usability from birth (compatibility with infant car seats and bassinet).
If you're looking for a lightweight stroller that is suitable for newborn baby, but you'd prefer something cheaper than YOYO+, MINU or Twist, then this is the perfect option.
It has padded seat with multi-position recline. The seat goes to near-flat position so it provides comfortable space for snooze on the go. Maximum capacity is 45 lbs. There is also big expandable canopy that protects baby from harmful sun rays (UV 50+). It has nice peek-a-boo window.
City Tour 2 folds with one hand into a small pack. Then you can fit it into a travel bag that is included with the stroller. And since it weighs only 14 lbs, it's super convenient to carry around! Thanks to such a compact fold the stroller meets carry-on regulations for most of the airlines. Auto-lock keeps stroller closed.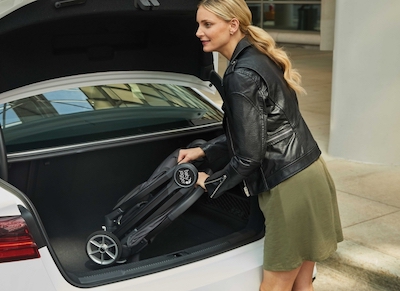 Baby Jogger City Tour 2 has one more big advantage. It has one classic handlebar, instead of two handles like many old lightweight strollers. Thanks to that, you can push this stroller with one hand.
>> Check out my full review of Baby Jogger City Tour 2 stroller <<
What other parents think?
This stroller is gaining more and more fans and receives really positive feedback on Amazon. Here are the things that parents often mention.
Pros
Cons

Pros

---

+ Lightweight and compact fold

+ Deeper seat that is finally more comfortable for 2 and 3 years old

+ Great adjustable footrest

+ Good canopy

+ Perfect for day trips to Disney

+ Closes with one hand

Cons

---

- Storage basket is rather on the small size

- Reclining mechanism is a bit stiff
Keep in mind
Just like other lightweight strollers, this one has small wheels that work best on flat surfaces.
3 Reasons Why You Will Love Baby Jogger City Tour 2
1. Travel bag is included with the stroller, you don't have to pay extra for it.
2. This stroller is easy to store and transport. It's perfect for parents who have small cars or don't have much free space at home.
3. The feature that distinguishes City Tour 2 among lightweight strollers is adjustable footrest. It makes naps on the go even more comfy.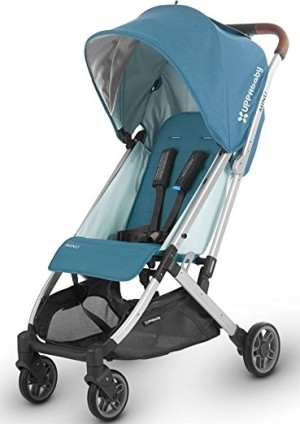 You're a fan of UPPAbaby brand, but you can't have full-sized stroller like VISTA or CRUZ, yet need something suitable from birth? UPPAbaby MINU will be perfect solution for you.
This high-quality lightweight stroller is compatible with infant car seats, as well as allows to attach special carrycot for newborn baby (all sold separately). At the same time, it weighs only 14.8 lbs and features pretty compact fold – ideal for small apartments and cars.
UPPAbaby MINU comes with a standard toddler seat which, according to manufacturer, is suitable from 3 months. It offers quite deep recline (it's not near-flat though). I like the extendable, large canopy with UV sun visor that provides good amount of shade for the baby. Of course there's great peek-a-boo window with magnetic closure, like on UPPAbaby VISTA and CRUZ.

Although MINU has small wheels, it handles slightly rough surfaces like cracked pavement or gravel paths. All-wheel suspension makes the ride comfy and smooth, however I would not recommend this stroller for bumpy terrain. Oh, and there's flip flop friendly parking brake. It's probably the easiest to use brake among all lightweight strollers!
As for a lightweight stroller, UPPAbaby MINU has really decent storage basket with capacity of 20 lbs. You will fit there your medium-size diaper bag seamlessly.
Another great thing about MINU is one-hand folding which is a piece of cake. Moreover, it comes with a shoulder strap for convenient carrying and storage bag – big plus! It's not only easy to store, but it also makes traveling with baby much simpler.
What other parents think?
I checked on Amazon what parents say about this new UPPAbaby stroller and it seems like MINU is getting more and more popular, but it has some drawbacks too.
Below you can see what parents mention most often or you can click here to skip to Amazon customer reviews.
Pros
Cons

Pros

---

+ Large sun canopy with big peek-a-boo window

+ Lots of head space - the canopy is high

+ Compatibility with From Birth Kit (for newborns)

+ Compatibility with infant car seats, e.g. MESA easily snaps in and out

+ High-quality fabrics

+ One-hand pushing

+ Flip flop friendly brake that doesn't require lifting pedal

+ Easy, one-hand folding and unfolding

+ Compact fold perfect for small car trunks, useful in restaurants

+ Storage basket is easily accessible

Cons

---

- Some parents don't like the reclining feature, especially that you have to pull two strap to raise the backrest (read more)

- Non-adjustable handlebar, may be too high for short parents

- Short backrest (although there are few inches to the canopy)
Keep in mind
MINU's fold is compact (11.5″ x 20.5″ x 23″) but may be a little too big for carry-on luggage on most of airlines.
MINU is stable and strong and won't tip on its own, unless you hang something heavy on the handlebar (which may cause the stroller to fall backwards).
3 Reasons Why You Will Love UPPAbaby MINU
1. Since it's so well-equipped and portable, it can serve as an everyday city stroller or second/travel stroller.
2. As 3-in-1 travel system it can be your only stroller from birth till toddlerhood.
3. Top-notch quality – just like other UPPAbaby strollers. With MINU you don't have to compromise between quality and portability.
Read more about new UPPAbaby stroller features and performance in my MINU review.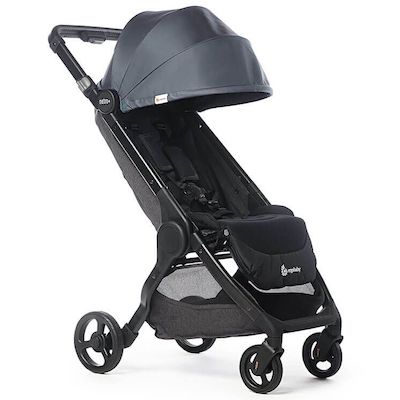 This is the first lightweight stroller by Ergobaby, upgraded last year, which quickly became parents favorite. I have no doubts it'll still be very popular in 2022.
What makes it worth recommendation for traveling parents?
This stroller folds up easily with one hand – which takes literally a few seconds.
Ergobaby Metro folded dimensions are: 20.8″ x 16.9″ x 9″ and it fits in overhead compartments on many airplanes. You won't have problems with fitting it behind the driver's seat in your car or under your seat on a train. What you will love about the fold is how neatly it looks – it's flat and the fabric doesn't stick out (as on many other lightweight strollers).
It's portable thanks to a lightweight design – it weighs only 16.9 pounds! And with a convenient handle you can easily carry it around.
With backpack-style travel bag, getting through the airports and bus stations is much easier. On Ergobaby website you can also get other useful accessories like adapters that allow you to attach an infant car seat to the Metro+. This means that you can travel with this lightweight stroller even when your baby is a newborn.
What's noteworthy, Ergobaby Metro+ has ultra-padded seat which is really cushy and comfy for the little passenger. It's one of the richest padded seats I've seen. It's not a flat and stiff backrest, like on other travel strollers! The padding is plush, cozy and holds the baby really well, so he/she doesn't slide out of the seat.
Such a deep padding is a rare thing among lightweight strollers so it's a big plus! Metro is truly a high-quality lightweight travel stroller.
The canopy has good size – it's very similar to YOYO2's and City Tour 2's canopy, and of course bigger than GB Pockit's hood. Last year it has been redesigned and reinforced, so now it stays in place better.
Metro has one-piece handlebar – which lately gets more popular among lightweight strollers than two separate handles. Thanks to that parents can push this stroller with one hand and steer it without any problems, especially on flat ground.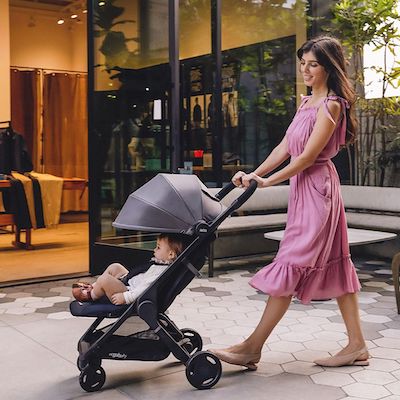 Of course as other lightweight strollers for travel, this one also has small wheels. They work best on city streets, pavement, and paths in park, and of course they are perfect for indoor use: at the mall and airport.
It's worth to notice that Ergobaby Metro+ Stroller is equipped with shock-absorbing rubber tires and a spring suspension system. It doesn't mean that you can take it off road, but thanks to this equipment it doesn't get stuck in every crack in a sidewalk.
Lats year the brand also reinforced the frame and upgraded wheel bearings so now the Metro pushes more smoothly.
PRO TIP: If you've been thinking about buying Ergobaby Metro+, but you're on smaller budget, now is the perfect time to get this stroller. Currently Metro is 50% OFF! > Grab your discount here < with code METRO. This is limited time offer so better hurry up if you want to save $150!
What other parents think?
I did some online research about this lightweight stroller to see what other parents say about it. What are the best features and what are the main complaints?
Pros
Cons

Pros

---

+ More compact than many other travel lightweight strollers (like MINU, ZOE XLC)

+ The seat padding is easily removable for cleaning

+ Deep, cushy padding that supports baby's body really well

+ Large and adjustable leg rest - you can use it as an extension of the seat for naps on the go

+ Truly one-hand fold

+ It pushes with one hand and glides easily

+ Easy to maneuver

+ Feels light to carry

+ Decent storage basket

Cons

---

- When the canopy is all the way back it touches the handlebar

- Very light fabric of the canopy

- Unfolding takes some effort and practice

- Adjusting the leg rest is hard due to the position of the buttons

- Not good for uneven sidewalks
Keep in mind
In contrast to older version, the newest Metro+ works with some of the infant car seats (from brands like Nuna, Cybex, Graco and Chicco). Adapters are sold separately.
There is one more important difference between older Metro and newest Metro+. The latter one has deeper, flat recline and according to the brand, it's suitable from birth. With older Metro you'd need special Newborn Kit with a carrycot to make the stroller newborn-friendly.
Keep this in mind when choosing between older and newer version of this lightweight stroller.
3 Reasons Why You Will Love Ergobaby Metro+
1. It has much more comfortable for naps on the go than other lightweight strollers, thanks to cushy padding on the seat and adjustable leg rest.
2. One-hand folding, fold size, light design and travel bag accessory make it one of the best lightweight strollers in 2022 for air travel.
3. Thanks to awesome maneuverability it works exceptionally for getting through crowded airport, train station or city center.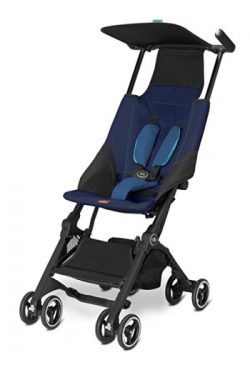 Probably everyone has heard about famous GB Pockit at some point. It is Guiness World Records most compact stroller! It features the smallest fold in the World: 11.8" x 7" x 13.8" which not only easily fits in overhead compartment on airplanes, but also fits in mommy's bag so you could carry it effortlessly (9.5 lbs!!), when your baby prefers to walk. According to many parents this is the best lightweight travel stroller.
The seat is suitable from 6 months up to 55 lbs and has nice padding, however it doesn't lean down. According to many parent recline would be a tremendous change, and manufacturer decided to add this features to the new model GB Pockit+ which I described above.
Under the seat there is a small basket. Although it has 11 lbs capacity, it won't accommodate large diaper bag, rather a few essentials. For me the biggest disappointment is the sunshade which is small and weak and doesn't give protection from sun and wind.
The stroller is light as a feather, but very sturdy and stable for this size. GB Pockit works best on flat surfaces, however it can handle small bumps thanks to lockable front swivel wheels.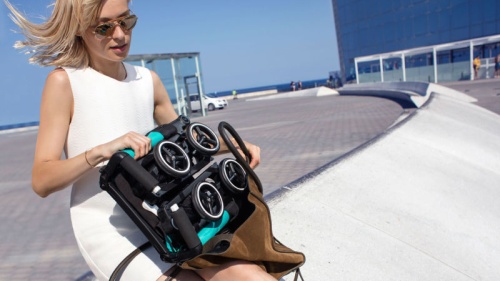 What other parents think?
At the moment I'm writing this, GB Pockit has over 700 review on Amazon. It's unbelievable. Here's a list of main pros and cons, based on parents reviews.
Pros
Cons

Pros

---

+ All parents agree the folding size is brilliant

+ Durable and soft fabrics

+ Easy folding and unfolding

+ Lifesaver during travel with baby

+ Very sturdy for its small size

Cons

---

- Tiny storage basket

- Mini sunshade that doesn't give coverage at all
Keep in mind
Parents also like the wheels as they roll nicely, but sometimes get stuck on harsher terrain and bigger cracks. This stroller doesn't feature reclining seat and we can't add infant car seat, so it can't be used for infant who can't sit up.
3 Reasons Why You Will Love GB Pockit
1. It's perfect solution for older child who prefers walking, but sometimes still want to ride in a stroller. When you don't use it, you can keep it in your bag, because it's so tiny and light!
2. Travel with baby by plane has never been so easy. We all don't like a lot of luggage. Thanks to GB Pockit size you won't even realize you have a stroller in your luggage! Since you can take it on the plane, you don't have to stress it gets destroyed or waste time on waiting for it after landing.
3. It is a lifesaver for parents who have small apartments and want an easy to store stroller.
Since the upgraded GB Pockit Plus is on the market, you can often get the original model at much lower price. >> Check the current price and available discounts on Amazon <<
You may also want to read my in-depth review of Pockit Stroller.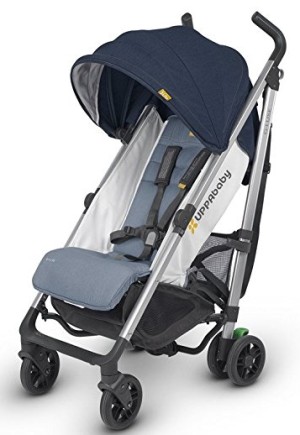 This is the first of two umbrella strollers in this ranking. It weighs only 16.3 pounds which makes it so easy to carry on a shoulder. But what's noticeable – it folds differently than other lightweight strollers – not like an accordion, but rather like an umbrella. You won't be able to take it as carryon, but it's perfect for road trips, travel by train or bus and visiting Disney.
UPPAbaby updated this stroller three years ago and it's been very popular and highly-rated since then. That's why I decided to included it in my list of best lightweight strollers for 2022 once again.
All of the upgrades made 2 years ago were really awesome and made the stroller much more user-friendly and comfortable.
The biggest change was the front wheel design – UPPAbaby G-LUXE now has single front wheels, in contrast to the older model which had dual wheels. The new wheels don't get stuck on gravel that much! There's also all-wheel suspension for baby's and your comfort.
The seat is nicely and softly padded. What's really great is that seat fabric is removable and machine washable so you don't have to worry about stains.
It also features pretty deep recline which, according to manufacturer, is suitable for baby from 3 months. To lower or raise the seat you just need to press a button – you can do it easily with one hand, while holding your baby with other hand. There is also an adjustable leg rest. One-hand recline and adjustable leg rest are two rare features among lightweight strollers. Huge plus for G-LUXE for having those functions.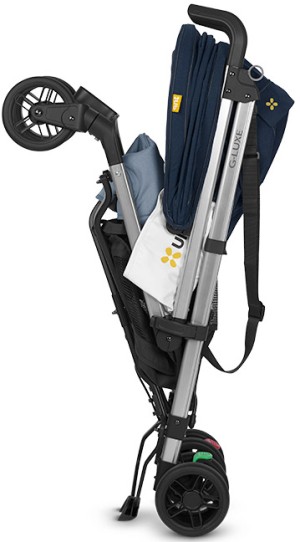 This umbrella stroller's seat is quite deep, and there's a long backrest and lots of head room. Together with a high weight limit (55 pounds), all of this makes UPPAbaby G-Luxe perfect for older or taller child.
There is also an extendable canopy with SPF 50+ protection. The frame is made of aluminum which makes the stroller very light. Yet, it feels robust and stable. There is an easy to use parking brake – press red pedal to stop and then press green pedal to unlock the wheels. No lifting = no more ruined pedicure!
As I mentioned at the beginning, G-LUXE has different type of fold mechanism. Because of that it's not as compact as Pockit or YOYO+. It doesn't fold up into a package, it rather folds like an umbrella stroller. It's pretty slim and still easy to store at home or in a car trunk.
However, not all parents like the folding as it's quite stiff especially at the beginning, tricky to figure out and you always need two hands to close the stroller. But it's something you can easily get used to.
Need more information about UPPAbaby G-LUXE? Here's my full review!
What other parents think?
When it comes to UPPAbaby strollers I have no doubts about their quality and ease of use. Therefore I'm not surprised that G-LUXE has so many positive online reviews and parents rave about (most of) its features.
You can check its current rate on Amazon here or read below the main advantages and disadvantages that customers mention most often.
Pros
Cons

Pros

---

+ Deep recline – comfortable for infant's and toddler's nap time

+ The seat is roomy enough for an older or taller kiddo

+ Better canopy material than on previous version

+ Better front wheels - smoother and quieter ride

+ Removable fabrics are easy to clean and don't fade out after washing

+ Storage basket is small, but sufficient for toddler's items, and easily accessible from the back

+ Useful pocket on the back of the canopy for small valuables

+ Convenient to carry on a shoulder thanks to an included strap

+ Includes cup holder

+ Stands on its own when folded

Cons

---

- No peek-a-boo window - this is probably the biggest downside

- Some parents complain folding is difficult, tricky and stiff - at least at the beginning (read more in this customer review)
Keep in mind
It's not all-terrain (like all of lightweight strollers), so it vibrates when going over bumps. Moreover, G-LUXE is not suitable from birth, because it doesn't recline flat and it doesn't work with infant car seats.
3 Reasons Why You Will Love UPPAbaby G-LUXE
1. It comes with a useful and good-quality cup holder, so you don't have to spend extra money on this accessory.
2. You can keep folded G-LUXE in the car trunk and use it for quick trips to the mall, grocery store or coffee shop. It's long, but slim and doesn't take up a lot of space.
3. It is comfortable for tall toddlers and older kids thanks to a roomy seat and high canopy.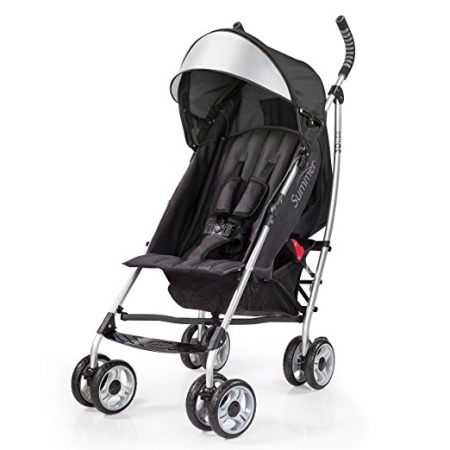 This is a best seller among lightweight strollers on Amazon and for many parents it is the best lightweight umbrella stroller. It weighs only 13 lbs and features slim fold, and thanks to a convenient strap you can carry it on a shoulder.
There is a roomy seat with 5-point restrain and 4-position recline. The seat goes pretty far down. Front wheels are design to absorbs small shocks, so the stroller doesn't wobble on every bump. Nonetheless dual wheels are not ideal for gravel.
It has also decent canopy with pop-out sun visor. The best part of this stroller is the storage space: it has big basket under and behind the seat which is easily accessible. Considering this is a small, lightweight stroller, the storage space is really impressive. There is additional rear pocket for mom's belongings like phone or wallet.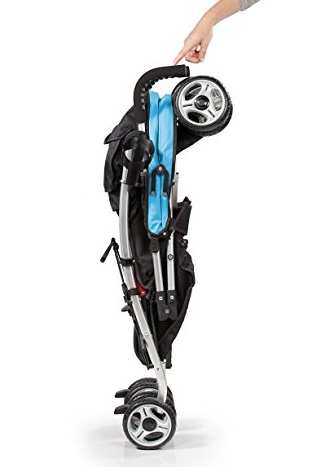 What other parents think?
This stroller has THOUSANDS reviews on Amazon (at the moment I'm writing this). It is outstanding score! Here are the features that parents consider as advantages and disadvantages.
Pros
Cons

Pros

---

+ Ultra lightweight design

+ Capacious basket - great for shopping

+ Sturdy frame

+ Comfortable handles

+ Fast and responsive customer service

+ Cheap umbrella stroller

Cons

---

- Cup holder often falls off

- Folding size is bigger than many other lightweight strollers

- Not suitable for older toddlers or kids with long legs
Keep in mind
This umbrella stroller doesn't fit in overhead compartment on airplane.
3 Reasons Why You Will Love Summer Infant 3Dlite
1. This umbrella stroller is so light that you will be able to carry it on your shoulder up and down the stairs while holding your baby in other hand!
2. Spacious storage basket makes this stroller ideal for moms who love shopping.
3. This is one of the cheapest lightweight strollers, yet it is well-equipped and durable. You can check its current price on Amazon by clicking here.
Lightweight Strollers Buying Guide
Still wondering how to choose the best lightweight stroller for toddler? Here are my tips that will help you to narrow down your choice!
Babies grow so fast. Suddenly, your little one is not so little any more and the infant car seat frame or pram you've been using, are no longer suitable! It is the perfect time to switch to a lightweight stroller or umbrella stroller.
Once again you have to face the issue of choosing the right baby stroller. Which model is the best? How much should it weigh? Is it safe enough for the baby? Are the wheels big enough?
In my buying guide I will try to answer these and many more questions you may have.
Reasons to buy lightweight/umbrella stroller
The lightweight or umbrella stroller is generally the second stroller that parents buy, after a standard one, pram or infant car seat frame. Even if the first stroller is convertible and has also a toddler seat, at some point parents realize that they really need more light and compact stroller.
Lightweight and umbrella strollers are much smaller and lighter than convertible standard strollers, prams or joggers. They usually weigh from 8 to 17 pounds. The best lightweight strollers fold up very easily and have carry straps. This type of strollers is great for traveling and using public transportation. They are also very easy to store and transport in a car trunk.
Remember: Only a few lightweight strollers are suitable for babies under 6 month – those models that are compatible with infant car seats or carrycots. But even if the stroller is suitable from birth, I would use it only for occasional strolls with newborn baby, because they have smaller wheels and worse suspension, so they provide less support for baby's delicate spin and head.
Therefore the baby under 6 m.o. (who doesn't have neck and head control) might be exposed to bumps and more vulnerable to injury.
Therefore if you want to use a lightweight stroller as your primary stroller I recommend you to use it only on smooth surfaces and for short periods.
Lightweight strollers are not off-road friendly and because of the small size they sometimes lack features that standard strollers have. But this type of pushchairs have specific purpose and serves it perfectly.
Besides, nowadays lightweight strollers are very flexible and offer a variety of functions.
Lightweight and umbrella stroller are the best for:
traveling by car or plane
quick transformation between car/public transportation and buildings,
everyday city use and running errands,
strolls over flat terrain,
quick day trips, visits to Disney or zoo.
Types of lightweight strollers
In this category of strollers we have two different types. First of all, we have typical, normal lightweight stroller. It is smaller than standard-sized stroller, but still has many practical features. Usually lightweight stroller weighs 10-20 lbs.
Generally these products have reclining seats, canopies, underseat baskets, some of them have adjustable foot rests and include cup holders. They provide a comfortable ride for the little passenger, as well for the parent.
Sometimes lightweight stroller is the primary (or even the only) stroller in the house! This type is very easy to use, fold, storage and transport. Some of them offer one-hand folding, automatic lock and self-standing.
Lightweight strollers fold like a package and many of them fit in overhead lockers on airplanes.
Examples of lightweight strollers: UPPAbaby MINU, Baby Jogger City Tour and City Tour 2, BABYZEN YOYO+, GB Pockit and Pockit Plus.
The other type is umbrella stroller which is also compact and light, but features different fold – which looks similar to an umbrella. Many of them include shoulder straps for convenient carrying. They are easy to use, but usually they lack many features and convenient items.
Examples of umbrella strollers: The Quinny Yezz, Maclaren Mark II, Inglesina Net, UPPAbaby G-Lite.
These two types are very similar, both are great for traveling and transportation. But they also have a few differences which I present you in the next section.
Choosing the best lightweight stroller for toddlers and infant – features and functions
Size
As I mentioned before, lightweight and umbrella stroller differ in size. Generally these strollers are smaller than standard or jogging ones. We can say that this category of strollers were made because parents needed smaller and more compact stroller for their babies.
Size is one of the most important features of lightweight strollers, because it has an impact on baby's and parent's comfort. Of course small size is a big advantage of this type of stroller, but if the stroller is TOO SMALL it will be very uncomfortable for the little passenger.
On the other side, if the lightweight stroller is TOO BIG it won't be suitable for travels and quick transportation (and of course it will fail to meet the user's needs).
There are many lightweight and umbrella stroller in a good size, very compact and easy to transport. But there are also some lightweight models that looks actually like a standard-sized strollers and are unsuitable for travels.
On the other hand we have so small, light and fragile umbrella strollers that they are actually more suitable for dolls than children!
Below you can see some photos of side profiles of different lightweight and umbrella strollers. I hope it will give you a perspective on how these strollers might vary in size.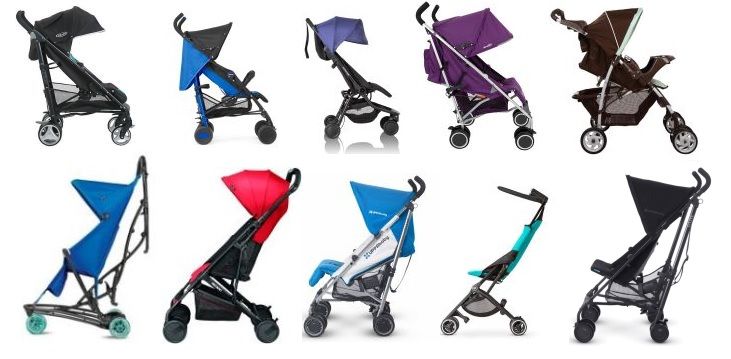 All of these strollers vary in size and weight, but they belong to one category: lightweight and umbrella strollers. The difference in size and weight might be a deal breakers, if we consider carrying the stroller, folding and transporting it.
Too big stroller won't meet parent's needs, but too small stroller will be inconvenient for the passenger. It is very important to find the best size for your needs.
Frame
As the name says, lightweight stroller should be of course light. Nevertheless, lightweight doesn't have to mean fragile and shaky. Parents should look for a stroller with light frame (usually they are made of aluminum), but also sturdy, stable and durable.
Of course there are frames so light and fragile that they look as if they were about to break during first stroll! But there are also many products with frames that combine light weight and stability. For example, BABYZEN YOYO+ frame is very strong and robust.
Wheels
A few years ago most strollers in this category had dual front wheels (two wheels on each front leg). Now many lightweight strollers have single front wheels design.
Interestingly, many of these stroller with dual front wheels, have problems with maneuverability and getting over bumpy terrain. They also have issues with getting stuck on gravel or grass. This issue refers for example to old UPPAbaby G-LUXE.
Strollers with single front wheels have better maneuverability, for example BABYZEN YOYO+ or Baby Jogger City Tour 2 are very agile and easy to push and don't have problems with changes in terrain.

Safety
Regarding safety we have to consider few things. First of all: brakes. Some models in this category have single action brakes, others have double action brakes. The first one is definitely easier to use, because we have only one pedal to set and release the brake. A great example of stroller with amazing and easy to use brake is BABYZEN YOYO+.
Sometimes brakes have also a color indicator that informs us if it's set properly. It is user-friendly mechanism. Most of the lightweight strollers have foot-operated brake. Hand-operated brakes are more popular among joggers.
Strollers with double action brakes or two pedals are more difficult to use, because parents can make a mistake or fail to engage both pedals.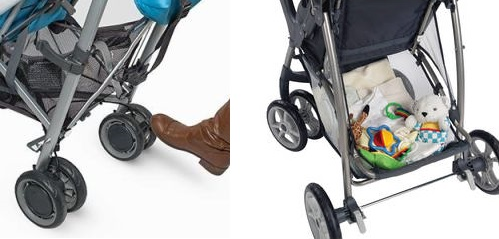 The best brake is the one that we can operate quickly and get used to. This is another important feature that parents should consider when buying a lightweight stroller.
The second safety feature we should pay attention to is harness. The best one is the 5-point harness with adjustable straps, which provides comfortable ride for babies of different age.
Versatility
In general, lightweight stroller are less versatile than standard-sized strollers, but that changes in the last couple of years.
If you are looking for the best lightweight stroller, you should consider if it has a good-sized canopy with proper ventilation, SPF 50+ and peek-a-boo window.
For example, Maclaren Techno XT and ZOE XL1 have a big sunshade that provides great cover on both sides and over the baby's head. On the other hand, we have GB Pockit that has only a small overhead hood.

Another features we should pay attention to are: reclining seat, adjustable footrest, suspension, wheels, and storage basket.
What to keep in mind
Here I present you some question which I hope will help you to find the best lightweight stroller for your baby.
Where will you go for a stroll?
Are you looking for a lightweight stroller for running errands in the city center? Or will you be using it in parks our country area? Do you want a compact stroller for traveling by car and plane? Or maybe you want a stroller for family trips to the ZOO and Disneyland?
The way you will be using the stroller and the terrain you are planning to stroll over is very important. It should influence your decision which stroller you should buy.
If you want a stroller for everyday city use, agile and small enough for quick getting through small spaces and using public transportation, you should pick a compact stroller like GB Pockit Stroller.
It is very easy to use and fold. GB Pockit turns into a small package after folding, very easy to store and transport.
However, if you want a stroller for day trips to the park and grocery stores, you should look for a bigger pushchair, with more features for the passenger's comfort (your baby will be spending in it many hours!) and underseat basket. A great example of that stroller is UPPAbaby G-LUXE.
As you can see, size is not the only feature you should consider when buying a lightweight stroller. Another important thing is how you will use it.
There are so many strollers on the market today, that I'm sure you will find the best one for you, with the features you want and fitting in your budget.
How long and how often will you use this stroller?
Will you be using this stroller every day or just several times a year during trips? Only for quick errands or day trips? Depending on that, you should choose a stroller that will provide you and the little passenger comfortable ride.
Here are some features you may consider to increase the comfort of using and riding in a stroller: adjustable footrest, reclining seat, good-sized canopy. Great example of a stroller that has these three features is Baby Jogger City Tour 2, one of the best lightweight strollers.
Another functions for better comfort are: underseat basket, storage pockets, cup holders… Generally, the longer you are planning to be out and strolling, the more features and comfort you will need (for you and your child).
For example, if your trips will be short and you have limited budget, Inglesina Net might fulfill your needs. It doesn't have many convenient features, but is light and compact.
But if you want a stroller with more features for longer journeys you should consider YOYO+ or MINU.
Another important thing is the quality of the stroller. If you plan to use this stroller really often and want it to last for couple of years, you should consider investing in a high-quality product with more features, to avoid getting frustrated every time you go for a walk with your baby.
Budget
So you already know where, how often and how long you will use the stroller. Now it's time to consider how much money you want to spend on this baby gear. Generally speaking, lightweight strollers are cheaper than standard-sized and jogging pushchairs. But of course you can find in this category very similar strollers in a wide range of prices.
First of all, some parents might limit the amount of baby gear to buy, by using the lightweight stroller as a primary one. There are lightweight strollers with an option of installing an infant car seat.
Parents might also practice baby wearing and use the infant car seat frame during the first 6 months and after that buy the lightweight stroller. If you can buy one product instead of two, you can not only safe space in your home, but also stick to your tight budget.
Besides, if you are going to use the stroller only a few time a year, there is no need to strain your wallet, but purchasing the cheapest stroller that performs poorly is also not the best approach.
There are some strollers on the market, that are good-quality, have many comfort adjustments and pocket-friendly price at the same time. There are also high-end products with a lot of features, modern design and of course higher prices. For example, we have Baby Jogger City Tour 2 vs BABYZEN YOYO+. Both many great features for both parent and a child comfort, but the latter one costs about twice as much as the former one!
If you are not going to use the lightweight stroller very often and you don't need many features, small and inexpensive stroller is a good choice (for example Summer Infant 3Dlite Convenience Stroller).
Nowadays there are dozens of strollers, with many different features and functions and in a wide price range. I hope my tips will help you to define what product you really need and choose the best lightweight stroller for your family.
---
Sources: