Have you recently realized that you need more compact and portable stroller for your baby? Don't worry! UPPAbaby G-LUXE comes with help. This small stroller has a lot to offer your family. It's lightweight and compact, yet very high-quality and well quipped, just like the rest of UPPAbaby strollers.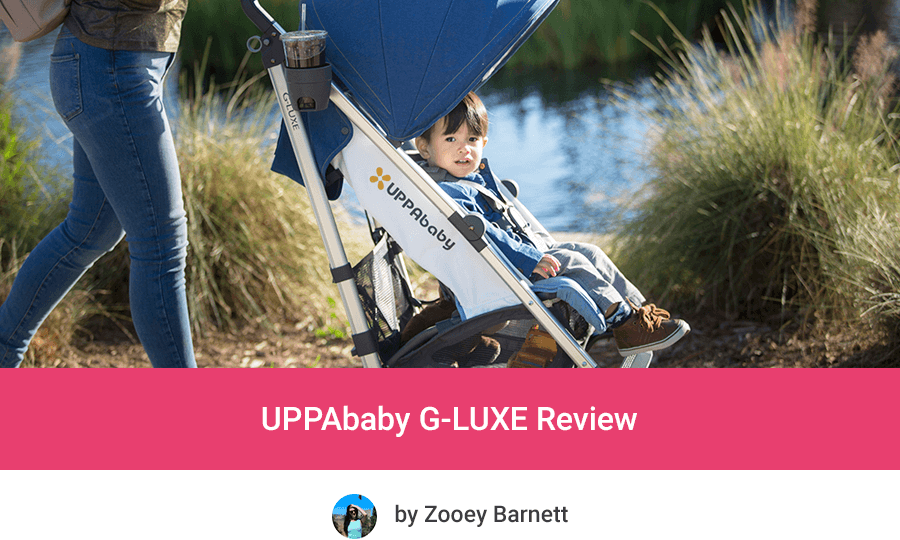 I must admit – I love UPPAbaby brand, as it really keeps up with the changes of family daily life and offers versatile buggies that make parents life easier. G-LUXE stroller is an example of that.
This stroller is design for urban parents who are often out and about with their baby. It's suitable from 3 months, features near-flat recline (because toddlers also loves to nap!) and weighs only 15 lbs which makes it easy to carry around.
Besides, this stroller is a space-saver. It takes little space at home and in car trunk which makes it super easy to store. It's also the perfect companionship for road trips!
Pic
Info

UPPAbaby G-LUXE
Check It On Amazon

Lightweight stroller for city use: going to the mall, park, museum or zoo
Great for taller and older kids
Better quality than older version: canopy is bigger and made of better fabric; single wheels in front - for easier steering; new parking brake; bigger basket with easier access + additional storage pocket on the seat back
Price range: $$$
This article contains affiliate links.
In this article I present you my UPPAbaby G-LUXE review where I put all of the important information about this stroller and few tips, based on hundreds other parents' reviews and my personal experience.
In my UPPAbaby G-LUXE review you will find information about its features, available accessories and color versions. At the end you can find the main reasons to buy this stroller and for whom it is the best choice. You can also find here my comparison of all UPPAbaby strollers and comparison of G-LUXE 2018 with previous model.
UPPAbaby G-LUXE Review – Stroller Features
UPPAbaby G-LUXE is a lightweight stroller. It consists of a light aluminum frame, reclining seat with adjustable canopy, four dual wheels, underseat basket and foot-operated brake. As every other stroller from UPPAbaby, G-LUXE has also many useful features and it is very flexible.
First of all, according to the producent this stroller is suitable for babies from 3 month and can accommodate a passenger up to 55 lbs. The whole stroller is very compact and small. It is only 19.5" wide and weighs 15 lbs which means it fits through tight spaces and it's easy to lift. UPPAbaby G-LUXE is small enough to be portable and perfect for trips, yet it is big enough to be very functional.
Now let's take a closer look at UPPAbaby G-LUXE features and functions.
What is included in the set?
UPPAbaby G-LUXE stroller comes with:
Light aluminum frame
Seat pad
Cup holder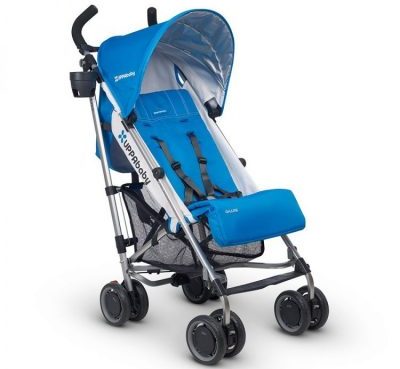 Check the current price on Amazon
The fact that G-LUXE comes with a cup holder is a big advantage because usually strollers don't include it and parents need to buy this accessory separately.
Seat
UPPAbaby G-LUXE seat is suitable for children from 3 month. The seat has three reclining positions, therefore the baby can sleep in a fully recline position, relax or sit and watch the surroundings. The upright position doesn't actually allows to sit straight, because it is still a little bit reclined.
The seat back and padding are very nice and soft. However, keep in mind that this stroller is not suitable for newborn babies, as it is not enough supportive for their delicate spine and head.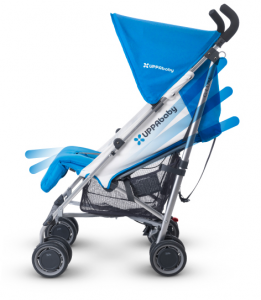 Also, if you want to use this stroller from 3 months I would recommend you to use it with fully recline position (although you should remember that it is not a completely flat) and some body pillow or infant insert.
G-LUXE is equipped with one-handed recline which means we can recline the seat with just one hand. To do this we just have to push a single buton placed on the back of the seat – it is very simple! There is also an adjustable leg rest for better comfort of the baby.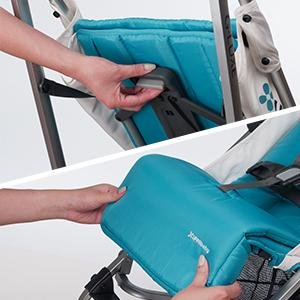 Riding in G-LUXE is not only very comfy, but also safe. The seat has five-point harness for your little rider safety. The straps are nice and smooth and each of them can be adjusted independently. It is very useful feature because babies grow really fast. Besides, during cold winter strolls baby will need more expanded straps than during warm spring rides, due to thicker clothes.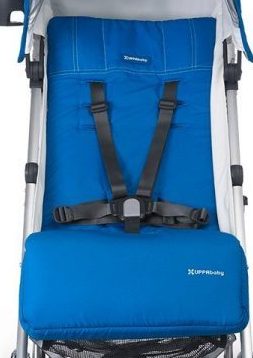 The buckle is placed in the middle and it is very easy to open with one hand, yet difficult enough for small baby's fingers.
There is one more big advantage of G-LUXE seat. All fabrics and the seat pad are removable and can be machine washed.
This is a great feature because during strolling something always spills out and gets dirty. The stroller can be still used even when the seat pad is removed. The seat padding attaches with Velcro straps so setting it up again is very easy.
The only thing I didn't like about G-LUXE seat is the lack of bumper bar.
Canopy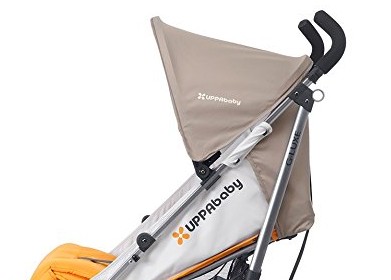 G-LUXE has extendable sunshade which provides a great cover for the little rider. The canopy is also equipped with SPF 50+ therefore your baby can enjoy sunny days while being protected from harmful UV rays. The sunshade can be easily folded.
This stroller is also great for tall kids thanks to high canopy, which additionally can be removed. This sunshade gives baby really a lot of room to grow.
I'd only wish this canopy had better ventilation and a peek-a-boo window so parents could check on their little adventurer.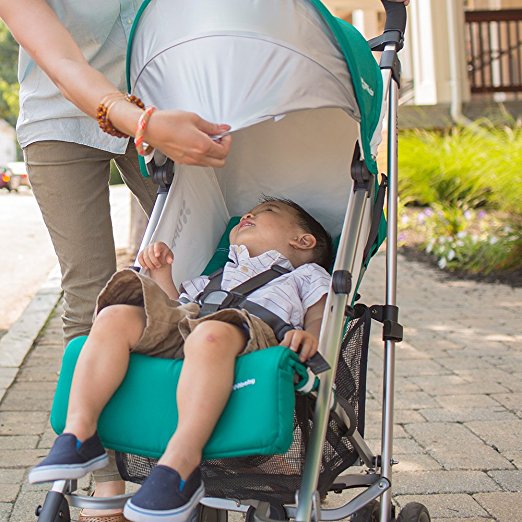 Handles
This stroller doesn't have single handlebar, but two handles on both sides, ass you can see in the picture below. It's typical for lightweight and umbrella strollers. These handles are covered with foam.
They are not adjustable, but even parents of different height can easily and comfortably push this stroller, because the handles are 42.5" high. I've read many reviews written by other parents and the handles are suitable for shorter and taller parents (like 5'2" and 6'2").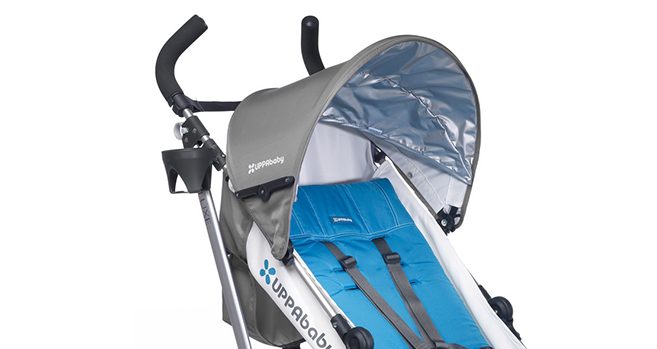 Since there are two handles instead of one, it is definitely easier to push the stroller with two hands than one.
Remember not to hang any items on the handles because the stroller is light and it may tip over.
Wheels
UPPAbaby G-LUXE has four 5.75" dual wheels. These small wheels are definitely not suitable for off-road strolling (or running!) and the stroller is more difficult to push on uneven surface. But the wheels handle very nicely flat and even terrain and they are really sturdy.
The stroller is very easy to steer and turn. Thanks to its maneuverability and slim design it turns easily even in tight corners. This stroller is great for running quick errands, using public transportation and going to the mall. This is definitely not an all-terrain stroller, but it has a specific purpose and serves it wonderful.
Suspension
This stroller has a four wheel suspension and although it has pretty small wheels it glides very easily and smoothly on flat surface. The suspension absorbs shocks so the little passenger can enjoy comfortable ride.
Brake
This stroller is equipped with one foot-operated brake, located on the right. Single action brake is pretty unusual for lightweight and umbrella strollers.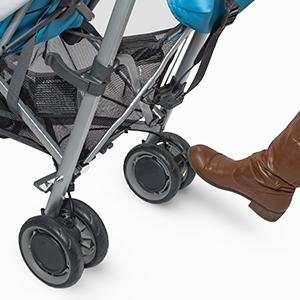 To set the brake you will need to use some force, and then the wheels get locked up. It definitely takes some practice. This parking brake is not sandal-friendly.
If you want to be sure the brake is set properly you can wiggle the stroller a little bit. However, I've read in other parents reviews that even when the brake is engaged, the stroller is not completely immobile (it moves slowly few inches forward when you push it). You can read more about it here.
Storage
G-LUXE has an underseat mesh basket with weight limit of 10 lbs. It can easily accommodate a medium-sized diaper bag and few smaller items.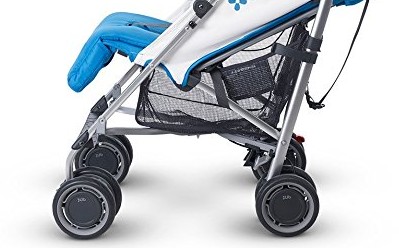 Be aware that the access to the basket is easy when the seat is not reclined. If you recline the seat back fully, access to the storage bin is almost completely blocked.
Folding
Folding UPPAbaby G-LUXE stroller is fairly easy and does not require using feet. It is not one-hand fold but still quite simple.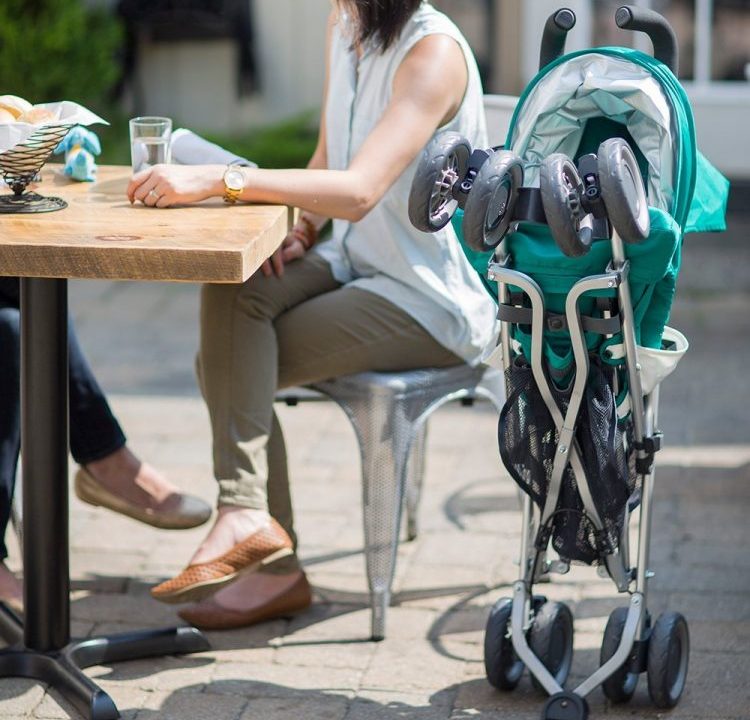 To fold the stroller we have to push the button first and then pull up on the release handles on both sides at the same time. The stroller has an automatic lock and once it is folded it can stand on its own.
UPPAbaby G-LUXE fold doesn't take up much space and is pretty easy to store, even in a small apartment or small trunk. Besides, G-LUXE has a carry strap which makes this stroller very portable and easy to transport. You can see how it works in the picture below.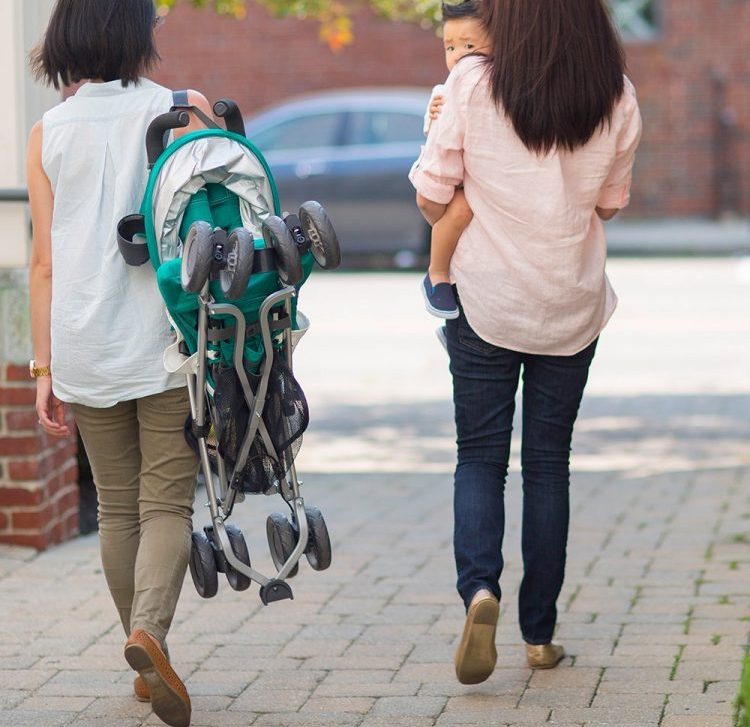 Some parents may wonder if the strap is even useful. In my opinion this features is very handy because the stroller is not bulky or heavy therefore carrying it on a shoulder is very convenient.
However, the strap is not padded so carrying the stroller for a long time on a bare skin might be less comfortable. The good thing is that G-LUXE also rolls when folded. If you get tired of carrying it you can just roll folded stroller along.
Both features are very useful, especially when you use this lightweight stroller for older kid. If your child usually walks and only sometimes wants to ride in a stroller, you can carry or pull the stroller and open it within few second when needed.
Stroller specification – UPPAbaby Weight & Size
Stroller
Data
Stroller Type
Lightweight
Stroller Weight
Old version: 15 lbs
New version: 16.3 lbs
Weight Limit
55 lbs
Stroller Dimensions
Old version: 19.5"W x 42.5"H x 33"L
New version: 18.7"W x 43"H x 28.7"L
Fold Dimensions
Old version: 14"x 13.8" x 42.8"
New version: 19.2" x 12" x 41.7"
Handlebar Height
Old version: 42.5"
New version: 43"
Basket Capacity
10 lbs
All information were taken from UPPAbaby official website.
Video
Here you can watch a video about using G-LUXE.
Pros & Cons
To conclude my UPPAbaby G-LUXE review I made a table that shows what are the main advantages and disadvantages of this stroller.
Pros
Cons

Pros

---

+ Lightweight – easy to lift to the trunk and to carry on a shoulder around the city or up and down the stair

+ Convenient to transport and storage

+ Great for parents who often drive/travel by car

+ One-handed reclining seat with three position

+ Extendable canopy with SPF 50+

+ Automatic lock and self-stands

+ Cup holder included

+ Great for city use – glides smoothly over even terrain

Cons

---

- Difficult to push on uneven terrain

- Sometimes wobbles on bumps

- No peek-a-boo window on a canopy

- Unadjustable handles height
What other parents think about UPPAbaby G-LUXE?
I checked what other parents say about this stroller (2017 model) on Amazon. At the moment I'm writing this, it has few hundreds reviews, but it changes really quickly so you should check it on your own here.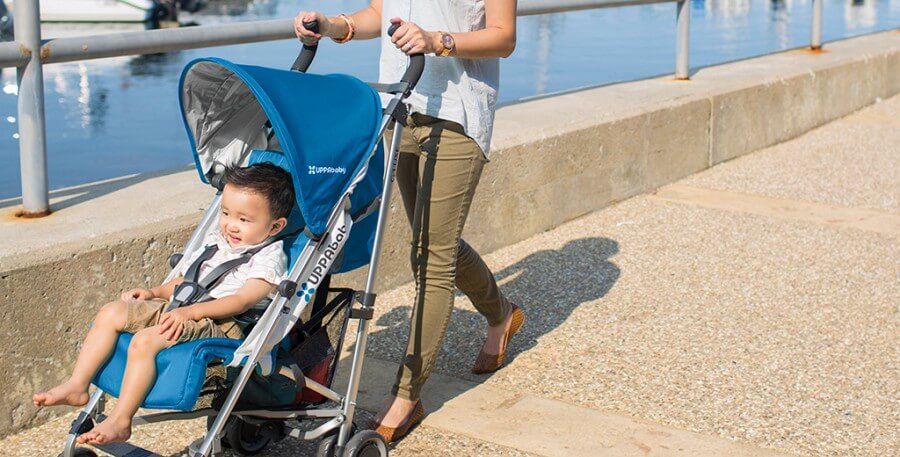 Here are the main assets of G-LUXE that other customers mention: great for use during vacations or running errands, lightweight and easy to carry on a shoulder, easy folding and opening, comfortable seat with deep recline – enough for comfortable nap on the go.
According to other parents when the canopy is fully extended with the sun visor, it gives really nice coverage. It's easy to maneuver on even terrain, rolls very smoothly indoors (in shopping malls and airports), also works fine in parks. According to many parents G-LUXE is a great stroller for big and tall kids and provides plenty room to grow for the baby, thanks to high canopy.
Some parents complained about its durability: after few months of using the wheels started to squeak and sometimes folded stroller gets stuck when you try to open it. Another disadvantage that parents mention is the brake: it's not flip flop friendly and pretty hard to release in any type of shoes. Besides, it doesn't fully immobilize the stroller (even if the brake is set, you can still push the stroller few inches).
Color versions
UPPAbaby G-LUXE is available in 5 color versions, which you can see in the picture below. Keep in mind that the price vary for different colors. You can compare prices for each color version here.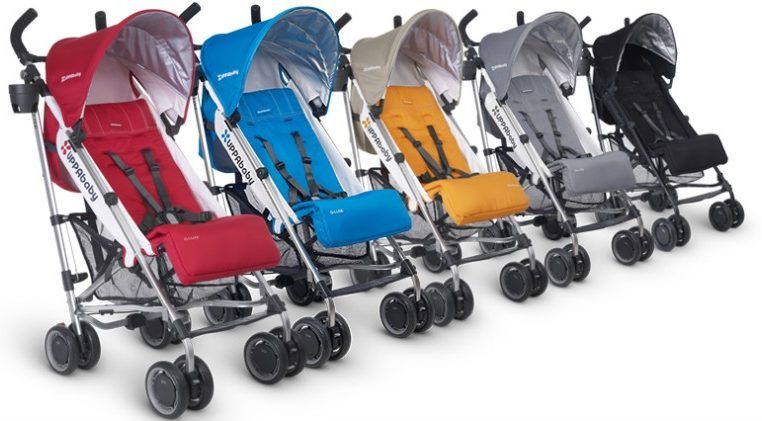 Waranty
UPPAbaby G-LUXE has a standard 2-year warranty which can be extended up to 3 years, if you register your product online within 3 months after purchase.
Accessories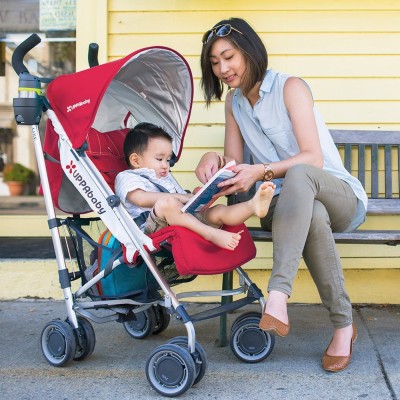 Great thing about UPPAbaby G-LUXE is that it comes with a cup holder. Majority of strollers don't come with this accessory and parents have to spend extra money on it. It is a big advantage of G-LUXE.
There are also many accessories that you can purchase additionally. Here is my list of the most useful items for UPPAbaby G-LUXE stroller:
| Image | Description |
| --- | --- |
| | Rain Shield - with side vents and window with a mesh for extra ventilation. Thanks to this cover even bad weather can't stop you from strolling! |
| | Parent organizer - for your essentials like phone, keys, wallet, sunglasses… This bag can be hanged on the handle. |
| | Travel bag - for easier and more convenient transport of the stroller. A must-have for travel lover. It also makes storing more easy. |
| | Ganoosh Footmuff - will protect baby from winter cold. These covers will keep baby warm during the whole trip. |
UPPAbaby G-LUXE 2018 vs 2017 – List of upgrades for newest model
UPPAbaby is releasing the new version of G-LUXE for 2018. What are the main upgrades?
The new UPPAbaby G-LUXE 2018 has more robust frame, larger multi-paneled sun canopy and bigger basket under the seat with more easy access. There is also new additional storage pocket on the back of the seat. Front wheels are now single, which gives the stroller better and easier maneuverability.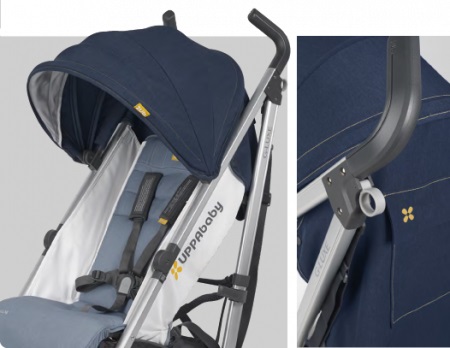 Parking brake also has been upgraded – now G-LUXE 2018 has one pedal for engaging the brake and separate pedal for releasing it. There's one more change for the newest model: shoulder strap is placed on the side for more convenient carrying.
What's really great is that the weight of G-LUXE hasn't changed that much! It has new, better design, but weighs only 16.3 lbs. Folding mechanism and size also stayed the same.
This stroller is already available in stores. You can check on your own which colors of G-LUXE 2018 are available right now and how much this stroller costs by clicking here.
Here's a sneak peek on UPPAbaby G-LUXE 2018.
Are you curious what parents say about the newest UPPAbaby G-LUXE 2018? You can read my summary below or see the customer review for yourself (click here to skip to Amazon).
Parents like deep, almost flat recline. The seat is very roomy so it can accommodate bigger kids and provides more comfort for the passenger.
Thanks to new single wheel design in front it rides more smoothly and you can even push it with one hand on flat surfaces (on slightly uneven terrain you will need two hands). It's great for city use. On indoor surfaces it's very quiet. The seat fabrics are easily removable and do not fade during washing.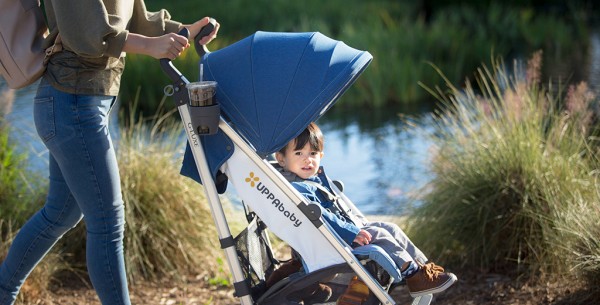 There are few things that parents complain about: lack of peek-a-boo window and snack tray. The basket under the seat is not very big, but it's easily accessible from the back. Moreover there is a huge pouch on the back, but it doesn't have a closure.
Some parents say that folding is a bit difficult, especially at the beginning. Also, the most upright position is slightly reclined, but according to customers it's a minor drawback.
If you like UPPAbaby brand, but you'd prefer full-size stroller rather than lightweight, you should read my review of UPPAbaby VISTA and UPPAbaby CRUZ.
UPPAbaby G-LUXE Review – Conclusion
I hope my UPPAbaby G-LUXE review helped you to make a decision whether to buy this stroller. If you are still not sure, here are few tips that will help you to assess whether G-LUXE is the best choice for you and your family.
UPPAbaby G-LUXE is the right stroller for parents:
who want a lightweight stroller for everyday city use (for shopping, quick errands etc)
who like to travel a lot
often drive a car or use public transportation
who are looking for the second stroller when their baby learns to sit unassisted
of older kid who can walk but sometimes still wants to ride in a stroller
who are looking for a small and light stroller for holidays and trips
who have small house/car and want a stroller that doesn't take up much space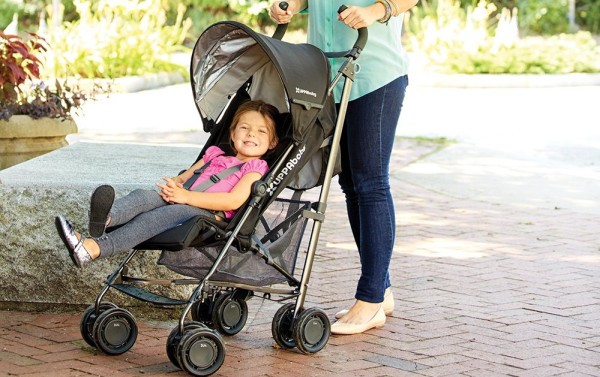 Keep in mind
This stroller is not suitable for rough, bumpy terrain; its small wheels are design rather for flat terrain. However the newest version – UPPABaby G-LUXE 2018 has better wheels (single on the front) which makes the stroller easier to push on difficult terrain. So you may consider waiting for the new model, if this feature is important for you.
3 Reasons Why You Will Love UPPAbaby G-LUXE Stroller
1. It's a space-saver, great for parents who have small apartment or car with a small trunk.
2. It is a lightweight stroller so its purpose is to make travels and maneuvering around the city more easy. And it serves this purpose perfectly!
3. It has tall canopy so it can accommodated bigger and older kids. G-LUXE gives toddlers more room to grow.
My rate:
Do you like UPPAbaby G-LUXE stroller? If you consider buying it, be sure to read other parents reviews and check available discounts for 2018 model on Amazon.
All pictures belong to UPPAbaby. Source: https://uppababy.com/
Your trust is really important to me: This post contains affiliate links. If you choose to buy something using these links, I receive a small commission, at no extra cost to you. Your support helps me run this blog. Thank you so much 🖤 Zooey