Britax B-Mobile is a new lightweight stroller, recently added to Britax stroller collection. It has many features of full-sized strollers, yet it's very lightweight and compact and easy to carry on a shoulder.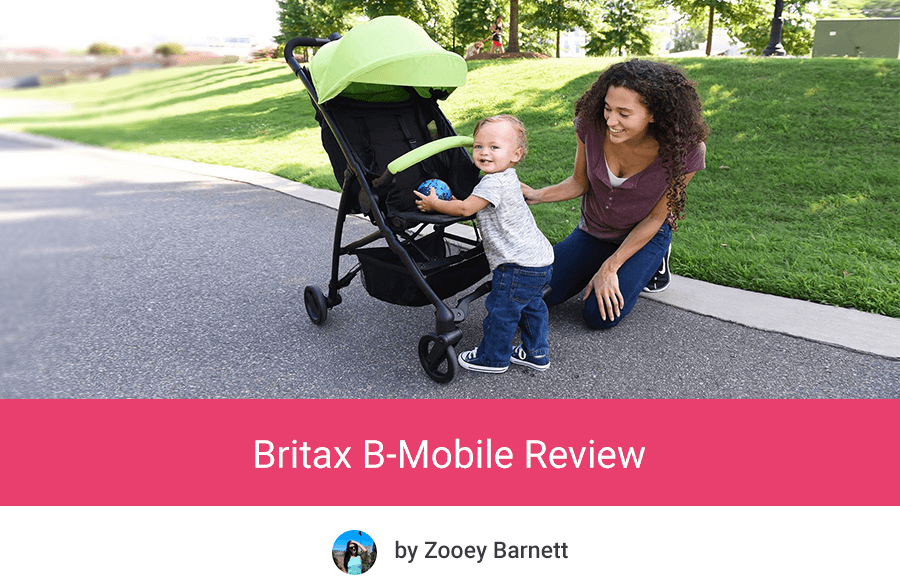 The new Britax B-Mobile can be a great choice for a child who has already outgrown his primary stroller. If you feel that it's the right time to switch your bulky stroller for something lighter and more compact, B-Mobile is definitely worth considering.
It can also serve you from birth as it can be easily converted into a travel system with one of Britax infant car seats. Therefore this can be your primary and only stroller you will ever need!
Britax B-Mobile is an infant-to-toddler stroller, which means it grows with the baby. It's also a proof that lightweight stroller can be also suitable for a newborn baby, not only for a toddler.
Pic
Info

Britax B-Mobile


Lightweight stroller with travel system option for pocket-friendly price
Compatible with all Britax infant car seats
Vented seat and canopy for child's comfort
Designed for urban parents, who don't have a lot of space at home and have a small car
Great for trips to the mall or park and using public transportation
Price range: $$
Britax B-Mobile Review – Features Of Britax Lightest Stroller
Britax B-Mobile is not only brand's currently lightest stroller, but it also features smartest fold among all Britax strollers.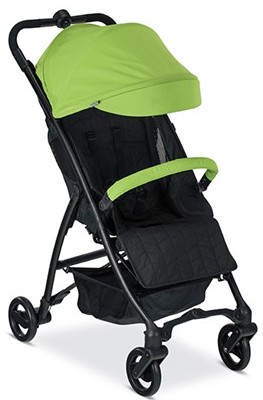 But what about its other functions? How does it perform on different types of terrain? Is it convenient for the baby and parent?
Here's my in-depth review of the new Britax B-Mobile where you can find answers to these and many more questions.
Seat
Britax B-Mobile has nicely padded seat, suitable for infant who can sit upright and have neck and head control. The weight capacity is 55 lbs.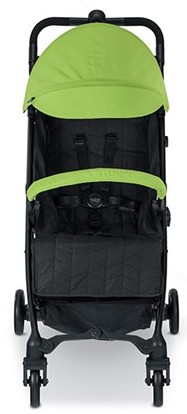 The seat features infinite recline – you just pull the strap to lower the backrest and you can stop at any angle. Reclining is doable with one hand, but you will need to use two hands to raise the backrest. The mechanism is nothing fancy, it's just two straps and a buckle – typical for lightweight and low-budget strollers.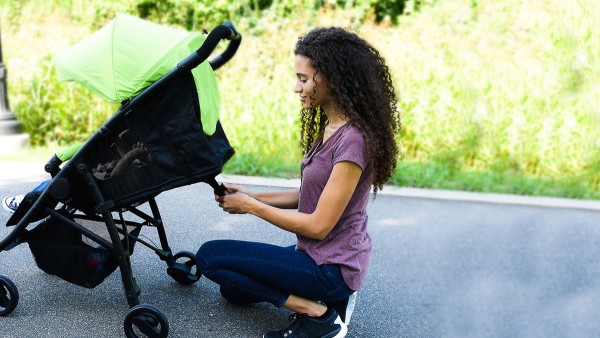 The seat on Britax B-Mobile doesn't go all the way down. The recline is deep and allows for a comfy naptime, but it's not flat. That's why I wouldn't recommend using the regular seat for newborn baby.
There are few things about this seat which I really like. First of all, there are side mesh windows which provide nice air-flow – very useful on summer. Honestly I haven't seen seat side vents on any other stroller – big plus for Britax.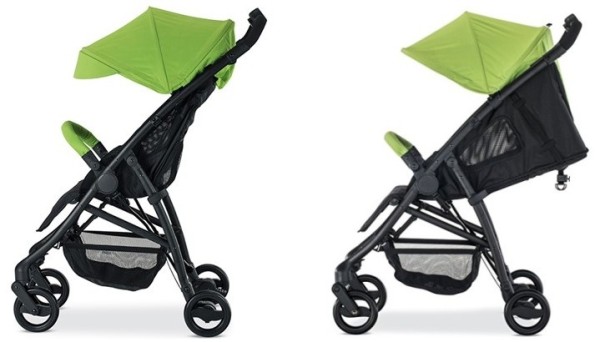 Moreover there is also vented top with zippered cover. With such a well-ventilated seat you don't have to worry your baby gets sweaty or overheated.
This stroller is literally designed to allow parents and babies to enjoy summer strolls.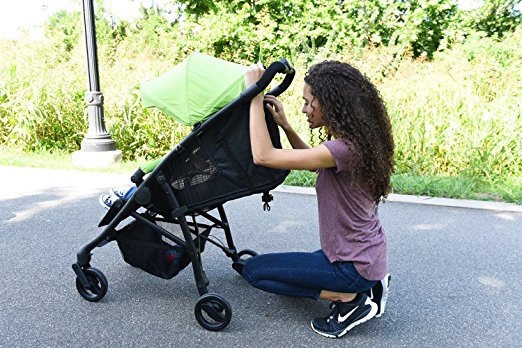 Britax B-Mobile is also equipped with a belly bar which, as you will see later, doubles as a carry strap.
There is also adjustable calf rest – it's not very long but at least you can lower it or raise it to find the most comfortable position for the baby. It also allows for a quick access to the basket from the front (although I'm not sure my babies would like that).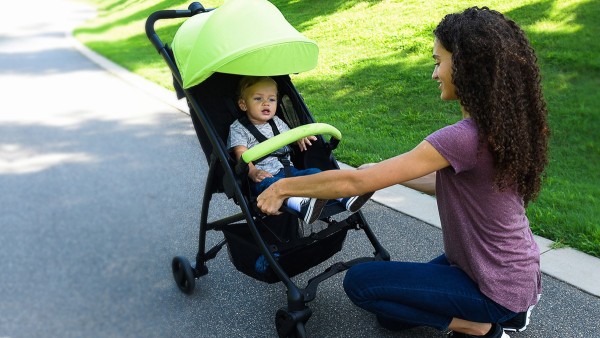 The seat has also adjustable 5-point harness. I only wish the strap had padded covers as they would be more comfortable for the baby.
Infant Car Seat Compatibility – Britax B-Mobile Travel System
This stroller comes with Click & Go Receivers so you can easily attach any Britax infant car seat. For now, there are no adapters for other car seat brands.
Thanks to travel system compatibility you can use Britax B-Mobile from birth. Just click the car seat onto the frame and you're ready to go.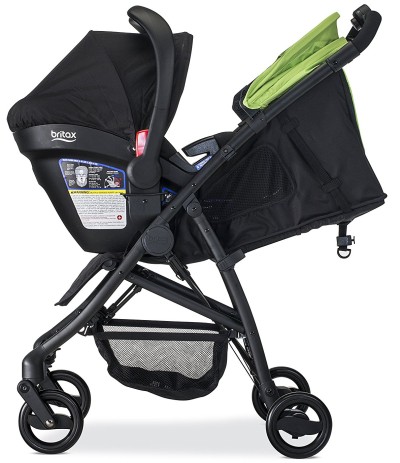 But keep in mind that infant car seat is not suitable for long-distance strolls. It's a great solution for running quick errands and quick transition from car to home/mall.
Canopy
B-Mobile stroller has nice canopy with pop out sun visor. The canopy doesn't go very low, but it should keep the sun out of baby's eyes. Additionally the fabric provides UV protection.
There is one thing that I don't like about this sunshade – it doesn't have a peek-a-boo window. For me it's a big disappointment because the seat is forward facing and without the window I can't keep an eye on my little passenger during the stroll.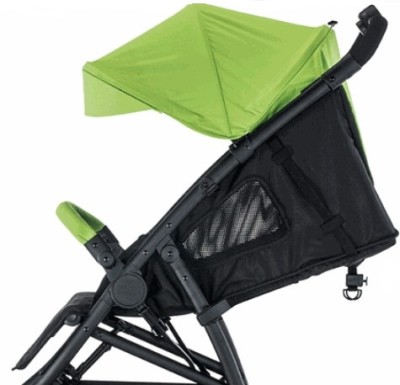 Storage Basket
The basket underneath the seat is not huge, but honest I didn't expect it to be very spacious since B-Mobile is such a compact and light stroller.
You shouldn't have problems with fitting there a medium-sized diaper bag or some small grocery bags. But keep in mind the basket material is not very stiff so you should put there excessively heavy items.
There is one more thing that I have to mention as it is another disadvantage that I have found on Britax B-Mobile. The access to the storage basket is rather difficult – there are two crossed bars in the back and one bar on each side of the bin which completely block the access!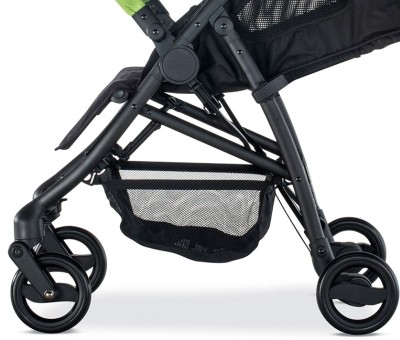 You will be able to take out only small items from the back and sides. If you want to put in the basket something bigger – like a diaper bag, backpack or your handbag, you can do it only from the front when you lift the calf rest.
It's quite annoying that the storage basket is so hard to access. Just imagine what happens when you need to take something out of the basket and you have to lift the calf rest when your little one is sleeping… I definitely don't want to disturb my baby sweet naptime!
If this issue is not a deal breaker for you, go for Britax B-Mobile. For me it was a big disappointment.
Wheels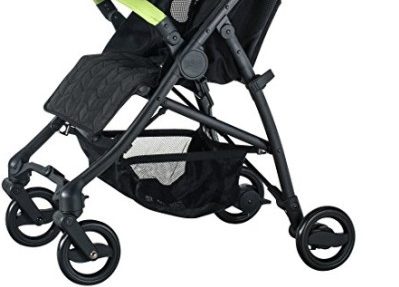 Britax B-Mobile has 4 small, single wheels. They are designed for flat surfaces like pavement, sidewalks, asphalt or bricks. B-Mobile works great for indoor use (at the mall or airport) as well.
This is a lightweight stroller for city use, keep in mind it's not ideal for gravel, grass or more bumpy ground.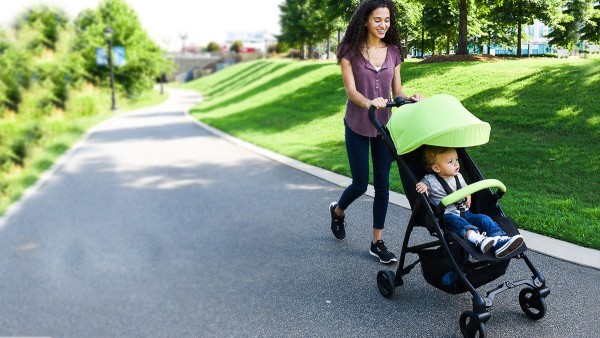 Brake
There is a foot-operated parking brake. The pedal is located next to the right rear wheel. It's not very big – you shouldn't have problems with setting or releasing it when wearing sneakers, but it may be harder in flip flops or high heels.
Weight & Fold
Britax B-Mobile weighs only 16.3 lbs which means it is the lightest Britax stroller, currently available on the market in the US.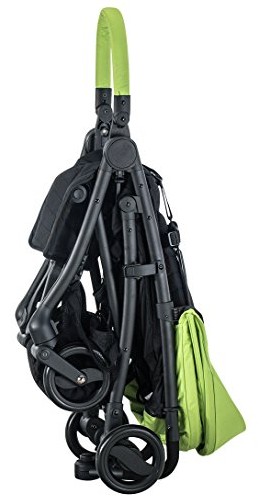 It folds down pretty easily and you can close it with one hand. After folding it doesn't take up a lot of space and fits in most car trunks. The only drawback is that the seat doesn't fold inwards and the whole padding is exposed to dirt. You have to be careful when transporting this stroller in a trunk.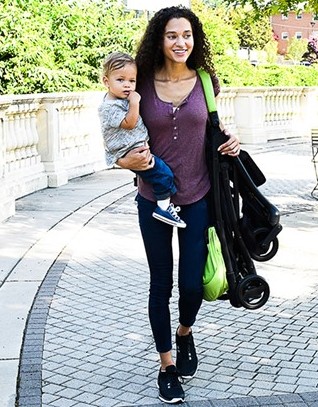 Since the B-Mobile stroller is so lightweight you can easily lift it to the car trunk and thanks to the bumper bar that doubles as a shoulder strap you can carry it effortlessly while keeping your hands free.
Pros & Cons
Pros
Cons

Pros

---

+ Lightweight and easy to carry with a shoulder strap

+ Compatible with Britax infant car seats so it can be used from day one

+ Nicely padded seat

+ Recline is sufficient for naps on the go

+ Adjustable calf rest

+ Side mesh windows and vented top of the seat

+ Decent canopy

+ Compact fold that is easy to transport and store

+ Great for city use (pavement, sidewalks) and indoor use (shopping at the mall, going to the doctor)

Cons

---

- Rather small storage basket, difficult to access

- Small wheels are not great for uneven ground

- No peek-a-boo window
What other parents think about Britax B-Mobile?
I was wondering what other parents think about Britax new lightweight stroller and if such a inexpensive stroller is good-quality. It turned out that most parents are happy with it and recommend it (especially for occasional use like running errands or trips).
Parents say this lightweight stroller is easy to use, sturdy and rolls smoothly. On flat surfaces you can steer this stroller with one hand. Britax B-Mobile features quite compact fold which doesn't take up the whole car trunk.
Possibility of use such a lightweight stroller with infant car seat is a big advantage. Besides, attaching the car seat is quick and seamless. However few parents also points out that having to remove the car seat receivers every time before folding the stroller is a true hassle. Beside that, folding and opening mechanism is quick and hassle-free (if you don't use it as travel system).
One of the disadvantages is the storage basket which is not very big and extremely hard to access. Because of the X-shaped frame in the back of it, you cannot put there a backpack or bigger bag. You can access the basket from the front, but it requires lifting the footrest which is not convenient for the baby. Some parents also complain about the wheels quality.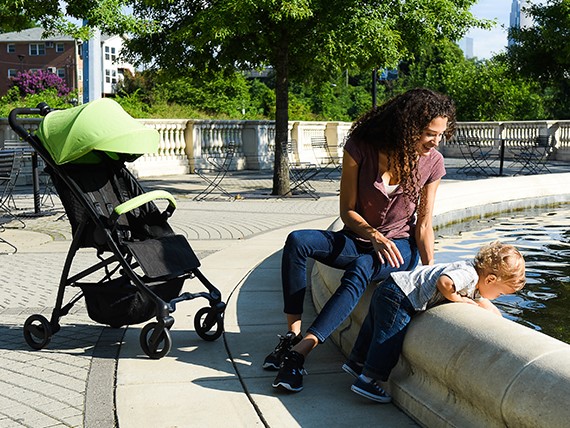 Specification
| Stroller | Data |
| --- | --- |
| Stroller Type | Lightweight |
| Stroller Weight | 16.3 lbs |
| Weight Limit | 55 lbs |
| Fold Dimensions | 29.53" x 24.21" x 10.24" |
Colors
The frame and seat padding comes in one color (black), but you can choose one of four colors for the canopy and bumper bar: Apple, Raven, Cobalt or Ruby. In the picture below you can see all color versions.
Don't forget to check which colors are currently available and compare their prices.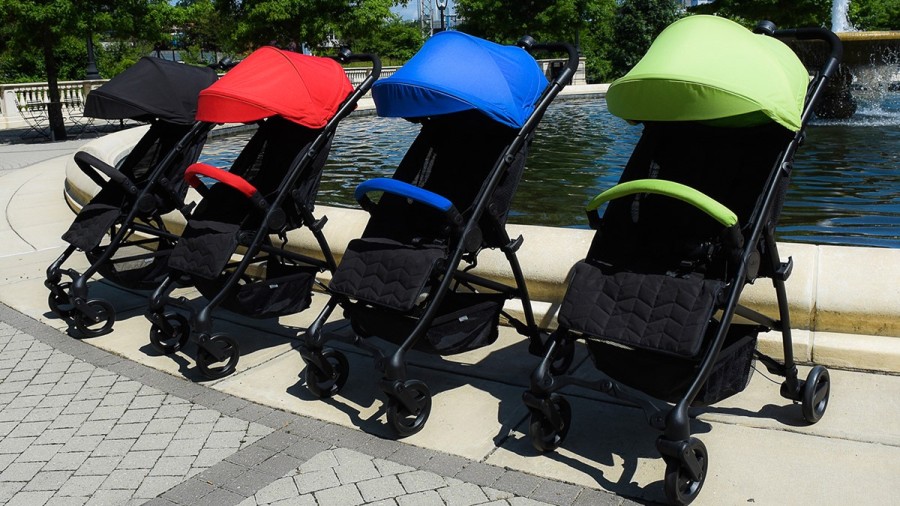 Accessories For Britax B-Mobile
Britax B-Mobile comes with a belly bar and Click & Go Receivers which is great, because not every stroller includes this accessories and often parents have to pay extra for these items.
Although the adapters for Britax infant car seats are included, you will of course need to purchase the car seat separately, if you want to turn this stroller into a travel system and use it from birth.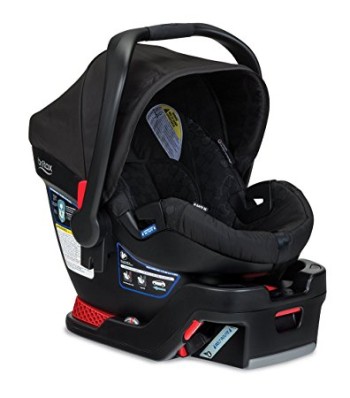 You can also add Britax Stroller Organizer that easily attaches to the handlebar. It has three outside pockets for small items like keys or phone, one big enclosed pouch for diapers or some valuables and two cup holder that also doubles as storage pockets.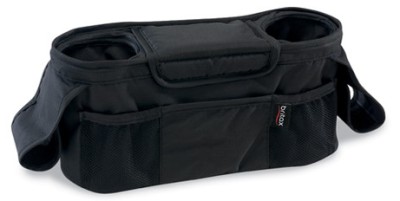 I think this accessory is a must have as it allows to keep the essentials at hand. It's very useful, especially since the basket on Britax B-Mobile stroller is not very capacious or easily accessible. Good thing is that this organizer is not very expensive.
Keep in mind
This stroller is suitable for newborn baby only if you add an infant car seat (and it is compatible only with Britax models). Moreover, it's not an off-road stroller and it doesn't work well on uneven ground.
3 Reasons Why You Will Love Britax B-Mobile
1. Since costs less than $200 and features compatibility with infant car seat, it is really great budget-friendly option.
2. Britax B-Mobile is a lightweight stroller for newborn, not only for older baby.
3. It's a space-saver that is also very easy to carry. Perfect option for parents who live in a small apartment, often drive a car or use public transportation and need a compact, portable stroller.
Do you like Britax B-Mobile and consider purchasing it? Don't forget to read customer reviews.
If this stroller is not what you're looking for, check out my ranking of the best lightweight strollers for 2021. More strollers that impressed me in the last few years you can find here.
All pictures belong to Britax. Source: https://us.britax.com/b-mobile-strollers/