Meet the Loop Carrier – first baby carrier from Solly Baby that fits older kids! You can use it from day one or switch to it once your baby outgrows Solly Baby Wrap. Will Solly Baby Loop Carrier become as popular and beloved as Solly Wrap?
Here's my first impression of the newest Solly Baby Carrier!
This article is not a substitute for medical advice. It may contain affiliate links.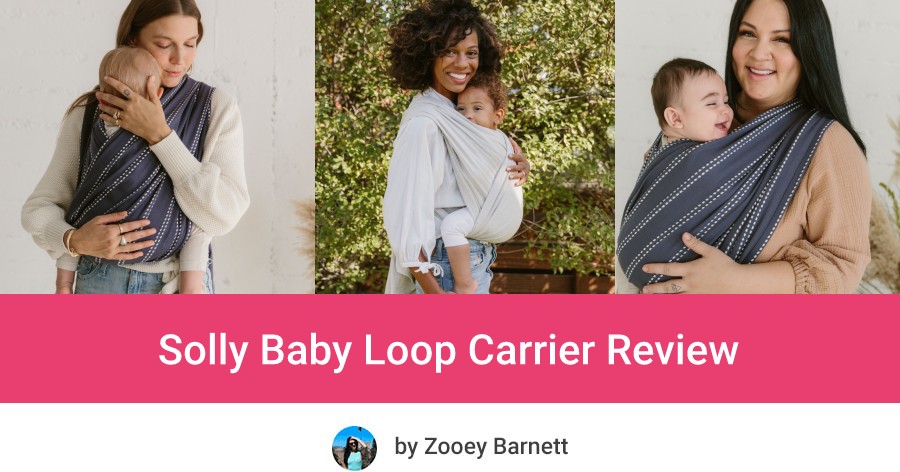 Solly Baby is mainly famous for their awesome, breathable wrap that so many parents love. The brand has just launched their new carrier – Loop, which is more structured than wrap, but still very lightweight, airy and easy on your back.
Will the new Loop carrier become parents' favorite just like iconic Solly Wrap?
Keep on reading to learn more about Loop's features and find out whether this baby carrier is a good choice for your little one.
Solly Baby Loop Review
Solly Baby Loop combines the best features of baby wrap and structured baby carrier.
Loop is a long piece of fabric – just like the Solly Baby Wrap, but there is a ring that you need to place on your back to properly tie it.
This makes Loop a bit more structured and ensures additional support for extended wear for older and heavier babies.
PRO TIP: Would you like to get the Loop carrier at more affordable price? Now it's the perfect time with their Secret Sale! Loop carriers are 50% OFF! Discount applies to all colors. Your secret discount is available only here 👈 The sale is on only this weekend!
If you miss out on your check you can still get this carrier at lower price – just pick your favorite color & use code: LITTLE10 here 👈 to get 10% discount! By the way, I don't recommend buying it on Amazon, because it's more pricey over there!
When can you start using Solly Baby Loop Carrier?
The Loop is designed mainly for toddlers from 15 to 45 pounds, but you can also use it with your infant from 8 pounds (no infant insert required!). This means Loop can be the only carrier you will ever need as your baby grows and gets bigger.
Loop is a great choice for babies who have outgrown Solly Baby Wrap, as it offers the same comfort and coziness with extra support of more structured carrier.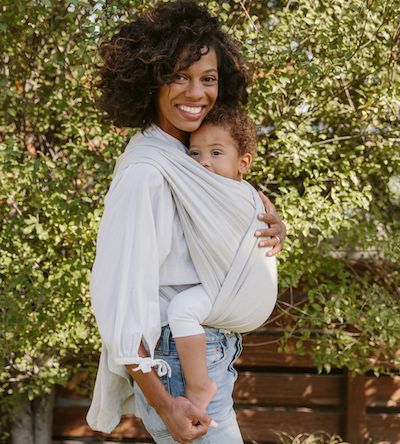 Fabric
Solly Baby Loop carrier is made of 100% organic cotton. This is one of the biggest differences between the Loop and Solly Baby Wrap, which is made from 100% Lenzing Modal fabric which is thinner and more airy.
Since the Loop is suitable for older babies up to 45 lbs, it has to have stronger and thicker fabric to hold them and to give them sufficient support.
It's still light and breathable – it's less bulky than standard structured carriers so it will protect you from sweating for longer period.
Although Loop is made of thicker fabric is also support soft and nice to the touch, and gentle for your & your baby's skin.
PRO TIP: Loop will soften with each use! If you want to make the "breaking in" process a bit faster, the brand recommends to wash it on cold & delicate cycle and tumble dry on low heat. You can also steam it with a steamer or steam iron (be careful with that!). Another option is to braid the fabric – it's also a good idea for storing the Loop when you don't plan on using it for a while. There one more thing that you can do to make the fibers softening process quicker: pull each end back & forth through the ring couple of times.
Available color versions
This of course changes depending on the stocking and some special collections, but right now Solly Loop is available in 4 fashions: Dusty Pink, Camel, Natural & Grey, and Cream Check.
The version that I have – Blue Ticking Stripe is unfortunately sold out now, but frankly they all look gorgeous!
I like that Solly Baby also offers gender neutral colors for their new carrier.

PRO TIP: The whole Loop collection is now on a huge sale – and you can get this carrier $30 OFF (grab discount here >>). This way you can get it at cheapest price – way lower than reseller offer (yes, it's

more pricey

on Amazon).
Carrying positions & ergonomics
Just like the Solly Baby Wrap, Loop is all about your baby's safety and comfort. It allows you to carry your baby on your front facing in – this is the most recommended position.
And just like the wrap, the carrier will keep your baby in ergonomic and natural position with M-shapes legs, without forcing baby's hips to straighten unnaturally.
There's plenty of thick fabric under baby's bottom to provide proper support for baby's hips and thighs. You can always adjust the fabric to ensure sufficient support – from knee to knee.
Solly Loop carrier allows your child to maintain ergonomic position that is safe for their hips and decreases the risk of hip dysplasia.
Solly Baby Loop is a brand-new carrier and it hasn't been added to International Hip Dysplasia Institute list of hip-healthy carriers yet. But I'm pretty sure it will be added soon because it meets the criteria: it keeps the baby in ergonomic position, it doesn't put pressure on baby's crotch area or hip joints, and it provides good support for the back and thighs (no dangling legs!). FYI, Solly Wrap is on the "hip-healthy carrier list".
As you can see in the pictures, baby's bottom is always lower than their knees in Loop carrier. This ensures hips' flexibility and natural position for the joints.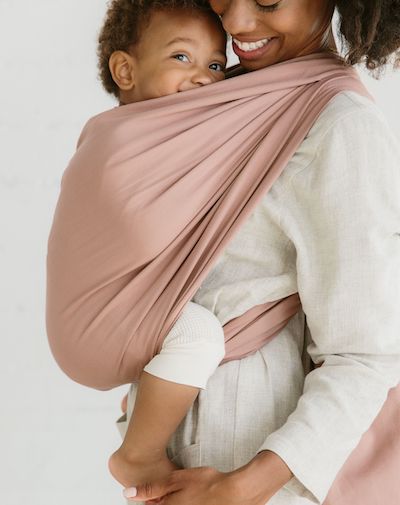 Moreover, strong fabric, that Loop is made of, provides just the right amount of support for baby's back. If you want to use the Loop with smaller infant who don't have a neck and head control yet, make sure to adjust the fabric behind their head for additional support.
It's noteworthy that Solly Baby Loop can be worn on the hip, however it's not recommended for back carrying.
PRO TIP: If you'd like to wear your baby on your front facing outward, make sure to contact Solly Baby babywearing educator for fit check! This carrier is designed to carry the baby facing in, but the outward position is also possible for short periods of time. However, it's important to learn how to position the baby properly, to avoid putting pressure on their crotch. That's why I recommend consulting with Solly baby wearing educator first.
How to put the Loop on & how to adjust it
Solly Baby Loop has a ring sewn into the middle of the wrap – you need to put it over your head and place it on your back. At first position it between your shoulder blades, then you can adjust it lower or higher for better comfort.
Next, you need to place the fabric straps on your shoulder, make sure they are spread and flat. Then – you need to bring the fabric across your body (and create an "X" on your front). While doing this, make sure not to twist the long ends.
Bring bring end across your chest and belly to the back and pull in through the ring. You need to get over the ring, not under. This way the ring will lock off the fabric. Once threaded, pull the fabric directly downward – not sideways. Pull it downward, but leave some room to place the baby in, you will tighten it once you position the baby.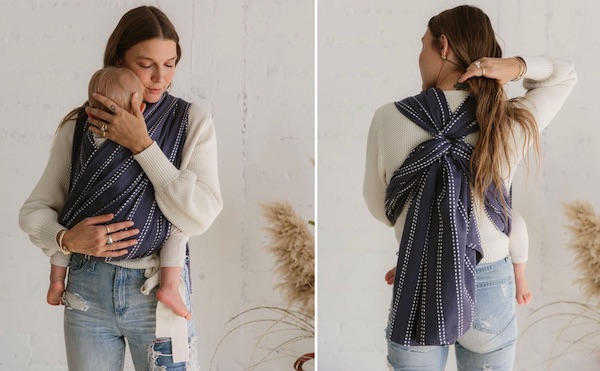 Spread the first layers of the fabric (which is closer to your body) around baby and under baby's bum so it provides support from the back of one knee to the back of the other knee. Repeat that with the second layer of the fabric. The child should be in spread-squat position.
Now you can tighten the fabric on your back – it should feel comfortable for you, but also cozy and supportive for the baby. The fabric should not be loose, it should cuddle the baby against your chest but also leave some space for wiggle and joints' flexibility, with chin always off baby's chest.
User-friendliness
All of that may seem a bit complicated at first, but trust me – once you try it a few times and get a good hang of it, it'll be a breeze! I love how easily you can adjust the fabric and make it tighter or looser – you just need to pull the fabric on your back downward or upward. I think the Loop is very easy to put on even when you're on your own.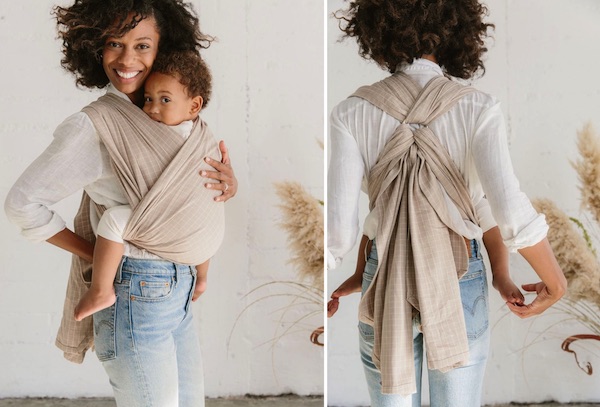 Moreover, just like Solly Wrap, the Loop carrier provides even weight distribution across your body. Even wearing a heavier toddler won't strain your shoulders or back. The way the Loop is designed ensures that baby's weight is spread evenly across your upper body, without putting pressure on your pelvic area, hips or shoulders.
PRO TIP: I recommend you to watch the tutorial video from Solly Baby – it was extremely helpful for me and showed me exactly how to pull fabric through the ring properly. test it a few times in front of a mirror to get familiar with it. To get more comfortable and confident with babywearing with the Loop, I also recommend you to schedule a fit check or virtual consult with Solly Baby babywearing expert. Here you can find out how to do it.
Sizes
What's important, Solly Baby Loop comes in 2 sizes: Standard – which fits parents wearing sizes XS-L, and Extended for parents wearing sizes L-XXL. The Extended version is a great choice if you're a plus-size mom or dad, it's longer and makes babywearing more comfortable for parents with larger frame.
If you're still carrying extra baby weight around your belly Loop Extended version will work great for you and it will make the whole babywearing experience so much more convenient.
>> Here you can find out more about Loop sizes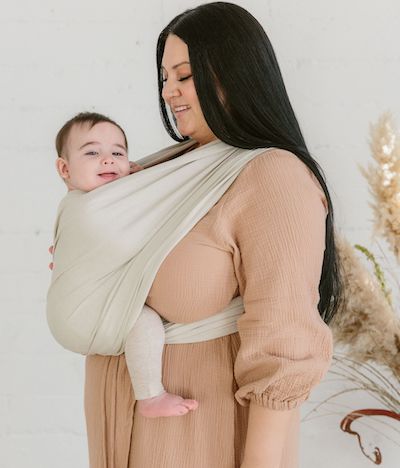 Solly Baby Loop Reviews – What Other Parents Say About It?
I went through online reviews of Solly Loop and one of the advantages that parents often mention is the ease of use. This carrier is breeze to put on and adjust. Another good thing is how nursing-friendly it is: you don't need to untie anything and then do everything from the beginning, in contrast to wraps.
According to babywearing mamas, the fabric feels strong and sturdy. It doesn't slip or become loose. It's not as soft as Solly wrap, but there's a reason for that – it's built to hold heavier children and it provides extra support for them.
Some parents say they prefer Loop over wrap, because it doesn't get that hot. It's also better than soft-structured carrier because it's not that bulky and packs smaller.
I found some complaints too, in Solly Loop reviews. The main one is that Loop takes some practice to get the ring in the center of your back. At the beginning, the fabric may feel a bit stiff which makes threading and adjusting the tension more difficult. But it gets better once the Loop gets softer with each wash and you also get a good hang of it.
Solly Baby Loop Carrier vs Solly Baby Wrap
The Loop has been designed to provide the same amount of coziness and comfort for babies who have outgrown Solly Wrap, while offering additional support.
SALE ALERT! 🥳
#1 There is a Secret Sale happening this week and Loop carriers are 50% OFF (which means they are even cheaper than wraps)! You can only grab your 50% discount here 👈It's the cheapest price since this carrier was launched.
#2 You can now get 10% OFF Solly Baby Loop Carrier! Use discount code: LITTLE10 here. Don't miss out on this opportunity to save a few dollars!
#3 If you decide to get Solly Baby Bundle: Wrap + Loop, you will save over 20%! Pick your favorite prints here and use code: CARRYDUO at checkout. You can save up to $40!
Is Solly Loop exactly the same as Solly Wrap but with higher capacity? Definitely not! Loop has some very unique features that distinguish it from the wrap.
Below you can find my comparison of Solly Baby Loop and Solly Baby Wrap with all similarities and differences.
| Solly Baby Loop | Solly Baby Wrap |
| --- | --- |
| | |
| | |
| Best from 15 to 45 lbs (can be used from 8 lbs) | Suitable from birth up to 25 lbs |
| Works perfect even for older kids (3 or 4-year-old!) | Most comfortable up to 9 months (with small babies up to 12 months) |
| Made of 100% organic cotton which is thicker and stronger and provides additional support for heavier babies | Made of 100% Lenzing Modal fabric which is lightweight, thin, ultra breathable and buttery-soft |
| Has sewn-in ring in the middle that goes on the back (between shoulder blades) which locks off the fabric and makes the carrier suitable for heavier infants and toddlers. No tying required | You need to wrap the fabric around your body and tie to secure it |
| Carrying positions: front facing inward, hip carrying and front facing outward (consult Solly Baby babywearing educator) | Only one carry position: front facing inward |
| Comes in 2 sizes: standard and extended (for moms wearing size 20 & 22) | Comes in one size that adjusts for petite or plus-size parents |
| Available in 4 fashions (including 2 gender neutral colors) | Available in 10+ beautiful colors and prints |
| Comfortable carrier for toddlers; light as a wrap, less bulky than structured carriers | Coziest & softest wrap for newborn babies and infants; best option to start babywearing with; much more breathable than other wraps or carriers - perfect for summer |
| Get 10% OFF with code: LITTLE10 | Buy 1 wrap, get 2nd 20% OFF (code: WRAP20) |
---
Check out more fantastic baby carriers IN THIS ARTICLE.