With the best baby carrier for Disney parks, your family trip will be a lot easier and you will always have free hands! You'll be able to keep your child close to you and comfort them whenever they feel overwhelmed from all the exciting rides and sights.
You can babywear on the rides and it's so much easier to get through the crowds with a baby carrier, instead of a baby stroller!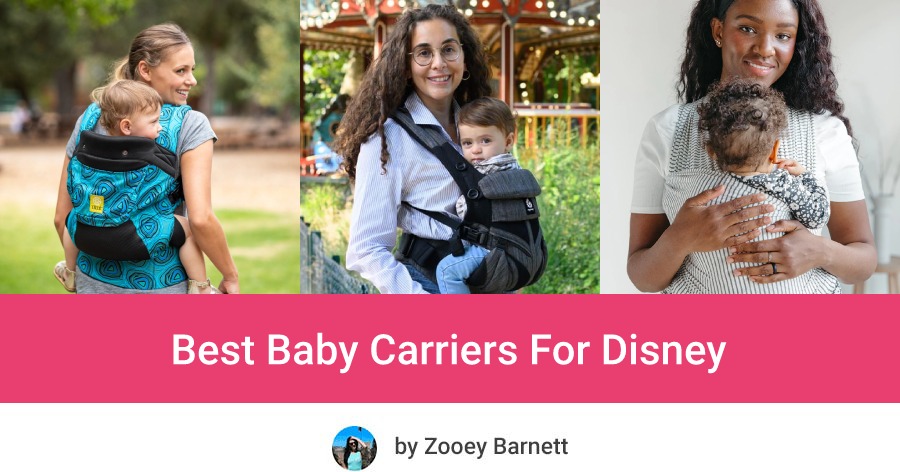 This article is NOT a substitute for medical advice. It contains affiliate links.
Whether you're heading to Disneyland or Disney World, you may be wondering if you can do babywearing at the parks.
The answer is absolutely yes!
In fact, Disney makes it easy to bring your baby to experience all the magic along with the family! Babywearing is actually ideal for taking your child on a ride, too.
The question isn't really if you can use a baby carrier at the Disney parks, but rather, which carrier is best for Disney Vacation?
The answer mostly depends on the age of your child and if he or she has good neck control, as well as your preferences.
Best Features
❤️ Offers 4 carrying positions so the child can observe everything in Disney
❤️ Can accommodate newborns and toddlers up to 3 years
❤️ Ensures good weight distribution - no back pain even after many hours of babywearing
❤️ Made from the softest and most breathable fabric = no sweating
❤️ Great choice for summer and hot weather in California or Florida
❤️ Works best for newborns and infants - it soothes them, reduces crying and helps with colic
❤️ Suitable from 20 to 60 lbs - it can fit even a 5-year-old
❤️ Perfect for visiting Disney parks with toddlers and preschoolers
❤️ It's comfortable to wear and feels light even when you carry heavier child
advantage
✨ 1100+ positive reviews!
✨ Recommended by 1300+ moms!
✨ 4.9 rate based on real customer reviews!
Best Soft Structured Baby Carrier For Disney
Best Features
❤️ Offers 4 carrying positions so the child can observe everything in Disney
❤️ Can accommodate newborns and toddlers up to 3 years
❤️ Ensures good weight distribution - no back pain even after many hours of babywearing
advantage
✨ 1100+ positive reviews!
Best Newborn Wrap Carrier For Disney
Best Features
❤️ Made from the softest and most breathable fabric = no sweating
❤️ Great choice for summer and hot weather in California or Florida
❤️ Works best for newborns and infants - it soothes them, reduces crying and helps with colic
advantage
✨ Recommended by 1300+ moms!
Best Toddler Carrier For Disney
Best Features
❤️ Suitable from 20 to 60 lbs - it can fit even a 5-year-old
❤️ Perfect for visiting Disney parks with toddlers and preschoolers
❤️ It's comfortable to wear and feels light even when you carry heavier child
advantage
✨ 4.9 rate based on real customer reviews!
Types Of The Best Baby Carriers For Disney World & Disneyland
Wraps
A wrap baby carrier is best for young babies, especially those who haven't developed good neck control yet. Wrap carriers help keep baby close in a front-wearing, inner-facing position.
Ring Slings
These are great for babies who are breastfeeding (easy access!), or ones that are around 4-6 months old and want to see around, but maybe aren't ready for a back-wearing position.
Soft-structured carriers
Soft-structured carriers are a great all-around choice, especially for older children or toddlers. My favorite carriers (mentioned below) work from newborn up to preschoolers.
5 Best Baby Carriers For Walt Disney World – Reviews
Here are the top 5 best baby carriers to use at Walt Disney World or really any summer-time trip that involves lots of walking.
I love love love the Ergobaby Omni! Really, this is the best baby carrier for Disney World.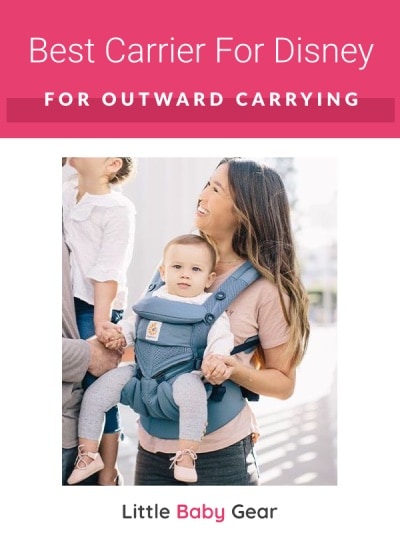 Let's start with the most obvious reason: the Ergobaby carrier is one of the most comfortable carriers, especially if you intend to ditch the stroller and carry your baby for the entire day at Disney.
Some other advantages are:
It is comfortable for mom – designed to evenly distribute baby's weight and prevent back pain. There is extra padding in the shoulder straps and a good waist belt for proper back & pelvis support.
Covers a wide age-range: from newborns up to approximately 3 years old (or 45 pounds), meaning that you can use one carrier from birth straight through the toddler years.
It is ergonomically-designed for your baby. There is extra support for the neck of smaller babies or newborns, and ensures proper body alignment in the carrier (knees higher than the bum, thighs supported).
The mesh design allows for plenty of airflow to ensure baby doesn't get too warm and has a built-in sun shade (which really helps baby sleep comfortably in the carrier).
Omni 360 Ergobaby carrier allows you to carry your baby, even a two-week old without any special insert, because it provides proper neck and hip support.
This carrier is easy to put on, and other adults can take turns carrying the baby – just adjust the buckles to fit your waist and shoulders.
One of the advantages of a more structured carrier is that they are versatile. Parents can use the Ergobaby carrier in many positions: inward-facing, outward-facing or back-carry, depending on the age and development of your child.
For a baby with good neck control (approx. 5 months and up), you could use the outward-facing position or back carry with the Ergo to allow baby to enjoy all the sights of Disney World or Disneyland.
PRO TIP: Do you like this baby carrier but it's a bit too expensive? Ergobaby is having amazing deal, some of the colors in current collection are $30 OFF. Don't worry if your favorite print is not on sale! You can still get it on more affordable price. Just use code LBG10 at checkout here >> to grab 10% discount.
One thing you should know is that you need to help your child get used to a carrier before you go on vacation.
Practice first: carry your baby in the Ergo at home or take some long walks while wearing your little one. Your Disney trip should not be the first time your baby gets in the carrier.
At first glance, the Solly Wrap looks just like any other wrap on the market, like the Moby Wrap, for instance (but for a slightly extra cost). So, what makes this different than other wraps?
The answer is material, the fancy material.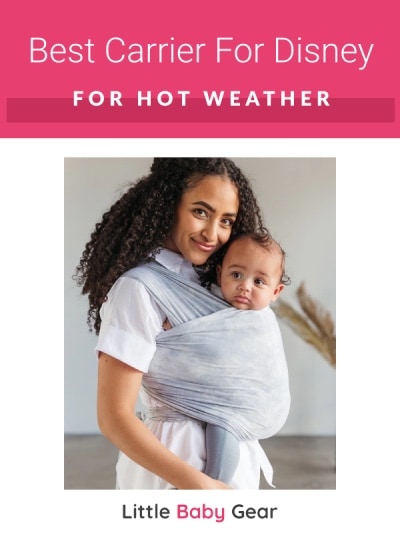 The Moby Wrap and many other woven wraps are made from 100% cotton, but the Solly Wrap is made entirely from Modal fabric, a material derived from the pulp of Austrian beech wood trees so it's incredibly strong, but it's also very, very soft (it's technically double the softness of cotton, if you were wondering).
Did I mention that Modal fabric is breathable and wicks away moisture? Now THAT'S a great baby carrier for Disney World.
Don't stress – the Solly is machine washable, just use the gentle or delicate cycle. And it wraps up nice and small so you can easily bring it anywhere.
If you were wondering – a woven wrap is much too hot for Florida's climate, but the wonderful, breathable Modal material of the Solly keeps baby nice and cool while still being supportive and safe.
When you wrap the Solly properly, it provides a comfortable position for baby (keeping hips properly aligned in what is called the "M" position) and evenly distributes weight for parent's comfort, too.
You should practice wrapping the Solly a few times to make sure you've got the technique down, though.
This wrap is only suitable for a front-carry, inward-facing position. For safety reasons, you cannot use this wrap for forward-facing or back-carry, so I would not suggest this for toddlers. Look for something that allows for more positions if you have an older child.
>> My review of Solly Baby Wrap
If you have older kids, like preschoolers, you may not be so worried about baby neck support. Instead, you should be looking at toddler carriers: something strong and supportive, but still lightweight and comfortable, and with the best weight distribution.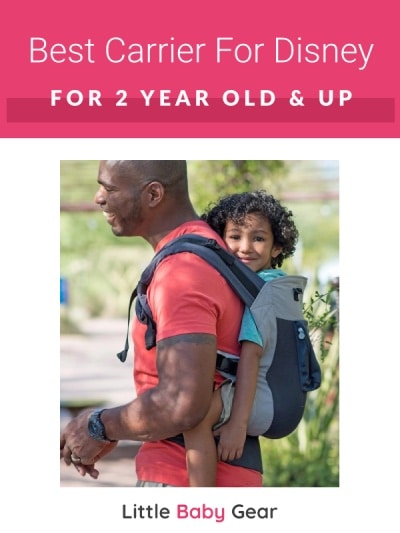 If you're looking for the best carrier for a 3-year-old at Disney World the answer is: Lillebaby CarryOn. It has a high weight limit (a whopping 60 lbs!), so you can use this carrier for older kids, no problem. It's versatile, offering front, back and hip-carry positions.
However, it is only approved for babies from 25 to 60 pounds, so it is not suitable for newborns or young babies.
This toddler carrier allows your little one to see and enjoy their Disney trip, but if they start falling asleep, just pop them in the Lillebaby and you're still hands free!
This toddler carrier for Disney does great in hot and humid weather, which is why I prefer it over the Toddler Tula carrier. The Tula is a cute and comfortable carrier, but it is made of cotton and ends up being too warm in the Orlando weather.
I mention WildBird, specifically, because these high-quality slings are made from wonderful Belgian Linen, not cotton. Cotton isn't ideal for hot weather, but linen is breathable and doesn't retain moisture (i.e. sweat) like some other carriers.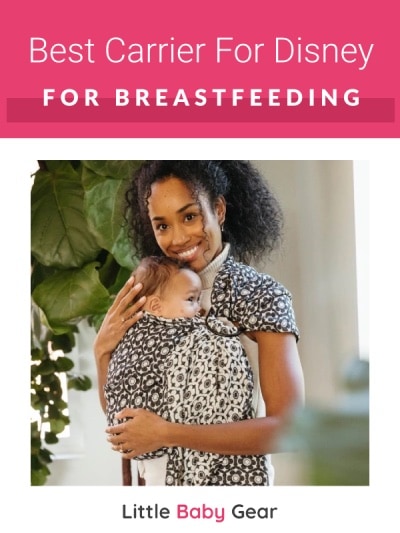 A ring sling is great because it's super easy to put baby in and be off. No need to deal with shoulder straps or buckles. This is great especially if you're only planning to babywear for rides.
Another awesome benefit is the ease of breastfeeding while baby wearing with a ring sling, which is ideal for newborns who need to nurse every few hours.
I would say ring sling carriers are okay for walking around with a younger babies, but they are not a good option for toddlers or older babies. Carrying a heavy child in a sling for hours would start to hurt your shoulders or generally become uncomfortable.
PRO TIP: If you're on smaller budget, make sure to check out WildBird Last Chance Sale here. Some colors are even 40% cheaper so don't miss out on your chance! You can save even more money if you use code: LITTLEWILDBIRD10 at checkout (extra 10% discount).
If you're thinking of the best baby carrier to use for your Disney vacation, keep in mind the age of your baby and how often you might need to breastfeed. However, if your kid is a toddler, carrying in a sling might not be the most comfortable choice.
>> Read my in-depth review of WildBird baby slings
If you love the idea of wraps, but are intimidated by actually tying a wrap, then please let me introduce the Baby K'tan.
If you can put on a t-shirt, then you can use this carrier!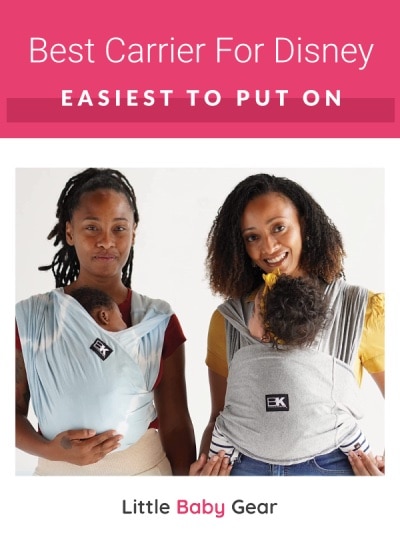 The Baby K'tan is a wrap, without the hassle of well, wrapping. It's a great option for Disney World because its easy to put on and take off anywhere, anytime – no mirror needed! It's better for younger babies, and can be used for wearing baby in inward or outward front-carry positions.
It's ideal for babies from newborn up to 9 or 10 months, but for older babies (or just heavier ones) you may want to consider a soft structured carrier, instead.
This Baby K'tan Breeze version, made from lightweight, breathable fabrics, is ideal for using at Disney or during the summer. This wrap is a great choice for carrying baby in various front-carry positions, as well as hip carry.
When your child has sufficient neck control, you can use the "Explorer" position to allow them to be outward-facing and catch the magic of Disney, while you stay hands-free, too.
Some drawbacks are that you cannot back-carry with the Baby K'tan, which means it's not suitable for toddlers or older children. Also, the wrap offers no sun protection, so you will need to bring a sun hat for your little one.
Another drawback is that this carrier is designed to fit YOU (your wrap should be roughly your t-shirt size). This means that both parents should be about the same size in order for baby to be held nice and tight in the wrap, it's a safety thing.
Best Baby Carrier For Disney Vacation – FAQ
You already know what are the best baby and toddler carriers for Disney. Now I will share a few tips regarding babywearing at Disney parks.
1. What Rides Can You Baby-Wear At Disney World?
You can babywear on almost all the rides at Disney World that do no have a height restriction. Think rides such as: It's a Small World, Adventures of Winnie the Pooh, Peter Pan's Flight, Jungle Cruise, and Frozen Ever After, just to name a few.
Only Front-Carry On Rides
Your baby must be in the front-carry position for any rides they are on. Using baby carriers in back carrying is not appropriate for these rides. Your child should also be facing you, not outward-facing. This is so that you can properly support and secure their neck in case of any swift or jerky movements on the ride.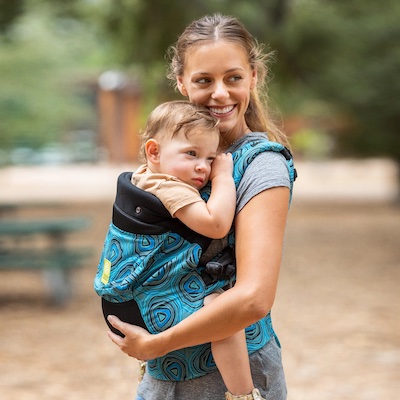 The same principle holds when riding some of Disney's trains and transportation: front-carry, inward or outward-facing are okay.
If you have any questions or concerns about if a ride is suitable for your baby, please ask a Disney cast member.
2. Can You Buy/Rent Baby Carrier At Disney?
Unfortunately, official Disney information only states that you can rent a stroller, not a carrier at Disney World. It doesn't appear that they sell baby carriers on location, either.
You could look at other baby equipment rental companies in the Orlando area, however, what you will generally find are baby cribs, strollers and high chairs – nothing like a baby carrier.
Purchasing your own carrier is probably your best bet – but no worries! You'll get plenty of use out of a quality carrier, well beyond Disney: for getting around the town or other travels. If you get a quality carrier, you can easily use it for older children, too!
3. What Are The Benefits Of Babywearing At Disney World?
Hands-Free & Comforting
I find that babywearing makes everything go smoother all around: you can breastfeed while you have baby in a carrier (like a ring sling), you can easily comfort a fussy child who may be feeling overwhelmed from all the exciting sights and big crowds.
Babywearing helps little ones fall asleep in new environments and helps you easily keep on eye on baby's general condition – if they are hot or hungry. And all of that while you still have your hands free!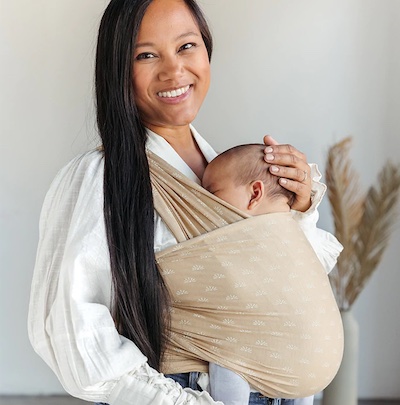 Rides
It's great to have baby in a carrier for the rides! Small children need to be held in your arms, or in a front carrier for many Disney World rides, which makes wraps and carriers ideal for all things Disney.
Personally, when I am in a busy place with a young baby, I like to have them close to me for comfort and my own peace of mind.
I love wraps for little babies who are just getting to know the world, and structured carriers with multiple positions for toddlers or older kid who want to see everything that is going on.
4. What Are The Disadvantages Of Babywearing At Disney?
While there are many benefits to babywearing, let's be real: you're going to do a lot of walking at Disney World/ Disneyland, and that can be hard if you're exclusively babywearing. Make sure to choose a carrier that is comfortable (for both you and baby – save your back and hips, mom!) to make your Disney trip more comfortable for everyone.
The biggest disadvantage to babywearing at Disney is that both Florida and California are hot and sunny. You need to make sure baby has enough protection. If you're using a wrap, then you will have to consider a sun hat.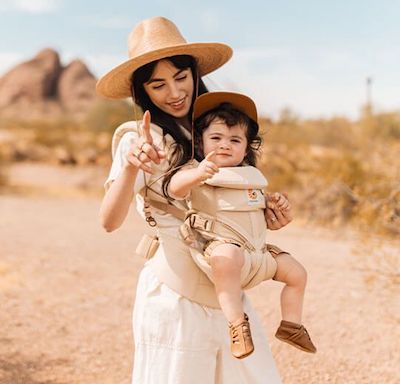 If you go with a stroller instead of a carrier, you can get a clip on fan to help baby stay cool. With a baby carrier it may be more difficult to attach it. What you can do instead is take frequent rest stops to pop into some air conditioned places to keep cool.
If you have a baby, then you will need to have diapers and wipes, too. Oh, and a change of clothes and food or drink (stay hydrated, folks). Which means you'll be carrying diaper bag or backpack of some sort – and remember about Florida being hot? Ahh… sweaty back or sweaty shoulders from carrying bags and babies.
>> Best baby carriers for summer & hot weather
5. Stroller Vs. Baby Carrier At Disney?
First of all, Disney World has rules about strollers, with restrictions for size of strollers allowed within the parks. Also, there are plenty of places (restaurants, waiting lines for rides) where you cannot take a stroller.
Also, crowds: Disney World is busy and it's a pain to push a stroller through lots of people. It is much more convenient to have your child in a wrap or carrier, instead.
However, strollers can be a great convenience, too. They provide a reclined, shaded place for a sleeping baby, and act as a vehicle to carry diapers and baby food instead of lugging diaper bags around everywhere.
If you have more than one child, it's a good idea to have both a carrier and a stroller to help you manage bathroom breaks and nap times.
Why Not Both?
So, I don't think the question should be a stroller versus a baby carrier – but rather both!
If your stroller is too big for Disney's requirements (some double strollers are out, and they banned stroller wagons, sorry moms of twins!), why not bring a carrier and rent a stroller from the park? This give you 'the best of both worlds' so to speak.
Since there are many 'stroller parking lots' throughout Disney, I don't think you'll regret having the ease and convenience of both a carrier and a stroller.
---
Related Articles:
>> Best Baby Carriers For Back Pain
>> Best Breastfeeding Baby Carriers
---
Sources of pictures:
Pictures of Ergobaby Omni 360 belong to Ergobaby Brand.
Pictures of Solly Wrap belong to Solly Baby Brand.
Pictures of WildBird Sling belong to WildBird Brand.
Pictures of Baby K'Tan Wrap belong to Baby K'tan Brand.
Pictures of Lillebaby CarryOn belong to Lillebaby Brand.
---
The purpose of this article is informative. It's not a substitute for professional medical advice or medical care. Remember: safety first! Consult your doctor/pediatrician in case of any doubts. The author of this article does not accept any responsibility for any liability, loss or risk, personal or otherwise, incurred as a consequence, directly or indirectly, from any information or advice contained here.
Your trust is really important to me: This article includes affiliate links to products that I think are useful for our readers. If you make a purchase through these links, I may earn a small commission at no extra cost to you. Your support helps me run this blog – thank you!