Best pumping bra for Willow & Elvie can make your pumping experience much easier, more comfortable, and truly hands-free. It really matters what kind of nursing bra you wear while pumping with your Willow, Elvie or other portable breast pumps!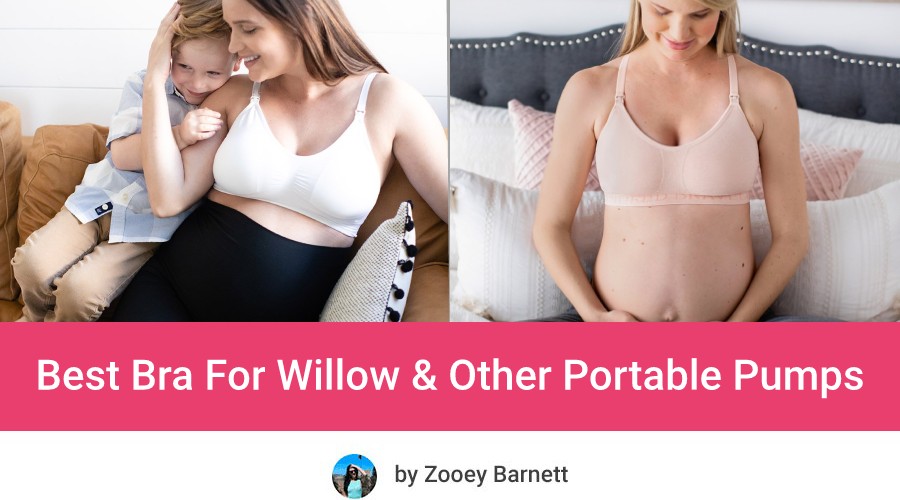 Here you will find moms' tips on how to pick the best bra for Willow Pump or Elvie, plus top 4 recommendations for every budget!
Now let's discuss a few things that you should look out for when searching for the best bra for Willow or Elvie.
This article is not a substitute for medical advice. It may contain affiliate links.
How Do You Know A Bra Is Right For Wearable Pump?
It should keep the pump snuggly and firmly against your breast (for example with Willow, the blue thumbpad on the Flanges should be securely pressed against your skin). You should pick a full-coverage bra that will support the pump at the top and bottom. The bra should cover the Willow or Elvie pump almost entirely.
It's best to get a bra with clip-down cups (nursing flaps) and made of a stretchy fabric. This will make putting the pump on and off much easier.
Once the pump is fastened inside the nursing bra, it should not shift as you move. If you feel like the Willow or Elvie is dropping or shifting when you move, try to tighten the straps or choose a different nursing bra.
Always opt for a nursing bra without underwires or padding.
Image
My Personal Choice For

Kindred Bravely Simply SublimeONLY TODAY - Selected colors 12% OFF!

Moms Top Choice: Best Pumping Bra To Wear All Day


Why you will love it:


Seamless wire-free design - nothing digs into your skin
Full coverage and great support even for large breasts
Ultra-comfy - perfect for everyday use
Quick access whenever you need to nurse or pump
Works perfect as maternity, pumping & nursing bra
Adjusts to changing size of your breasts
Current Sale: Get 3 bras & save $15 off -> Get your $15 discount here
4 Best Nursing Bra For Willow & Elvie Pumps
Considering all features mentioned above and other pumping moms recommendations, I picked the best 4 nursing bras for Willow and Elvie. Keep in mind that 3 of them don't have openings for regular electric pumps (like Medela or Spectra) but they work wonderful as pregnancy and maternity bras – for breastfeeding and using wearable pumps.
LittleBabyGear Verdict: Best Willow Pump Bra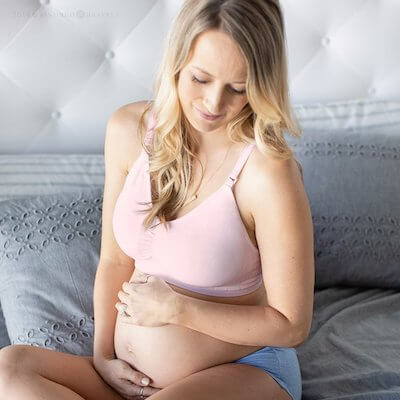 If you're opting for everyday comfort, this bra is the best choice for pumping with Willow. Moms who have been using Willow, recommend this bra most often. It's comfy and stretchy, it gives you full coverage and it looks pretty. Simply Sublime is available in multiple colors.
It's a wonderful option not only for Willow pump – it can be used during pregnancy, and it makes nursing easier too!
You can get this bra with regular back or Lace Racerback which has a cute lace (check it out here).
A few things that you should know about Kindred Bravely Simply Sublime:
It's made of 93% nylon + 7% spandex
Its stretchy fabric and clip-down cups make it easy to fit the Willow inside
It's available in S-XXL sizes – it fits 30B-44I cup sizes
There's removable padding which is an advantage because Willow recommends to use bra without padding
It offers moderate support therefore it works great for pregnant women, nursing and pumping moms.
I know that Willow has recently launched their first pumping bra, but I find it to be quite expensive. This breast pump itself is really pricey and if you buy their bra, the cost adds up. I think that Kindred Bravely is a great, more affordable alternative bra for Willow pumps.
PRO TIP: I always recommend getting 3 nursing/pumping bras so you could always have a spare one when the other two are in the laundry. And the good news is that right now you can save $15 OFF Kindred Bravely bras bundle! Discount applies to all colors. > Grab $15 discount for your bras here (no code needed) <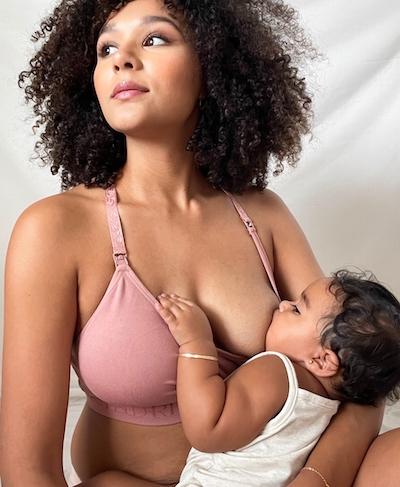 Kindred Bravely is overall my favorite pumping bra and one of the best nursing bras! It's convenient to wear with a portable pump, it's comfy, and doesn't digs into your skin or compresses your boobs!
PRO TIP: If you'd prefer a sports bra, I recommend you this sporty version of Kindred Bravely Sublime. It's super comfortable to wear with its pullover style and moisture-wicking, breathable fabric. Clip-down cups ensure quick access, whenever you need to pump or nurse. It's perfect for active mom who is working out to get back into shape after pregnancy. It will give you comfort and proper support during your workout.
>> Read my in-depth review of Willow Breast Pump
>> Can't decide which hands-free breast pump you should get? Here's my comparison: Willow vs Elvie vs Freemie
LittleBabyGear Verdict: Best Elvie Pump Bra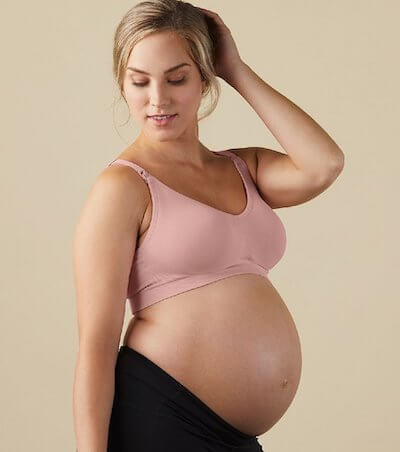 BRAVADO! DESIGNS bra is one of the most popular pregnancy, nursing and pumping bras. It's a medium-price option, available in many lovely color versions.
Some moms say that it's not that stretchy, that's why it is a better choice for Elvie than Willow (Elvie pumps are smaller).
Drop away cup design makes breastfeeding easier, it's also very convenient for putting the pump inside and taking it out.
The Body Silk bra by BRAVADO! DESIGNS is available in sizes 30-46 and fits A-G cups. Here you can check the sizing guide, see available colors and sales that are currently on.
It's comfy, ultra soft and provides good support for your breasts as they size changes during pregnancy and as you start EPing or breastfeeding.
It has molded cups (no underwire) that provide natural shape without compressing your breasts. There are also removable inserts. If you want to use this bra with Elvie (or Willow), it's best to remove the padding.
This pumping bra is made of 92% nylon + 8% spandex.
>> Find the best nursing bra for large breasts
LittleBabyGear Verdict: Best Inexpensive Bra For Willow & Elvie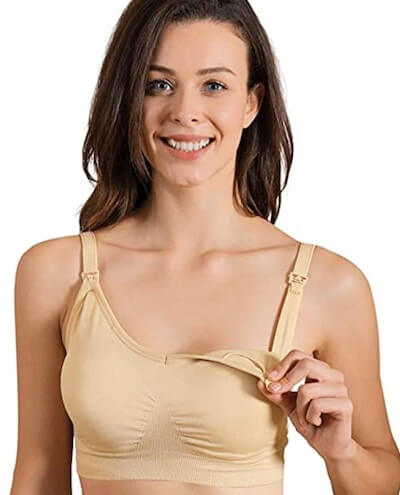 This is the best cheap option if you're looking for Willow pump bra or Elvie pump bra. iloveSIA costs much less than 2 other bras that I recommend above and it comes as a pack of 3!
If you're on tight budget and want a comfortable wireless bra for your wearable pump, iloveSIA is a wonderful choice.
It has all the features that a nursing and pumping bra should have: it's made of a stretchy fabric, there is a removable foam padding and the molded cups are wire-free. You have quick one-hand access for more convenient nursing or pumping thanks to clip-down cups.
The material is soft and strong at the same time, it offers great support. Just one thing to keep in mind – it may not be a good choice for moms with really large breasts, as it comes in sizes 30-42 and fits A-F (DDD) cups. If you need something bigger, Kindred Bravely bra comes in higher sizes.
LittleBabyGear Verdict: Best Luxury All-In-One Bra For Hands-Free Pumping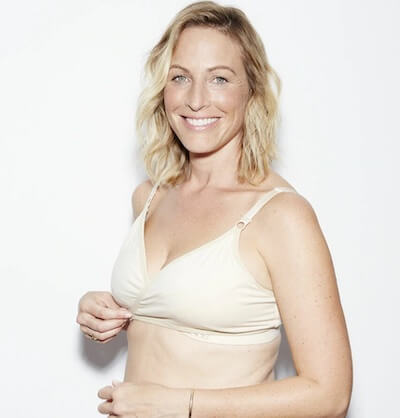 This maternity bra differs from my previous recommendations, because you can not only use it with wearable breast pumps like Willow or Elvie, but it's mainly designed to fit standard electric pumps like Medela, Spectra or Lansinoh. It has special hidden openings that allow you to connect the flanges to your nipples. Thanks to that, even if you're using electric breast pump with a cord you can still enjoy hands-free pumping!
Keep in mind that the Dairy Fairy bra doesn't feature clip-down cups, so it may be slightly less convenient to use with Elvie or Willow, but some moms still recommend it for this type of breast pump.
This maternity bra by Dairy Fairy has unique design with a butterfly clip that allows you to adjust the bra as your breasts are engorged or drained. You can easily tighten or loosen it to fit the perfect fit.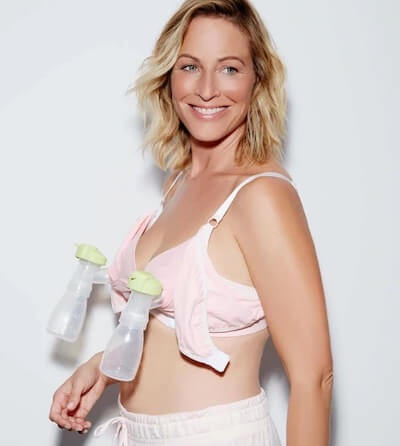 And when it's time to nurse or pump, simply open the cover panel. You can even nurse and pump simultaneously! Each cup is independent and you can nurse on one side and use the pump to express the milk from the other breast at the same time. This is actually one of the methods to help increase the milk production and milk volume.
As I mentioned above, this bra has unique design and actually has two layers made of a stretchy fabric. This ensures extra support and good fit for your changing breasts.
>> Best Sexy Maternity Lingerie – Find The Prettiest Bra For New Mom
Best Nursing Bra For Willow & Other Hands-Free Pumps In 2023 – FAQ
Do you have more questions about bras?
I've got you covered.
Here is more information and tips that will make your decision easier.
Do I Need A Special Bra For My Portable Breast Pump?
If you decide to use a portable breast pump, it's best to get a special maternity bra that will make pumping easier.
The good news is that this type of bra is something that will come in handy not only when you're using a breast pump, but you could wear it during pregnancy and as your everyday bra after the birth.
During this time the size of your breasts will change a few times (even during the day!) and the maternity bra (nursing bra) will adapt to that.
It will be much more comfortable to wear and more useful than a regular bra with underwire, padding, laces etc.
If you're using wearable breast pump, opt for a bra that has nursing flap or clip-down cups that will give you quick access to flanges and all controls. Avoid overly padded bras with underwire. Bra made of a stretchy fabric will adjust to the changing size of your breast during your breastfeeding journey (you can start using it during pregnancy!).
If you prefer an electric breast pump with a cord, choose a nursing bra that has openings for breast shields. It will make pumping hands-free! You can also use this type of bra when you're breastfeeding – nurse on one side and pump on the other breast.
Nursing and pumping bras allow you for multi-tasking – whether you're a new mom or have more kids to run around after, this will be a game changer!
What Is The Best Bra For Wearable Breast Pump?
The best nursing bra for Willow, Elvie and other wearable pumps will make pumping easier and more comfortable. It should give you quick access to your breasts and nipples, there should be a nursing flap or clip-down cups that you can easily open with one hand. The best bra for wearable pump gives you easy access to all controls, whenever you need to adjust the pump.
With the best nursing bra for Willow and Elvie, your pumping experience will be truly hands-free.
The best hands-free pumping bras can be used as everyday bras. They keep pump flanges snuggly pressed to your breasts, so they don't shift. They are much more comfortable for using wearable pumps than regular bras with underwire.
Moreover, nursing and pumping bras usually have seamless, wire-free design and have an elastic fabric that adapt to your body – they have some room to expand or contract as your breast size changes throughout the day and your breastfeeding journey. Your breast will have a bit different size when they are fill and empty, they might be also engorged.
This type of bra will be much more convenient for you, not only for using a pump, but I'm sure you will love wearing it 24/7!
How To Choose The Best Bra For Willow Pump Or Elvie Pump?
There are a few things that you should keep in mind when searching for Willow Pump bra or Elvie Pump bra:
It's crucial to choose the right bra size. Most of pregnancy and maternity bras are made from stretchy materials, which ensure they will adjust to the changing size of your breasts during the pregnancy and breastfeeding/pumping journey. Keep in mind that nursing and pumping bras have different sizes across all brands, therefore make sure to measure before you decide to buy it! Measure under the bust and across the fullest part of the bust (when your breasts are full) and compare it with the sizing chart of the brand you want to choose.
If you're looking for pumping bra for your wearable breast pump, it's important to make sure that the bra will fit the pump (e.g. it should be stretchy enough to fit the flanges). Willow pump is a bit bigger than Elvie, therefore for this pump you should pick a bra that is more elastic. The bra should hold the pump firmly so that it's not shifting as you move.
For the portable breast pumps, it's best to get a full-coverage bra that will cover the flanges almost entirely.
Pick a bra with nursing flap or removable (clip-down) cups that will give you quick access to your nipples and allow to connect the pump without any hassle. You should be able to open the cups with one hand and have easy access to the control panel on the pump.
Avoid bras with underwire or overly padded, they won't be comfortable to wear with a hands-free pump like Willow or Elvie. Pick a pumping bra with removable padding and wire-free.
The best pumping/nursing bras are made from stretchy, elastic fabrics that offer proper support and comfort at the same time. Besides, elastic fabric ensures that the bra adapts to the changing size of your bust throughout the day and along the maternity journey. Breathable fabric will be a huge bonus too.
The bra should not only make the pumping sessions easier, but it should be also comfortable to wear in general. Flexible band under the bust, adjustable straps, seamless design – all of this will provide you with everyday comfort.
---
The purpose of this article is informative and entertaining. It's not a substitute for medical consultation or medical care. Remember: safety first! The author of this article does not accept any responsibility for any liability, loss or risk, personal or otherwise, incurred as a consequence, directly or indirectly, from any information or advice contained here. This article contains affiliate links which means that if you make a purchase through my links, I may get a small commission at no extra cost to you. This helps me to run this blog – thank you!
Source of pictures:
Picture at the top of the article was created with photos that belong to Kindred Bravely. All pictures of Kindred Bravely bras belong to Kindred Bravely. Source: https://www.kindredbravely.com/
Picture of BRAVADO! DESIGNS Bra belongs to BRAVADO! DESIGNS. Source: https://bravadodesigns.com/
Picture of iloveSIA bra belongs to iloveSIA. Source: https://www.ilovesia.com/
Pictures of The Dairy Fairy Arden bra belong to The Dairy Fairy. Source: https://shop.thedairyfairy.com/