Your nursing bras look boring and you want to changed them for sexy maternity lingerie? Every mama deserves to feel pretty. Here you'll find the best sexy bras for pregnant and nursing mamas that you will LIKE TO WEAR!
This article is not a substitute for medical advice. It contains affiliate links.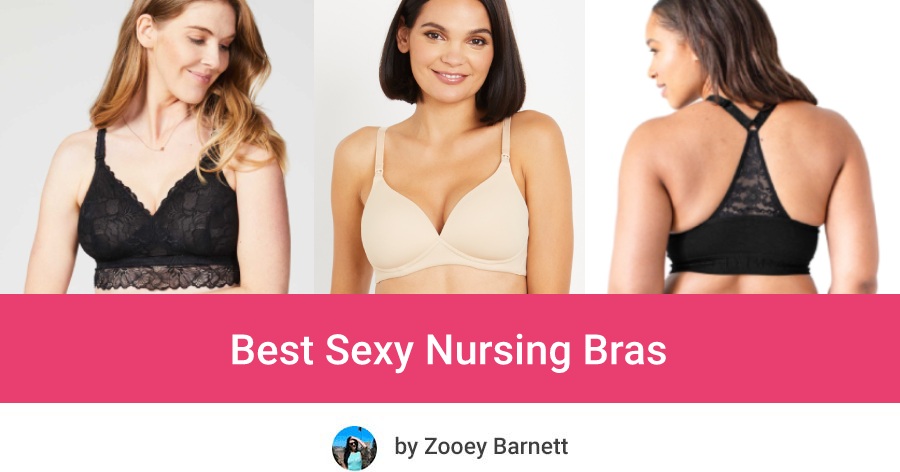 Maternity bras have lots of advantages and are much more comfortable for pregnant and nursing mothers than regular bras. They are designed to keep mom's breasts comfy and supported throughout the day. But most of them have rather simple design and look pretty… boring.
Not all women like the sporty look of maternity underwear.
Thankfully, if you want to add some style to your maternity lingerie, you have a wide choice of sexy nursing bras! They will provide you with the comfort and support you need during pregnancy, postpartum and breastfeeding, and make you feel pretty and sexy every single day. Because you are a pretty and sexy mama!
Image
My Personal Choice For

Kindred Bravely Simply Sublime Racerback BraGet 2 bras & save 10%!

Moms Top Choice: Best Sexy Nursing Bra


Why you will love it:


It has pretty lacy racerback
Seamless wire-free design - nothing digs into your skin (no pressure on ducts!)
Quick breastfeeding access
Ultra-comfy and buttery soft
Moderate support - you can use it during and after pregnancy
Sexy Maternity Lingerie That Moms Love – 5 Best Sexy Nursing Bras
Here are moms' favorite sexy nursing bras that are comfortable, supportive and look pretty at the same time. Whether you're pregnant or breastfeeding, you have the right to feel sexy everyday!
Whether you're a pregnant lady or already a nursing mama, you will love this sexy nursing bra by Kindred Bravely. It offers ultimate comfort and support that you need during pregnancy, postpartum and breastfeeding journey, plus it has cute feminine lace at the back to make you feel pretty.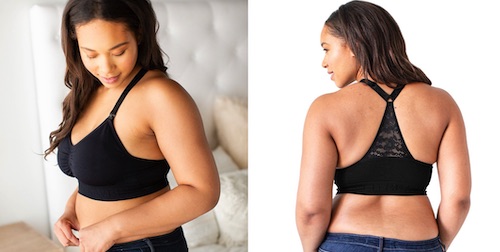 This maternity bra has seamless design with molded cups that provide good separation. No more mono-boob! Inner side sling offers extra lift and prevents your boobs from moving from side to side. With clip-down cups nursing is much more convenient, as you always have quick and easy access to your breasts.
It doesn't have underwires, but it's still very supportive thanks to wide elastic rib band and knitted stitches (exactly where the wire would be).
Thanks to wire-free design and stretchy fabric Kindred Bravely bra doesn't squeeze your breasts or compress milk ducts. It's made from nylon and spandex blend which makes it elastic. The bra adjusts to your changing body – it has room for growth and expands and contracts to accommodate your fluctuating bust.
PRO TIP: Mamas often pair this sexy nursing bra with these full-coverage panties. They are made from stretchy fabric so there's lots of room for pads, and there's cute wide lace that sits above your waist that won't rub your skin or dig in.
The adjustable shoulder straps don't fall down and thanks to racerback design, this nursing bra provides even weight distribution and relieves the pressure from your neck and back. If you suffer from back pain or have large breasts, Simply Sublime bras will be very comfortable for you.
There are no uncomfortable hooks that would dig in – this nursing bra has pullover style. It's so comfy that some moms even sleep in it!
Kindred Bravely sexy nursing bra has also removable padding – you can slide it in whenever you need more discretion or extra shape and lift.
PRO TIP: Kindred Bravely offers awesome discounts for mamas who want to buy more bras! 2 bras = 10% OFF, 3 bras = 15% OFF, 4 bras = 20% OFF! Grab your discount here.
Overall, moms love this bra and rave about how comfortable, soft, supportive and pretty it is. With this flirty lace it will make you feel sexy everyday.
pros
Cons

What you will love about this bra

---

+ Racerback provides good back support, plus the shoulder strap don't slip

+ Soft and stretchy material that expands when you breasts grow

+ No wires or hooks that would dig in or irritate your skin

+ Many moms say it's the most comfortable maternity-nursing bra ever

+ Supportive enough for everyday activities

+ Feels secure without being restrictive

+ Moderate lift, good separation

+ No squeezing - moms who had problems with clogged ducts recommend this nursing bra

+ Designed for all body types - fits cup sizes B-I and band sizes 30-44

+ Cute, romantic lace at the back

What to keep in mind

---

- Moms recommend sizing up
>> Are you using wearable breast pump? Here are the best nursing bras for Willow, Elvie and other hands-free pumps.
This is probably the best sexy nursing bra ever! Whether you're pregnant of breastfeeding, you don't have to give up your style. All mamas deserve this cute lace bralette.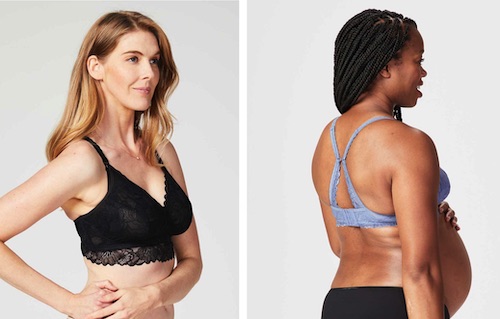 It's perfect for date night, wedding, or everyday – when you want to feel pretty and comfy at the same time!
This sexy nursing bra is wireless so there's no jabbing in. It offers light to moderate support, and doesn't compress your breasts or milk ducts. The cups are molded and provide good separation, lift and full coverage.
There's also inner side sling that keeps your boobs from moving from left to right, and offers extra lift and shape.
The clip-down cups are crafted with sexy, stretchy french lace. You can easily unclip the cups when it's time for nursing. Inside the cups there's microfibre mesh lining, which stretches to accommodate your changing breasts.
Pretty lace underband is also elastic so it doesn't dig into your skin. There are also 6 adjustable hook and eye closures. Thanks to that, this bra will keep you comfy and supported from pregnancy through postpartum and nursing.
Shoulder straps are also finished with a lace and there's j-hook option which also looks really pretty.
If you're looking for sexy maternity lingerie – this is one of the best options. With Cake Maternity Bralette you don't have to compromise between comfort, support and stunning look!
pros
Cons

What you will love about this bra

---

+ Probably the sexiest maternity bra ever

+ Crafted with stunning stretchy lace

+ J-hook option allows for racerback

+ Wire-free, yet supportive enough for everyday errands

+ Drop-down cups make nursing a breeze

+ Elastic cups adjust to your growing breasts

+ Stretchy underband with 6 adjustments at the back easily accommodate ribcage expansion

What to keep in mind

---

- It's not designed for plus-size moms. It only fits band sizes 32-38 (and cup sizes B-G)

- This bra is hand-wash only
>> Looking for the maternity bra for large bust? Here are the best and most supportive nursing bras for large boobs.
This bra will definitely add feminine touch to your maternity underwear!
It has tons of positive online reviews and according to many moms it's SO BEAUTIFUL! It's crafted with pretty lace and the quality is great, especially for the price. This is one of the best inexpensive sexy nursing bras out there.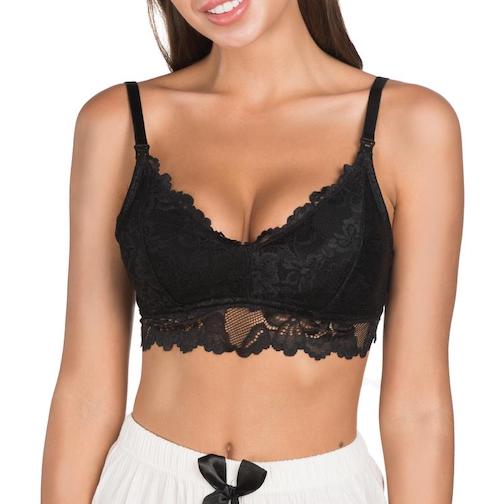 It's perfect for special occasions, as well as everyday. It will make you feel comfy and pretty, no matter if you wear it under a T-shirt, dress or maternity top! It's so nice to have such a cute and sexy nursing bra to wear while pregnant or breastfeeding.
It has soft cups without padding – but there are openings that allow you to slide nursing pads in, whenever you need more shape, discretion or prevent leaking.
This nursing bra is wireless, which means nothing pokes or rubs your skin.
The fabric is really soft and elastic so it adjusts to your breasts as they change their size during and after pregnancy (and throughout the day). In the back there are hook and eye fasteners with 4 adjustments so you could find the perfect fit as your ribcage expands.
According to moms the lace feels really soft and doesn't irritate skin.
Because there's no padding or underwires, this maternity bra provides light support – enough to make you feel comfortable as you go about your day, lounge, nap, or play with your baby.
The cups have clasps that give you quick access to your boobs when it's time for nursing. Although it's fairly easy to unclip the cups, you will probably need both hands to do this.
This pretty nursing bra fits cup sizes A-E and band sizes 30-38. According to moms it's best for small or medium bust. For larger breasts the coverage and support may not be sufficient.
pros
Cons

What you will love about this bra

---

+ It's both functional and stylish - perfect alternative to other "boring" nursing bras

+ The lace makes it look sexy and pretty

+ Fabric is soft and stretchy - it doesn't irritate skin and expands when your breasts fill and get bigger

+ Comfortable to wear all day long

+ With clip-down cups, nursing and pumping is really easy

+ Very good quality, especially for this price

+ Inexpensive - good option for moms on tight budget

What to keep in mind

---

- This bra is unpadded, wire-free and quite thin, therefore it offers only light support

- The cups are made from lightweight and thin fabric, but they are not molded. This means they highlight your natural figure

- They provide good separation (no mono-boob), but they won't cover your breasts fully. Momcozy sexy nursing bra will lift your bust only a little bit
Lots of moms say that these are the best nursing bras ever. They are soft, comfortable, supportive, and look so pretty. Low price is the cherry on top! These are probably the cheapest sexy nursing bras you can get.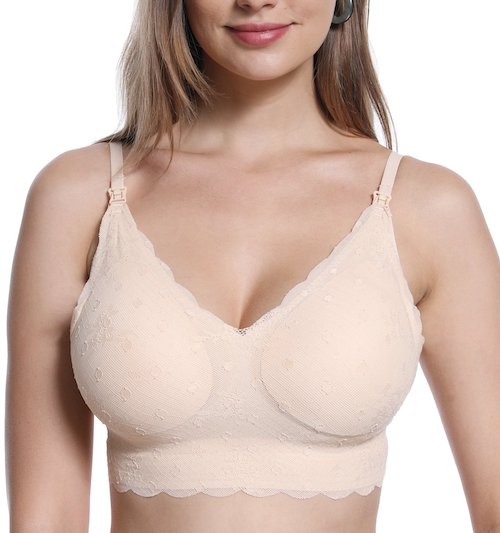 What pregnant and breastfeeding mamas love about this bra, is how cute it looks. It's so much different from regular "boring" maternity bras! Finally, mamas can feel pretty and sexy while wearing a nursing bra.
What's more, it gives good support, but it's not tight, so it doesn't make you feel like you're strapped in. The fabric is really soft and comfy – some moms even sleep in this bra!
>> Find the best sleep pregnancy & nursing bra
The cups provide full coverage, shape and separation (it's very important especially if you have large breasts). Even though this bra is wire-free, it offers good support and lift, it's almost like a push-up maternity bra!
The pads inside the cups are made from latex which makes them ultra soft and comfy. This material bounces and molds to the shape of your breasts. What's more, it doesn't wrinkle even if you wash the bra frequently.
What's mamas also love about these inexpensive pretty nursing bras is the flexible fabric – the rib band and the cups easily expand and contract to adjust to your unique shape and size.
The underband is 4 inch wide and it provides moderate support – it's enough for when you're back to work or run daily errands around the house. Because the band is extra wide, it covers back fat and side-boob fat really well.
In the back there are hook and eye fasteners with 4 width adjustments. Moreover, this maternity bra comes with additional extender in case you need more sizing options.
This cute nursing bra was designed with breastfeeding mama's comfort in mind. The cups have one-hand clasps for easy nursing access.
pros
Cons

What you will love about this bra

---

+ Beautiful lace that will make you feel sexy

+ Full coverage, moderate support and lift - great for daily activities

+ Soft and comfy fabric

+ Elastic rib band and flexible cups that adjust to your unique shape

+ It makes breastfeeding more convenient thanks to one-hand clip-down cups

+ The cups remain their shape even after frequent washing

+ It's pretty AND works really well (it's supportive and ensures quick nursing access)

+ Cheap

What to keep in mind

---

- It only fits cup sizes A-E and band size 30-38
Even though this is not the sexiest maternity bra, I decided to include it in my ranking. It has simple design, without any lace, but it does look beautiful, and it's so much prettier than standard sporty nursing bras!
Besides, it has all the features that you expect from maternity bra for your own comfort, convenience and support.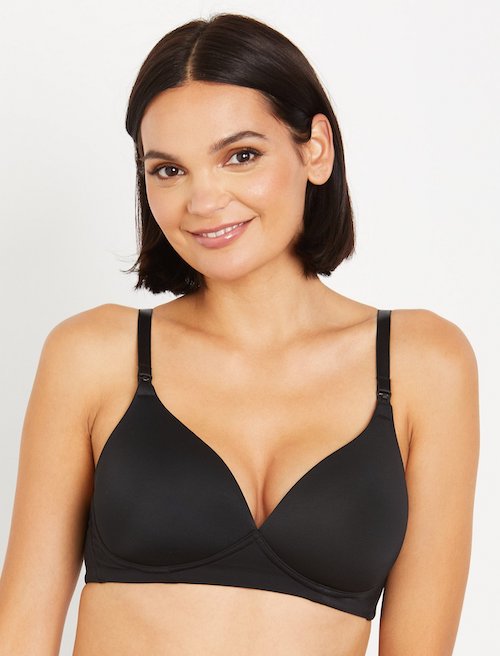 It has molded cups with reinforced stitches, exactly where the underwire would be. Thanks to this design, Motherhood Maternity Bra provides excellent support and lift. No more sagging boobs! It keeps your breasts separated and the inner side sling prevents them from moving from side to side.
The cups provide moderate coverage. Each one has a clasp for quick nursing access. It's pretty easy to unclip the cup with one hand.
The band has 4 width adjustments at the back so you could fit a good fit as your ribcage expands. Non-slip shoulder straps are also easily adjustable.
It fits cups size B-G and band size 32-46.
pros
Cons

What you will love about this bra

---

+ According to moms it's extremely comfy and feel soft

+ Provides enough support for daily activities

+ Simple, but pretty design

+ There's little padding that provides extra shape and discretion

+ It doesn't have uncomfortable underwire that would live imprints on your ribcage

+ It holds boobs really well for a wireless pregnancy bra (no saggy boobs)

+ Cups are easy to take off when you need to nurse

+ Comfortable to use with wearable breast pumps like Willow

What to keep in mind

---

- Some moms who have bought these bras recommend getting bigger size
Can I Wear Push Up Bra While Pregnant? Is It Okay To Wear Push Up Bras During Breastfeeding?
There is no medical evidence that underwired push up bras cause health problems or affect lactation. However, during pregnancy and breastfeeding breast change and grow and that's why most women find it uncomfortable to wear push up bras with underwire.
Besides, if you choose a bra that is too tight and squishes your breasts, and you wear it everyday for many hours, it may lead to breast swelling or clogged ducts. If you prefer push up bras over seamless wire-free bras, it's extremely important to choose the right size and make sure you feel comfortable in it.
There are two sexy push up bras for new mom that women recommend: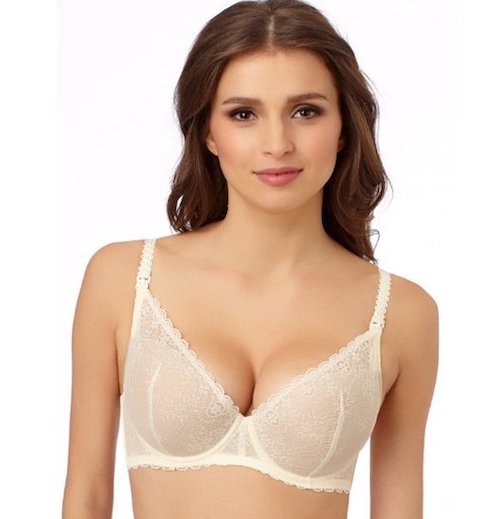 Le Mystere Sexy Mama differs from other best nursing bras in this ranking, because it has underwire. It gives you the support that you expect from a maternity bra, but it also looks incredibly sexy!
If you're looking for sexy maternity lingerie for special occasion like wedding or party, this may be a fantastic choice. But keep in mind that cups don't provide full coverage.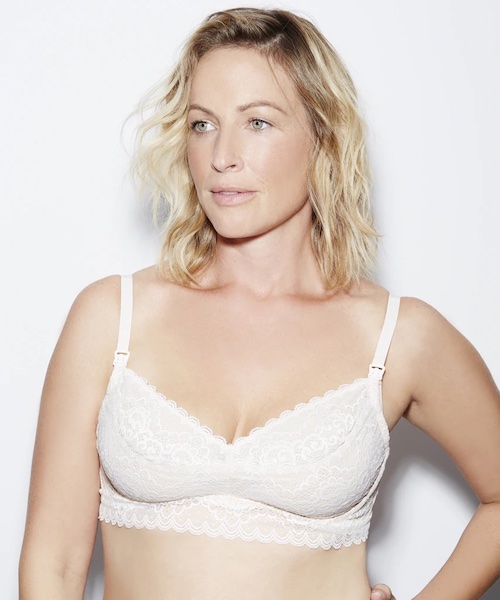 There are lots of things that mothers love about this bra: it has beautiful lacy underband and lacy drop-down cups (for easy nursing), hidden openings for hands-free pumping (so convenient!), it's soft, comfy and looks so sexy.
It also has underwire for extra support and lift. One thing to keep in mind: the cups don't fully cover the breasts, especially if you have bigger bust.
Overall, I would recommend Dairy Fairy and Le Mystere sexy maternity lingerie for special occasion. But I still think that wire-free bras are better choice for everyday wear for new mothers.
---
The purpose of this article is informative and entertaining. It's not a substitute for medical consultation or medical care. Remember: safety first! The author of this article does not accept any responsibility for any liability, loss or risk, personal or otherwise, incurred as a consequence, directly or indirectly, from any information or advice contained here.
Source of pictures:
Picture at the top of the article was created with photos that belong to Kindred Bravely, Cake Maternity and Motherhood Maternity brands.
All pictures of Kindred Bravely bra belong to Kindred Bravely brand. Source: https://www.kindredbravely.com/
Picture of Motherhood Maternity bra belong to Motherhood Maternity brand: https://www.motherhood.com/
Picture of Cake Maternity bra belongs to Cake Maternity brand. Source: https://www.cakematernity.com/
Picture of HOFISH bra belongs to HOFISH brand. Source: https://www.hofish.net/
Picture of Momcozy bra belongs to Momcozy brand. Source: https://momcozy.com/
Picture of Le Mystere bra belongs to Le Mystere brand. Source: https://lemystere.com/
Picture of Dairy Fairy bra belong to The Dairy Fairy brand. Source: https://shop.thedairyfairy.com/