When you're pregnant or breastfeeding, having the best and supportive sleep bra is crucial for your comfort and health. If you choose maternity sleep bra in a wrong size or style, it will not only make you feel uncomfortable, but may also have negative impact on your milk supply and milk flow!
Here you will find out how to pick the best maternity & nursing bras that you will love to wear to bed.
This article is not a substitute for medical advice. It contains affiliate links.
Having the right maternity sleep bra will make you feel more comfy at night and help you to get more rest. It will also have a huge impact on your breastfeeding success.
There are a few reasons to get a nighttime nursing bras. During the time when your body changes a lot and you need to adjust to the new role, they will make your life easier!
Image
My Personal Choice For

Kindred Bravely French Terry Racerback BraSelected colors 57% cheaper!

Moms Top Choice: Best Pregnancy & Nursing Sleep Bra


Why you will love it:


Seamless wire-free design - nothing digs into your skin (no pressure on ducts!)
Full coverage and quick access whenever you need to nurse or pump
Ultra-comfy and soft - perfect for sleep
Easily expands when your breasts fill over the night and get bigger - no squishing
Wide, non-slip shoulder straps
Light support - sufficient for nighttime
How To Pick The Best Sleeping Bra For New Mom
Here are a few things that you should keep in mind when hunting for the best maternity and nursing bra you can sleep in.
Softness – Choose a soft bra because your breasts and nipples will be tender a few days postpartum.
Elasticity – Thanks to elastic material, nursing bra will expand and contract as your body changes (your boobs will get larger over the night when they fill).
Comfort – choose a bra with seamless design, non-slip straps, pull-aside cup (it's useful if they have clips too), and definitely NO underwire.
Support – Choose a bra that feels secure, but doesn't give TOO much support. The bra shouldn't be too tight because it will compress milk ducts which may cause them to get blocked or swollen. You should feel comfy in a bra so when you nap or try to get as much sleep as possible at night, you basically forget you're wearing it!
Nighttime maternity bras will prevent leaking (which may happen quite often in the first few weeks) – Nursing pads are a must-have, they will soak up the milk and prevent from leakage. But you need something that will hold them in place – sleep bra will do the job perfectly while you get a good rest.
Maternity bra designed for nighttime will come in handy and provide you with the comfort and support you need. I recommend you to get two or three sleep bras so you could always have at least one at hand when the other needs to go in the wash.
5 Most Comfortable Pregnancy Sleep Bras & Best Nighttime Nursing Bras
Here are the best pregnancy and nursing sleep bras, recommended by moms:
In my opinion this is the best maternity sleep bra, whether you're pregnant, breastfeeding or pumping. It's ultra soft and SO COMFY – you'll want to wear it all night (and day) long!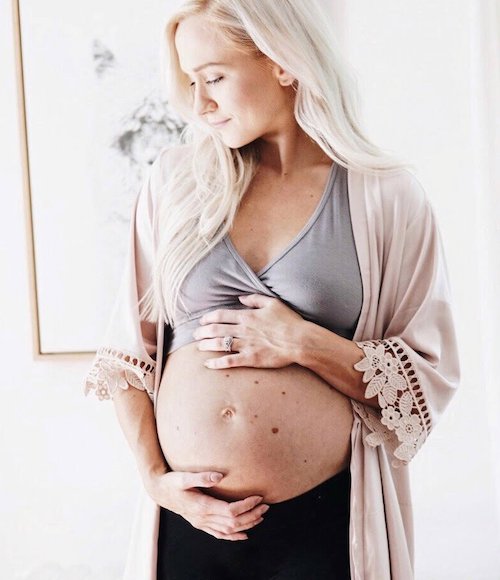 Selected colors now 57% OFF!
This pregnancy sleeping bra is made from 92% bamboo rayon and 8% spandex. Bamboo rayon is a moisture wicking fabric that makes the Kindred Bravely bra buttery soft, lightweight, breathable. On the other hand, spandex makes it stretchy.
Having elastic bra that grows with your bust is essential. You don't want your breasts to get squeezed (plugged ducts!), right? This maternity and nursing bra has room for your boobs to fill out after the birth when the milk comes in. It will also expand when your breasts gets swollen or filled with milk over the night.
There is no underwire so nothing digs into your skin or puts pressure on your ducts. You will also love the crossover design with pull-aside access for nursing or pumping. Whenever you need to breastfeed or use a breast pump you will have a quick and easy access to your breasts.
PRO TIP: If you have very sensitive skin or you're looking for extra back support, you should also consider

this Organic Cotton Nursing & Sleep Bra

by Kindred Bravely. According to some moms, it's the most comfortable nursing bra ever! It's made from lightweight, soft and delicate fabric, and thanks to wide back band and straps it prevents from backache.
Kindred Bravely sleep and nursing bras don't have padding, but there are double-layered cups and it's really easy to put the nursing pads in. During the first few weeks after delivery, before your milk supply establishes, you may leak a lot during the night, therefore nursing pads are a must-have.
With Kindred Bravely maternity bra, they will stay in place, so you don't have to worry about leaking and having extra laundry. By the way, Kindred Bravely offers awesome reusable nursing pads which are extremely absorbent and machine-washable (check them out).
What's more, this nursing sleep bra has extra wide shoulder straps and racerback design to ensure even weight distribution and prevent back pain.
Because there's no padding, underwires or knitted ribbed panels, the amount of support is light to moderate. Exactly what you need at night.
This maternity and nursing bra feels so comfortable – it's perfect for sleep, lounging, walking or light exercises like yoga.
What's really awesome about this maternity and nursing bra is its wide range of sizes designed for all body types. It fits cup sizes B-I and band sizes 28-42. Whether you're a skinny or plus-size mom with small or big bust, I'm sure you'll find the right size for you (check the sizing guide here).
My rate:
What other moms say about this sleeping bra
Moms rave about Kindred Bravely bra – just check out how many positive reviews it has! Some moms use it not only for nighttime, but wear it all day long.
It's gentle on sore nipples and really comfortable for sleeping. This nursing bra has helped some mamas with tendency to oversupply and clogged ducts, because it provides great support without putting pressure on bust.
Pregnant ladies and new moms love the full coverage this bra provides – boobs don't pop out of the bra when you sleep. And when you need to breastfeed at night, it ensures you have a quick access to your breasts.
It's also machine-washable – which is a big advantage.
If you're on tighter budget you will love this nursing sleep bra. Moms love that it's wireless, yet supportive. It feels comfortable to wear everyday and for the sleep time – whether you're pregnant or breastfeeding mama. With pull-aside nursing access it's so easy to breastfeed at night. Moreover, thanks to wrap design, this nursing bra properly supports your bust and prevents "mono-boob".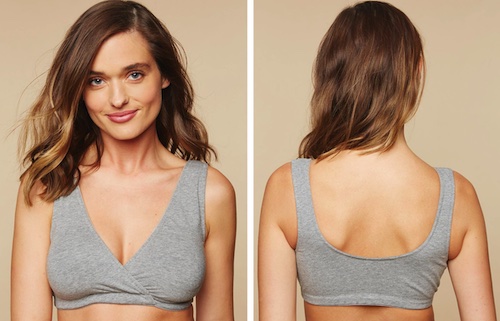 You pull it over like a T-shirt and thanks to wide shoulder straps and back band, it's easy on your back and ensures good weight distribution. There is no padding or underwire which means light support which is sufficient for sleeping or lounging. Besides, there's no pressure on your breasts and milk ducts.
Motherhood Maternity nursing bras are made from 95% cotton (which makes it soft and cozy) and 5% spandex (which makes it elastic). When your breasts get fill and bigger during the night, this stretchy bra expands – it doesn't dig in, hurt, or get tight, and it doesn't squish your bust. I've heard that some moms have bought it in the first trimester, and used it throughout the pregnancy and breastfeeding journey.
Overall, I recommend this maternity and nursing bra because it's comfy, soft, wire-free, supportive and really inexpensive. It's about half the price of Kindred Bravely bra! Besides, it feels so comfortable to wear and grows with your bust – it can be the only pregnancy and nursing bra you will need!
What other moms say about this sleeping bra
Pregnant ladies and new moms say that it's so comfortable to wear to bed and helps them to get more rest. With nursing pads it prevents leaks really well.
When your baby wakes up for a nighttime feed, this bra ensures quick access to breasts. It makes feeding at night really easy.
Moms also say that thanks to wider band at the back, it helps to relieve the pressure and decreases back pain. Some mamas say this bra is so comfortable that they recommend it even for pre-pregnancy!
What moms also like about this maternity bra is how cute it is to wear with a big baby bump. It's available in a few colors and patterns (BTW, my favorite is this Nude version).
There's one downside I have to mention tho. This bra is hand-wash only.
Although Simply Sublime works best for everyday wear, some moms also use it as a nighttime nursing bra, because it's so comfy.
If you're opting for more structured maternity and nursing bra that offers more support, or want to have one all-purpose bra, this is a perfect option.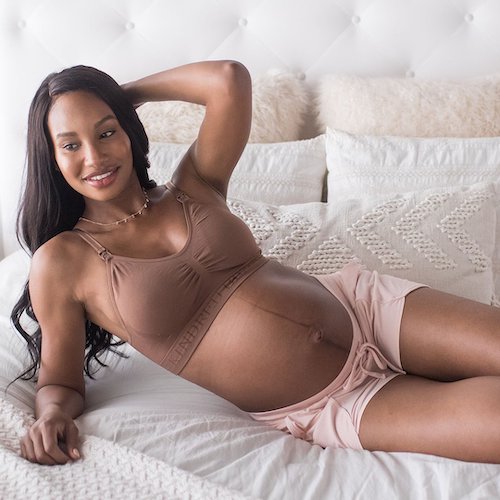 Simply Sublime Bra has seamless design with no underwire so nothing digs in and there are no pressure points. The cups are molded and prevent "mono-boob", offer moderate support and good lift – better than bras with wrap front design.
These are clip-down cups which means you always have a quick nursing access. You can unclip them with one hand – it's easy to do even in the dark, when you're half-awake.
There's also removable padding for extra support, wide elastic rib band with hook and eye closure at the back (with 3 width settings).
PRO TIP: If you're worried that hook and eye closure will dig into your skin when you're lying in bed, pick this sporty version of Simply Sublime bra. It's made from moisture wicking fabric, has pullover style and offers good back support.
Simply Sublime maternity bras are made from 93% nylon and 7% spandex, so they easily expand and contract, as your breasts change during and after pregnancy.
These maternity bras are designed with all body types in mind – they fit cup sizes B-I and band size 30-44. You can choose any cup size with any band size! This makes Simply Sublime the best sleep nursing bra for large breasts. Whether you're a plus size mom with large breasts or narrow-band mom with big bust, you'll find a comfortable fit.
What other moms say about this sleeping bra
Lots of moms say that Simply Sublime is THE most comfortable and best nursing and pumping bra – it works fantastic with wearable breast pumps like Willow or Elvie. If you're looking for a bra that you could wear throughout pregnancy and then while nursing, this is a fantastic choice. Mamas usually buy it in the third trimester and some of them didn't stop using it after breastfeeding!
Moms praise these nursing bras for being extremely functional, comfy and supportive. They have lots of stretch for growing or swollen breasts. Moreover, they are affordable and look really cute.
I went through customer reviews and lots of pregnant women and breastfeeding moms agree that Kindred Bravely Simply Sublime is worth every penny. It holds up really well, even it you wear it and wash it frequently.
Only a few moms complained that it's a bit hard to choose the right size. Make sure to check the sizing guide or contact customer service – they are extremely helpful!
>> Looking for a maternity bra that will fit wearable pump? Here are the best Willow Pump bras & Elvie Pump bras.
Cake Maternity is a good choice for moms who prefer nursing bras more structure, lift and support.
There are so many things that you are going to love about this maternity sleep bra. It has pullover style, but also features adjustable hook and eye closure for individual fit. Sports back provides extra support, so you could forget about back pain!
Cake Maternity Sleep Bra is made from 90% nylon and 10% elastane which ensure four-way stretch. It has seamless design with molded cups and reinforced centre for separation (no more "mono-boob"!).
Inside, there is a side sling that provides extra lift and prevents your breasts from moving from side to side. Knitted side panels mimic the support of a bra with wire. Forget about sagging boobs!
So even though this maternity bra is wire-free, it's just as supportive as a bra with underwires! But with Cake Maternity there's no jabbing in or pressure on your ducts.
There are also drop-down cups that you can unclip with one hand when it's time for feeding.
What other moms say about this sleeping bra
One of the advantages that moms mention is the quality – this maternity bra remains its shape even if you nurse often and wash it frequently.
Pregnant ladies and new moms like this bra for its supportiveness. It's soft, but feels secure. Top-style back makes Cake Maternity Bras an excellent choice for mothers with back pain. Thanks to elastic fabric it adjusts to your changing body during and after pregnancy and grows with your breasts.
It's comfortable to wear and lots of moms like to sleep in it (or even forget they slept in it!). Another advantage is the full coverage – if you don't like wrap style nursing bras and prefer bras that cover your breasts fully, you will like Cake Maternity Bras.
Some moms complain about the shoulder straps – which are a bit narrow as for a pregnancy sleep bra. A few mamas also wish there was more padding for discretion. The good news is that you can easily put inserts or nursing pads inside the cups.
Overall, moms agree that Cake Maternity bras are comfortable to wear for everyday, soft and cozy for sleeping, and supportive enough for going out for a walk.
This maternity and nursing bra was designed with breastfeeding mamas in mind. It has a pull-aside design and clip-down cups. Whenever you need to nurse, you can simply slide your boob out of the cup or unclip the cup with one hand – whichever is more convenient for you.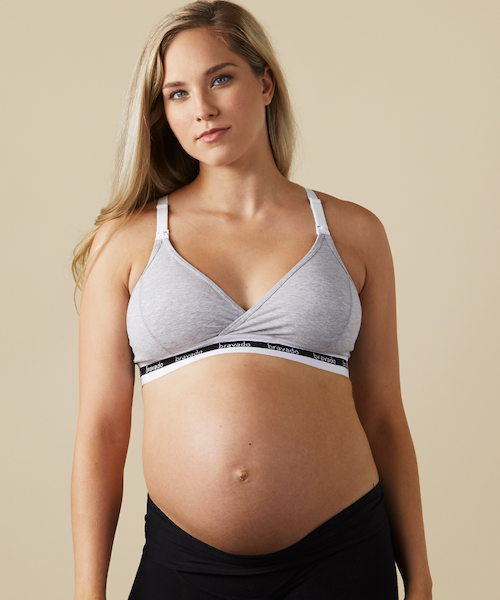 Because this bra has no padding and no underwire, and its fabric is really lightweight and thin, it offers light support – which is perfect for overnight use. For some moms it may not be sufficient for daily use, especially if they have heavier breasts.
BRAVADO! DESIGNS nursing bras are designed only for cup sizes B-D, but they fit skinny and plus-size moms with rib band 32-46.
These maternity bras are made from cotton-modal-spandex blend which makes them silky soft, cozy and breathable. This fabric is also moisture wicking, so it will keep your skin dry and comfortable. This also decreases the risk of skin rashes (no more under-boob rashes!). Spandex ensures these nursing bras expands and contract when your boobs change their size over the night and throughout the breastfeeding journey.
There is a wide under band made from elastic fabric so it adjusts to your changing body. This nursing sleep bra has racerback style, which gives it sporty look, but also provides extra support for your back. It's also much more comfortable to wear when you're in bed than having hook and eye closure digging into your skin.
If you're looking for pregnancy bra for third trimester or maternity and nursing bra for sleeping, BRAVADO! DESIGNS is a fantastic option. However, it may feel a bit less supportive for on-the-go. Nevertheless, some moms love to wear it all day long when they run daily errands outside the house.
What other moms say about this sleeping bra
When it comes to quality nursing bras, BRAVADO! DESIGNS doesn't disappoint. They are stretchy enough to accommodate growing breasts. Lots of mamas who own these pregnancy bras testify that they hold up really well and remain their elasticity, even after months of wearing and frequent washing.
Another advantage is that this nursing bra is super soft and comfy, and the rib band doesn't roll or move.
The clips on the cups are easy to operate with one hand which is really convenient for nighttime feeding.
Moms also mention that the customer service is great, responsive and really helpful when you're unsure about the size.
One of the complaints that moms have is that the fabric is quite thin, so if you have lumpy breast pads, it will be visible. But it's a minor issue for a bra that you wear to bed.
Overall majority of moms recommends this maternity bra for sleeping. It's a fantastic choice for pregnancy and postpartum.
Best Pregnancy Sleep Bras – FAQ
Your motherhood journey is about to begin but you're unsure whether you need a pregnancy sleep bra or if you should wear a bra to bed while nursing? Is it safe to sleep in a bra and do you really need one? Maybe it's better to go bra-less?
Here are some basic information about choosing the best nursing sleep bras.
>> Best Pumping Bra For Spectra To Wear During The Day & Night
Should I Wear A Bra To Sleep While Pregnant?
It depends on your personal preferences. You should choose what's more comfortable for you – if you have always slept bra-less, you don't have to buy maternity bra for sleeping. Don't force yourself to something that is uncomfortable for you!
Many moms-to-be invest in a pregnancy and nursing bras, both for everyday and sleeping, because they are comfy and provide proper support for growing breasts.
It is believed that sleeping in a bra helps to prevent sagging breasts. And although a bra is not a magical solution, it may help your breasts to remain their shape during and after pregnancy.
Of course you should choose comfortable pregnancy sleeping bras without underwires and made from stretchy material with room for growth as your boobs size changes a lot.
Lightweight sleep bra will provide light support, without jabbing into your skin or pressing ducts.
If you have larger breasts, a bra will decrease the pressure on your back and relieve backache.
>> Check out my full ranking of the best and supportive nursing bras for large breasts
Wearing a bra to sleep while pregnant and while nursing has one more big advantage. When the milk comes in, wearing a bra with breast pads to bed, will prevent leaking.
During the first few weeks before your supply establishes, you may leak a lot at night. Besides, your breasts will fill and bigger. Sleeping in a soft and stretchy nursing bra will be a game-changer. It will expand when your breasts get full and the inserts will soak escaping milk.
>> Best Maternity Nursing Pajamas & Nightgowns
What's The Best Bra To Wear While Pregnant?
In my opinion, the best bra to wear while pregnant is Kindred Bravely Simply Sublime, especially if you're looking for all-in-one maternity bra that you could wear everyday and sleep in it. It's extremely comfy, soft, stretchy, supportive and functional – you will be able to use it during pregnancy, postpartum and your entire breastfeeding journey.
>> Best Nursing Tanks For Breastfeeding Moms
---
The purpose of this article is informative and entertaining. It's not a substitute for medical consultation or medical care. Remember: safety first! The author of this article does not accept any responsibility for any liability, loss or risk, personal or otherwise, incurred as a consequence, directly or indirectly, from any information or advice contained here.
Source of pictures:
Picture at the top of the article was created with photos that belong to Kindred Bravely. All pictures of Kindred Bravely bras belong to Kindred Bravely brand. Source: https://www.kindredbravely.com/
Picture of BRAVADO! DESIGNS Bra belongs to BRAVADO! DESIGNS brand. Source: https://bravadodesigns.com/
Picture of Motherhood Maternity bra belong to Motherhood Maternity brand: https://www.motherhood.com/
Picture of Cake Maternity bra belongs to Cake Maternity brand. Source: https://www.cakematernity.com/