Solly Baby Wrap is one of the most popular and iconic baby wraps out there and has hundreds of positive reviews all over the Internet. I decided to check how does it compare to Lillebaby Wrap – the DragonFly. This baby wrap is not that famous, but it's worth checking because it has a very unique design.
Solly Baby Wrap vs Lillebaby Wrap – Differences
These two baby wraps differ a lot in terms of design, ease of tying, fabric, and weight limit. Keep on reading to find out which one's the best choice for your little one!
Design & Putting It On
This is the biggest difference between Solly Baby Wrap and Lillebaby DragonFly.
Solly comes as a long piece of fabric (5 meters long to be precise) that you need to wrap around your upper body and tie. Although it's fairly easy to learn how to tie this baby wrap, it does take some time each time you want to babywear. Besides, you need to be careful with those long loose ends not to drag them on the ground.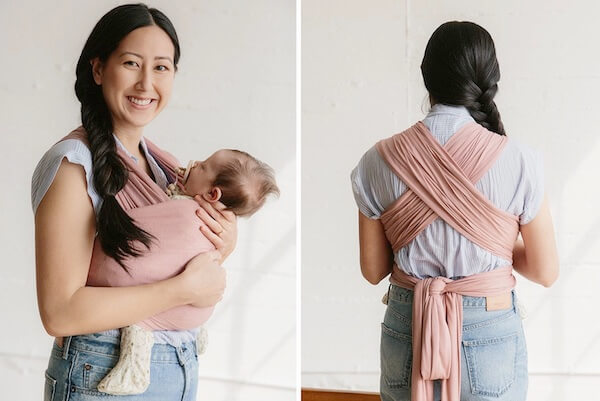 It's best to practice tying in front of the mirror first. I recommend you to watch Solly tutorials which are extremely helpful if you want to master the wrap babywearing.
>>Read my full review of Solly Wrap and learn more how to use it
On the other hand, Lillebaby DragonFly Wrap has very unique design. It's not like a traditional wrap and it requires much less tying. Some moms say that it's like a short cut method but the effect is the same! This wrap has a back panel with sewn-in straps so that it looks like a sleeveless top. You don't have to wrap it, you just slip it over your head like a T-shirt, and place the back panel on your back.
There are two long loose ends that go from the back to the front, that you need to tie around your waist. It's super simple. Once you tie the knot, you can place the baby in it. Once the baby is in, use the separate secure part (the horizontal one) for extra support – just wrap it around you and your little one and tie the knot under baby's bum.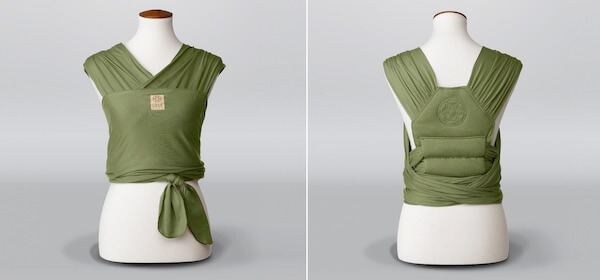 Lillebaby Wrap is much quicker to put on, and much, much easier. You only tie it around your waist, you don't have to form the shoulder strap, because they are already sewn-in. Because it's so simple to wear, it's perfect for parents who are new to babywearing. It gives you the comfort, security and snugness of a traditional wrap, but it's actually more user-friendly.
In this video you can check how simple the DragonFly is to put on:
Weight Distribution
Parents who own Solly Wrap agree that it ensures even weight distribution and it doesn't strain your back or shoulder. You are able to wear your baby for couple of hours a day with no back pain. Of course it's important to make sure you have the same amount of fabric on both sides of your body and the fabric is evenly spread on your back and shoulders.
With Lille DragonFly Wrap the weight distribution is even better and carrying your baby is even more comfortable. The back panel is additionally reinforced to give you extra back support. Besides, it ensures that you don't feel your baby's weight and you don't experience any back pain.
Moreover, the pre-tied shoulder straps also ensure even weight distribution on your shoulders therefore you are able to carry your baby for longer periods and don't feel any pressure on your joints.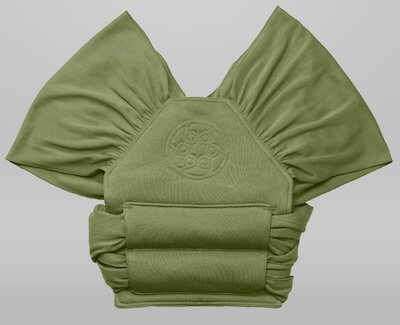 If you struggle with back pain or want to babywear your newborn baby for longer periods each day without your back aching, Lillebaby DragonFly is definitely worth consideration.
Fabrics
Solly Wrap is made from 100% Lenzing Modal fabric which is buttery-soft, breathable, fine and thin. It allows the air to circulate through and wicks moisture away, keeping you and your baby always dry and comfy.
Moreover, this type of fabric is naturally stretchy, but it's not excessively elastic. It's easy to get the right tightness for secure snuggles. It doesn't sag or loosen with time.
Lillebaby Wrap is made from Supima Cotton and Modal blend. Supima Cotton is stronger than traditional cotton – which ensures extra support for the baby and better durability. It gives you 5 pounds extra in the weight capacity.
Overall, Solly is the softest and most breathable wrap ever – perfect for summer. Parents who have tried different baby wraps, say that Solly's softness is unbeatable and it's the most gentle fabric – ideal for baby's delicate skin.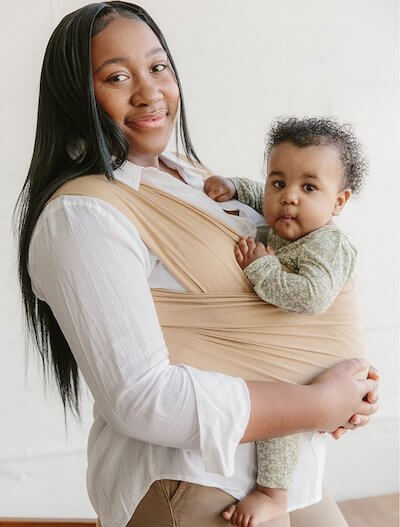 Lillebaby is also a fantastic choice for warm weather, because its fabric is airy. However, you should keep in mind that the extra supportive back panel is a bit thicker and warmer. On a positive note, Lille Wrap feels more sturdy and a bit less stretchy.
What's important Solly Wrap is machine-washable, while Lillebaby Dragonfly is hand-wash only.
Size
Solly is 5 meters long and it's a one-size-fits-all. It's comfy to wear for petite moms, as well as plus-size moms wearing size 22 (or even 24).
Even though Lillebaby Wrap has built-in back panel with sewn-in shoulder straps it also easily adjusts to different body types. It can be share with other caregivers who wear smaller or bigger size with no problems. The fabric that you need to tie around your waist is long enough to fit parents with wider frame too. The brand recommends DragonFly Wrap from size 0 thru 24.
>>WildBird or Solly Baby – Which One Is Best?
Weight Limit
Lillebaby DragonFly can be used from 8 to 30 lbs, while Solly Wrap is suitable from 8 to 25 lbs. The higher weight limit of Lillebaby Wrap is due to its design and fabric – cotton makes it a bit stronger, and the back panel is designed to supports your back when you carry heavier child.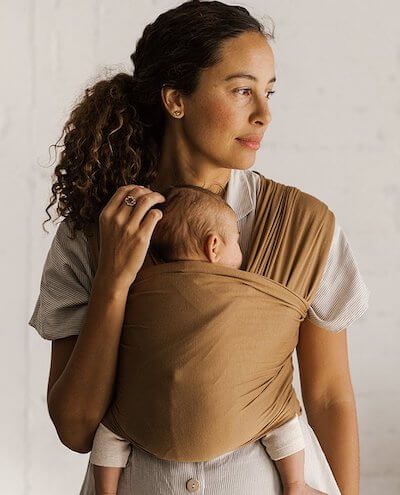 Most of parents use Solly Baby Wrap up to 9 months, Lillebaby DragonFly should serve you until baby's first birthday or even a bit longer.
>>My ranking of the best and safest baby carriers for newborns
Colors
Solly Wrap is super stylish and comes in 10+ beautiful designs. You can choose single-color version or a wrap with cute print (my favorite is Oat Dot).
Lillebaby Wrap comes in 3 colors: black, moss and vintage rose. Last time I checked the black one was sold out, but I recommend you to check on your own which colors are currently available. Moss is my favorite one!