With green parenting becoming more and more popular, the choice of eco-friendly and non-toxic disposable diapers is now really vast.
And finally parents don't have to spend a fortune on disposables that are safer for babies and our planet. You can get some of the eco-friendly disposable diapers at really affordable price.
Eco Pea Co, which I'll be reviewing in this article, is an example of reasonably priced biodegradable and natural diapers.
Find out if these bamboo diapers are the right choice for your little one!
IMPORTANT UPDATE: If you're looking for the best safe, toxin-free diapers, I recommend you Andy Pandy instead of Eco Pea Co. They are more absorbent and great even for overnight use! Andy Pandy diapers are biodegradable in about 87%, free of phthalates, fragrance and other nasty chemicals. You can check Andy Pandy here.
This article is not a substitute for medical advice. It may contain affiliate links.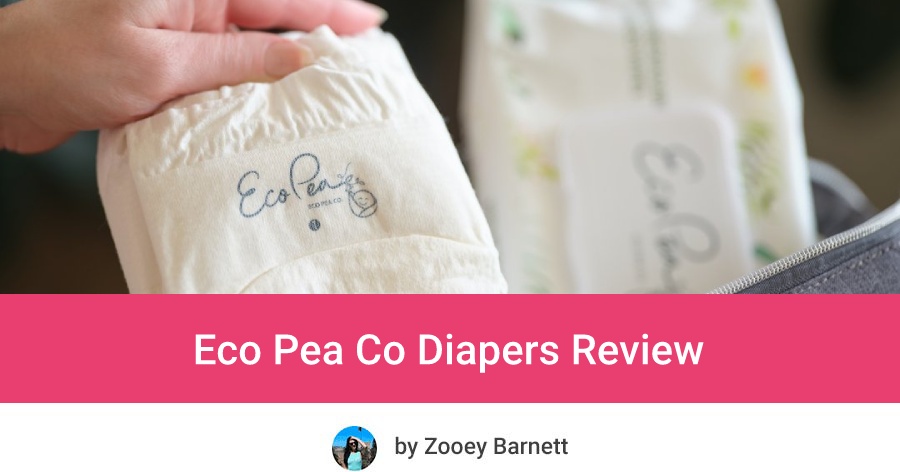 You might be looking into Eco Pea Co Diapers if:
You're looking for more eco-friendly disposable diapers as an alternative to cloth diapering.
Your little one has very sensitive skin or has eczema and you need more natural, non-toxic diapers.
Your baby has diaper rashes and you're looking for diapers with the most simple ingredients list.
These organic disposables seem to be a really good choice, but do they actually work? Are they absorbent? Are they biodegradable? Are they really gentle on baby's skin?
In my Eco Pea Co Review you'll find answers to these and many more questions!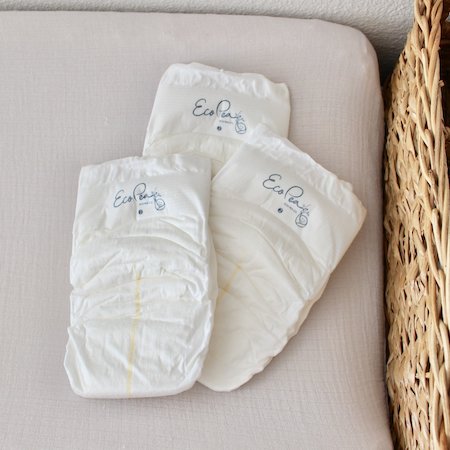 Eco Pea Co Diapers Review
Here's everything you need to know about these natural diapers.
Eco Pea Co Ingredients List – What's Inside This Diaper?
Eco Pea Co Diaper is made from a wood pulp, from sustainably harvested resources. The pulp is totally-chlorine-free (TCF) which means it has been bleached without the use of chlorine or its derivatives. That process doesn't generate dioxins, and right now it is the safest bleaching method.
Just like other highly-absorbent disposable diapers, Eco Pea Co uses Super Absorbent Polymer (SAP). This is what makes these diapers good at sucking the moisture. The absorbent is not organic, therefore this part won't degrade. SAP is believed to be safe for baby's skin and you can find it in ALL disposable diapers (in various amounts).
Lot's of so-called green disposable diapers use synthetic materials for top sheet and back sheet (the part of diaper that comes in direct contact with your baby's skin). Obviously it's not green or biodegradable, plus it's less breathable so it can lead to diaper rashes. What's important – Eco Pea Co doesn't use synthetic materials for the top and back sheet – instead, these layers are made from bamboo. This type of material is naturally breathable and hypoallergenic and odor resistant.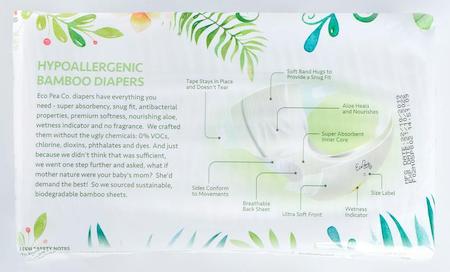 What I love about Eco Pea Co diapers is their clean ingredients list. These non-toxic diapers are totally chlorine-free, and don't contain hormone-disrupting phthalates. They are free of: latex, dioxins, dyes, heavy metals, alcohol any any know allergens. Moreover, Eco Pea Co diapers are fragrance-free and lotion-free.
These disposables are plain-white and have only brand logo and size label on the front. The brand uses water-based ink, which is safe for baby's skin as well as the environment. There's also natural scent due to the aloe ingredient.
The brand is really open about the ingredients they use in these diapers which I think is a huge advantage. You have the right to know what materials get in contact with your baby's privates!
It's noteworthy that these baby diapers are cruelty-free (they are not tested on animals), gluten-free and vegan.
Are These Diapers Organic?
Even though there's no such thing as fully organic disposable diapers (for example the SAP and the elastic snaps are not organic), I think we can call Eco Pea Co diapers organic. They use natural bamboo sheets, instead of synthetic materials which makes them highly-organic and highly-biodegradable.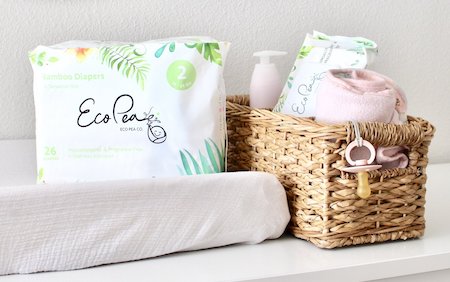 Are Eco Pea Diapers Biodegradable?
There's no such thing as 100% biodegradable diapers, but Eco Pea natural diapers decompose much quicker than regular nappies.
In fact, tests done by SGS, one of the biggest companies that test quality and safety of materials and products, confirm that Eco Pea Co diapers are biodegradable in over 85%! It's a fantastic result, and one of the highest among organic diapers.
Regular disposable nappies take about 500 years to decompose in the landfills, while Eco Pea Co degrade in half in about 2-3 months!
If you're looking for an alternative to cloth diapers, that would be better for the environment, Eco Pea Diapers are an amazing choice!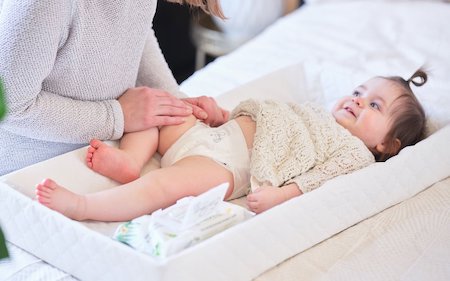 Does Eco Pea Co Work For Sensitive Skin?
Of course these disposable organic diapers have been dermatologically tested and they are proved to be hypoallergenic.
Because they are free of nasty chemicals and use organic bamboo instead of synthetic fabrics, they are perfect for sensitive skin.
Bamboo is naturally hypoallergenic and breathable – so it allows your baby's skin to breathe and prevents from skin rashes.
Lack of harmful chemicals means there are no skin irritants – which is extremely important if your little one has very sensitive skin.
I went through Eco Pea Co diapers reviews and it turned out that parents often choose these diapers for babies who are prone to skin allergies or have eczema. They are delicate on baby's skin and reduce the risk of skin irritation. Some parents say they have helped them to get rid of eczema and have soothe baby's irritated skin.
Moreover, these organic diapers feel ultra soft and they are not scratchy like many other green nappies.
>> Read More Reviews Written By Real Customers <<
Are Eco Pea Co Diapers Absorbent?
Parents often wonder whether organic diapers are efficient at sucking the liquid. The good news is that with Eco Pa Co you don't have to worry about leaks – these diapers are very absorbent!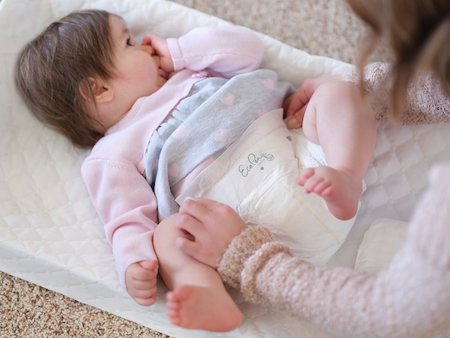 Some parents, who mix cloth diapering and biodegradable disposables, use Eco Pea Co as overnight diapers. The diaper might feel a bit damp in the morning, so you may need to change it right away, but it is absorbent and doesn't leak.
In Eco Pea Co diapers reviews other parents mention that these nappies are really efficient at preventing leakage and you can forget about diapers blowouts!
These disposables have a wetness indicator for parents' convenience.
Eco Pea Co – Sizing
Eco Pea Co diapers are available in 5 sizes:
Newborn: suitable up to 10 lbs
Size 1: 7-17 lbs
Size 2: 14-24 lbs
Size 3: 21-31 lbs
Size 4: 28-44 lbs
PRO TIP: Some parents say these nappies run big and recommend sizing down. It's best to check this sizing guide and follow the weight recommendation.
These diapers have elastic waist and leg openings so they offer flexible fit. They are designed to fit baby's bottom snuggly, but don't block the air circulation and don't block baby's movements as they crawl, scoot or walk.
According to majority of parents the snaps hold on really well and don't tear.
One parent mentioned that a few diapers in the package were missing the snaps, but this was just one review and I think it could be just one defective package.
What's noteworthy, Eco Pea Co also offers training diapers available in size 3 and 4. It's a great eco-friendly choice for bigger kids who are ready for potty training. You can check the training pants here.
Is The Packaging Biodegradable?
If you care about environmental impact of diapers, you are going to love the fact that Eco Pea diapers come in biodegradable packaging. Big plus!
Cheapest Option To Get Eco Pea Co Diapers
If you decide to get just one package, this will be the most expensive option. If you decide to choose diaper subscription plan (with delivery every 1, 2 or 3 months), you will save 20% on each package!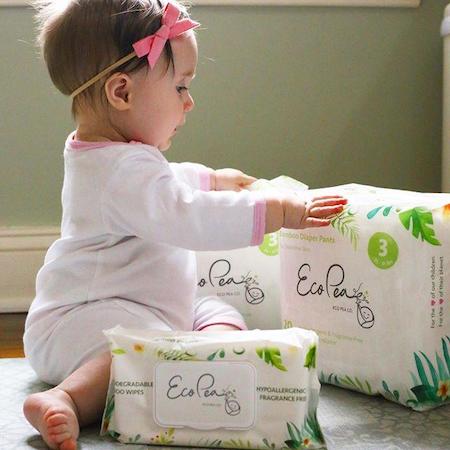 Lots of parents say that Eco Pea offers great amount of diapers for the price. The cost is similar to regular nappies! If you're looking for organic and biodegradable diapers, that don't cost a fortune, Eco Pea Co is definitely worth consideration.
PRO TIP: Lots of parents also rave about Eco Pea wipes – they are not too wet or too dry, just perfect! Besides, they are fully biodegradable and natural. You can also choose subscription for bundle of diapers and wipes and save 20%! Grab your discount here.
Eco Pea Co vs Other Diaper Brands
>> Read more about other best biodegradable disposable diapers that are toxin-free and natural
---
The purpose of this article is informative and entertaining. It's not a substitute for medical consultation or medical care. Remember: safety first! The author of this article does not accept any responsibility for any liability, loss or risk, personal or otherwise, incurred as a consequence, directly or indirectly, from any information or advice contained here.
All pictures belong to Eco Pea Co. Source: Eco Pea Co