In this article I present the best biodegradable diapers that are hypoallergenic and gentle on baby's skin. They are toxin-free and don't contain chlorine and other nasty chemicals, while still being very absorbent.
It turns out that there are baby diapers that are safe for babies, eco-friendly and efficient at preventing leaks and blowouts!
This article is not a substitute for medical advice. It may contain affiliate links.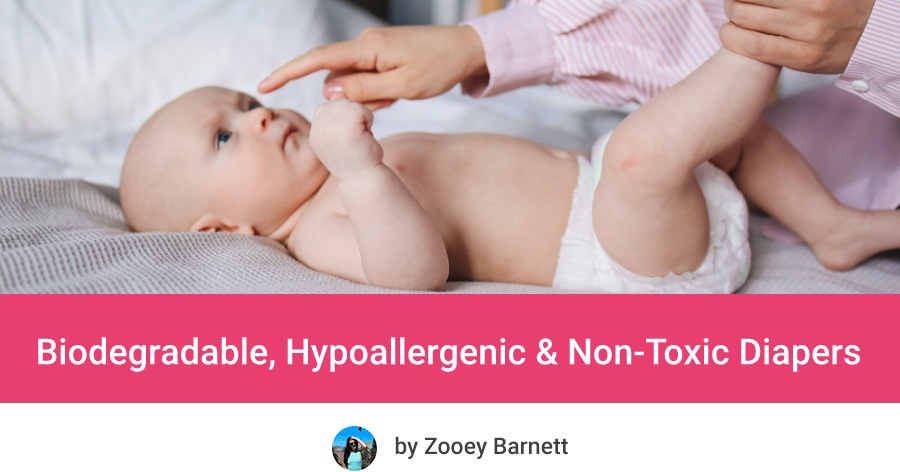 There are two major problems with "regular" baby diapers.
Many of them are not really toxin-free and can cause skin irritation or diaper rash – It turns out that many popular baby diapers contain chemicals like chlorine or fragrances that can trigger allergic reaction. Moreover some of these toxic chemicals used in regular diapers are related to asthma, hormonal problems, developmental delays or even cancer.
They are not eco-friendly or biodegradable – Regular diapers manufacture requires using violate chemicals that pollute our planet. Moreover, one child uses between 4500 and 7000 diapers before being potty trained (of course this is just an estimation). Studies show that it takes around 500 YEARS for diapers in the landfills to decompose, and during that process methane and other toxic gasses are created. Those number are crazy…
Thankfully diaper brands become more eco-conscious and worry not only about preventing leaks and blowouts, but also about the influence of diapers on our planet. It turns out that by creating diapers that are safer for the environment, they made them also safer for baby's skin!
Of course not all eco-friendly diapers are created equally and not all of them are truly organic or biodegradable. That's why I decided to do a huge research and share my findings with you. If you're looking for non-toxic and biodegradable diapers, I hope my list will help to narrow down your choice!
Best Organic & Biodegradable Diapers + Safest Non-Toxic Hypoallergenic Diapers
Scroll down to read detailed reviews
Diapers
LittleBabyGear Rating
Why We Love It
Eco Pea Co

(save up to 20% today)

LittleBabyGear Rating:
?????
Why We Love It: They are highly biodegradable (over 85%), free of nasty chemicals like harmful phthalates, latex, VOCs. They are fragrance-free, ultra-soft and perfect for sensitive skin.
Andy Pandy

(some sizes up to 26% OFF)

LittleBabyGear Rating:
?????
Why We Love It: These bamboo diapers are ~87% biodegradable, non-toxic and very absorbent. They work well even for overnight use. Affordable eco-friendly option.
Eco by Naty
LittleBabyGear Rating:
????
Why We Love It: In 55% made of bio-based and plant-based materials. They are hypoallergenic and breathable. No leaks or blowouts.
Dyper
LittleBabyGear Rating:
????
Why We Love It: These toxin-free diapers are commercially compostable. There's no fragrance or lotion. The fabric is soft, odorless and breathable. Besides, placing an order is super easy and convenient.
Hello Bello

(get $16 OFF 1 month supply)

LittleBabyGear Rating:
???
Why We Love It: Non-toxic & fairly inexpensive (bundle includes awesome gentle baby wipes, discounts and freebies). Dozens of cute prints. The packaging can be used for imaginative play.
Abby&Finn
LittleBabyGear Rating:
???
Why We Love It: 35-40% of its ingredients are biodegradable. There are many lovely prints to choose from. They are fairly cheap.
Bambo Nature
LittleBabyGear Rating:
???
Why We Love It: They are super soft, toxin-free and naturally hypoallergenic. These diapers don't contain phthalates. They are commercially compostable.
You may have already known that the most eco-friendly solution is cloth diapering. However, if the convenience of a single use diaper is not something you want to give up, choosing greener, biodegradable disposable diapers is better solution for the planet and for your baby's health.
You need to know that there is no such thing as 100% biodegradable disposable diaper with zero environmental impact. Even if it's made of organic materials (like bamboo), it do contain chemical absorbent which ensures high absorbency.
Even though this absorbent is considered to be safe and harmless for babies, it's not organic or natural and obviously not biodegradable. Some green diaper brands use less amount of the absorbent and replace it partially with plant-based alternatives (usually corn-based). You can now find single use eco-friendly diapers that are highly biodegradable (in 50-85%).
The best disposable diapers on my list are better for the environment and, thanks to simpler list of ingredients – safer for babies' skin. But some of them are "more green" or "more natural" than others.
I thoroughly checked each diaper in this ranking in terms of:
Natural & Organic Materials – All disposable diapers contain certain amount of non-organic absorbent, but some of them are more natural than others depending on the material that was used for the inner and outer layer. If the diaper is made of bamboo fibers I call it organic and natural. If it's made of synthetic material (for example polypropylene) – it's not an organic diaper.
Eco-Friendliness & Biodegradability – The more organic ingredients the diaper has, the more it is biodegradable. I have also checked whether the packaging is eco-friendly.
Lack Of Toxins – This makes the diaper not only better for the environment, but also safer for baby's sensitive skin. I checked if the diaper is chlorine-free and doesn't contain other harmful chemicals like: phthalates, TBT, dyes, latex, PVC, dioxins, heavy metals. Non-toxic diapers shouldn't contain any fragrances, lotion, alcohol or antioxidants. Scroll down to FAQ to read more.
Hypoallergenic – If the diaper is free of toxins and nasty chemicals it is most likely hypoallergenic. The shorter and simpler the list of ingredients, the safer the diaper is for skin. I also checked if the diaper was dermatologically tested and I went through dozens of customer reviews to see how each diaper works for babies with sensitive skin or skin problems like eczema.
The best eco-friendly and non-toxic disposable diapers in 2022 are:
1. Eco Pea Co Natural Bamboo Diapers Review
According to parents who have tried several eco-friendly diapers, Eco Pea Co offers the best and softest biodegradable diaper ever.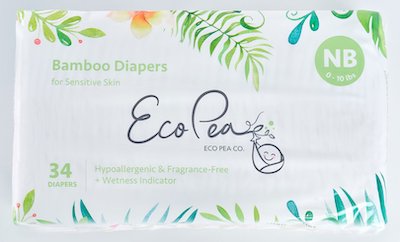 Check Eco Pea Co Diapers
In contrast to many other green diaper brands, Eco Pea Co doesn't use synthetic material for the inner or outer layer. Instead they use bamboo fibers which are naturally antibacterial, hypoallergenic, breathable and odor resistant.
Moreover, the bamboo is sustainably sourced and processed with no chemicals or harsh stuff. Besides, this material is organic, naturally biodegradable and compostable.
It's true that no disposable diaper is 100% biodegradable, but the good news is that organic materials used in Eco Pea Co nappies, make these diapers biodegradable in over 85%!
This result was confirmed by SGS, one of the biggest companies that test quality and safety of materials and products. In contrast to regular nappies that take 500 years to decompose, it takes 2-3 months for Eco Pea Co diapers to degrade in half.
If using cloth diapers doesn't suit your lifestyle, Eco Pea Co disposable diapers are a fantastic alternative with their low environmental impact.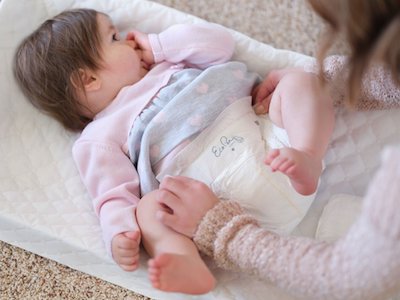 The wood pulp inside is made from sustainably harvested resources and it is TCF – totally chlorine free.
TCF means that the bleaching process doesn't use chlorine or its derivatives and doesn't generate dioxins. Instead, they use oxygen, peroxide or ozone-based bleaching systems which is right now the safest method for bleaching diapers. It's better for baby's bottom and for the environment.
These biodegradable diapers are often chosen for babies with very sensitive skin or eczema, because they are delicate and hypoallergenic. Eco Pea Co diapers ingredients list is pretty simple
These non-toxic diapers are totally chlorine-free, fragrance-free and latex-free. There are no phthalates, dioxins, dyes, heavy metals, alcohol, lotions or any known allergens.
However, keep in mind that they contain natural, pure aloe, which gives them subtle scent. There is a PH strip too.
PRO TIP: Parents also rave about Eco Pea Co wipes which are truly organic and 100% biodegradable. They are not too wet or too dry, just perfect. Don't forget to check these bamboo wipes too (available here)!
Eco Pea Co are plain-white, with brand logo and size label on the front. The good news is that the brand uses only water-based ink which is safe for the environment and baby's skin. Another advantage is the biodegradable packaging.
I wanted to find out what other parents think about these nappies so I checked Eco Pea Co reviews and it turned out that parents agree they are super soft, don't cause diaper rash, there are no blowouts, and leaks are very rare.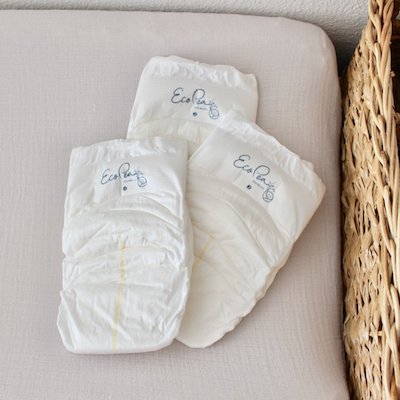 Some parents also use them as overnight diapers, but a few customers noticed they need to change the diaper first thing in the morning as it feels a bit heavy and damp. But majority of parents agree that they are extremely efficient at absorbing moisture.
The snaps hold on really well and thanks to flexible waist and leg opening there fit the baby snuggly but don't block their movements when they crawl, scoot or run around the house.
PRO TIP: Before getting these biodegradable diapers make sure to check the sizing guide here – some parents say they run big and recommend sizing down.
Another advantage that parents mention is the great amount of diapers in the box for the price (especially when we consider higher biodegradability and organic ingredients).
Would you like to learn more about these diapers? Read my detailed review of Eco Pea Co.
My rate:
2. Andy Pandy Diapers Review
Andy Pandy diapers are considered one of the best biodegradable bamboo single-use diapers, often chosen by eco-conscious parents.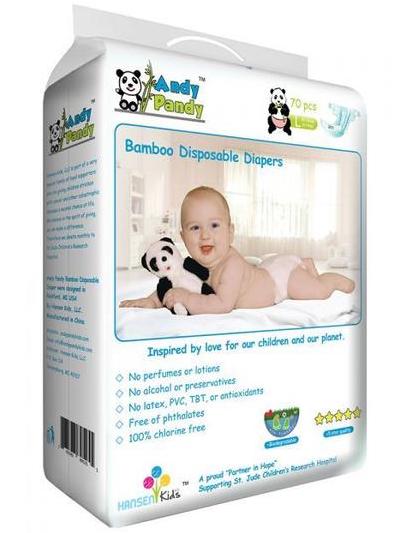 Check Andy Pandy Diapers
The top and back sheet that directly touches baby's bottom is made from 100% nonwoven bamboo fiber (bamboo grown without chemical fertilizers or pesticides & sustainably sourced).
This makes Andy Pandy diapers very breathable and silky soft. The material is so much better for baby's skin and our planet than synthetic materials used by other green diaper companies!
Inside Andy Pandy diapers we can also find TCF (Totally Chlorine Free) fluff pulp – which means the bleaching process doesn't use chlorine at all. There is also moisture-absorbent gel called Sumitomo SAP which we can find in all disposable diapers that are effective at sucking the liquid. It is widely considered as safe (check out FAQ to see my thoughts on SAP).
These organic bamboo diapers have elastics around the waist and legs to fit your baby's bottom comfortably and snuggly.
They also have PH strip so you could quickly estimate when you should change the diaper.
These nappies are sensitive skin friendly as they are naturally hypoallergenic and antibacterial.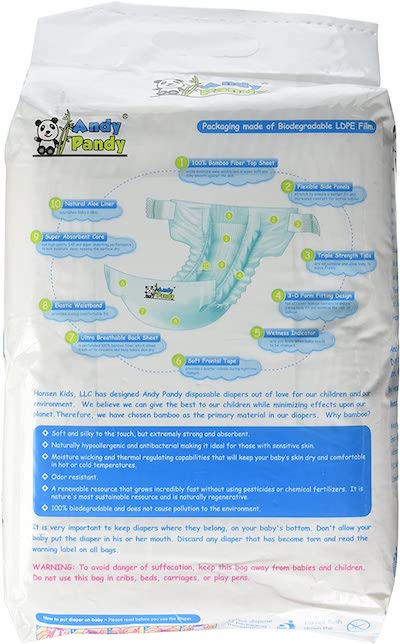 Andy Pandy diaper ingredients list is free of nasty chemicals which is a huge plus. These eco-friendly disposable diapers are latex-free and chlorine-free. Moreover, there are no phthalates, preservatives, antioxidants, alcohol, PVC or toxic TBT.
I went through Andy Pandy diapers reviews and it turned out that parents noticed lots of health benefits when using these natural diapers: lack of diaper rash or skin irritation. They even helped some babies with eczema!
What's more, thanks to all those natural ingredients, these are highly biodegradable diapers. The bamboo layers are organic which means they are compostable, however the absorbent (SAP) and the elastics are non-biodegradable.
Overall, Andy Pandy diapers are 86.5-87% biodegradable which is a fantastic score!
On average, it takes 75 days for Andy Pandy diapers to decompose in 60%.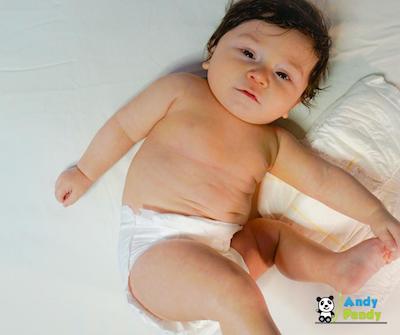 If you're looking for cloth diaper alternative, that would be environmentally friendly, Andy Pandy biodegradable diaper is definitely one of the best options right now.
There's one more advantage that parents often mention in their Andy Pandy diapers reviews: they are extremely absorbent (good even for overnight use), leaks or blowouts happen rarely.
Last thing that I have to mention: These biodegradable diapers have a small amount of pure aloe essence on the inner layer.
PRO TIP: Before your little one is potty trained, you'll be dealing with TONS of soiled diapers. You will need a good disposal system to make sure the stinky smell doesn't spread in the nursery and your whole house. Lots of parents invest in pricey diaper pails like Diaper Genie, but there are also good cheaper knockoffs. Check out my ranking of the best Diaper Genie alternatives to find the right inexpensive diaper pail alternative for your needs.
3. Eco by Naty Diapers Review
Eco by Naty is one of the most popular environmental-friendly disposable diapers.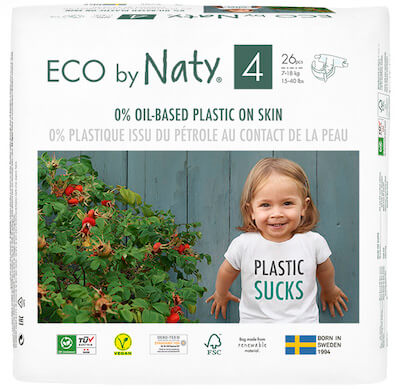 Check Eco by Naty Diapers
The core of Naty diaper is made from 100% FSC certified wood pulp which is efficient at sucking up the liquid. There is also a small amount of SAP to enhance nappies' absorbency. Without the absorbent (sodium polyacrylate salts) the diaper would be completely inefficient and would get wet quickly – resulting in higher risk of diaper rash and more frequent diaper changes. This would not be good for our planet and your wallet!
In contrast to many other eco-friendly diaper brands, the layer that touches baby's skin is not made from oil-based plastic (polypropylene), but instead they use biodegradable plant-based materials.
The fact that leakage protection is made from corn-based material makes the diaper more environmentally friendly and more breathable – which in turn decreases the risk of skin irritation. On the other hand, this diaper brand may not be a good choice for babies with allergy to corn.
Even though Eco by Naty is not 100% biodegradable (no disposable diaper is!), it has less environmental impact because in~55% it is made from bio-based and plant-based materials.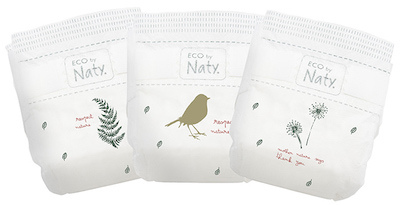 I've read tons of Eco by Naty reviews and parents agree that these organic diapers are very gentle and work well for babies with sensitive skin or skin problems (like eczema). They have been dermatologically tested and confirmed to be hypoallergenic. Eco by Naty are chlorine-free, latex-free, fragrance-free and TBT-free.
Because Eco by Naty use corn-based materials and cellulose, the diaper may feel a bit scratchy on the outside and it can make crunchy sounds when the baby is crawling or walking.
Parent who have written Eco by Naty diapers review rave about how soft they feel on the inside and prevent babies from skin rash. Most of previous customers agree that leaks or blowouts are very rare with Eco by Naty diapers.
PRO TIP: These nappies are on the higher end, but you can save 10% by using their subscription diaper service.
4. Dyper Bamboo Diapers Review
Dyper offers one of the best eco-friendly disposable diapers right now. You can actually return them for composting through their service. It costs extra, but sometimes they run promotions and include it in their subscription service.
Check Dyper Baby Diapers
Another huge advantage of Dyper compostable diapers is the lack of any nasty chemicals. These eco-friendly diapers are free of: chlorine, PVC, latex, TBT, antioxidants, perfumes, lotions, phthalates, alcohol… They don't have any prints to avoid using the ink!
So with Dyper you only have plain-white baby diapers, there are no fun and cute prints, but that's a tradeoff from having truly toxin-free diapers. They are naturally hypoallergenic.
The inner and outer covers are made with viscose fibers, from responsibly sourced Bamboo. They are not only super soft, but also odorless and breathable. The last thing is extremely important, because your baby spends a whole day in diapers, and thanks to breathable material there is lower risk of diaper rash.
Moreover, Dypers have received the highest safety rating – Standard 100 – certified by OEKO TEX1.
The wood pulp inside these diapers is elemental chlorine-free, Dyper also uses the sodium polyacrylate as absorbent – similar to other eco-friendly disposable diaper brands.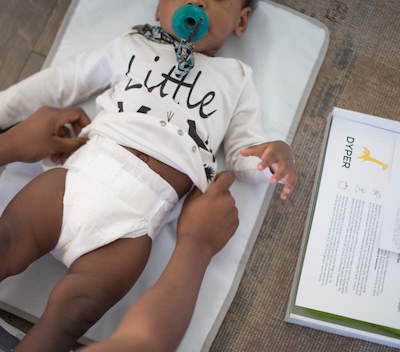 These scent-free diapers have a wetness indicator. According to many parents they are very absorbent. They can soak up A LOT of liquid, but you should keep in mind that when they are totally wet and weighted down they may feel damp on the outside (because of the lack of plastic layer that would keep it tight in).
What distinguishes Dyper is how easy and convenient ordering is. You can use their website or app (both for iOS and Android), and when you are suddenly running out of diapers, you can use their SOS service and get them delivered even in 4 hours!
Dyper compostable diapers are on the high-end, but I recommend you their subscription service because you can save 15% on every delivery.
PRO TIP: You can also get a sample pack of 3 Dypers for $4. Then if you decide to subscribe, the $4 delivery fee will be credited to your first month's billing.
One more advantage of these disposable hypoallergenic diapers: they are packed in clear bags that are made from oxo-degradable materials. It's doesn't degrade as quickly as biodegradable or compostable materials, but it's still better than normal plastic. This is another thing that makes Dyper good choice for eco-conscious parents.
5. Hello Bello Diapers Review
If you've been looking into hypoallergenic and eco-friendly diaper you must have heard about Hello Bello – brand co-founded by Kristen Bell and Dax Shepard. Is this popular brand worth the hype?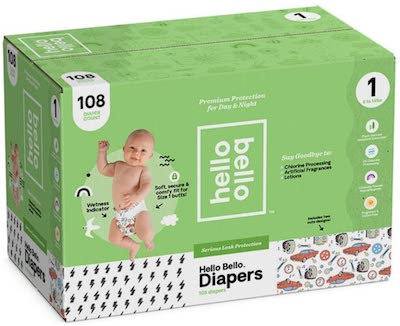 Check Out Hello Bello Sizes & Bundles
In many ways Hello Bello diapers are much greener than regular baby diapers, but they are not fully biodegradable and they are not compostable.
These disposable diapers use sustainably harvested fluff pulp that was bleached without the use of chlorine (it's TCF – Totally Chlorine Free). It absorbs the liquid really well and then transfers it to Spherical SAP where it stays "trapped".
What's noteworthy, the absorbent core of Hello Bello diaper is lined with a corn-derived PLA nonwoven fiber. On the one hand this is a big plus because PLA is better for the environment, it's 100% biodegradable and anti-bacterial. Studies show that it doesn't trigger allergic reactions.
However, allergy to corn is not that rare in infants and for those babies Hello Bello may not be a good choice (FYI, majority of regular diapers have corn; diaper rash creams, even prescription ones contain it too!).
In Hello Bello diaper reviews I haven't found any complains about allergies or diaper rashes. On the contrary, some parents say that switching to Hello Bello help to get rid of diaper rashes!
Hello Bello is soft the touch and feels almost like a cloth diaper! However, you should keep in mind that these are not organic diapers, they are still made of synthetic materials. The inner cover that directly touches baby's bum is made from polypropylene fiber ("the softest fabric ever"), while the outer cover is made from polypropylene/polyethylene fiber.
I went through some of the Hello Bello diaper reviews and according to parents, these diapers are very absorbent, don't sag, and work just as good as regular single-use diapers, but they are non-toxic. Hello Bello diapers are free of: artificial fragrance, lotions, latex, phthalates, TBT, DBT, MBT and chlorine. This makes them perfect for sensitive skin.
Parents agree that these disposable diapers are super soft and stretchy enough to fit the baby comfortably, leave the room for breathability and wiggle, but still prevent leaks and blowouts during the day or night time. Parents recommend using the nighttime diapers for overnight use, as it has even better absorption and doesn't get heavy or damp.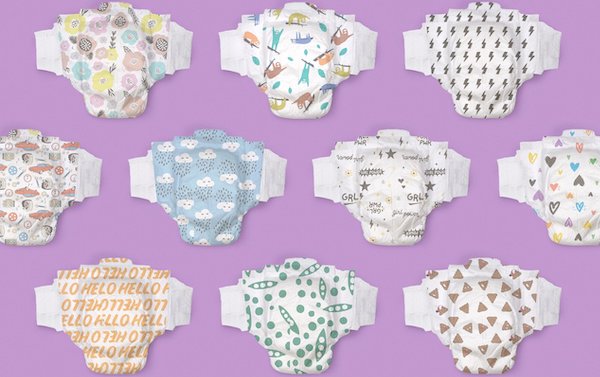 It's important to notice that only the newborn size features wetness indicator, bigger sizes don't have it. For me it's not a dealbreaker, but you should definitely keep that in mind.
You can order Hello Bello diapers through their website or for example on Amazon and just get one box. However, the cheapest option is subscription and Hello Bello stands out from other eco-friendly diapers in this category.
When you order a bundle you can not only mix different prints, but also mix two different sizes (and choose up to 7 packs). Babies grow really fast so this is a huge advantage that you can customize your box of diapers. This is also very useful if you have two babies, for example a newborn and 2-year-old.
Moreover, there are 4 packs of wipes included in the bundle (according to some parents these are one of the best baby wipes ever!), and every once in a while you will also receive a free gift! Plus, you get a discount of 15% on Hello Bello care products & cleaners.
PRO TIP: I compared Hello Bello Newborn Bundle with inexpensive Amazon brand MamaBear (which is not that eco-friendly or pure) and it turned out that Hello Bello is cheaper! Cost per one Hello Bello diaper is $0.265 without discounts, and you get extra 4 packs of wipes + one free care product. Cost per one MamaBear diaper is $0.28 and you don't get any extras or freebies!
One more thing that distinguishes Hello Bello: their subscription box doubles as an imaginative box and transforms into rocket skip, gingerbread house, treasure box etc. This is such a cool idea and I'm sure you and your little one will love it!
Overall, I think Hello Bello is a good choice – greener than many popular brands, naturally hypoallergenic, toxin-free, there are lots of cute designs, you can customize your bundle box, and you get all of that at affordable price!
Read more about these celebrity line diapers in my Hello Bello Review.
6. Abby&Finn Diapers Review
Abby and Finn offer one of the best non-toxic and safest diapers right now. Their disposable diapers are made of TCF (Totally Chlorine Free) wood pulp from sustainably managed forests.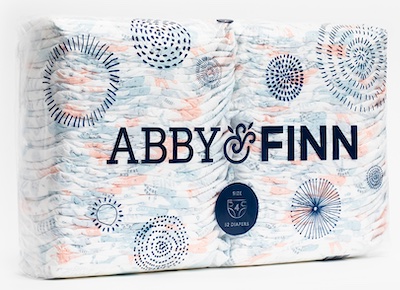 Beside of being chlorine-free, Abby and Finn diapers don't contain latex, dyes, heavy metals, fluorine, phthalates, fragrances, lotions, moisturizers or any known allergens.
The lack of chemicals makes these diapers hypoallergenic and perfect for baby's sensitive skin which is confirmed by dermatological tests.
These non-toxic diapers include SAP (Super Absorbent Polymer) made of sodium polyacrylate which is considered a safe material and it can be found in majority baby diapers, even those green and eco-conscious options. Keep in mind that some of the super absorbents in Abby and Finn diapers are made from recycled corn/plant oils as well.
Backsheet is made from polypropylene fibers and polyethylene film. This helps to prevent leaks. It lets the liquid in and keeps it "trapped", meaning it doesn't get back out. This way it keeps baby's bottom dry.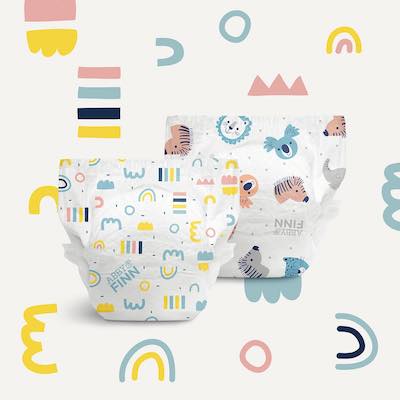 As you can see, although Abby&Finn diapers are non-toxic and hypoallergenic, they are not organic. These diapers are made from synthetic materials and they are not fully biodegradable. About 35-40% components of Abby&Finn diapers are biodegradable, similar to many other TCF baby diapers. If you prefer to avoid synthetic materials, check out the Eco Pea Co.
According to parents who have been using these toxin-free diapers, they work really well: they are absorbent, super soft and plush, they don't leak. However, some customers have noticed that they are a bit narrow (when compared to Pampers or Huggies) and they recommend getting bigger size.
One pack of diapers costs less than $20, you can also choose a bundle of diapers and wipes or a bundle of diapers only and save up to 30%.
What's interesting, Abby&Finn diaper bundle price is similar to Hello Bello, but a bit lower than Honest or Dyper bundles price.
PRO TIP: Even if you decide to get the most natural and toxin-free diapers, your little one may still experience a red rash on their bum from time to time. To prevent and treat itchy diaper rash, you should invest in the best organic and natural diaper cream – free of parabens, artificial fragrances and other nasty chemicals that can cause skin irritation.
7. Bambo Nature Diapers Review
According to many parents Bambo Nature are the best eco-friendly disposable diaper brand. One thing is for sure: they are free of nasty chemicals which makes these single-use diapers a good choice for sensitive skin as they are naturally hypoallergenic.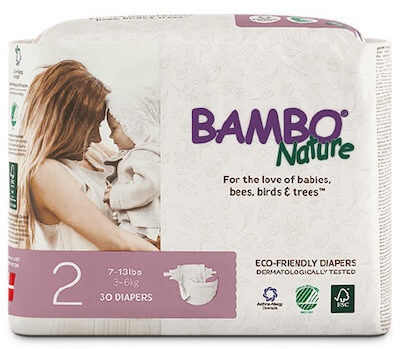 Choose Bambo Nature Diapers
Bambo Nature are perfume-free diapers. They don't contain lotions, latex, PVC, dyes, phthalates, chlorine and other harmful chemicals. Moreover, they are impressively breathable. All of this makes them less likely to trigger allergic reaction or skin irritation, which has also been confirmed in dermatological tests.
What's interesting, the Love collection of Bambo Nature diapers has been approved and certified by Asthma Allergy Denmark.
Let's take a closer look at Bambo Nature diaper ingredients. The fluff pulp is made of paper material from controlled forestry and it has been peroxide- bleached which means it's free of chlorine. The absorbent (SAP) is made of acrylic polymers, just like in other disposable diapers. What's important majority of parents agree that Bambo Nature diapers are very absorbent and protect from leaks really well.
What's noteworthy, they are not made of organic materials, but from synthetic non-woven fibers (polypropylene), which make the diapers ultra soft and nice to the touch. There is also polyethylene and polyurethane in the tape and elastic parts. The glue is based on resin and wax and free of phthalates.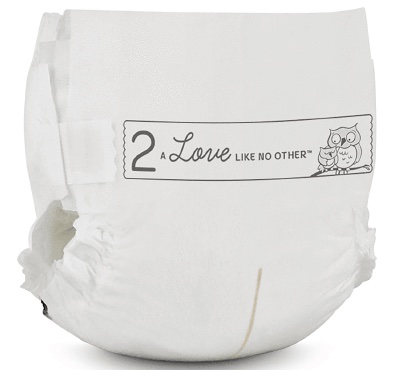 Another important thing is that Bambo Nature are commercially compostable. These are one of the best biodegradable diapers right now.
They come in two versions: Classic and Love. If you're unsure which one to choose, keep in mind that Classic has thicker fluffier core, while Love has flexible thinner core, absorbs liquid even quicker and has a wetness indicator. The brand is in the process of adding wetness indicator to Classic version as well.
The last thing that I have to mention is the price. Bambo Nature are one of the most expensive eco-friendly hypoallergenic diapers. Their subscription plan allows you to save 10% on each package.
Other Popular Choices In 2022
There are a few brands that I decided to skip, but they may be an alternative for some parents.
Honest – TCF diapers with outer layer made of plant-based PLA nonwoven fibers. Unfortunately they have polyethylene and polypropylene inner layer and contain odor inhibitors like citrus extract and liquid chlorophyll. They have cool colorful prints, but the brand doesn't state whether they use water-based inks. If you're okay with these things, Hones company is a good inexpensive alternative.
Mama Bear – It's not the greenest diaper ever, but it's cleaner than many regular diapers, plus it's pretty cheap.
Poof – Great eco-friendly disposable diapers that is highly-biodegradable thanks to corn-based SAP and cotton/corn-based back sheet. However, it's less absorbent and gets heavy and damp much quicker.
Seventh Generation – One of the popular diaper brands, it's cleaner than many of its counterparts, but keep in mind that 7th Generation diapers are NOT biodegradable or compostable.
Earth's Best – They use corn-based and wheat-based materials but the diapers are not compostable. There are some complains about the diapers not being as green as they seem, besides they are not very soft.
Best Eco-Friendly, Non-Toxic, Biodegradable Diapers – FAQ
Here are my answers to most common questions about disposable biodegradable diapers and non-toxic nappies.
1. What Chemicals Should You Avoid In Baby Diapers?
I know you would expect chlorine to be our worst enemy, but it turns out that phthalates pose probably the highest potential risk to baby's health. They directly disrupt hormones and they are linked to early puberty, obesity, birth defects and other health problems.
I'm sure you don't want these nasty chemicals near your baby's privates!
Unfortunately studies show that phthalates can be found in some disposable diapers1. This is a serious problem, because babies spend basically the whole day in diapers which means they could be exposed to these chemicals for a very long time, plus the genitalia have a high absorption rate for chemicals.
What's important phthalates can be found not only in plastic components of diapers, but they are also in glues, synthetic fragrance and dyes!
The best solution is to choose diapers that don't contain phthalates. But there's another problem: not all diaper brands, even those green and eco-conscious ones, make claims about phthalates. 6 out of 7 brands of non-toxic diapers on my list have clear information about being phthalates-free on their website.
If you find "fragrance" in diapers ingredients list, you should rather skip them. This means that the brand is not disclosing the full list of ingredients and there may be phthalates in those nappies.
Allergens & Skin Irritants (TBT, Latex, Parabens)
These chemicals are also often found in single use diapers – usually they are in fragrance, lotions and dyes. TBT (tributyltin), latex and parabens may cause skin problems, for example diaper rash or allergic reaction.
And although the potential health problems seems to be less serious than those caused by phthalates, you should definitely choose disposables that explicitly state being latex-free, parabens-free and TBT-free. Avoid diapers that contain lotion or fragrance.
VOCs (Volatile Organic Compounds)
VOCs that can be found in disposables (toluene, ethylbenzene, xylene) can evaporate and cause eye, nose and throat irritation, headaches, nausea, they may damage liver, kidneys or respiratory system or even cause cancer.
Chlorine & Its Derivatives
Traditionally, disposable diapers were made from a wood pulp that was bleached with elemental chlorine. This was not only a toxic process, but it also generated dioxins as byproduct – they are also toxic and can be harmful for your immune system. The good news is that this process was phased out in the 1990s.
Right now, the amount of dioxins in wood pulp (even if it was chlorine-bleached) is small and basically makes no difference to our overall exposure to dioxins. According to studies2, the amount of dioxins that can be found in disposables is comparable to the amount of dioxins found in cloth diapers made of cotton. Furthermore, the exposure to dioxins from diet is a 30.000 – 2.000.000 times higher than exposure to dioxins from diapers! This means that food supply in the US contains much more dioxins (due to "low level contamination") than chlorine-bleached diaper which have only trace levels of dioxins.
Those that mean you should not worry about chlorine and buy chlorine-bleached diapers? Definitely not! The process of chlorine bleaching is still bad for the environment.
If you're trying to be more eco-conscious you should definitely look for chlorine-free diapers.
But you don't have to worry if your hospital puts your newborn baby in a regular diaper that is not chlorine-free.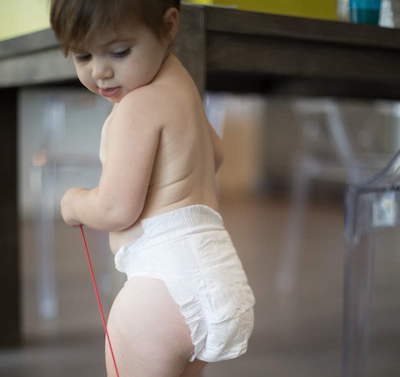 2. Totally Chlorine Free (TCF) Diapers vs Elemental Chlorine Free (ECF) Diapers – Which Ones Should You Choose?
If you've been searching for non-toxic or biodegradable disposable diapers, you must have heard about TCF and ECF diapers.
As I mentioned above the process of bleaching diapers with elemental chlorine was phased out and now there are two most common bleaching methods:
ECF (Elemental Chlorine Free) – bleaching with chlorine dioxide instead of elemental chlorine.
TCF (Totally Chlorine Free) – oxygen, peroxide or ozone-based bleaching, it doesn't generate dioxins. This is the safest method right now.
ECF diapers may contain trace amounts of dioxins, but this level is SO MUCH LOWER than level of dioxins that we are all exposed to (by eating food).
So does it really matter if you choose ECF or TCF diapers? Not necessarily. There are two things that you should consider.
There are studies that show that some testing methods may not be able to detect the exact amount of dioxins. It seems like the data is inconclusive – if you're extra cautious and want the safest diapers, you should go for TCF diapers.
The environmental impact of TCF and ECF may be actually very similar. Even though the waste products of TCF pulp are cleaner than ECF pulp, TCF requires more wood pulp and energy to produce the same amount of finished product than ECF3. This basically cancels out the benefits of TCF over ECF. Moreover, ECF vs TCF bleaching environmental impact largely depends on the practices of the paper mill and how they handle the waste products. Some reports4 even show that there is no appreciable difference between ECF and TCF.
Considering that all currently available data is quite inconclusive, there is no right answers to question "Is Totally Chlorine Free diaper better than Elemental Chlorine Free diaper?". You will have to follow your "mama instinct" and choose what you think is best for your little one!
BTW, vast majority of eco-friendly, non-toxic disposable diapers are TCF anyway!
But if you're debating between two diaper brand and one is using TCF, while the other is using ECF, you will have to decide on your own if bleaching method is something you need to worry about at all.
3. Can You Avoid Sodium Polyacrylate In Diapers?
Sodium polyacrylate is what the absorbent (SAP – Super Absorbent Polymer) is made of and all single-use diapers contain it. This is what makes them efficient at absorbing moisture. It soaks up liquid (from urine and wet poop) and trap it inside.
If you have even seen a broken diaper after leak, you may have noticed gel-like crystals – this is the sodium polyacrylate (BTW, if your diapers break and leak crystals on your baby's skin, you should immediately stop using them and switch to different brand).
You can't avoid sodium polyacrylate in disposable diapers, even natural and non-toxic diapers have it! Without sodium polyacrylate diapers would not be able to suck up the moisture, would quickly get wet and leak.
It's worth to notice that some of the natural disposable diapers use smaller amount of sodium polyacrylate and replace it at least partially with biodegradable absorbents (for example corn-based or wheat-based).
Some parents complain about diapers that include corn starch (or wheat starch) and they actually prefer SAP made of sodium polyacrylate, because allergy to corn is quite common in infants. Diapers with corn may trigger allergic reaction. Besides, they are more prone to leak and this results in more frequent diaper changes (which is not eco-friendly or cost-effective).
Is The Gel/Absorbent In Diapers Toxic?
So we know that SAP is in all disposables, but it is something you should worry about? Is it toxic?
Data is inconclusive, but most experts argue that sodium polyacrylate is in general it is safe, especially when not in direct contact with skin, and poses no threat to the child's health.
There are a few concerns regarding the safety of SAP:
Some parents worry about it because it may cause mild skin irritation if it directly touches direct skin for a long time (for example when baby sleeps in broken diaper).
This is a fairly new material and long-term effect of exposure to it are yet unknown.
It have been found in tampons and linked to Toxic Shock Syndrome in women in the 1980s (although it was probably not the direct cause). Others argue that women experienced TSS because they left tampons in for too long which created conditions for bacteria growth.
There are no evidence-based studies that would prove SAP toxicity or harmfulness to humans. To the contrary, some of the green companies (like Honest or Bambo Nature) stated that SAP is safe and not toxic.
Right now it is impossible to say for sure whether SAP is toxic or not so you will have to use your own instinct once again to decide whether you should worry about it or not. SAP is present in all disposable diapers. If you want to avoid SAP and use the most eco-friendly and safest diapers – you will have to choose cloth diapering.
However, the problem with SAP is not only its safety, but also its eco-friendliness. It's plastic (petroleum-based material), thus it's not biodegradable.
Plant-Based Biodegradable SAP
Green diaper brands want to solve this problem by replacing chemical SAP with plant-based SAP.
This new biodegradable SAP would be a combination of cellulose from wood or wheat, and starch (from corn, potato, yams or other plants). Theoretically plant-based SAP should have similar absorbency as plastic-based SAP, but it would be much more eco-friendly.
As far as I can tell, none of the green, non-toxic diapers uses biodegradable SAP as an alternative for plastic SAP. However, some companies have successfully partially replace petroleum-based SAP with corn-based SAP. These diapers may be slightly less absorbent, but are safer for the planet.
The problem with corn- and wheat-based materials is that they may trigger allergic reaction.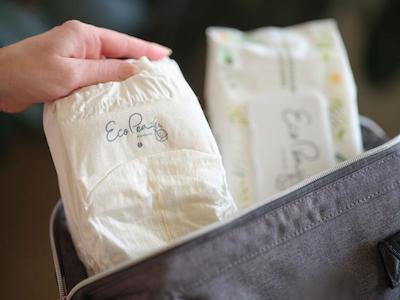 4. What Are The Best Non-Toxic Diapers?
The best non-toxic diapers for single use don't contain any nasty chemicals. They are free of chlorine, latex, PVC, phthalates, TBT, parabens, VOCs and common allergens. Toxin-free disposable diapers should not contain any lotion or fragrance. Shorter and simpler ingredients list makes the diaper safer for baby's skin and for the environment.
After extensive research and ingredients analyze of 15+ diapers, I think that the best non-toxic and safest diapers are: Eco Pea Co, Andy Pandy, Eco by Naty and Dyper.
There are a lot of health benefits of using clean disposables free of harmful chemicals:
Lower risk of diaper rash and skin irritation
Lower risk of allergic reaction
Reduced exposure to chemicals in fragrances and lotions that disrupt hormones etc.
5. What Is The Best Diaper For Sensitive Skin?
If your little one has sensitive skin it's best to choose non-toxic diapers made of organic materials (for example with bamboo top sheet instead of plastic layer). As the best diaper for sensitive skin I recommend Eco Pea Co, Andy Pandy, Eco by Naty or Dyper.
6. Which Diapers Are Chemical Free?
All disposable diapers, even those toxin-free ones, contain chemicals (for example SAP), however all diapers on my list are free of chemicals that could be harmful for your baby.
All brands that I recommend here: Eco Pea Co, Andy Pandy, Eco by Naty, Dyper, Hello Bello, Bambo Nature, Abby&Finn are free of nasty chemicals like latex, PVC, chlorine, phthalates, TBT. All of them are fragrance-free.
7. Are There Any Biodegradable Disposable Diapers In 2022?
There is no such thing as 100% biodegradable disposable diaper. However, some of the green diapers that contain more plant-based ingredients rather than plastic-based materials, are compostable or biodegradable to varying degrees.
For example Eco Pea Co and Andy Pandy diapers are biodegradable in over 80%! They use bamboo for the top and back sheet which is naturally biodegradable. However, they still contain SAP and elastics which won't degrade.
Another thing that increases diapers biodegradability is supplementing with plant-based SAP.
So if you're wondering "Are diapers biodegradable?" then the answer would be yes, however disposable diapers can be biodegradable only to some extent.
Nevertheless, there are two problems with biodegradable and compostable diapers.
Traditional landfills are non-conducive to biodegradation.
Composting diapers is a difficult process that requires special conditions (you can't do it in your backyard, on the other hand commercial compost is something new and there are not so many companies that do this).
Does that mean you should not worry whether your baby wears highly-biodegradable diaper or whether his nappie will take 500 years to decompose in the landfills? Definitely not!
Choosing biodegradable or compostable diapers is still a good idea because their production doesn't use petroleum and they have lower environmental impact.
It's pretty simple, by choosing highly-biodegradable disposable diapers you use less plastic!
How Long Do Biodegradable Nappies Take To Decompose?
Highly biodegradable nappies like Eco Pea Co or Andy Pandy take about 2-3 month to decompose in half. The more organic ingredients, the higher biodegradability and quicker decomposition.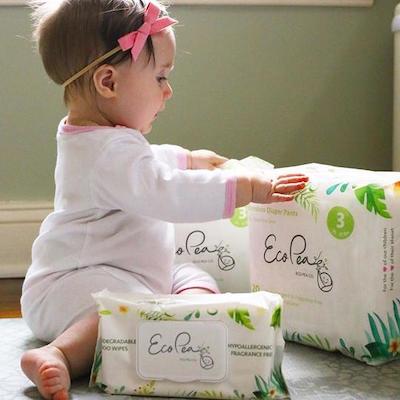 8. What Are Organic Diapers?
For the purpose of this article I use the term "organic diaper" for disposable diapers that are made of bamboo or other natural resources, instead of oil-based plastic like polypropylene (for example: Eco Pea Co, Andy Pandy).
Organic diapers that I recommend in this ranking reduce the use of plastic and replace it with bio-based materials.
However, keep in mind that even these organic diapers contain Super Absorbent which is chemical. Although it's not harmful, it's not organic either. It is present in all disposables. Moreover, each organic diaper has elastic waist and leg openings and snaps which are not organic either. These two things are the main reason why disposable diapers are not 100% biodegradable.
9. What Are The Most Environmentally Friendly Diapers?
The most eco-friendly diapers are organic diapers that use natural biodegradable plant-based materials as an alternative to plastic-based materials.
All organic diapers on my list are environmentally friendly (Eco Pea Co, Andy Pandy, Dyper, Eco by Naty).
Here are a few things that make disposable diaper eco-friendly:
Top sheet and back sheet made of bamboo or other naturally biodegradable materials instead of petroleum-based materials
Smaller amount of chemical SAP , partially replaced with plant-based SAP
Wood pulp bleached without the use of chlorine
Clean ingredients list: no chlorine, dioxins, latex, PVC, phthalates, heavy metals, dyes, glues, lotions, fragrances
10. What Are The Best Organic Diapers In 2022?
The best organic diapers are the ones that have more organic ingredients that naturally decompose. They use more bio-based materials, instead of plastic. Right now the best organic diapers are: Eco Pea Co, Andy Pandy, Eco by Naty and Dyper. Eco Boom and Nest diapers are also a good choice.
11. Are Organic Diapers Worth It?
Even though there is no such thing as perfectly green diaper that would fully degrade in a few weeks, organic diapers are still worth it, because they contain more natural ingredients that are biodegradable.
This means they are more gentle for the environment. Besides, the smaller amount of plastic in diapers (and lack of harmful toxins) makes them a safer choice for your little one too!
Organic diapers are better because they reduce the amount of plastic we use.
If you're worried about the amount of diapers that go to the landfill every day, organic diapers are definitely worth consideration.
12. What Are The Healthiest Diapers?
The healthiest diapers are natural and have a short list of ingredients that you can actually pronounce! They are made of sustainably resourced bamboo or other type of plant-based materials that are biodegradable.
Natural diapers have a wood pulp that was bleached without the use of chlorine (even the elemental chlorine).
Moreover, the healthiest diapers don't contain harmful chemicals like latex, PVC, phthalates, or TBT. The more natural diaper the better. It should also be fragrance-free and lotion-free.
Why You Should Get Eco-Friendly Diapers In 2022?
The amount of diapers that go to the landfills everyday and the fact that it takes for them 500 years to decompose is terrifying.
Eco-friendly diapers, that contain more plant-based materials instead of petroleum-based materials, are better for the environment because they are biodegradable in higher degree (some of them degrade in half in 2-3 months!). Moreover, by choosing eco-friendly diapers made of organic, natural materials you reduce the use of plastic.
Eco-friendly diapers mean less waste in the landfills, plus they are more gentle on baby's skin.
If you can't/don't want to use cloth diapers, but you care about our planet and you want something safer (less toxic) for your baby, you should get eco-friendly diapers. The more natural, organic and clean ingredients it has, the more biodegradable it is.

---
The purpose of this article is informative and entertaining. It's not a substitute for medical consultation or medical care. Remember: safety first! The author of this article does not accept any responsibility for any liability, loss or risk, personal or otherwise, incurred as a consequence, directly or indirectly, from any information or advice contained here.
Source of pictures: Official website of each brand. All pictures belong to specific brands. Sources: Eco Pea Co, Andy Pandy, Naty, Dyper, Hello Bello, Abby&Finn, Bambo Nature