Struggling with low milk supply can be really really stressful… You may have already heard from other moms what to do or eat to boost your supply, and among these recommendations lactation teas seem like a convenient and and easy solution. Almost TOO easy!
Be aware that there are tons of teas that are just a waste of money, and don't do anything beside making you even more frustrated about your low supply. As a breastfeeding specialist I've seen it a lot. In this article I'm going to share my favorite lactation teas that actually WORK and can help increase your breastmilk production, so keep on reading!
Medically reviewed by Macy Tollefson – doula, breastfeeding specialist & prenatal yoga teacher
Breastfeeding can be a very overwhelming experience – especially if you are struggling maintaining your milk supply. It's not uncommon to see a dip in your supply at some point on your breastfeeding journey, but it can be difficult to know that the cause is, or how you can fix it.
While most nursing mamas don't need extra herbs to maintain enough milk for their baby, herbal teas can be a good addition for lactation support. Lactation teas are blends of galactagogues (milk boosters) and other herbs that help stimulate prolactin and mammary glands in your breasts, to help you create more milk.
These herbal teas have become a widely available and popular among new moms. The problem with this? There are so many herbs that you need to AVOID while you are breastfeeding or pumping. If you're not careful, you could experience serious side effects.
If you are experiencing a dip in your breastmilk supply and looking for a lactation tea, it's important to choose a tea with SAFE and effective ingredients. Keep reading to find the best tea for lactation.
This article is not a substitute for medical advice. It contains affiliate links.
Best Features
❤️ Effective in increasing and maintaining breastmilk supply
❤️ Contains USDA certified organic ingredients safe for nursing mamas
✖️A few moms noticed it can be heavy on stomach
❤️ Lots of moms praise this tea for helping them to produce more milk within a few hours!
❤️ Very tasty
✖️It's a loose leaf tea - less convenient for moms on the go
❤️ Very unique taste which lots of moms like a lot
❤️ Tea bags are designed to be reused
✖️A bit pricey
advantage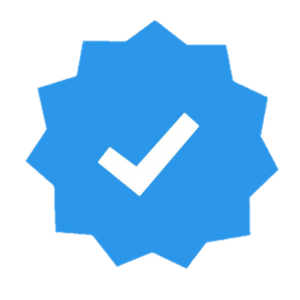 Recommended by 85% of verified buyers!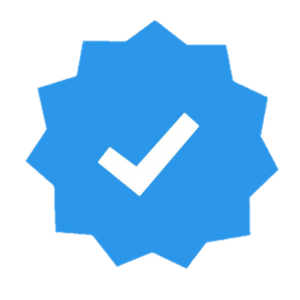 Recommended by 91% of verified buyers!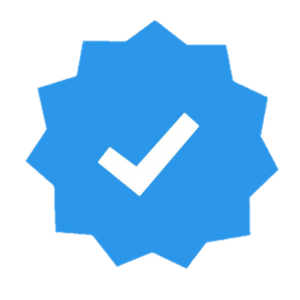 Recommended by 81% of verified buyers!
Moms' Favorite Choice
Best Features
❤️ Effective in increasing and maintaining breastmilk supply
❤️ Contains USDA certified organic ingredients safe for nursing mamas
✖️A few moms noticed it can be heavy on stomach
advantage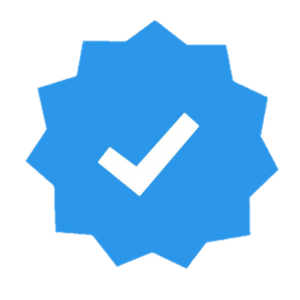 Recommended by 85% of verified buyers!
Best Features
❤️ Lots of moms praise this tea for helping them to produce more milk within a few hours!
❤️ Very tasty
✖️It's a loose leaf tea - less convenient for moms on the go
advantage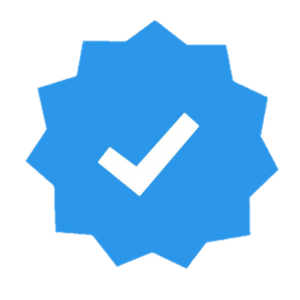 Recommended by 91% of verified buyers!
Best Features
❤️ Very unique taste which lots of moms like a lot
❤️ Tea bags are designed to be reused
✖️A bit pricey
advantage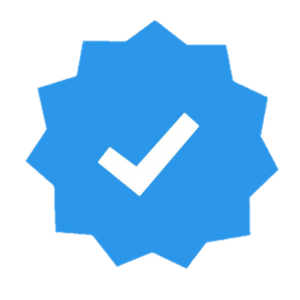 Recommended by 81% of verified buyers!
Ranking Of The Best Lactation Teas In 2023
If you are looking for a tea to help with lactation, you've come to the right place.
Below are some of the best herbal blends you can get, that will help you on your feeding journey- including different flavors and fenugreek free options!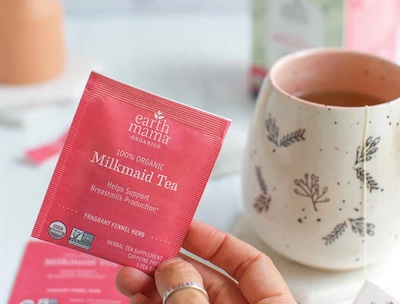 With non GMO and USDA certified organic ingredients, this Earth Mama blend is loaded with the power of fenugreek, fennel, milk thistle, nettle leaf and red raspberry leaf. These ingredients have been included in herbal remedies to help lactation for centuries.
Moms who have been taking this tea rave that it is very effective in both increasing AND maintaining their milk supply. Plus, each tea bag includes a little love note, which many women say they loved – especially in times of stress.
Breastfeeding moms who have tried many different lactation teas, said this one doesn't have that bad licorice taste, which is of course a good thing.
Keep in mind that every mom is unique, and some women found this blend to be harder on their stomachs.
Pros
Cons

Pros

---

+ Lots of moms say it really helped them to increase the milk supply

+ Most moms say it taste better than other lactation teas

+ It works fast (some moms noticed a boost in milk production in a few days

+ It works for congestion too

Cons

---

- A few moms complained it's heavy on their stomach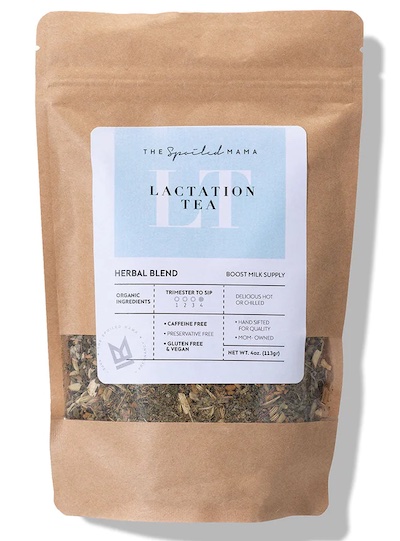 This breastfeeding tea by the Spoiled Mama contains organic fenugreek, fennel seed, red raspberry leaf and blessed thistle as some as their main ingredients.
Many moms said that this tea worked quickly, and multiple women said they started producing more milk within HOURS of drinking their first few cups! This tasty blend also includes spearmint and orange peel, which even non tea drinking moms loved drinking hot or cold.
Keep in mind this blend is loose leaf tea, which may not be the best option for on-the-go or busy moms.
Pros
Cons

Pros

---

+ Moms say that if you drink it 2-3 times per day it quickly gives you results

+ Tastes great

+ Breastfeeding mamas praise this tea for helping their colicky babies too

Cons

---

- It's often out of stock so make sure to order yours while it's available here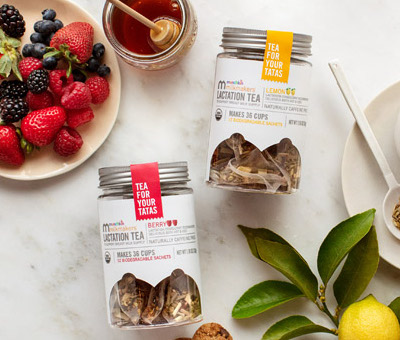 The two active ingredients in this blend are organic fenugreek and organic fennel seed. It also includes organic lemongrass, hibiscus, rooibos and natural berry flavoring. On top of this tea, Munchkin makes a variety of lactation support products such as cookies, crackers and even this lemonade drink mix!
Some breastfeeding moms saw an increase of their milk supply within hours of first drinking this nursing tea. A lot of praise is for the flavor, which mamas say is unique to other breastfeeding teas they have tried!
Keep in mind that these tea bags are designed to be reused, however that isn't a great fit for everybody.
Pros
Cons

Pros

---

+ Moms like its taste and smell

+ Each tea bag can be used up to 3 times

+ It's one of the affordable lactation teas

Cons

---

- A few moms complained it only increased their milk supply a bit (it definitely depends on your body)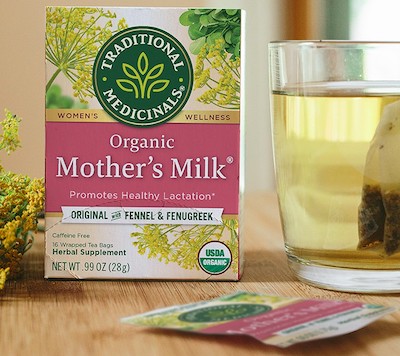 Mother's Milk® Tea is one of the most popular breastfeeding teas you will see, and has been on the market for over 40 years. This herbalist formulated blend is made with anise seed, coriander, fenugreek and fennel seed.
Mamas ask me, "does Mother's Milk tea really work?" The answer is yes- for some moms. Many moms say that this tea increased their breastmilk production and helped them create enough milk. Some moms also love the flavor, which includes spearmint and lemongrass leaf.
On the contrary, many nursing moms report that this tea did NOT help them increase milk supply, and that it gave them a variety of side effects, such as digestive issues and headaches. They also reported that Mother's Milk tea has a strong taste that they did not enjoy.
Keep in mind that it is possible to have side effects with ALL lactation teas, and you should do your research as to which herbs are included in your blend!
Pros
Cons

Pros

---

+ Cheapest lactation tea (here you can get a pack of 6x16 tea bags which is the most affordable option in the long run)

+ The most popular and best-selling lactation tea

+ Moms noticed an increased in milk supply after drinking 3-5 cups a day

Cons

---

- Some moms don't like the taste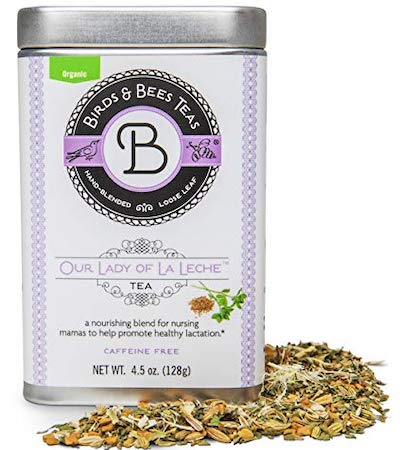 Organic nettle leaf, alfalfa leaf and marshmallow root are the first active ingredients included in this tea, along with the popular fennel seed, fenugreek seed.
What breastfeeding women love about this tea is the organic herbs and great taste. In fact, a few moms even continued to drink this tea after their supply issues were solved, because they loved it so much.
This tea is also loose leaf blend, and not easy to take on the go. With that being said, it does come with a reusable muslin pouch for steeping.
Pros
Cons

Pros

---

+ Lots of moms saw a difference after a few day of drinking it

+ It can also help with baby's gassiness

+ Moms like that It's fenugreek-free (because they don't like fenugreek taste)

Cons

---

- It's one of the most pricey lactation teas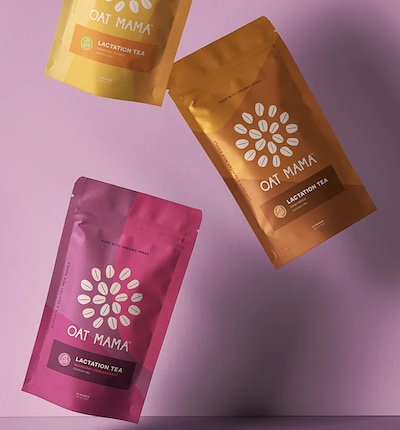 This Oat Mama lactation tea is free from fenugreek and is a delicious blueberry pomegranate flavor. Made with organic herbs, this blend aids milk production with the help of fennel seed, raspberry leaf, alfalfa, nettle.
There are some amazing stories that this tea helped many parents significantly increase their milk production, even when they were experiencing a seriously low supply. The majority of reviews are from mamas praising the natural, fruity flavor of this tea and the fact that it can be enjoyed both hot or cold.
Keep in mind that this tea is a little pricier than others on this list, however if you prefer to have a flavored lactation tea, it is likely going to cost more than the simple herbal ones.
Pros
Cons

Pros

---

+ No fenugreek - which means it tastes yummy (some moms say it's the best tasting lactation tea!)

+ Works really well and helps with low milk production

+ You can see the real ingredients (like dried fruits), not just powder

Cons

---

- The bags strings are short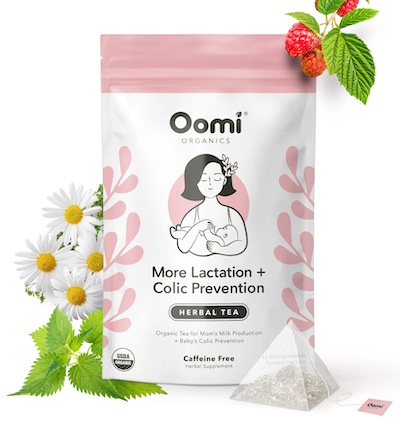 This is a fenugreek-free blend, which is a great option for mamas (and babies) who experience side effects from this strong herb. The organic raspberry leaf, milky oats, nettle and fennel create a simplified herbal blend that is effective, yet gentle for both mom and baby.
Among the many advantages moms mention, they love that this tea helps babies who are more colicky and need help passing gas. Others loved the simple herbal taste, that can be easily sweetened with some honey or agave.
Keep in mind a main active ingredient is chamomile, which is safe when taken within the recommended dosage, but it should NOT be consumed in large dosages while you are breastfeeding.
Pros
Cons

Pros

---

+ Lots of moms saw a difference after a few day of drinking it

+ It can also help with baby's gassiness

+ Moms like that It's fenugreek-free (because they don't like fenugreek taste)

Cons

---

- It's one of the most pricey lactation teas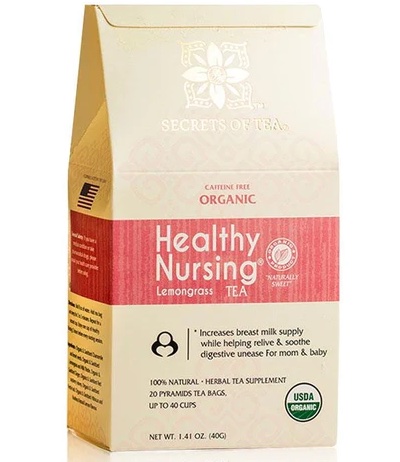 This is a great lactation tea without fenugreek, that is USDA organic, FDA approved, Kosher and Halal. The milk boosters in this blend include milk thistle, raspberry leaf, nettle leaf and fennel. For taste and relaxation benefits, you'll find chamomile, hibiscus, rooibos, lemongrass and ginger included as well.
Both mamas who breastfeed and pump say that this tea helped them produce milk AND help their baby with gas! One mother said she even noticed a huge difference in her baby's sleep pattern when she temporarily stopped drinking it. It's no wonder this nursing tea has a nearly 5-star review from 2,000 moms who have tried this tea.
While it doesn't contain fenugreek, this blend is still quite strong and may not be best for mamas and babies with sensitive stomachs. Chamomile is also one of the first ingredients, which should not be consumed in large quantities while you are breastfeeding.
If you find the galactagogue herbs included in this blend to be too much, Secrets of Tea also has a great Relaxing Mama Tea that helps with stress relief! Stress during postpartum is one huge reason why women see a dip in their supply, so simply making time for relaxation may be enough to keep your milk flowing. This blend is made with ingredients like lavender, rose hip and lemon balm- just to name a few.
Pros
Cons

Pros

---

+ Moms are satisfied with its effectiveness (boost in milk production even within a few hours)

+ Great customer service

+ Most moms, who like to drink teas, agree that it tastes nice, and the scent is pleasant

Cons

---

- On the higher end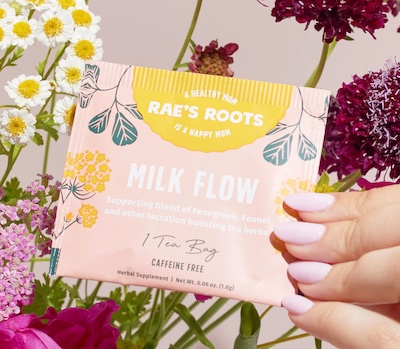 This breastfeeding tea is a lemon, ginger flavored one, making it a good option for moms who don't love teas that taste too "herbal". Made with all organic herbs, this blend is packed with fennel seed, stinging nettle, anise seed, fenugreek, marshmallow root and milk thistle.
According to moms who have tried this lactation tea, this blend doesn't taste too medicinal or earthy. They love the fresh lemon, ginger taste and say it is a relaxing AND effective tea to help increase their breast milk supply.
This tea blend includes stevia and lemon flavor added in, which is important to note if you don't like added sweetener in your tea.
Pros
Cons

Pros

---

+ All ingredients are organic

+ Relaxing tasty tea

+ If you're drinking it regularly you will notice a different in your production (although it won't be drastic)

+ It also helps with metabolic processes

Cons

---

- It contains sweetener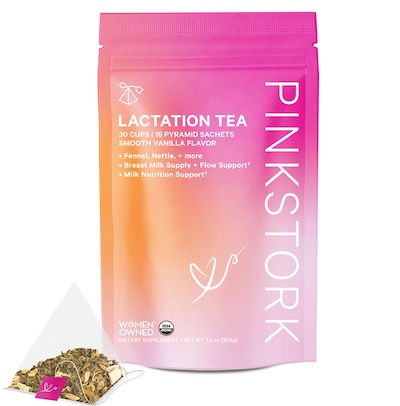 This Pink Stork lactation tea is made with 100% organic herbs that all help with healthy milk production. Some of these ingredients include fennel, fenugreek, anise and stinging nettle.
Some breastfeeding moms who have tried this tea said that it really helped with their milk flow. Parents also love that this breastfeeding tea comes in three different flavors: blackberry lemonade, smooth vanilla and herbal mint.
One of the most common complaints about lactation teas in general (other than upset stomachs) is that they taste too much like licorice- which is an ingredient included in the herbal mint blend. Each of these teas contain a different set of ingredients that you may or may not enjoy. Be sure to check the full ingredients list before ordering!
Pros
Cons

Pros

---

+ You can reuse the bag twice

+ It works for increasing and maintaining milk supply but you need to be consistent and wait a few week

Cons

---

- A few moms complained it gave their babies colic

- According to many moms the taste is bad
Best Lactation Teas For Increasing Milk Supply – FAQ
Lactation tea is a popular choice for mothers experiencing a dip in their breast milk supply, but what exactly is it? Keep reading for some frequently asked questions about these herbal teas!
What Is Lactation Tea?
Lactation teas are a blend of different herbs that are designed to help maintain a healthy milk supply. The active ingredients in these teas (ex. fenugreek, fennel, blessed thistle etc.) are called galactagogues – also known as lactation inducers or milk boosters.
These galactagogues assist lactation by stimulating the mammary glands or prolactin, which is responsible for the production of breast milk. Each of these herbs may help increase breast milk production AND provide other benefits for breastfeeding mothers, such as stimulate the let-down reflex, or help you relax.
Most tea blends are designed to be consumed multiple times a day throughout your breastfeeding journey, to help you increase milk supply. They can act as an additional supplement for other techniques that also help create more breast milk.
Breastfeeding teas are generally caffeine free and aid with hydration, which is essential for milk production.
How To Start Drinking Tea For Lactation?
If you are struggling to create enough breast milk for your baby, first reach out to a lactation consultant. If you are exclusively feeding your baby breast milk, it is so important to protect your supply, and doctors and lactation consultants are there to help you with.
If your healthcare provider gives you the green light, do your research and find a good herbal blend that is right for you. Once you have decided on your tea, you can follow their unique preparation and consumption guidelines.
Most teas are packaged in individual teabags that you can simply add to a cup of boiling water, allow it to steep and cool down, then enjoy! In some cases, you can brew a cup of tea before every feeding or pumping session.
What Are The Benefits Of Lactation Tea & Who Should Drink It?
Lactation tea is designed to help boost milk production and support healthy lactation. The active ingredients (galactagogues) in them work to stimulate prolactin and ultimately create more milk.
Fully breastfeeding mothers AND women who are pumping their milk can both benefit from lactation tea, if they feel like their supply could use a boost. Nursing tea is a good supplement to use in addition to other lactation support, but shouldn't be the only method.
It's important to note that nursing tea is NOT safe to consume during pregnancy. Many lactation inducing herbs are also uterine stimulants, and not safe to consume until after your baby is born.
Is Lactation Tea Safe?
The lactation teas included in the list above are all safe to drink while you are in your postpartum period. With that being said, there are several herbs that you need to avoid while you are feeding your baby your breast milk.
The best breastfeeding teas are non GMO and USDA organic herbal blends that only contains safe and effective ingredients for producing more breast milk.
Fenugreek is a popular galactagogue, and while it is safe for breastfeeding mamas, it's important to note that it is a very strong herb and can cause negative side effects. The most common reactions (for both mom and baby) are digestive issues, such as upset stomach, nausea and gas.
Be sure to do your research, talk to your doctor and always read the full ingredients list of lactation teas you are considering.
Which Herbs Boost Breast Milk Production?
Some of the most common herbal ingredients you may find in lactation teas are:
Fenugreek
Blessed thistle
Fennel
Stinging nettle
Goat's rue
Moringa
Milk thistle
Dandelion
Marshmallow
Each of these herbs have been shown to positively affect breast milk production by either stimulating the mammary glands, increasing prolactin, or igniting your dopamine-receptors1.
These herbs also provide other unique health benefits (ex. helping with digestion, providing anti-oxidants, or decreasing inflammation), but they come with their own set of side effects. Always follow the recommended dosage, and stick with organic blends, to be safe.
What Teas Should I Avoid While Breastfeeding?
Breastmilk is made directly in your breasts, from your blood, which means that anything that gets into your bloodstream (food particles, certain drugs etc.) can actually be passed to your baby through your breast milk2. For this reason, there are some things we need to avoid or approach with caution while we are breastfeeding.
Herbs in particular can be potent, and it's important to be careful with them- whether in teas, essential oils or supplements. The research is divided on the safety of herbs while lactating, but it's best to avoid large quantities of chamomile, lavender, ginger and even fenugreek and fennel3.
Tea with a lot of caffeine should also be approached with caution while you are breastfeeding. While most babies are not affected by the small amount of caffeine free that is passed through breast milk, you may notice that your baby is extra fussy or not sleeping well if you are having high amounts of caffeine4.
How Much Lactation Tea Should I Drink Per Day?
Every lactation tea is unique, and therefore will have different consumption recommendations. Follow the directions on the packaging of the tea you choose to drink, or talk with your doctor.
Generally, it is recommended that you drink 1-3 cups of breastfeeding tea a day, in order to achieve maximum benefits.
If you are having multiple cups a day and are noticing that you and/or your baby are experiencing negative side effects, stop drinking it and reach out to your healthcare professional. Lactation teas are not a good option for everybody.
When Should Your Talk To A Doctor/ Certified Lactation Counselor About Low Milk Supply?
You should talk to your doctor or a Lactation Consultant whenever you have ANY concerns about your milk supply. No question or concern is too small to bring up to your healthcare provider.
A late sign of low milk supply (or ineffective latch) is that your baby is losing weight. If you notice any weight loss from your baby at all, it is VERY important that you contact your doctor, lactation consultant or pediatrician!
---
Article By Macy Tollefson
Macy Tollefson is a full spectrum doula, breastfeeding specialist and prenatal yoga teacher. She is passionate about guiding the modern mama on her journey through the beautiful (and wild) transformation of pregnancy, birth and postpartum. Macy envisions a world where every mother has access to the resources she needs, and follows her intuition to make the best decisions about what is right for her and her baby.
---
The purpose of this article is informative. It's not a substitute for professional medical advice or medical care. Remember: safety first! Consult your doctor/pediatrician in case of any doubts. The author of this article does not accept any responsibility for any liability, loss or risk, personal or otherwise, incurred as a consequence, directly or indirectly, from any information or advice contained here.
Sources of pictures:
Pictures of Milkmaid Tea belong to Earth Mama Organics. Source: https://earthmamaorganics.com/
Pictures of The Spoiled Mama Tea belong to The Spoiled Mama Brand. Source: https://www.thespoiledmama.com/
Pictures of Milkmakers Tea belong to Munchkin Brand. Source: https://www.munchkin.com/
Pictures of Mother's Milk belong to Traditional Medicinals Brand. Source: https://www.traditionalmedicinals.com/
Pictures of Our Lady Of La Leche Tea belong to Birds And Bees Teas Brand. Source: https://birdsandbeesteas.com/
Pictures of Oomi tea belong to Oomi Organics Brand. Source: https://www.oomiorganics.com/
Pictures of Milk Flow Healthy Lactation Tea belong to Rae's Roots Brand. Source: https://www.raesroots.com/
Pictures of Pink Stork Tea belong to Pink Stork Brand. Source: https://pinkstork.com/
Pictures of Healthy Lactation Tea For Breastfeeding Moms belong to Secrets Of Tea Brand. Source: https://secretsoftea.com/
Pictures of Oat Mama Tea belong to Oat Mama Brand. Source: https://www.oatmama.com/
References:
https://flo.health/
https://www.laleche.org.uk/
https://www.babycenter.com
https://www.medela.us/