Acne during pregnancy is very common, but doesn't mean you can't look for solution to treat it and prevent future breakouts. But you need to remember that most of the acne medications are very DANGEROUS & UNSAFE during pregnancy. That's why you need to be careful and double check the ingredients in all face washes, creams, toners and serums that you're about to you. This article will help you to make sure you're choosing only pregnancy-safe acne treatments.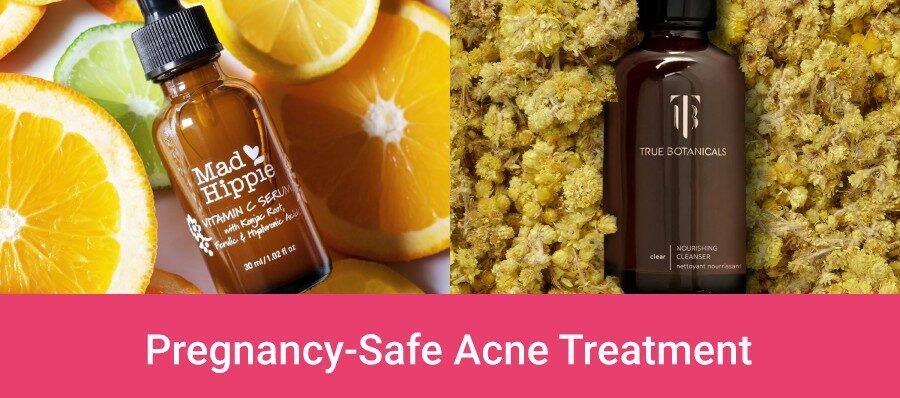 Medically reviewed by Jennifer Turkyilmaz – Registered Nurse
So many things change in your body during pregnancy, sometimes it can be a challenge to recognize yourself in the mirror. This can be especially true if you experience acne during pregnancy. It is such a common condition that you have 50% chance to develop it.
Pregnancy acne can be hard on your self-esteem, especially if you're already feeling insecure about watching your pregnant body grow. A lot is changing in your life, but acne is something you can manage and treat, even in pregnancy.
You will need to be aware of what ingredients you use to ensure they are safe for you and your baby, and it's best to consult a doctor before beginning acne treatments during pregnancy. Read on to learn more about safe products you can use to maintain the health of your skin and practice self-care during your pregnancy.
This article is not a substitute for medical advice. It may contain affiliate links.
Best Features
❤️ Best pregnancy-safe toner for acne
❤️ According to mamas it's very effective in combating severe acne and prevents new breakouts
❤️ Improves skin tone
✖️Not all women likes the botanical scent
❤️ Helps to unclog pores and control sebum production
❤️ It decreases development of new pimples
❤️ Has soothing ingredients
✖️Only available in a tiny tube
❤️ One of the best face washes for pregnancy and hormonal acne
❤️ Leaves the skin feeling ultra soft
❤️ Moms say it has a beautiful scent
✖️High price tag (fortunately a little goes a long way!)
advantage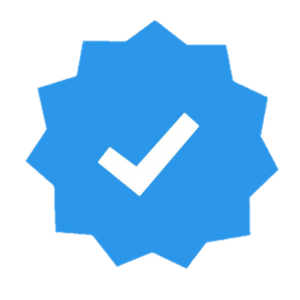 Recommended by 91% of verified buyers!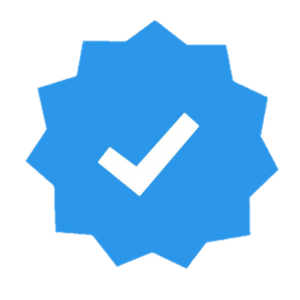 Recommended by 600+ verified buyers!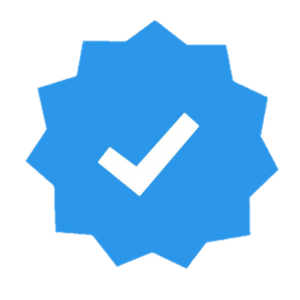 Recommended by 85% of verified buyers!
Moms' Favorite Choice
Best Features
❤️ Best pregnancy-safe toner for acne
❤️ According to mamas it's very effective in combating severe acne and prevents new breakouts
❤️ Improves skin tone
✖️Not all women likes the botanical scent
advantage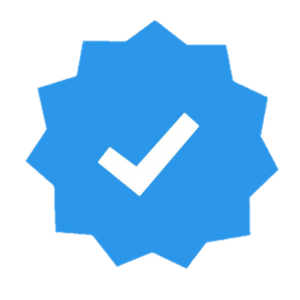 Recommended by 91% of verified buyers!
Best Features
❤️ Helps to unclog pores and control sebum production
❤️ It decreases development of new pimples
❤️ Has soothing ingredients
✖️Only available in a tiny tube
advantage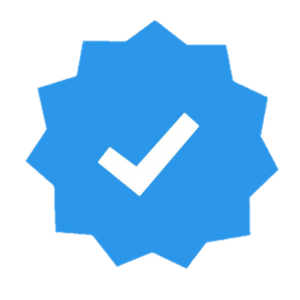 Recommended by 600+ verified buyers!
Best Features
❤️ One of the best face washes for pregnancy and hormonal acne
❤️ Leaves the skin feeling ultra soft
❤️ Moms say it has a beautiful scent
✖️High price tag (fortunately a little goes a long way!)
advantage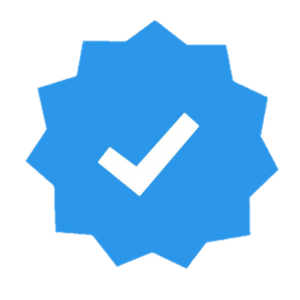 Recommended by 85% of verified buyers!
Last update on 2023-09-30 / Affiliate links / Images from Amazon Product Advertising API
What Can I Use to Treat Acne While Pregnant?
I did the hard work for you and carefully checked all ingredients, so you could rest assured that nothing in your skin care routine will harm you or the baby in your womb. And if I'm hesitant about a specific ingredient – I'm gonna let you know about it!
Here is my list of the best pregnancy-safe acne treatments, including toners, serums, face washes, night creams and spot treatment creams.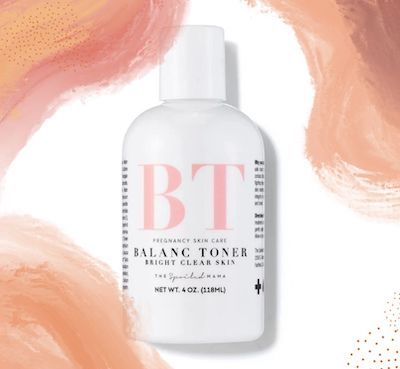 The Spoiled Mama BalanC Acne Toner contains only pregnancy and breastfeeding-safe ingredients. Aloe vera helps to gently soothe irritated acne-prone skin, while the antimicrobial properties of witch hazel and geranium oil help to regulate blemishes.
This toner also contains bromelain and papain beta-glucan to help keep the skin texture smooth and improve the absorption of other skincare ingredients, like the 2% vitamin C present in this toner.
What Mamas Love About It
Pregnant women rave about the gentle effectiveness of this toner in combating acne related to hormonal changes. Aside from lessening the severity and recurrence of acne during pregnancy, many mamas also report seeing improvements in skin tone and texture with regular use.
One thing to keep in mind is that there are several essential oils in this toner (like geranium, chamomile, lemon and tea tree). A small percentage of people might have sensitivities to essential oils that can actually worsen skincare concerns.
Keep In Mind
I recommend to test this toner on a small area first if you know you have sensitive skin or a disrupted skin barrier.
Also, not everyone is a fan of fragrance in their skincare, and reviewers mention that this has toner has a strong botanical scent. For others, this natural fragrance might be a bonus.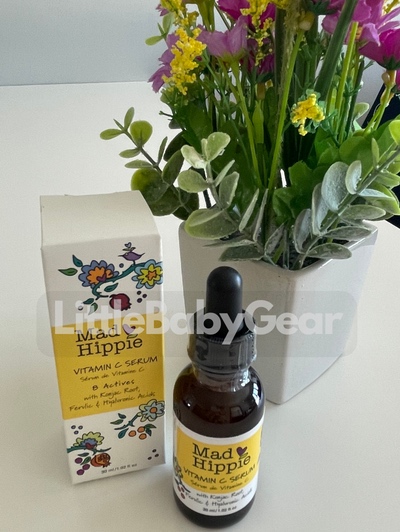 The Mad Hippie Vitamin C Serum with Vitamin E is a pregnancy-friendly serum chock full of antioxidants that can protect your skin and help to heal acne quickly.
Vitamin C, vitamin E, and ferulic acid work together to decrease skin inflammation and may even minimize the development of melasma during pregnancy.
This serum contains one of the most effective skin hydrators on the market – hyaluronic acid. Many pregnant women experience dehydrated skin, and hyaluronic acid is an excellent choice to combat dryness and moisturize your skin.
What Mamas Love About It
Moms who have purchased this serum have been pleased with the rapid results they've seen. Some even say that within 2 weeks they noticed smoother, brighter skin with minimized dark spots.
Even those with sensitive skin say they tolerate the vitamin C in this Mad Hippie serum without difficulty, even though other vitamin C products they've tried only irritated their skin.
Keep In Mind
You should remember though that this product does contain grapefruit essential oil. Citrus oils can be aggravating to some mamas with sensitive skin, and they can also cause sensitivity to sunlight.
It's always a good idea to wear sunscreen (mineral one is best during pregnancy,) but be extra careful about sun exposure if you're using any citrus oils on your skin, especially on your face.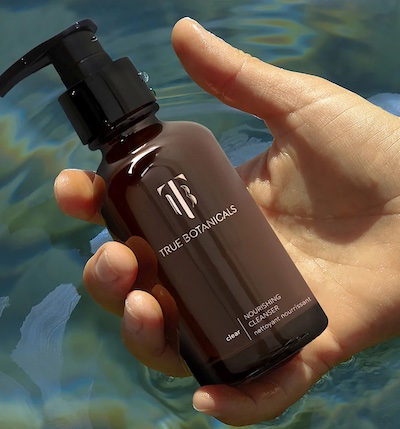 This gentle cleanser is a safe, non-drying, acne fighting champ. It contains powerful green and white tea antioxidants and helichrysum, which help to soothe your skin and heal inflammation.
Helichrysum is a plant with antibacterial and antifungal properties that has been used for centuries to fight infections.
The Clear Nourishing Cleanser also contains black willow bark, a natural alternative to salicylic acid that gently and effectively exfoliates the skin. It has also antioxidant and anti-aging properties.
Although it is recommended to rather avoid BHA (including salicylic acid) during pregnancy, the black willow bark is most likely a safer option (if use only for spot treatments) that may have similar effects.
If you want to be extra careful, consult with your dermatologist if you can add this cleanser to your pregnancy safe ace treatments.
What Mamas Love About It
Reviewers with oily, combination, and dry skin all agree that this cleanser is a joy to use. Women enjoy the gently, natural fragrance and how soft their skin feels after washing.
Many users say that this cleanser was the first product they'd ever found that helped with their intractable acne. Plus, it's one of the best acne treatments for preventing further breakouts!
Keep In Mind
Although this pregnancy-safe face wash for acne has high-quality ingredients and rave reviews, the price tag may seem a bit high for some moms. A little goes a long way, however, so it may be more affordable in the long run than it seems at first glance.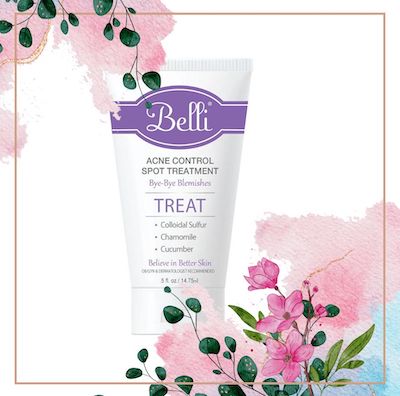 This cream is carefully formulated with pregnancy safe ingredients that are especially useful when used on hormone-related breakouts.
The main active acne fighting ingredient is 3% colloidal sulfur which helps to unclog pores and control sebum production. It also contains antimicrobial and anti-inflammatory tea tree oil.
This spot treatment cream also uses several soothing ingredients like chamomile and cucumber extracts to help avoid skin irritation.
What Mamas Love About It
Pregnant and breastfeeding mamas report amazing results on their hormonal acne from using this spot cream. Many say they have noticed an almost immediate improvement in their skin and a decrease in the development of new pimples. Plus it seems to prevent future breakouts really well.
Keep In Mind
Fragrance-sensitive people beware: sulfur doesn't smell great. Most moms say the smell fades quickly, but it can be a bit too strong for some.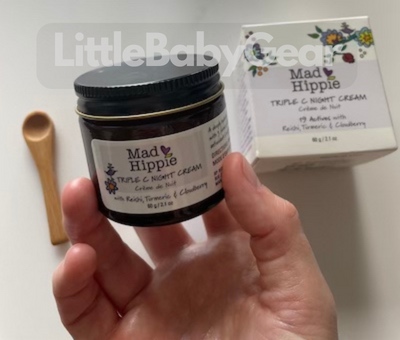 The Mad Hippie Triple C Night Cream is loaded with ingredients that will help your skin glow with health.
Some of its powerful key ingredients are 3 bioavailable forms of vitamin C, 2 mushroom adaptogens that rejuvenate and protect the skin, the skin brightener cloudberry, and the powerful antioxidant turmeric.
This night cream also has excellent skin hydrating ingredients like sodium PCA and ceramides.
What Mamas Love About It
Mothers with dry skin especially love the Triple C Night Cream, although it has fans with all skin types. Women report that their face looks clearer and smoother after using this cream and that it works wonders at eliminating dry spots.
Lots of moms who have red acne scars are very happy with the results even just after a few days of using this cream – the scars are lighten up and less visible.
Keep In Mind
Not everyone enjoys a thick feeling moisturizer, and this cream might be a sensory issue for some people since it is a heavier night cream. For those with dry skin, however, it might be more like a refreshing drink of water for their skin.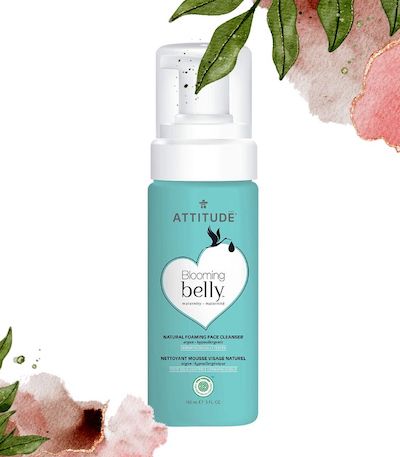 Blooming Belly foaming face cleanser is a safe, gentle, and no-frills cleanser that is perfect for use during pregnancy.
It contains hypoallergenic ingredients that cleanse and moisturize your face with the added benefit of argan leaf extract. It helps to improve the skin barrier, keeping your skin smooth and irritation-free.
What Mamas Love About It
Moms love how clean and soothed their skin feels after using this cleanser. It is lauded for being gentle and having a lovely mild fragrance, and it is non-irritating and non-drying. Many continue using the Blooming Belly cleanser even when they are no longer pregnant.
Keep In Mind
This cleanser does its job well, but if you are looking for active ingredients in your cleanser this isn't the one for you. This cleanser focuses only on its job of cleansing and protecting your skin, not on anti-aging or other specific skin concerns.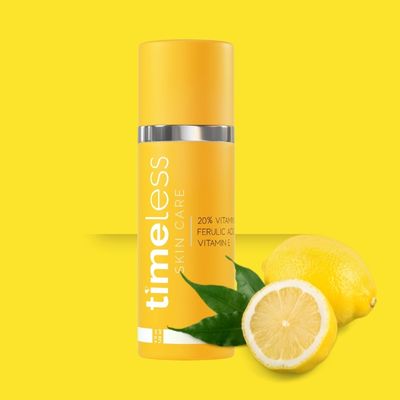 Timeless Skin Care's 20% Vitamin C + E Serum brightens and refines skin. Vitamin C protects skin from stressors, as well as helps to build and protect collagen. Another ingredient – ferulic acid is an acne fighter that can minimize post inflammatory hyperpigmentation.
What Mamas Love About It
This product has thousands of 5 star ratings from happy clients. If used consistently, skin is reported as looking clearer and smoother with less dark spots. This serum is said to be gentle yet potent and even helps to fade acne scars.
Keep In Mind
Vitamin C can lose its effectiveness when exposed to air. Be sure to store this serum out of the light and keep the top closed as much as possible to delay oxidization. If the serum turns yellow or brownish, that means it has oxidized and should be discarded.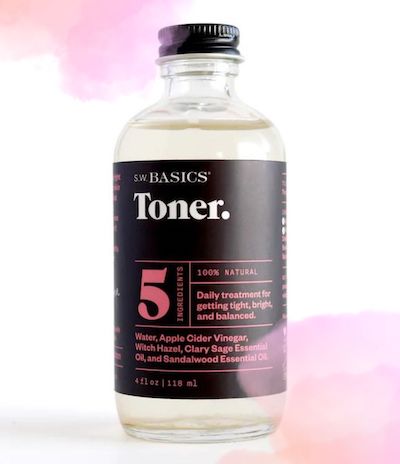 If you want simplicity in your pregnancy skin care routine, then S.W. Basics Toner might be the perfect choice for you.
This toner has only 5 ingredients: apple cider vinegar (ACV), witch hazel, water, and clary sage and sandalwood essential oils.
ACV can help balance the pH of your skin, and it has antimicrobial properties that can fight acne causing bacteria. Witch hazel soothes skin and clary sage are anti-inflammatory, and sandalwood is an antioxidant and moisturizer.
What Mamas Love About It
Expectant mothers with oily skin appreciate the balancing effects of this toner and many women find that it works well to improve stubborn pimples and whiteheads. S.W. Basics Toner is described as refreshing, cleansing, and non-irritating to delicate skin.
Keep In Mind
Be aware that the scent is a deal-breaker for some. If you are sensitive to smells, the strong vinegar aroma of this toner might be overwhelming for you.
This toner might also be drying for those with dry or combination skin.
There's one more thing to keep in mind. Among ingredients you can see clary sage – some experts recommend to avoid this essential oil when pregnant as it may cause contractions.
However, the risk of negative effect on your health or your baby's development is most likely very very low, especially if you use this toner in small amounts for spot treatment of your breakouts. But I still had to mention it. If you want to make sure this is a pregnancy safe acne toner, consult with your health provider.
Pregnancy Safe Acne Treatments – FAQ
If you're wondering what causes breakouts and what acne products you can use while pregnant, here you'll find more research-based information.
Why Do I Have Acne During Pregnancy?
Your hormones go through major changes when you have a growing baby in your womb.
The hormone that is blamed for pregnancy acne is progesterone1. Progesterone levels elevate dramatically in the first trimester of pregnancy when it prepares and maintains the uterus to support your pregnancy.
Unfortunately, it also stimulates oil production (sebum) in your skin. Excess oil means more chances to get clogged pores and breakouts related to changes in your hormones.
If you have a history of acne, you are more likely to develop pregnancy acne. The first trimester might hit hard with hormone-triggered blemishes.
Your skin troubles might settle down in the second trimester and then ramp back up again in the third trimester when hormone levels increase again.
In some cases the pregnancy acne goes away on its own, but some women continue to have new breakouts throughout the pregnancy and postpartum.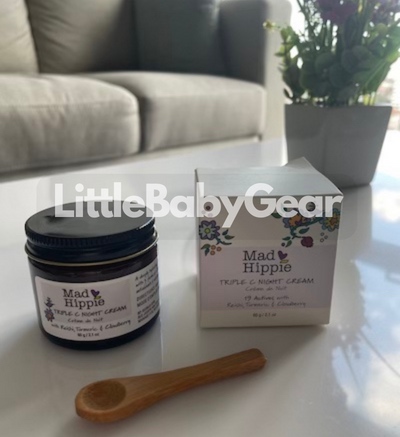 What Ingredients Should I Avoid In Pregnancy Acne Treatment?
Several preservatives should be avoided during pregnancy and while breastfeeding (for more comprehensive list check this article).
Paraben BPA – has been linked to miscarriage and low birthweight.
Phynoxyethanol – research2 shows that utero exposure to this common preservative may cause neurological damage and developmental delays in children.
Phthalates – have been shown to cause preterm birth.
Formaldehyde – can cause serious birth defects. Both formaldehyde and phthalates can be found in numerous household products.
Salicylic acid and benzoyl peroxide3 – are probably safe in limited amounts and spot acne treatments, but their use is generally discouraged during pregnancy. Talk to your doctor before using these ingredients.
Retinol – many doctors recommend to avoid retinol4, as it has been linked to birth defects.
Hydroquinone – absorbs easily through the skin and into the bloodstream, and it is also best avoided during pregnancy and breastfeeding.
Safer Alternatives – What Ingredients Are Safe & Can Treat Acne
Some examples of skincare ingredients that can help with pregnancy acne and are generally considered safe:
Vitamin C
Vitamin E
Aloe vera
Alpha and beta hydroxy acids like glycolic acid or azelaic acid – but only in low concentration (it's best to consult using BHA and AHA with your OB-GYN)
Tea tree oil
Hydrocolloid patches
Bakuchiol
Niacinamide
Kojic acid and licorice root
What Can The Dermatologist Do For Acne In Pregnancy?
If your pregnancy acne has been too stubborn to handle on your own, you may want to enlist the help of a board certified dermatologist. Your dermatologist5 can guide you on the safe, limited use of salicylic acid and benzoyl peroxide while pregnant. They can perform extractions and can offer you some laser and light therapies after pregnancy.
They can also write you a prescription for a safe topical antibiotic, if necessary. For severe acne6 after the first trimester, your board certified dermatologist might prescribe a short course of antibiotics that are proven to be low risk, however most oral treatments are not appropriate when you're pregnant.
Even if your acne isn't severe, it's a good idea to keep up with your dermatologist when you're an expectant mother. Your skin goes through many changes during this time, and your doctor can help you troubleshoot and minimize potential skin problems while you're pregnant.
---
Article By Jennifer Turkyilmaz, BSN, RN
Jennifer Turkyilmaz is a Bachelor of Science in Nursing and a Registered Nurse. She worked for several years as a high-risk antepartum nurse.
---
Sources of pictures:
Pictures of The Spoiled Mama BalanC belong to The Spoiled Mama Brand.
Pictures of True Botanicals CLEAR belong to True Botanicals Brand.
Pictures of Mad Hippie Serum belong to Mad Hippie Brand. Pictures of Triple C Night Cream belong to www.LittleBabyGear.com.
Pictures of ATTITUDE Blooming Belly Face Cleanser belong to ATTITUDE Brand.
Pictures of Timeless Serum belong to Fimeless Brand.
Pictures of Belli Spot Treatment belong to Belli Brand.
Pictures of S.W. Basics Toner belong to S.W. Basics Brand.
---
The purpose of this article is informative. It's not a substitute for professional medical advice or medical care. Remember: safety first! Consult your doctor/pediatrician in case of any doubts. The author of this article does not accept any responsibility for any liability, loss or risk, personal or otherwise, incurred as a consequence, directly or indirectly, from any information or advice contained here.
Your trust is really important to me: This article includes affiliate links to products that I think are useful for our readers. If you make a purchase through these links, I may earn a small commission at no extra cost to you. Your support helps me run this blog – thank you!