Are you hesitating what bike is best for a 3 year old or 4 year old? Should you go for balance bike, pedal bike with training wheels or maybe 2in1 convertible bike? In this article I'm going to share with you my favorite bikes for 3 year olds & up, as well as explain why training wheels can actually make the learning process longer!

Do you remember when you got your first bike? Was it wrapped with a big bow for Christmas? Or, perhaps it was your favorite birthday present as a child? A first bike is one of those milestone gifts that most children cherish.
But, what type of bike should you get your child to start off with? A bike with training wheels or a balance bike?
This article is not a substitute for medical advice. It contains affiliate links.
Best Features
❤️ Best convertible bike for teaching your kiddo to cycle
❤️ Turns from a balance bike to normal kids bike - it's an investment for many years
❤️ Has adjustable frame, seat and handlebar for a growing kiddo
✖️No kickstand to hold the bike standing
❤️ Thanks to adjustments it's suitable for kids from about 3 to 6 years old
❤️ Puncture-free tires
❤️ Can be converted into pedal bike
✖️Pedal kit sold separately
❤️ One of the most inexpensive (and still good quality) balance bikes
❤️ Makes it easier for the kiddo to learn how to ride a bike (in contrast to training wheels)
❤️ Ultra lightweight
✖️Lots of plastic parts
advantage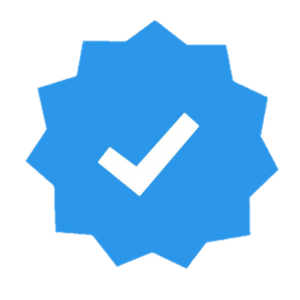 Recommended by 93% of verified buyers!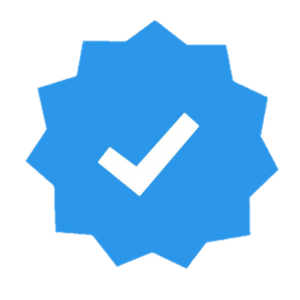 Recommended by 3,000+ verified buyers!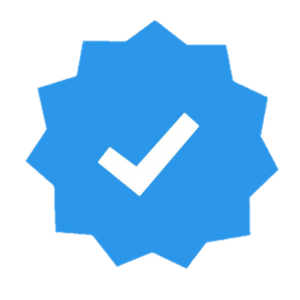 Recommended by 92% of verified buyers!
Parents' Favorite Choice
Best Features
❤️ Best convertible bike for teaching your kiddo to cycle
❤️ Turns from a balance bike to normal kids bike - it's an investment for many years
❤️ Has adjustable frame, seat and handlebar for a growing kiddo
✖️No kickstand to hold the bike standing
advantage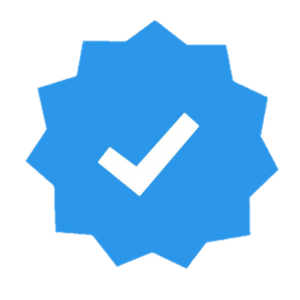 Recommended by 93% of verified buyers!
Best Features
❤️ Thanks to adjustments it's suitable for kids from about 3 to 6 years old
❤️ Puncture-free tires
❤️ Can be converted into pedal bike
✖️Pedal kit sold separately
advantage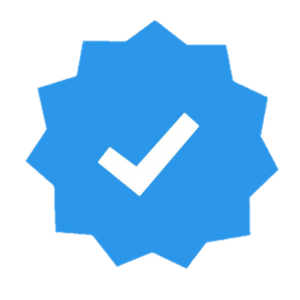 Recommended by 3,000+ verified buyers!
Best Features
❤️ One of the most inexpensive (and still good quality) balance bikes
❤️ Makes it easier for the kiddo to learn how to ride a bike (in contrast to training wheels)
❤️ Ultra lightweight
✖️Lots of plastic parts
advantage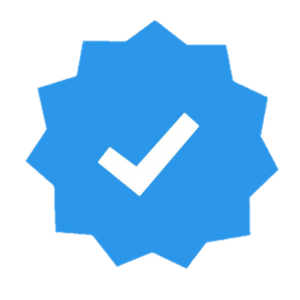 Recommended by 92% of verified buyers!
Last update on 2023-09-29 / Affiliate links / Images from Amazon Product Advertising API
Balance Bikes Are Best
While many of us may have learned how to ride a bike with the aid of training wheels, today we know that for children's physical development, balance bikes are actually a better approach.
Balance bikes help little ones to develop the appropriate muscles, physical control and balance required for riding a bicycle independently. Further, they encourage independence and confidence along with it, so you get emotional, mental and physical development with balance bikes.
And what's most important – it's actually easier and faster for kids to learn how to ride a bike with a balance bike than bike with training wheels!
Best Balance Bikes & Pedal Bikes For Your 3-4 Year Old Kid & Up
Here is a list of great starter bikes for kids ages 3-4: ones that convert from a balance bike to a traditional pedaling bike, budget bikes and more.
All the bikes on this list are safe for young riders who are just learning how to ride their first bike.
First up is this awesome SmarTrike Xtend Convertible Bike. It starts off as a simple balance bike, but when your child is ready for their first wheel bike, simply add on the pedals and watch them go!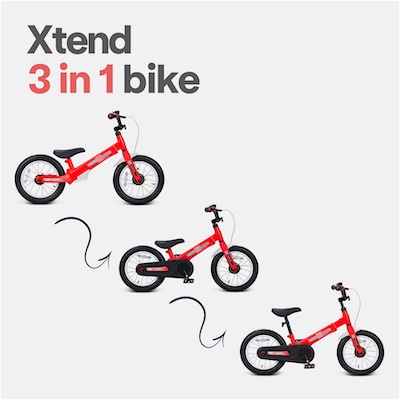 Why Parent Love It
The biggest advantage: EXTENDABLE FRAME! What really sets this bike apart from others is that it's not just the seat and handlebars that are adjustable, but the frame itself extends, too! No other bike on this list has an extendable frame. This is a kids bike that grows with your child, to approximately 6 years in age.
This is great for young children because the magnesium frame makes it a lightweight bike. This 14-inch wheel bike is a bit taller than most balance bikes, which is why it transitions so well to pedaling. But, keep in mind it is a bit taller than a regular balance bike (which are usually 12-inches).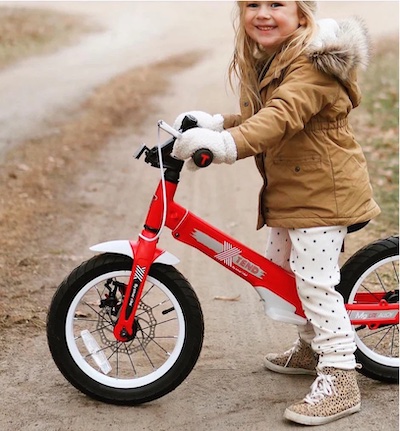 When your child starts using the pedals, it has a front brake for safe stopping, too. However, as a balance bike, there are no brakes, which is standard.
Keep In Mind
There is no anchor to hold the bike standing.
This 14-inch Strider bike makes a great first child's bike. Strider is one of the leading names in kids bike brands, so you know you can trust the quality and durability of these balance bikes.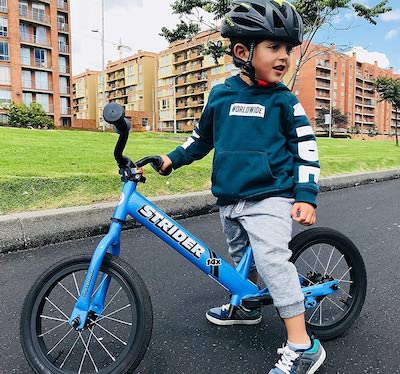 Why Parents Love It
It is straightforward to use and with an adjustable seat and moveable handlebars, your child can use this bike for a long time. The suggested age reaches to 7 years, but many parents found that 6 years old was the more accurate limit, or once your child's inseam reaches 23 inches.
There is a pedal kit available for the Strider, so when your child is ready to try using a pedal bike, they don't need a new bike, they can keep riding with the same bike they've been using all along. And, when you attach the pedals, the bike will also have coaster brakes (a must for young riders!).
This bike has 'no-flat' tires, not regular bike tires like what you find on mountain bikes that can get punctures. This means you'll never had to deal with punctures at the park.
Keep In Mind
The pedal kit is sold separately, making this bike on the higher end.
PRO TIP: This bike comes in several sizes, the 14X is the largest available. However, if you need a smaller bike (to fit a child's inseam under 16 inches), look at some of the other available Strider bikes, like this 12 Classic or the 12 Sport version, which are 12-inch wheeled bikes, recommended for children as young as 18 months old.
Here is another great SmarTrike bike, but a little different than the first one mentioned. This bike is called a "running bike" and is designed for younger children (starting at 2 years old) to help them develop the necessary skills and muscle control which they need in order to advance to a pedal bike.
This bike can be used as a balance bike, but you're sure to see your child literally running with this bike in a short time. It's suitable for kids even up to 5 years.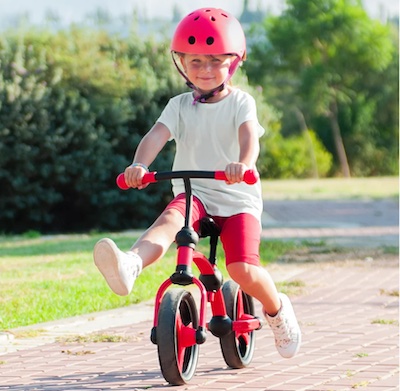 Why Parents Love It
It has a 2-in-1 feature – your child can adjust the rear wheel to make different configurations, based on what feels the most comfortable.
It also has puncture resistant tires, not traditional bicycle tires that require air, so you won't have to worry about dealing with flats.
With its adjustable seat and handlebars, this quality bike can grow with your child and be used until approximately 5 years of age and ready for pedal bike.
It's also one of the most budget-friendly running bikes for 2 years old & up.
Keep In Mind
You cannot attach pedals to it, it is only a balance bike, not convertible to add pedals, later on.
PRO TIP: Another great starter bike is this Schwinn brand balance bike. In contrast to SmarTrike balance bike, this one has thick air-filled tires which provide ultra smooth ride and allow your little one to run through grass, gravel and even mud!
This Chicco Balance bike might look like other bikes on this list, but it stands out for two features: the handlebars and the 360 degree rotational front wheel. It looks pretty cool, too!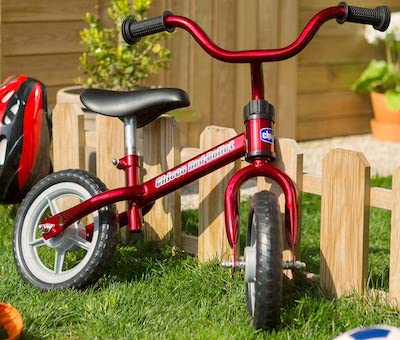 Why Parents Love It
Compare other balance bikes and you'll see they usually have straight handlebars, no special ergonomic design. This Chicco training bike is inspired by BMX bikes, with handlebars that not only promote an upright riding position (no bending forward), but also a fully-rotational front wheel that gives them more control than other bikes for young kids.
Some parents love the fully-rotational front wheel, because it gives their child more freedom of movement. However, other bikes on this list have wheel limiters (specifically pedaling bikes, not balance bikes). According to some manufacturers it's safer to have more gentle turns and better steering control for learning riders.
Keep in mind
There aren't any brakes on this bike (rest at ease, your young rider won't be practicing any BMX stunts on their balance bike), but they also shouldn't take it down any steep hills.
Also, a few parents wished they could add pedals to extend the longevity of this bike and make it a convertible pedal bike, unfortunately, that isn't an option.
What if your child is almost ready to ride on their own and a balance bike with added pedals just isn't going to be enough?
Allow me to introduce the awesome Belsize kid's bike. Belsize adult bikes are loved for being lightweight and using a rubberized belt instead of a traditional bike chain. They've added the same features in this lightweight kid's bike that allows your child to ride a proper bike.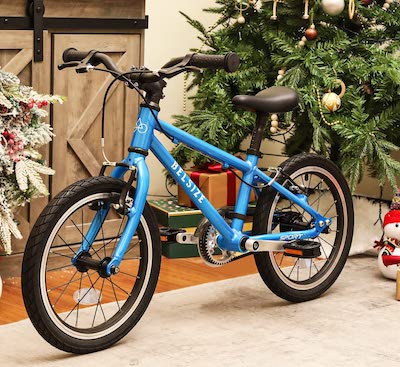 Why Parents Love It
The features that makes this bike stand from other kid's bikes is the belt instead of a chain.
This is a 16-inch wheel bike that requires almost no maintenance at all, because it doesn't have a chain. Instead, it uses a rubber belt, which is much safer for young children (no chain to get caught in!)
The bike has a lightweight aluminum frame, weighing in at only 12 and a half pounds, which makes it easy for your child to be in control and successfully maneuver hills, all on their own.
It also has an innovative brake system that utilizes V-brakes. These are found to be much safer than traditional coaster brakes (which can cause skidding or lead to falls from sudden stops).
Also, if your child attempts to pedal backward, no worries! Your child is still safe using V-brakes.
PRO TIP: This BELSIZE bike is a fantastic, more affordable alternative to one of the best (and most expensive) kids bikes out there – Prevelo Alpha One – which I also review below. Prevelo offers top-notch quality so your child could use the bike for many, many years, but it's over $300 so it's way above many parents' budget! If you're looking for some with more reasonable price but still good quality, BELSIZE is great option.
Keep In Mind
There is some assembly required with this bike, including adding air to the tires and attaching the seat and pedals.
Belsize does not recommend training wheels with this bike, and they also warn that many types of training wheels are not compatible, either.
The Banana LT is great for kids who are interested in riding bikes, but they are 2 years old or younger. If your little tike is ready to ride, but not tall enough to confidently maneuver a regular-sized balance bike, this balance bike is for you.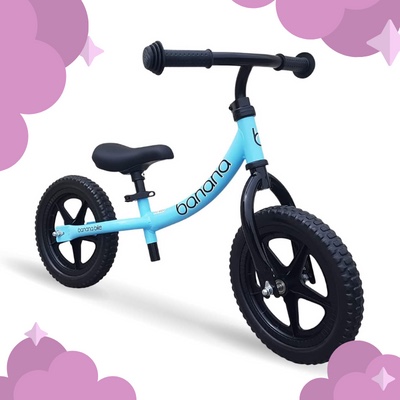 Why Parents Love It
The smaller height is great for younger (or shorter) kids: is only 11-inches tall – great for toddlers who are ready to try out their first bike, but find that 12-inch wheels are too tall.
Also, it is the lightest balance bike on my list at only 6 lbs, so your little adventurer is sure to be able to control it easily.
Another feature is that, while it's a quality bike with a lightweight frame that will certainly withstand several kids, it is sold at a very affordable price. This is our budget-friendly pick for a balance bike.
PRO TIP: Another budget-friendly balance bike, similar to the Banana LT one, above, is this Joystar kids bike. Keep in mind that Joystar has more kids bikes in their collection, but most of them include training wheels which I do not recommend.
Radio Flyer products are known for being well-made and strong enough to last decades. So, if you want something that you can use with your toddler and your grandchild, thirty years later, get the Air Ride Balance bike.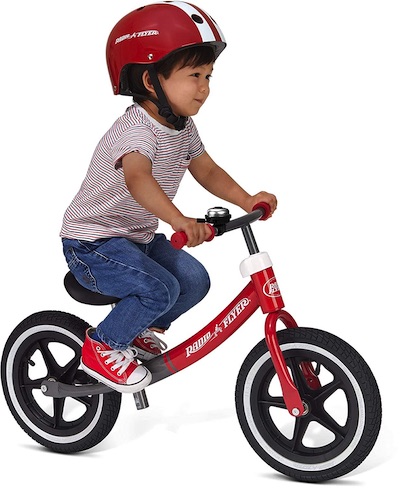 Recommended age is from 18 months up to 5 years, a perfect option for riders at the younger end. This can be the perfect first bike for your little one!
Why Parents Love It
The 12-inch rubberized air tires are strong enough for your child to ride on gravel, dirt or go off-road. The frame is designed to let little ones pull their feet up and 'glide' as they are learning to use this balance bike (just like when a mountain bike coasts downhill).
And, come on – the white-walled tires and red frame are classic and beautiful. Mama, get your camera ready, you are going to want lots of pictures of your child riding this!
Keep In Mind
There are no pedals for this running bike.
---
Big Kids Bikes – For Taller Children
Now, let's look at the other end: what if your kid is a bit older or taller and a 12-inch balance bike is too small for them? Then you want the Bixe bike for big kids.
If your bigger kid is too tall for a 12-inch balance bike, this Bixe bike is perfect for you.
It is designed for kids 4 to 9 years, the only big kids bike on the list. Other kids bikes for this age group typically have pedals or include training wheels, but this is a balance bike that looks cool, while helping kids develop the balance to ride.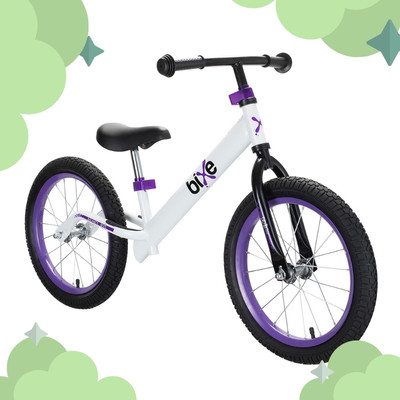 Why Parents Love It
The steel frame is lightweight – only 4 lbs, but can carry up to 150 lbs of weight, so it is going to hold your big kid, no problem.
It features mountain bike-style tires, so your big kid won't feel limited, even without pedals.
It comes in several cool colors and arrives mostly set-up already. Simply adjust the seat and handlebars with the included allen key.
Keep In Mind
Some parents mentioned that the seat is a bit hard.
GOMO stands for "Get Out More Often" , they have made a great balance bike to encourage outdoor activity, even in toddlers. It comes in cool colors, in case parents would like to get a pink bike for a girl or blue one for a boy.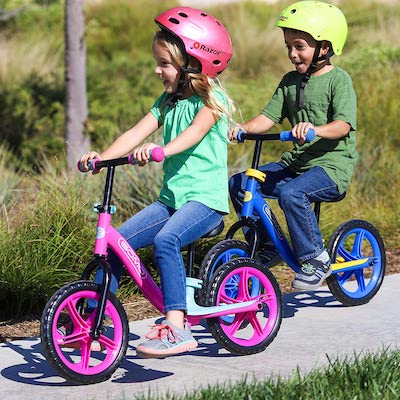 Why Parents Love It
The safety features, like limit to turning, unique GOMO-grip handles and comfy padded seat helps keep little riders safe. And the heavy-duty foam wheels, set on sturdy wheel axles let them be a little rough and go on adventures on their balance bike.
The footrest allows kids to 'glide' on smooth terrain (such as paved paths at parks), and the tires will not get punctures, even if they stumble over sharp objects.
The adjustable seat high moves up to 17.5 inches (with a minimum seat height of 12-inches tall), which fits most beginning riders.
Keep In Mind
Those wheels are not built for bumpy terrain. Stick to sidewalks and hard-bitten paths.
Schwinn are know for making the best bikes and the Koen & Elm kids bike is another winner! if your little rider is ready to start with a pedal bike, before you head to a local bike shop, try ordering this one.
Why Parents Love It
While this link goes to the 14-inch bike, this style comes in sizes 14-inches up to 18-inches, a great range for young riders of all heights.
It is designed for kids, with pedals, grips and seats that suit little bodies. The adjustable seat height and handbars grow with your kid, so they can ride around the neighborhood this bike for years.
It's a great road bicycle, for riding at the park or around the neighborhood. Instead of hand brakes, kids predal backwards and use the coaster brake to stop.
Keep In Mind
This bike includes training wheels included, but they are easy enough to remove once it arrives. I only recommend this bike WITHOUT training wheels.
If you are looking for another great transitional bike, once your child is ready to move on from a balance bike to a pedal one is this Segway 14-inch Ninebot.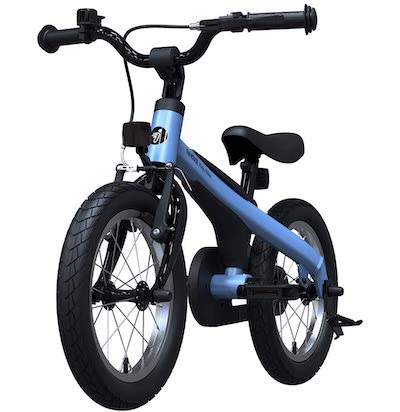 Why Parents Love It
It's the winner of the 2018 iF desisn Award and is designed for children 4 to 6 years, being around 3 – 4 feet in height (2'11 inches – 3'11' inches tall). The bicycle itself has a 14-inch wheel. It's got a high quality aluminum frame, which makes it lightweight and easy for kids to pick up and carry.
There are two types of brakes: a rear coaster brake and V-brakes for the hand brakes at the front. To keep your kids safe, there is a covered bike chain, so you can't get shoe laces caught. I also realy like the pneumatic tires that give it that mountain bike-look.
Keep In Mind
While the Segway bike comes with training wheels, you can easily remove them and enjoy the benefits of this kids bike. I suggest removing the training wheels as soon as your kid's bike arrives, so they don't get accustomed to riding with them.
---
HIGH-END & TOP-NOTCH BIKES
12. Woom Bikes
When I think about quality bikes for kids, I think Woom.
It's not just one good bike, but a series of great bikes. Take your pick of great kids bikes from the Woom collection:
Woom 1 – Balance bike on 12-inch wheels
Woom 2 – First pedal bike on 14-inch wheels, with coaster brakes
Woom 3 – 16-inch wheels bike that uses adjustable hand brakes.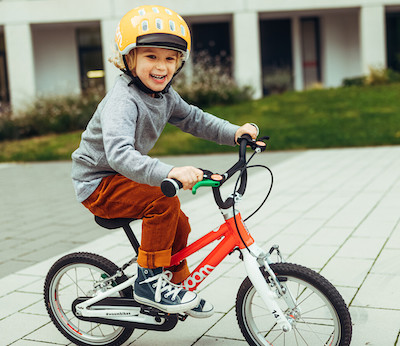 The Woom 2
The Woom 2 is is the 14-inch bike, and a great transition bike after a balance bike. The hand brakes are color-coordinated to teach children which lever to pull.
The steering limiter prevents children from turning too hard (and tipping over) and helps them drive straight, too.
The Woom 3
The Woom 3 has a 16-inch wheel and makes a great first pedal bike for street riding, if you are a biking family. The hand brakes are adjustable, to bring them closer for small hands, and they tell the child which brake controls the front or the back wheels. The Woom 3 also has a steering limiter, for safety.
Why Parents Love It
Both bikes are made from high-quality aluminum, and designed for small kids, with an ergonomic seat and handlebars.
Parents love that the Woom bikes come with a built-in kickstand – instead of your child just dropping an expensive bike in the dirt, they can use the anchor. And you can buy accessories, like fenders or a helmet that match the bike (just picture your little rider with a matching bike and helmet!)
Keep In Mind
It's one of the most expensive kids bikes out there – but it's a tradeoff for the best quality!
13. Prevelo Alpha One
What looks like an adult bike, but is completely designed for a child? Prevelo bikes.
Everything about this bike: from the hand brake to the crank of the foot pedal, is made for kids.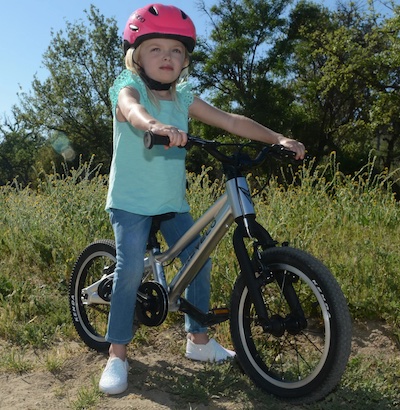 All the Prevelo bikes are high-end, professional-grade kids bikes. While I highlight the Alpha One (14-inch wheel bike), the 20-inch bikes and 24-inch ikes are worth a look for your older kids, too. And, they do have a 12-inch bike, which is a balance bike.
Why Parents Love It
Prevelo bikes are designed for kids. Short-reach hand brake levers are easier for little hands, chainstays over the rear wheels provide safety, the cranks are engineered for a child's narrow hips and the entire bike frame is designed for a child's lower center of gravity.
The Alpha One, with 14-inch wheels, has an aluminum frame and two types of brakes: rear brakes (removable with the freewheel kit) and front and rear V-brakes with brake levers on the handle bars. And, it has a double-chain with a wheel guard to keep kids safe and mountain bike-style tires so they can go off-road with confidence.
The bike comes 95% assemble upon delivery, all you need to do is insert the handelbars, seats and pedals and your id can start riding right away.
While it is an expensive bike, it is customizable to your child, you can also sign up for the Trade Up Membership, which gives you a 40% discount when you trade-up your child's bike for the next size up (you need to trade up within two years of the original bike purchase).
It's also customizable – you can include add-ons to make this bike your child's own:
hand grips
your child's name, lettered on the bike itself
a sweet bell
Keep In Mind
Additional features must be added on, for a separate price, too. That means anything customized or even the kickstand are an added cost.
---
Best Kids Bikes – FAQ
To help you choose the right first bike for your child, here you will find important information about types of kids bikes, tips for choosing the right size, and reasons NOT to use training wheels.
Is It Better To Start With A Balance Bike?
Balance bikes are proven to help young riders learn to ride pedal bikes faster than training wheels because they allow children to build the muscles and necessary balance, first. They learn to control the frame of the bike and steer before they have to balance on two wheels with traditional pedal bikes1.
If your child dreams of riding a bigger bike, then skip the training wheels and have them start on a balance bike, instead.
What Age To Start?
Now, there is no set age when a child must learn how to ride a bike, or when they should start. Basically, if your child is confidently walking, they could begin playing with a tricycle and move to a stider bike, or balance bike from there. This could be at 18 months old or 5 years old, when your own child shows interest in this activity.
What Size To Start With?
What you should consider most is the height of the bike (and your child, too). If you measure your child's inseam (length from their crotch to the bottom of their foot) you will have the best assessment of the size bike they need: whether that's a 12-inch wheeled bike or a 14-inch bike.
Now, kids bikes are often measured by wheel size, not frame size. So check out the wheel measurements, not so much the seat (the seat should be adjustable, anyway).
It's a good idea to invest in high-quality bikes for kids who are fast-growing and love being active. The best bikes have adjustable seats and handlebars to suit them as they grow.
Is It Better To Skip Training Wheels?
You may be planning to use training wheels because that's what you grew up with. However, now that we understand more about balance bikes, I would encourage you to give them a try, and not attach training wheels to your kid's bike.
If a regular bike has training wheels attached, then a child doesn't need to have sufficient balance or muscle control to ride, because the training wheels do that for them. Training wheels actually encourage dependency and don't help a child develop the confidence for riding on their own2.
While on the one hand, training wheels save the child from tipping over, it can permit them to go much faster than they really are prepared for and making learning how to ride a traditional bike (without training wheels) take longer.
Pedal Bike vs Balance Bike
Besides the most obvious difference – that one bike has pedals and the other does not, there are some other notable differences.
1. Brakes
Balance bikes usually do not have brakes. Children simply stop the momentum of the bike by setting their feet flat on the ground and stand to a stop.
Pedal bikes, on the other hand, can have two different types of brakes: brake levers at the handlebars, or rear coaster brakes.
A rear coaster brake requires riders to reverse the back pedal to stop, are usually for transitional bikes, or a first pedal bike.
Small brake levers on the handlebars, just like on an adult bike and mountain bikes, bring bikes to a halt.
As a child gets older, they start using V-pull brakes and learn which hand brake to use to control the front or back tire (we all know why its important to not pull the front brake while coasting down a hill!). Which is why the Woom bikes teach children which brake controls which tire from early on.
Not all the bikes on this list have the same type of brakes, but I mention which kind they do have, so read the specifics according to the bike you are looking to purchase.
2. Wheels/Tires
Balance bikes generally have rubberized or plastic wheels, not tires. The great thing about this is that you'll never deal with a puncture!
Pedal or wheeled bikes usually have proper tires that require inflation. Your child may need to be more careful when riding off-road. However, they will get better traction on asphalt and gravel compared to plastic or rubber wheels.
3. Weight
There's not much to balance bikes to make them heavy, but pedal bikes have gears and chains, which can add to their overall weight.
A heavy bike is more difficult for a child to control and maneuver up inclines, so look for light weight options when shopping for a pedal bike for your child.
Which Brand Is Best For Kids Pedal Bikes?
All of the bikes on this list are quality, but my favorites are Woom, Prevelo and SmarTrike. Woom bikes are great for regular, neighborhood riding, SmarTrike is an awesome transitional bike from a balance bike, and Prevelo bikes are perfect for nature trails and riding at the park.
What Kind Of Bike Is Best For A 3 Year Old?
As your 3-year old prepares for their first 'big kids bike" go with a balance bike, preferably one that you can add pedals to, as they adanvce in their riding skills and make it a converted pedal bike.
Don't use training wheels, because your child will learn how to ride a bike faster without them.
What Size Bike Frame Do I Need For A 3 Year Old?
Most bike sizes come in frames or rather, wheel sizes, of 12 inches, 14 inches or 16 inches.
12-inch wheels are ideal for toddlers, 18 months and up.
14-inch wheels are great for 3-4 year olds.
16-inch wheels are for taller children, or 5-7 year olds.
It's a good idea to purchase a bike with an adjustable seat (or an adjustable frame like the first SmarTrike on this list) so that your growing kid will get the most use out of their bike.
Can A 3 Year Old Ride A 12-Inch Bike?
First, it depends on the height of your child. But keep in mind that the correct height of a bike will teach your child the proper upright riding position for riding pedal bikes, later on.
Allow your child to learn how to ride with a decent bike that is the appropriate size for their height.
Is A 12-Inch Bike Too Big For A 3 year Old?
It all depends on the size of your child, see the chart below to determine the best bike fit for your unique kiddo.
To get the correct measurements, measure his or her inseam (from their crotch to the bottom of their foot) to determine the best bike height.
Child size: 14 -17 inch inseam, 12-inch bike tire.
Child size: 16 – 20 inch inseam, 14-inch bike tire.
Child size: 18- 22 inch inseam, 16-inch bike tire.
Is A 14-Inch Bike Too Big For A 3 year Old?
If your 3-year old has an inseam of at least 16 inches, (with their feet flat on the ground), then set the minimum seat height of a 14-inch bike for them, and it should fit just fine.
Alternatively, if you already have a 12-inch bike, you could put the seat at the maximum height and allow them to ride or stride with it.
Is A 3 Year Old Ready For A Bike?
Most three-year-olds are ready to start learning how to ride a bike.
Now, I wouldn't set my little one on a mountain bike right away – give them a balance bike to start learning on and as they become more confident, add pedals or buy them a proper bike.
Should A 3 year Old Be Riding A Bike?
What if your child isn't interested in learning right now? Don't sweat it.
Every child learn at their own pace and might just be interested in other things . before bikes become the obsession.
Trying to make them learn how to ride a bike before the are ready will just make you both frustrated.
If your little one wants to start trying before the age of 3, start with a balance bike until they have gained the motorskills to control the bike.
What Age Should You Get A Pedal Bike?
There is no specific age when a child can get a kids bike.
My first started with a balance bike at 2 years old and graduated to a regular wheeled bike by the age of 3. My second was never interested in his tricycle and didn't climb on a balance bike until he was 3 and a half. He didn't start using a pedal bike until closer to 5 years old.
When you see that your child is interested in a pedal bike and is riding (or striding with their balance bike) frequently then it might be time to invest in a good, quality bike for them.
Kid's First bike – Tips & Rules
When you do get your child their first bike, also buy a good bike helmet and set some rules for riding:
Where are they allowed to ride at the park?
Are they allowed to ride in the front yard, or enclosed backyard, only?
They must always wear shoes (mine always tried to ride outside in his slippers!)
If your little one is ready to ride bikes like the big kids, don't limit them – just set up some safety rules and encourage them to have fun!
---
The purpose of this article is informative. It's not a substitute for professional medical advice or medical care. Remember: safety first! Consult your doctor/pediatrician in case of any doubts. The author of this article does not accept any responsibility for any liability, loss or risk, personal or otherwise, incurred as a consequence, directly or indirectly, from any information or advice contained here.
Sources of pictures:
Pictures of SmarTike Running And Xtend Bikes belong to StarTrike Brand. Source: https://www.smartrike.com/
Pictures of Strider 14x belong to Strider Brand. Source: https://striderbikes.com/
Pictures of Red Bullet belong to Chicco Brand. Source: https://www.chiccousa.com/
Pictures of BELSIZE 16″ Bike belong to BELSIZE Brand. Source: https://belsizebike.com/
Pictures of Banana LT belong to Banana Brand. Source: http://www.banana-bike.com/lt/
Pictures of Air Ride belong to Radio Flyer Brand. Source: https://www.radioflyer.com/
Pictures of Bixe Bike belong to Bixe Brand. Source: https://bixe.com/
Pictures of GOMO Balance Bike belong to GOMO Brand. Source: https://www.instagram.com/gomokidz/
Pictures of Schwinn Koen & Elm Bike belong to Schwinn Brand. Source: https://www.schwinnbikes.com/
Pictures of Ninebot Bike belong to Segway Brand. Source: https://store.segway.com/kids/kids-bike
Pictures of Woom Bike belong to Woom Brand. Source: https://woom.com/en_US/originals
Pictures of Alpha One Bike belong to Prevelo Brand. Source: https://prevelo.com/products/alpha-one