Are you hesitating whether to splurge on Snoo vs. Halo? Except for a HUGE discrepancy in price, there are other important differences between these bassinets that you should know of.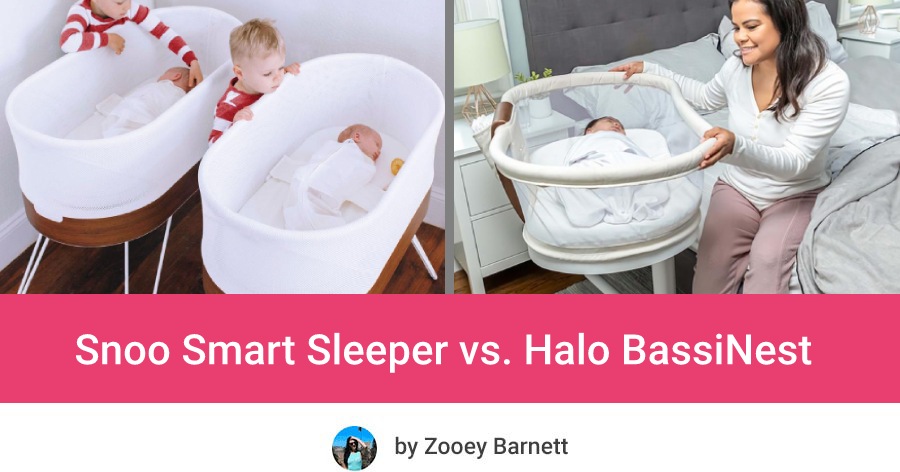 Snoo is considered to be one of the best smart sleepers. It has fancy features like fussiness detectors and it automatically adjusts rocking speed and sound volume to soothe the baby.
When I first came across this high-tech bassinet I was wondering: do parent REALLY need these features? Do they really work? And most importantly, are they worth the high price? I know that lots of parents have the same concerns. I decided to do my own research and tests.
If you, just like me, have been wondering whether the Snoo is really splurge-worthy or if Halo is a good alternative, this comparison article is for you.
Let's find out what are the differences and similarities and which of these two sleepers is actually better: Halo or Snoo (bonus: at the end of the article you'll find other more affordable alternatives!).
This article is not a substitute for medical advice. It contains affiliate links.
Best Features
❤️ Thanks to 360-degree swivel you can bring the bassinet closer to your bed
❤️ Transparent mesh sidewalls allow you to keep an eye on your baby
❤️ No Wi-Fi - no exposure to EMF radiation
❤️ Works better as bedside sleeper than Snoo
❤️ About 4x cheaper than Snoo
✖️Doesn't detect baby's crying
❤️ Detects crying and automatically adjusts motion & sound level to soothe baby
❤️ Comes with breathable sleep sack that keeps the baby snuggly swaddled
❤️ Beautiful design
❤️ You don't have to buy it, you can rent it
✖️Doesn't have foldable bedside wall
advantage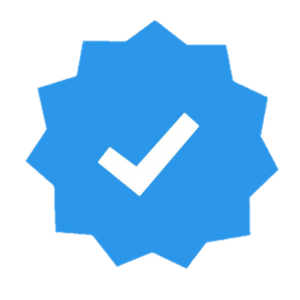 Recommended by 92% of verified buyers!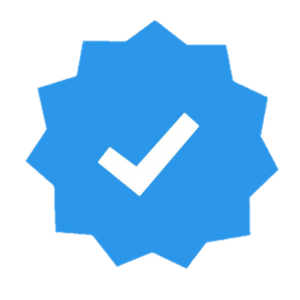 Recommended by 84% of verified buyers!
Fantastic Affordable Snoo Alternative
Best Features
❤️ Thanks to 360-degree swivel you can bring the bassinet closer to your bed
❤️ Transparent mesh sidewalls allow you to keep an eye on your baby
❤️ No Wi-Fi - no exposure to EMF radiation
❤️ Works better as bedside sleeper than Snoo
❤️ About 4x cheaper than Snoo
✖️Doesn't detect baby's crying
advantage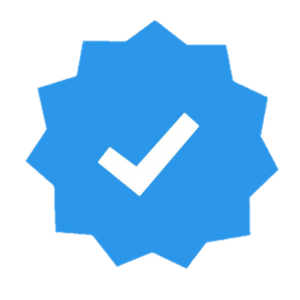 Recommended by 92% of verified buyers!
Best Features
❤️ Detects crying and automatically adjusts motion & sound level to soothe baby
❤️ Comes with breathable sleep sack that keeps the baby snuggly swaddled
❤️ Beautiful design
❤️ You don't have to buy it, you can rent it
✖️Doesn't have foldable bedside wall
advantage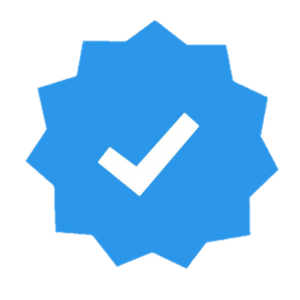 Recommended by 84% of verified buyers!
Last update on 2023-12-11 / Affiliate links / Images from Amazon Product Advertising API
Halo vs. Snoo – Comparison
Do you really need a $1600 smart bassinet or can you just go for a cheaper alternative? Here's everything you need to know before you choose Snoo or Halo.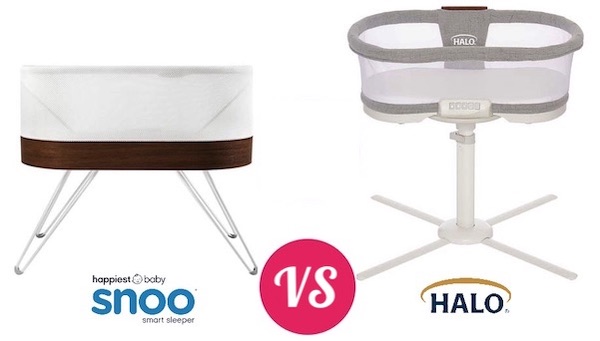 Snoo vs. Halo – Price
Let me start my Snoo vs. Halo comparison by comparing their prices, because this is one of the biggest differences between these two beds.
As far as I know, Snoo Smart Sleeper is the most pricey baby bassinet out there. There's only one version of the Snoo and it comes in one color.
SALE ALERT (01/29/23): Only this weekend you can save 25% OFF Snoo! This is the best opportunity to get this bassinet at more affordable price, so don't miss out on your chance. The sale ends on Sunday. Grab your 25% discount here >>
But there's one cool thing that makes Snoo stand out from other bassinets – you can rent it. I did the math, and it turns out that renting Snoo is about half the price of the purchase cost. If you're considering getting Snoo, I recommend you to check the renting options first here <<
Halo Sleeper is available in a few versions and all of them are a few times cheaper than Snoo. There's also double bassinet for twins!
Most popular versions of Halo Bassinet are:
Snoo vs. Halo – Maximum Weight Limit
Snoo Bassinet can be used from birth, it has even special settings in the app for preemies. Snoo weight and age limits are: 25 pounds/ 6 months. You should stop using it when your baby can get up on their hands and knees or if you baby is an early roller and can roll from back to stomach, even if it's before 6 months.
Halo has significantly lower weight limit. It's safe for newborns and can be used from birth. Baby can use Halo up to 5 months/ 20 pounds. If the baby is younger, but is already showing signs of being able to roll over, push up, pull up or sit upright unassisted, you should stop using the Halo BassiNest.
>> 5 Wonderful Cheaper Snoo Alternatives & Knock-Offs
Snoo vs. Halo – Design
These two baby bassinets have completely different designs. I have to admit that Snoo looks WAY BETTER.
It has stylish wooden base, white legs and white sidewalls made of mesh. You can see through the mesh sides and keep an eye on your little one while lying in bed. This baby sleeper feels very strong and stable.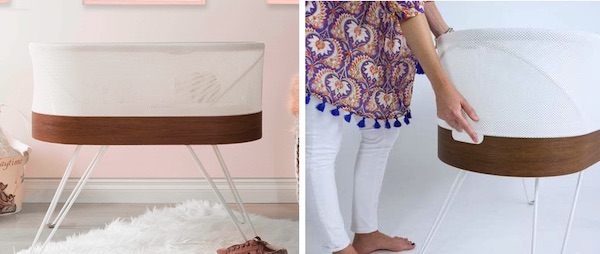 The control panel is minimalist, there are no icons on it. At the first glance it doesn't even look like a control panel!
Overall, I just love Snoo minimalist design, it look gorgeous and I'm sure it will match any nursery design.
On the other hand, Halo BassiNest Luxe has a bed with white mesh walls which are transparent. It's so easy to see through the mesh. There's also grey tweed finish. Halo Luxe has one large storage pocket where you can stash a few baby diapers, wipes, diaper rash cream and a small towel to always keep it at hand.
Essentia and Premiere Series come in different color versions and have two smaller convenient storage pockets.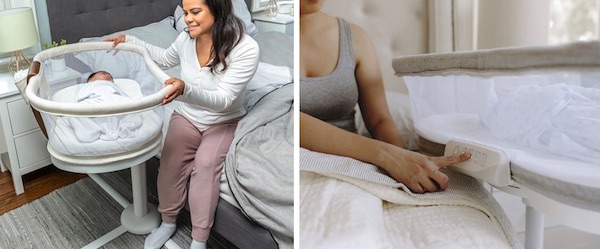 The legs are quite long and stick out – for me it's a tripping hazard. I've heard so many parents complaining about tripping over the legs on many occasions in the dark.
What's noteworthy, Halo mattress pad is about 3.5″ wider than Snoo mattress which means it may be a better option for more chunky babies.
There are two more important differences in design between Snoo and Halo which I have to mention.
Snoo comes with 3 sleep sacks that attach to the mattress (3 sizes for babies between 5-12 lbs, 12-18 lbs and 18-26 lbs). You should use it to swaddles the baby. It will keep their little arms in to ensure undisturbed sleep, and gives them feeling of warm snuggles just like in the womb.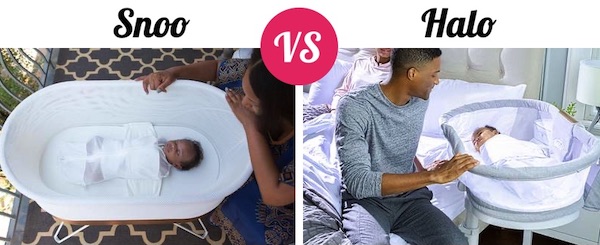 Halo sleeper doesn't have sewn-in swaddle, you need to use your own swaddle if your baby likes to sleep this way.
Feature that distinguishes Halo bassinets is the 360-degree swivel bed. It's very useful when you use Halo as a bedside bassinet for your newborn. Snoo doesn't have this feature.
Soothing Sounds & Motions
Both bassinets have some soothing features that help babies to fall asleep or drift from one sleep cycle to the next without fully waking.
There are two big difference between Snoo and Halo: Snoo detects fussiness (via a microphone) and increases rocking and the sound, plus it moves all night. Halo needs to be adjusted manually and it shuts off automatically after 30 minutes.
How Does Snoo Smart Sleeper Work?
Snoo has 5 levels of soothing features that include sound and motion, designed to soothe fussy baby and boost sleep. What's makes Snoo so special is the cry detection technology.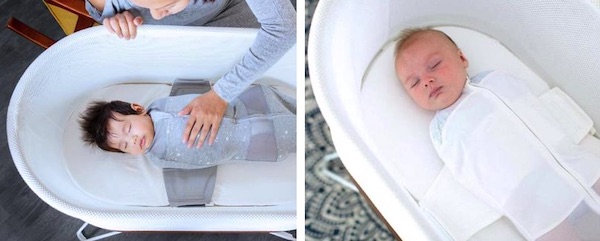 This smart bassinet can actually detect when your baby starts fussing and crying and responds automatically. Snoo motor starts to rock the cradle and it plays white noise to soothe the baby back to sleep. I like the fact that the motor is not too loud, it works much more quiet than motors on baby swings.
Keep in mind that Snoo won't turn on the motion without the swaddle clipped into the sides. I've heard that some parts hack it so the machine thinks the swaddle is clipped, but I don't recommend doing that! Given the rocking motion, the swaddle/sack is necessary to provide support for baby.
According to Snoo founder, famous pediatrician dr. Harvey Karp, thanks to continuous motion and sound that is calming and reminds baby of womb, your little one can actually sleep 1-2 hours longer each night!
PRO TIP: You can't use Snoo without the sleep sack, but you can use Sleep Sack without the Snoo. It may be useful when you travel.
Check FAQ section to read more about "getting addicted to Snoo", weaning from Snoo and transition to crib.
Of course you can also manually turn on and off the bassinet and change the level of motion and soothing sounds.
In order to do that, press and hold the power button for a few seconds. The button will change color which indicates the level. If you connect your Snoo to smartphone app, you'll be able to adjust the motion and sounds.
How Does Halo BassiNest Swivel Sleeper Work?
Halo bassinet works different than Snoo, because you need to turn it on and adjust it manually. It doesn't have cry detection technology. It may be a crucial factor for some parents.

Halo Luxe (and Premiere) feature Soothing Center which includes four soothing sounds (heartbeat, white noise, babbling brook and rainforest) and two levels of vibrations. There's also an amber floorlight and nightlight, something that Snoo is missing.
It's important to note that Halo sleeper doesn't rock, it only vibrates. Nevertheless, even babies who like to be lulled to sleep, should be satisfied with this feature. If the child is not fully awake yet, it may help them to drift to next sleep cycle.
The downside of vibration mode is that it's quite loud. And if you're using Halo as a bedside sleep and it touches your bed, you may feel the rumbling too.
Even though Halo is not a smart sleeper like Snoo, it does have some features that you can't find on other bassinets.
The cradle features a full 360° swivel. This means that you can bring the Halo closer to your bed. Besides, you can move it out of the way to get in and out of the bed easily.
Another nice feature is the push-down bedside wall. How does it work? Basically, the wall that is next to your bed can be pushed down with your arms. When you're not pushing it, it gently spring back up (it locks only in that position).
This feature may be quite hand for moms after C-section because they won't have to stand up to get the newborn out of the sleep. I wouldn't say this feature is a must-have but it's a nice touch and for some moms it may be useful.
PRO TIP: If you want the vibrations and soothing sounds, make sure to choose this Halo Luxe. If you don't need these features or you're on tight budget, this Halo 3.0. It's just a swivel sleeper, no bells and whistles, but it's almost half the price of Halo Luxe!
One last thing that I need to mention is that Halo Luxe bed removes from the base and can be used on its own, in contrast to Snoo. You can set it up in any room as a safe space for nap time.
Although Snoo has detachable legs too, you cannot use the cradle part separately.
Safety Features
Both bassinets are designed to keep your baby safe throughout the night, reduce the risk of SIDS and improve their sleep.
According to Happiest Baby brand that designed Snoo, it is the safest baby bed out there.
Snoo Smart Sleeper Safety Features
It works only with Snoo Sleep Sack that is designed to keep baby in healthy supine position all night long. It prevents baby from rolling to the stomach, as well as falling out of the sleeper. Snoo sack is hip-safe and doesn't put baby at risk of hip dysplasia. It has mesh vents to prevent your little one from overheating. Snoo motion won't start unless the Sack is attached to safety clips.
Mesh sides improve the air circulation inside the bassinet and allow you to easily see your baby. Besides, the mesh meets or exceeds breathability and flammability standards. By reducing overheating, the risk of SIDS is also decreased.
These smart bassinets are free of nasty chemicals like phthalates and BPA.
Wide base, low center of gravity, outward angled legs with slip-resistant pads enhance stability.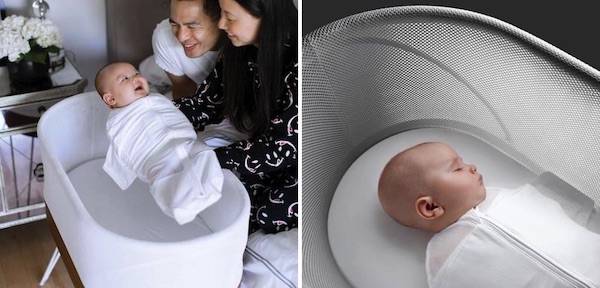 Some parents worry "Does Snoo give off radiation?". Snoo does emit EMF radiation, but test show that the radiation exposure from this bassinet itself is minimal. Moreover, there is a metal shield – a physical barrier between the child and the source of the radiation. There's also an option to disconnect the device from Wi-Fi to lower the radiation exposure.
All soothing sounds are at safe levels (max. ~86dBa), well below the level in the womb or baby's own cries.
In accordance with pediatricians recommendation for baby safe sleep, the mattress is thin (about 1″), flat and quite hard. This also reduced the risk of Sudden Infant Death Syndrome.
This smart bassinet boosts baby's sleep, which in turn improves parents' sleep and reduces their exhaustion. This also decreases the temptation to fall asleep in bed with a baby which is associated with SIDS and SUID2.
In contrast to many other bassinets, sleepers and rockers which are inclined at even 30-degree angle (!), Snoo keeps baby on flat surface. If baby sleeps in inclined position, he/she can slump into a dangerous position or roll to the tummy. What's noteworthy Happiest Baby brand offers special leg lifters for these smart bassinets, which may be useful if your baby has mild cold, stuffy nose, reflux or spits up often. This accessory is designed to elevate baby's head in a safe way – at just 2.5 degrees (it's way below 10 degrees, allowed by the federal government).
As you can see the manufacturers have taken lots of steps to ensure these smart bassinets are a safe space for infants.
Halo Swivel Sleeper Safety Features
BassiNest is moveable which allows mom to bring the baby closer to her bed and position the bassinet at eye level, without the risks posed by bed-sharing (suffocation). Baby can safely sleep in their own separate space while staying close to parents.
Mesh fabric is really transparent which ensures great visibility. It's also breathable, therefore it protects baby from overheating and ensures proper airflow to the sleep surface. You don't have to worry if your infant moves while sleeping and ends up near the mesh walls.
BassiNest is designed for sleeping in horizontal (supine) position. If your baby moves around a lot, starts to consistently rotate and change their sleep orientation, this may indicate it is the right time to transition from the BassiNest to the crib or other safe sleep environment.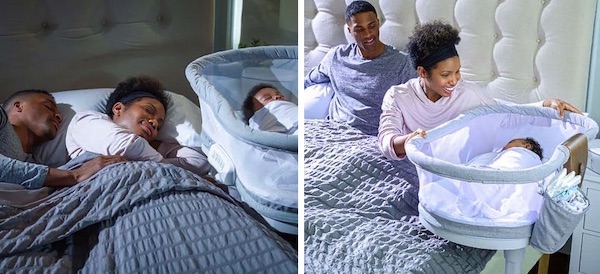 Bedside wall can be lowered down for parents convenience, but it locks only in upright position. When it's down you cannot lock it – it's for your baby's safety.
You can also get this BassiNest Newborn Insert which makes the sleeping space a bit narrower and can be helpful for preventing the infant from rolling.
Volume of all sounds doesn't exceed 65dBA.
There's no incline feature. AAP doesn't recommend inclining the baby because he/she can slide toward the foot which is potentially dangerous.
BassiNest is non-toxic – there are no flame retardants, lead, phthalates and BPA.
All of these features make Halo BassiNest safe for newborn babies and infants who cannot roll over yet. For a newborn or wiggly infant, you can also get the Newborn Insert – it will make the bassinet even safer for smaller baby.
Co-Sleeping
Recommendations given by the American Academy of Pediatrics for a safe sleep environment include supine position, flat and firm sleep surface, room-sharing but without bed-sharing, avoiding overheating and no loose soft bedding in the sleep area. That's why actual co-sleeping (sleeping in a bed with infant) is not recommended.
However, with bassinets like Snoo or Halo, you can co-sleep with your baby in a safe way, without sharing the bed and putting your baby at risk of SUID.
You can set up the Snoo next to your bed to keep your little one close to you. It's even better with Halo, because you can feel like your newborn is in your bed, without bed-sharing.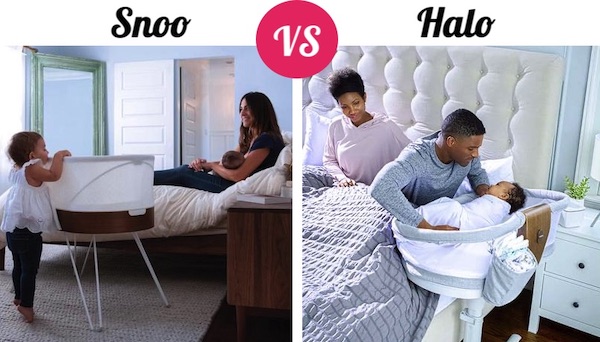 You can adjust its height and rotate it so it partially sits over your bed, therefore your baby can be closer to you, without actually being in bed with you. In contrast to standard co-sleepers that are fixed to your bed, this one easily swivels out of the way when you need to get out of the bed.
And this feature is what makes Halo better than Snoo in this aspect. With the Swivel Sleeper you won't have to scoot down to the end of your bed to get out – which is really inconvenient during postpartum when you're recovering from delivery. You can easily push the cradle away and easily get in and out of your bed.
Ease Of Cleaning
Diaper blowouts and spit-ups may happen from time to time, thankfully, both the Snoo and Halo are easy to clean.
The mesh walls are not removable, but you can wipe them clean with damp cloth, warm water and baby-safe cleaners. You can also use a steam cleaner if you need to get rid of tough stains, but make sure the water is not getting inside the platform.
To clean the dust between the mesh panels, use a duster or vacuum nozzle (for Snoo it's where the zipper is at the head).
Snoo and Halo foam mattresses are not machine-washable, do spot cleaning with mild soap and warm water instead. Air dry the mattress and always make sure it's completely dried before reusing.
The sheets (as well as the Snoo Sack) are machine washable.
Size & Portability
Another feature that differentiates Snoo and Halo is the bassinet height. Snoo is 31″ tall and it's non-adjustable, while Halo is 36″ tall (top edge at lowest setting). You can also lift the base up a few inches (from 24″ to 34″). It's a quite useful feature.
Although the bed exteriors don't differ a lot, Halo is larger and bulkier than Snoo, because its footprint is much bigger. Depending on how you set up the bed (it has 360º swivel), the footprint may be even 45″ x 45″! On the other hand, Snoo dimensions are: 35.75″ x 19″.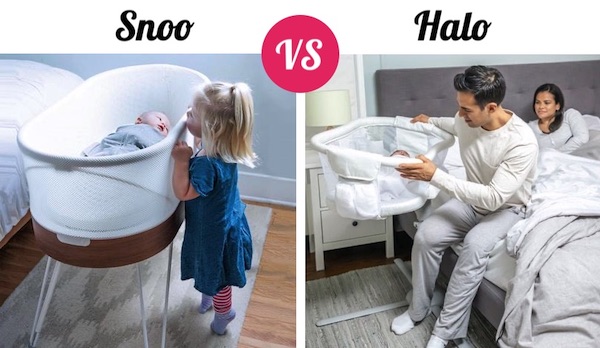 Because Halo base legs are so long, the bassinet may not fit through some doorways so it may be slightly less portable. Unfortunately it doesn't have wheels. Of course you can detach the bed from the base when you need to move it to another room.
Snoo is narrower so you won't have problems with fitting it through the doorways. It doesn't have wheels either, but the legs are detachable.
There's one more noticeable and important difference between Halo and Snoo – the latter one is much heavier (30 pounds vs 38. pounds). Keep in mind that they are not designed to be portable infant sleepers.
Final Verdict: Is The Snoo Better Than The Halo?
Choosing between Halo vs. Snoo boils down to choosing between really expensive, but one of the best smart sleepers with automatic adjustments or medium-priced bassinet that you need to turn on and adjust manually. Choosing which one of these bedside sleepers is better is quite hard, because babies differ a lot and like different things!
There's no miracle solution that will work for all babies, and there's no guarantee that your child will love the baby gear you chose.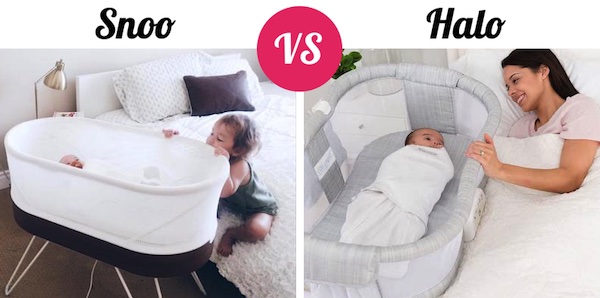 I would say that if you can afford it, buying (or renting) the Snoo is a good choice. It may give your baby (and you!) more hours of sleep, boost their sleep quality or even prevent sleep disruptions.
But if you're on smaller budget or don't want to spend a fortune on a nursery furniture that your baby won't be using very long (or may not even like it) – then Halo seems like a good alternative and it's safe for newborns too.
Overall, I think that Halo is a great compromise between useful features and great quality at more reasonable price.
Nanit
Miku

What's so special about Halo BassiNest?

---

- It's SO MUCH cheaper than Snoo

- Thanks to unique 360-degree swivel it works better as bedside sleeper and it's easy for a mom to get out of bed

- Getting baby in and out for midnight breastfeeding is easier thanks to push-down bedside wall

- Some babies calm down thanks to vibrations

- Easy to use control panel

- Breathable and easily see-through mesh sidewalls

- It has a convenient storage pocket and night light

- You can adjust the bed height

- The mattress is wider so it gives baby more room to grow

- It's 8 pounds lighter which makes it easier to carry

What's so great about Snoo?

---

- Gentle rocking gives baby familiar womb sensations which helps them to calm down and drift to another sleep cycle without fully waking up

- It may be a fantastic help for sleep deprived new parents, especially if the baby only falls asleep when lulled

- Detects crying and automatically turns on soothing motion and sound

- Breathable mesh walls and vents in the sleep sack prevent overheating

- Looks beautiful

- Legs don't stick out, you don't have to worry about tripping over it

- Less bulky, easily fits through doorways

- Smaller footprint - it takes up less space than Halo

- You can steer it with a mobile app, where you can also track sleep data and receive useful tips

- Great investment if you plan on having more children
Snoo Smart Sleeper Bassinet vs. Halo Luxe – FAQ & Baby Sleep Tips
Still unsure whether to get Halo or Snoo? Here you can find more information and answers to questions that parents usually have when looking for the best baby bassinet. I also included some tip on how to make baby's sleep are safer.
Which Is Better For A Newborn: Crib Or Bassinet?
If you're debating between crib and bassinet, you should know that both are considered a safe sleeping space for newborn baby (if used properly).
You should consider how much free space you have in your room or in baby's nursery. Crib takes quite a lot of space, while bassinet is smaller. If you choose moveable bedside bassinet sleeper, it will be easier for you to keep an eye on your little one during the night.
What's noteworthy, bassinet will serve you only for a few months – from birth up to 3-6 months, depending on how quickly your baby grows and starts to roll over. On the other hand, crib will serve you much longer before the transition to bed (which is usually when baby is 18 months – 3.5 years old).
Whether you decide to get the bassinet or crib, make sure it doesn't have an incline. Your baby should sleep on a flat, firm surface without any additional beddings, loose blankets or toys.
Do Babies Get Addicted To Snoo?
Lots of parents worry that their baby will get addicted to the Snoo rocking motion. You should know that Snoo can actually help to sleep train the child and you should not worry about the transition to crib.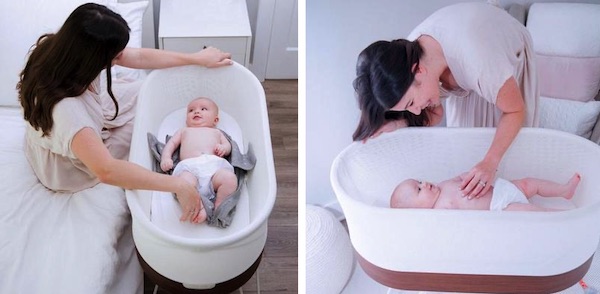 Snoo detects when baby wakes up and starts fussing, but before the rocking increases to the next level there are few additional seconds when baby has the opportunity to self-soothe. This gives the infant a chance to learn self-soothing and practice falling asleep independently.
This smart bassinet comes with an immediate response to baby's cries giving them sense of trust and security which helps to build confidence to go back to sleep on their own.
Moreover, Snoo helps to prevent your baby sleep from disruptors like teething, cold or growth spurts.
It actually helps them to learn how to be better sleepers. Around 5-6 months infants are solid sleepers and they no longer need swaddling or rocking motion to fall asleep. That's why weaning from Snoo is not an issue. Babies natural outgrow the need for being rocked and lulled to sleep. It may be a good idea to continue white noise tho.
To help you wean your baby off the Snoo, there's a special Weaning Feature in the Snoo App (no rocking motion). It makes the transition from Snoo to crib much easier.
Is Snoo Bad For Baby?
There's one thing to consider tho. When your little one is fussing or crying in the middle of the night (or nap time), and you are the one to respond to that, it encourages bonding. Quick response to baby's need has many emotional benefits for the child, helps to build sense of security, confidence and trust (called attachment).
If parents allow the bassinet to do this for them, it may interrupt practices that support bonding.
Is There A Cheaper Version Of The Snoo? What Is Comparable To The Snoo?
Snoo is available only in one version and it's SUPER PRICEY. There is no cheaper version of Snoo Smart Sleeper.
Here are 6 bassinets that are Snoo cheaper alternatives that you may want to check:
Is Renting The Snoo Worth It?
If you've been dreaming about the Snoo, but you're on smaller budget, renting it may be a good idea.
I think that renting the Snoo is worth it because each baby is different and it's a great idea to check if yours actually likes this bassinet. You will receive your own mattress, sheets and 2 swaddles. Of course your bassinet will be steam cleaned before it ships to you.
When renting the Snoo may be a good option:
It's a really pricey device and if you don't plan on having another child, renting it is more pocket-friendly option.
Before your baby is born you don't know if he/she is a good sleeper. It may turn out that your baby has troubles falling asleep only after a few weeks.
You don't want to pay over $1000 for something that you will use only for a short period of time (it may be only 3 months if your babe learn to roll over quickly).
Do Pediatricians Recommend Snoo?
64% of sudden unexplained infant deaths occurred in case of bed-sharing (American Journal of Public Health). AAP policy states that baby should sleep in their own sleeping space (like bassinet or crib), on a flat and firm surface, without incline.
Parents should also avoid overheating the baby because it may increase the risk of Sudden Infant Death Syndrome. Snoo meets those requirements.
Which Halo BassiNest Is Best?
Halo Essentia is the best version of Halo BassiNest Swivel Sleeper, if you're looking for a simple bedside bassinet and you're on a tight budget.
Premiere Series will be the best Halo bassinet for you, if you want soothing features like motion and sounds.
If you have bigger budget and want a removable cradle that can be used on and off the base, choose Halo Luxe Series.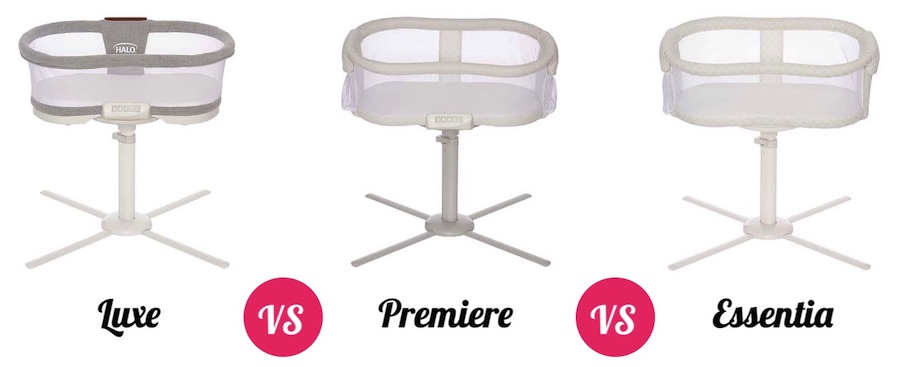 Is A Halo BassiNest Worth It?
Speaking from my personal experience, Halo BassiNext is worth it, especially if you can't afford high-tech sleeper like Snoo. It's a safe bedside sleeper with lots of useful features (like the 360-degree swivel, height-adjustable base and vibrations).
Which Baby Monitors Work With Snoo Or Halo?
Smart baby monitors like Owlet or Nanit or Miku are not compatible with Snoo or Halo, because the rocking motion or vibrations could interfere readings of baby's movements, breathing and other vitals, and lead to false alarms.
I would suggest getting a traditional baby video monitor so you could watch and hear you baby in case he/she wakes up and cries.
>> Owlet vs. Nanit – Which One's Better & More Accurate?
>> Nanit vs. Miku – Comparison Of Baby Breathing Monitors
Will DockATot Fit In Halo BassiNest?
I've read in some parents' reviews that DockATot fits in Halo bassinets but I strongly advise against doing that. DockATot should not be used in bassinets or cribs, including the Halo or Snoo.
Both the AAP and Consumer Product Safety Commission advise that babies should be placed in a bare bassinet/crib without additional bedding, soft loose blankets, pillows or toys.
>> Check out this amazing DockATot cheaper alternative
Why Are Bassinet Mattresses So Thin And Hard?
Don't worry if the mattress feels a bit hard or seems to be thin – it's for your baby's safety. It's best if the bassinet mattress is about 1 inch thick. It should be thin and hard because in case baby ends up face down, he/she will be able to breath. If the mattress is too soft or very thick, there's higher risk of suffocation because baby's head may sink into the padding.
You should not place blankets or additional mattresses under the baby to make the sleep area "more comfy". Use your bassinet or sleeper only with the mattress it originally includes.
Can Newborns Sleep On An Incline? Do Halo Bassinets Incline?
The AAP recommends against letting infants sleep in inclined products. In inclined position babies may slide down in the swaddle or they chin will be pressed against their chest which poses them at suffocation risk).
Infants should sleep on their back (supine position) on separate, flat and firm surface (no bed-sharing), without loose beddings, toys and bumpers.
Halo doesn't incline, however because it swivels 360° and rotates, there may be sometimes a slight tilt, but it's still under 10 degrees (federal government requirement).
---
The purpose of this article is informative. It's not a substitute for medical consultation or medical care. Remember: safety first! Consult your doctor/pediatrician in case of any doubts, and before you introduce tummy time. The author of this article does not accept any responsibility for any liability, loss or risk, personal or otherwise, incurred as a consequence, directly or indirectly, from any information or advice contained here. The article contains affiliate links – your support helps us run this blog!
Source of pictures:
Pictures of Snoo Smart Sleeper belong to Happiest Baby brand. Source: https://www.happiestbaby.com/
Pictures of Halo Swivel Bassinet belong to Halo brand. Source: https://www.halosleep.com/