Did you know that many soaps contain toxic chemicals like sodium lauryl sulfate (SLS), sodium laureth sulfate (SLES), tetrasodium EDTA, triclosan and other ingredients which are stripping natural oils from your skin every time you wash your hands and body? I checked 20+ bar soaps and in this article I will share the results of my research. Find out what are the safest soaps during pregnancy and which ones you should avoid.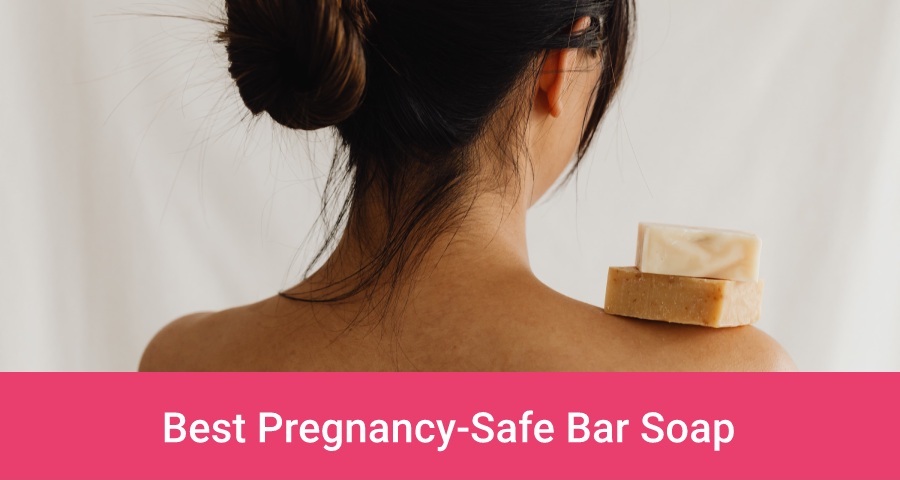 Medically reviewed by Raye Mariano – RN, BSN, BA
If you're pregnant then you have to be extra careful about what you are putting not only in your body, but also on your skin. As a mom-to-be, you might not even realize that you should be paying attention to the ingredients that make up all your favorite skincare and beauty products.
Pregnancy comes with a lot of surprises. You might experience unexpected skin changes like more sensitivity, drier skin, acne breakouts or other skin related issues. That's why you need a soap for your body and face that will keep these problems at bay, but most importantly, one that is safe for that growing baby in your belly.
So, the healthiest option for pregnant women are: soap and natural body wash that are made with ingredients derived from nature. Pregnancy safe body wash is one of must-haves for pregnant women! It should be non toxic and free of harmful chemicals that could potentially affect your skin or your baby.
Personally, I prefer to use bar soaps rather than liquid body washes because they are more natural and safer. They tend to contain fewer ingredients and the healthier ones like natural oils. They are also hypo-allergenic, and don't usually contain preservatives or those nasty parabens and silicones. They are even more environmentally friendly in how they are made and packaged.
Another reason you should opt for bar soaps instead of liquid body washes is because the bars generally last longer. They are made with less or no added water, which creates a more concentrated cleanser. Bar soap is also more cost effective than the most liquid soaps and body washes.
This article is not a substitute for medical advice. It contains affiliate links.
Best Features
❤️ Safe for pregnancy + suitable for babies!
❤️ Doesn't leave residue on the skin
❤️ Lasts a long time
✖️Some scented versions contain essential oils that you should avoid in 1st trimester (opt for coconut or castile soap)
❤️ Thanks to safe ingredients it doesn't cause skin reaction
❤️ Soothes irritated skin
❤️ Some women even use it for cleansing their faces
✖️On the higher end
❤️ Only 3 ingredients - ultra-safe & perfect for reactive skin
❤️ Doesn't cause skin irritation or itching
❤️ Moisturizes skin
✖️ Not everyone likes its (natural) scent
advantage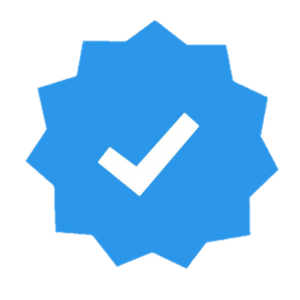 Recommended by 14K+ verified buyers!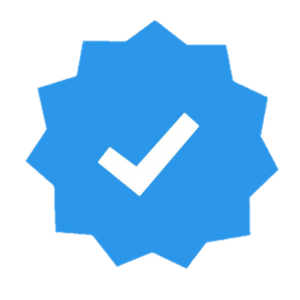 Recommended by 84% of verified buyers!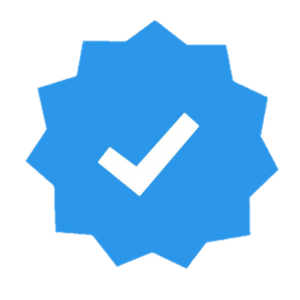 Recommended by 4100+ verified buyers!
Most Affordable Choice
Best Features
❤️ Safe for pregnancy + suitable for babies!
❤️ Doesn't leave residue on the skin
❤️ Lasts a long time
✖️Some scented versions contain essential oils that you should avoid in 1st trimester (opt for coconut or castile soap)
advantage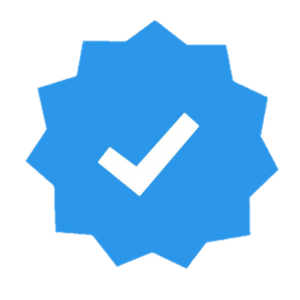 Recommended by 14K+ verified buyers!
Best Features
❤️ Thanks to safe ingredients it doesn't cause skin reaction
❤️ Soothes irritated skin
❤️ Some women even use it for cleansing their faces
✖️On the higher end
advantage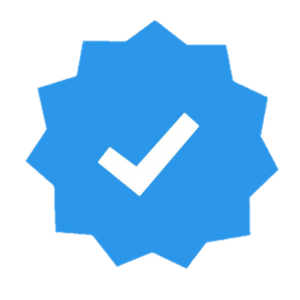 Recommended by 84% of verified buyers!
Best Features
❤️ Only 3 ingredients - ultra-safe & perfect for reactive skin
❤️ Doesn't cause skin irritation or itching
❤️ Moisturizes skin
✖️ Not everyone likes its (natural) scent
advantage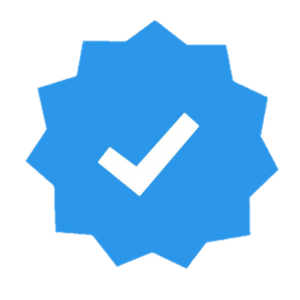 Recommended by 4100+ verified buyers!
Last update on 2023-09-30 / Affiliate links / Images from Amazon Product Advertising API
Best Pregnancy-Safe Bar Soaps – Ranking
As mentioned, the absolute best soaps are the ones with the least ingredients.
I know that it might be overwhelming trying to navigate being pregnant while also trying to find the right types of soap to use during pregnancy and reading all those ingredients, so I have researched many options.
Here's my list of the best pregnancy safe bar soaps that will keep your skin clean and hydrated while also keeping you and your baby safe.
This amazing bar soap is made with certified vegan and cruelty-free ingredients. The cold-pressed extra virgin olive oil creates a rich and creamy lather that leaves your skin feeling super soft and rejuvenated.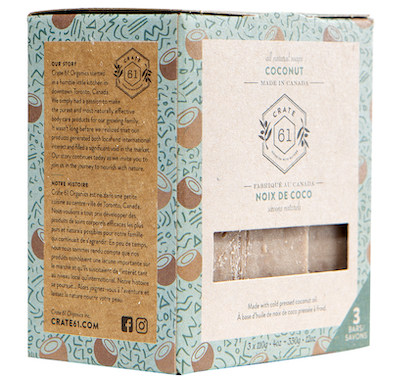 There are different aromas available but my favorites and the safest ones are: this coconut version and this castile soap. So you have the option for a mild scent or an un-scented one.
What's In It?
EVOO, Coconut oil, Avocado oil, Castor seed oil, Sustainably sourced palm oil, Shea butter, Kaolin clay.
Why Pregnant Women Love It
Skin feels great, soft, hydrated
No residue or film leftover on skin
Lightly scented
Lasts a long time in the shower
You can use it to make DIY laundry soap
Suitable for babies and kids too
One of the most affordable safe soaps!
Keep In Mind
Some other scented versions contain essential oils that pregnancy women should avoid, so better stick to the coconut or castile version.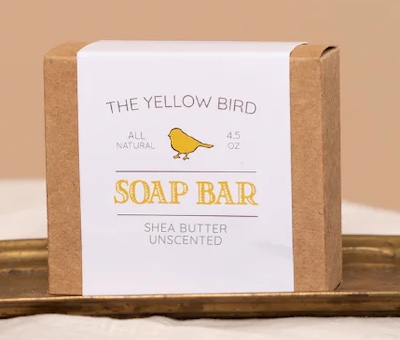 This fragrance free soap bar is perfect for the most delicate skin. Its hypoallergenic because its made with only very mild oils and ingredients. This also means it won't clog pores.
There's also no synthetic or even natural fragrances that can sometimes cause irritation. The shea in the soap keeps the skin from drying out.
The Ingredients
RSPO sustainable palm oil, Sunflower oil, Coconut and olive oil, Shea butter.
Why Pregnant Women Love It
Works wonders on soothing facial skin, gets rid of redness
Many claim they have less skin reactions to this one compared to others
Attractive looking packaging, can give as gifts
Keep In Mind
While it is an unscented soap and says such in the name, there is actually a slight smell to it. The mild scent comes from the all-natural ingredients.
If you ARE looking for a stronger fragrance, they do make this soap in a natural scented version here. BUT, be aware that there are some essential oils added in some of these versions and they are not all recommended for use during pregnancy.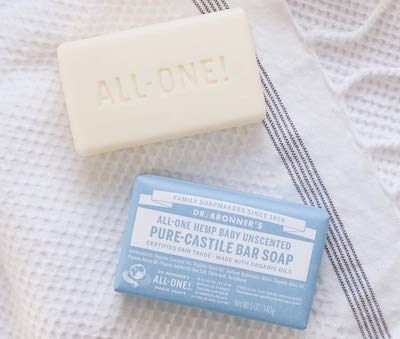 This unscented pure castile soap is super sensitive so it is even perfect for babies. It can be used for face, body, as a hand soap, and even on your hair! It's made with hemp oil for a soft, smooth lather that won't dry your skin out. Its also made with biodegradable 100 percent recycled wrapper.
What's In The Finished Product?
Organic coconut oil and organic olive oil, Organic certified palm oil, Water, Organic hemp seed oil, Sea salt, Citric acid, Vitamin E.
Why Pregnant Women Love It
So pure and gentle that people use it on babies and their pets
Less flare-ups experienced on eczema and itchy skin
Does a great job at lathering
A favorite body soap for rashy skin
Keep In Mind
Some have mentioned that it does have a slight aroma so if you are looking for a soap that is completely scentless, then this one might not be the one for you.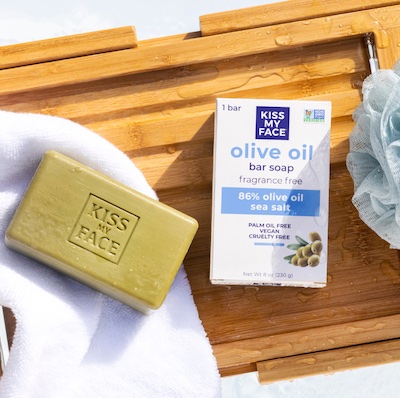 This bar of soap is simple and clean and made of minimal ingredients. It's literally made only out of saponified olive oil, water, and sea salt. It still makes you feel clean and soft and has a mild (natural) smell to it.
It's truly one of the best pregnancy safe beauty products, especially if you're looking for something with really short ingredients list or when you're trying most natural skincare routine.
Ingredients
Olive oil, Water, Sea salt.
Why Pregnant Women Love it
Lathers up good and cleans well
The most pure soap out there!
Barely any ingredients, great for people with allergies
Keep In Mind
It has been said that the soap bar has an undesirable smell, however, it doesn't make your skin smell that way when you use it.
Others like its olive oil smell or herbal and earthy smell, but if you don't like these kind of smells it might not be for you.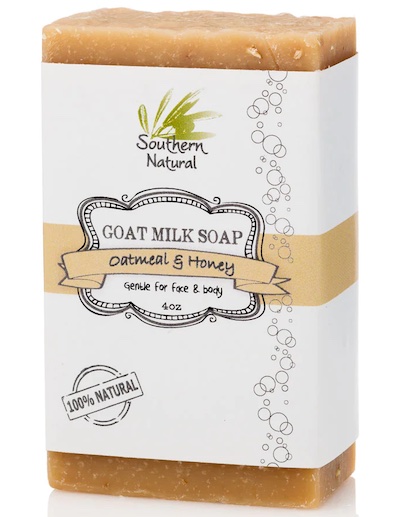 This goat's milk soap is full of vitamins, minerals, and proteins that keep your skin healthy. The natural glycerin in the goat's milk makes skin soft and nourished.
There's also a lot of fatty acids, which really moisturizes especially for dry skin.
What's In It?
Goat's milk, Colloidal oatmeal, Honey, Coconut and olive oil, Sustainable palm oil, Purified water.
Why Pregnant Women Love It
It's fragrance free (many pregnant women are extra sensitive to smells)
Many say it's so gentle that it helps soothe itchy eczema skin
Keeps acne prone skin free of blemishes
Keep In Mind
If you have a milk allergy, make sure you test out the soap on a small area of skin first to make sure you don't have an allergic reaction before using on your whole entire body.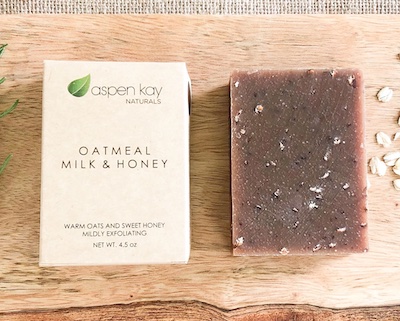 My favorite version is the oatmeal, milk & honey – as it has the safer ingredients list than other scented versions.
This is a natural and organic soap made by an artisan soap maker that's for the face and/or body. It's actually also a gentle exfoliator because of all of the extra oatmeal added for texture. It helps get rid of dead skin cells leaving healthy, smooth skin.
The soaps are even packaged in an environmentally friendly way: no plastic, 25% recycled paper, and printed with vegetable based ink.
Ingredients In The Final Product
Organic RSPO sustainable palm oil, Shea nut butter, Coconut oil, Sunflower oilOrganic castor oil, Olive oil, Organic rolled oats, Honey, Goat's milk, Coco powder, Phthalate-free fragrance
Why Moms To Be Love It
Versatile- can be used for face, body, or a shaving soap
Great for super sensitive skin, rashy skin, or dry skin
Moms love the smell
Keep In Mind
This soap contains more ingredients on its list than other bar soaps we've mentioned here. They are not harmful or toxic kind but keep in mind that the more ingredients in the product, the more chances of having a reaction to something in it.
Also, this soap does contain added "fragrance" but it is free from harmful phthalates and synthetic nitro musk. However, even natural fragrance can potentially irritate some people' skin (or your nose!).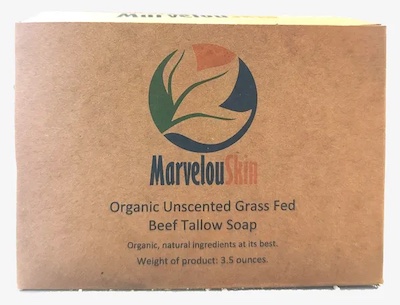 These beef tallow soaps are the go-to for hydrating dry and itchy skin. The saturated fat from the beef tallow adds extra moisture to the skin's surface.
The cattle they use are grass fed, and hormone and antibiotic free. These products are so natural they are technically edible.
What's In It?
Sodium hydroxide, Homemade coconut milk, Distilled water, Organic honey, Grass fed beef tallow.
Why Pregnant Women Love It
Has the "best" ingredients
Leaves your skin feeling soft and hydrated
Love the environmental benefits of the company
Keep In Mind
Make sure you use a very small amount of the product. Because its made of the saturated fats, too much can get greasy.
Also, using beef tallow soap is not vegan, so some do see this as a negative to buying this particular soap. So, if looking for a non-animal made soap this one is not for you.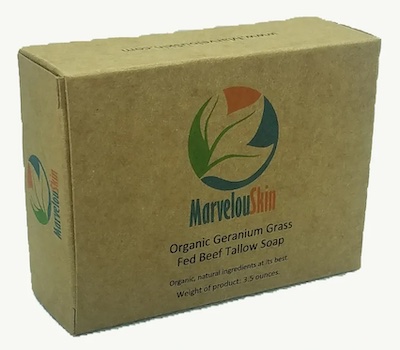 Another option you have if you're interested in these grass fed beef tallow soaps is they also have several different aromas. The scents are from the essential oil from the plants, herbs or peels.
The ingredient list for this particular soap is the same as the previous one just with added geranium essential oil. They also have lavender, lemon, spearmint, and eucalyptus-lemon – which are all safe to use during pregnancy.
Why Pregnant Women Love it
Smells great and feels even better on the skin
More affordable than some other beef tallow soaps out there
Very hydrating and nice lather
Keep In Mind
Some have mentioned that they feel the fragrances are a little bit strong or overwhelming so you either have to find the one that works for you OR you could always opt for the unscented version, especially when you're pregnant and thus more sensitive to smells.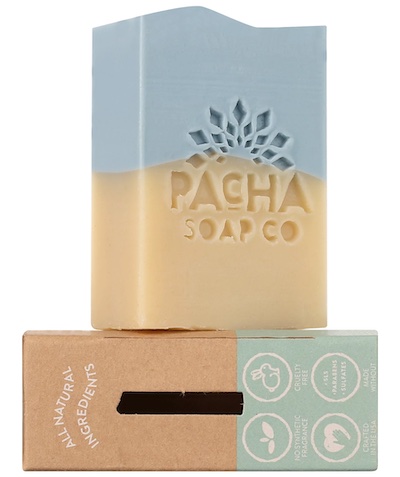 This organic soap is crafted with exfoliating volcanic ash and pumice. These naturally derived ingredients will leave you and your skin feeling invigorated.
Ingredients
Sustainably sourced palm oil, Olive fruit oil, Unrefined shea butter, Castor seed oil, Natural fragrance, Sea salt, Volcanic ash, Pumice, Ultramarine, Iron oxide.
Why Pregnant Women Love it
Smells so amazing
The bar is pretty and eye-catching
Reminds people of the beach (because of sea salt)
Keep In Mind
Some have mentioned that it is maybe not as nourishing and hydrating as other natural soaps or best body washes. So it's maybe not the best choice for very dry or sensitive skin.
Final Decision: What Is The Safest Bar Soap For Pregnancy?
All of the soaps on the above list are safe, but I would say my personal favorite pregnancy safe bar soap is this Crate 61 Vegan Bar Soap.
It lasts long, makes your skin feel soft and moisturized, and smells good. Its also environmentally friendly and super safe for you and your baby. I love this soap!
If you're looking for a truly non-toxic hand soap and/or body wash try this Kiss My Face soap with only 3 ingredients (less chances of allergic reaction)!
By the way, don't forget about proper hydration after cleansing! Using a belly oil can help you prevent pregnancy stretch marks, and moisturize your dry skin (which is super common during those 9 months). After the oil, apply a body lotion that is safe for pregnancy to lock in that moisture and soothe your skin.
Bar Soaps Safe For Pregnancy – FAQ
Now that I've discussed some of the reasons why natural bar soaps are superior to commercially bought soaps and body washes, let's get into the reasons why.
Let's find out why natural bar soap can be a fantastic alternative to even the best body wash!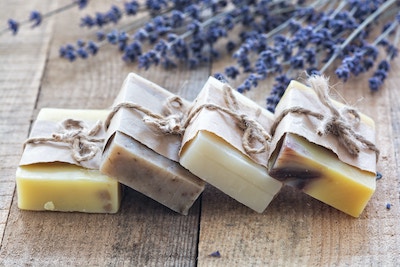 Why Choose Bar Soaps Over Liquid Soaps & Best Body Washes?
Fewer (and healthier) ingredients
Hypoallergenic
Usually don't have preservatives or parabens
Less packaging and more environmentally friendly1
More cost effective, lasts longer
No water (or less water) so its more concentrated than even the best body wash2
What Soaps Should Be Avoided During Pregnancy?
Pregnancy safe and natural body wash should not contain these harmful ingredients as some can cause problems like issues with growth and development, birth defects, or pre-term labor.
SLS and SLES – best body wash and bar soap don't contain sulfates!
Parabens like BPA are hormone disruptors
Phthalates – harsh chemicals added for fragrance
Antibacterial agents like triclosan – could impact baby's growth
Artificial dyes – allergens, irritants, some even carcinogenic
Preservatives like formaldehyde – can potentially cause pre-term labor or allergies
Glycol ethers – solvents that were related in organ issues in animals
If you are interested in reading more about which ingredients are considered unsafe for pregnancy, you can find the information in this article: Nasty common beauty ingredients to avoid during pregnancy.
What Soap Bar & Body Wash Ingredients Are Safe?
These are the basic ingredients that make up a natural, pregnancy safe body wash and soap:
Natural oils (like organic jojoba oil, tea tree oil)
Organic ingredients (like organic aloe juice, cocoa butter, green tea extracts)
Lye – None remains in final product after the saponification process3
Natural fragrance and color
Essential oils – but not all of them (for example: even when organic, peppermint oil is an essential oil that pregnant women should rather avoid, especially in the first trimester)
What's The Deal With Essential Oils In Pregnancy?
We know that these oils have lots of benefits, but they are not all suitable for pregnancy.
They are not assessed by the FDA and so they are less regulated by the same safety standards.
There is less known and studied about the effects that these oils might have on a pregnant woman and developing baby.
Therefore, they are considered to be unsafe in large or medicinal amounts or in a very concentrated form.
Some of the ones to avoid in pregnancy:
Clary Sage
Rosemary
Jasmine
Cinnamon
Clove
Check with your doctor before using essential oils if unsure4.
Is Cetaphil Bar Soap Safe For Use in Pregnancy?
While it is more gentle than regular cheap bars of soap, I would use caution using this one during pregnancy.
It does contain petrolatum which is not recommended for use in pregnancy. It also has masking fragrance and so it is not as safe as the options on the above list.
Is Dove Bar Soap Safe During Pregnancy?
Dove soap contains cocamidopropyl betaine, which can cause allergic reactions and skin irritations5. The sensitive skin version also contains tetrasodium EDTA. No thanks.
It may be safer than many of the other soaps and body washes out there, but still NOT ideal for use in pregnancy. There are much better options for you for pregnancy safe beauty products!
---
Article By Raye Mariano, RN, BSN, BA
Raye Mariano is a Registered Nurse who worked for years as a labor and delivery nurse and mother/baby nurse. Now, as a stay-at-home mom to 3 kids, ages 4 and under, she remains passionate about all things pregnancy, postpartum, and parenting.
---
The purpose of this article is informative. It's not a substitute for professional medical advice or medical care. Remember: safety first! Consult your doctor/pediatrician in case of any doubts. The author of this article does not accept any responsibility for any liability, loss or risk, personal or otherwise, incurred as a consequence, directly or indirectly, from any information or advice contained here.
References:
https://essentialoilexperts.com/
https://theearthlingco.com/
https://www.ecowatch.com/
https://www.healthline.com/
https://gimmethegoodstuff.org/
Sources of pictures:
Pictures of Crate 61 soap belong to Crate 61 Brand. Source: https://crate61.com/
Pictures of The Yellow Bird soap belong to The Yellow Bird Brand. Source: https://www.theyellowbird.co/
Pictures of Kiss My Face soap belong to Kiss My Face Brand. Source: https://www.facebook.com/KissMyFaceUSA
Pictures of Dr. Bronner's soap belong to Dr. Bronner Brand. Source: https://www.drbronner.com/
Pictures of Goat Milk Soap belong to Southern Natural Brand. Source: https://southernnaturalsoap.com/
Pictures of Oatmilk, Milk & Honey soap bar belong to Aspen Kay Naturals Brand. Source: https://aspenkaynaturals.com
Pictures of MarvelouSkin soap bars belong to MarvelouSkin Brand. Source: https://marvelouskin.com
Pictures of Pacha soap belong to Pacha Soap Co. Brand. Source: https://pachasoap.com/