Are you looking for a multi-functional stroller that you could use on different occasions? Then a standard convertible stroller may be perfect for you. Below you can find the best 3in1 convertible strollers that allow you to switch between bassinet, infant car seat or toddler seat with no hassle.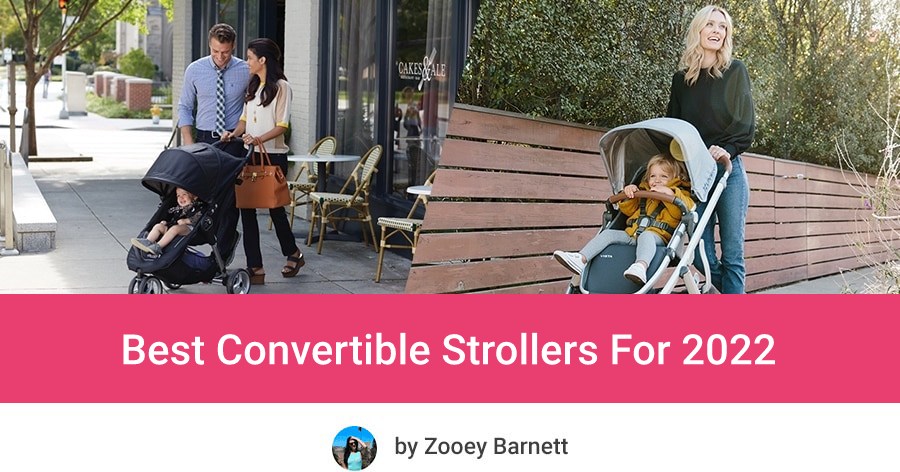 This article contains affiliate links.
Modern standard strollers are designed for everyday use, mostly in the city, but some of them are also suitable for all types of terrain.
This category of strollers is a great option for parents who don't need a specialized model, but would rather prefer all-in-one stroller.
Nowadays standard stroller are convertible – practically all modern strollers are compatible with different infant car seats and can be converted into a travel systems. Some models can even expand to a double stroller and adjust to growing family.
In this article I present you the best standard convertible strollers that you can find on the market in 2022.
Baby Jogger City Mini GT2
All-terrain wheels – stroll wherever you want
Compact fold and new lighter design for easy transportation and storage
Price range: $$$
Cybex Balios S
Enormous & breathable canopy protects from sun burns and overheating
Stylish design
Price range: $$$
UPPAbaby VISTA V2
Top-quality & beautiful design
Bassinet included
Second baby on the way? – VISTA easily expands from a single to a double stroller
Price range: $$$$$
Baby Jogger City Mini 2
Improved, large canopy gives excellent shade from the sun
Suitable for older kids
Price range: $

$
Britax B-Lively
Quick & easy folding
Improved canopy – now gives better coverage from the sun
Good quality materials
Price range: $$
Chicco Bravo Stroller
Includes child tray and breathable mesh backrest
Good value for the money
Price range: $$
Thule Spring
One of the lightest convertible strollers for multiple types of terrain
Sleek and fashionable look
Price range: $$
Last update on 2023-09-30 / Affiliate links / Images from Amazon Product Advertising API
8 Best Convertible Strollers For 2022
There are dozens of standard, convertible strollers on the market right now. Here I present you only the most reliable modern stroller, highly rated by customers. Each of them can be converted into a travel system and some models even expand into a double stroller.
These convertible strollers have different features, but they have few things in common: they are made of quality materials, they are convenient to use for parents and provide safe ride for the baby.
Here is the list of 8 best convertible strollers for 2022, based on parents experiences: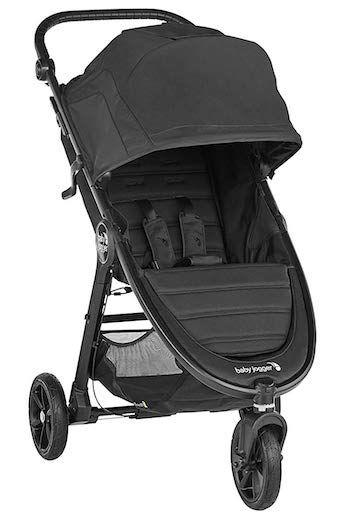 Baby Jogger City Mini GT2 has been one of the most popular convertible strollers for years. Parents can't stop raving about its user-friendly features. The best part? It doesn't cost a fortune. It's a medium price range convertible stroller.
Baby Jogger has improved probably all features that parents were asking for. Yet, the new Baby Jogger City Mini GT2 is even lighter than previous model! It can be used from birth with an infant car seat, it is compact enough for everyday use and can handle pretty much any type of terrain. Sounds like a dream stroller, right?
The regular seat is suitable for baby who has neck and head control, but you can use this stroller also for newborn, if you add an infant car seat. Baby Jogger City Mini GT2 can be converted into a travel system with popular infant car seats. Great thing is that adapters for Baby Jogger City GO and Graco infant car seats are now included with the stroller.
It is also compatible with many different car seat brands like Maxi Cosi, Cybex, Nuna, Britax, Chicco and more. Keep in mind that these car seat adapters are sold separately (check for example Maxi-Cosi adapter).
Back to the regular seat – it can hold a passenger up to 65 lbs. It features multi-position recline and goes really low so it's perfect for naps on the go. When the seat is fully reclined you can use the vented top which provides nice extra air-flow or you can close it with a weather cover on chilly days. The newest model has one more fantastic feature – adjustable calf rest. Finally!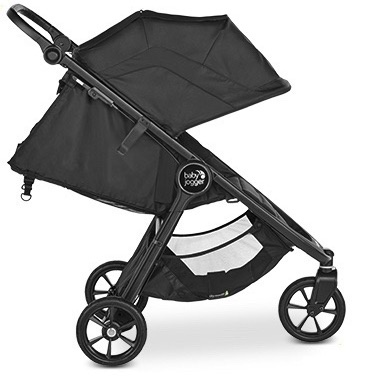 I love the canopy – it goes really far down and covers baby's face and torso. Moreover, there are two peek-a-boo windows, one on each panel. So no matter if you use fully extended canopy or if it's just half open, you can always check on your baby during the stroll. Finally, City Mini GT2 has magnetic closure for windows, instead of noisy Velcro.
Another great thing about this convertible stroller is the adjustable handlebar which rotates up and down to accommodate shorter and higher parents. If there's a height difference between you two, like between me and my husband, this handlebar will be super useful. I also like the rubberized rings on the grip which make the handlebar very comfortable and durable.
Baby Jogger City Mini GT2 has 8.5″ non-inflatable rubber wheels and now there is upgraded all-wheel suspension. All of this makes this standard stroller suitable for almost all types of terrain. Moreover, thanks to 3-wheel design City Mini GT2 is maneuverable and nimble, almost like a jogging stroller. But keep in mind that although this stroller is agile and handles rough ground, it is not designed for jogging.
This model doesn't have foot-operated brake, but hand-operated parking brake. However, it doesn't look like a bicycle handbrake. Instead, there is a toggle next to the canopy, just below the handlebar. It's nice to have the control within reach.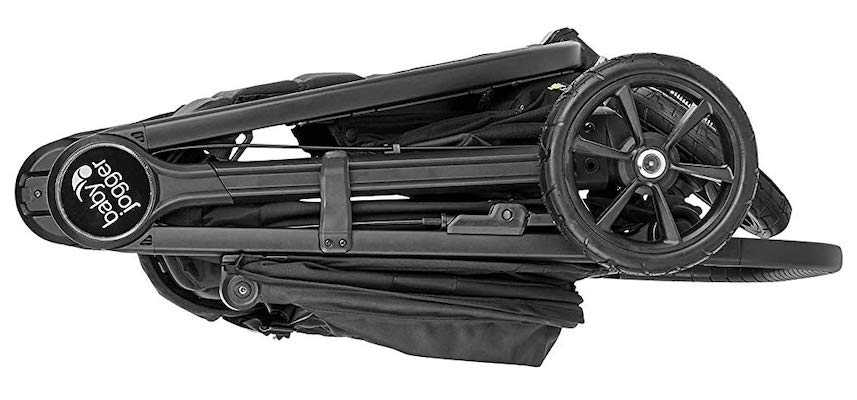 There's one more awesome feature that I love about this stroller – one-hand quick fold. Thanks to patented technology City Mini GT2 is a breeze to fold. The stroller pretty much folds itself. There's also an auto-lock that keeps it closed which makes storage and transport more easy.
I also like how flat this stroller is after folding – it won't take up much space in your car or home. And since the stroller weighs 21.4 lbs you shouldn't have any problems with lifting it to the trunk or carrying down the stairs.
Now let's talk about the storage space. The basket under the seat is decent, but definitely not the biggest on the market. It can hold a medium-sized diaper back. I wish it could accommodate more stuff, especially when you're going on a day trip. It's a bummer that Baby Jogger hasn't improved it last year! Maybe we have to wait for the next version…

Do you need more information about this stroller? Check out my detailed review where I compare Baby Jogger City Mini GT2 and City Mini GT.
What other parents think
As I said earlier this is one of the best-selling convertible strollers. I checked it on Amazon to find out what other parents say about it and check if it's worth the money.
Baby Jogger City Mini GT2 has a lot of reviews and most of them are positive. What's important – parents find it even better than the old model (which was a best-seller)!
Below you can see the most often mentioned assets and drawbacks.
Pros
Cons

Pros

---

+ Works great on sidewalks, uneven pavement, gravel paths and trails

+ Handles cobbled street – perfect for trips to old cities in Europe like Rome or Florence

+ Improved suspension absorbs shocks on more rough terrain

+ Compact enough for inside errands (shopping at the mall or going to the doctor's office)

+ Easy to maneuver and turn with one hand

+ Spacious seat suitable for big kids

+ Upgraded large sunshade covers baby and protects from sunburns

+ Folding is a piece of cake – just pull the handle in the seat and it collapses itself

+ Breeze to put in and out of the trunk - it's even lighter than the old model!

+ New stylish design and nice colors

Cons

---

- Snack tray is not included

- Storage basket is still rather small

- Most upright position is still reclined a bit
My rate:
Keep in mind
This stroller is available in a few color versions and sometimes they have different prices on Amazon (some may be cheaper). Make sure to compare prices and discounts for all versions, before you decide to buy this stroller. You can do it here.
3 Reasons Why You Will Love This Convertible Stroller
1. This stroller is a space-saver. It features compact and flat fold so you don't have to worry about storage or transport. It's perfect for parents who have small apartment or small car.
2. According to many parents this stroller is great for neighborhood strolls, as well as off-road exploration.
3. This convertible stroller is a long-term investment and serves for older toddlers – many parent use it for 3 and 4-year-old kids.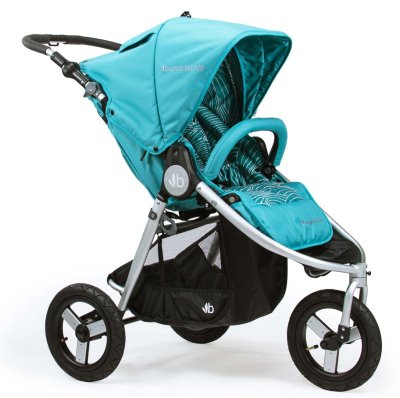 Now it's time for the best convertible stroller in terms of agility and suitability for all types of terrain. Bumbleride Indie can be the only stroller you will ever need: it works great for running every day errands as well as going off road. It's a truly all-in-one stroller.
Another thing that you're going to love about Indie is that it converts from infant to toddler stroller. The seat reclines to flat position that is super comfy for toddlers who still like to nap during strolls. Rich, cushioned padding also makes the difference here.
If you recline the backrest all the way down and flip up the calf rest you'll have an infant mode – cozy and sheltered place for small infants. By the way, I love Indie's fully adjustable leg rest, it's not a very common feature actually!
There are two additional options for parents who want to use this stroller from birth: bassinet or infant car seat (sold separately). Bumbleride Indie is compatible with Graco, Chicco, Maxi Cosi, Cybex, Nuna and Peg Perego car seats. The adapter is of course an additional cost, but the good thing is that you either remove the seat fabric before attaching the car seat or install it onto the seat – whatever is more convenient for you.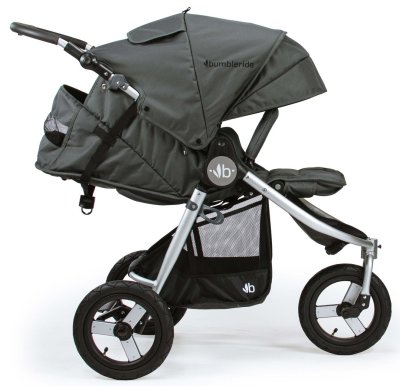 There is one thing that I need to emphasize. The main seat is facing forward and you cannot reverse it. That's why I prefer using bassinet for longer distances with infants under 6 months as I prefer to see them. It's just my opinion, but you should also keep that in mind.
*If you're opting for a medium-price stroller with reversible seat check Cybex Balios S.
You will also love the vented seat top that will provide excellent air flow on hot summer days.
Speaking of summer – you don't have to worry about sun disturbing your little one's nap! Big, extendable canopy with additional sun visor will shade your baby and keep the sun out of their eyes.
Of course you can peek on your child the whole time – through the vented seat top or peek-a-boo window on the canopy.
PRO TIP: If you plan on getting this stroller, choose this newest model. The latest Bumbleride Indie has improved canopy that offers more head room and doesn't get in the way as the child grows.
Other useful features are: included bumper bar and very spacious storage basket under the seat – it's sufficient even for a large diaper bag. For small essentials like a cell phone or wallet there are two pouches and one zippered pocket on the seat back. For baby's sippy cup or snacks there is a pocket inside the seat – very handy.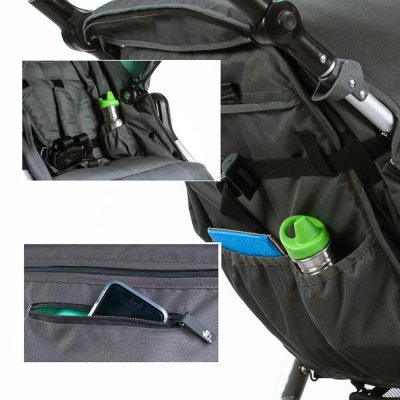 This modern stroller has also adjustable handlebar that rotates from 26.5″ to 45.5″. With such a wide range of settings Indie is convenient to push for very tall, as well as very short parents (or even older siblings).
As I mention at the beginning, Bumbleride Indie is suitable for all types of terrain – all thanks to 12″ wheels with pumped tires and all-wheel suspension. Of course inflatable tires require more maintenance and frequent pumping, but the smooth ride is worth it! Besides, the tire pump is included!
This single convertible stroller pushes and navigates like a breeze (with one hand!) and can handle even the rough surfaces. The suspension cushions the ride and protects little passenger from getting bumped around.
It's really amazing, because this stroller rides as smoothly as some of the jogging strollers, but it's less bulky and definitely not excessively heavy (only 24 lbs).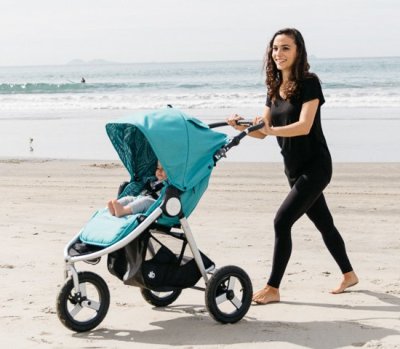 Thanks to that you can use it as everyday stroller – for going to parks, to the daycare, shopping in small grocery stores, as well as for trips to Disneyland or adventures in woods and on dirt roads. 3-wheel design makes this convertible stroller very nimble and you can turn it with one hand effortlessly. Front wheel also locks for greater stability on bumpy terrain.
You'll also love how easily this multi-functional stroller folds. The seat folds inwards therefore it's not exposed to dirt or dust (big plus!), it locks automatically and stands on its own.
Fold maybe not ultra-compact, but it's also not cumbersome (32″L x 24.5″W x 11.5″H). I've seen lots of convertible strollers bigger than that! Indie single stroller should fit in most medium sized car trunks with ease.
All-terrain stroller with ample storage space and comfy deep recline is your dream? Look no further, Bumbleride Indie checks all the boxes.

And if the stroller look is also important to you – Indie won't disappoint you. It comes in 6 different color versions and all of them look trendy and cute. My favorite Tourmaline Wave model has also a beautiful pattern on the interior padding.
What other parents think
Bumbleride Indie price is rather on the higher end therefore it's not a super popular stroller. It doesn't have many reviews on Amazon, but you can read more comments on brand's official website.
I went through all of these customer reviews and here's my summary.
Pros
Cons

Pros

---

+ Padding is soft, cozy and easy to clean

+ Relatively compact and light (enough for a daily use)

+ Strong built and smooth ride – suitable even for light, short distance jogging

+ Versatility – Indie combines the best features of an everyday stroller and a jogger: maneuverability, smooth ride, relatively small weight and size

+ Great maneuverability

+ Rides smoothly and pushes effortlessly

+ Oversized canopy provides excellent protection from sun

+ Vented seat top allow the air to circulate through

+ Lots of useful pockets for storing mom's essentials

+ Adjustable handlebar is a great addition for parents who differ in height

+ Automatic lock for fold

+ Beautiful colors and eco-friendly fabrics

Cons

---

- Folding requires using both hands

- Seat in not reversible

- Attaching infant car seat adapters may seem difficult and requires practice

- Rather expensive (but according to customers – totally worth the money)
Keep in mind
If you're advanced runner and you love long distances on harsh terrain, you should go for Bumbleride Speed which is more heavy-duty jogger. Indie is great for everyday use + light jogging.
3 Reasons Why You Will Love This Convertible Stroller
1. It's a perfect stroller for summer. It has large vented canopy that extends far to fully shade the baby. You won't have to worry about sun burns or overheating.
2. The possibility of having infant mode is awesome. Not all parents can afford (or want to have) a bassinet. It's also less equipment to store!
3. You won't need another stroller, because you can use this one anywhere. From strolls in park to shopping mall to beach to light jogging on dirt roads.
Let's be honest, this stroller is pricey. Before you buy it, make sure to check if there are any discounts here.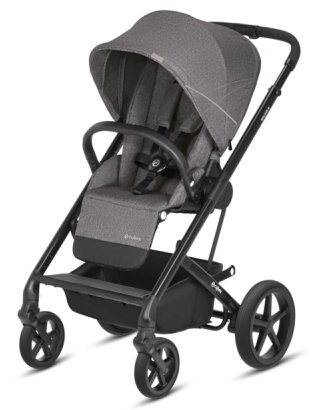 There is one model that stands out from other strollers in Cybex lineup – Balios S. What distinguishes this stroller? Its versatile features, suitability for multiple types of terrain, simple but beautiful design and more affordable price!
If you have already done some research on baby strollers, you've probably heard about brand named Cybex. Maybe you even know that this brand is well-known for designing high-quality and fashionable strollers which are quite expensive.
And Balios S is exactly like that, but doesn't cost a fortune like Cybex Priam or Cybex Mios. With Balios S you can have Cybex stylish design and top notch quality, but at much lower price. Sounds nice? Keep reading to find more details about this stroller.
As one of the best convertible strollers for 2022, Cybex Balios S can be used with different seating options. The basic set includes the regular seat that is suitable from birth up to about 4 years.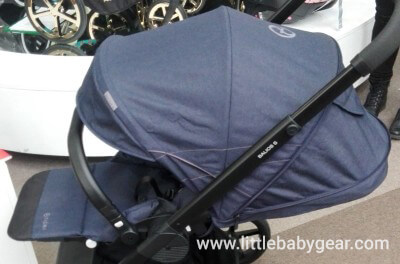 This seat reclines with one hand all the way down – seriously it's one of the deepest recline ever – and according to the manufacturer it's newborn-ready. I would still recommend adding a newborn cocoon to keep a small baby securely in place and support their head and back better.
This fantastic convertible stroller allow you to attach an infant car seat onto the frame. However it's only compatible with Cybex and GB car seats and you still need adapters to connect the stroller and car seat.
Therefore first you need to remove the seat unit as the car seat doesn't attach to the seat, but only to the frame and then you need to click-in the adapters. Some customers say it's a bit inconvenient – because it's an extra activity that you need to do before you place the car seat onto the frame. And you need to pay extra for these adapters.
You can also replace the main seat with a bassinet (sold separately here). This is a better solution than a travel system if you plan on going for longer strolls with your newborn baby. Bassinet is more comfy and supportive for long periods than the car seat.

Despite some small drawbacks, all of these seating combinations make this stroller all-purpose and usable for couple of years. I'm happy that this stroller converts from a travel system to infant stroller to toddler stroller within few second.
When I saw Cybex Balios S for the first time I was charmed by the main seat functionality. It's not only fully reclinable, but also has adjustable calf rest and it's quite high up on the frame therefore you can wheel the stroller up to the table!
Moreover, little passengers can ride facing parents or the World, depending on their age and mood.
If you are looking for a stroller with reversible seat or a convertible "infant-to-toddler" stroller Cybex Balios S will definitely fill your needs.
Moving forward, there is also enormous canopy that offers complete cover from the sun. Thanks to zip open mesh panel it provides really great air circulation.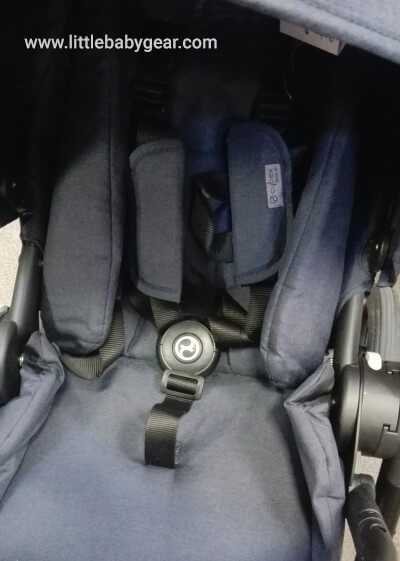 Other features that sold me on Cybex Balios S were all-terrain wheels and suspension. This stroller handles uneven surfaces beautifully. Of course it's not a jogger so I wouldn't take it for hiking on mountain trails, but it won't disappoint on surfaces like cracked pavement, gravel driveway, sandy and bumpy paths in parks and dirt roads! The front wheel are lockable for greater stability and easier going through bumps. All of this makes Balios S perfect choice for:
Those who live in area where sidewalks are old and cracked
Urban parents who like going to parks or even off-road
Parents who live in the countryside where roads are unbeaten or in poor condition
Another feature, that short moms like me and tall dads like my hubby will like is the adjustable handlebar. It's not a rotating bar – it slides up and down. It's a very convenient solution because it gives more space behind the stroller for parents with long legs so they don't kick the rear wheels or basket while pushing the stroller!
The basket underneath the seat is fairly spacious. Of course it could have been more capacious, especially since Balios S is quite a big stroller. But I don't complain about it, it did fit my large backpack diaper bag so that's sufficient for me.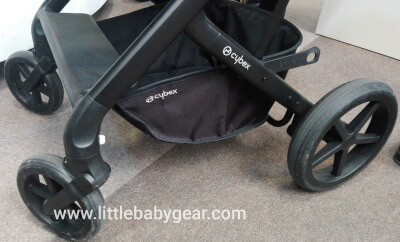 Unfortunately there are no additional pockets for storing small items like phone or wallet. Parent organizer, as well as child snack tray are sold separately.
The last thing that I want to mention here is the folding mechanism. Some parents say it's a piece of cake while others complain it's difficult and annoying. First of all, folding is two-step process. Secondly, it takes practice to get used to this mechanism. But I think if you practice it few time at home before going for your outdoors adventure, you will master it and it will take up few seconds to fold up the stroller.
On a positive note, Cybex Balios S is not excessively heavy – it weighs about 24.7 lbs – therefore it's not that difficult to put it in the car trunk. Besides, it has quite a compact fold, smaller than UPPAbaby VISTA, Britax B-Free and Baby Jogger City Select and only slightly higher than Britax B-Agile!
To learn more about this convertible stroller read my in-depth review.
What other parents think
I checked what other customers wrote about this stroller on Amazon to find out that many of them describes it as reliable and worth buying. Customers praise this convertible stroller for its multi-functionality and chic look.
You can check the most often mentioned features in the table below or skip to Amazon and read the customer reviews on your own.
Pros
Cons

Pros

---

+ Thanks to elevated seat you can use it as high chair for example in restaurants

+ Extendable canopy gives full protection from sun

+ Very sturdy

+ Breeze to maneuver and turn

+ Rides smoothly

+ Comfy padding and beautiful fabrics

+ Reclines to fully flat position

+ Reversible seat

+ Adjustable footrest for baby's comfort

+ Compact fold (as for a convertible stroller)

+ Telescoping handlebar for parents of different heights

+ Elegant look

+ Awesome quality in medium-price range

Cons

---

- It takes some time to figure out how the folding mechanism works

- Accessories like parents organizer or snack tray are sold separately

- Rather on the heavier side
Keep in mind
Cybex Balios S is compatible only with Cybex and GB infant car seats. You need to purchase special adapters for them anyway (for example here).
3 Reasons Why You Will Love This Convertible Stroller
1. Thanks to many seating options this can be the only stroller you will ever need. You can use it from day one till toddlerhood.
2. You don't have to spend a fortune to have a trendy Cybex stroller! Balios S is a combination of Cybex fashionable design and affordable price.
3. With reversible seat, flat recline and oversized canopy this convertible stroller is so convenient to use!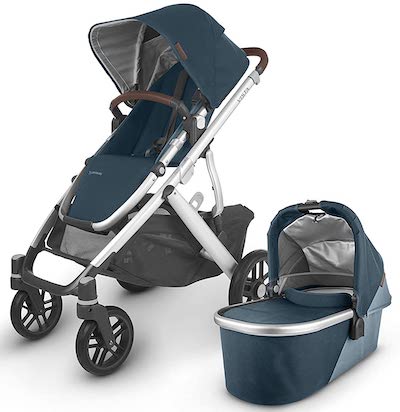 This is all-in-one luxury stroller. It's not only a convertible model that grows with the child, but it also expands and adapts to growing family.
VISTA V2 comes with a regular seat that is suitable from 3 months up to 50 lbs and a bassinet that can be used since birth. It also converts to a travel system with MESA infant car seat (without adapters) and few other models from popular brands (Chicco, Maxi-Cosi, Nuna and Cybex) with proper adapters.
I love UPPAbaby VISTA V2 as travel system and I wrote more about it in my ranking of the best travel systems for 2022. Therefore here I focus mainly on its features as a standard and convertible stroller.
VISTA V2 can serve you as a single stroller with reversible seat, but you can also use it as a double stroller. It has lots of different seating options. It's a perfect solution for parent who have one child, but plan on having bigger family soon. There is even an option for third, older kid (older toddler or preschooler) who can ride on the PiggyBack board.
There are plenty of seating combinations for two kids: you can attach two regular seats (front or rear facing), two bassinets, two infant car seats or you can mix the seats if you have a baby and a toddler.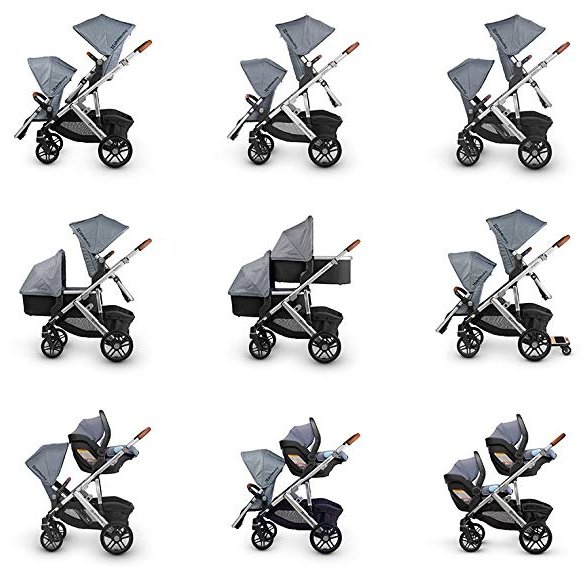 UPPAbaby VISTA V2 is an expensive stroller, and it can be your only stroller for one, two or even three kids. It's also perfect choice for parents of twins and preschooler/older toddler or three kids of small age difference.
Let's take a quick look at other features. VISTA V2 has four foam core rubber wheels which are great for many types of terrain and you don't have to worry about punctures. There is front and rear wheel suspension that absorbs shocks, so your kids will have pleasant, comfortable ride, whether you're going over bumpy sidewalk or gravel path.
The regular seat has nice extendable canopy which was redesigned and improved last year. Now, instead of a pop out sun visor, there is a third long panel that protects baby from harmful sun rays. This canopy gives great shade and covers baby up to the waist. I like that the canopy slides up to give the child more room to grow.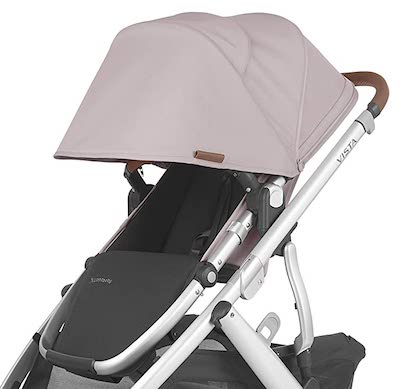 There are also a few features for parents convenience: adjustable handlebar that telescopes in and out (giving tall parents more space behind the stroller so they don't kick the back of it while walking), enormous basket with capacity of 30 lbs (easily fits large diaper bag and grocery bags), very easy folding and self-stand for easier storage and transport.
I like that it comes with few accessories (at this price it has to!): bumper bar, insect and rain shields for toddler seat and bassinet.
As a single stroller UPPAbaby VISTA V2 weighs 27 lbs which means it's not small, but it's not the most heavy convertible stroller either. It's an expandable stroller so it has to be strong and robust.
What other parent think
As for such an expensive stroller it very popular and has quite a lot of reviews on Amazon and most of them are positive. You can skip to customer reviews by clicking here.
In the table below I present you the main advantages and disadvantages mentioned by other parents.
Pros
Cons

Pros

---

+ Easy and quick assembly

+ Seating options easily click into the stroller

+ Toddler seat is reversible

+ Folding is very easy

+ The basket is capacious and accessible

+ Bassinet is certified for overnight sleeping

+ It expands to accommodate more children, so it really grows with the family

+ Breeze to push and steer

+ Made of high-quality materials

+ Responsive and very helpful customer service

Cons

---

- Not the lightest convertible stroller on the market

- Adapters and additional attachments that turn this stroller into a double are pricey (you can check some of the accessories on Amazon)
Keep in mind
If you would like to use it as a double stroller for toddlers, you will need to buy a RumbleSeat, which has smaller weight capacity than the regular toddler seat (35 lbs). Remember that VISTA, as other expandable stroller, gets more bulky and heavy when you add another seat.
3 Reasons Why You Will Love This Convertible Stroller
1. Its quality, versatility and option of expanding is worth the money.
2. It's a smart investment for YEARS and perfect option for parents who plan on having bigger family. It can serve you even for three kids at once.
3. It's very easy and convenient to use for parent. It has probably the most capacious basket ever.
UPPAbaby VISTA V2 is one of the most expensive strollers on the market. Before you decide to buy it, make sure this stroller meets your needs and check available discounts for example on Amazon. If you would like to learn more about this stroller, here is my VISTA V2 Review and full review of UPPAbaby VISTA (2017-2019).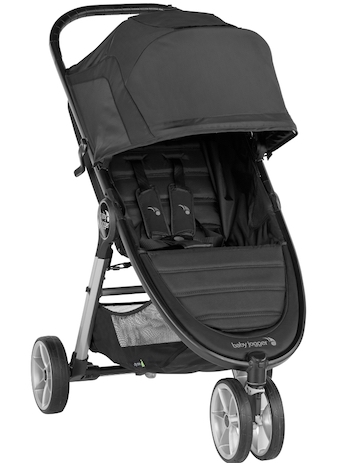 This is a stroller for urban parents and it works great for everyday adventures in the city jungle. It's quite lightweight, nimble and pocket-friendly.
Not so long ago this convertible stroller has gone a complete makeover. Now it has more features that make using it more convenient, and it also has completely new look thanks to redesigned frame, new fabrics and new colors. It looks more stylish and trendy, in my opinion – much better than the old model.
The regular seat is suitable for an infant who can hold his head up and sit upright (which is around 6 months). The weight capacity is 50 lbs – smaller than City Mini GT2 offers, but still generous.
It features multi-position recline so you will be able to find comfortable position for your baby whether he/she wants to take a nap or observe surroundings. I only wish there was a lever for adjusting the seat back position, instead of a buckle and straps. On a positive note, the new model of City Mini 2 has adjustable calf support which is very useful if your child likes to nap during walks.
The seat has vented top and retractable weather cover so you can use the extra ventilation on hot days and close it on more chilly days.
There is an extendable canopy – recently redesigned. It looks completely different. It's still large and gives baby nice protection from sun rays. I really like how far down it goes. What's also fantastic – there are two peek-a-boo windows (on two panels) so you can always keep an eye on your child, no matter if you use fully or half extended sunshade.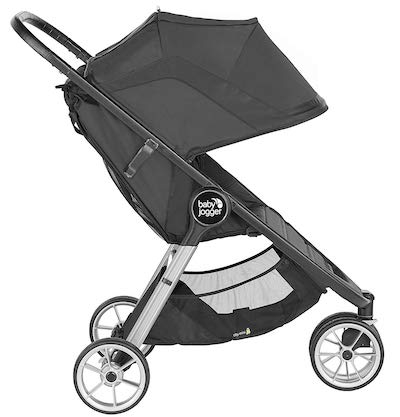 There is one thing that I love about this new canopy – Baby Jogger has finally changed the closure mechanism for the viewing windows. Now they close with magnets, instead of noisy Velcro. Yay!
The handlebar is not adjustable, which is not a problem if you are average in height (about 5'5″ – 5'11"), but it may be too low for very tall parents (above 6'3″). I like that the handlebar is rubberized, not covered with foam which usually rips quickly.
This standard stroller has 3-wheel construction. Dual front wheel is pivoting which makes the stroller very maneuverable and easy to turn. It's super easy to steer in narrow or crowded places.
You can also lock it for long-distance walk or more rough terrain. There is also front wheel suspension which is very useful when going over gravel or cracked sidewalks. But remember that those 8″ wheels are not suitable for all types of terrain. On more bumpy surface the baby will feel shocks.

Baby Jogger City Mini 2 is compatible with infant car seats from many popular brands. You can turn it into a travel system within a few second, you just need a proper adapters (sold separately). You can also add a bassinet which provides fully flat position for newborn baby. It's the best option if you like long-distance walks.
There is one more great thing about this convertible stroller – it's super easy to fold with one hand, which takes a few seconds. Pull the strap and it will close itself. There is an automatic lock that keeps the stroller folded. Baby Jogger City Mini 2 is very slim when folded and doesn't take up much space. Perfect solution for those who have small cars or not much free space at home.
And since it weighs only 18.8 lbs it's very convenient to carry up and down the stairs and easy to lift to the car trunk.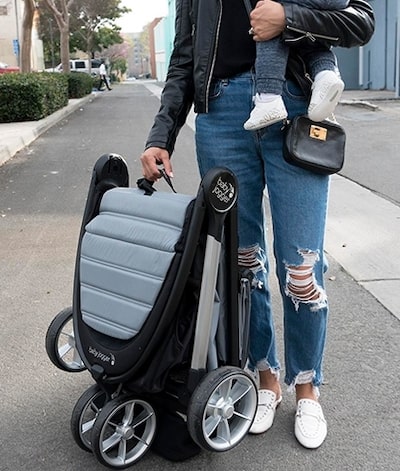 What other parent think
This stroller is extremely popular and highly rated by customers on Amazon (click here and check how many positive reviews it has now). In the table below I put the most frequently mentioned assets and flaws.
PROS
Cons

Pros

---

+ Big canopy covers the baby really nicely

+ Smooth ride, perfect for strolling around the city

+ Dual front wheel gives stroller strong foundation

+ Easy turning and steering, even with one hand

+ Deep seat and tall backrest make this stroller perfect for taller toddlers and older kids (some parents use it even for 4 or 5-year-old kids)

+ Good-quality materials

+ Light enough to carry around

Cons

---

- Storage basket is rather small, it barely fits medium-sized diaper bag

- There is no cup holder or child tray, so you will need to spend extra money on the accessories (check how much the tray would cost you)

- The seat fabric is exposed when the stroller is folded so you need to be careful when you transport or store it, so it won't get dirty
Keep in mind
This stroller is not all-terrain and it's definitely not suitable for jogging. It works best for smooth, flat surfaces, but can handle cracked sidewalks and hard-packed gravel as well.
Also, pulling the strap to fold the stroller requires some force. It definitely takes practice.
3 Reasons Why You Will Love This Convertible Stroller
1. Great stroller for everyday use for city dwellers. Lightweight and compact enough to fit in tight and crowded places.
2. It's a new, redesigned and upgraded stroller but still has a pocket-friendly price.
3. It's made of good-quality materials and very convenient to use, yet it's not overly expensive.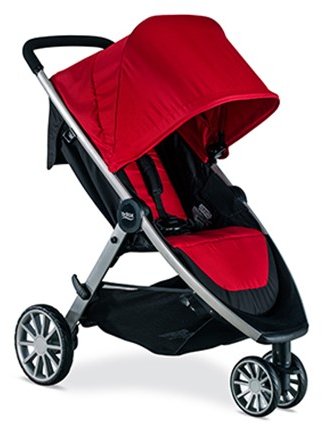 Britax B-Lively looks almost exactly like famous B-Agile stroller. I believe this improved model will quickly become a best-seller just like its ancestor. It's simply a good budget option for urban parents.
The Britax B-Lively stroller is designed for use from birth to 55 pounds. This means that it offers you years of usage and might actually be the only stroller that you'll ever buy till your kid hits around 3-4 years. You need to take good care of it, of course!
There are 2 features that make the B-Lively one the best convertible strollers in 2022: its weight and one-hand quick fold design.
The B-Lively is definitely one of the lightest convertible strollers that I have come across at 20 pounds. This lightweight design is a really big deal for a stroller that is meant to travel with you wherever your kid goes.
Its one-hand fold design, on the other hand, coupled with the low weight means that you can fold and load it in and out of almost any car's trunk without lots of struggles.
On this note, folded B-Lively measures 29″(L) x 23″(W) x 12″(H) when folded. As such, it can fit in most average – size car trunks with ease and still leave you with tons of room for your trips' car supplies.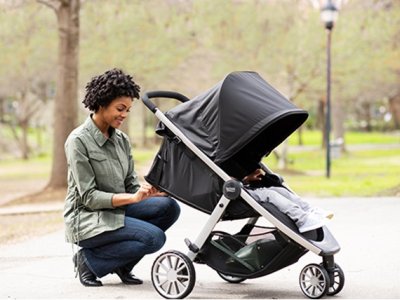 What I love most about this seat is its infinite recline options that allow you to recline the seat really deeply. It's not a fully flat recline (and less deeper than Bumbleride Indie offers), but it's perfect for naps on the go.
According to the manufacturer the lowest position is newborn-ready, but I would recommend waiting at least 3 months as the baby gains neck control.
As far as the regular seat is concerned, it has a width of 11 inches and has a good amount of padding to keep the young rider cozy throughout the ride. It also has a 5-point system which although a common household feature among most strollers nowadays guarantees a superb level of safety.
Another impressive feature of this stroller is its Click and Go system which makes it compatible with all Britax infant car seats. Basically, the B-Lively stroller frame has receivers where you insert your Britax infant car seat's connectors. The essence of this is to avoid waking up the baby as you transfer them from the car to the stroller.
The Britax B-Lively also has a really large canopy to protect the passenger from the elements. True to this manufacturer's tradition, the canopy is rated at UV 50+ meaning that it blocks up to 98% of the UV rays from the sun.
This canopy is breathable thanks to zippered mesh panel. So, there's no risk of your babe baking in it during hot summer strolls. And there's also a peek-a-boo window that allows you a quick glance at the child without having to stop.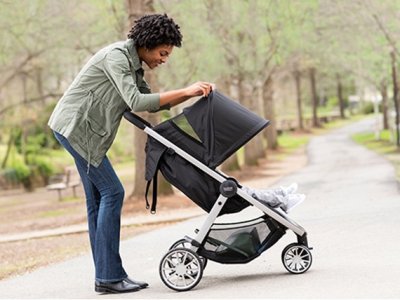 As for a convertible stroller, B-Lively has only a decent storage basket. It can accommodate big diaper bag, but it's quite shallow, so you can't fit there a lot of things. On a positive note, there is additional zipper pocket for your personal items like a phone or snacks.
How easy is it to push this stroller? Let's talk about that.
Designed to be one of the best convertible strollers, the B-Lively has a 3-wheel configuration that I really find convenient to push, especially when compared to many strollers with a 4-wheelset.
This 3-wheel system coupled with the lightweight design also makes it possible to push this stroller using one hand which is very practical – as we all know mom's usually don't have two hands free! However, you should remember that one-hand steering is possible rather only on flat, smooth terrain.
This stroller is not meant to be all-terrain, it's designed for city use only. Keep in mind that its wheels are non-inflatable. That being said, it's important that you don't take it on very rough surfaces.
An important addition here, however, is an all-wheel suspension system that absorbs some of the shocks, but the more uneven the terrain, the more bumpy the ride.

What other parent think
I went through parents reviews on Britax website, as well as Amazon customer reviews and it turned out this budget convertible stroller received a lot of praise
Here are some of the pros and cons that the previous buyers mentioned a lot.
Pros
Cons

Pros

---

+ Convenience of folding and unfolding with one hand

+ Very lightweight as for a full-sized stroller

+ 3-wheel configuration makes it easy to push the stroller with one hand on flat surfaces

+ Very easy to maneuver

+ The seat offers infinite recline – you can set the backrest on any position your child prefers

+ Breathable canopy offers great coverage without being overly hot

+ Easy to clip a car seat ON and OFF

+ Fairly compact fold make it easy to store

Cons

---

- The handle is not adjustable

- Does not have a cup holder (if you don't mind spending out a few more dollars you can purchase one separately)

- May wobble on rough surfaces

- The manufacturer is yet to release adapters for other car seats including Chicco and Maxi Cosi
If you'd prefer to check the customer reviews on your own you can do it here.
Keep in mind
This stroller does not have an adjustable handle. It might be a letdown if the stroller is to be pushed by individuals with varying height needs.
In addition, currently this convertible stroller is not compatible with other car seat brands as there are no adapters for them. The brands plans to release adapters in the future.
3 Reasons Why You Will Love This Convertible Stroller
1. Lifting it to the car trunk or carrying down the stairs is not difficult, because it is one of the lightest convertible strollers.
2. One-hand fold design is very useful as it allow you to easily close the stroller when holding baby in other arm.
3. There's no need to spend extra money if you want to convert it into a travel system with one of Britax car seats, as the receiver as built-in.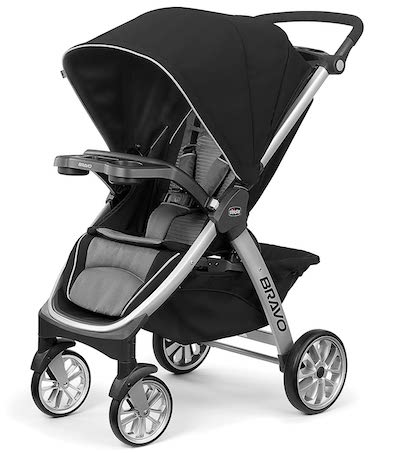 This is a high-quality stroller that easily converts into a travel system and infant car seat carrier without any adapters. Moreover, it's a low-budget option, yet it comes with few handy accessories.
It is equipped with a regular seat, suitable for infant who has developed neck and head control. The seat features multi-position recline so the baby could comfortably nap during the strolls. The seat is softly padded, plus it has breathable mesh on the backrest to keep your little one from sweating.
There is one more great feature – the seat unit is removable so you can convert this stroller into an infant car seat carrier for KeyFit. In this mode you stroll just with the frame and attached car seat. Thanks to this option the stroller doesn't get much bulkier or heavier.
You can also use it as a travel system and attach the infant car seat when the regular seat is still on. It's convenient that you don't have to remove the seat and store it, but in this mode the stroller is heavier.
And you don't need any adapters for KeyFit infant car seat. It easily attaches to the stroller thanks to the child tray.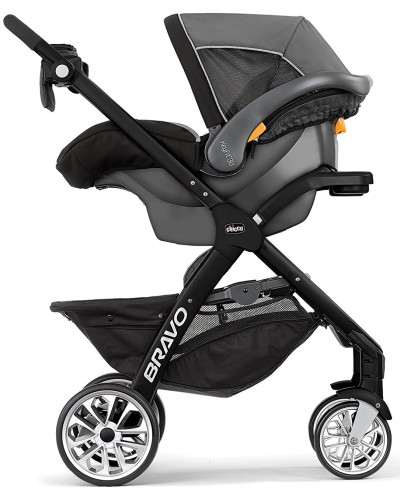 Back to the regular seat – it has extendable 3-panel canopy with additional sun visor which provide decent shade for the baby. There is also mesh peek-a-boo window so you can check on your little one at any time.
Chicco Bravo rear wheels are 9'' and the front swivel ones are 7″. They are made of hard plastic so they are not all-terrain. However, there is all-wheel suspension which helps a little bit when you stroll over gravel or cracked pavement.
I like that this convertible stroller features one-hand fold and self-stand. You just pull the handle, hidden in the bottom of the seat and the stroller breaks down in half. It doesn't take up much space when folded, but the fold isn't as flat as City Mini or Graco Verb. It weighs 23 lbs which is not a little, but it's not excessively heavy either.
Included accessories are another advantages. Chicco Bravo comes with a child tray with a place for baby's snacks or toy and two beverages.
Under the seat there is a fairly big basket which can accommodate medium-sized diaper bag. It is easily accessible from the back.
There is one more feature that I find very handy – adjustable push bar. Great feature for very short and tall parents (like me and my husband) and not very common at this price.
What other parents think
This standard stroller gets more and more popular recently. No wonder, it's really well equipped, made of quality materials and has pocket-friendly price. Many parents recommend it as easy and convenient to use.
Pros
Cons

Pros

---

+ Large canopy keeps the sun out of baby's eyes

+ Padding on the seat is super soft

+ Parents have option of attaching one of the KeyFit car seats with our without removing the main seat – whatever suits them better

+ Attaching the car seat is a piece of cake

+ It's user-friendly

+ Parent tray is very useful for keeping essentials within reach

+ Smooth maneuverability, easy to control with one hand

+ Tight turning radius

+ Folding is very easy, truly one-handed and the stroller really stands on its own when folded

+ Basket is spacious and easy to access

Cons

---

- Not for bumpy roads

- Cup holders are pretty shallow

- Child tray is a bit hard to remove and doesn't swing away (read more in this review for example)
Keep in mind
Because of the small plastic wheels and non-lockable front wheel, Chicco Bravo is not suitable for rough terrain
3 Reasons Why You Will Love This Convertible Stroller
1. According to many customers this stroller is worth every penny. For a reasonable price you get high-quality and durable product.
2. It is really easy to fold with one hand which is essential, because parents usually don't have two free hands.
3. It has few accessories included so parents don't have to spend extra money on these items: parent tray with cup holders, child tray and soft seat pad insert.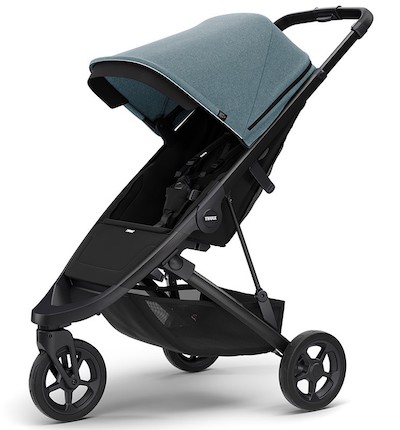 Filling my slot of the best convertible stroller for 2022 is a slim all-terrain stroller that I expect to top the charts for quite some time in 2022. Thule Spring is meant for everyday city strolls and running errands. It is very well made, and I expect it to hold up nicely on rougher terrains that your daily strolls may throw your way.
This stroller appears quite small and compact, yet it boasts an incredibly roomy and nicely padded seat. The seat is meant to accommodate babies above 6 months of age. It is notably wide and has a high back, all that work together to accommodate the growing baby.
Of course you can convert Thule Spring into a travel system by adding an infant car seat compatible with it. Right now we know that this stroller works with Maxi Cosi and Chicco infant car seat, however I'm sure there will be adapters for other brands too!
Thule Spring stroller, adapters and other accessories are set to be released in mid February. You can now pre-order the stroller on Amazon or on PishPosh Baby.
Let's go back to the main stroller seat. If your child is a stroller-seat-escape artist, the child-proof buckle used for this stroller's harness system is just what you need for your peace of mind.
What will impress most parents, however, is the ability to accommodate a passenger of up to 65 pounds. This high weight limit qualifies it as an excellent stroller for heavy toddlers and makes navigating holiday crowds with a 4-5 year old a breeze.
What's more, the seat has a very deep recline. You can actually set the back at any angle to suit your passenger's preference. This makes for easy naps on the go. Moreover, the backrest reveals a large mesh window with a magnetic flap when reclined to boost air circulation in the cabin.
The UPF50+ canopy with additional zippered panel is another advantage. When you fully extend the canopy it provides a lot of shade for the baby.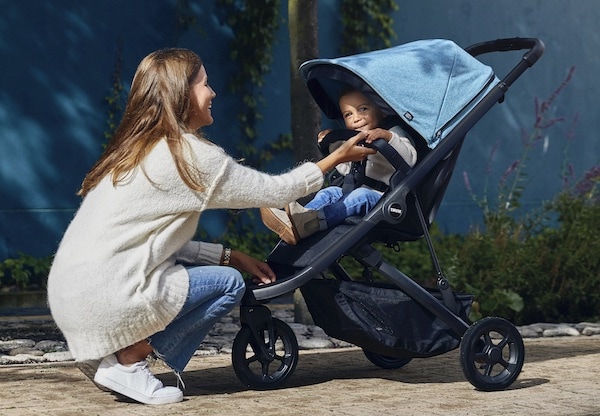 Another key feature of Thule Spring is its excellent maneuverability. Thanks to its 3-wheel configuration and a height-adjustable handlebar, expect to push this stroller around with one hand. Importantly, its foam-filled 8.5-inch wheels means that you'll never be inconvenienced by a flat tire. There is also front-wheel suspension to cushion the ride over gravel paths in the park or playground.
These features make Thule Spring one of the highly-recommendable convertible strollers for 2022.
What other parents think
This convertible stroller is on the market for a year or so and already has lots of positive online reviews. I went through Amazon customer feedbacks and here are the features that parents like and dislike:
Pros
Cons

Pros

---

+ Versatility - works really well on different types of terrain (including hand-packed sand, gravel trails

+ Rides smoothly

+ Easy to maneuver and turn

+ More compact and slimmer than many other strollers

+ Narrow design makes it easy to operate and turn in tight places

+ Sturdy and strong

+ Underseat basket is easily accessible and fits large diaper bag

+ Feels light

+ Easy to fold with one hand

+ Great quality

Cons

---

- Seat is rather shallow

- More difficult to operate with one hand

- Some parents complain about the harness (straps have to be clipped-in in a certain order)
Keep in mind
While it's seemingly similar to the Thule Urban Glide, Thule Spring isn't a jogger. If you are looking for a buggy for intense running, this list has plenty of options worth considering.
3 Reasons Why You Will Love This Convertible Stroller
1. Thule Spring's design is spot on if you are looking for a stroller easy to carry – only 21 pounds, yet so strong and sturdy.
2. This stroller has a single-hand fold and it actually self stands for stress-free storage. It's compact enough to fit in most car trunks!
3. It has a very large basket enough to hold up to 21 liters worth of groceries and baby essentials – just perfect for running errands in the city.
Best Convertible Strollers For Everyday Use – Buying Guide
All standard modern strollers are convertible. They have many add-ons, adapters, you can switch seats and reverse them.
You can converted them into a travel system by adding an infant car seat. Some models works only with car seats from the same brand, while other can be used with different car seats if you add proper adapter. Some of the convertible strollers can be even bought with a matching infant car seat, for example UPPAbaby VISTA + MESA or Britax B-Agile + B-Safe 35, that's why some of the models I included in this ranking, you can also find in my ranking of the best travel systems.
A big advantage of modern standard strollers is that the toddler seat can be replaced with a bassinet. And therefore you can convert this stroller into a pram.
Thanks to the function of travel system and compatibility with bassinet, you can have all-in-one "infant-to-toddler" stroller without spending a fortune!

Some of the modern strollers are also expandable – you can use them as single or double, or even make a room for the third child. You just add another car seat, bassinet, toddler seat or a standing board and voilà! Expandable strollers are great solution for parents who have one child, but plan on having another child soon.
It's great because you can use one stroller since birth till toddlerhood or even one stroller for two or three kids. It means that you can not only save space in your house, but also save money! Nowadays convertible is a new standard.
Functions of standard convertible strollers
Modern "standard stroller" doesn't mean bulky and heavy vehicle. Many models are very agile, have great suspension system and can handle even the tough terrain!
This is the best about this stroller – you can use it on different occasions: it's easy to push through shopping alleys, bumpy sidewalks, grass and gravel park paths.
Most standard pushchairs weigh from 16 to 37 lbs, which makes them heavier than umbrella strollers. But remember that this type is more functional than lightweight strollers.
Standard type is not as bulky as joggers, but of course you can't jog with this stroller, because of the safety conditions!
Seat
Majority of standard convertible stroller has reclining seat, but it doesn't recline fully (which is the only position for sleeping infant).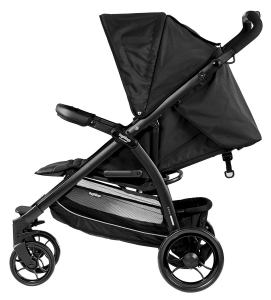 If the stroller doesn't offer flat position, it is not suitable for newborn. That's why the regular seats in convertible strollers are better for toddlers, but many of them can use from birth with a car seat or bassinet.
I started using the regular when my daughter was 8 months old, but I know parents who pushed their 5 month old babies in that seat.
Everything depends on your baby's pace of development. Some kids can sit upright very early, some need more time (and that's nothing to worry about:)).
Many modern standard strollers have reversible seat which means that your little passenger can face you or explore the surroundings during your trip.
The seat should be nicely padded and have five-point harness so it could provide a comfy and safe ride.
Wheels
Standard strollers vary in size and weight, therefore they have also different wheels. Generally speaking bigger wheels with air-filled tires are the best for rough terrain, but rubberized tires and suspension also make the stroller suitable for many types of terrain.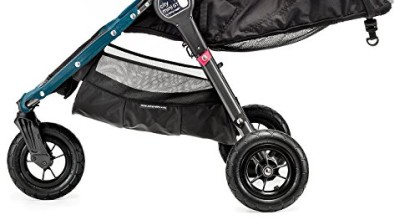 Brakes
Standard stroller often have only a parking brakes, operated by foot, handbrake is a rare thing. Paring brakes can also vary, they can be single action which is easy to operate, or double action which requires using more advanced system.
Some strollers, for example UPPAbaby VISTA, have also a color indicator, that informs if the brake is set properly.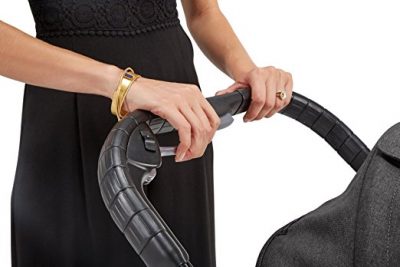 Adjustable handlebar
Some parents say this features is redundant, but in my opinion it is very useful especially if both parents vary in height. I am rather small and short person, but my hubby is much taller than me.
When we were using a stroller with unadjustable handlebar strolling was inconvenient for both of us – for me the handlebar for too high, for him it was too short! Adjustable handlebar is a big advantage for us.
Canopy
Considering you will be using a standard convertible stroller till toddlerhood, the canopy should be big enough to provide nice coverage even for taller baby and give him a room to grow. Sunshade should be extendable so you could adjust it to the weather conditions. Peek-a-boo window is a must-have in my opinion. I love windows made of mesh, because they provides extra air-flow.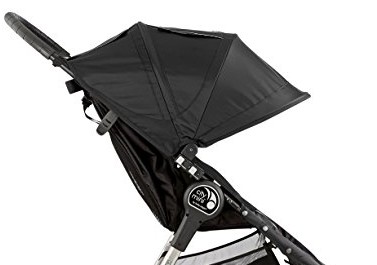 Basket
When you go out for a stroll with your baby, you need a lot of things: diapers, wipes, blanket or a jacket, some snacks and drinks, toys… Not to mention a bag with your essentials like wallet, cell, keys etc. Therefore stroller should be equipped with a large basket underneath the seat so it could accommodate all of these essential things and even more!
Great example of a stroller with a big basket is UPPAbaby VISTA and Chicco Bravo LE.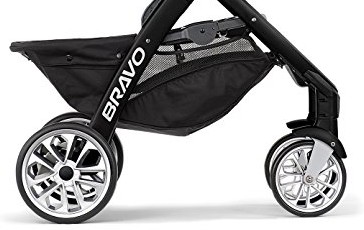 ---
Sources:
Your trust is really important to me: This post contains affiliate links. If you choose to buy something using these links, I may receive a small commission, at no extra cost to you. Your support helps me run this blog. Thank you so much 🖤 Zooey