Baby Jogger City Mini GT is one of the most popular and top-rated single strollers. No wonder, it has so many useful features like oversized canopy, adjustable handlebar, quick fold, infant car seat compatibility, wheels that work on almost every type of terrain, just to name few.
Oh, there's one more important thing: it has reasonable price!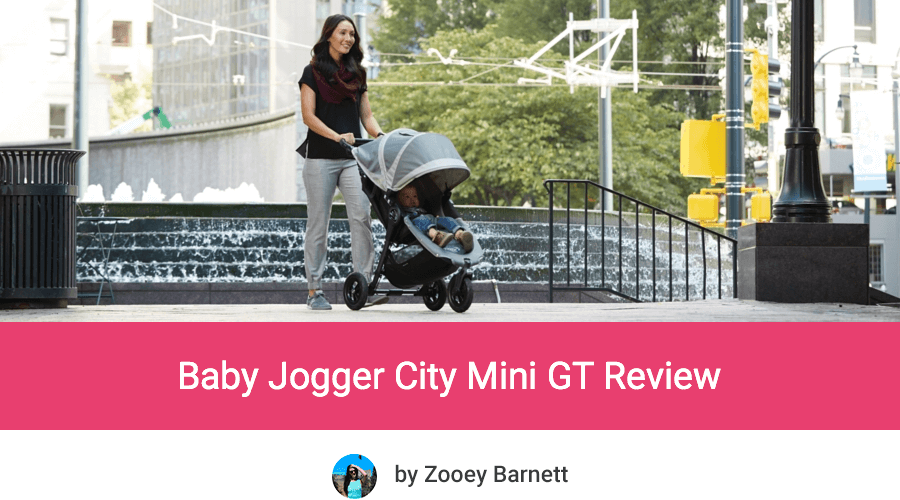 This convertible stroller is designed not only for urban parents who are often on-the-go with their baby, but its features make it also perfect for active parents who like strolling on more challenging terrain. City Mini GT from Baby Jogger gives parents the flexibility to go with their child wherever they want.
Stroller
Info

Baby Jogger City Mini GT 2016Check It On Amazon

Stroller weight: 22.5 lbs

Suitable from 6 months up to 65 lbs

Best features:


Nimble, suitable for multiple types of surfaces (including rugged terrain)

Perfect for getting around the city and long-distances strolls

Works great for parents who live in area with many uneven, rough grounds

Large canopy provides plenty of shade

Baby Jogger City Mini GT2 2019Check It On Amazon

Stroller weight: 21.4 lbs

Suitable from 6 months up to 65 lbs

Best features:


New all-wheel suspension for even smoother ride!

Adjustable calf rest for more comfortable napping on-the-go

Improved canopy now has a silent magnetic peek-a-boo-window

Finally the stroller stands on its own when folded
Cool new look and stylish fashions
Baby Jogger City Mini GT Review – Features
Let me tell you more about all functions that City Mini GT has. At the end you'll also find out what are the differences between City Mini GT 2016, City Mini GT 2018 Anniversary Edition and City Mini GT2 2019.
Seat
The regular seat that Baby Jogger City Mini GT is equipped with is suitable for infants who can already sit upright and have developed neck and head control (about 6 months). The weight capacity is 65 lbs and the maximum head height is 26″ so it can definitely serve as a stroller for big kid or toddler who is tall for his age.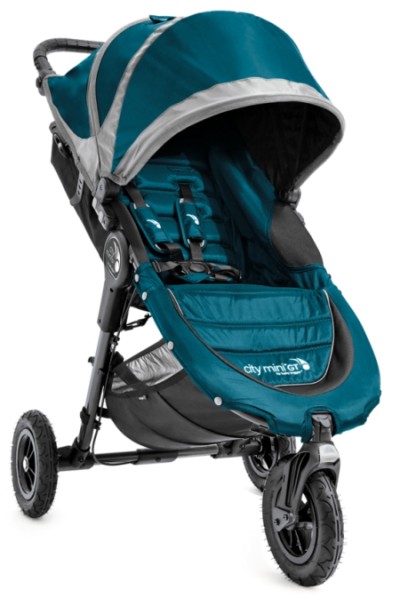 The seat is nicely padded with Nylon fabric which is fairly comfortable and easy to clean. 5-point harness strap have padded covers as well, to provide baby with safe and comfy ride. I've heard some parents complaining the harness opens easily and some 4 and 5-year-old kids are able to figure it out. It's something you should keep in mind.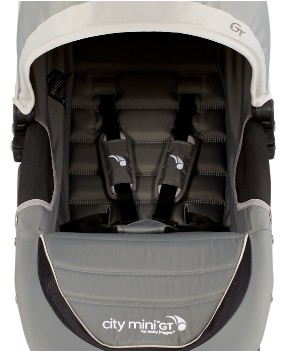 The backrest reclines deeply so the child can comfortably nap during the stroller, but keep in mind that the lowest position is not fully flat – I wouldn't recommend it for newborns. To recline the seat back you need to use the strap and buckle – it's not ingenious mechanism and some parents find it less convenient, but it's not a deal breaker.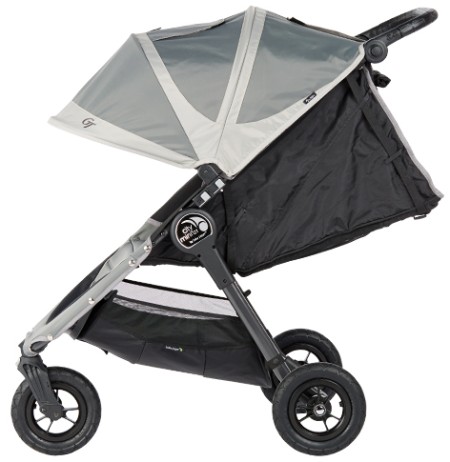 The seat has vented top which is very useful on hot days as it provides extra ventilation. On chilly days you can close it with a retractable cover.
There is also a leg rest and footrest for older or taller kid – both unadjustable. It's not a big deal, but something that you should be aware of if you're considering buying this stroller.
Infant Car Seat Compatibility – Baby Jogger City Mini GT Travel System
This stroller converts into a travel system within few seconds. It's compatible with Baby Jogger City GO Infant Car Seat and few other models from different brands if you add proper adapter.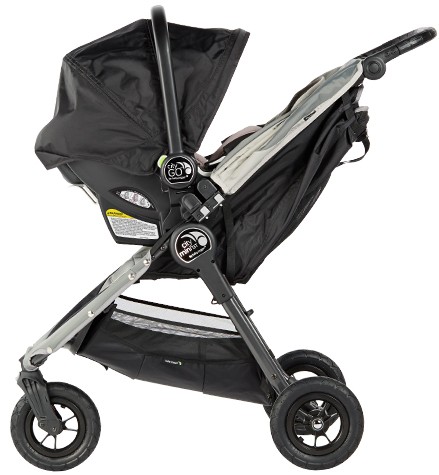 You just attach the adapters into the frame, click the car seat and you're ready to go! Thanks to compatibility with infant car seats, Baby Jogger City Mini GT can be used from birth. It's also a great option for parents who often drive with their baby and need a stroller that would allow for quick transitions from car to stroller.
You can also purchase Baby Jogger City Mini GT Travel System with Baby Jogger City GO Infant Car Seat or buy the car seat separately (not only the City GO, but many other models).

Note that car seat adapters are sold separately. If you would like to check the price, here is for example the adapter for Chicco and Peg Perego car seats (it's more expensive). There are also other adapters for brands like Graco, Maxi-Cosi, Nuna, Cybex, Britax and UPPAbaby – make sure to choose to right one!
Bassinet Compatibility – Baby Jogger City Mini GT Pram
This convertible stroller offers one more seating configuration – you can attach to the frame a bassinet. It's the best choice if you want to use this stroller for a newborn baby, as the bassinet provides proper flat position and best support for infant's spine and head.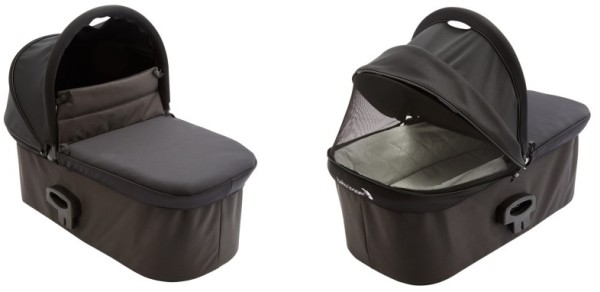 Infant car seat is good for running quick errands or short walks, but if you plan on going for long-distances strolls with your newborn baby, bassinet is a must-have.
Baby Jogger offers two models of bassinet which have a differ look and price. If you would like to check it, here is Compact Pram and here is Deluxe Pram.
Canopy
What I like about City Mini GT stroller is the awesome LARGE 3-panel canopy. When it is fully extended it provides great amount of shade for the baby (even up to knees). With this oversized hood you will be able to enjoy the summer strolls while your baby will be protected from sunburns.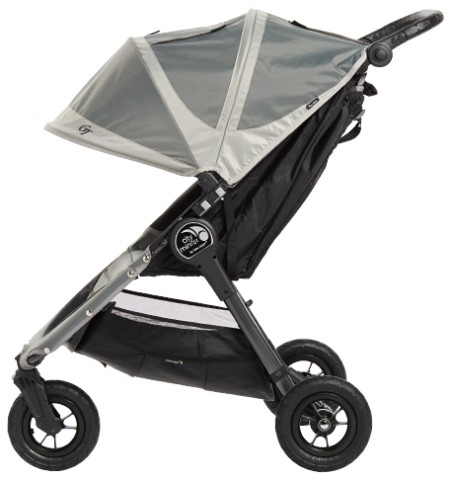 There is one more advantage: the canopy has not one, but two peek-a-boo windows! Therefore you can always check on your little passenger, no matter if you're using fully open canopy or just 1 panel.
I wish the peek-a-boo windows were mesh, instead of plastic as they would give extra air-flow. Magnetic closure instead of Velcro (which may be noisy) would be nice touch as well. But in my opinion these are only small drawbacks.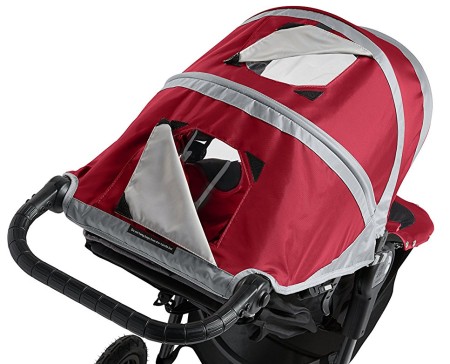 Wheels & Suspension
Now let's talk about the feature that really distinguishes Baby Jogger City Mini GT among everyday strollers.
It has 3-wheel design with 8.5″ all-terrain tires that never go flat. Thanks to those wheels parents are able to stroll on about any type of terrain. There is also front wheel suspension that cushions the ride and soaks the bumps.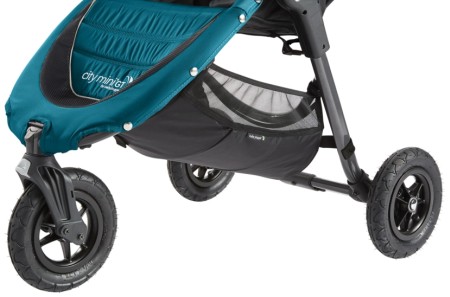 Therefore with Baby Jogger City Mini GT you can not only run errands and stroll around the city but also go over gravel, cracked sidewalks, cobbled streets, grass or even dirt roads!
Your baby will have smooth ride and will be protected from negative impact of shocks.
However I wouldn't take this stroller for long off-road strolls and it's definitely not suitable for running with baby.
Brake
Baby Jogger City Mini GT has hand-operated brake, in contrast to regular City Mini stroller which has foot-operated parking brake.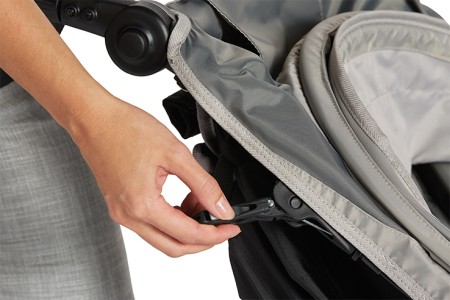 This brake is not located on the handlebar, like most handbrakes are. The toggle is below the handlebar, just on the right side of the canopy. It's not only easy to use, but it's also perfect for parents who like to wear sandals or flip flops often.
Handlebar
The grip has rubberized rings which make it not only more durable, but also convenient to hold. Most of the strollers have foam cover on the handlebar which is of course prone to tearing. Here you can forget about that issue.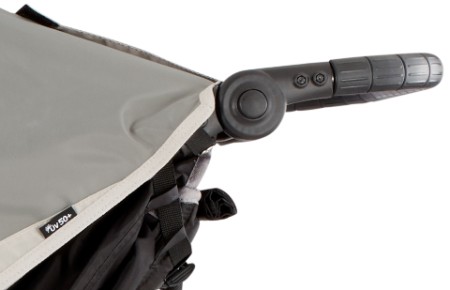 Unlike the regular City Mini stroller, Baby Jogger City Mini GT has adjustable pivoting handlebar. The range of height setting is really wide (from 30″ to 43.5″ from the ground) therefore even very short and tall people can push this stroller conveniently without wrist fatigue or back pain (caused by slouching).
I think telescoping handlebar would be better, as it would provide more room behind the stroller for parents with very long legs. Here they may sometimes kick the rear axle with their feet while walking. However, I didn't find any complains about the handlebar in customer reviews.
Storage Space
To be honest, I wish the City Mini GT had a bit more spacious basket under the seat. I'm not saying it's useless, but when you put there a medium-sized diaper bag, you won't have space for your handbag or groceries.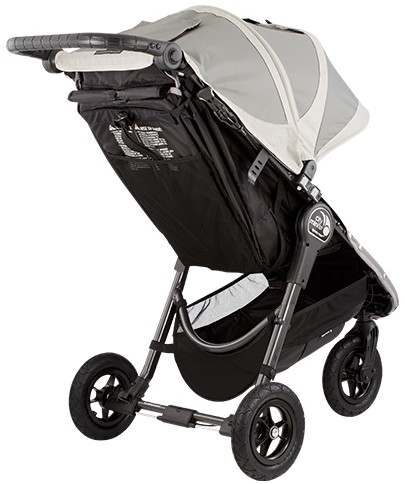 Good thing is that Baby Jogger City Mini GT has additional mesh storage pocket on the back of the seat, where parents can hold their essentials like a wallet, phone or a bottle of water. It's nice to have the possibility to keep the valuables at hand.
If you would like to have a parent organizer, to have more store space, you will need to pay extra for this accessory (check it here).
Weight, Size & Fold
Baby Jogger City Mini GT weighs 22.5 lbs which is a "normal" weight as for a convertible stroller. You shouldn't have problems with lifting it to the car trunk, however carrying it up and down the stairs frequently may be more challenging.
One of the biggest advantages of this stroller is the quick one-hand fold. Thanks to patented technology you can fold City Mini GT within few second while holding your baby in other arm.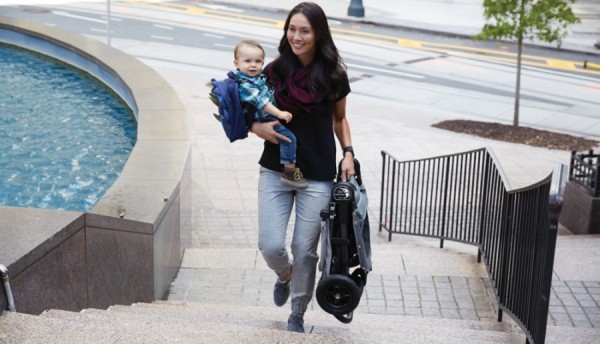 You just simply pull a handle, which is hidden in the middle of the seat, and the stroller folds itself and locks automatically.
Folded Baby Jogger City Mini GT doesn't take up much space (its folded dimensions are: 29.53″ x 24.21″ x 10.24″) therefore it is fairly easy to store even at a small apartment and it fits probably in every type of a car trunk.

There is one small drawback I have to mention. I would prefer the stroller to fold inwards, so the seat fabric was less prone to get dirty or damaged. Remember to store and transport it carefully.
Anyway, the fold size is amazing as for an everyday convertible stroller – which is important especially for those who have little free space at home or in car trunk.
Ease Of Use & Maneuverability
This stroller is easy to operate and turn with one hand. It maneuvers like a breeze and rolls really smoothly on many types of terrains: sidewalks, grass and gravel in parks, cobblestone and cracked pavement. Thanks to the handbrake parents have the full control over stroller within reach. Adjustable handlebar make it convenient for parents of all heights.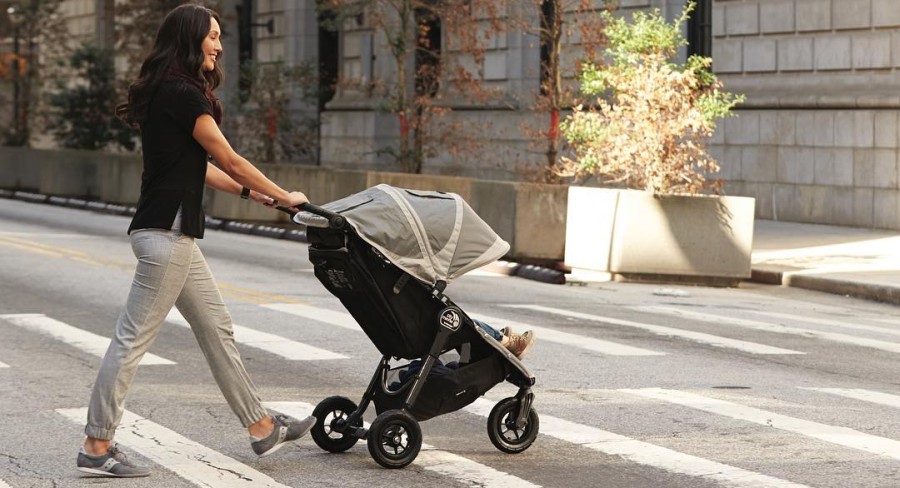 Thanks to quick and easy folding this stroller works perfect when you need to run some quick errands. It collapses within few seconds and you can easily throw it to the car trunk (since it doesn't take up lots of space) and then you can open it almost effortlessly.
Pros & Cons
Here are the main advantages and disadvantages of City Mini GT 2016.
Pros
Cons

Pros

---

+ Huge canopy gives lots of shade

+ TWO peek-a-boo windows

+ Deep recline for comfy napping

+ Vented seat top for extra air circulation on hot days

+ Suitable for older and taller kids (even 4 and 5-year-old)

+ Adjustable handlebar for parents of different height

+ Easy to push and steer with one hand, very agile

+ Wheels roll smoothly on many types terrain

+ Shock absorption works great on gravel and grass

+ Forever-air tires

+ Folds with one hand within few seconds

+ Easy to store and transport in a small car trunk thanks to compact and flat fold

+ Easy to clean fabrics

Cons

---

- Noisy Velcro closure for peek-a-boo windows

- Rather small storage basket

- Accessories and attachments (like bassinet or car seat adapters) need to be bought separately

- Doesn't stand on its own when folded
What other parents think about Baby Jogger City Mini GT?
I checked this stroller on Amazon, as I always do, to find out what other parents think about it. It turned out it is one of the highest-rated convertible strollers! It has plenty positive customer reviews and lots of parents are really impressed with it performance and quality.
Below you can see what features parents like the most and what drawbacks this stroller has. If you want to read the customer reviews or check the current rating on your own just click here.
Many customers praise its wheels which work great on sidewalks, gravel, dirt paths in parks and grass and absorb shocks. Moreover the stroller is very nimble and maneuverable so it's also suitable for running errands and indoor use (like going for shopping at the mall or going to the doctor). One hand steering and smooth ride are another things that parents love about City Mini GT.
One more advantage is the adjustable handlebar – I've read that the pushing is comfortable for both short and tall users. Parent also love how easily this stroller folds and fits in small car trunks. Lots of customers mention that the canopy goes down really far and keeps the baby shaded during naps.
It works great with infant car seat as everything easily click onto the frame. Another asset of City Mini GT is that it can accommodate older kids and toddlers tall for their age.
According to some parents the seat is place a bit higher (therefore the car seat is also installed higher) than in some other strollers and this height is just perfect because you don't have to bend over to get your baby in and out of it. It is great especially for parents who have back problems.
Parents mention few small drawbacks as well. Baby Jogger City Mini GT doesn't come with a parent console, cup holder or other attachments and you have to pay extra for these items. The basket under the seat is not very big and the access to it is not perfect. It rather won't fit a large diaper bag or you will need to squish it down there. One more disadvantage is the lack of self-stand when the stroller is folded.
Specification
Stroller
Data
Stroller Type
Convertible, All-terrain
Stroller Weight
2016 model: 22.5 lbs
2019 model: 21.4 lbs
Weight Limit
65 lbs
Fold Dimensions
2016 model: 29.5" x 24.2" x 10.2"
2019 model: 32.5" x 25.7" x 13"
Handlebar Height
30" - 43.5"
Wheel Size
8.5"
Baby Jogger City Mini GT – Colors
Baby Jogger offers 11 color versions for City Mini GT stroller, so every parent could find the one that suits his taste. Below you can see all color configuration.

Keep in mind that availability and price may vary for each color. You can check which colors are currently available and how much they cost on Amazon – as this is an official seller recommended by Baby Jogger.
Accessories For Baby Jogger City Mini GT
Baby Jogger City Mini GT doesn't come with any accessories, however there are lots of convenience items sold separately. Here are few accessories from Baby Jogger that I found very useful.
Image
Description

Parent Console

 – It offers one closed pouch for parents valuables and two beverage holders which can also double as storage pockets. It's a very useful accessory that allows parents to keep they necessities always within reach. If you like long-distance walks and want to keep your water at hand this is a must-have. Bending down a reaching for it to the storage pocket on the back of the seat is definitely less convenient.

Cup Holder

 – If you'd like to have a special, safe place for your water or coffee this accessory is just for you.

Child Tray

 – Thanks to this accessory your baby will always have his sippy cup and some snacks at hand.

Belly Bar

 – This is an accessory for child's additional safety. It provides the baby with comfortable place to hold on to during the stroll and prevent him from sliding down or falling out of the seat.

Deluxe Pram

 – With this bassinet you can turn the City Mini GT into a pram. It's the best option for newborn baby, especially if you like long walks. It provides proper support for newborn's spine, neck and head and truly flat position. It is equipped with large canopy and pop-out sun visor and an apron to provide sheltered and cozy place for little infants. It is available in few colors. There is also cheaper version of the bassinet – Compact Pram.

Weather Shield

 – This cover is designed to block the wind and rain to keep the baby dry and warm while it also provides proper air circulation.

Glider Board

 – You can attach the Glider Board to your City Mini GT rear axle to offer a room for your older toddler or preschooler. It's perfect option for the child who already can walk, but sometimes needs a break. He can just hop on the board whenever he want and when it's not in use, you can simply fold it or detach it.
Baby Jogger 2018 City Mini GT – Anniversary Edition
Baby Jogger has released special version of Baby Jogger City Mini GT for 2018 to celebrate their 10th anniversary. What are the differences between the regular version and Anniversary Edition?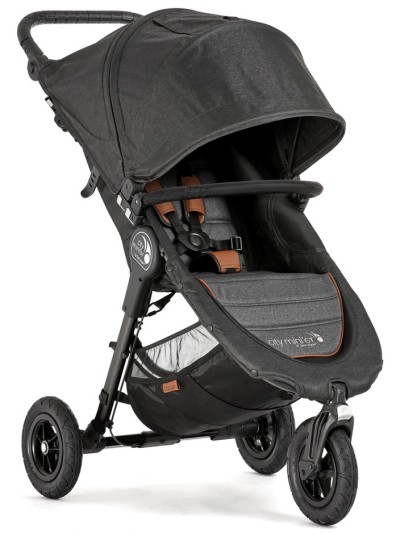 City Mini GT Anniversary Edition 2018 has leather covers on the harness (shoulder and crotch straps). There is also a leather trim on the footrest and athleisure fabric on the seat which is softer than the Nylon fabric on the regular version of City Mini GT. The seat is also better padded to provide even better comfort during the ride. Anniversary Edition of City Mini GT comes with a bumper bar.
Baby Jogger City Mini GT Anniversary Edition 2018 costs only few dollars more than the regular version, so it's worth considering (see current price).
Baby Jogger City Mini GT2 2019 – New Redesigned Model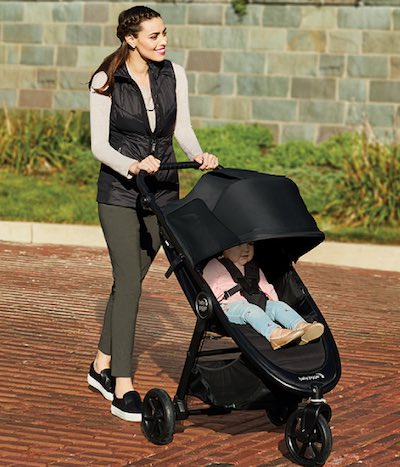 Baby Jogger has redesigned this all-terrain stroller for 2019. What new features can we find on City Mini GT2 2019?
Redesigned frame
Upgraded suspension – Baby Jogger City MINI GT2 2019 has all-wheel suspension
Adjustable calf support
New canopy with magnetic peek-a-boo window
Self-standing fold – all parents were waiting for this feature!
Adapters for Baby Jogger & Graco infant car seats are now included with the stroller
New fashions – Jet, Slate, Windsor, Ember, Mystic and Carbon
The new model for 2019 still has awesome features like one-hand fold, adjustable handlebar, handbrake and all-terrain tires.
Baby Jogger City Mini GT 2019 release date: SPRING 2019
Baby Jogger City Mini GT vs Baby Jogger City Mini – Comparison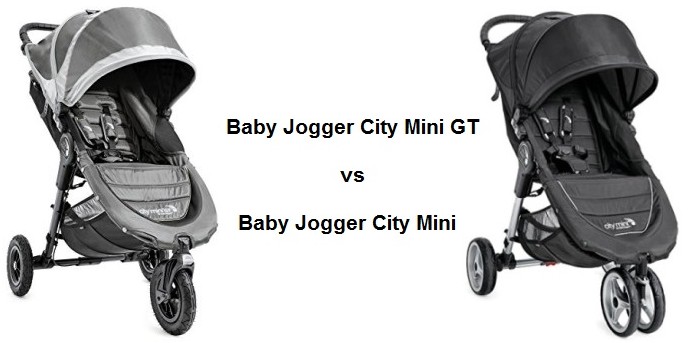 These two strollers are quite similar, however there are some differences between them as well. Briefly speaking, City Mini GT is a bit heavier and has adjustable handlebar for more convenient steering. It has single front wheel design. Bigger and better tires make it suitable for many types of terrain.
Below you can find all major differences between Baby Jogger City Mini GT and City Mini.
City Mini GT 2016
City Mini 2016
Slightly smaller fold: 

29.53" x 24.21" x 10.24"

Bigger fold: 33.46" x 24.21" x 12.80"

Weighs 22.5 lbs
Weighs 18.4 lbs
Holds up to 65 lbs
Holds up to 50 lbs
8.5" wheels
8" wheels
Single front wheel
Dual front wheel

Foam-filled, forever-air wheels

EVA wheels
All-terrain wheels
Wheels good for even terrain
Hand-operated brake
Foot-operated brake
Adjustable handlebar
Unadjustable handlebar
Fits taller child (max. head height - 26")
Max. head height - 23"
Check Latest Price On Amazon
Check Latest Price On Amazon
Keep in mind
Although City Mini GT has awesome wheels that work on rough terrain, but I wouldn't take it on sandy beach or bumpy wooden trails.
One more thing – this stroller is NOT designed for running. Baby Jogger is the name of the brand, not the type of the stroller.
3 Reasons Why You Will Love Baby Jogger City Mini GT
1. It can handle more types of terrain than most of the standard strollers. It rolls smoothly and it's easy to steer with one hand.
2. The oversized canopy gives baby great protection from harmful sun rays.
3. This stroller is suitable for older kids – some parents use it even for 5-year-old children.
Do you like Baby Jogger City Mini GT? Before you decide to buy this stroller make sure it really suits your needs. Check the customer reviews and available discount on Amazon – seller officially approved and recommended on Baby Jogger website.
If this stroller doesn't meet your expectation, check out other top-quality convertible strollers for 2019.
---
Pictures of strollers and accessories belong to Baby Jogger. Source: http://www.babyjogger.com