Are you a jogging lover or trying to find a way to lose extra pounds after having a baby? Jogging with a stroller is an excellent way to stay active or lose weight after pregnancy. But you will need a proper stroller for that: it has to be strong, high-quality, suitable for any type of terrain, safe and comfortable for you and your baby. BOB Revolution FLEX is exactly that stroller!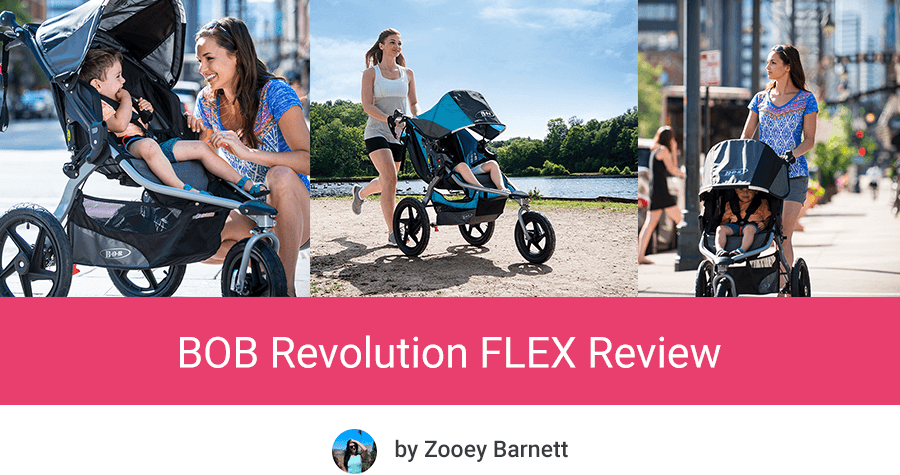 I love BOB jogging strollers. With this brand you can be sure you're getting best-quality stroller, designed with child's and parent's safety in mind. Moreover BOB joggers provide ultra-smooth and comfortable ride, no matter if you choose to stroll over a cracked sidewalk, wooded trail or grass.
BOB Revolution FLEX is a great example of that. This stroller is built to last. It has awesome suspension that protects baby from shocks' negative impact on the spine. There is a huge canopy and deep recline to provide maximum comfort for the child and few other features for parent's convenience (like adjustable handlebar and big storage basket).
Stroller
Info
Verdict

BOB Revolution FLEXCheck It On PishPosh Baby

Type: Jogging Stroller

Weight: 28.5 lbs

Capacity: 75 lbs
LittleBabyGear Verdict:



Excellent jogging stroller for beginners and more advanced runners. It can handle all types of terrain, even the woods and beaches.
However there is one thing that may deter you from buying BOB Revolution FLEX – it's quite expensive. Many parents wonder if all of these features are really worth the money. In my in-depth review I will try to answer this question.
BOB Revolution FLEX Review – Features
As a jogging lover I couldn't resist to test this stroller and find out if BOB Revolution FLEX is truly top-quality jogger.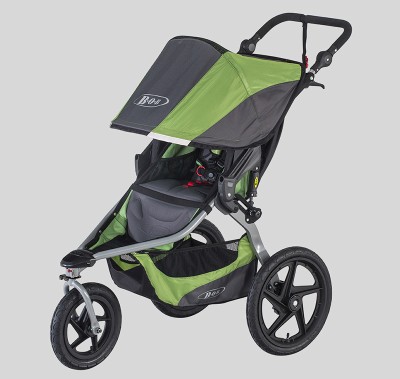 Seat
According to the manufacturer the regular seat on BOB Revolution FLEX is suitable for 8-week-old baby, but I would rather recommend you to wait until your infant has neck and head control – it's usually about 3-8 months (every child develops at a different pace). It's because BOB Revolution FLEX doesn't feature fully flat recline.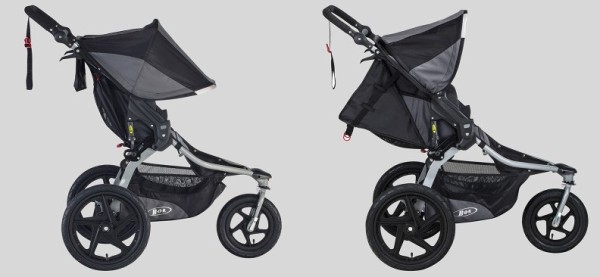 Keep in mind that even if you start using the regular seat from 8 weeks, you should only use the stroller for walks. For safety reasons you should run with a baby who is 6-8 months old (before that baby's head, neck and spine are too weak and fragile).
This regular seat has very impressive weight capacity of 75 lbs! Keep in mind that this weight limit refers to the combined weight of passenger and luggage in the basket.
The seat is long enough to accommodate a passenger up to 44″ tall. You should not exceed the weight and height limit as it would decrease stroller stability.
Generally speaking BOB Revolution FLEX is great for 3-year-old kids, some parents use it occasionally for 4 and 5-year-old children who sometimes need a break from walking, especially on longer distances.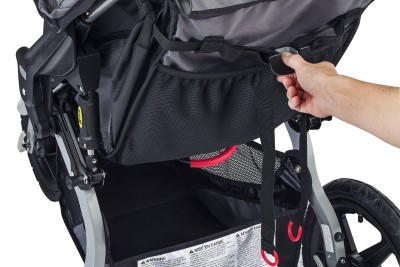 The seat reclines down to 70 degrees from vertical – it's deep enough so the baby could comfortably nap during the stroll. Thanks to convenient buckle you can lower the backrest easily with one hand and stop at any position. To raise it you will still need two hands because you will have to pull two straps.
Keep in mind that it's not safe to run with a reclined seat, you should use this feature only during strolls.
There is a mesh window on the top of the seat which you can use when the seat is fully reclined to provide additional air-flow. If you don't want to use it, for example when it's chilly outside, you can close it with attached cover.
The seat has comfortable and breathable open-cell foam padding to prevent baby from sweating and water repellent coating that allows to easily clean the seat when something spills or when the baby vomits.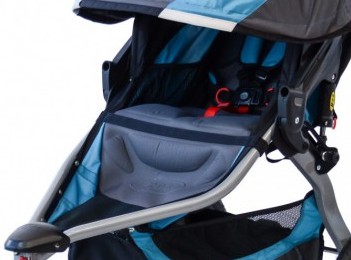 There is also non-adjustable leg rest with foam padding and a small, non-adjustable footrest, useful especially for older and taller kids.
The only thing that I don't like about the seat is the strap between the bottom of the seat and the leg rest – it's not padded with the foam, it's made of more rough fabric that may rub infant sensitive skin. I used to cover it with a blanket or something.
Infant Car Seat Compatibility – BOB Revolution FLEX Travel System
If you want to use BOB Revolution FLEX from birth or for an infant who doesn't have neck and head control yet, you can easily turn this stroller into a travel system. Just add proper adapter and an infant car seat, compatible with FLEX, and you're set.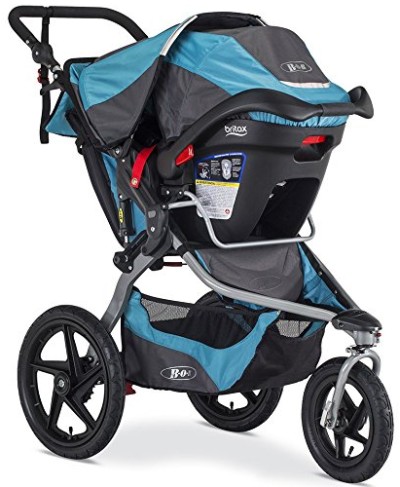 BOB Revolution FLEX is compatible with Britax, Chicco, Graco and Peg Perego car seats. For each brand there is a specific adapter. You can see the Britax adapter here. On Amazon you can find also adapters for other brands.
Remember that it's not safe to run with a baby in an infant car seat. You should only use the regular seat for running with your child and he should be about 6-8 months old (you may want to consul it with your pediatrician, just to be sure).
Canopy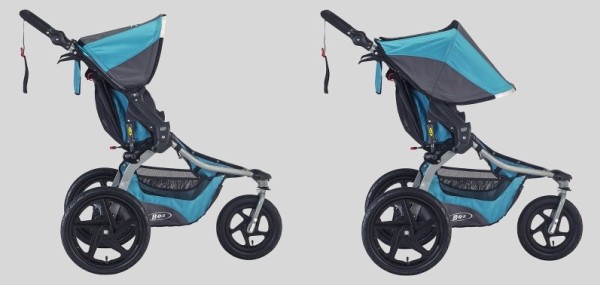 This is what I love about BOB Revolution FLEX – it has extra-large canopy that fully covers the baby from the sun. Moreover it's made of UPF 50+ fabric to protect baby from harmful sun rays and sunburns.
The canopy extends down really far and covers baby face, torso and even knees (depending on child's height).
There is plastic peek-a-boo window with Velcro closure. I would prefer magnetic closure as it would be noiseless, in contrast to Velcro, but it's only a minor drawback.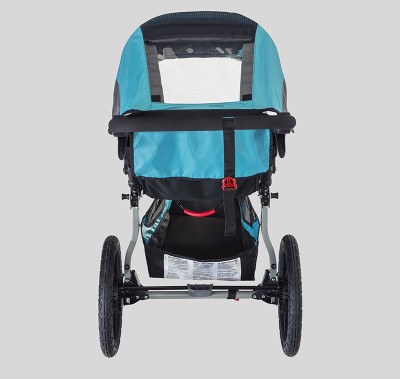 Handlebar
BOB Revolution FLEX has an adjustable rotating handlebar. There are nine positions, from 34.5″ to 48″ from the ground. Thanks to such a wide range of height setting the handlebar is very comfortable for short, average and tall parents – even 4'8′ and 6'5″ tall people can find a convenient height for themselves.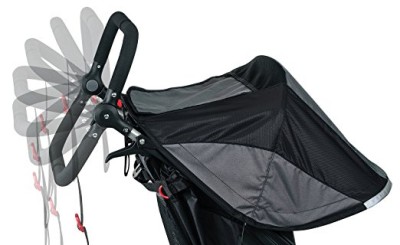 Wheels
As other jogging strollers, BOB Revolution FLEX has three-wheel design. The rear ones are 16″ and the front one is 12.5″. The wheels are made of high-impact polymer and the tires are pneumatic.
Having air-filled tires means that you need to remember about inflating them once in a while. It may be a bit annoying, but it's very important to take care of the stroller proper condition, especially when you're using it for running with your baby.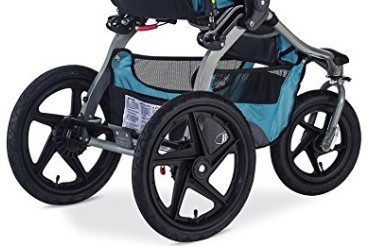 The big wheels and pumped tires make the stroller easy to push over any type of terrain: gravel, grass, dirt unbeaten roads, wooded trails, sand, snow or even mud!
Moreover, the front wheels pivots which makes the stroller more maneuverable and easy to steer, which is great during strolls and going through narrow places.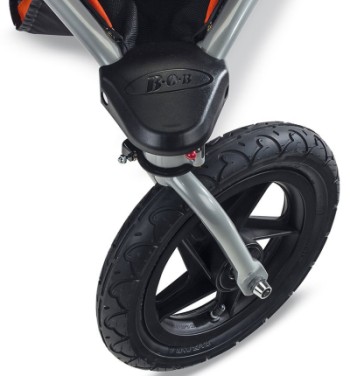 You can also lock this wheel to make the wheelbase longer and even more stable. You should always use this function when jogging or strolling over uneven terrain.
The wheels are also very easy to take off, which is useful when you want to store this jogger in a car trunk or at home. It's more compact without the wheels.
Suspension
This is the best feature of BOB Revolution FLEX (you can find it on other BOB joggers as well). It has adjustable suspension system that perfectly cushions the ride and soaks up all bumps and shocks.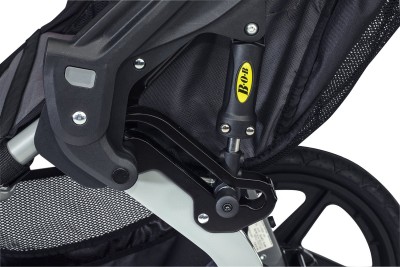 It allows you to go over uneven terrain and unbeaten roads without decreasing riding comfort or the maneuverability.
Moreover you can adjust the suspension system to your child's weight. When the baby weighs more than 40 lbs you should adjust the suspension to second position which changes the center of gravity a bit to support the heavier passenger.
Thanks to that your baby will always have comfy and smooth ride, no matter how much he weighs and what terrain you're going over.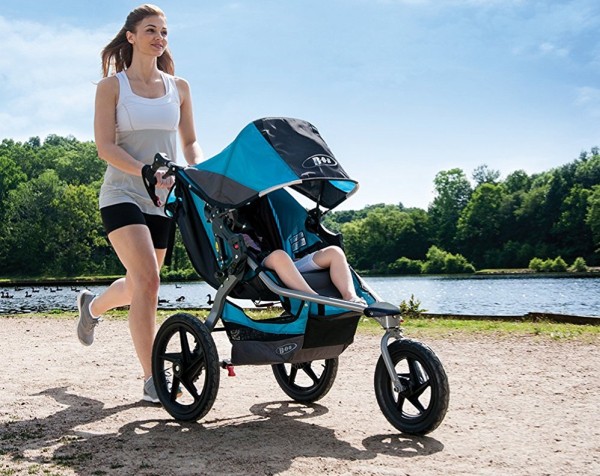 Moreover, the adjustable suspension system supports the baby during the ride and prevents the baby from negative influence of shocks. Honestly, this is probably the best suspension that you can find on a stroller.
Safety Features
BOB Revolution FLEX is designed for jogging with a baby so the safety features are extremely important. They allow you to move fast and go over bumpy ground while keeping you and your little passenger safe and secured.
Brake
This stroller has one brake, operated by foot. It's located in the middle of the rear axle. According to other parent who have been using this stroller, the brake is very easy to set and release, even in flip flops! Although you probably won't be jogging in flip flops, it's nice to have such an easy to operate parking brake. 🙂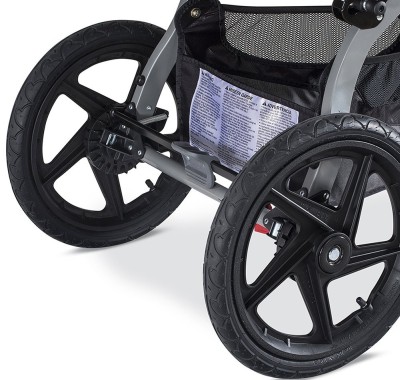 You should always engage the brake when you stop, to prevent the stroller from rolling away from you.
This BOB jogging stroller doesn't have additional handbrake, so it's not ideal for hilly terrain as it may be more difficult to control this "beast" when going downhill. If you like running on steeper terrain the handbrake is a must-have, so you should go for BOB Revolution PRO. It is very similar to FLEX, but has additional brake operated by hand which allows to slow down at any time.
If you're not going to run in hilly area, BOB Revolution FLEX footbrake will be sufficient for you.
5-Point Harness
The seat is equipped with a 5-point restrain which keeps the baby securely in place. I like the padded covers on shoulder straps. You can also adjust all straps as the baby grows.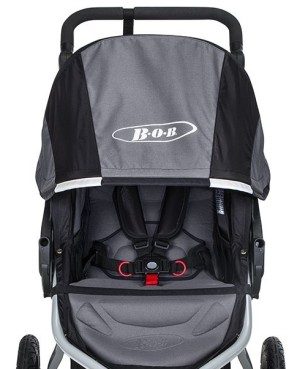 Wrist Strap
There is also a safety strap attached to the handlebar that you should put around your wrist. It will also prevent the stroller from running away from you.
You can also find a buckle on the strap which you should use to lock the stroller in folded position.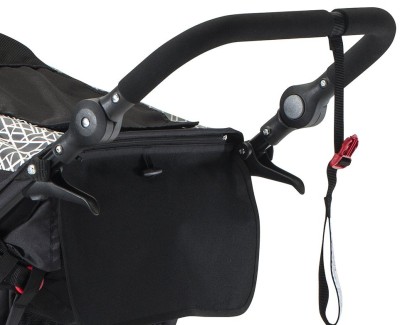 Storage Basket
This jogging stroller has quite big storage bin underneath the seat. It won't accommodate large diaper bag, but a medium-sized bag and a bottle of water fit there easily.
I like that there are few additional pockets: one on the back of the seat for parents essentials and two pockets inside the seat for baby's sippy cup, some snacks or small toys.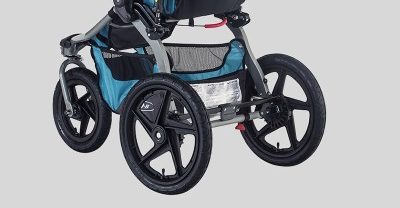 BOB Revolution FLEX doesn't come with any accessories like parent organizer or child tray – these accessories are sold separately. In my opinion the handlebar organizer a must-have. It's not very convenient and safe to reach out for a bottle of water to the basket during running. You will need a secured place for it on the handlebar to keep it at hand. That's why I think adding the parent console is necessary.
Size, Weight & Fold
This is a strong jogging stroller, suitable even for a harsh terrain, so you can't expect it to be light as a feather. 🙂 It weighs 28.5 lbs which I think is not that bad as for such a robust, heavy-duty stroller.
It's 25.4″ wide so you won't have any problems with fitting through doorways or elevators. It is big and has quite long wheelbase so it's not ideal for shopping at the mall or tight aisles in grocery stores, but it's not designed for that, right?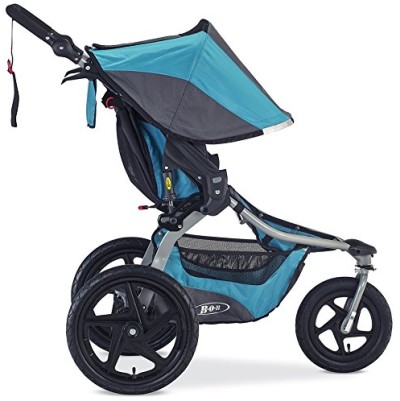 Okay, now let's talk about folding and storing. Folding takes two steps and requires using two hands but it's fairly easy. You just need to lift up the triggers below the handlebar and flip the upper part of the stroller forward. Then just pull up the handle behind the seat and the stroller will fold up. Don't forget to use the clip on the safety strap to lock it in that position.
After folding BOB Revolution FLEX still takes up a lot of space. To make it less bulky you can take off the wheels (which is very easy and takes few seconds). I really like that the seat folds inwards so the fabric is not exposed to dirt or anything.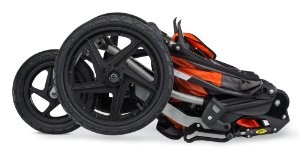 If you have a small car or don't have a lot of free space at home and you worry if the stroller won't be too big to transport or store, you should check its folded dimensions before purchasing it (scroll down to see the specification).
Overall Performance and Ease Of Use
I find this stroller user-friendly and very convenient to operate. The reclining mechanism has been improved on the newest version of BOB Revolution FLEX and you can actually lower the seat with one hand. The brake has been upgraded as well and it's very easy to engage and disengage.
The storage basket offers a decent amount of space for parent essentials and there are few useful mesh pockets for smaller items. Folding is quite simple, especially for such a big, heavy-duty jogger and the wheels are equipped with quick-release levers for easy removal without the need for any tools.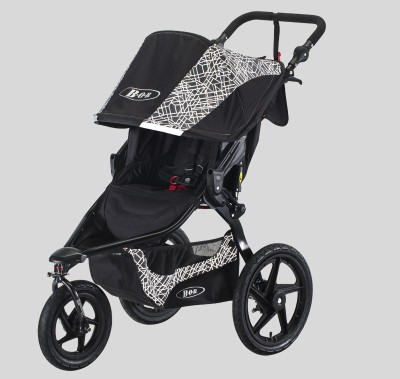 The stroller is also very comfortable for the baby as it offers more upright position (for curious toddlers) and deep recline for fans of naps on the go. Large canopy shield the baby from the sun and wind.
The big wheels and adjustable suspension system are amazing, because they allow you to stroll or jog over any type of terrain and provide the baby with ultra-smooth ride. Thanks to shock-absorption you don't have to worry your baby gets hurt during your outdoor workouts.
This jogger is also easy to push and steer with one hand, even on slightly rough terrain. It glides like a breeze and maneuvers SO smoothly!
No matter if you're advanced runner or a beginner this stroller won't let you down. With BOB Revolution FLEX you will be able to go out and explore the outdoors with your baby, continue your active lifestyle and outdoor workouts after pregnancy and get your body back after having a baby.
Pros & Cons
Pros
Cons

Pros

---

+ One-hand reclining, comfortable for naps on the go

+ Oversized canopy goes really low

+ Compatibility with infant car seats

+ Large air-filled tires can handle even the harsh terrain

+ Suspension cushions the ride, the stroller glides like a dream

+ Smooth maneuverability, one-hand steering

+ Decent storage basket, can accommodate medium-sized diaper bag

+ Three additional storage pockets

+ Adjustable handlebar makes pushing easy and convenient even for very short and very tall people

+ Top-quality, durable

Cons

---

- Quite heavy

- Takes up a lot of space when folded

- Expensive stroller, the accessories are additional cost
What other parents think about BOB Revolution FLEX?
Choosing a jogging stroller is even harder than picking an everyday stroller, that's why I checked BOB Revolution FLEX online customer reviews. It turned out it's one of the most popular joggers. Moreover it is highly-rated by hundreds of parents!
What parent love about it the most? What drawbacks it has?
The biggest advantage of BOB Revolution Flex is the smooth ride. According to dozens of parents it glides like a breeze and you can push it effortlessly with one hand, even on harsher terrain. It's great for running on uneven terrain and off-road strolls. It can handle tall grass, gravel, trails in parks and woods, sandy beaches and even the snow and mud.
Another asset is sturdy and robust frame and awesome maneuverability. Large canopy that gives great amount of shade from the sun is another thing that parents love. They also mention that the stroller doesn't get too hot.
According to many customers adjustable handlebar is very comfortable and can accommodate parents of all heights (even those who are less than 5 ft and over 6 ft tall).
Parents also like the highest position of the seat, as it is quite upright and allows baby to look around and explore the World. The ability to recline the seat with one hand and the compatibility with infant car seats are another advantages.
As disadvantage customers mention lack of accessories. This stroller is pricey but you still have to pay extra for the accessories (not only the parent organizer, but even the air pump). Another drawback is the weight, few parents mention it may be a bit difficult to lift or carry the stroller (I have to add that I'm rather short and petite person and lifting it to the trunk was totally doable for me, but carrying it up the stairs made me sweaty!).
It does take a lot of space in the car trunk – according to BOB FLEX owners if you have a small car just don't plan to have anything else in the trunk with this stroller. Good thing is that folding and opening the stroller is quite easy.
Despite this few drawbacks, dozens of parents emphasize that BOB Revolution FLEX is totally worth the money as it is built with quality and very comfortable for both parent and baby. Lots of customers say this is a great investment and recommend not to waste time and frustration on other jogging strollers. This one allows parents to enjoy outdoors even with a little baby.
Specification
| Stroller | Data |
| --- | --- |
| Stroller Type | Jogging |
| Stroller Weight | 28.5 lbs |
| Weight Limit | 75 lbs |
| Width | 25.4" |
| Fold Dimensions | 39" x 25.4" x 16" (LxWxH) |
| Handlebar Height | 34.5" – 48" |
Colors
BOB Revolution FLEX is available in 5 classic colors: Black, Lagoon, Canyon, Meadow and Red. Keep in mind that the current availability and price may vary for different color versions at different retailers. Click here to check on PishPosh Baby which colors are available and compare their prices.

There is also a special version – BOB Revolution FLEX Lunar. It has the same features as the regular model, but it comes with reflective fabric that glows in the dark. Thanks to it you and your child will be more visible at low light. This color version is perfect for parents who like morning jogging or evening strolls.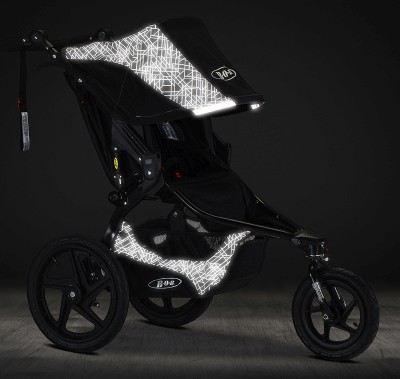 The price of BOB Revolution FLEX Lunar may differ from other colors' prices. You can check it here.
Accessories For BOB Revolution FLEX
Unfortunately this pricey jogger doesn't include any accessories. If you'd like to have a parent console or rain cover, you need to pay extra for them. Below you can find all of the most useful accessories for BOB Revolution FLEX (they are also compatible with other single BOB jogging strollers).
Image
Description

BOB Handlebar Console

 – It provides convenient and secured place for two small bottles of water and an enclosed pocket for parents essentials and valuables. Thanks to this accessory you will be able to keep your phone and keys at hand and you won't have to bend down to the basket for your water. The console is very easy to attach to the handlebar.

BOB Single Snack Tray

 – You can also add a tray for your little passenger with a place for the sippy cup and some snacks. It easily pivots out so you could take your baby in and out of the seat without any problems.

BOB Weather Shield

 – Don't let the rain surprise you during your outdoor workout. Always keep the rain shield in the storage basket. It will keep your baby warm and dry, in case it starts raining or snowing.

BOB Sun Shield

 – Summer is a perfect time for outdoor workouts. Thanks to this cover your baby will be protected from harmful sun rays and flying insects. It will provide great amount of shade so your baby could enjoy your jogging session or nap undisturbed during the stroll.

Infant Car Seat Adapter

 (for example the adapter for Britax)– BOB Revolution FLEX can be used as a travel system with Britax, Chicco, Graco and Peg Perego car seats. To attach the car seat to the stroller you will need special adapter. Keep in mind that there is a different adapter for each brand and the adapters vary in price.
Keep in mind
You can start using the stroller from birth only if you add an infant car seat and only for walking. Even if you switch to the regular seat, you should wait until your baby is 6-8 months old to start jogging with the stroller.
3 Reasons Why You Will Love BOB Revolution FLEX
1. It gives parents the flexibility to stroll and run on any type of terrain.
2. It provides smooth ride and protects baby from negative impact of shocks on the spine.
3. It's strong, durable and high-quality. This reliable stroller is perfect companionship for active parents and those who want to lose some weight while having fun with their kids.
Are you thinking about buying BOB Revolution FLEX? Don't forget to check available colors and current discounts on PishPosh Baby. 
If this stroller doesn't suit your style and needs, here are my other favorite top-quality jogging strollers.
---
All pictures belong to BOB. Source: http://www.bobgear.com