After 9 months of pregnancy, a jogging stroller offers one of the best ways to regain your strength and feel more energized. These types of strollers add a lot of convenience to your new life since you can pound the pavements with your little one, thereby eliminating the need for a babysitter.
BOB Revolution FLEX 2.0 has been a go-to jogging stroller for most active parents since its debut in 2014. After a long wait, Britax recently updated it to the FLEX 3.0. As a jogging lover, I couldn't resist the urge to find out what this new jogger brings to the table. I must say that I was impressed.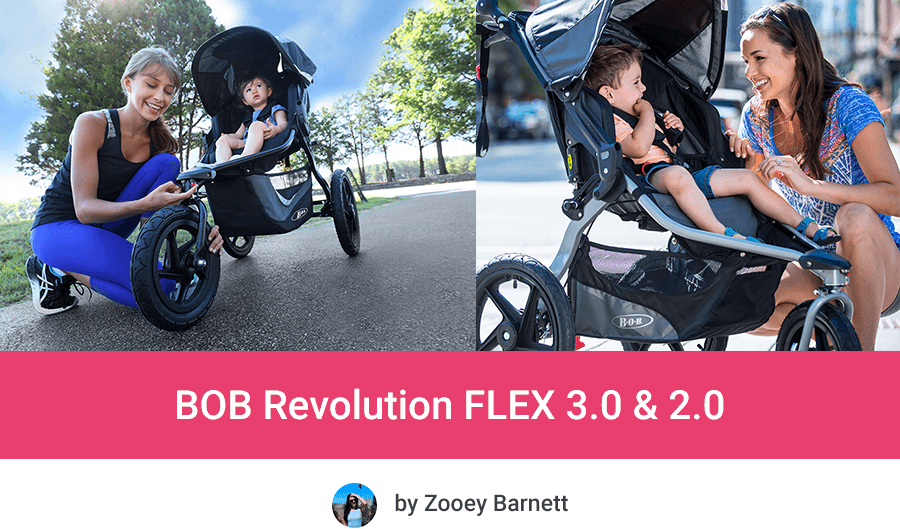 I am a great fan of BOB jogging strollers for one major reason: they are designed with parents who plan to work up a sweat in mind. If you are an athletic mom or dad, then you clearly understand that traditional 4-wheeled strollers just don't cut it during power walks and marathons. Not to mention, it's not safe to jog with a standard stroller!
Jogging parents want a heavy-duty stroller with sizable, pneumatic wheels that will roll over bumps and pavement cracks with ease. It also needs to have a reliable suspension to cut down on baby's discomforts that come with rough terrains.
BOB Revolution FLEX 3.0 jogging stroller has it all. As its Britax' tradition, this new stroller has been engineered for boundless adventures. It brings the iconic large, air-filled wheels of the FLEX 2.0 and mountain-bike-style suspension system. It also has a few cool upgrades that I believe might sway your purchase decision if you are comparing it with the previous stroller.
Stroller
Verdict

BOB Revolution FLEX 3.0Check It On Amazon

LittleBabyGear Verdict:



Even better than the previous model thanks to a few improvements: more storage space, better visibility in low light thanks to reflective straps on all models, better ventilation inside the seat.

BOB Revolution FLEX 2.0Check It On Amazon

LittleBabyGear Verdict:



Excellent jogging stroller for beginners and more advanced runners. It can handle all types of terrain, even the woods and beaches.
My in-depth review and comparison will help you answer the most important question: "What's the difference between BOB Revolution FLEX 2.0 and 3.0 and which one is better?".
This article contains affiliate links.
BOB Revolution FLEX 3.0 & 2.0 Review – Features
A jogging stroller is only as good as the number of boxes that it can tick. Here, you need to evaluate its overall performance with regard to comfort, safety and ease of use (maneuverability, smooth-rolling, foldability, and storage).
How do FLEX 3.0 and 2.0 rate in all the above aspects? Let's find out by checking its features thoroughly.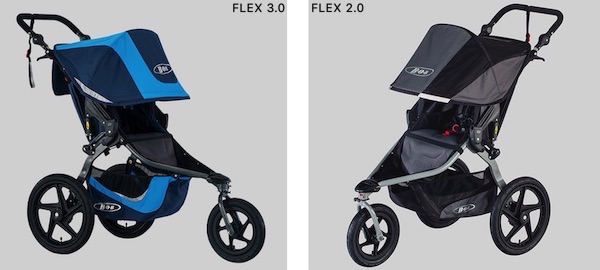 Seat
Strollers in the BOB FLEX series are known for their roomy and nicely padded compression seats, which makes sense for a jogging stroller. BOB FLEX 3.0 has an interior seat width of 14.5 inches. This seat width is just under an inch smaller compared to that of the FLEX 2.0.
This slight difference in width could be explained by the fact that FLEX 3.0 has more padding than the previous version.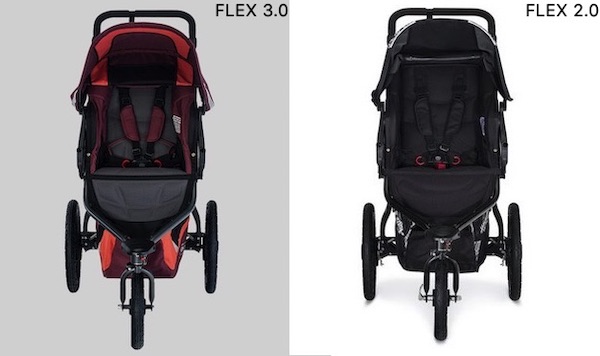 The manufacturer says that the FLEX 3.0 allows you to venture out onto the trails as soon as the baby is 8 weeks old. I would not recommend it, though, considering that similar to the previous model, this stroller's seat doesn't fully recline and generally speaking it's not safe to jog with an infant who doesn't have neck control and doesn't sit upright.
The seat on BOB Revolution FLEX reclines to 70 degrees from vertical implying that it won't be so friendly for your infant neck muscles that are still developing. You should be able to jog with it as soon as the baby has excellent neck and head control and can sit unassisted. It is recommended to start jogging with stroller when the baby is at least 6-8 months old. Of course it's best to consult this with the pediatrician first.
On the upside, the recline on FLEX is deep enough for older occupants to grab a nap while on the go. The recline has a convenient buckle that allows you to adjust it at any angle using one hand. You'll, however, need to use both hands when adjusting it to its vertical position- it's still very easy, though.
Another impressive aspect of this stroller is its high weight capacity of 75 pounds, which is complemented by its height limit of 44 inches. This combination allows you to use the stroller until the baby is about 4 years old. Most parents also use it for their 5-6-year-olds who can't keep up during a jog or for big kids with medical conditions.
It's important to note that this stroller's weight limit actually refers to the combined weight of the occupant and the luggage in the basket. So, put this into consideration if you are planning to use it with an older kid.
Other great features here include the open-cell padding. It offers a springy feel when cruising over rough paths and trails while preventing heat buildup at the same time. Jogging with the stroller should make you sweaty, but not your child.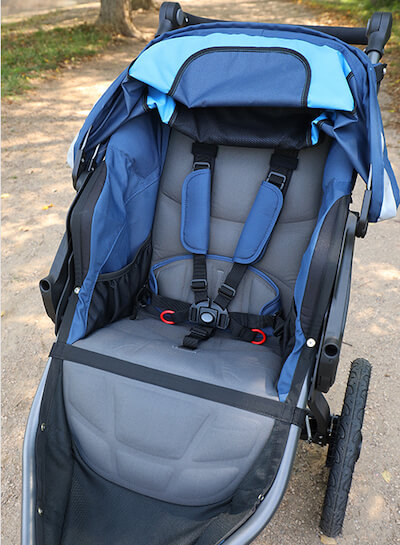 The seat also has a small padded footrest – its non-adjustable design, which means that only older, taller kids will be able to use it.
One minor flaw that I expected the new BOB Revolution FLEX 3.0 stroller to solve was the unpadded strap between the bottom of the seat and the leg rest. When using the FLEX 2.0, I used to place a towel over it to avoid rubbing my babies' skin under their knees. Unfortunately, the new stroller hasn't received an improvement on this. It's very easy to deal with, though, and should not be a deal breaker for most parents.
Infant Car Seat Compatibility – BOB Revolution FLEX 3.0 Travel System
Similar to its predecessor, BOB Revolution FLEX 3.0 is compatible with a host of infant car seats from popular brands. This is good news for parents who would want to use the stroller right from birth.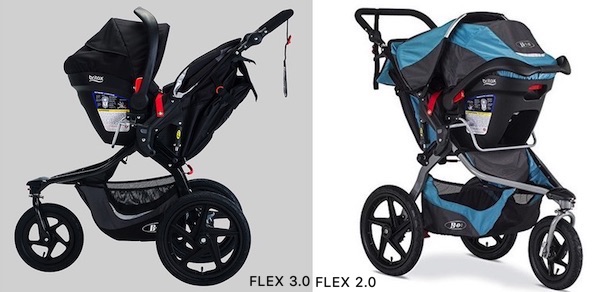 But then again, even with the best infant car seat, remember that it's not safe to jog with a baby until his neck muscles have developed fully. You don't want his head to flop around in the car seat or stroller during the rides. On this note, you may want to consult with your pediatrician on how soon you can hit the tracks with your baby on board.
Also, keep in mind that an infant car seat adapter can quickly get loose when jogging, and this could lead to severe injuries to the baby. Use your BOB FLEX with infant car seat only for walks.
BOB Revolution FLEX 3.0 jogging stroller is compatible with the following infant car seat brands:
BOB/Britax
Chicco
Cybex
Graco
Maxi Cosi
Nuna
Peg Prego
Depending on your choice of infant car seat brand, remember to get a compatible adapter. Unfortunately some adapters may be quite expensive. I recommend you to search for proper adapters on Amazon (here is Chicco adapter for example).
Canopy
The canopy was and continues to be one of the major highlights of the BOB Revolution FLEX. On 2.0 model it was an extra-large canopy that extended far down to protect my baby's face, torso, and knees from harmful sun rays as well as direct wind.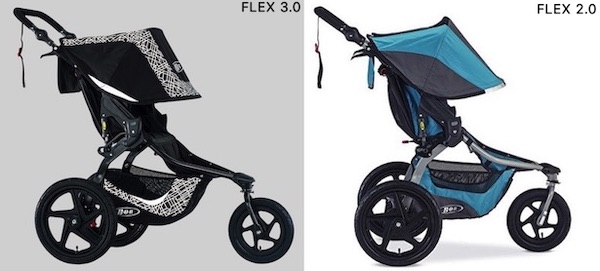 The BOB Revolution FLEX 3.0 features a similarly sized canopy made of UP 50+ fabric for excellent UV blockage and protection. However, it has a few improvements that make it much better for your rides.
While these 2 canopies feature a peek-a-boo window to allow you some glances as the baby flirts and waves, the FLEX 2.0 uses a Velcro closure. Although it does not ruin the functionality of the peek-a-boo window, I'm not a fan of Velcro closure as it tends to be noisy, and this easily disturbs a sleeping baby.
This explains why the new BOB Revolution FLEX' peek-a-boo window with magnetic closure means so much to me. At least I can now see the baby whenever I want without having to pull the canopy back, and without distracting the little snoozer.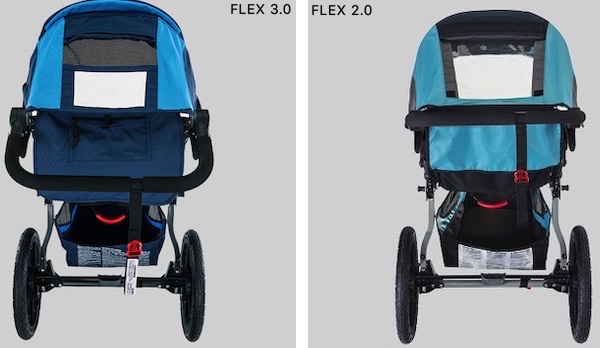 I should mention here that I appreciate the placement of the peek & chat window at the top back of the stroller too. This is unlike in other strollers where the peekaboo window is weirdly placed low on the seatback, thereby defeating its purpose.
Without forgetting, you can fold the canopy back for a much wider scenery viewership – that is, if the weather allows.
Handlebar
An adjustable handlebar is a critical component in a jogging stroller, more so if it will be used among parents with varying height needs.
Unless you are very new to strollers, you must know that adjustable handles come in 2 designs: those that telescope inwards and outwards, and those that adjust by rotating up and down. Again, these 2 work pretty much the same in making the stroller ergonomically practical for different users.
BOB Revolution FLEX 3.0 uses the rotating handle. Just like the FLEX 2.0, this jogging stroller offers 9 height settings that make it ideal for most petite and tall parents.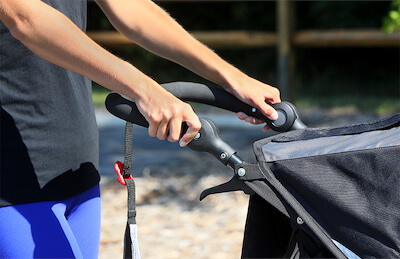 This handlebar offers a height range of between 34.8 inches and 48 inches. It's easy to adjust the angle, but keep in mind that you'll need to use both of your hands.
This handlebar is also nicely padded on both models, to minimize wrist fatigue on extended jogging adventures.
Frame
If there's one area that the BOB Revolution FLEX series edges the competition in the world of jogging strollers, that is its sturdy aluminum frame and bike-like fork.
Although the FLEX 3.0 still uses the same aluminum frame, it now introduces the new BOB's black coating that I find so sleek and stylish. The previous silver frame has now been discontinued.
Wheels
As a stroller that has been crafted purposely for all-terrain strolling and jogging, BOB Revolution FLEX 3.0 stroller has a 3-wheel configuration. This stroller is not any different compared to the 2.0 on this aspect. It uses the same 16-inch rear wheels and a 12.5-inch front wheel.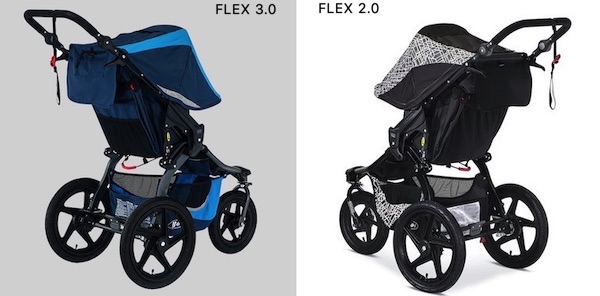 The large wheels at the back are responsible for maintaining the stability of the stroller and preventing it from tipping over.
The smaller front wheel, on the other hand, is responsible for maneuverability, and its size makes it easy to steer even in tight places. An essential aspect of this front wheel is its 360-degree swiveling mechanism.
Compared to jogging strollers that have a fixed front wheel (BOB Ironman, Thule Glide, for instance), those with a swiveling wheel are much easier to negotiate corners without having to lift the front wheel.
It's not recommendable to cruise at high speeds with the front wheel in swiveling mode, though. This is because, as you jog, the wheel may wobble violently. This can easily make the stroller to veer off the course sharply and even flip.
To eliminate this risk, most jogging strollers, including the BOB FLEX 3.0 has a mechanism that lets you lock the front wheel into a fixed position. While the fixed-position mode may take some time to get used to, especially when turning, it's regarded as the best in terms of safety. Technically, this 360-degree swiveling wheel coupled with the locking mechanism allows you to use the FLEX 3.0 as a regular stroller as well as a running stroller.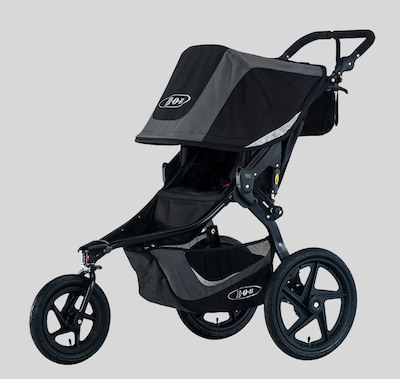 The wheels are made of so called High Impact Polymer – to make them more resistant and durable when meandering rough and rocky off-road, nature trails, and city pavements. Also, you won't have problems with grass or even sandy beaches.
Even better, the wheels have air-filled tires. The significant advantage that pneumatic wheels offer is the smooth and bump-free ride. The air in the tires works like a sort of shock absorber, so your little one won't be thrown around on the seat as you hit your stride.
Keep in mind, however, that just like any other air-tire, these wheels will require regular maintenance. You'll need to inflate the tires from time to time to ensure that they retain their smooth ride.
Suspension System
The patented bike-style suspension system that BOB joggers use is perhaps the best part about them. This was one of the things that I liked so much about the FLEX 2.0 – and it was awesome to see it replicated on the 3.0.
This is a sophisticated, yet straightforward shock absorption system that soaks up impacts to protect the rider. This system also minimizes the level of shock that is transferred to the handlebar, besides improving traction by keeping the wheels to the ground. Overall, this suspension provides improved control and comfort – 2 critical aspects when jogging on rocky and rooty off-road trails and potholed roads.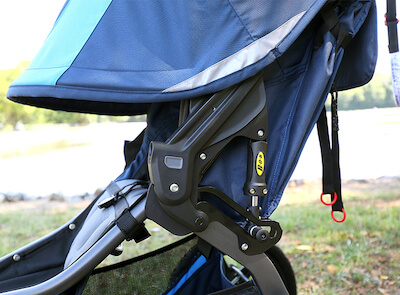 What I find even more impressive about this suspension system is the ability to adjust its performance depending on the rider's weight.
The suspension system has a release button that allows you to move it between 2 positions. For babies below 40 pounds, you should use position 1. This is the default position that the shock pins will lock into when assembling this stroller.
When the baby hits 40 pounds, you should use the release button to move the shocks to position 2. This change in positions adjusts the center of gravity, thereby making it possible for the shock absorbers to continue supporting the increased weight of the passenger while reducing shock and discomforts from bumpy terrains.
Your baby's change in weight is also going to have an impact on the ease of pushing the stroller on unbeaten roads. As such, this adjustment on the center of gravity is also a boon in minimizing your discomforts and ensuring optimum maneuverability.
These minute yet very functional details that BOB uses on its strollers are definitely what make this brand worth investing in.
Safety Features
Switching gear to the safety features, FLEX 2.0 and 3.0 have: 5-point harness, foot-operated brake and wrist strap attached to the handlebar.
Keep in mind that this BOB jogging stroller doesn't have additional handbrake, so it's not ideal for hilly terrain as it may be more difficult to control this "beast" when going downhill. If you like running on steeper terrain the handbrake is a must-have, so you should go for BOB Revolution PRO. It is very similar to FLEX, but has additional brake operated by hand which allows to slow down at any time.
If you're not going to run in hilly area, BOB Revolution FLEX footbrake will be sufficient for you.
5-Point No-Rethread Harness
Switching gear to the safety features, this stroller's seat borrows the same 5-point harness system that we saw with the BOB FLEX Revolution 2.0. Although 5-point harness systems are quite common on strollers nowadays, it's a big deal to see it on a stroller that is meant for rough outdoors.

Compared to a 3-point harness, this configuration excellently distributes impacts across the baby's hips, shoulders, and back. This goes a long way in keeping the head, shoulders, neck, and hips protected.
Importantly, a 5-point harness system eliminates those frightening moments when the baby accidentally gets ejected from the seat. This could get serious in case it happened while on higher speed.
While we are still at it, I am a great fan of no-rethread harness adjusters both on infant car seats and strollers. This design not only adds a lot of conveniences as the baby grows, but it also minimizes the possibility of misrouted straps and unsecured straps. I'm so glad FLEX 3.0 has no-rethread harness.
Brake
FLEX 3.0 stroller uses the same foot-operated brake of the FLEX 2.0. It is engaged via an easy to use flip-flop friendly pedal fixated at the middle of the rear axle. What you are going to love about this pedal is that it's usable with almost any type of shoe.
The thing with this type of pedal is that you activate and deactivate the brake using the bottom of your foot. This will be a huge relief if you are used to strollers that hurt the top of your foot or ruin your pedicure when releasing the brake.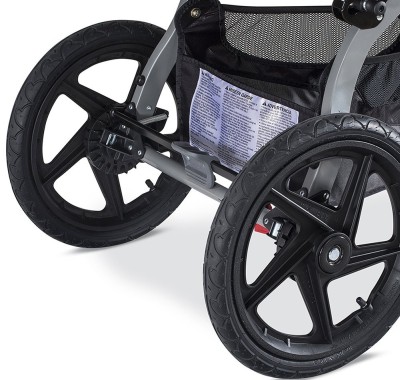 Of course, it's implausible that you'll be jogging in your flip flops. However, since the BOB FLEX can also be used for regular strolls around the city, knowing that the brake will be friendly regardless of the type of shoes you are wearing means a lot.
It's worth noting that this brake is more of a parking brake than a stopping brake. This means that you should not rely on it to slow down and bring the stroller to a stop, as you'd do with a hand-operated brake configuration.
Instead, you should only use it when parking the stroller. It's also advisable that you never leave your young passenger in the stroller unattended even after setting the parking brakes.
Wrist Strap
The handle of this stroller also features a wrist strap. This is a simple but very functional component that could also be a life-saver in some scenarios.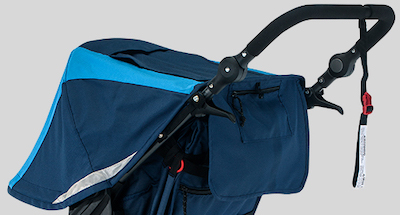 It's advisable that you always ensure that you have the strap around your wrist when strolling or jogging. This ensures that you stay attached to the buggy at any given time. This gadget also comes in handy, particularly for not getting easily distracted and letting go of the stroller when you are out with the baby. This makes a lot of sense, considering that it takes a fraction of a second for a stroller to roll off your hands and into a dangerous situation.
But do know that a wrist strap can also prove hazardous in a few ways. For instance, if you fell while jogging, it's very easy to pull the stroller down with you, which could be dangerous. That's to say that having the strap on your wrist isn't enough. You also need to exercise caution when taking the baby out in the jogging stroller.
This safety strap also has a buckle that you'll be using to lock the stroller when folded.
Storage Basket & Pockets
Strollers in the BOB FLEX series never scrimp on storage – and BOB FLEX 3.0 continues with the same tradition.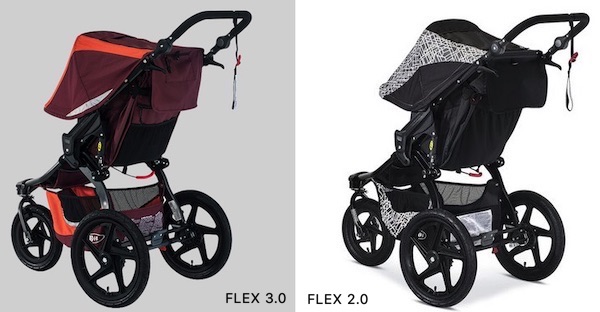 The BOB Revolution 2.0 had a sizable storage bin underneath the seat. This basket was spacious enough to accommodate a medium-sized diaper bag and perhaps a bottle of water. It also had 3 additional mesh pockets: 2 in-seat pouches for the passenger's snacks, drinks, and tiny toys, and another pocket on the back of the seat for parents' essentials.
The major drawback of the FLEX 2.0 was its lack of a parent organizer. Unless you bought it separately, there was nowhere to store your bottle of water beside the basket, which was somewhat inconveniencing. But these are some of the areas that the new BOB Revolution FLEX 3.0 came to solve.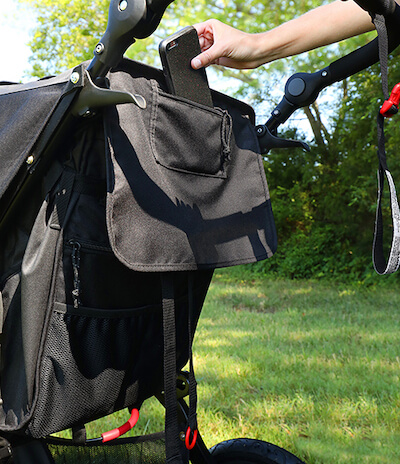 This stroller now offers all together 6 mesh storage pockets. You'll find 2 pockets inside the seat, 3 seatback pockets, and 1 cellphone pocket.
As you can see FLEX 3.0 has 3 more storage pockets than FLEX 2.0. These additional pouches have again been positioned right where parents need them – near the handlebar.
So, whatever makes you feel comfortable when preparing for a day at the park or on nature trails, be assured that the new BOB Revolution FLEX 3.0 has enough storage for it.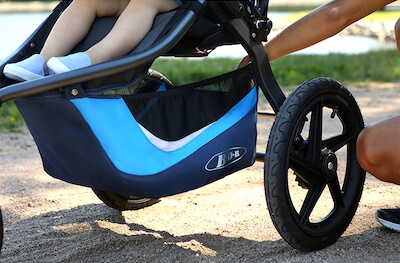 Size, Weight & Fold
Jogging strollers are generally heavy and bulky considering the heavy-duty construction materials and craftsmanship that go into making them. The old BOB Revolution FLEX 2.0 and the new FLEX 3.0 aren't an exception here.
FLEX 3.0 has a height of 48″ with the handlebar at the highest setting, and an overall wheel-to-wheel width of 25″. It's a bit narrower than the old model – which was 25.4″ wide.
When folded, both strollers have the same height of 16″ with the wheels on. FLEX 2.0 is 39″ long, while the FLEX 3.0 is 38″ long. Without the wheels, these measurements drop to 35 inches (length), and 10 inches (height).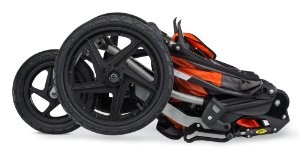 Considering this stroller's weight and width, you might not be so comfortable using it as a regular stroller, especially one that you can use to weave between the shop racks at the mall. But then again, this model was designed for the extreme outdoors, not narrow alleys. You can still use it for everyday neighborhood walks though.
How Easy Is It To Fold It?
Despite its seemingly bulky construction, BOB Revolution FLEX 3.0 folds in 2 fairly easy steps, just like its predecessor – the FLEX 2.0. To fold it, you first need to ensure that the suspension system is at position 1. Next, press the 2 levers under the handlebar and flip the handlebar forward so that it smoothly lies at the top of the front wheel.
Next, locate a handle underneath the seat and pull it upwards sharply. This should fold the already flat stroller into almost half. Lastly, use the buckle on the wrist strap to lock the folded stroller into position.
When folded this way, you should be able to fit the BOB Revolution FLEX 3.0 in most SUVs and cars. If you're struggling with space, though, you can go ahead and remove the wheels. Again, the manufacturer took the high road to make this process a breeze, and you won't require a tool for it.
To remove the front wheel, you only need to open the front wheel quick release, and then pull the wheel out. The same case applies to removing the rear wheels. You need to deactivate the parking brake first, though.
Unfolding the stroller is much easier too. You only need to undo the wrist strap, then lift the red handle underneath the seat to open the frame. Lastly, reach for the handlebar frame and open the seat until it snaps – that's just it.
I know it sounds that folding and opening FLEX is a lot of work, but trust me, you'll get used to it quickly!
Overall Performance & Ease Of Use
I find both FLEX 3.0 and FLEX 2.0 user-friendly and very convenient to operate. The reclining mechanism on both models is better than it was on pre-2016 models – now you can really lower the backrest with one hand. The brake on FLEX 3.0 and 2.0 is easier to engage and disengage, compared to pre-2016 FLEX.
Overall, I find the BOB Revolution FLEX 3.0 stroller very easy to use. Similar to the iconic FLEX 2.0, this newer stroller has been designed with active parents in mind, only that it now has a lot more to offer.
First, I like that the seat now has a little more padding to add to its already comfortable feel. The canopy also opens far down for better protection from the elements. This canopy also offers a lot of positions, so it's easy to get a balance between protection and unobstructed viewing.
The other great improvement is the magnetic closure for peek-a-boo window. This means everything, especially for light sleepers who may be easily awakened by the noise of Velcro closure.
I can't fail to mention the additional mesh storage pockets at the rear. These will go a long way in accommodating most of your jogging essentials.
Even with these improvements, the BOB Revolution FLEX 3.0 hasn't changed so much in terms of wheels and suspension quality. This means that it's still as easy to push as the 2.0 model. It rolls smoothly and quietly and can be pushed with one hand too.
No matter if you're advanced runner or a beginner this stroller won't let you down. With BOB Revolution FLEX you will be able to go out and explore the outdoors with your baby, continue your active lifestyle and outdoor workouts after pregnancy and get your body back after having a baby.
The bike-style suspension system complements the heavy-duty tires to make this a truly all-terrain stroller. Its foot-operated brake pedal isn't the best to use on extremely hilly terrains, though. If you plan on using your jogging stroller in hilly area, it's better to choose stroller with additional hand brake like BOB Revolution PRO.
Folding mechanism is the same for both versions. It's quite simple, especially when you consider it's such a big, heavy-duty jogger. The wheels are equipped with quick-release levers for easy removal without the need for any tools.
Pros & Cons
Pros
Cons

Pros

---

+ One-hand reclining, comfortable for naps on the go

+ Oversized canopy goes really low

+ Compatible with many infant car seats

+ Large air-filled tires can handle even the harsh terrain

+ Suspension cushions the ride, the stroller glides like a dream

+ Smooth maneuverability, one-hand steering

+ Decent storage basket, can accommodate medium-sized diaper bag

+ Lots of pockets (FLEX 2.0 has 3, while FLEX 3.0 has even 6 pockets!)

+ Adjustable handlebar makes pushing easy and convenient even for very short and very tall people

+ Top-quality, durable

Cons

---

- Quite heavy

- Takes up a lot of space when folded

- Expensive stroller, the accessories are additional cost
What Other Parents Say About BOB Revolution FLEX
Choosing a jogging stroller is even harder than picking an everyday stroller, that's why I checked BOB Revolution FLEX 3.0 and 2.0 online customer reviews. It turned out both are very popular joggers. Moreover they are highly-rated by hundreds of parents!
What parent love about FLEX the most? What drawbacks these two models have?
Although the BOB Revolution FLEX 3.0 is a little bit pricier than 2.0, most parents seem to like it a lot. One aspect that continues to emerge from the feedback is its smooth ride. Most previous buyers assert that its huge pneumatic rear wheels and swiveling front wheel make it an excellent stroller for running and jogging.
FLEX 2.0 has the same positive reviews about its performance. According to dozens of parents it glides like a breeze and you can push it effortlessly with one hand, even on harsher terrain. It's great for running on uneven terrain and off-road strolls. Another asset is sturdy and robust frame.
The suspension system on FLEX 3.0 and 2.0 also continues to receive a lot of positive feedback from parents. They say that their riders appear happy and very comfortable, whether they are strolling or jogging on gravel, tall grass, mud in the woods, off-road trails, and bumpy pavements. On this note, I spotted some parents who affirm that both FLEX 2.0 and 3.0 can even handle the beach and snow!
Another feature that some parents can't rave enough about is the canopy. They appreciate that this canopy is big, spacious, and well ventilated. They also mention that the stroller doesn't get too hot.
The magnetic closure on the peek-a-boo window on FLEX 3.0 has also received a lot of praise. Some parents did complain about the Velcro closure on FLEX 2.0.
Parents also like the highest position of the seat, as it is quite upright and allows baby to look around and explore the World. The ability to recline the seat with one hand and the compatibility with infant car seats are another advantages. This applies to both models: FLEX 3.0 and FLEX 2.0.
Other features that parents talk so highly of include the spacious storage basket, the additional mesh pockets (on FLEX 3.0), the flip-flop friendly brake pedal, and the adjustable handle that covers all height for very short and very tall users.
Of course, there are a few areas that current users feel that FLEX 3.0 would require some improvement. For instance, at its price, most parents argue that some accessories should come standard. Unfortunately you have to pay extra for the accessories – not only for the parent organizer, but even for the air pump.
Its weight and bulky design have also received a lot of criticism although most parents say that it is acceptable for a heavy-duty jogger. I have to add that I'm rather short and petite and lifting it to the trunk was totally doable for me, but carrying it up the stairs made my heart beating fast!
It does take a lot of space in the car trunk – according to BOB FLEX owners if you have a small car, don't plan to have anything else in the trunk with this stroller.
Would you like to check Amazon customer reviews on your own? Here is FLEX 2.0 and here you can check FLEX 3.0.
Specification
Stroller
Data
Stroller Type
Jogging
Stroller Weight
28.5 lbs
Weight Limit
75 lbs
Width
FLEX 3.0: 25"
FLEX 2.0: 25.4"
Fold Dimensions
FLEX 3.0: 38" x 25" x 16"
FLEX 2.0: 39" x 25.4" x 16"
Handlebar Height
34.5" – 48"
Colors
There's no denying that the BOB Revolution FLEX series has an incredible choice of colors. With the FLEX 3.0, the manufacturer opted to endow it with the most popular hues from its line, and a modification of some older colors to make them look much better. Now this jogging stroller looks modern and more trendy.
BOB Revolution FLEX 3.0 comes in the following colors:
Glacier Blue
Graphite Black
Sedona
Lunar Black

All these color combinations look great – and your pick is going to be a matter of personal preference. If you like jogging or strolling early in the morning or at dusk, the Lunar Black color is worth considering thanks to its strips that glow in the dark. This ultra-reflective fabric shines whenever it's hit by headlights, thereby making you much more visible, which is great for your safety and that of the rider.
Lunar color was first introduced with FLEX 2.0 and I'm really glad the brand decided to keep it. It's been one of the most popular models of jogging stroller.
It's worth to mention that previous model of BOB Revolution FLEX offered different color choices. It was available in 5 classic colors: Black, Lagoon, Canyon, Meadow and Red. Keep in mind that currently the availability and price may vary a lot, some of the colors may be already sold out. Click here to check on PishPosh Baby which colors are available and compare their prices. Since the new model (FLEX 3.0) is on the market, you may get the previous model a lot cheaper!

BOB Revolution FLEX 3.0 vs FLEX 2.0 – Quick Comparison
FLEX 3.0 and 2.0 are quite similar, but the latest model has a few upgraded features. The changes are rather small, but make using the stroller even more convenient. In the table below you can see what are the main differences between BOB Revolution FLEX 3.0 and 2.0.
| FLEX 3.0 | FLEX 2.0 |
| --- | --- |
| Plastic and mesh peek-a-boo window with magnetic closure | Plastic peek-a-boo window with Velcro closure |
| 6 storage pockets | 3 storage pockets |
| Vented seatback and canopy | Vented canopy |
| Reflective straps on the canopy and basket | Reflective straps on the canopy |
| More generous padding on the seat ("Compression Seat") | Good padding on the seat |
Accessories For BOB Revolution FLEX
Unfortunately this pricey jogger doesn't include any accessories. If you'd like to have a parent console or rain cover, you need to pay extra for them. Below you can find all of the most useful accessories for BOB Revolution FLEX 3.0 and 2.0 (they are also compatible with other single BOB jogging strollers).
Image
Description

BOB Handlebar Console

– It provides convenient and secured place for two small bottles of water and an enclosed pocket for parents essentials and valuables. Thanks to this accessory you will be able to keep your phone and keys at hand and you won't have to bend down to the basket for your water. The console is very easy to attach to the handlebar.

BOB Single Snack Tray

– You can also add a tray for your little passenger with a place for the sippy cup and some snacks. It easily pivots out so you could take your baby in and out of the seat without any problems.

BOB Weather Shield

– Don't let the rain surprise you during your outdoor workout. Always keep the rain shield in the storage basket. It will keep your baby warm and dry, in case it starts raining or snowing.

BOB Sun Shield

– Summer is a perfect time for outdoor workouts. Thanks to this cover your baby will be protected from harmful sun rays and flying insects. It will provide great amount of shade so your baby could enjoy your jogging session or nap undisturbed during the stroll.

Infant Car Seat Adapter

(for example the adapter for Britax)– BOB Revolution FLEX 2016 and older can be used as a travel system with Cybex, Nuna, Maxi Cosi, Britax, Chicco, Graco and Peg Perego car seats. To attach the car seat to the stroller you will need special adapter. Keep in mind that there is a different adapter for each brand and the adapters vary in price.

Travel Bag - Awesome, useful bag that allows you to transport and store your single BOB jogging stroller easier. It will be well protected from dust and damages. The bag has convenient carry handle and shoulder strap so you could pack it into your car trunk without any problems
Keep in mind
You can start using the stroller from birth only if you add an infant car seat and only for walking. Even if you switch to the regular seat, you should wait until your baby is 6-8 months old to start jogging with the stroller.
3 Reasons Why You Will Love BOB Revolution FLEX
1. It gives parents the flexibility to stroll and run on any type of terrain.
2. It provides smooth ride and protects baby from negative impact of shocks on the spine.
3. It's strong, durable and high-quality. This reliable stroller is perfect companionship for active parents and those who want to lose some weight while having fun with their kids.
Are you thinking about buying BOB Revolution FLEX? Don't forget to check available colors and current discounts for the newest FLEX 3.0 and previous – still awesome – FLEX 2.0.
If this stroller doesn't suit your style and needs, here are my other favorite top-quality jogging strollers.
---
All pictures belong to BOB. Source: https://www.bobgear.com
Your trust is really important to me: This post contains affiliate links. If you choose to buy something using these links, I receive a small commission, at no extra cost to you. Your support helps me run this blog. Thank you so much 🖤 Zooey