Even if you live in a hot climate or your baby in due in summer, you can still enjoy babywearing! You just need a good and lightweight baby carrier for hot weather or breathable summer baby wrap!
This article is not a substitute for medical advice. It may contain affiliate links.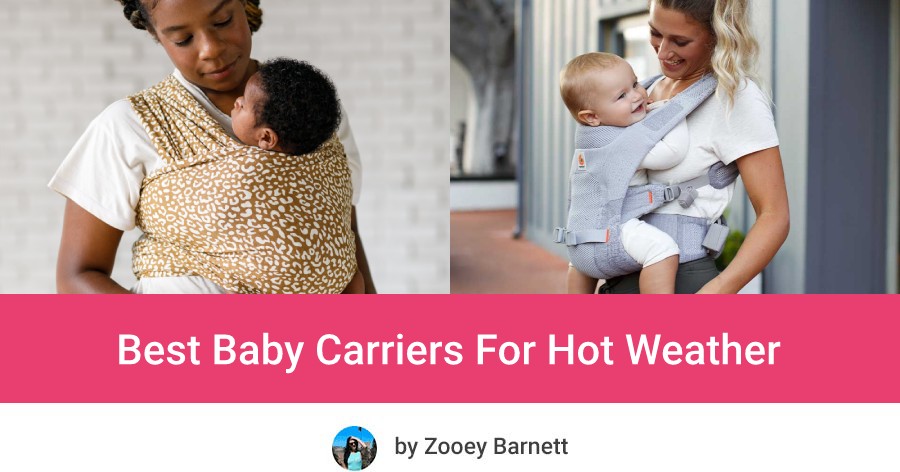 Summer is the perfect time to explore outdoors with your little one. Warm and sunny weather doesn't mean that you have to give up on babywearing. You only need to follow a few basic safety rules and get the best baby carrier for summer weather.
If you plan on summer babywearing, you have three options to choose from. You could get a lightweight and breathable wrap carrier, thin and airy ring sling or opt for a light and slim buckle carrier with breathable mesh vents. Whichever you choose, remember that it will acts as an additional layer of clothing, so it's important to ensure that baby (and you) always stays cool, dry and comfy.
Below you can find my 5 recommendations for the best baby carriers for hot weather and summer that will keep you and the baby from getting hot and sweaty during babywearing.
Best Baby Carriers & Wraps For Summer And Hot Weather In 2022
Here are top 5 choices for summer babywearing – recommended by parents and approved by babies 💜
Solly has been my favorite baby wrap for summer for a very long time. It's all because of that amazing fabric.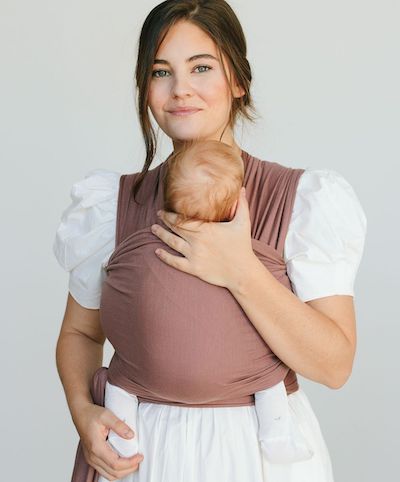 Solly Wrap is made of 100% Lenzing Modal which is ultra breathable and lightweight. It allows the air to circulate through, so your skin stays dry. This thin fabric works perfect on hot summer days, because it wicks away moisture, so you don't get sweaty while carrying your baby. It also prevents the baby from overheating.
Even though this type of fabric is much thinner and lighter than cotton, it's still very strong and provides proper support for baby's body. Solly has been recognized as hip-healthy which means this summer baby wrap holds the baby in natural position that is safe for their hips (knees higher than the bum and legs supported from the back of one knee to the back of the other knee).
If you like the idea of using baby wrap, but you're worried that wrapping your body in a few layers of fabric will make you hot and sweaty, Solly Wrap is the best solution. With this summer baby wrap you'll be able to babywear your little one much longer than with other wraps or structured carriers!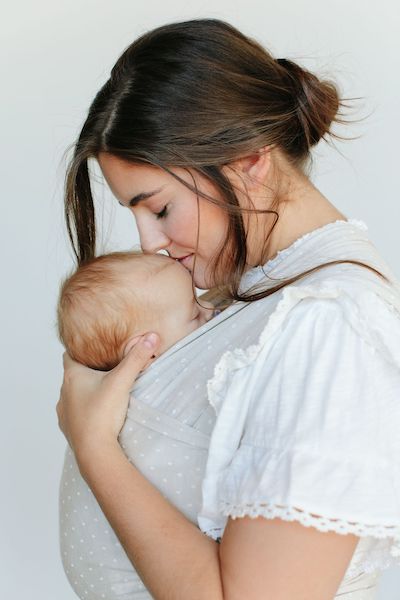 Moms who live in hot climate with 90+ degree weather for most part of the year (like Miami) say that Solly Wrap works perfect in that hot weather. Lots of parents also recommend it as one of the best baby carriers for Disney World in Orlando.
What you are also going to love about this baby wrap carrier is how soft and nice the fabric feels. It's cozy, gentle for baby's skin and buttery-soft. Modal is also naturally elastic, but it's not excessively stretchy as some other baby wraps. Thanks to that, it's easy to wrap it around your body and find the right tightness for the baby.
You won't have to worry wether your baby is dropping or being squeezed! According to parents who have tested many different baby wraps, Solly has just the right amount of stretch in it.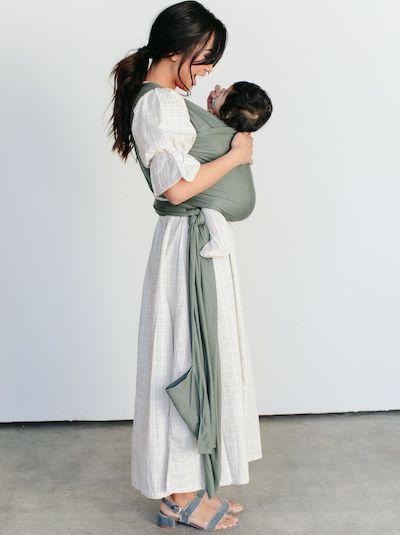 What's important, Solly Wrap is fairly easy to tie once you get a good hang of it. But keep in mind this is a long piece of fabric, therefore it's better to wrap it around your body at home, before you go out to avoid dragging long ends on the ground. Solly Baby has lots of useful tutorial videos – they helped me a lot when I was learning how to use the wrap and I recommend you to watch them first too.
Solly Baby Wrap has a weight limit of 25 lbs – and you will get the most out of it in the first 6-9 months. Just like other stretchy wraps, it's suitable for wearing your baby in front carrying position, facing inward. It's not designed for back carry or facing outward.
One of the huge advantages of Solly is how comfortable it is to wear. It distributes baby's weight evenly across your body, therefore you won't experience pain in your back or shoulder strain. Lots of moms say that they can babywear with Solly for 2 or 3 hours a few times each day, and they don't feel any pain. With Solly you barely feel baby's weight.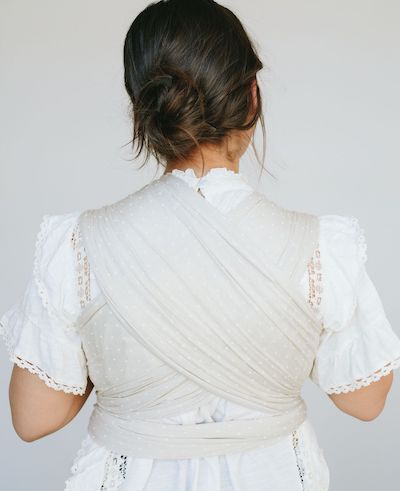 Solly Baby Wrap Carrier is highly adjustable and can be shared with other caregivers who have different body types. It fits petite moms, as well as plus-size moms who wear ladies size 22-24!
What moms also rave about is how cute and gorgeous Solly Wrap looks like. It's available in so many beautiful colors and patterns. I'm sure you'll find something that will suit your style – choose a wrap that you will LIKE to wear!
PRO TIP: Right now you have a fantastic opportunity to get this Solly Baby breathable baby wrap cheaper. Selected colors are 32% OFF during Black Friday sale. Grab your 32% discount here >>

The good news is that even if your favorite color is not on sale, you can still get it at more affordable price: just use the code LITTLE10 at checkout here & get 10% OFF your wrap. Don't miss out on this opportunity to save money!
>> Need more information about Solly Wrap? Read my full review here
Lots of moms say that WildBird is THE BEST baby carrier for hot weather.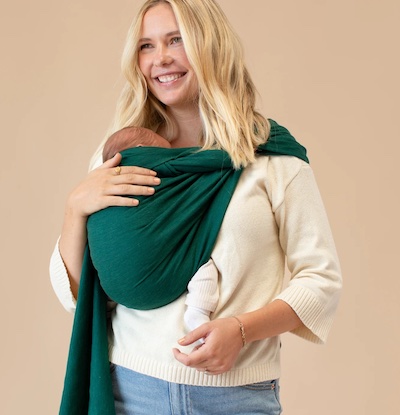 What's important to notice, it differs a lot from baby wraps or soft structured carriers. It comes as a long piece of fabric with a ring sewn-in. You create a pouch of it and wear it on one shoulder.
According to parents who own WildBird Sling it's so quick and easy to put on! Although it takes some time to learn how to position the baby properly (with M-shaped legs), putting the sling on and adjusting it takes literally a few seconds.
Moreover, once you thread the fabric through the rings, you don't have to do it again. The sling will be ready to use every time. That's why WildBird Ring Sling is so easy and convenient to use. You don't have to prepare it or put it on at home, you can put it on when you arrive at the destination without any hassle. For this reason, some moms prefer it over baby wraps. But keep in mind that positioning the baby in a sling requires some practice so it takes time to master it.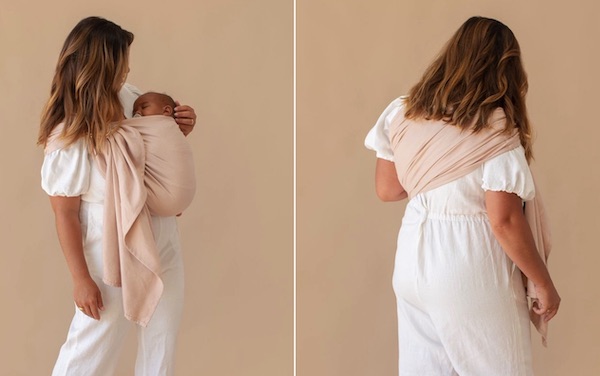 The good news is that WildBird is approved as hip-healthy, so once you learn how to use it properly, it will offer your little one most natural, safe and healthy position with proper support for their legs, hips, bottom and back.
There are a few types of this ring sling, but basically you can choose from two fabrics: linen or blend of 75% Modal and 25% linen. The former one is more breathable, the latter one is more elastic. Both are lightweight, thin and allow the air to circulate through, keeping you and the baby from sweating or getting overheated.
Lots of moms recommend WildBird Sling for hot weather. This baby carrier is one of the best choices if you live in hot and humid climate or your baby is due in summer.
My favorite version of WildBird Ring Sling is this Owl Modal version. It's really breathable and works perfect for summer. At the same time it's just stretchy enough to make babywearing easier, especially for new moms, because it feel more "adjustable". It's easier to wrap around your body and position the baby in it, than with the linen version.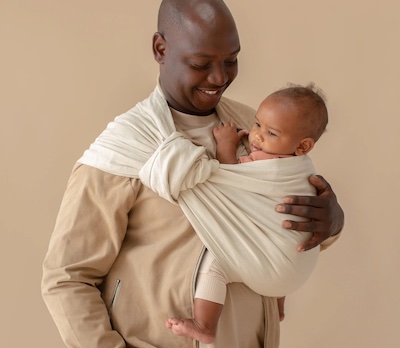 What's important, WildBird allows you to wear your baby in two positions: front carry facing inward or hip carry.
If you want to babywear frequently, you should choose baby carrier that is comfortable and that you LIKE. This is one of the reasons why the WildBird is so popular – IT'S BEAUTIFUL! There are DOZENS of colors and patterns to choose from and frankly all of them look gorgeous and stylish. BTW, dads love wearing WildBird too!
It's important to notice that this baby sling is 2.5 yards (2.28 meters) long. It's still long enough to fit plus-size parents – I've heard that moms wearing size 20 and 22 fit comfortable in it. Since WildBird is much shorter than stretchy baby wraps like for example Solly Baby, it may feel a bit more comfortable for petite moms.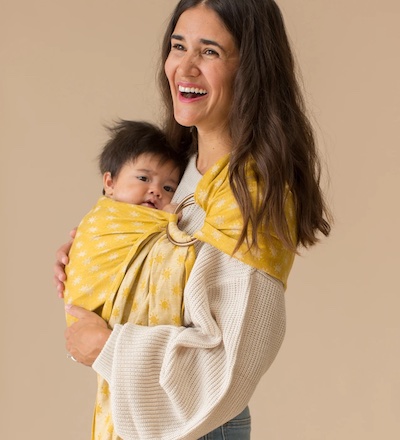 One thing you should keep in mind is that because of unique design, ring sling may cause shoulder strain or back pain. The fabric goes from one shoulder to the opposite hip, therefore baby's weight is not evenly distributed across mom's body. This means that you may need to take more breaks from babywearing to avoid pain in your back or shoulder.
On the other hand, moms say that the way you carry your baby in WildBird sling feels like motherhood, and it's so natural. It makes breastfeeding while babywearing very easy. Even though it may strain the shoulder a bit, lots of moms use this baby sling even for 1.5-2-year-old toddlers (it's suitable up to 35 lbs).
If you're looking for baby carrier for summer 2022, and want something more breathable and less bulky than structured carriers, but also easier to use and with higher weight limit than stretchy baby wrap – WildBird Ring Sling is THE BEST choice!
PRO TIP: If you like the WildBird Ring Sling but you're on a smaller budget, now it's the best time because their Black Friday/Holiday Sale has just started. The slings are up to 40% cheaper! And you can save even more money if you use the code: LITTLEWILDBIRD10 at checkout (extra 10% discount). Choose your favorite color and collect all discounts here >> There are only last few pieces left so don't miss out!
>> Hesitating between Solly Baby and WildBird? Read my detailed comparison and choose what's best for your little one!
>> Looking for more information about this awesome ring sling for newborns and toddlers? Check out my WildBird Ring Sling Review
In my opinion, the all-new Aerloom is the best Ergobaby Carrier for hot weather. It's made of innovative FormaKnit fabric (87% post-consumer recycled polyester + 13% nylon) which is lightweight, flexible and breathable.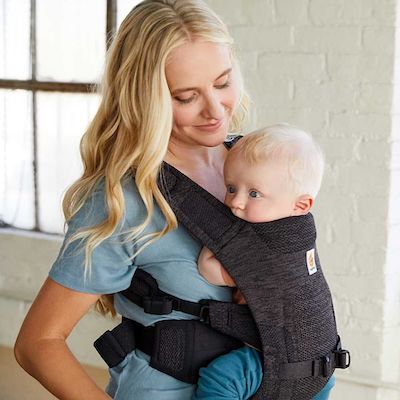 This makes Aerloom thinner and lighter than other Ergobaby carriers, as well as many other baby carriers from other brands. Even though this type of fabric is lightweight, it's very durable and strong and offers great support for baby's body.
The shoulder straps and waist belt have nice padding so they feel really comfortable, but they are much thinner and don't feel (or look) that bulky on your body as many other structured carriers.
This fabric allows the air to circulate through, protecting you from sweating.
All those features make Aerloom one of the best baby carriers for hot weather and summer 2022.
Because this baby carrier is lighter and thinner, it has lower weight limit than many other buckle carriers. You can use it from birth, without any infant insert, up to 35 lbs. It grows with the child and offers you 3 carrying positions: front facing inward for newborns and young babies, front facing outward and back carry for older infants and toddlers.
In each position, this baby carrier keeps the little adventurer in natural, healthy position with M-shaped legs and knees higher than the bum. This is the safest position for infant's hips as it decreases the risk of hip dysplasia.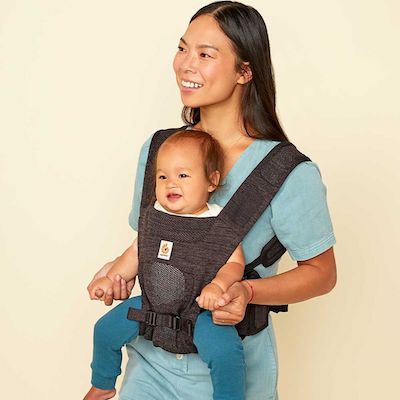 Aerloom baby carrier is highly adjustable, you can easily extend the shoulder straps and the waist belt for a person with larger body frame.
What's noteworthy, Aerloom is a limited edition baby carrier, available in 9 color versions. Keep in mind that some color won't be restocked once they sell out. If you like Aerloom, I recommend you to order it soon, while it's still available! Check Aerloom collection here.
PRO TIP: If you decide to get Aerloom now during Cyber Monday sale, you will receive FREE carrier: Ergobaby Embrace (value of $79). It works perfect for newborns and small infants, and it is made from very lightweight fabric! Get your FREE Ergo carrier here 👈
If you're looking for a soft structured baby carrier for hot weather, Lillebaby Complete Airflow is one of the best options.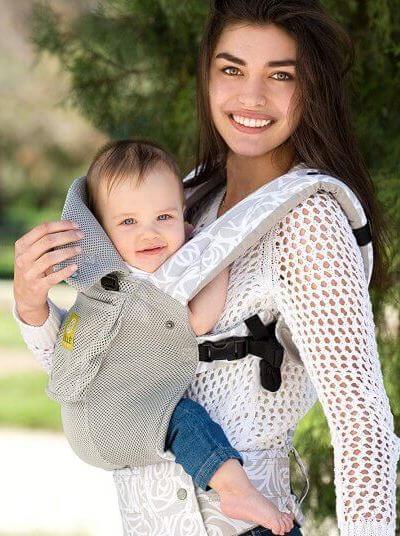 What you are going to love about this baby carrier is its versatility. It offers 6 positions, including front carry facing outward and back carry. It basically grows with the baby and you can change positions depending on your baby's age, preferences and mood.
With newborn baby and small infant you should use only the front carry facing inward position, but as the child gets older and becomes more interested in surrounding (and prefers to look around than see only mom's chest), the back carry and front carry facing outward positions will be very useful. Lillebaby carrier is highly adjustable with adaptable seat and extendable back panel. Overall, this baby carrier can be used up to 45 lbs, so it can serve you for 3 or even 4 years!
Lillebaby Complete is approved as hip healthy and it provides proper support for baby's hips. There's a long back panel with adjustable hood for extra back support.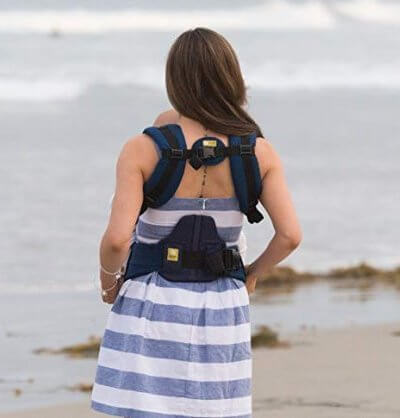 This baby carrier was designed with summer babywearing in mind – it's made of mesh fabric which makes it more breathable and less bulky than many other structured baby carriers. You should keep in mind that it's not as thin as baby wrap, but it does allow the air to get through and doesn't make you sweat buckets like other cotton buckle carriers.
This baby carrier by Lillebaby has lots of features for wearer's comfort. It is one of the best baby carriers for parents with back pain, thanks to awesome large lumbar support. It has wide waist belt for extra support and nicely padded shoulder straps. The belt and straps feature multiple adjustments and can be extended to fit plus-size parents.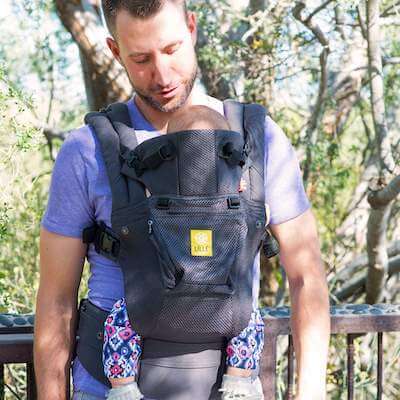 All that padding and adjustments ensure that baby's weight is evenly distributed across wearer's body. Lots of parents say that with Lillebaby Complete they barely feel baby's weight and they can babywear for many hours without a break. It doesn't strain your back, shoulders, hips or pelvic area. Babywearing with Lillebaby Complete is so comfortable and feels lightweight.
What's noteworthy, this baby carrier for summer features useful zippered pocket therefore mom can keep her small valuables at hand.
Among all structured baby carriers for hot weather that I recommend here, this one is the most affordable one.
PRO TIP: I recommend you to get Lillebaby Complete baby carrier directly from brand's website to be sure you're getting the original product with full warranty. Here you grab even 50% discount during Lillebaby Black Friday sale.
Beco Gemini Cool is one of the best mesh baby carriers out there. It has a lightweight 3D mesh back panel and liner that allows the air to get through and prevents your little one from getting hot. And in case your baby sweats a bit, the microfiber fabric will wick the moisture away – so they could stay dry and comfy all the time.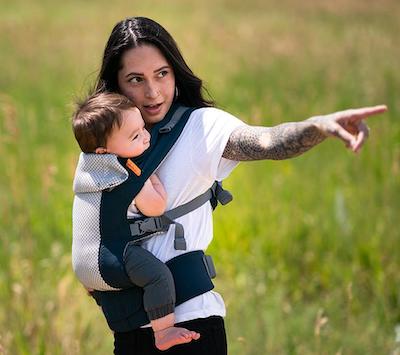 Beco Gemini Cool is noticeably thinner and less bulky than many other baby carriers which makes it a good choice for summer or hot climate.
It's suitable from birth up to 35 pounds and offers 4 positions for a growing child: front facing inward, front facing outward, hip and back carry. Parents love how multifunctional this baby carrier is. Having so many carrying positions is a huge advantage, because you can adjust the carrier as the baby grows or change the position depending on baby's mood. it makes this baby carrier multifunctional and
It allows the infant to maintain natural and safe position and provides proper support – from the back of one knee to the back of the other knee. Long back panel supports baby's back; there's also a built-in headrest for extra support.
For mom's comfort Beco added wide waist belt with mesh liner – to prevent you from sweating and to decrease pressure on your hips. Wide and nicely padded shoulder straps are crossable, which is a useful thing for petite parents, plus it offers extra back support.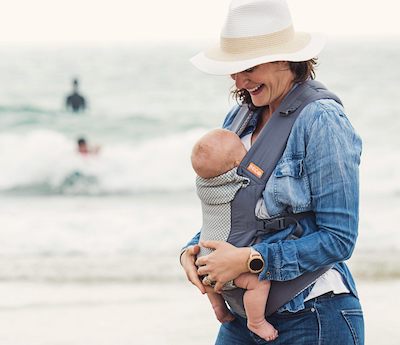 Beco Gemini is one of the best baby carriers when it comes to weight distribution. With this baby carrier, you'll be able to carry your little bundle of joy for longer periods without feeling pressure on your back, shoulders or pelvis.
Beco Gemini Cool baby carrier features a useful pouch on the waist belt for mom's small belongings.
According to parents who own this baby carriers, it's really lightweight and doesn't feel cumbersome (as some other baby carriers). And with all those highly-adjustable straps it's comfortable to wear for moms and dads, regardless their body type. If you're looking for the best baby carrier for hot weather, that easily adjusts from petite to plus-size, Beco Gemini Cool is definitely worth consideration.
PRO TIP: This baby carrier is available in 3 colors, and right now 2 of them are on sale! The availability is limited so better hurry up. You can save up to $50! Grab your discount here
Babywearing In Summer – FAQ
Here are a few basic things that you should know about babywearing in summer and choosing the best baby carrier for hot weather.
What Should A Baby Wear In A Carrier In Summer?
It's best to choose light and airy clothing, both for the baby and you. Choose thin and natural fabrics that are breathable and allow the air to circulate through. Linen is one of the best choices, you can also opt for sporty performance fabrics.
Keep in mind that whichever baby carrier for hot weather you choose, it will act as an additional layer. That's why it's so important to dress yourself and your little one in minimal clothing to prevent both of you from getting hot, sweaty and sticky. But make sure your baby's skin is well covered, because it's very sensitive and prone to sun burns.
If you want to carry your baby in a carrier in summer, they should wear light clothing – that will cover their body from sun rays, but also will allow the breeze to circulate through. Keep in mind that having more skin exposed won't necessarily cool down the baby, but will rather increase the skin of sun burns.
Babywearing experts say that on very hot days just one thin layer of fabric between you and the baby may be enough. For example you could wear a vest top made from linen, and the baby could be in just a diaper. Your baby carrier or summer baby wrap will provide covered for the most part of baby's body, but make sure to offer extra sun protection for legs, skin, arms and head if they are exposed.
If your child is old enough, use suitable sun cream. If your little one is under 6 months, you could use extra fabric of the stretchy wrap or baby sling to drape around baby legs or you could use a muslin to cover baby's legs and arms. It will provide sun protection without blocking air circulation.
>> Check out the best baby carriers in 2022
How Do I Keep My Baby From Overheating In A Carrier?
Babywearing allows you to keep your little one close to your body, which helps them to regulate their own temperature. This in turn helps to prevent from overheating.
You should keep in mind a few basic safety tips for keeping baby from overheating in a carrier:
Choose the most lightweight and breathable baby carrier for summer use and hot weather. Pick something thin, that won't feel bulky on your body. Keep in mind that any baby carrier acts like additional layer(s) of clothing.
Stay in the shade – If you want to explore outdoors while babywearing, choose the coolest part of the day and try to stay in the shade or make your own by wearing a hat with a big brim or using an umbrella. Take frequent breaks to cool down in a shade. Always avoid sun at its peak.
Stay hydrated and use water to cool down – You and the baby should drink plenty of liquids, but you should also use water for cooling off. For example you could bring a spray bottle to give yourself and the baby a spritz on legs, feet, hands and hair. Some parents also use cool gel packs or dip a handkerchief/muslin in cool water and place it around theirs and their baby neck and pressure points.
Use your common sense and look for any signs of overheating or dehydration (consult your doctor too!).
Remember that babywearing should be a safe and enjoyable experience, if you or the baby feel uncomfortable, take a break or maybe switch to a stroller.
What Is The Best Fabric For A Baby Wrap?
If you're looking for a summer baby wrap, the best fabric is linen, bamboo or modal. All those fabrics are thin, lightweight and breathable. Each of them allows the air to circulate through and ensure that your skin can breathe. This means you're not getting sweaty and sticky.
What distinguishes modal is that it has moisture-wicking properties. Therefore even if you or the baby sweat a bit, the moisture is not trapped between the skin and fabric. It pulls the sweat away and keeps your skin dry and comfortable all the time. Another huge advantage of modal fabric is that it's elastic and flexible, but not excessively stretchy.
This makes it very easy to "mold" around baby's body and find the perfect tightness (for proper position and support). According to parents, summer baby wraps made of modal (like the Solly Baby Wrap) have just the right amount of stretch, which makes them the easiest to tie and adjust.
On the other hand, what you are going to love about linen is that it's natural and hypoallergenic. It's also pretty easy to wrap around, tie and adjust, which makes it one of the best fabrics for baby wrap.
If you're opting for the best baby wrap for summer choose one that is made from linen, bamboo or modal. I would recommend you to skip baby wraps made of cotton or synthetic fabrics like spandex. If you'd prefer soft structured baby carrier for hot weather, choose something thin, lightweight and with lots of mesh vents that will help your skin to cool off.
Is Boba Wrap Too Hot For Summer?
While I'm a huge fan of Boba Wrap and find it a great choice for winter, spring and mild weather conditions in general, I think it's less suitable for hot summer. It's made of cotton which makes it thicker, bulkier and heavier than for example Solly Wrap. It's less breathable which may mean that you will start getting hot and sweaty in it after shorter time. It's the same case with Moby Wrap.
Both Boba and Moby are great baby wraps, but I recommend them rather for families living in mild climate.
---
The purpose of this article is informative and entertaining. It's not a substitute for medical consultation or medical care. Remember: safety first! The author of this article does not accept any responsibility for any liability, loss or risk, personal or otherwise, incurred as a consequence, directly or indirectly, from any information or advice contained here.
Source of pictures: