Lots of baby crawling mats contains toxic chemicals that can be harmful for little babies. In this article you'll find out how to choose the best non-toxic play mat and which play mats you should avoid!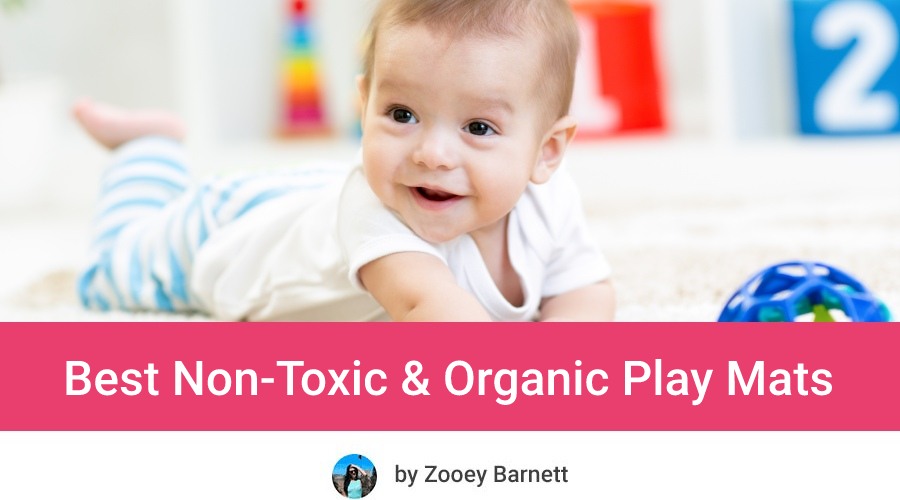 This article is NOT a substitute for medical advice. It contains affiliate links.
Baby crawling mat is a fantastic accessory that provides babies with safe and cozy place where they can work on their neck and core muscle strength during tummy time.
Moreover, baby play mat provides your little one with hours of sensory stimulation, supports their development of motor and cognitive skills, and nurtures their curiosity. And of course it gives you those precious hands-free moments and allows your arms to rest a bit.
As a mother of three I learned that a comfortable and safe play mat is a must-have. But not all mats for children are created equal and it's actually quite difficult to find a good one that would be more beneficial than harmful for the baby, and would not cost you an arm and a leg!
In this article I'm going to share with you my favorite baby mats for crawling, tummy time and play, that are suitable for infant and toddlers. These play mats are free of harmful chemicals, some are even made from organic fabrics.
Best Features
❤️ Lovely boho-style baby mat
❤️ Thick, ultra-comfy and cushy
❤️ Two sizes available: for newborns and older babies up to 3 years
❤️ Made from organic cotton
❤️ Black & white play mat - perfect for stimulating infant's vision
❤️ Padded with organic cotton muslin
❤️ No PVC or EVA foam
❤️ Gender neutral - available in 4 designs
advantage
✨ Recommended by 580+ moms!
✨ Perfect for baby milestone pictures
Best Overall Non-Toxic Play Mat
advantage
✨ Recommended by 580+ moms!
Best Organic Play Mat
Best Features
❤️ Lovely boho-style baby mat
❤️ Thick, ultra-comfy and cushy
❤️ Two sizes available: for newborns and older babies up to 3 years
❤️ Made from organic cotton
advantage
✨ Perfect for baby milestone pictures
Best Affordable Tummy Time Mat
Best Features
❤️ Black & white play mat - perfect for stimulating infant's vision
❤️ Padded with organic cotton muslin
❤️ No PVC or EVA foam
❤️ Gender neutral - available in 4 designs
Best Baby Mat For Crawling & Play Time – Desired Features
When searching for the best crawling baby mat I considered these features:
As safe, natural and eco-friendly as possible – It's so hard to find completely non-toxic play mat! I'm not a fan of PVC or EVA foam puzzle mats for babies as these materials have been proved to be harmful. I checked what each flooring is made of and how natural it really is. Below you can find the list of chemicals that I focused on. In each review you can read my honest opinion of eco-friendliness of each mat.
Longer usability – I was looking for mats that you could use not only during the first few months for tummy time, or sit up play, but also for older child play time, when the child is 4-5 years old.
Easy to clean – Of course EVA foam mats are easiest to clean as you can simply wipe them with wet cloth, but I decided to skip type of mats. More natural and organic playmats are usually made of fabric or at least have fabric covers, so I checked if they are machine-washable for easier cleaning.
Decent size – if we want a playroom flooring to serve us for a few years, it has to be large enough to be comfortable for a growing child.
Supportive & Protective – During the play time, crawling and first experience in walking, there will be a lot of falls. Play mat should give baby protection for getting hurt, and cushion those falls. It should feel soft, cozy, and firm at the same time to give babies good support when they gain new abilities and reach new milestones.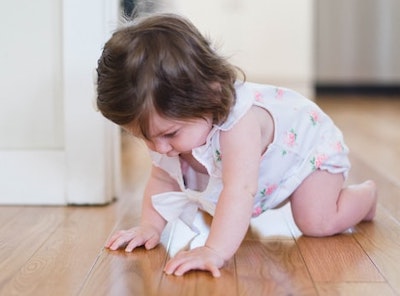 How To Choose Non-Toxic Play Mats?
Recently parents often spend more time on searching baby products that are more eco-friendly, organic and free of toxins.
I decided to do some research on non-toxic baby mats and it turned out that it's really difficult to find a play mat completely natural and free of all chemicals1.
Sometimes traditional play mats brands say that their products are eco-friendly and non-toxic, but the materials that you can find among their ingredients show something else.
There is no such thing as non-toxic EVA foam or non-toxic PVC. All play mats that use these two materials are harmful and pose a health treat to a baby to some extent2.
While searching for non-toxic play mats parents should checked if the baby mat is free from chemicals such as:
PVC (Vinyl)
EVA Foam
Polyurethane Foam
Polyurethane Leather Outer Cover
Phthalates
BPA & BPS
Flame Retardants
Formaldehyde
Lead and other metals
Glues
TPU / XPE
Other VOCs
When deciding to get infant or toddler play mat be careful not to fall for some greenwashing tactics that some companies still practice.
Best Non-Toxic Play Mats & Organic Play Mats In 2023
In this article I will present you the best baby crawling mats that I found – two of them are completely non-toxic, and two are "almost" non-toxic (still significantly safer than popular foam play mats that are made of PVC, EVA foam or PU foam).
The best non-toxic play mats in 2023 are:
In my opinion, the crawling mat from Toki Mats is the best you can get if you want to provide your little one with safe, comfy and non-toxic space for tummy time and play.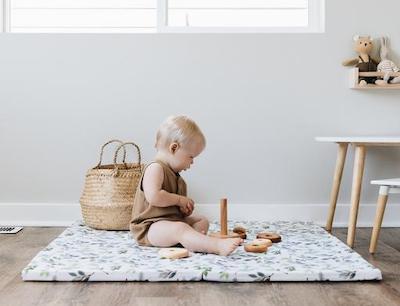 It's important to note that Toki Mats is not intending for baby to sleep on it. It is perfect for baby to crawl on it, it's a wonderful tummy time mat that gives baby safe space for strengthening back and neck muscles, as well as learning through play and reaching new milestones.
There are two toy loops where you can attach teethers or rattle toys to engage your baby's senses and encourage them to tummy time. This non-toxic playmat folds in half for easier storage.
The Standard Size Mat is 40″ x 40″ so it's perfect for newborns and babies up to around 1 year. If you're looking for a toddler play mat, the Toki Mats also offers Mega Play Mats which are 55″ x 55″. Investing in a Mega Mat may be a good idea, if you'd like to have a large foam play may that will serve you from infancy well into toddlerhood or even longer! Search for Mega Mats here. Now Toki also offers these EPIC Mats which are 84″ x 60″ – these are the biggest toxin-free crawling mats EVER. These play mats are also very useful for preschoolers.
This crawling mat is 1″ thick. It's firm, but not too hard. It feels supportive for the baby, yet it is a bit springy. The thickness is perfect for padding baby's falls. Thanks to small air pockets in the foam, it's breathable and doesn't make your baby sweaty or uncomfortable.
You can use this mat on any type of flooring: carpet, hardwood floors, or tiles. Keep in mind that the bottom is 100% cotton fabric therefore on a slippery surface it may not stay in place. Some parents recommend adding a rug pad underneath the mat if you want to use it on slippery floor.
If you want to be an eco-friendly mommy, you will love this non-toxic play mat, as it's PVC-free, and doesn't contain hormone disrupting phthalates or heavy metals like lead!
The insert is natural latex foam, which is made from rubber trees sap. It's all natural, it doesn't contain any flame retardants, and it's biodegradable.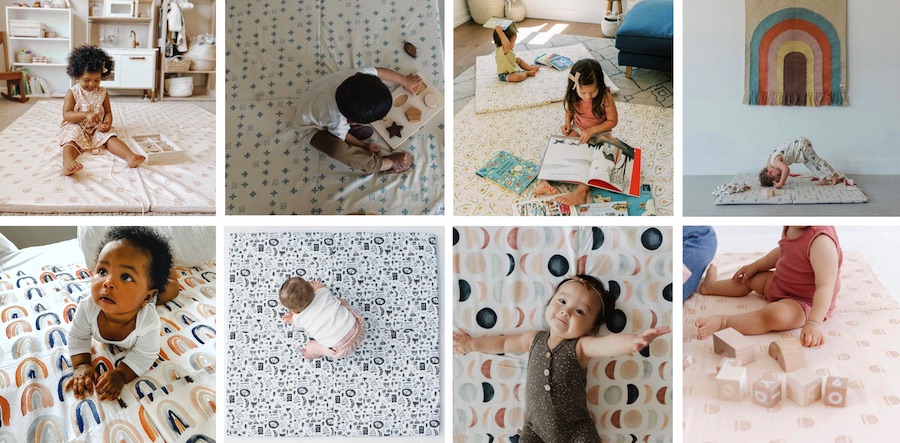 When picking the play mat on Toki Mats website you'll notice that you have two types of foam insert to choose from. They are the same (made of the same material), but they have different certification.
The Classic insert has international TUV certified 100% natural, while the Organic insert is GOLS 100% certified organic (just to let you know, GOLS certification means that the latex product must contain at least 95% of certified organic raw material, and synthetic latex is not allowed3).
PRO TIP: Make sure you baby is not allergic to latex in any form.
The cover is made of 100% cotton and it's also chemical free, making this crawling mat a safe surface for your baby for play time, exploring the new world, and learning new abilities like crawling and sitting.
It's noteworthy that the cotton cover has a zipper closure. You can take it off at any time and throw in the washing machine! Toki provides lots of helpful tips on how to preserve this crawling mat.
What's important, the cotton cover and the foam insert are not waterproof (these types of material are not waterproof). However, Toki Mats offers a bamboo cover, that is water resistant and waterproof. Moreover this cover is OEKO-TEX certified non-toxic.
We all know that drooling, milk spills, spit-ups and diaper blowouts happen on a daily basis so it's best to invest in a waterproof cover to keep the mat in a good shape for longer usability (or maybe even keep it for your next child!).
Just keep in mind that the cover has inner barrier made of TPU (otherwise it wouldn't be waterproof). You can always skip the cover and just encourage your baby to mess-free play. 🙂
One last thing that I need to mention – Toki Mats are SO CUTE! These cotton covers are gender neutral and frankly, all patterns look gorgeous. I'm sure that you'll find a mat that will look beautiful in your baby's nursery or playroom and your baby will love it too! The patterns look very calming and aren't flashy at all.
Another benefits of these adorable patterns and prints is that they attract baby's attention and provide visual stimulation – which can be really helpful to make tummy time more enjoyable for baby who hates it.
BTW, my favorite pattern is this Lunar Phases (I bought it on sale 20% cheaper) which you can get in all 3 sizes: standard, mega and epic. It often sells out and last time I checked there were only last few pieces left – so don't miss out on your opportunity to get Toki Mat before it sells out.
Finn+Emma is one of my favorite brands when it comes to organic and toxin-free products for babies. I was super excited to see they have released baby play mats made from organic cotton.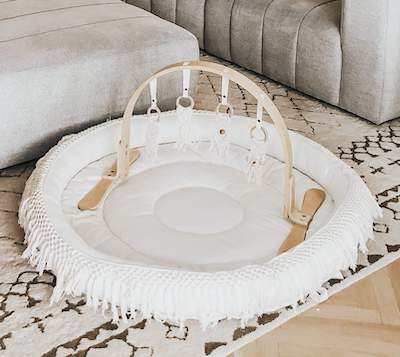 They are all white and have adorable macrame fringe. If you like boho style, I'm sure you will love Finn+Emma play mats! They look beautiful in any room and fit any decor.
There are two sizes & shapes available right now (here you can grab the biggest discount – 20% for your play mat with code VIP20):
Oval lounge mat is smaller (dimensions: 34″ x 22″) and it's perfect for newborns and babies up to 9 months. You can easily pair it with a wooden baby gym / toy arch. It's also much cheaper.
Round play mat is larger (dimensions: 44″ outside edge, 36″ inside edge) and it's suitable from infancy up to 3 years. It's a bit more pricey but it's a fantastic investment for years.
Now, let's talk about Finn+Emma play mats safety. The cover and fringe are made from 100% organic cotton. The filling is made from polyester, but you don't have to worry about toxicity.
You should also know that polyester usually contains flame retardants, but the good news is that Finn+Emma play mats' filling is OEKO-TEX certified – which means it's free from harmful substances (like fire retardants). It may not be great for the environment because it's not organic or biodegradable, but it's safe for babies.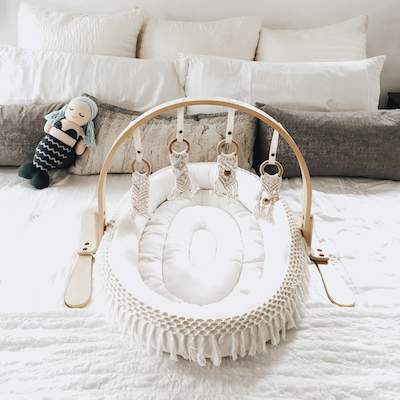 There are two more things that I like about this organic cotton play mat. The cover is removable and machine-washable, therefore you don't have to worry that spit-ups or diaper blowouts will ruin your mat.
There are also useful handles on each side which make this play mat very easy to move around the house and transport. You can bring it to the grandma's house or take it outside to the yard.
Overall, I love these non-toxic play mats. They look so beautiful and gorgeous, both in the nursery and in the living room. They provide safe and cozy place for infants and toddlers for lounge time or play time.
They are really thick and cushy which makes them perfect for tummy time, overhead play, crawling, learning to sit and stand. Practicing balance and coordination will be much more enjoyable and safer which thick, padded and soft play mats that protect baby from harmful falls.
My third recommendation of best baby play mat is the Wee Gallery Mat. It comes in two shapes: square (measuring 40″ x 40″) or rounded (measuring 40″ in diameter).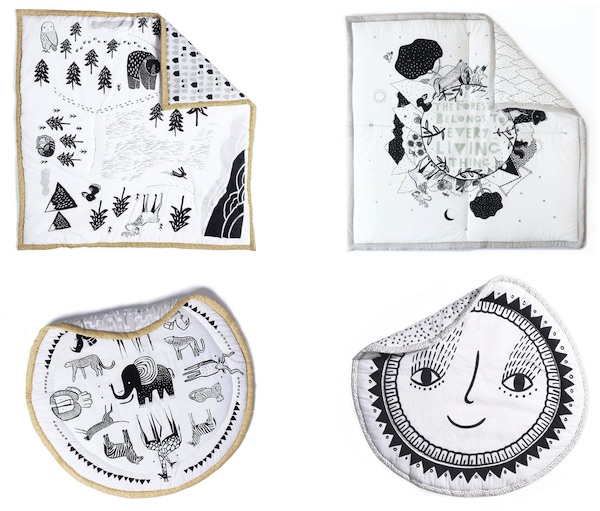 Altogether there are 4 cute black & white patterns to choose from, all gender neutral. You can see them in the picture above.
I recently found Wee Gallery Mats on Amazon, but the availability of patterns changes quickly! You can check which are currently available & see their prices here.
I'm sure these graphics will be very interesting for the baby and thanks to high-contrast black & white pictures they are perfect for newborns and young infants because their vision is just developing.
The pictures of animals will attract baby's attention and encourage them to tummy time. Besides, you can use these pictures to teach your little one new words and help them to expand their vocabulary!
You can also encourage your baby to over-head play when the baby is laying on their back by holding rattling or rustling toys above their head. This will encourage baby to reach and grasp, which is a perfect opportunity to practice precise movement of those little fingers.
Wee Gallery baby crawling mat is super soft and cozy, but keep in mind it's not a thick as foam play mats. That's why I would recommend it rather for carpeted floors.
Even though this mat is not large, it may be used for play time with older kids as well, providing them with warm and comfortable place to sit.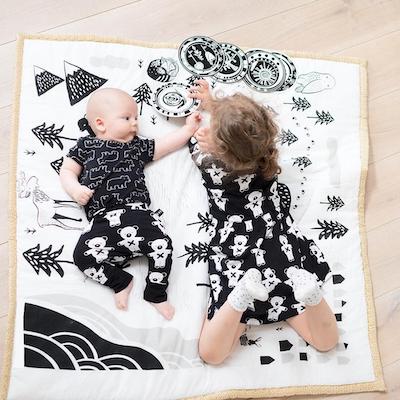 This play mat for infants and toddlers is made in India. The outer fabric is organic cotton muslin and the inner padding is made of OEKO-TEX certified polyester. Some eco-conscious parents may have some concerns about the use of polyester. But at least these play mats don't use PVC or EVA foam so they are considerably safer for babies!
Since this baby play mat is all fabric, it's easy to fold and store in a closet when not in use.
This baby crawling mat is not waterproof, but even if somethings spills out, you don't have to worry about stains! The mat is fully machine-washable.
If you like minimalistic, but cute designs you will definitely love the Wee Gallery baby play may. Another advantage is its price – it's more affordable than other play mats in my ranking.
4. Pillobebe Organic Cotton Play Mat – Completely Non-Toxic Cotton Play Mat
This is another non-toxic baby mat, truly eco-friendly and natural – one of my favorites. If you're an eco-conscious mom or dad you will love it too.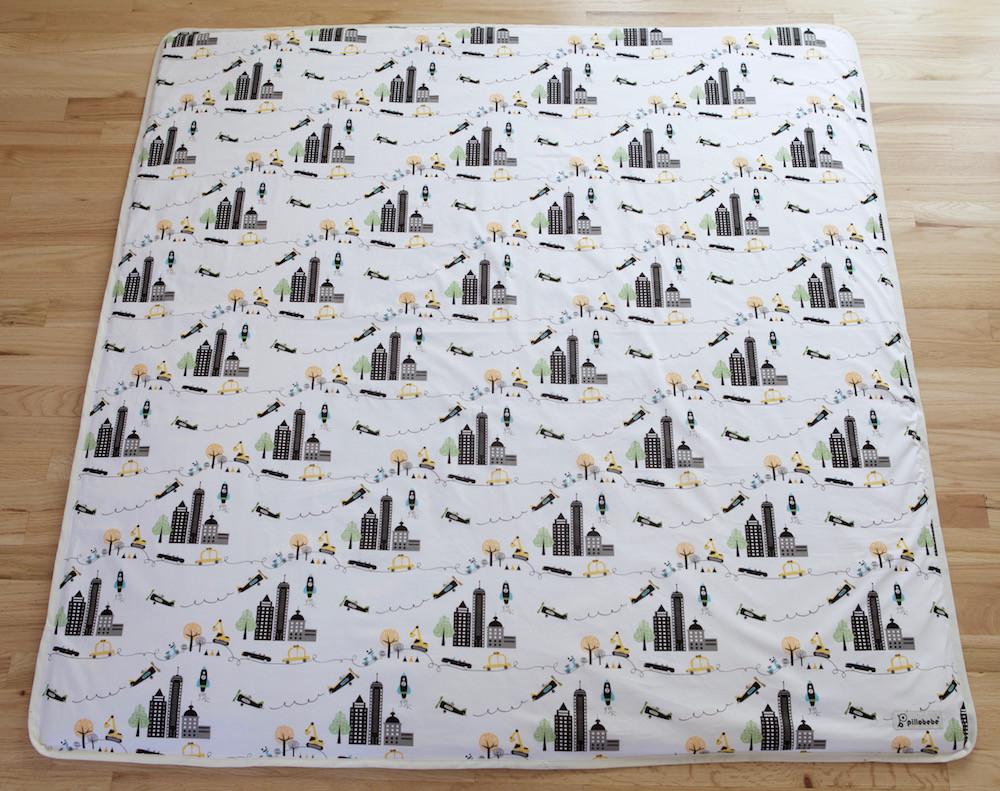 Let's take a closer look at the materials this play mat is made of.
The outer cover is made of 100% GOTS certified organic cotton. At the bottom there are silicone anti-slip dots. The filling is also 100% organic cotton. It means that the cotton hasn't been processed or bleached, and the brand hasn't used dyes, chemicals or fungicides for it. Therefore it's completely raw material.
This crawling baby mat is free of: PVC, BPA, BPS, and PU, it doesn't contain any flame retardants, phthalates, lead, VOCs, formamide or formaldehyde.
Because of the cotton insert Pillobebe Organic Mat is not as thick as foam play mats. Single batting is approximately 0.5″ high. However, the brand gives parents the option to choose single, double or even triple padding! If you have hardwood floors I'd opt for double or triple insert. Obviously it makes the mat more pricey, but it's a tradeoff for having a play mat that is cozy, comfortable, truly non-toxic and safe for the baby.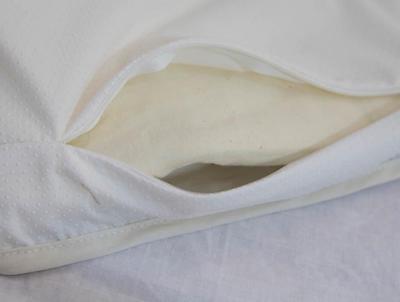 Another advantage is its size – this a really large play mat. The insert measures 50″ x 50″, while the cover is 54″ x 54″.
This GOTS certified organic cotton play mat grows with children, and it can be used for infants, toddlers and even preschoolers! Colorful, but not flashy, prints will attract baby's attention, and encourage baby to play on tummy. It's also a comfortable mat for baby to crawl and sit-up. This soft mat can be used from infancy as your child reaches another milestones and grows into a wise and curious toddler.
Pillobebe is a fantastic baby play area for learning through play – it's a cozy and comfortable surface where baby can practice their fine and gross motor skills, as well as develop cognitive skills while laying on the back or tummy.
What's important – both parts of this mat are machine-washable. The cover is removable and should be washed separately. It's worth to notice that since the padding is made of cotton, it mat shrink after washing. That's why it's recommendable to engage the baby in mess-free play to reduce the need for washing the insert to a minimum to keep its longevity.
In case you need to replace the insert, need more cushion or prefer thicker mat, you can always purchase extra pad separately which is very convenient.
This play mat for kids is also easy to store, because it all-fabric. You can simply roll it and store in a closet.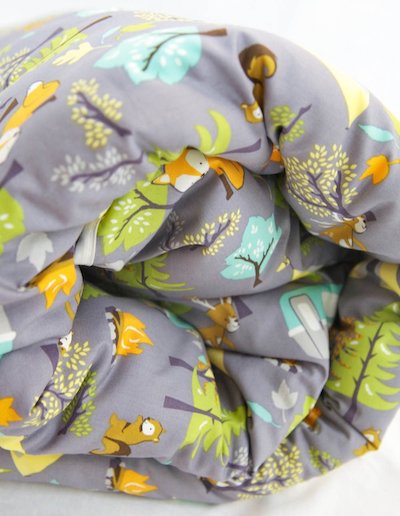 All Pillobebe organic mats have beautiful designs. There is safari theme, NYC pattern, forest theme, clouds, campers and many more. Keep in mind that some designs may not be available at this time. You can check which patterns are currently for sale on Pillobebe website.
Generally speaking Pillobebe Organic Play Mat is the most expensive non-toxic baby mat. I wish organic products were more pocket-friendly but for now they seem to be "luxury" products.
The last thing that I'd like to mention is that Pillobebe Organic Play Mat is handmade in the US.
Best Non-Toxic Play Mats – FAQ
If you're into more eco-conscious parenting and just started learning about non-toxic play mats, here is basic information that you should know before making a purchase.
Below you'll find out what toxic chemicals to avoid and what are the benefits of play mats for babies.
Are Play Mats Toxic?
On the market we can find hundreds of play mats for babies. Traditional play mats are made from ethylene-vinyl acetate (EVA) foam or polyvinyl chloride (PVC). The fact that these artificial, plastic materials have been used in toys and baby gear for decades doesn't mean they are safe or don't have long-term negative effects on health. Both these materials are TOXIC.
PVC often contains chlorine, lead and phthalates (which are hormone disruptors). These chemicals can be absorbed through skin contact, as well as inhalation and ingestion4. That's why PVC mats are so dangerous – they come in direct contact with babies' skin!
EVA foam mats are considered to be a safer alternative to PVC play mats, but they are also toxic, because they give off formamide. This substance makes the play mat soft and squishy, but it's been considered a carcinogen, and found to cause developmental harm when it's absorbed by breathing.
These two plastic materials are also not eco-friendly at all. I'm trying to avoid these harmful chemicals whenever I can.
Thankfully not all play mats are toxic. If you're looking for non-toxic play mats, choose latex foam, GOTS certified organic cotton or other OEKO-TEX certified fabrics instead of PVC mats, EVA foam play mats or petroleum based polyurethane foam mats.
Are PVC Play Mats Safe?
After an in-depth research on PVC toxicity and reading a few studies, I consider PVC play mats to be unsafe and toxic for babies. PVC contains endocrine-disrupting phthalates. When this toxic material directly touches baby's skin, phthalates are absorbed5.
I think it's important to choose children's products that are phthalate-free. Make sure to always read ingredients list and read labels. If you want to give your baby safe play space, choose play mats that are tested to be free of PVC and phthalates.
In this article I shared my favorite 4 great non-toxic options that are perfect alternatives for popular foam puzzle crawling baby play mats.
>> Here's my list of non-toxic baby diapers and tips on how to choose phthalate-free diapers
How To Clean Play Mats?
PVC or EVA foam play mats are the easiest to clean as you can just wipe them with a damp cloth.
However, since I recommend here more eco-friendly baby mats, the cleaning methods will depend on the fabric type.
Pillobebe mats are all machine washable, just like the Wee Gallery mat. Toki has only machine washable cover (the insert is latex foam which obviously is not machine washable). Finn+Emma non-toxic play mats also have removable covers and you can machine wash them.
It's important to keep your play mat clean and free from germs (infants mouth everything!) – check out my cleaning tips for different types of playmats.
How Does A Play Mat Support Baby's Development?
Generally speaking, a play mat, also called tummy time mat or baby crawling mat, is a fantastic and useful thing that encourage baby to learning through play.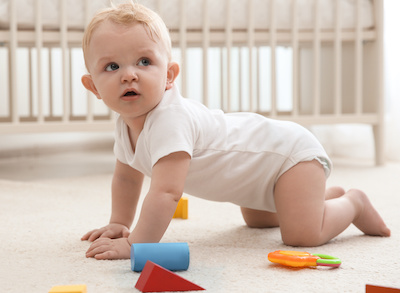 First of all, it provides a safe and comfy surface for tummy time – which is crucial for strengthening baby's neck, back and core muscles. Why is tummy time so important? It's a precursor to crawling, it encourages baby to strengthen muscles which prepares them to other activities like rolling over. Moreover, it reduces the risk of flat head syndrome.
>> Read more about tummy time, when and how to introduce it, and its benefits
When the baby has stronger neck and back muscles, he/she also starts to learn to hold the head up and sit upright unassisted. Without the neck strength sitting up wouldn't be possible. This show how crawling baby mat and tummy time are important for child's gross motor skills and physical development.
Baby crawling mat is also helpful in sensory activities. Choose a play mat that has interesting pictures that will attract baby's attention and allow baby to focus and explore new things. For newborn babies the best ones are black and white pictures. You can also use toys or books and present them to your baby during the tummy time or hold them above baby's head to facilitate over-head play.
If you choose a mat with pictures of animals or other objects or with toys that make sounds, it will simulate baby's cognitive development and curiosity. During the tummy time you can also place baby's toys in front of him/her and cover them with a cloth diaper to help your baby learn object permanence.
Whether your baby will be laying on his/her back or tummy use some toys to encourage baby to reach and grasp. This will help baby to develop fine motor skills and work on fingers' precise movements.
There are plenty of funny and engaging activities you can do with your baby on a play may – use your own imagination to help your baby develop his/her own imagination and creativity!
How Do You Do Tummy Time On A Playmat?
The American Academy of Pediatrics (AAP)6 says that you can basically start introducing tummy time when you get home from hospital, but only if your doctor/pediatrician rules out any medical contraindications or health complications. You should definitely consult with your pediatrician when exactly start tummy time.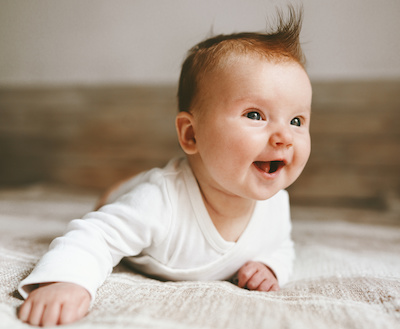 At the beginning it can last only 1-5 minutes per sessions, and up to 10-15 minutes per day. Around 3 months it can be increased up to 30 minutes (spread through the day in multiple sessions)7.
It's best to do tummy time on a playmat, as it prevents the baby from hitting the floor with his/her head.
Baby play mat will provide supportive and soft surface for this important baby workout.
Once you put the baby on his/her tummy on the mat, place some toys in front of the baby to attract their attention and to encourage them to stay in this position. For newborn babies it's best to use black & white toys. You can also use black & white play mat like the one from Wee Gallery with pictures that will grab baby's attention.
Never leave your baby unattended. Sit in front of the baby or have someone else to interact with your little one during this activity.
---
The purpose of this article is informative. It's not a substitute for medical consultation or medical care. Remember: safety first! Consult your doctor/pediatrician in case of any doubts, and before you introduce tummy time. The author of this article does not accept any responsibility for any liability, loss or risk, personal or otherwise, incurred as a consequence, directly or indirectly, from any information or advice contained here. The article contains affiliate links – your support helps us run this blog!
Resources:
https://www.madesafe.org/
https://www.becausehealth.org/
https://certifications.controlunion.com/
https://health.ucdavis.edu/
https://naturalbabylife.com/
https://www.aappublications.org/
https://kidshealth.org/
Source of pictures:
Pictures of Toki Mats belong to Toki Mats. Source: https://tokimats.com/
Pictures of Pillobebe Mat belong to Pillobebe. Source: https://pillobebe.com/
Pictures of Wee Gallery Mat belong to Wee Gallery. Source: https://weegallery.com/
Pictures of Finn+Emma Play Mats belong to Finn+Emma. Source: https://www.finnandemma.com/