Would you like to start babywearing with your newborn baby but you don't know which carrier is best and newborn-friendly?
Would you like a buckle carrier, because tying a wrap is too confusing, but all carriers seems to be too bulky and thick?
If you answered "yes" to both these questions, I have something just for you: Ergobaby Embrace. It's a buckle carrier but much lighter. It's almost like a wrap – but doesn't require any tying and it's super-easy to use, ideal for babywearing beginners.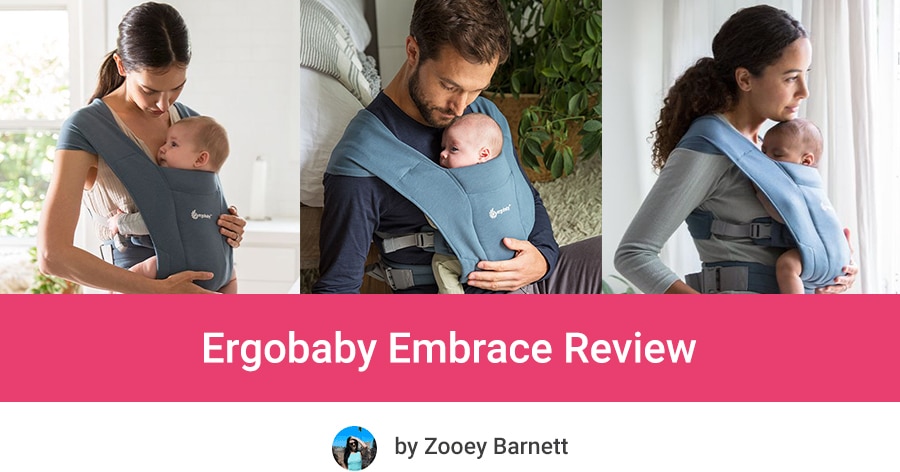 Embrace is perfect as a first baby carrier, it's fully suitable for newborns, and can fit a child up to 12-18 months.
It's also one of the cheapest ergonomic carriers – because babywearing doesn't mean you have to spend a fortune on a carrier.
Are you curious why Ergobaby Embrace may be the perfect choice for starting your journey with babywearing?
Keep reading and you'll find all you need to know about this carrier.
This article contains affiliate links.
Ergobaby Embrace Review
Ergobaby is an expert when it comes to safe and ergonomic baby carriers. The newest addition to their collection is designed for newborns and infants – up to 25 pounds.
The fact that it's newborn-ready, lightweight and so easy to use makes it a great choice as a first carrier.
Carrying Positions
Ergobaby Embrace allows you to carry your child on your front, facing in or out. As you can see this baby carrier is less versatile than Ergobaby Omni 360 or Baby Tula Explore, but that is because it's mainly for newborns and babies up to 12-18 months. It lack the back carrying position – which is best for older babies and toddlers but I don't see that as a drawback. This carrier is for newborns and infants and it suits its purpose really well.

Because of shorter usability and smaller amount of carrying positions, Embrace is less expensive than other baby carrier, but more on that later.
Now, let's focus on the positions – how to carry a baby in Ergobaby Embrace?
You can start using Ergobaby Embrace from birth – if your child weighs at least 7 pounds and is at least 20″ high. There is a position called Newborn Mode – Facing In. In this position you need to narrow the seat width and fold the waist belt twice to make the back panel shorter. This way the carrier will be suitable for a newborn baby.
You don't need any additional inserts to make this carrier newborn-ready. I really like this design, because usually insert makes a carrier much bulkier and hotter inside.
Around 2 months, when the baby is taller than 23″ you should switch to Baby Mode – Facing In position, which offers longer back panel and wider seat. Remember that baby's legs and hips should always be supported from knee to knee. Every child develops at a different pace so you should carefully check which position suits your baby best.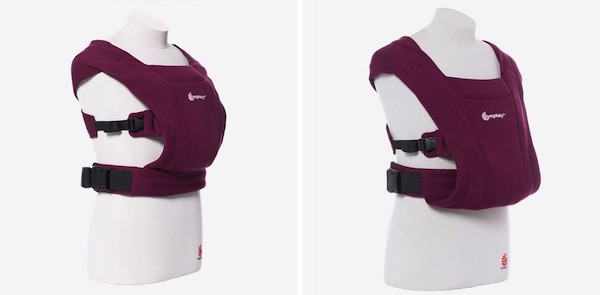 Ergobaby Embrace offers Facing Out Mode as well – but it's only suitable for a baby taller than 26″, who has developed neck and head control, and can hold the chin above the back panel. Ergobaby also recommend this position only for short periods, to prevent baby from overstimulation and too much pressure on the crotch area. Start with 5-10 minutes, once the baby gets used to it, extend it to around 20 minutes. If the baby gets sleepy you should change baby's position to facing inward.
You can find more information about baby positioning on Ergobaby website, with useful tips how to wear and adjust this carrier.
In the video below you can see how to wear newborn baby in Ergobaby Embrace. More videos on how to fit an infant in baby and facing out mode, you can find on Ergobaby website. I think those video guides are very useful. But if you're a beginner I also recommend you to consult babywearing advisor.
Ergonomic & Safe For Baby's Hips
Of course as an ergonomic baby carrier, Embrace keeps babies in healthy position that doesn't put them at risk of hip dysplasia. Your child's legs and hips maintain M-position (also called frog position) which is natural for infant's body and allows the hips to develop in healthy way.
But don't take my word for it, just check the website of The International Hip Dysplasia Institute which has recognized Ergobaby Embrace as hip-healthy carrier (just like other baby carriers from this brand!).
Ergobaby Embrace doesn't force babies to straighten their spine but allows them to rest in natural position (during the first few months infant's back is rounded). This way, the spine develops and gets stronger at its own pace.
As a newborn-friendly carrier, Embrace also offers cushy neck support which allows the infant to rest and nap comfortably and safely. The neck support is perfect for infant who hasn't had neck and head control yet.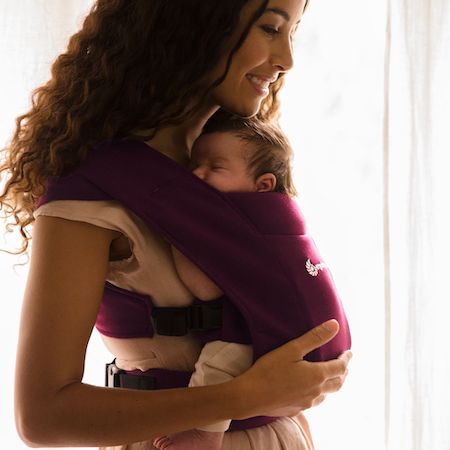 User-Friendly & Comfortable
Ergobaby designed the Embrace carrier to be user-friendly and easy to wear on your own – whenever you're alone with your newborn baby. The straps and buckles are easy to find and connect using one hand, while holding and securing the baby with other hand. Once you have your baby inside the carrier, you can adjust the straps to your body with no effort.
The straps are long so you shouldn't have problems with adjusting them even if you're a plus-size mom (or dad!).
There are 3 things that you should notice when it comes to wearer's comfort. Firstly, Embrace has wide waist strap with generous padding which minimize the pressure on your hips and doesn't cause pain in your lower back.
Secondly, the shoulder straps are very wide and strong, yet they are flat (it's just a piece of thick fabric) which makes the carrier lighter and you – less sweaty.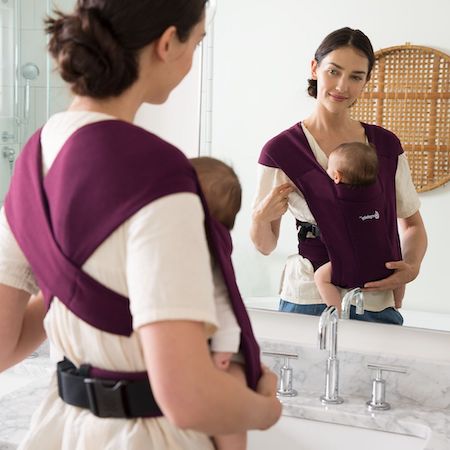 And last but not least – the shoulder straps are X-crossed on the back and look almost exactly like a wrap – ensuring the right weight distribution and preventing you from shoulder pain.
All in all, thanks to the way Ergobaby Embrace is designed, baby's weight is evenly distributed across your upper body. This in turn, allows you to wear your baby for longer durations without feeling exhausted or sweaty. According to online parents' reviews babies feel weightless in Embrace carrier.
The straps of this carrier imitate the wrap, rather that a backpack, making babywearing more comfortable, but suitable only for the period of infancy, when the baby is not that big or heavy. That's one of the reasons why Embrace is only up to 25 pounds.
Its usability is more similar to a wrap, than other buckle carriers (which usually have capacity of 45 pounds).
Light & Soft Fabric
This whole carrier is made of a light knit fabric, which is soft for infant's skin and fairly breathable. Although the fabric is thick and durable, the whole carrier is smaller and thinner than other buckle carrier. You don't feel like you're wearing 3 additional layers, which is often the case with this type of baby carriers. I would say that wearing Ergobaby Embrace is like wearing light airy sweatshirt.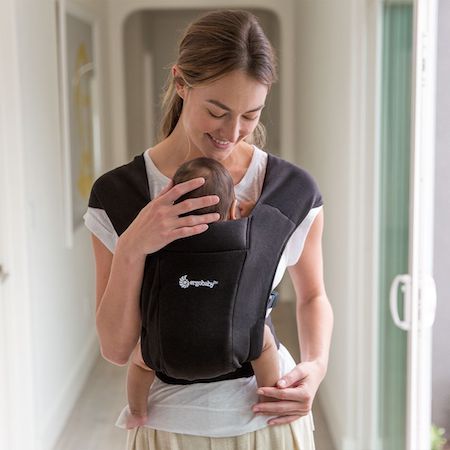 Nevertheless, don't think that this fabric is too thin or that it won't hold your baby's weight. There's no need to worry about that! This material is strong, durable, and tested to hold that weight, yet the whole carrier feels less bulky.
The fabric is a bit stretchy so it's easy to re-position baby's hips and legs inside it and adjust the carrier to your body. On the other hand, the fabric is strong, thick and won't get stretched out over time.
There's one more great thing about Embrace fabric – the whole carrier is machine washable and because it's so light it dries easily.
Colors
Currently Ergobaby Embrace comes in four colors: Heather Grey, Pure Black, Oxford Blue and Burgundy. You can see them in the picture below. I think they all look cute but I'm a huge fan of Burgundy model!

Keep in mind the availability may vary therefore it's worth to check which colors are for sale first. Visit Ergobaby website to see available color versions and check their prices.
---
All pictures belong to Ergobaby. Source: https://ergobaby.com/
Your trust is really important to me: This post contains affiliate links. If you choose to buy something using these links, I receive a small commission, at no extra cost to you. Your support helps me run this blog. Thank you so much 🖤 Zooey