The year 2020 has just begun and Thule is all set with a new city stroller: enter the Thule Spring. This is a mid-priced stroller that is expected to hit the stores in early February 2020.
It looks like this year Spring starts in February! 🙂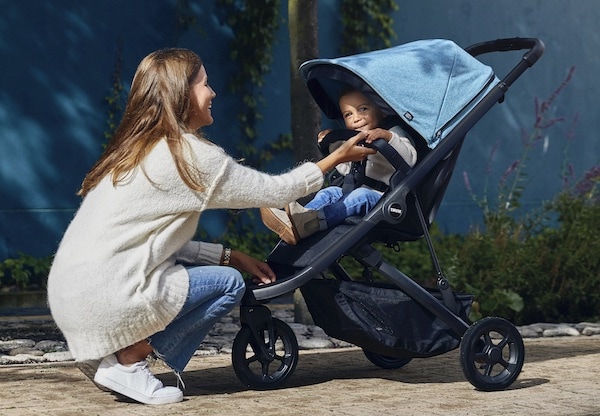 Thule Spring Review – Is It Worth Waiting For?
According to Thule, Spring is purposely made for motion and for navigating narrow streets. A quick glance at this stroller's specs and functionality confirms this.
If you are anxious about what this highly awaited stroller will be like, let's find out together in this Thule Spring review.
This article contains affiliate links.
Design and Compatibility
This new stroller's robust build design seems to have been inspired by the now-iconic Thule Urban Glide. The major difference, however, is that the Thule Spring will be more of a city baby buggy than a jogging stroller.
The Thule Spring is suitable for baby from around 6 months until they are 65 lbs. So, with proper care, this stroller should bring a good deal of convenience when navigating the city with a kid who can't keep up.
There will be option of using this stroller from birth too. You will only need an infant car seat that is compatible with Thule Spring. We're still waiting for a full list of compatible car seats.
Seat
The seat is nothing fancy but appears nicely padded and roomy to accommodate toddlers and babies. Similar to the Urban Glide, the seat of the Thule Spring also has a non-adjustable but padded leg rest sloping down to a narrow footrest. The footrest also offers an easy way for older kids to climb and sit in the stroller unassisted (of course you need to hold the stroller so it doesn't tip over).
For optimum safety during the rides, this seat has a 5-point harness that's very easy for the parent to undo, but almost impossible for the kid to figure out. So, they remain safely seated throughout the rides.
I'm also already in love with this stroller seat's deep recline. This will allow your kid to either stay upright or lean back comfortably during on-the-go naps. When rolled down, the backrest reveals a huge mesh window with a magnetic flap. You can roll the flap up and tuck it temporarily to allow air to seep through and keep the baby cool.
The recline is a single-hand strap recline that offers infinite angles. It folds back by merely pushing the backrest up with one hand while squeezing a Spring-loaded stop cord lock with the other hand. It's nothing complicated, but requires using both hands.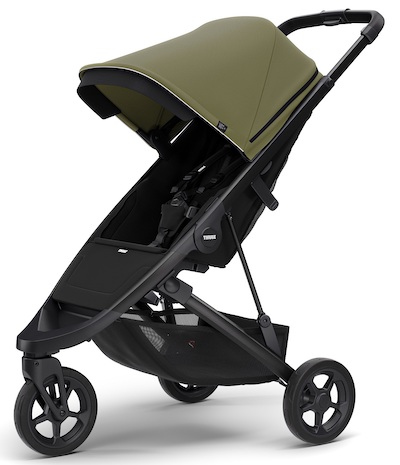 Canopy
The Thule Spring also features a very room canopy to accommodate the growing kid. This is an oversize UPF50+ canopy with an integrated extendable sunshade to offer protection from low sun and direct wind.
This canopy also has a vented window to keep the rider cool besides doubling as a peek-a-boo window. Although it's not a retractable canopy that "follows" the sun, it is generous and will cover the kid up to the torso with the extension engaged.
Lastly, as with all strollers today, you can fold this canopy up so it won't obstruct the kid's view.
Handlebar
A handlebar that's uncomfortably high or low can be a real pain in the neck. To make the Spring a stroller for pretty much anyone, Thule uses an adjustable handlebar that can slide in and out to meet different people's height needs. Adjusting the height is a one-handed feature that only requires pushing a button at the center of the handlebar.
I'm glad that Thule has made this handle telescoping, instead of rotating. When you slide it out, it creates more space behind the stroller – which is essential for tall parents with long legs. This way you won't kick it while pushing it.
While we are still at the handlebar, it also has a tether/wrist strap. This is a nice safety feature that keeps the stroller secured to your wrist to minimize the chances of it rolling away on a sloppy terrain, and when the brakes aren't properly engaged.
Unfortunately, the strap seems permanently built-in on the right-hand side. So, you can't move it to the left.
Storage
This stroller has a substantial open-access basket under the seat. This basket offers an impressive 21 liters capacity and can accommodate your diaper bag during a day in the park, as well as a bagful of groceries.
There is also a sizeable easy-view mesh pocket at the back of the seat that you can use to store different items.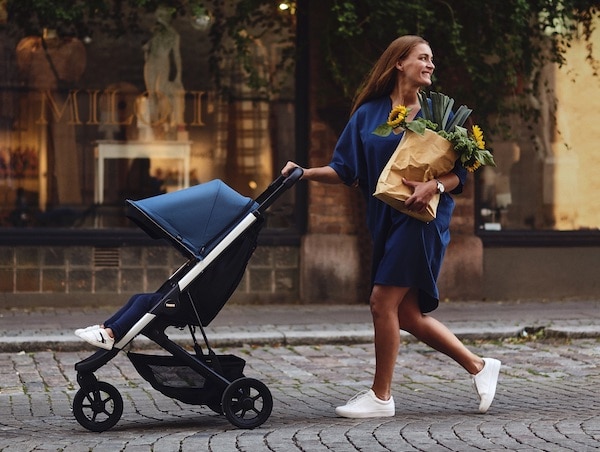 Wheels
As I hinted before, the Thule Spring is spec'd for city strolls and occasional walks on slightly rough terrains. All the wheels have a diameter of 8.5 inches and are foam-filled.
So, while they might not struggle a lot when rolling on lightly cracked city pavements or short grass, they are not great for bumpy trails or sand, especially since only the front wheel has suspension. The good news, however, is that you'll never have to deal with flat tires.
Maneuverability seems great on this stroller even with one hand. Its front wheel can swivel 360-degrees, and there's also an option to lock it into a fixed position.
It's important to keep in mind that Thule Spring, unlike Thule Urban Glide and Thule Glide, is not meant for jogging!
Braking on this stroller is via a red-coded pedal on the right-side rear wheel.
Folding, Lifting & Storage
This stroller's ease of folding is going to be one of its key selling points. It borrows its folding mechanism from the Thule Glide, only that this one makes this process much easier.
To fold the Thule Spring, you'll only need to lift the seat panel to access a colored lever. Pulling the lever right up will collapse the entire stroller and make it 30% more compact.
One area that the Spring beats the Urban Glide is on its automatic lock that engages straightaway so you won't be fighting with a manual lock. On the same note, Thule Spring has the coveted standing fold, which makes it much easier to store.
Yet another important highlight of this fold is its amazingly low overall hanging height. Most people with an average height of 5' and above should be able to hold it off the ground comfortably when climbing up and downstairs. Its compact size is also very likely to fit in most cars' trunk without a lot of struggle.
This stroller's small and quick one-hand fold mechanism and automatic lock make it very easy to collapse even when carrying the child on the other hand. Unfolding it takes 2 hands, though. But it's both quick and straightforward.
Weight & Size
Thule Spring weighs 21 lbs. This isn't exactly a lightweight travel stroller, but it's not bulky either. It won't be difficult to lift onto your car's trunk and when climbing the stairs.
I think the weight of this stroller makes it an ideal all-purpose stroller. It's fairly compact and light for neighborhood walks and trips to the shopping mall. It's also quite narrow – only 17.7″ – so you won't have any problems with fitting between shelves in a grocery store. On the other hand, Spring is strong enough to handle small bumps on the road.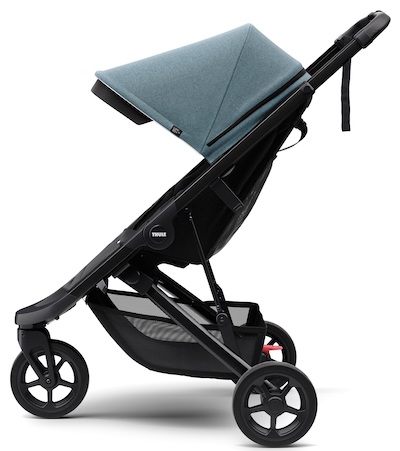 Color Choices and Accessories
This stroller will be available in 6 color choices. There'll also be a vast collection of accessories that you can use on it, including a removable snack tray, a bumper bar, a parent's cup holder and a glider boarder for a second child to ride along.
Features At A Glance
Compact and self-standing fold
Quick one-hand fold
Vented UPF 50+ canopy with integrated extension and peek-a-boo window
Swiveling front wheel with suspension and fixed position lock
8.5-inch foam tires
Padded seat with deep recline
21-liter basket under the seat
Adjustable handlebar
Weight: 21 lbs
Capacity: from 6 months to 65 lbs
6 color choices
Accessories: glider boarder, bumper bar, snack tray, parent's cup holder among others
How Does Thule Spring Stack Up To The Competition?
My review of Thule Spring wouldn't be complete if I haven't compared it with other Thule strollers, as well as Baby Jogger City Mini GT2 – which is surprisingly similar.
Thule Spring VS Thule Sleek
One of the immediate competitors for the Spring will be the Thule Sleek – another … well, sleek and elegant stroller that is also perfectly designed for urban adventures. The main advantage that the Sleek offers is its ability to expand to a double stroller.
This sounds great if you have twins or if you're planning to have another kid very soon.
The Sleek is much heavier though at 28 lbs. Besides, folding it is not as easy as the Spring.
Thule Spring VS Thule Urban Glide 2
The Thule Spring seems to have borrowed quite a lot from the Thule Urban Glide 2 (the updated version of the Urban Glide).
These two strollers fold easily with one hand and have enormous storage space. However, the Urban Glide 2 is an all-terrain jogging stroller complete with supersize pneumatic wheels and handbrakes. Thule Spring is not designed for jogging, even though it has 3-wheel design.
In addition, Thule Urban Glide 2 is relatively heavier at 25.3 lbs and slightly bulkier too.
Thule Spring VS Baby Jogger City Mini GT2
The Thule Spring and Baby Jogger City Mini GT2 share quite a lot of similarities. These two strollers are designed to accommodate riders up to 65 pounds and have similar weight.
Importantly, both of them are city strollers with almost "all-terrain wheels". They also feature a 3-wheel configuration that makes pushing with one hand very easy and boast one-hand one-step fold too.
What Makes Each Model Stand Out?
Compared to the Thule Spring 2020, one feature that you are going to like with the updated City Mini GT2 is its adjustable leg rest.
The GT2 also sports an all-wheel suspension system unlike with the Thule Spring where only the front wheel has suspension.
This slight variation makes the GT2 a much better option for bumpy city pavements.
The Thule Spring doesn't go down without a fight, though. One area that the Spring wins over the Baby Jogger City Mini GT2 is the accessibility of its storage basket. The newly updated version of the GT2 still has a small basket and there is a straight crossbar which makes fitting a diaper bag or groceries a tad hard. Spring has more easily accessible bin.
Thule Spring Release Date
According to latest information, Thule Spring release date is set for February 2020. I will keep you posted when more details about this stroller are available.
In the meantime you may want to check my other reviews of Thule strollers: Urban Glide 2 jogging stroller or Sleek expandable stroller.
---
All pictures belong to Thule. Source: https://www.thulegroup.com
Your trust is really important to me: This post contains affiliate links. If you choose to buy something using these links, I receive a small commission, at no extra cost to you. Your support helps me run this blog. Thank you so much 🖤 Zooey