If you thought that Thule makes only jogging strollers, you will be really surprised with their new model prepared for 2018. Thule Sleek is designed for city adventurers! It's not only multi-functional and flexible, but also stylish and chic. Here's a sneak peek on its features!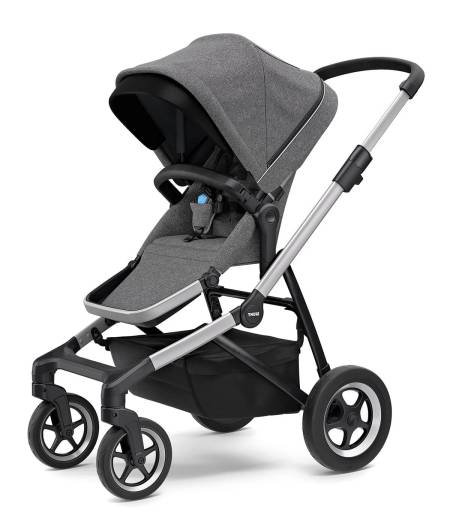 Thule Sleek Review
Convertible and expandable strollers are getting really popular nowadays. Not only Nuna is going to release their first stroller that expands from single to a double. Thule also designed their first expandable stroller which comes out in 2018. It's also their first four-wheel stroller!
Thule Sleek combines functionality and elegance. The light and modern design is perfect for urban parents. This stroller is easy to steer to help parents move around the city jungle and comfortable for the little passengers as well.
Psst! If you are looking for a stroller that can be used from infancy to toddlerhood, for one or two kids, check out my list of 9 best convertible strollers of 2018.
Seating options
As every other convertible and expandable strollers, this one also gives parents flexibility to attach different seats to the frame, depending on family needs. Below you can see the different seating options in single and double mode.
Thule knows that every family is different and has different needs, that's why their new stroller – Thule Sleek grows with the family and adjust to its changing needs. Parents can use many seating options and create their own Thule Sleek just like they want.
Toddler seat
In the basic set this stroller comes with regular toddler seat which is reversible and equipped with 3-position recline. There is a flat position which according to manufacturer is suitable for newborns. However it is still few degrees reclined so I'd guess you will need an additional insert or body pillow for proper support for your newborn. Great thing is that the recline is one-handed, there is a lever on the back of the seat which you need to use to lower or raise it.
What I really like about this stroller is the upright position – it's pretty up, which is perfect for curious toddler. Such a straight upright position is really rare, especially among everyday strollers. Big plus for Thule Sleek!
There is also a leg rest that can be adjusted separately, as the baby grows. Very useful feature. The seat is equipped with comfy and soft padding that is completely removable and washable. There is also adjustable 5-point harness with padded straps. The is also bumper bar that can be open from either side so parents can have easy access to their baby.
The regular seat has capacity of 48.5 lbs, while the second seat has weight limit of 33 lbs. On many websites you can find incorrect information that both seat have capacity of 75 lbs (and 150 lbs of total capacity). The brand lately confirmed the weight limit of 48.5 lbs and 33 lbs, for the regular and sibling seat respectively.
Bassinet
There is also option of attaching a bassinet to the stroller frame, so parents can make it suitable for their newborn baby. The canopy and apron protects infant from the sun and wind. The sunshade is adjustable, has sun visor and mesh part which opens with a zipper. The weight limit for bassinet is 19.5 lbs. It will be available in 5 color versions: red, black, navy, grey mélange and dark grey.
Infant car seat
Thule understands that urban parents often drive with their kids and know that car seat compatibility is a must-have in a stroller. That's why the new Thule Sleek can be also turned into a travel system as it is compatible with infant car seats. Sleek can accommodate two infant car seats, you just need to purchase special adapters separately.
Options for two kids
Parents can expand Thule Sleek to a double tandem stroller and add another toddler seat or infant car seat. It perfect option for parents of twins or parents who plan on having second child shortly after the first one.
I love the fact that this stroller comes with upper seat adapters, so you don't have to spend extra money on this accessory!
Oh and there's one more thing. When you convert this stroller to a double the upper seat goes even more up and it's really close to the parent. It's really great features, especially if you have two kids of different age, because you can keep your youngest one closer to you. It also helps you to interact and bond with your baby. And thanks to awesome design you don't have to worry this upper seat canopy will cover the handlebar and make pushing more difficult.
As you can see this stroller really grows with the baby and adjust to expanding family. Parents can start using it since birth with a bassinet or infant car seat. As the baby grows and develops neck and head control, you can change it for a regular, toddler seat. And when you're expecting your second child, you can add infant car seat or second toddler seat.
Option for third child
You can also add a board for the third, older child where he can stand during the stroll. It's great option if you have also a preschooler.
Canopy
The regular seat has good-sized canopy with a sun visor. Thanks to it your child will be protected from sun, wind and rain, while being also protected from overheating since there is a rear zippered mesh part of the canopy. The sun visor can be folded away or unzipped when not in use.
There is also silent peek-a-boo window with magnetic closure so you can easily check on your baby during strolling without waking him up.
Great thing about this canopy is that you can slide it up as the baby gets taller, giving your baby even more room to grow.
Handlebar
The handlebar can be adjusted to different heights to provide comfortable pushing for shorter and taller parents. There is 8.5 inches of adjustability. The push bar telescopes in and out which is awesome because it gives taller parents more space behind the stroller so they don't kick the rear axle and wheels.
Wheels & Suspension
Thule Sleek wheels are filled with foam, durable and resistant to abrasion.
Front wheels are pivoting to make the stroller more nimble and easier to maneuver even in tight turns and even with two kids. Parents can also lock them to increase stability when they are going over rougher terrain, like gravel or grass.
The wheels have one more awesome feature: they have a reflective inner part to keep you and your baby visible and safe during morning or evening strolls.
Each wheel has independent suspension which provides comfortable ride, even when going over cobbled street or gravel.
Brake
It has single action brake, placed in the middle of the rear axle. The pedal it quite big which makes it easy to press and lift.
Storage space
Thule Sleek offer really nice storage basket under the seat. This bin closes with a zipper to protect your belongings from falling out or from the rain. Besides, when you fold the stroller, you stuff won't fall out! And even when the basket is zipped, you have the quick access to it because the rear part extends and closes with magnets. It's really smart solution, that you don't have to unzip the basket to take out your gear. This bin can hold about 11 lbs.
And if this basket is not enough for your gear, you can always add another storage bag and attach it to the stroller frame, right behind the basket.
Size & Weight
Usually tandem double strollers are heavy and long which makes them hard lift and difficult to steer. With expandable stroller it's different, these type of strollers is much shorter, because the frame has the same size in single and double version. Thule Sleek is an example of that.
It's not long, so parents can easily push and turn it. Going over curbs or putting it to the car trunk won't be a problem because this buggy is pretty light! It weighs about 27 lbs which is still amazing for such a multi-functional and convertible stroller.
The chassis is really lightweight, as it is made of aluminum. So the stroller is pretty easy to carry, especially when the seat is detached.
Folding
To fold the stroller you just need to pull two triggers placed on both sides of the handlebar and it collapses immediately. It's very easy to do, takes few seconds and the stroller after folding is quite compact. What's really great is that you can fold it with or without the seat attached. However, keep in mind that the stroller is easier to transport and store when the seat is detached.
Accessories for Thule Sleek 2018
Parents can really customize their Thule Sleek and adjust it to their needs, thanks to wide variety of accessories (sold separately). For example there will be parent cup holder and child tray available for Sleek 2018.
Thule Sleek 2018 – Color versions
The new stroller from Thule will be available in 5 different colors, each of them looks very elegant and chic.
Here are the color versions for Thule Sleek: Grey Mélange, Midnight Black, Shadow Grey, Navy Blue and Energy Red.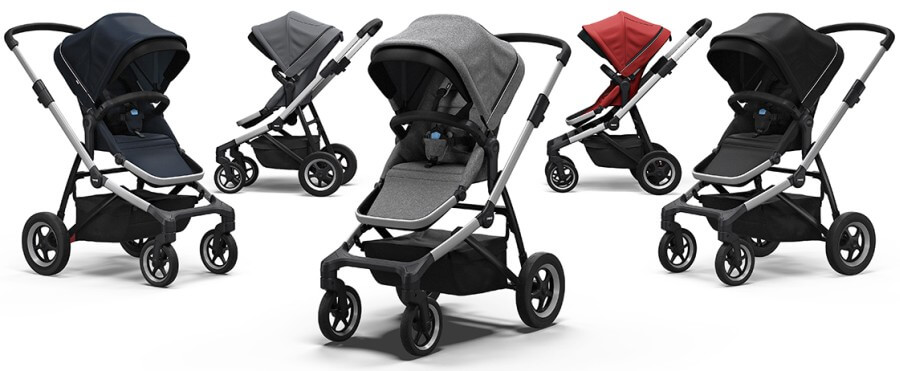 Thule Sleek – Release Date
You're probably curious when this stroller is going to be available on the market. According to the information on brand's official website, Thule Sleek release date is scheduled for June 2018.
Check out also other new and best strollers that come out in 2018.
Thule Sleek – Price
The basic set will include the chassis with a toddler seat and it will cost about $849. The additional seating options like bassinet or sibling seat will cost about $249 each.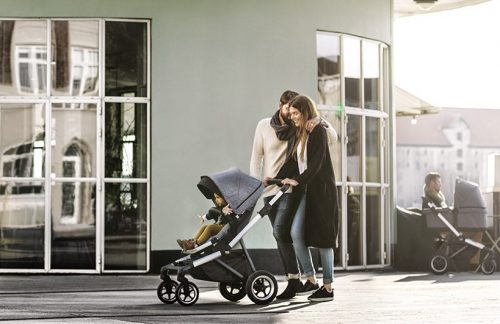 Best application of Thule Sleek 2018
This stroller is design for city dwellers who want to share their urban excursions with their kids. It's perfect option for parents who have one child, but plan on having second baby soon or already have two kids. The stroller has nice balance so it can be used not only for twins, but also for a newborn and older toddler.
Thule Sleek is great choice for parents who want to run errands or go shopping with their babies and sometimes like to go for an off-road trip. Thanks to wonderful wheels and suspension this stroller can handle many types of terrain. And with nicely padded reclining seat and good-sized canopy it's super comfortable for the child.
I have a feeling the next year is going to be awesome! There are so many new strollers coming out in 2018. Manufacturers prepared plenty new models that are really worth waiting for and Thule Sleek is definitely one of them.
Stay tuned for the latest information!

Hello Moms! I am Zooey. I am a wife and a mother of three amazing kids: 3-year-old Haley and almost 1-year-old twins Jesse and Matthew. I am a jogger, cooker and blogger
If you have a question or a comment, do not hesitate to write to me! 🙂