Baby Jogger City Tour LUX is a stylish and innovative stroller: lightweight, compact, multi-functional and suitable for newborn.
And it is finally on the market!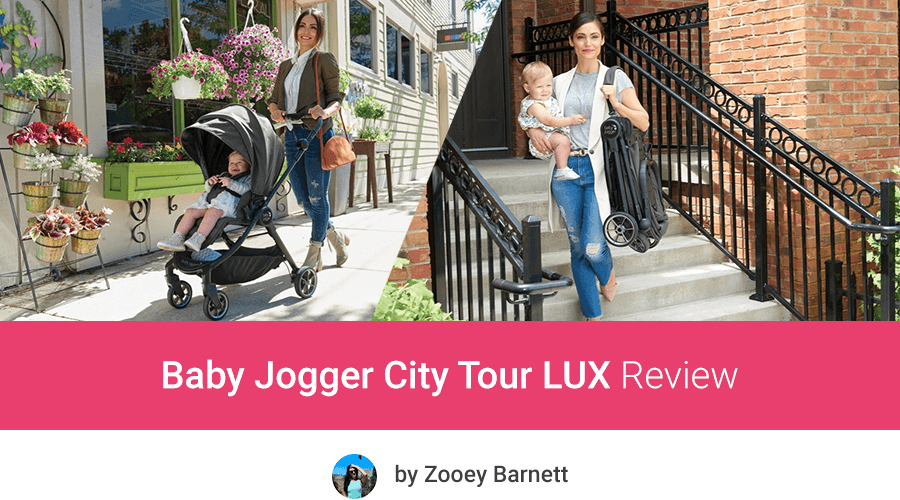 This article contains affiliate links.
Baby Jogger has upgraded the City Tour to LUX version by adding few useful and versatile features that parents were asking for. The regular City Tour is an awesome stroller, perfect for travel by plane, but it can be used only for child who can sit unassisted (around 6 months). Many parents complained about lack of infant car seat compatibility and lack of possibility to use this stroller for newborns (you can read more about it here).
The new model – Baby Jogger City Tour LUX has all that features that we were waiting for!
Every parent who appreciate combination of minimalism, functionality and modern design will love this stroller.
Here is my Baby Jogger City Tour LUX Review with all information you need to know before you decide to buy it Find out if this stroller is worth the money if it is right for you and your little bundle of joy.
Key features:
It weighs less than 20 lbs – easy to carry
Compatible with infant car seats and newborn carrycot – now you can have 3-in-1 lightweight travel system!
Deep recline & rich padding – for baby's comfort
Option of attaching a board for older sibling!
Compact fold for easy storage and transport
Price range: $$$ (Compare the price on Amazon & on PishPosh Baby)
Baby Jogger City Tour LUX Review
What features has the new model City Tour LUX 2018 from Baby Jogger? It is very different from previous model of City Tour stroller.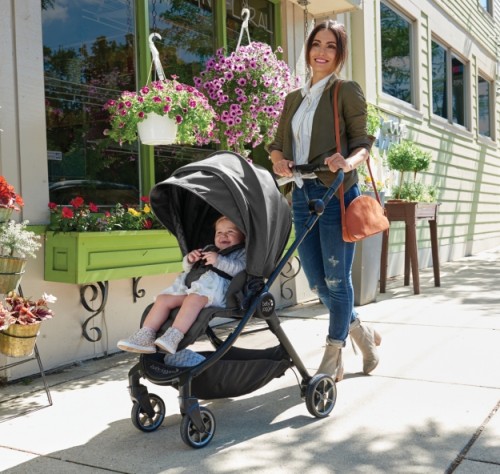 Seating options
Older version of Baby Jogger City Tour is equipped only with a toddler seat, suitable from 6 months and there is no seating option for newborns, since the stroller isn't compatible with infant car seats and carrycot. The upgraded model – City Tour LUX is the manufacturer answer to customers complaints and requests. It will have much more seating combinations.
Regular seat
The regular, toddler seat is nicely padded and multi-position recline with near-flat position (it's not completely flat, it's still few degrees reclined). I really like that we can easily lower or raise the seat with just one hand by using a lever. There is also adjustable leg rest for better baby's comfort, which also is one-handed.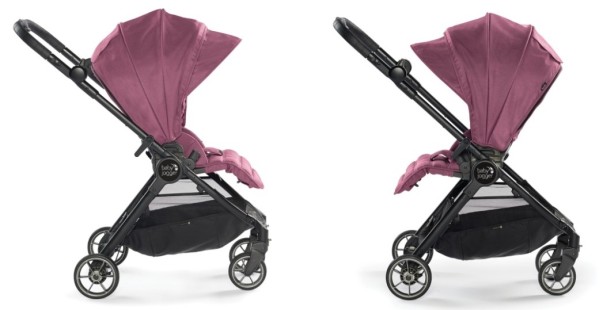 The seat can go in both directions so the baby can face parents or the World. There is 5-point restrain with padding. This seat can hold a passenger from 3 months up to 45 lbs. What I really like about the toddler seat is that it's much more roomy and deep than in original City Tour!
Want to check all color versions and current price on Amazon? Here is Baby Jogger City Tour LUX in Granite, Iris, Slate and Rosewood.

Carrycot
This new model offers a carrycot which can be attach to the frame. It provides fully flat position, suitable for younger babies. Thanks to it you can make the stroller suitable for your newborn baby.
With the carrycot this is one of the smallest and lightest strollers that can be used since birth. What's really great about this bassinet is that it folds with the stroller! You don't have to remove it to fold your City Tour LUX. It's very convenient and makes travel with newborn so much easier. Moreover you can fold this carrycot separately as well for more convenient storage for your next baby.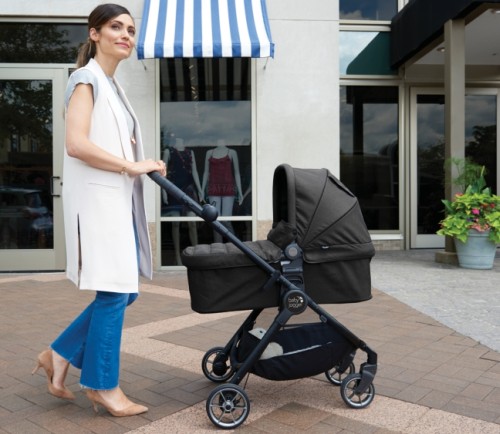 I love this foldable bassinet! Thanks to this feature you can have a stroller with bassinet option, but it is much easier to store or transport than other prams. Keep in mind that the bassinet is sold separately (but it's not very expensive). You can check its availability and price on Amazon by clicking here. It comes in four colors so you could match it with your City Tour LUX stroller.
Infant car seat
Yes! Baby Jogger City Tour LUX is compatible with infant car seats!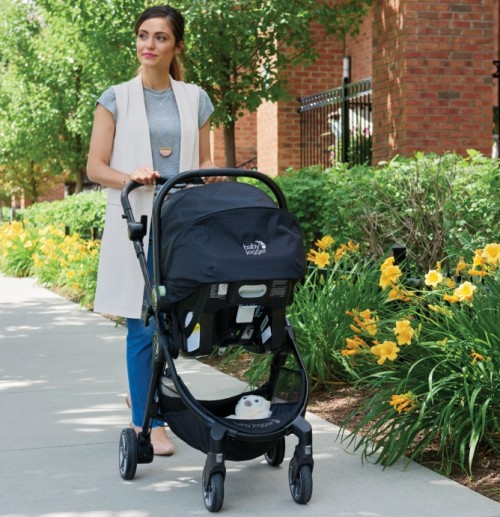 That was the main parents complaint about the older model (regular City Tour) which doesn't work with car seats. Now you can easily remove the regular seat, click the infant car seat onto the stroller frame and you're ready to go. It's very useful for parents who often drive or want to run some quick errands or go shopping with their newborn baby.
Thanks to new options for newborns and infants (carrycot and car seats) City Tour LUX can be used from birth. Finally this excellent light stroller is also suitable for smaller and younger babies and makes travel with an infant more easy and enjoyable.
Option for the older sibling
With Baby Jogger City Tour LUX 2018 you can make a room for your other, older child.
There is an option of attaching Glider Board so your older child can also have a ride in City Tour LUX! You can check how this board works and how much it costs on Amazon here.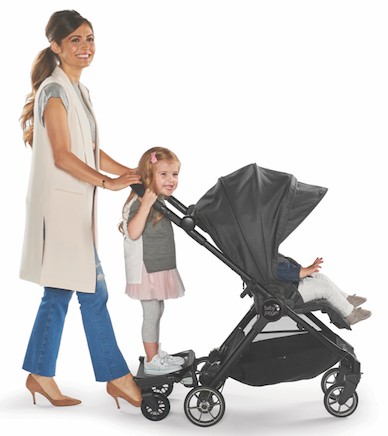 I really like that this stroller has option for the second child – it's perfect solution for parents who have kids of different age, one of whom is older toddler or preschooler.
Canopy
This stroller has awesome huge 3-panel canopy with flip out sun visor. The canopy is not only roomy – giving baby a lot of space to grow, but also provides great shade from the sun. Protects baby from UV rays and wind. It's bigger than the canopy on original City Tour stroller.
This canopy has also a peek-a-boo window that gives nice extra air-flow and allows parents to check on their baby during stroll. The window closes with magnets, so no noisy Velcro – yaay!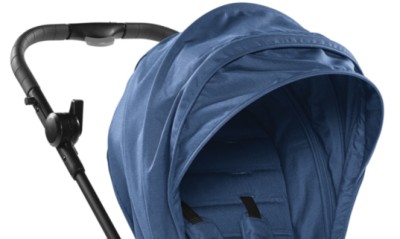 Handlebar
The handlebar on City Tour LUX is similar to the City Select LUX handlebar – the grip has rubber rings which makes it more comfortable to operate and more durable than foam padding. However, the handlebar is unadjustable.
Wheels & Suspension
There are four single wheels with polyurethane tires which are lightweight, yet very durable. Front wheels are pivoting to make the stroller more nimble. They can be also locked to increase stroller stability when going over more difficult terrain.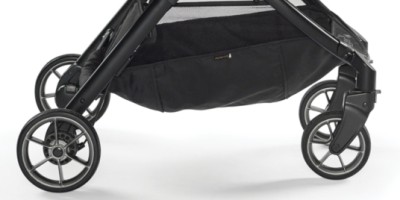 Although the wheels are rather small, they roll really smoothly. There is all-wheel suspension which absorbs shocks to provide more comfortable ride and easier pushing. However, the wheels work the best for strolling in the mall and around the city, they are not all-terrain. This stroller can go over gravel or cobblestone but it will wobble a little bit.
And since the tires are non-inflatable so don't have to worry about punctures or pumping.
Brake
There is very easy to use handbrake. The toggle is placed on the right side of the handlebar. It's definitely flip flop friendly. 🙂
As you can see this brake is different from bicycle handbrakes that are typical for jogging strollers.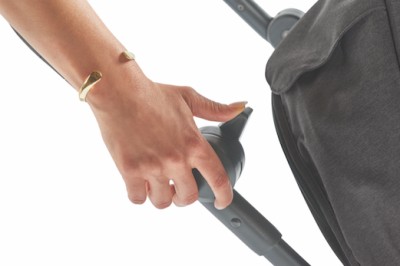 Storage basket
Under the seat there is a storage bin – it's not the biggest one, but as for such a small and compact stroller it is sufficient. It can accommodate all your necessities – the weight limit is 15.4 lbs. In the rear part of the basket there is a zippered pocket where you can put your valuables or smaller items.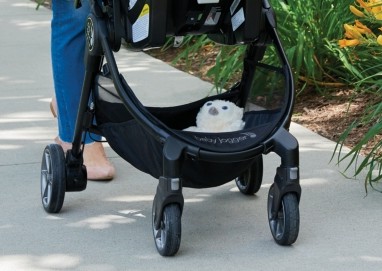 There is one additional storage pocket on the back of the seat. It's useful because you can keep there your essentials like phone and keys within reach.
Weight
This new model is more heavy than the original City Tour which is understandable when we consider it has to hold a carrycot or infant car seat with a newborn baby. It has to be more strong to do that!
It weighs about 19.4 lbs which is still very impressive and light enough for carry around. The new model, Baby Jogger City Tour LUX is not an umbrella stroller, it's rather something between lightweight and full-sized stroller.
I love that this stroller is so compact and light, yet really well equipped!
Folding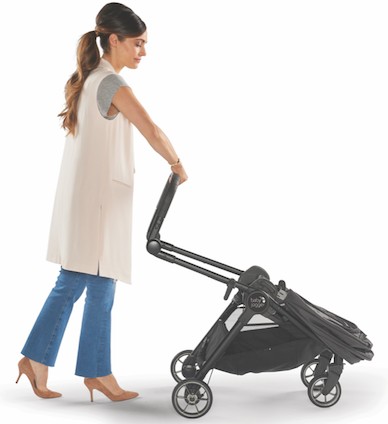 The upgraded model – City Tour LUX folds up similar to the previous model. Folding is super easy, one-hand and takes few seconds. City Tour LUX features one of the easiest fold in the World! All thanks to patented folding mechanism.
Once the stroller is folded it's very compact and doesn't take much space. Baby Jogger City Tour LUX folded dimensions are: 24 x 21 x 11 inches.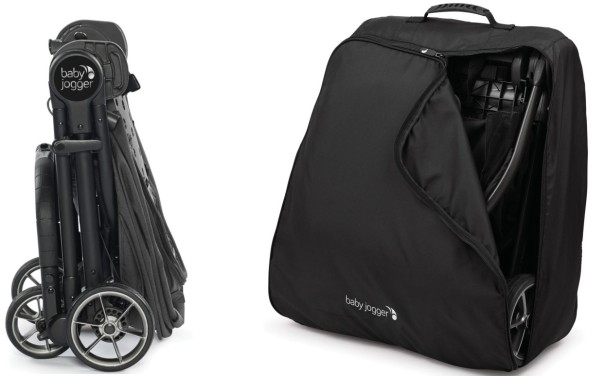 However, this model is bigger than the previous version so it may not be approved as carry-on on all airlines. You should check specific regulations for the airline you choose to be sure.
This stroller stands on its own when folded and features automatic lock which simplifies storage and transport. There is also a shoulder strap and a handle which are useful for carrying the stroller up and down the stairs or when you use the stroller for older kid who can walk but sometimes needs a break and want to ride in it. You can carry around the City Tour LUX almost effortlessly.
You can also put the folded stroller into a travel bag which has convenient backpack straps. This bag is also useful for storing the City Tour LUX. Big advantage is that bag is included in the stroller price.
Specification
| Stroller | Data |
| --- | --- |
| Stroller Type | Convertible |
| Stroller Weight | 19.4 lbs |
| Weight Limit | 45 lbs |
| Fold Dimensions | 24" x 21" x 11" |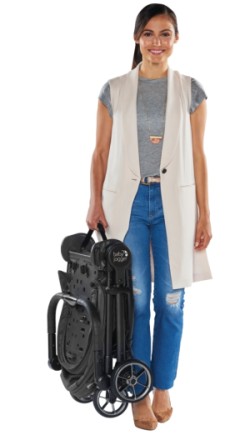 Pros & Cons
Here are the main features that, according to me, are the biggest advantages and disadvantages of this stroller.
Pros
Cons

Pros

---

+ There are 5 seating options – it can be your only stroller, suitable from day one to toddlerhood (with additional attachments)

+ Large canopy has silent peek-a-boo window

+ Decent storage basket – as for such a compact stroller

+ For such a convertible and multi-functional stroller it is very light and portable

+ Bassinet is foldable and the whole stroller is very compact after folding – perfect for parents who have small apartments or small cars

+ It's great choice for parents who often travel by car

+ There is soft padding and beautiful color versions

Cons

---

- It may not fit in overhead compartment on all airplanes

- Wheels are small so they won't handle off-road and dirt trails

- No footrest

- Accessories like cup holder or bumper bar are sold separately
Baby Jogger City Tour LUX – Release Date & Pricing
Baby Jogger City Tour LUX has just been released on the market and it is available for sale! The stroller comes with a carry bag which is a big advantage.
To get the original product & full warranty you should buy it from an official seller, approved by Baby Jogger, for example on Amazon or PishPosh Baby.
You can also check the current price and available discounts on Amazon for original Baby Jogger City Tour here.
What other parents think about Baby Jogger City Tour LUX?
Here's what I found out by reading customer reviews on Amazon.
Parents love the reversible seat and near-flat recline which is very comfortable for sleeping baby. They also praise the fabric quality. Option of attaching the infant car seat, bassinet and Glider Board is very handy and parents like these functions.
Another advantage is spacious storage basket. Most parents like the canopy – it provides good amount of shade in upright position, but when the seat is reclined the canopy is a bit too short to cover the baby.
This stroller is easy to steer on sidewalks and streets and rolls pretty smoothly. It can go over short grass, but it's not suitable for bumpy terrain (read more in this review).
Folding takes few steps, but it's not very difficult and can be done with one hand. Unfolding is a bit difficult, but few parents say it takes practice. As disadvantages parents mention: hard to use handbrake (read more here) and having to purchase the belly bar separately. One parent also complains about the stroller quality and customer support response time.
Accessories for Baby Jogger City Tour LUX
There are few accessories for the new City Tour LUX from Baby Jogger. One accessory is included with the stroller – it is the carry bag. Other items are sold separately.
Image
Description
Baby Jogger City Tour LUX Foldable Carrycot

– Thanks to this accessory you can use City Tour LUX from birth, it's perfect for long-distance strolls with newborn. It has big advantage: you can fold it in half (separately, or when it's attached to the frame). It comes in the same colors as the whole stroller.

Cup Holder & Bumper Bar Set

– You can add to your City Tour LUX a belly bar for your child and a beverage holder that doubles as a storage for snacks or small toy.

Glider Board

– This stroller gives parents option of attaching a Glider Board – to make a room for the older sibling. Awesome solution if you have a newborn and older toddler or toddler and preschooler.
City Tour LUX vs City Tour
If you'd ask me which model is better the original Baby Jogger City Tour or the new Baby Jogger City Tour LUX, I would say, it really depends on your needs. Both stroller are awesome, but have different features and different purpose.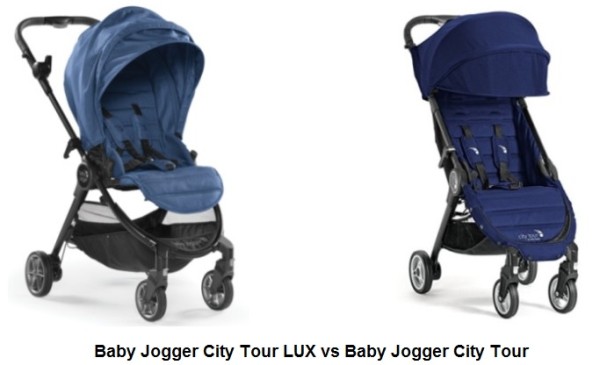 Regular City Tour is great lightweight travel stroller for toddlers. If your child is at least 6 months old and you're plan on traveling with him, this is the perfect choice for you. However, this would be probably your second stroller, because for the first few months you will need a buggy that is suitable for newborns.
The new City Tour LUX is more like a light everyday stroller which can serve you since infancy to toddlerhood. And it can be the only stroller you will ever need. It is also great for travel, nonetheless it is less likely that you could bring in on the airplane. Even if you can't take it as carry-on it is still very useful for travel and perfect for road trips! The City Tour LUX is definitely awesome choice for parents who have small apartment and/or car with a small car trunk. It's really nice to have such a light and compact stroller for everyday use.
So the answer to the question "City Tour LUX or City Tour" depends on when and how you will use your stroller.
If you want to read more about the original City Tour here is my in-depth review of this stroller.
Video about City Tour LUX features
Keep in mind
This new model rather won't fit in overhead compartment on airplane (or at least not on every one), but it's still useful stroller for travel with baby.
3 Reasons Why You Will Love Baby Jogger City Tour LUX
1. Since it has seating options for newborns, it can be the only stroller you will ever need. You won't have to buy another stroller so you can actually save a lot of money!
2. The stroller with regular seat is much more compact and lightweight than other everyday strollers, yet it is really well-equipped.
3. This stroller is a space-saver, so it's great choice for parents who have small cars or don't have much free space at home.
Before you purchase this stroller make sure to check available discounts and read customer reviews on Amazon. If this model doesn't meet your needs, you can check out my ranking of other fantastic strollers this year!
---
All pictures belong to Baby Jogger. Source: https://www.babyjogger.com/en-US
Your trust is really important to me: This post contains affiliate links. If you choose to buy something using these links, I receive a small commission, at no extra cost to you. Your support helps me run this blog. Thank you so much 🖤 Zooey