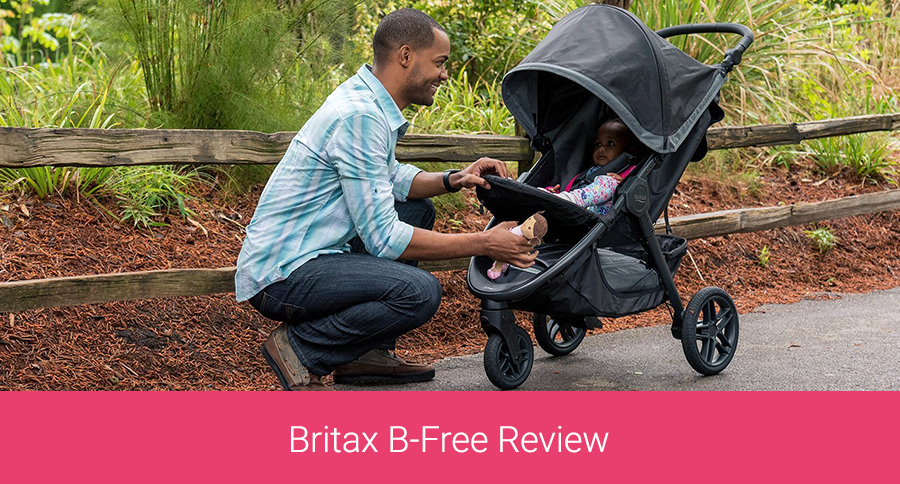 One of the most popular brand in the US released their all-new 3-wheel stroller at the end of 2017. Let me introduce you to Britax B-Free Stroller & Travel System.
You're probably wonder: What features it has? What distinguishes it from other strollers? And the most important: Is it worth buying?
I will answer all of these questions in my Britax B-Free Review. Enjoy!
Britax B-Free Review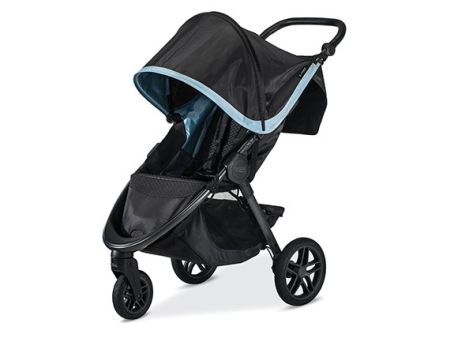 As the name says, Britax B-Free was made to let parents be free to do much more with their stroller.
You don't want a stroller that will slow you down and limit you, right?
This one was designed to give parents flexibility and make their life easier and more convenient. How will it manage to accomplish this task? This stroller has 3-wheel design to provide excellent agility and maneuverability and large canopy for full sun protection.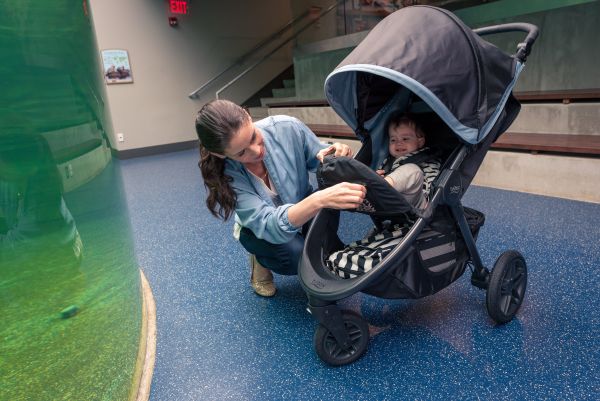 Have you ever had to decide how many snacks or toys you can bring or if the blanket willfit in, because there was so little storage space in your old stroller?
With Britax B-Free you can forget about this problem, because you will find a room for EVERYTHING! It has plenty of storage space so you could take with you all of the stuff you could ever need.
Let's take a closer look at the Britax B-Free features.
Seat & Weight Limit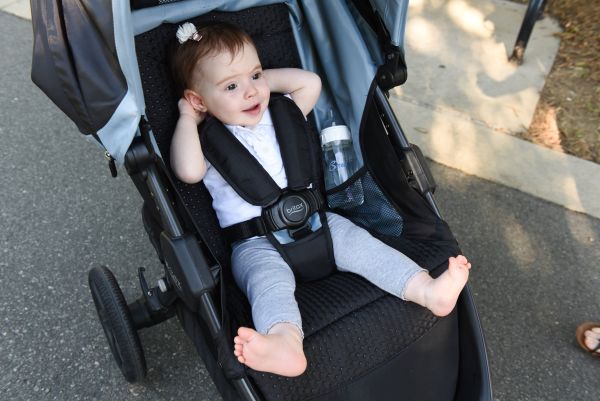 The new Britax B-Free has roomy seat with a large maximum capacity. It can accommodate baby up to 65 lbs. This is truly impressive! Moreover, the seat back is 20" high. This means Britax B-Free is also a stroller for big toddler or older child.
Most of the full-sized everyday stroller has weight limit of 50 or 55 lbs, bigger capacity (like B-Free has) we can actually see only on joggers! With such a high weight limit we have the ability to use Britax B-Free for a longer period.
The seat features multi-position recline. Although it doesn't go all the way down, the lowest position is almost flat. Definitely suitable for napping on the go.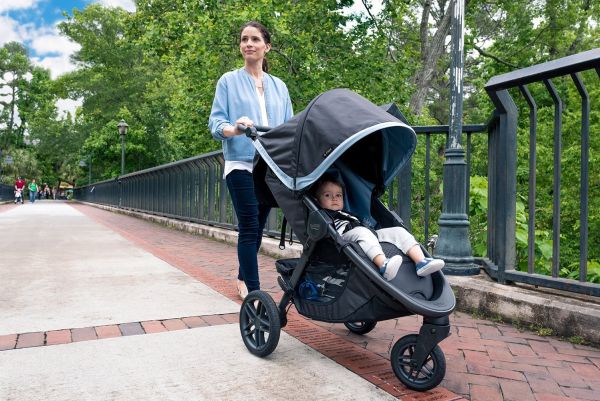 To recline the seat you just need to pull the buckle on the back of the seat – you can do it with one hand. You can stop at any position you want because this is an infinite recline. To raise the seat you will need to use two hands to pull both straps.
There is also adjustable calf rest and 5-point harness that can be adjusted as the baby grows. The seat has nice, soft padding, the fabric is actually textured and breathable (!) – all to provide the most comfortable ride for the child.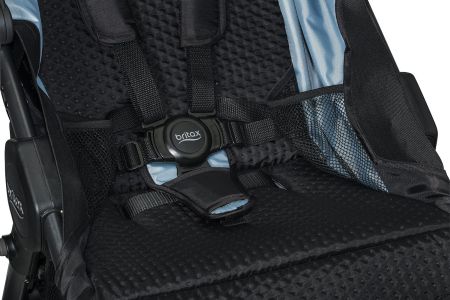 PRO TIP: Although the manufacturer says we can use the main seat from birth, I would rather recommend you to wait few months until your baby has better neck and head control and sits up, because this stroller doesn't features truly flat recline.
It is exactly the same recline angle like in B-Agile 3 – so some parents put their newborns in it, some wait until the baby can sit. In my opinion, it is better to use it as a travel system through these first few months and transport the newborn in the car seat.
Canopy
This is one of the best features of Britax B-Free. It has enormous canopy! It is expandable thanks to a hidden zipper. When the sunshade is fully extended it covers baby all the way down, so the only thing that sticks out are the feet!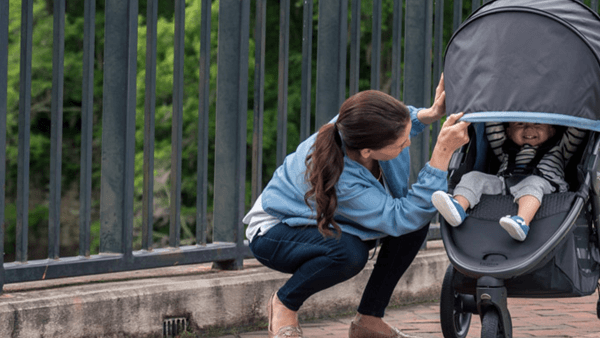 It protects baby from UV rays, wind and rain. I only wish the fabric on canopy was more rigid, anyway, I'm glad it has SPF.
There is also a mesh peek-a-boo window which allows you to see through and provides nice extra air-flow. Another big plus for Britax B-Free for silent magnetic closure on this window (we all know how annoying Velcro closure is!).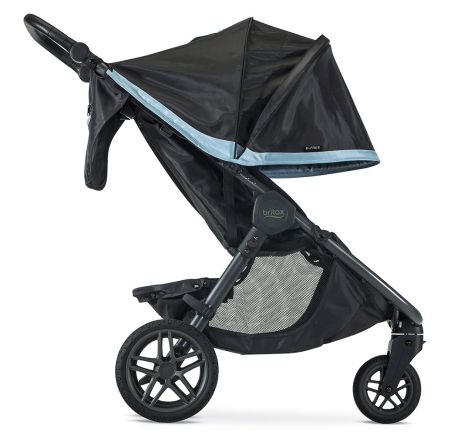 Overall this oversized canopy is fantastic! It protects baby from sun rays and overheating simultaneously.
Handlebar
The stroller is equipped with 6-position adjustable handlebar. If we want to set it higher or lower we just need to rotate it up or down.
Although I prefer extendable telescoping handlebars, this one is also great and nice to have because parents usually share the stroller with other people (for example grandparents) who are shorter or taller.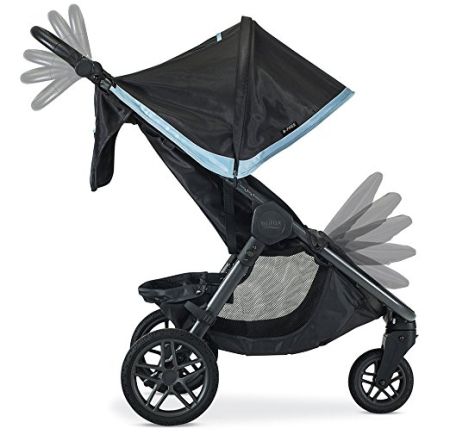 Thanks to adjustable handlebar you can easily change the handlebar height. The grip is comfortable which makes pushing more convenient.
Wheels
This is the first stroller from Britax that has 3-wheel design with single front wheel. Generally speaking such a construction makes stroller more nimble and maneuverable. Going through tight spaces and corners is much easier which such a design.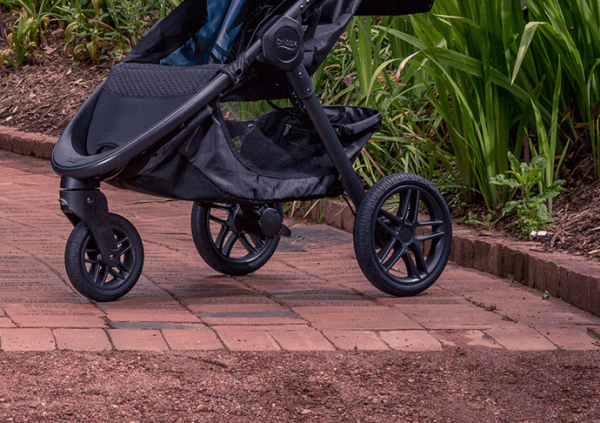 The wheels have all-terrain rubber tires. Thanks to them you don't have to worry about having flat tire and inflating every few weeks, but you can still enjoy smooth ride.
Front wheel swivels which gives the stroller more agility. We can also lock this wheel when going over rough terrain, it will make stroller more stable.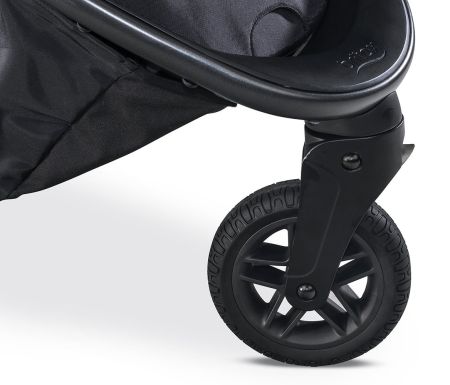 IMPORTANT: I've seen a lot of complains about the front wheel falling off. I'm not sure if this issue occurs on all models, but if you have B-Free stroller check if the front wheel is attached securely, and if it rattles/squeaks/shakes. If you have any problems with the wheel (like spontaneously detaching) you should contact the manufacturer. Some parents who received the wheel replacement say it solved the problem.
Brakes
Britax B-Free stroller is equipped with single-action brake, located next to the right wheel. You just press it down to engage it and then lift it up to unlock the wheels.
It's very easy to do, no matter if you're wearing sandals, flip flops, sneakers or high heels. And you don't have to worry about your shoes getting hurt 😉 This brake is placed in a convenient spot.
Storage Space
This is definitely the best part of Britax B-Free: awesome, large storage space.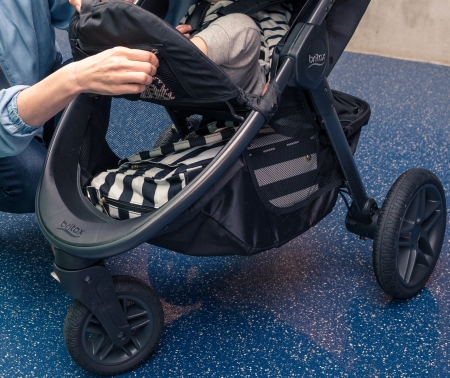 Imagine this situation:
You want to go for a shopping or run some errands with your baby and you are getting ready to go out. You try to squeeze your diaper bag to the stroller basket, but it won't fit in, so you have to take out few things. While you are deciding which toy you can leave at home or if the blanket is really need, your baby is getting impatient.
Eventually you are ready to go, with few diapers and toys less and no weather shield, because it looks like it's going to be a sunny day.
You're finally in the mall and your baby is crying because he wants his favorite bunny. But it turns out, the bunny stayed at home, when you were repacking your diaper bag. Baby is crying aloud, people are throwing angry looks at you. At this point you know you won't get your things done.
Of course on the way home it starts to rain and you don't have the cover, because you COULDN'T take everything.
This sounds familiar? You've experienced this with your old stroller? NO MORE problems like this!
With Britax B-Free you will be able to bring everything you want, no matter if you're going for a short walk or day trip.
It has not only a HUGE basket under the seat but also SEVEN additional storage pockets! There's more room for your baby gear than you can imagine. You don't believe it? Take a look at this picture and count it.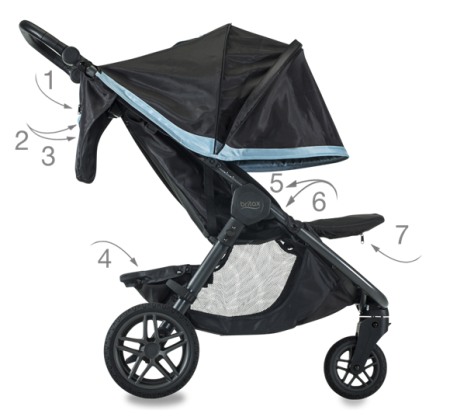 There is something that looks like a parent organizer on the handlebar with large zippered pocket (for a wallet for example) and two smaller open pouches where you can put your bottle of water or a phone and keys. Thanks it them you can keep your belongings within reach.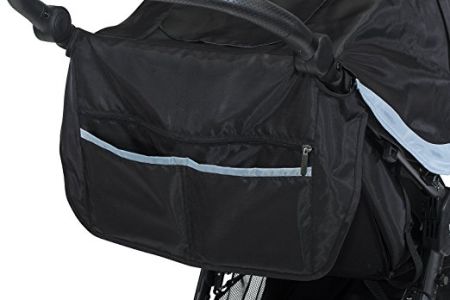 In the storage basket we have additional zippered mesh storage where we can put our valuables.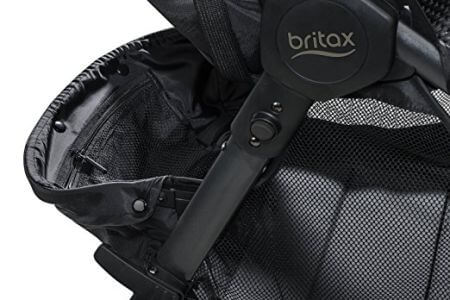 There are also two pockets on each side inside the seat, so the baby could keep the juice box, some snacks or favorite toy at hand. The seventh zippered pocket is hidden under the calf rest!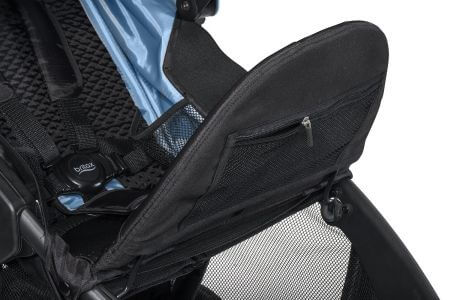 The underseat basket is one of the biggest I've seen on the market. You will fit there a large diaper bag, a blanket, spare cloths for your baby, large bottle of water and few other things you'll come up with. The fabric on the basket is not stiff and extends a little bit.
This storage is easily accessible from the back – there is a spring-loaded bar so the rear part even bends down for easier access and it also keeps your things safely inside. We can also access the bin from the front, we just need to lift the calf rest.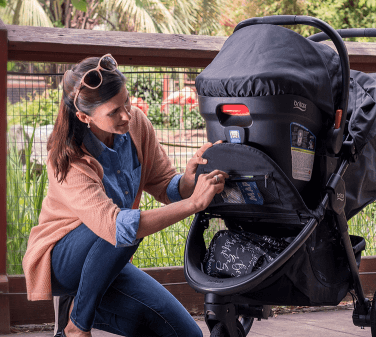 Thanks to so many storage places you are free to take ALL of your essentials and stay longer on the go.
Travel System
Britax gives us two option: we can buy the B-Free Stroller or B-Free Travel System with one of Britax car seats. It's up to you which solution you choose.
Even if you choose to buy only the stroller it will come with Click & Go receivers which are compatible with all Britax infant car seats (B-Safe 35, B-Safe 35 Elite, B-Safe Ultra and Endeavours). Thanks to these included adapters you have the flexibility to add the infant car seat later, whenever you need it. You can change your mind anytime. 🙂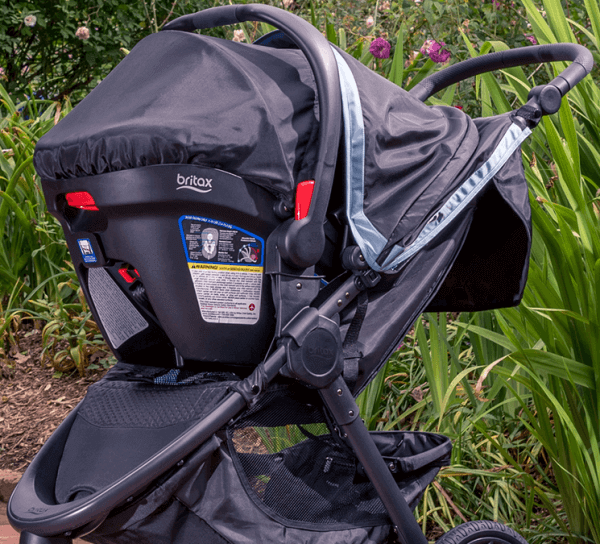 This is great thing that the car seat receivers are included and you don't have to pay extra money for them!
Britax B-Free Travel System
You can also buy this stroller with infant car seat at once. I checked on Amazon and B-Free Travel System is available for example with B-Safe Ultra or B-Safe 35 infant car seat. I've written more about Britax car seats in other article, so here I will only mention the main features.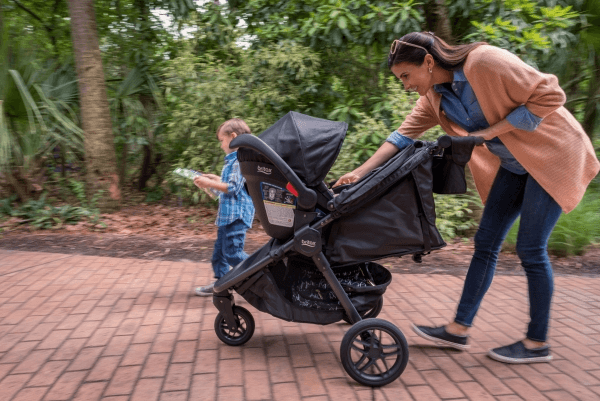 B-Safe 35 has a shape of a shell and offers Side Impact Protection and SafeCell Impact-Absorbing Base. All to absorb the energy during a collision and reduce its impact on the baby. Make sure to read more about this car seat safety features/
The car seat base is easy to install in the car thanks to latch system.
The infant car seat is equipped with removable infant head support to keep the smallest babies securely in place and additionally provide comfort.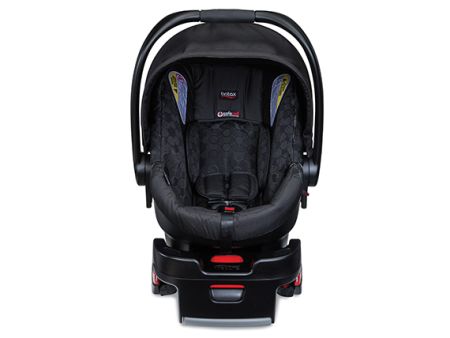 Another noteworthy safety feature is the 5-point restrain which can be adjusted as the baby gets bigger. Shoulder pads are nicely padded with soft fabric – adequate for infant delicate skin.
There is also large canopy that protects your little one from sun and wind. When the infant car seat is attached to the stroller, you can use both sun shades to provide your baby with maximum cover.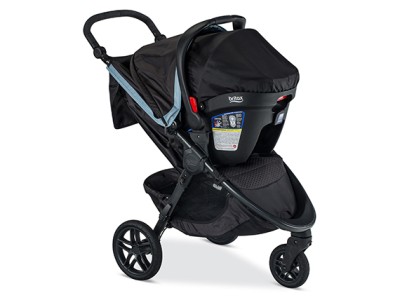 The B-Safe 35 is suitable for infants from 4 to 35 lbs and up to 32''. The seat weighs only 10 lbs, which makes it one of the lightest infant car seats on the market. The base (which can stay installed in your car) weighs 9 lbs.
What other parents think about B-Safe 35?
When I buy another piece of baby gear for my kiddos I always check what other parents say out this product. I checked B-Safe 35 Infant Car Seat on Britax official website.
Parents highly rate its ease of use and the level of protection it offers. They also like its appearance. Taking baby in and out of the infant car seat is very easy. Also, snapping the car seat in and out of the base and stroller is simple and you don't need to wiggle it into place.
Moreover, parents praise the customer service, some of them mention how Britax was very helpful and fixed the problem immediately.
Folding
Britax B-Free features quick and easy one-hand fold. This brand knows how the typical mom's day look like. Baby in one hand and all other things done with other hand. Moms don't have two hands free often!
So this stroller was designed with this thing in mind. Mommy can hold her little bundle of joy in one hand and fold the B-Free easily with other hand. This folding mechanism is also convenient for grandparents.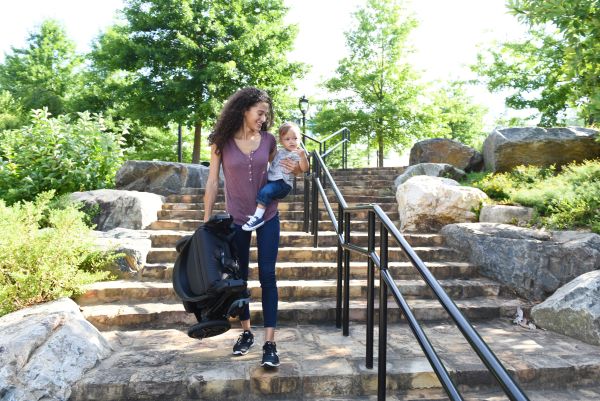 How does the folding system work? We just need to push one button and the pull the strap hidden in the middle of the seat. It's a piece of cake.
After folding this stroller is pretty flat which simplifies storage in home and transportation in car trunk. Or using the public transportation. Folding dimensions (with wheels on) are: 32″ L x 24″ W x 15″ H, so it's very similar to B-Agile 3.
There is also an automatic lock that prevents the stroller from opening. Before we unfold the stroller, we need to undo the lock. You can fold the stroller while standing, but opening requires bending.
Weight & Size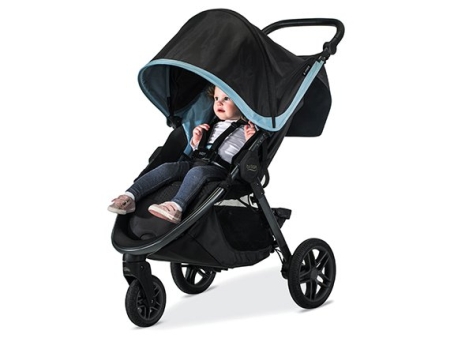 All Britax full-sized strollers are pretty light and easy to carry. B-Free is no different. It weighs only 22 lbs which means you can easily lift it to put in the car trunk or carry up and down the stairs. It is 4 lbs heavier than Britax B-Agile 3, but 6 lbs lighter than Britax B-Ready 2017.
This stroller is just few inches bigger than iconic B-Agile 3. Unfolded dimensions of B-Free are: 44″ L x 24″ W x 42″ H.
Color Versions
Britax B-Free is available in three fashions: Frost (black with blue elements), Midnight (all black) and Pewter (black with grey elements). My favorite is Frost version, it looks simple but stylish at the same time.

Accessories
Apart from the car seat adapters and additional pockets, this stroller doesn't have any accessories included. Good thing is that it has HUGE storage space so you probably won't need any additional parent organizer or bag. It's also good that this stroller has pocket inside the seat where baby can keep a sippy cup and some snack, since there is no child tray.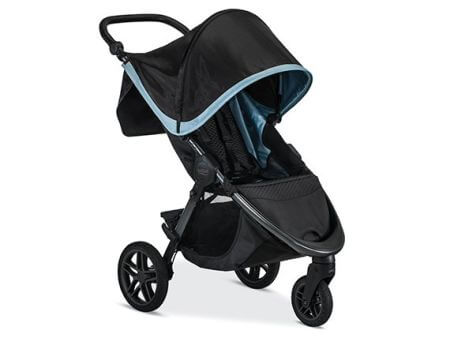 However, if you would like to have some extra items for convenience like cup holder, weather cover or travel bag – you will need to purchase them separately.
I know that nowadays strollers rarely include accessories and in most cases parents need to spend extra money on them. However, Britax B-Free is not the cheapest stroller so I wish it comes with convenience items included.
So, the pockets are a big advantage. No cup holder or child tray – this is a disadvantage.
What Other Parents Think About Britax B-Free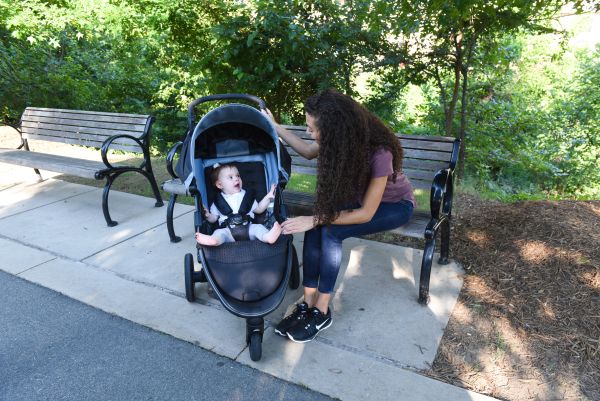 Parents praise Britax B-Free stroller mostly for quick and easy folding, convenient pushing and large storage space.
This is one of the most popular brand in the U.S. and parents also love the infant car seat and how easily it attaches in the car.
You can also check on your own if there are any new comments on this stroller.
Keep In Mind
1. This stroller doesn't come with accessories like cup holder, child tray or weather shield. If you want, you can purchase them separately.
2. All-terrain wheels handle dirt and unbeaten roads, but the ride is less cushioned than with air-filled tires.
3. The seat doesn't feature fully flat recline (the only position suitable for newborns). In my opinion the main seat is rather design for 3 or even 6-month-old child. So during first months you need to use the stroller with infant car seat.
10 Reasons Why You Will Love It
1. You will have the possibility to pack in the stroller everything you might ever need, because it has awesome large basket and SEVEN storage pockets!
2. B-Free has one of the biggest canopies in the market which will allow you to avoid sunburns! You can be sure that even on hot summer days, your child is protected from harmful sun rays from head to toe. And thanks to breathable seat fabrics and mesh window in the canopy your baby is prevented from overheating.
3. This stroller has pretty large wheels with rubberized tires which can handle cracked sidewalks, cobblestone or gravel and grass in the park.
4. You are shorter/taller thank your spouse? Or grandparents are at different height? Don't worry! This stroller is comfortable to push for everyone thanks to adjustable handlebar.
5. The stroller comes with adapters for infant car seat, so you don't have to pay extra for them.
6. The seat has multi-position recline which is perfect for babies who like to nap on the go.
7. Thanks to textured, breathable seat with soft padding, your baby can ride in maximum comfort.
8. Maximum capacity of 65 lbs allows you to use the B-Free for a longer period of time and makes it a stroller for older/bigger kid.
9. Folding is one-hand and easy to do and the whole stroller is pretty light – easy to lift to put in the car or to carry. It's also perfect choice for grandparents' stroller.
10. You have the flexibility to buy only the stroller with car seat adapters (and add the infant car seat later) or buy the whole travel system at once. B-Safe 35 Infant Car Seat is one of the best and safest in the U.S.
Sneak peek on Britax B-Free – Video
Britax B-Free Review Conclusion – Final Assessment & Best Application
In my opinion Britax B-Free is perfect choice for parents who are often out and about with their kid, and want something that is fully-featured and has compact fold that easily fits into car trunk.
With such a HUGE storage space you can go for a day trip or overnight visit to grandparents and take ALL necessary baby gear.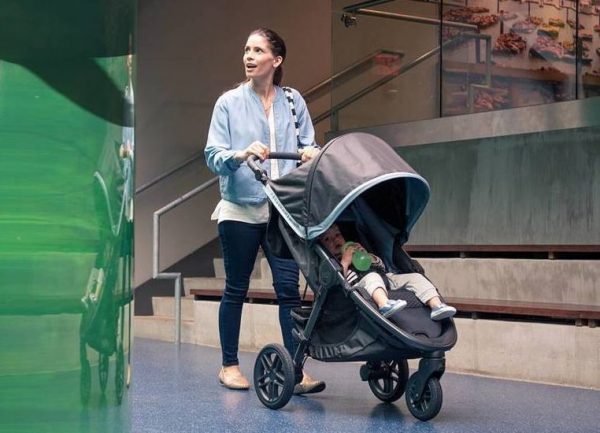 This stroller is perfect for going to the mall, running quick errands, trips to the ZOO or any road trip. With Britax B-free you really can be free to do so much more with your baby!
Do you like Britax B-Free? Before you decide to buy it check available discounts and read what other parents say about it.
---
All pictures belong to Britax. Source: https://us.britax.com