Nuna has just released their new lightweight stroller – Nuna Triv. I'm a huge fan of Nuna brand, frankly, Nuna Mixx has been one of my favorite stroller in 2019. So why am I so skeptical about their new addition to the family – Nuna Triv?
Read my review and find out which features I like and which features I find less impressive.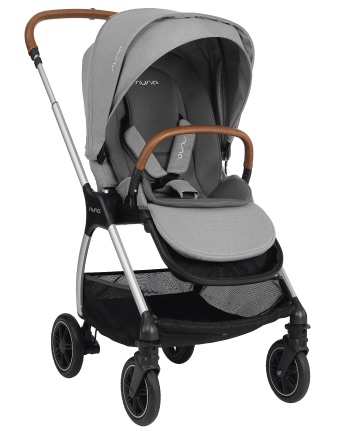 Nuna Triv Review
My first impression of Nuna Triv? It's like Nuna Mixx but lighter, with much smaller (and worse) wheels but higher price tag.
Don't get me wrong. I love Nuna and their products – their quality is unquestionable. With strollers like Nuna Mixx or Tavo you get what you pay for – excellent quality and multi-functional buggies. With Nuna Triv I'm a bit skeptical. Not about the quality – because it's top-notch, but mostly about its functionality-price ratio.
This stroller has smaller wheels, less versatile than Mixx, or even Tavo wheels, which don't work that great on bumpy, uneven terrain. Yet it is even more pricey than Nuna Mixx 2019! I'm not sure how many parents can afford a city stroller for neighborhood walks, at this price point.
Nevertheless Nuna Triv has many other features that impressed me and I can't wait to tell you more about it.
If you have a flexible budget and want a cute, high-quality stroller, Triv is definitely something you should consider! If you want to check its price and compare it with Nuna Mixx, I recommend you PishPosh Baby store.
This article contains affiliate links.
Nuna Triv Seat
The main seat is very similar to Nuna Mixx seat – it's an all-season seat with mesh backrest covered with removable merino wool insert. Whether it's a warm summer day or chilly winter evening your little bundle of joy will feel very comfortable. The insert is breathable and keeps the child warm without sweating.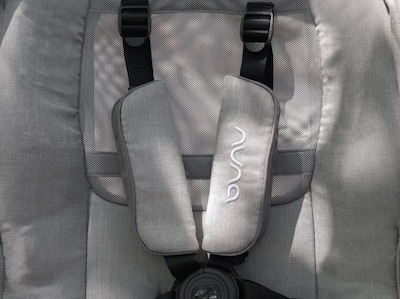 Great thing about the merino wool fabric is that it's soft and hypoallergenic – perfect for baby's delicate skin. The mesh backrest underneath it, provides good ventilation which is very important on hot days, as it keeps the baby from overheating.
Triv seat unit is also reversible, so you can easily switch the direction your child is facing. The seat is fairly lightweight – lifting and reversing the seat should not be a huge effort.
There are a few things that I really like about Nuna Triv seat. It has no-rethread harness which is very easily to adjust as the baby grows, because it slides up and down. Another fantastic feature is that the seat offers more headroom a growing child. It's about 2 inches taller than Nuna Mixx seat. There is enough space for a 3 or 3.5 year old.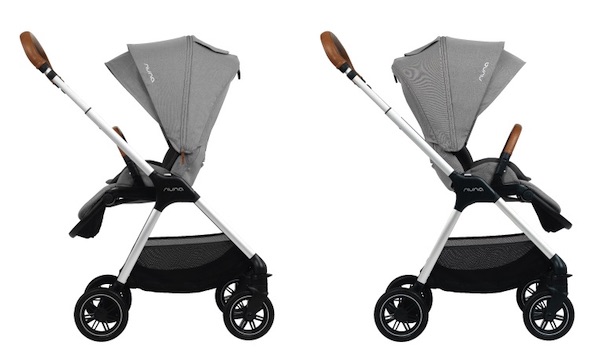 The seat is equipped with adjustable calf rest which is another plus. I only wish there were more reclining positions. Nuna Triv seat offers only 3 positions, the highest one is pretty upright which is great for more curious toddlers, another one is for resting and the lowest position is great for nap on the go.
Just keep in mind the deepest reclining position is not fully flat and therefore it's not newborn-ready.
Nuna Triv Travel System
Great thing about Nuna Triv stroller is that you can detach the seat and use it as a car seat frame. The frame + ring adapter weigh only 14.6 pounds. It may be a very convenient and lightweight solution for the first few months.
Even if you're always on the go and often drive before strolling, you won't have problems with carrying the frame or lifting it to the car trunk. You can part Nuna Triv with all Nuna Pipa series infant car seats, if you choose the lightest one – Nuna Pipa Lite, your travel system will be really lightweight (14.6-pound frame + 6.7-pound infant car seat).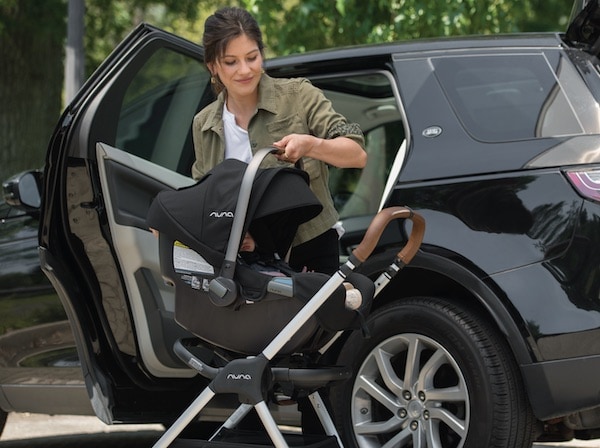 The fact that you can detach the main seat and use Nuna Triv as a car seat frame is a huge advantage in my opinion. Not all strollers allow you to do that and often when you install the car seat onto the stroller seat it gets bulky and heavy. With Nuna Triv you get useful solution.
Nuna Triv is a convertible stroller that is compatible with Nuna's infant car seat, but it's worth to notice that only infant car seat allows to use this stroller from birth. The main seat is suitable only for babies who have good neck control. The stroller doesn't offer bassinet or carry cot (at least not right now), therefore if you want to use it for your newborn baby you have to add the infant car seat.
On the positive note, the ring adapter that allows you to attach Nuna Pipa series car seat, is already included with the stroller.
Nuna Triv Canopy
This is another feature that I like about this new stroller. The canopy has three panels – the middle one opens with a zipper and features side mesh vents. There is also a flip out sun visor which almost touches the bumper bar when the canopy is fully extended.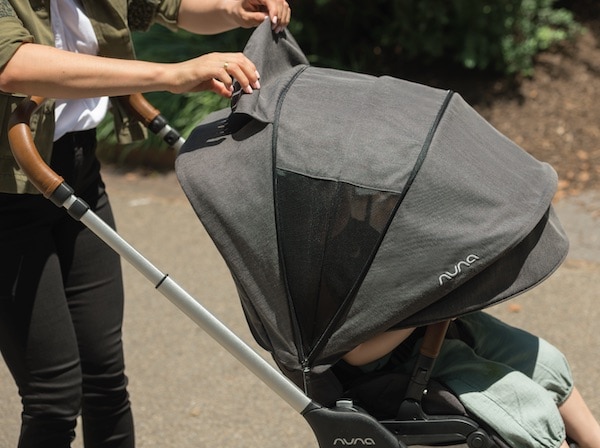 This canopy is a bit different than Nuna Mixx sunshade, because it lacks Nuna's iconic Dream Drape (which I am a huge fan of). But even without the drape, the canopy is huge and gives good amount of shade.
The hood is equipped with a peek-a-boo window too. It's made of mesh so you can easily check on your baby and it also provides additional airflow.
Great thing about Triv canopy is that the fabric is water repellant and protects the child from harmful sun rays (UPF 50+).
Another advantage is that the rain shield is also included with Nuna Triv so you don't have to pay extra for it.
Nuna Triv Wheels
This new stroller by Nuna is definitely more like a city stroller, than all-terrain stroller. Its front wheels are 7″, rear ones are 7.5″. They have rubberized exterior and foam filling. They will handle small cracks in the pavement, but don't expect this stroller to ride smoothly over rough terrain.
There is only a spring suspension underneath the seat that absorbs some shocks, but if you take this stroller over bark chips or unbeaten trail your child may feel the bumps.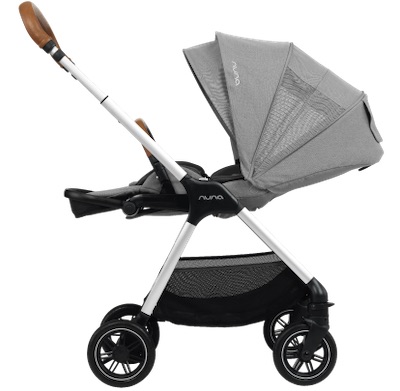 I would recommend this stroller rather only for short neighborhood walks, running errands in the city and quick shopping. For long-distance stroll, trips to the woods or the beach, choose a stroller that is all-terrain and more sturdy (like Bumbleride Indie, or at least Nuna Mixx).
Because the wheels are not all-terrain I'm not sure why Nuna Tavo costs more than Nuna Mixx. I'm guessing you're paying more for lightweight design, but have to sacrifice other features anyway!
Nevertheless, the wheels are not terrible. 🙂 They are still quite versatile, and better than wheels on many cheap strollers (which usually have plastic wheels).
Maybe I'm too picky, but I just had too share my thoughts with you!
Nuna Triv Handlebar
Telescoping handlebar is another advantage of Nuna Triv. You can adjust the height of the push bar by sliding it up and down. For average in height parents it will be most comfortable.
Nuna Triv Weight & Size
Nuna Triv has been released in October 2019 and currently it is the lightest Nuna's stroller. It weighs 19.4 pounds, without the canopy, seat insert or bumper bar. Those accessories make the stroller about 2 pounds heavier.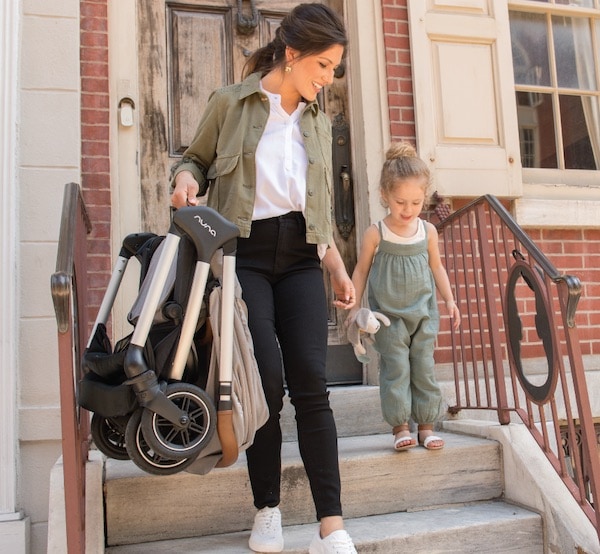 What is noteworthy, is that Nuna Triv is about 7 pounds lighter than Nuna Mixx stroller. It's more compact and narrow, the frame is lighter, the wheels are smaller too.
Triv is only 20″ wide and thanks to smaller footprint is easier to navigate in tight places, like sidewalks, narrow shopping alleys and crowded Disney World.
Nuna Triv Storage Basket
This is one of the features that I like about Nuna Triv stroller – easily accessible storage bin that fits medium-size diaper bag. As for a compact everyday stroller – it's sufficient.
I'm glad that taking stuff in and out of the bin is easy. There are no bars in the back of the stroller that would block the access (like on Baby Jogger City Mini GT2). You can see that it's a well thought-out design.
Nuna Triv Fold
I would say that Nuna Triv is something between standard full-sized stroller and lightweight travel stroller.
It's not super small, but it's not very heavy or cumbersome either. Its fold dimensions are fairly compact and should fit in most car trunk without any problems. Of course it's better to compare the fold size with the car trunk size, before you decide to buy the stroller.
Nuna Triv fold size is: 25.3 x 21 x 17.5 inches. As you can see the fold is not very flat, but still it takes less space than most everyday full-sized stroller lik Britax B-Free, Cybex Balios S or Ergobaby 180 Reversible Stroller.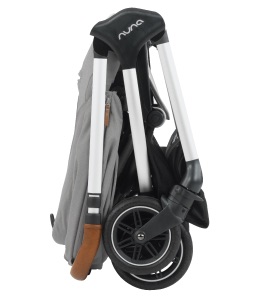 Folding mechanism is very simple and I think it's one of the biggest advantages of this stroller. First, you need to push the button on the top of the backrest (it's built into the recline lever) and push the seat forward – it will fold in half. Then just pull the strap on the back of the seat and the stroller will fold itself. It's very easy to do with one hand (finally, truly one-hand fold!) and takes only a few seconds. When folded, Nuna Triv stands on its own.
Even when you're on your own at the supermarket parking lot and need to pack the stroller into the car trunk while holding the baby, folding won't be a problem! And thanks to fairly lightweight construction loading the stroller to the car trunk is doable even for a petite woman.
More on Nuna Triv soon! Stay tuned!
---
All pictures belong to Nuna. Source: https://www.nunababy.com/usa/strollers
Your trust is really important to me: This post contains affiliate links. If you choose to buy something using these links, I receive a small commission, at no extra cost to you. Your support helps me run this blog. Thank you so much 🖤 Zooey