Thule updated their iconic jogging stroller for 2018. The new Thule Urban Glide 2 has some new features and of course a bit higher price. That's why many parents wonder if this new model and the upgrades are worth the money.
You will find the answer in my in-depth review of Thule Urban Glide 2 and its comparison to the previous model – Thule Urban Glide.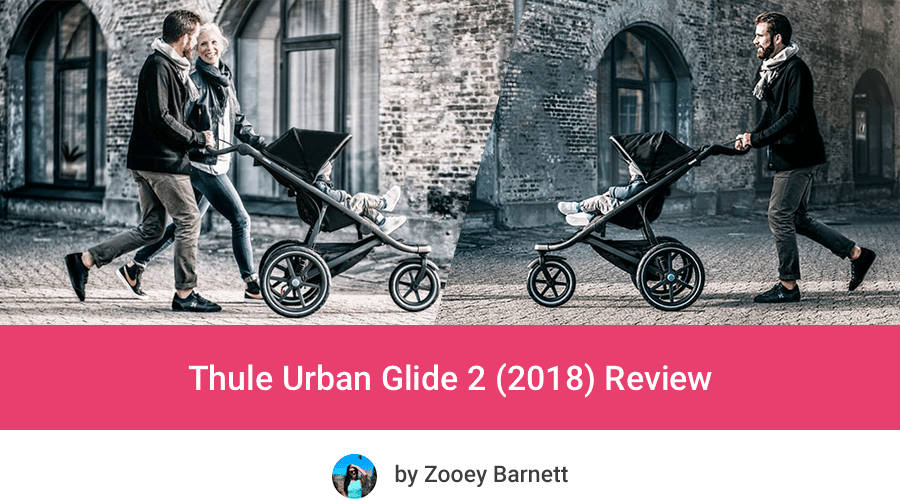 The main difference between Thule Urban Glide 2018 and previous model is the additional twist handbrake. What also distinguishes this stroller among all joggers is the possibility to attach the bassinet.
With this additional attachment you can use Thule Urban Glide 2 from birth as your primary stroller – of course though the first 6 months only for strolls.
Pic
Info

Thule Urban Glide 2 Jogging Stroller
Check It On Amazon

Handles ALL types of terrain, even sandy beaches and hills
Additional handbrake keeps you and your baby safe
High-quality, comfortable fabrics
Large canopy = lots of shade for the baby
Good-sized storage basket with cover - to keep your stuff protected
Price range: $$$$$
This article contains affiliate links.
Thule Urban Glide 2 Review – Features Of The New Model
Thule Urban Glide has been a great, top-quality, light jogging stroller for the past few years and became parents' favorite.
However the manufacturer decided to add some new features and upgrade the stroller to the 2.0 version. Majority of the functions stayed the same.
What features can we find on Thule Urban Glide 2?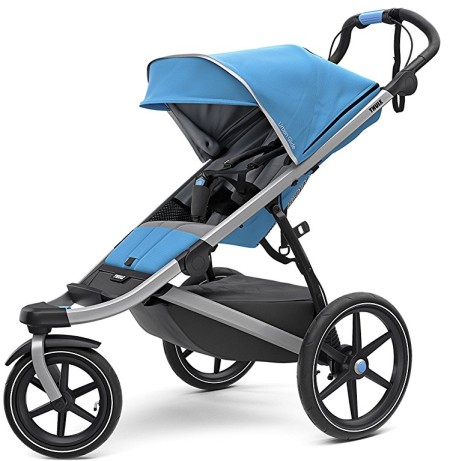 Wheels & Suspension
Thule Urban Glide 2 has three-wheel configuration with 12″ front wheel and 16″ rear wheels – just like the previous model. The tires are inflatable so you need to remember about pumping them once in a while.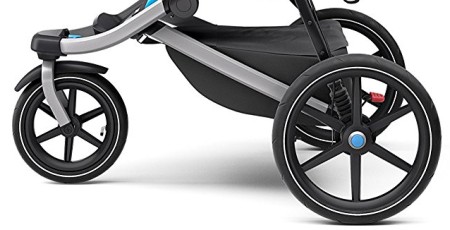 For strolling over flat terrain you can use this stroller with swivel front wheel that makes it more agile and easy to maneuver. For jogging and rough ground you should lock the front wheel to make the stroller more stable.
There is a built-in suspension that soaks up the bumps on the roads – making the ride smooth and pleasant for the baby and parent.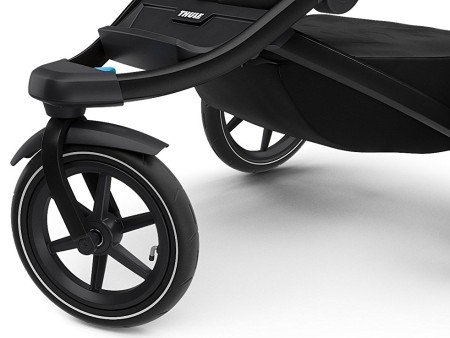 I've read many customer reviews of the previous model of Thule Urban Glide and lots of parents love the wheels and suspension as they do provide ultra-smooth ride. Agility and maneuverability are a big advantage of this jogging stroller.
And since the new model for 2018 has the same suspension and even more robust wheels and tires, I'm sure it won't let you down even on bumpy and harsh terrain.
Safety Features
This stroller is designed for jogging with a baby, so the safety features are extremely important. Thule Urban Glide 2 has few additional safety features, in contrast to the previous model.
Handbrake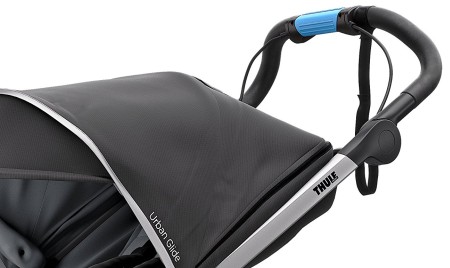 The upgraded model is equipped with integrated twist handbrake. This is a completely new feature that older Thule Urban Glide lacks.
The handbrake gives parent better control over stroller, especially during jogging on bumpy or steeper terrain. It allows to slow down and stop at any time. With this type of brake you have the control within reach.
Keep in mind that this handbrake doesn't work like a bicycle brake. Here you don't squeeze, but twist it.
Parking Brake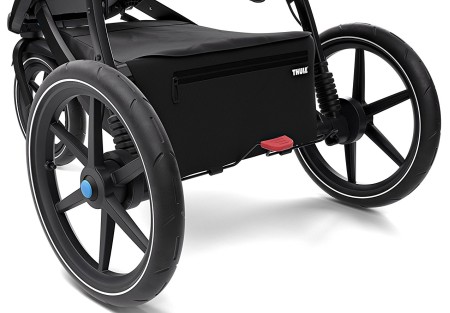 Thule Urban Glide 2 has also a foot-operated parking brake, just like the older model. The pedal is places between the rear wheels, it's fairly big and easy to press and lift.
It's rather not flop-flop friendly, as some parents say you may hurt your foot when trying to disengage it while wearing sandals or heels, but to be honest it is a minor flaw, because it's a jogging stroller – and you usually jog in running shoes, right? The foot brake is easy to release in sneakers and other gym shoes – for me it's enough.
I've read other parents reviews (of Thule Urban Glide 2 and Thule Urban Glide) and some of them complain the parking brake not easy to operate. It may be a matter of practice and it gets less stiff after a while.
Wrist Strap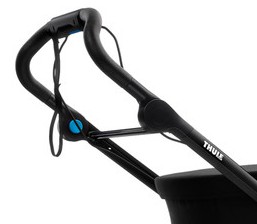 There is also a safety strap attached to the handlebar which you should put around your wrist, so the stroller won't run away from you. But be careful! When you fall down you may pull the stroller with you.
5-Point Harness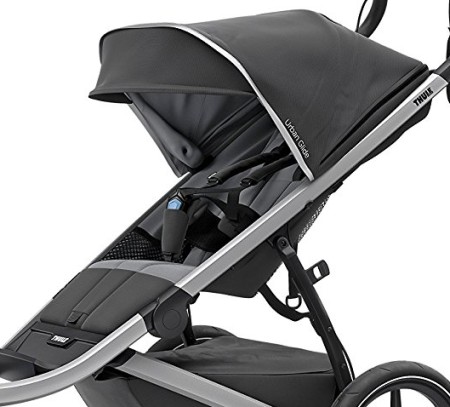 The seat is equipped with padded harness that keep baby securely in place. I love that the harness is so soft to the touch. It doesn't rub baby's delicate skin.
Reflective parts
Each tire, as well as the canopy, has a reflective part that illuminates in the dark. This feature makes the stroller more visible so you and your baby could always be safe – during evening strolls and morning jogging as well.
Previous model doesn't have these reflective strips.
Seat
Thule Urban Glide 2 has nicely padded seat with weight capacity of 75 lbs. The seat size is the same as on older model. Some parents complain it's a bit too narrow for 3-year-old kid (it's 13.5″ wide), however the backrest and leg rest is enough even for a 4-year-old child. The canopy gives a lot of room to grow as well.
The seat features infinite recline which means you can lock the backrest at any angle. Keep in mind that the seat doesn't recline fully flat so it's not suitable for newborns.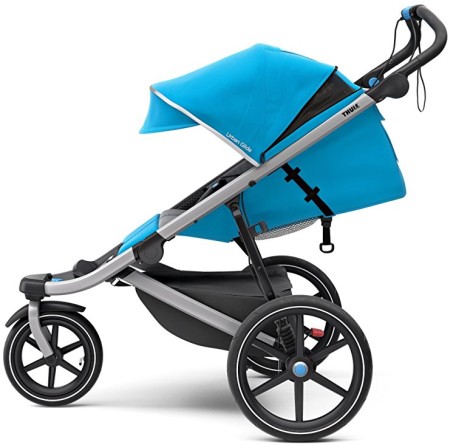 The reclining mechanism is nothing fancy – there is a strap with a buckle. You can lower the seat with one hand, but you will need two hands to raise it.
There is a mesh top that provides extra ventilation – very useful on summer. On more chilly days you can cover it to keep your baby cozy and warm.
Seating Options For Newborn Baby
The new model Thule Urban Glide 2 has two seating configurations that allow to use it from birth.
Keep in mind that it's not safe to run with a baby less than 6 months old. If you want to use the seating options for newborn, you should only use them for walks, not jogging.
Thule Urban Glide 2 With Bassinet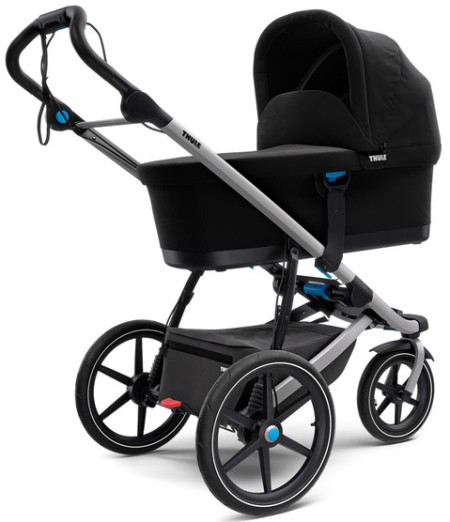 This new version can be used from day one with Thule Bassinet. You just need to remove the regular seat and attach the bassinet to the frame, which easily clicks into the right spot.
Removing the toddler seat may be a bit hard and it takes some time, but it's not like you have to do it every day. You can do it only one time and switch back to it when the baby is 6 months old.
Thule Bassinet provides fully flat position – perfect for newborns and infant without head and neck control. It has nice big canopy and apron that protect baby from sun and wind.
Moreover this bassinet folds flat for easier storage and transportation which is a big plus.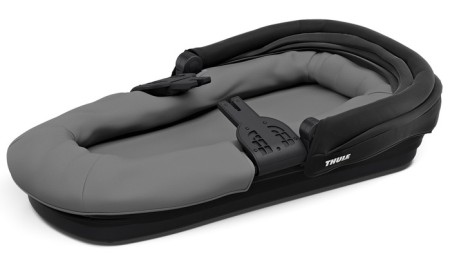 Infant Car Seat Compatibility – Thule Urban Glide 2 Travel System
You can use this stroller as a travel system as well. Just add proper adapter and attach the car seat (without removing the toddler seat). You can check the Maxi-Cosi car seat adapters here. You can see there also other available adapters for other brands.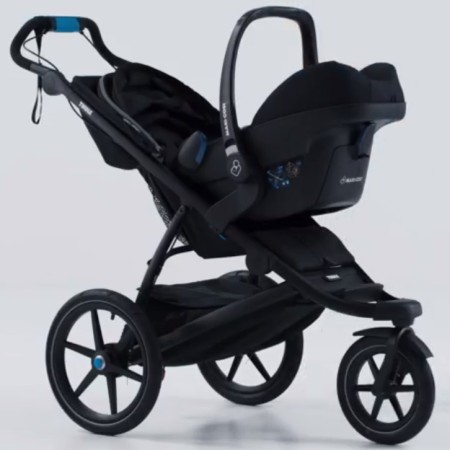 It's perfect solution for parents who often drive a car and need a stroller that allows for quick transitions to and from the car.
It's also a great option if you need to run some quick errands or go to the grocery store, but for longer strolls the bassinet is better solution.
Canopy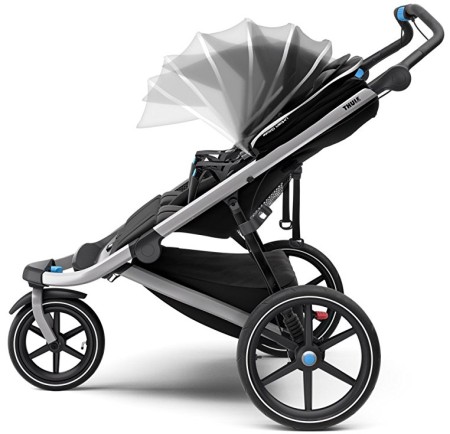 Just like the previous Thule Urban Glide, the new 2.0 model has awesome large canopy. It expands really far to provide full protection from harmful sun rays. There is a plastic peek-a-boo window with silent magnetic closure (yay!). When the canopy is fully extended, there are also mesh side windows for additional air-flow.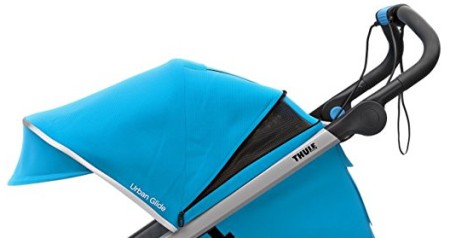 The canopy has been upgraded a bit for 2018. The sun visor is now made of the same fabric like the rest of the canopy. Previous model has mesh sun visor.
Moreover Thule Urban Glide 2 2018 has UPF 50+ material on the canopy to protect the child from sun rays even better.
Handlebar
The new version has adjustable handlebar, the same that previous Thule Urban Glide has. The handlebar pivots from 35.5″ to 44″ from the ground making pushing comfortable for parents of different height.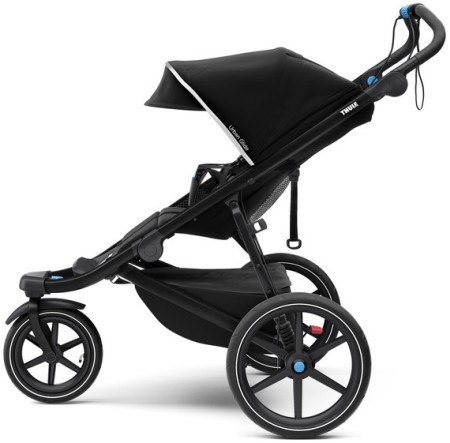 Thanks to adjustable handlebar tall parents don't have to slouch over it and short parents can avoid wrist fatigue.
Some parents however complain about the handlebar as it doesn't have many height setting between the lowest and highest position.
Storage Space
Thule Urban Glide 2 offers plenty storage space – exactly the same as the previous model.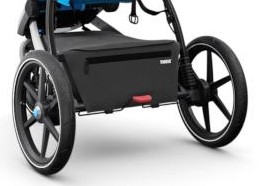 There is a large basket underneath the seat with a zippered cover that protects your valuables from falling out and weather conditions. Even when the basket is closed with the cover you have a quick access to it thanks to additional zip on the back of it.
There is also a mesh pocket on the back of the seat so you could keep your essentials (like phone or wallet) at hand.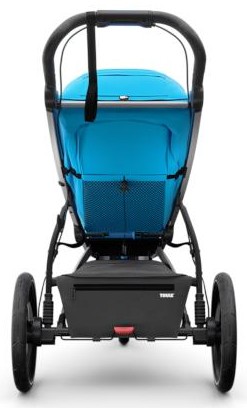 Insides the seat there are two mesh side pouches – perfect place for baby's, sippy cup or small toys.
With so many storage compartments you will be able to take all your stuff that you may need during your outdoor workouts or day trips.
Folding
To fold Thule Urban Glide 2 you need to lift the calf rest and there is a handle that you need to use to lift the stroller. It will collapse immediately. It's actually fairly easy to do even with one hand.
In contrast to the previous model, Thule Urban Glide 2018 has automatic lock to make it even more user-friendly.
When it's folded it still takes quite a lot of space – it is a jogging stroller with large rear wheels. To make it more compact and suitable for small car trunk you can remove the rear wheels – it's a piece of cake, just press the button and take them off.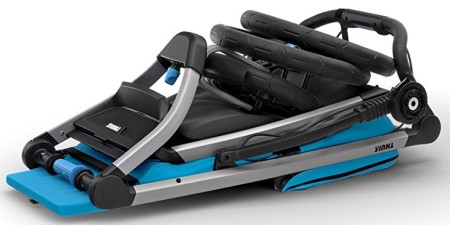 Size & Weight
It is not a small stroller, it is designed as heavy-duty vehicle for all types of terrain, even bumpy grass and dirt trails. Moreover it has high weight limit so it has to be strong and big to accommodate heavy passenger.
Thule Urban Glide 2 weighs 25.3 lbs – which is a decent weight as for a jogging stroller. Some standard everyday strollers weigh that much! However it is heavier than the previous model, Thule Urban Glide, which weighs 23 lbs.
Pros & Cons
Pros
Cons

Pros

---

+ Smooth ride

+ It maneuvers easily on flat and rugged terrain (like gravel or cracked pavement)

+ Easy to operate even in tight or crowded places

+ Adjustable handlebar

+ Lots of storage space

+ Canopy gives good amount of shade

+ Best quality

+ Solid construction, durable materials


Cons

---

- Footbrake is not flip flop friendly

- Not many height setting between lowest and highest position of the handlebar

- High price
What other parents think about Thule Urban Glide 2 2018?
I always read customer reviews on Amazon and this stroller was no exception. It's a new model so it's just getting more popular. Don't forget to check the customer reviews on your own (skip to Amazon reviews).
This stroller glides like a breeze and steers easily with one hand. According to parents who have been running with it, it works great even on rough terrain like grass, sandy beach, hills and tree roots sticking up from the pavement. The suspension handles everything. It feels light and agile, it turns and maneuvers with less resistance.
Another advantage is the storage basket which is covered and waterproof. It fits medium-sized diaper bag. Pockets on the side of the seat and on the back are also very handy. Moreover, Thule Urban Glide 2 looks sleek and parents get a lot of compliments on it.
Reclining mechanism works easily, however when the child is in the seat it may be a bit harder to lift the backrest. Large canopy with magnetic window is a big plus.
Be aware this is not a compact stroller. It's not bulky, but it doesn't fit between tables in restaurant or cloth racks – don't expect that, it's not that kind of stroller. However, it may be used for day trips to theme parks. Just keep in mind it's quite long and although turning is super easy and smooth, you need to be careful on tight corners.
Fold size is still quite big and the stroller takes up a fair amount of room. If you have a small car trunk it may not fit in or you may have to take off the wheels (according to parents it's only a small inconvenience).
One parent complains the parking brake is hard to use, but according to Thule customer support it gets easier after it breaks-in (more in this review). Moreover, other parents don't complain about the brake.
The most upright position is a bit reclined which according to parents is a drawback, but not a deal breaker. This jogging stroller is rather expensive and accessories like tray or bottle holder are not included and quite pricey which is a disadvantage for some people.
Specification
| Stroller | Type |
| --- | --- |
| Stroller Type | Jogging stroller |
| Stroller Weight | 25.3 lbs |
| Weight Limit | 75 lbs |
| Fold Dimensions | 22.8" x 34.3" x 13.4" |
| Handlebar Height | 35.5" – 44" |
| Wheels Size | 12" (front wheel) and 16" (rear wheels) |
Thule Urban Glide 2018 – Colors
The new Thule Urban Glide 2 is available in four colors: Jet Black, Dark Shadow, Thule Blue and Mars, in contrast to the previous model which comes in three color versions (it's not available in Jet Black).
If you want do check the availability and compare prices of all color versions, you can do it here.

Accessories For Thule Urban Glide 2018
Thule offers lots of accessories for the new model of Urban Glide jogging stroller. Thanks to so many attachments you can really customize this stroller. Keep in mind that all of these accessories are sold separately.
Image
Description
Thule Car Seat Universal Adapter

– This jogging stroller offers a travel system option as well. To attach the infant car seat to the stroller, you will need proper adapters. There is not only universal adapter (that accepts most of the modern car seats), but also a special adapter for Maxi-Cosi and Chicco car seats.

Thule Bassinet

– The new Thule Urban Glide 2 can be used as a pram. The additional bassinet makes the stroller suitable for newborn baby. It provides cozy, sheltered and safe place for youngest infants.

Thule Bumper Bar

– It is a useful accessory as it provides the child with a place where he can hold on to during the strolls. It is also an additional safety features as it protects the little passenger from falling out of the seat.

Thule Snack Tray

– If the mesh pockets inside the seat are not enough for your baby items, you can always add a snack tray with a special place for child snacks and a cup holder.

Thule Organizer Sport

– It easily attaches to the stroller handlebar and provides closed pouch for your valuables like phone or keys, and a bottler holder so you could always have your water at hand.

Thule Bottle Cage

– If you are going to use Thule Urban Glide 2 for your outdoor workouts you will need to have your bottle of water within reach. This bottler holder is a must-have, if you don't have a parent organizer.

Thule Rain Cover

– It will shield your baby from rain, snow and wind without blocking his vision. My tip: always keep this cover in the storage basket so the rain never surprise you and ruin your trip or workout!

Thule Mesh Cover

– It provides great protection from sun and flying insects. Must-have for those who live in hot climate or a place where there's a lot of mosquitos.

Thule Footmuff Sport

– Thanks to this accessory you don't have to give up your outdoor workouts because of a chilly weather. This footmuff will keep your baby warm and cozy even on winter snowy days.
Thule Urban Glide 2 vs Thule Urban Glide – Comparison Of New & Old Model
Both models are very similar and they are fantastic jogging strollers. Thule Urban Glide 2 2018 has few upgrades that many parents find awesome and useful. However these additions make this stroller a bit heavier and more expensive.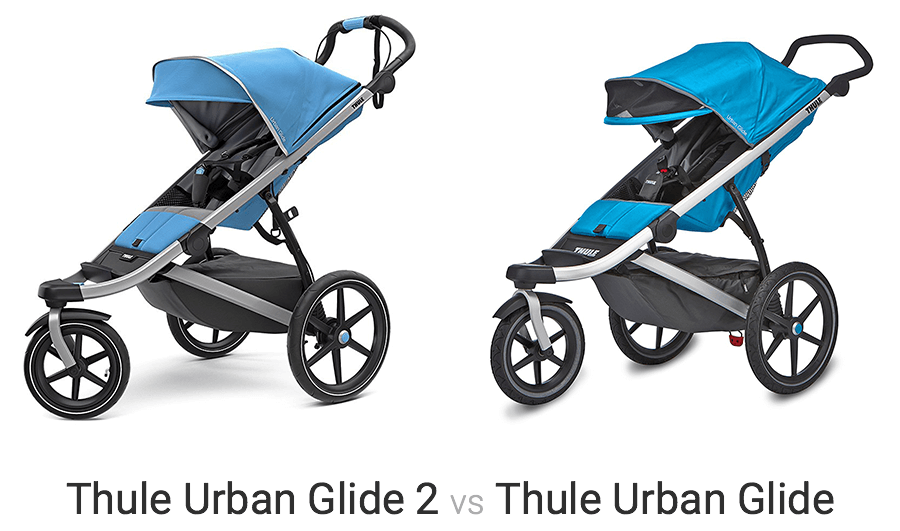 | | Thule Urban Glide 2 | Thule Urban Glide |
| --- | --- | --- |
| Brake | Handbrake + Footbrake | Footbrake |
| Wheels | More robust wheels and tires; each wheel has a reflective strip | No reflective strips |
| Canopy | Canopy and sun visor made of UPF 50+ material; there is a reflective strip for better visibility at low light | No UPF 50+, no reflective strips, sun visor made of mesh |
| Automatic fold lock | Yes | No |
| Colors | Jet Black, Dark Shadow, Thule Blue, Mars | Dark Shadow, Thule Blue, Mars |
| Weight | 25.3 lbs | 23 lbs |
| Folded dimensions | 34.3" x 13.4" x 22.8" | 34.5" x 14" x 21" |
| Price | Check latest price | Check latest price |
As you can see the major difference between Thule Urban Glide 2 2018 and previous Thule Urban Glide is the additional handbrake. Other changes are rather minor.
If you like to run downhill or live in hilly area, this new model with handbrake will be awesome solution.
But if you jog mainly on flat terrain, the older model may be actually sufficient for you. Besides, since the new model is on the market, you may find some great discounts for the previous Thule Urban Glide (see current price & available discounts)!
Thule Urban Glide vs BOB Revolution Jogging Strollers
I decided to add this section to my review, as Thule and BOB are one of the most popular brands that design jogging strollers. Parents often wonder what are the major differences between these brands' joggers, especially since they both are quite expensive.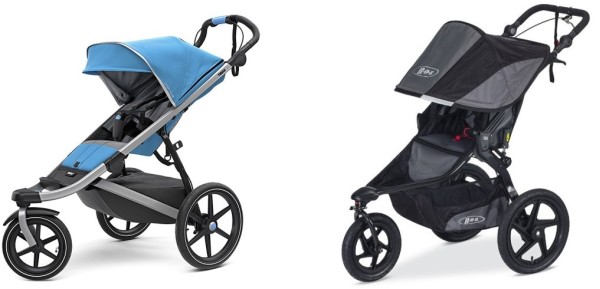 The new Thule Urban Glide 2 2018 is very similar to BOB Revolution PRO as they both have two brakes: foot-operated parking brake and additional handbrake so they are suitable for running downhill. They both have big wheels with pneumatic tires that can handle rough terrain like dirt paths, gravel and mud.
The main difference between 2018 Thule Urban Glide and BOB Revolution PRO is that the former one is 5.2 lbs lighter and takes less space after folding, while the latter one offers more height settings for the handlebar. Moreover Thule Urban Glide 2 has bigger storage basket which is additionally closed with a zippered cover.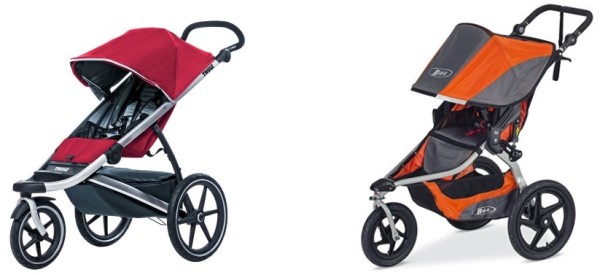 The previous version of Thule Urban Glide is more like BOB Revolution FLEX – both strollers have one brake (operated by foot). These stroller differ in weight, folding size, handlebar height settings and storage basket size as well. Thule Urban Glide is 5.5 lbs lighter, has bigger, close basket and more compact fold. FLEX handlebar features more positions for parents of all heights.
Keep in mind
The regular seat is suitable from about 6-8 months, when the baby can sit unassisted. If you want to use this stroller from birth, you need to add a bassinet or attach the infant car seat. But even then, do not use Thule Urban Glide 2 for running for a newborn baby!
You can jog with your child only when he has good neck and head control and uses the regular seat (about 6-8 months).
3 Reasons Why You Will Love Thule Urban Glide 2 2018
1. Thule Urban Glide 2 is all about child safety. It has awesome wheels and built-in suspension to protect baby from negative impact of shocks and bumps. Moreover, it has handbrake, footbrake, wrist strap, 5-point harness and reflective strips to keep your child secured while you can enjoy your outdoor workouts.
2. It can be your only stroller. If you add a car seat or bassinet you will have a stroller for all-terrain walks for the first 6 months and a heavy-duty jogger when the baby can sit upright unassisted.
3. Thule Urban Glide 2 is top-quality stroller. It's made of durable material to serve you for years.
Are you considering buying Thule Urban Glide 2? It's not cheap, so make sure it's the right stroller for you and your baby. Before you purchase it, check available discounts and customer reviews on Amazon.
If Thule Urban Glide 2 doesn't meet your needs, here is my ranking with other great jogging strollers.
---
All pictures of Thule strollers belong to Thule. Source: https://www.thule.com
All pictures of BOB strollers belong to BOB. Source: https://www.bobgear.com/strollers
Your trust is really important to me: This post contains affiliate links. If you choose to buy something using these links, I receive a small commission, at no extra cost to you. Your support helps me run this blog. Thank you so much 🖤 Zooey