All-new Cybex Eezy S Twist is going to hit the stores very soon and I'm sure of one thing: it will stand out from other strollers! With its awesome design and innovative revolving seat it will be one of the best lightweight strollers of 2018.
Check out my review of Cybex Eezy S Twist and find out if this stroller is just what you need.
Cybex Eezy S Twist Review – Stroller Features
The name of this stroller is of course related to its awesome, innovative feature – revolving seat. You can rotate the seat 360 degrees, without removing it from the frame. Moreover this stroller is very light and nimble. It's also very flexible and gives parents possibility of attaching infant car seat or carrycot, which makes it all-in-one stroller, perfect for newborns and toddlers. This multi-functional stroller works best for everyday use in the city and travel with baby (infant or toddler).
Seat
This lightweight stroller has revolving seat – innovative feature that no other stroller has. The seat can be facing parent or the World, but you don't have to remove it from the frame and lift to reverse it. You can easily change the direction of the seat with one hand! The seat rotates a full 360 degrees.
This awesome features is useful especially for parents who cannot lift heavy things. It's perfect solution for moms who had C-section and parents who have back pain. No more struggles with lifting the seat. Now you can easily reverse it by twisting. You just need to pull a lever on the bottom of the seat and then just rotate the seat, it can be also done when the canopy is open.
Not every lightweight stroller offers reversible seat (which, to be honest, sucks) and even if it does, you need to bend, remove it, lift it, turn it and click it again. Sometimes it's really annoying. Here you can forget about that issue. Cybex Eezy S twist really makes parents life more easy.
This seat is also nicely padded and has 5-point harness. There is also multi-position recline which provides comfortable place for napping. The lowest position is almost flat (only few degrees reclined) which makes the seat suitable for younger babies. To recline the seat you need to use a strap with a buckle on the back of it. You can lower the seat using one hand, but to raise is you will need to use two hands.
There is also a step where older and taller kids can rest their feet on. However, it's not adjustable and can be used only when the seat is front facing.
The seat can accommodate a passenger up to 55 lbs. Really big capacity for such a compact and light stroller!
Seating options for newborns
Although the seat goes really far down, it's not proper for newborns because it doesn't give proper support for newborns delicate spine, neck and head. If you want to use this stroller from birth, you will need some additional attachments.
Cocoon Carrycot
Cybex Eezy S Twist offers parents option of attaching a cocoon carrycot to the frame. It's not classic bassinet, it's only a small cocoon which gives newborns better support for their back and head. I really like that it's equipped with summer cover and winter cover, so it will keep your child cozy and warm and prevent him from overheating.
Infant car seat compatibility – Cybex Eezy S Twist Travel System
This stroller can be easily turned into a travel system with Cybex and GB infant car seats. Not every lightweight stroller features infant car seat compatibility, so Cybex gets a BIG PLUS.
It's also great that the car seat attaches to the frame, not to the seat so the stroller doesn't get much bulkier or heavier. If you want to use Twist stroller as travel system you just need to detach the regular seat and attach the car seat adapters to the frame.
Canopy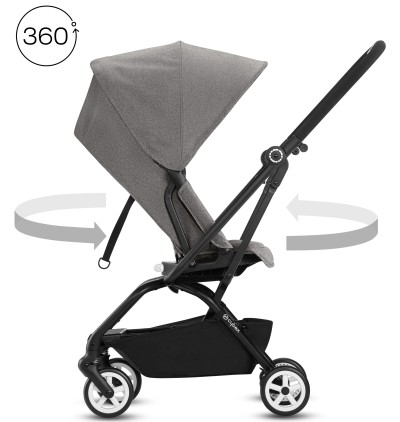 There is 2-panel canopy with sun visor. It's made of material with UV 50+ to protect the child from harmful sun rays. This sun hood is fairly roomy, but I'd wish it could go lower and had a peek-a-boo window. This is the bigger disadvantage of this stroller that I could find.
Wheels
Front wheels swivel which gives stroller agility. The wheels have suspension that absorb shocks on uneven terrain to provide smooth and comfortable ride and cozy place for nap time.
Keep in mind that the wheels are rather small so they are designed for flat terrain and work best indoors (in the mall or airport), on sidewalks, asphalt or even gravel trails.
Brake
These is a single action brake (this type gets popular in modern lightweight strollers). The pedal is placed in the middle of rear axle. It has convenient size and shape and it's easy to press and lift in sneakers and sandals.
Storage basket
It's not big, but offers decent storage space and I think you won't have any problems with fitting your diaper bag and few other items in it. Great thing about this bin is that it offers easy access from each side.
Folding
Cybex Eezy S Twist features one-hand easy folding and you can do it no matter if the seat is facing you or out. First you need to fully recline the seat and fold it over. Then you just need to squeeze a button on the handlebar and the stroller goes down. Check it on the video below.
Folded Twist stroller takes little space so it fits even in a small car trunk. It's also perfect choice for parents who don't have much free space at their home.
And there's one more awesome thing that will please traveling parents: Cybex Eezy S Twist fits in overhead compartment on most of airplanes! Its folded dimensions are about: 20″ x 10″ x 9″ so it meets carry-on regulations for most of airlines.
This stroller is equipped with a lock that prevents it from opening during transport or storage. It features self-stand and has convenient handle so you can easily carry it up and down the stairs or just carry it around when it's not in use. As you can see Twist stroller was designed for urban parents and parents who often travel with their kid.
Weight
This stroller is very lightweight, especially when we consider how well-equipped it is. It weighs less than 17 lbs! It's super compact, agile and maneuverable.
Color versions
Cybex Eezy S Twist comes in 5 different colors: Lavastone Black, Rebel Red, Denim Blue, Manhattan Grey and Passion Pink. The price may vary for each color version, so be sure to check it before you decide to buy this stroller.
Cybex Eezy S Twist – Price
Cybex Eezy S Twist retail price will be around $299 and the car seat adapters will be included with it. It's really reasonable price for such a versatile and lightweight stroller, considering it can be used for newborns as serve as an everyday stroller and travel stroller.
Cybex Eezy S Twist – Release Date
You're probably very excited about this innovative stroller and wonder when it is going to be available on the market. Cybex Eezy S Twist release date is scheduled for April 2018. Stay tuned for new information!
Cybex Eezy S Twist Review – Conclusion
Keep in mind
It's not suitable for off-road trips. Cybex Eezy S Twist works best as city stroller and travel stroller. Also, the canopy is not the biggest one and doesn't feature peek-a-boo window.
3 Reasons Why You Will Love Cybex Eezy S Twist
1. Thanks to seating options for newborns, this lightweight stroller can be your only stroller. You can use Cybex Eezy S Twist for running everyday errands and for travel with your infant or toddler.
2. For such a versatile and multi-tasking stroller it has really affordable price.
3. No more hustle with lifting the seat, no you can just simply twist it. Revolving seat is perfect solution for parents with back problems and moms after C-section.

Hello Moms! I am Zooey. I am a wife and a mother of three amazing kids: 3-year-old Haley and almost 1-year-old twins Jesse and Matthew. I am a jogger, cooker and blogger
If you have a question or a comment, do not hesitate to write to me! 🙂