The famous Dutch brand – Bugaboo has recently released a new version of their single all-terrain stroller – Bugaboo Fox, which is now called Fox2. It replaced the Buffalo stroller – but what's really great about Fox is that it has all the best features of Buffalo but it's much lighter, more agile and user-friendly.
If you're wondering if this Bugaboo stroller is good choice for your baby, or whether you should choose Fox or Fox2 -you will find all necessary information in this review.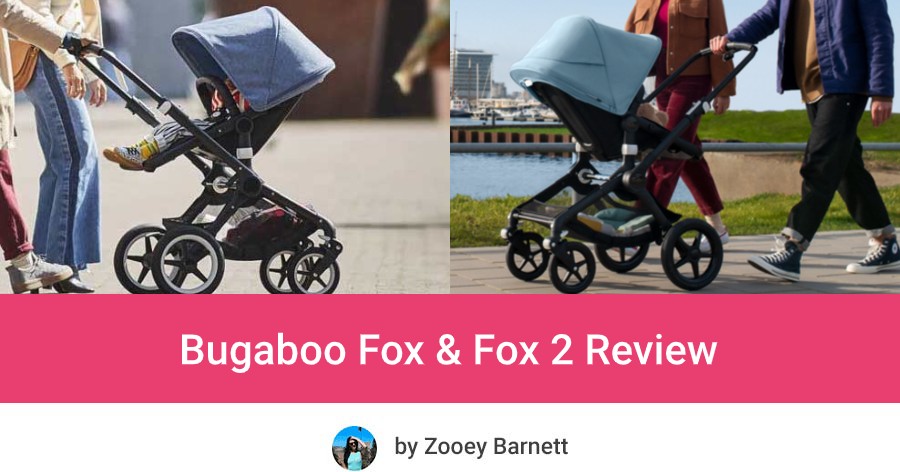 This article is NOT a substitute for medical advice. It contains affiliate links.
Bugaboo Fox is a single, convertible stroller that comes with a toddler seat and a bassinet. You can also easily turn it into a travel system, if you add an infant car seat compatible with it. This stroller from Bugaboo is not expandable, like Donkey, but there is a possibility of adding a wheeled board – great solution for older toddler or preschooler.
Quick sneak peek:
Bugaboo Fox came out in 2018 to replace the Bugaboo Buffalo, which was also an all-terrain stroller, but much heavier and more difficult to push and steer on harsher terrain.
Fox has many great features of the Buffalo but manufacturer also improved the functions that parents didn't like on Buffalo. This new stroller weighs nearly 5 lbs less and you can actually feel it.
It's an infant-to-toddler stroller, great for city use and occasional strolls on more bumpy terrain
Bugaboo Fox is not only multi-functional and user-friendly but it also looks beautiful, stylish and sophisticated. All the details are cleverly designed and the whole stroller is built to last. The fabrics are very rich, comfortable and soft to the touch.
In 2020 upgraded Bugaboo Fox2 came out. It has improved canopy, recline lever, fold triggers, and additional bassinet storage pockets. Other features stayed the same.
Did you know that you can create your own Bugaboo Fox? You can choose the color of the frame, seat fabric, handlebar and wheel caps!
If you'd like to get the upgraded version Fox2 – you can check it out here. I also recommend you to check if there are any discounts for the previous Fox 2019 – from time to time it's on sale!
Bugaboo Fox Review & Fox2 Review – Stroller Features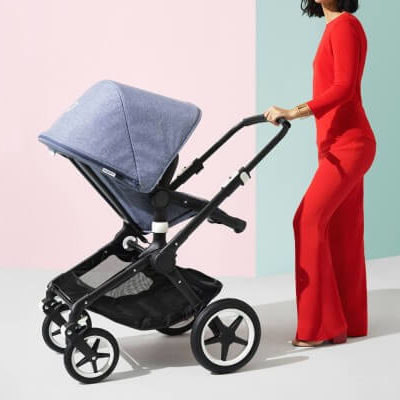 With Bugaboo Fox and Fox2 you get all the great features of Buffalo, but with many improvements This stroller has also few useful functions of Cameleon, Bee and Donkey to provide parents and babies with the most comfortable and enjoyable ride.
In my review I will refer to both Fox and Fox2, and I will also compare their differences.
What's Included
The basic package of Bugaboo Fox stroller and Fox2 stroller includes:
Stroller frame
Seat frame with bumper bar that doubles as a carry handle
Toddler seat fabrics
Bassinet fabrics
Wheels with wheel caps
Covers for the handlebar and bumper bar
As you can see this stroller doesn't come with a separate seat and bassinet. There is one seat frame that works for both – you just need to attach the right fabrics.
Changing between toddler seat and bassinet takes a bit more time (than with strollers like VISTA or Balios S), but you will probably do it only one time – when your baby outgrows the bassinet! Bugaboo shares useful videos how to switch the fabrics – it's pretty simple.
Toddler Seat
The regular toddler seat on both, Bugaboo Fox and Fox 2, is suitable for babies who have neck and head control. The weight capacity is 48.5 lbs. The seat is about 14 inches wide and 10.2 inches deep. It is roomy and comfortable even for a 3 year old child.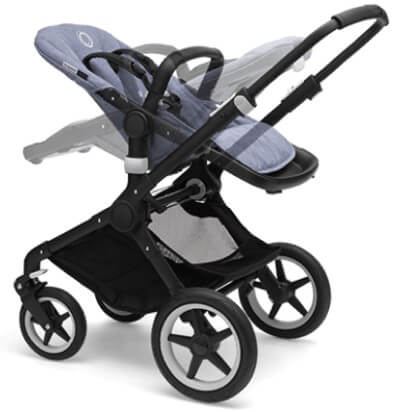 This seat is reversible which means your baby can ride facing you or the World, depending on his age and preferences.
There are 3 reclining position. Both versions of Fox have a bucket type of seat which means the whole seat reclines, not only the backrest. I like that the recline is one-handed – you just need to squeeze a lever on the back of the seat. On the Fox2 the level has been upgraded and now works more easily.
The deepest recline is not fully flat and the baby has his legs bent in this position so it's not super comfy, but it's sufficient for a short nap on-the-go.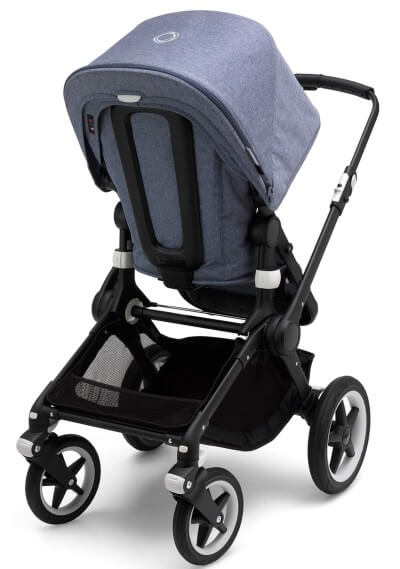 I like the most upright position which is pretty straight and allows the child to observe the surroundings. Great feature for toddlers who are very curious and want to see everything during the stroll.
Bugaboo Fox seat is equipped with a bumper bar that rotates allowing the parent to take the baby in and out of the stroller really quickly. This belly bar has leather-ish cover which adds luxurious and sophisticated look.
What's noteworthy is that Fox2 belly bar has been slightly improved and now it's easier to open.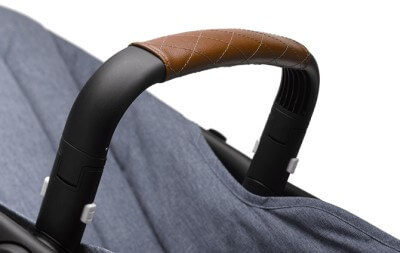 There is also 5-point harness with adjustable straps. To lock the harness you need to click each strap individually into the buckle in the middle, which may be a bit annoying but it's something you can get used to.
One more awesome feature. The seat unit is placed quite high up on the frame – 23 inches from the ground. This makes taking baby in and out of it more easy. You don't have to bend all the way down – great feature for parents who have back problems. Moreover, the stroller can serve you as a portable high chair in restaurants.
Canopy
Just like other Bugaboo strollers, Fox has very generous canopy as well. There are three panels – the third one opens with a zipper. When the canopy is fully extended it almost touches the seat bottom. It's amazing! The baby is covered from head to toe (in upright and reclined position too), which means full protection from the sun rays.
Of course you can use two panels (which also give good amount of shade for the baby), one panel or fold the canopy when you don't need it.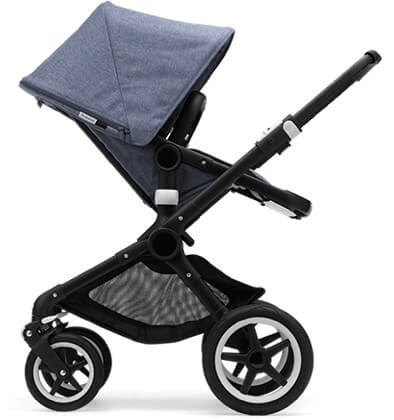 It's a bummer that such a high-end stroller like Bugaboo Fox doesn't have peek-a-boo window so when the baby is sitting facing front you can't keep an eye on him.
Fortunately the brand improved the canopy for 2020 Fox2 and this version has TWO large, silent peek-a-boo windows. You can check on your baby whenever you want. Besides, the mesh windows provide great airflow!
If you go for the Fox 2019, or if you've already had it – there is a solution. Bugaboo offers Breezy Sun Canopy for Fox with mesh side vents, front zippered window and small peek-a-boo window. You have to pay extra for this hood, but on a positive note – it is available in many colorful and trendy patterns (check price & available colors).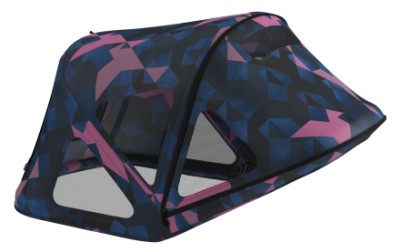 Bassinet
All versions of Bugaboo Fox Stroller come with bassinet fabrics which you can use from birth. These fabrics attach to the same seat frame, as the toddler seat fabrics.
Clicking the bassinet onto the chassis is very simple. It literally takes a few seconds.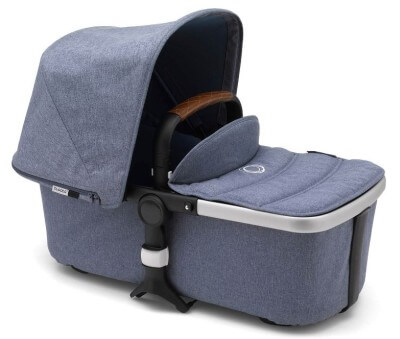 The bassinet is very deep and roomy and it provides completely flat position, suitable for newborn baby as it gives proper support for newborn's spine.
For the bassinet you use the same enormous canopy as for the toddler seat. When you unzip the third panel, the sunhood almost touches the apron on the bassinet and fully shields the baby giving them privacy and undisturbed nap.
Keep in mind that for 2019 Fox the canopy lacks viewing windows, while the new 2020 Fox2 has 2 peek-a-boo windows. Another new thing on Fox 2: additional storage pockets on the outside of the bassinet. You can keep your phone or keys within reach.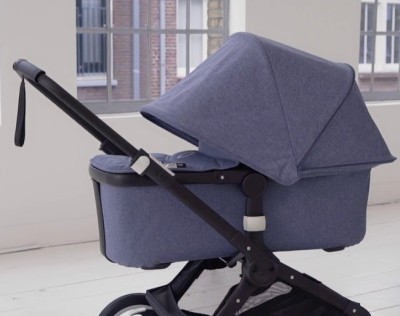 The apron is attached with a zipper and very easy to remove from the bassinet. There is also a carry handle for easier transportation. It is also covered with leather-ish fabric. It is noteworthy that this handle doubles as a bumper bar on the bottler seat.
Great thing about Bugaboo Fox/Fox2 is that you can fold it with the bassinet attached to the chassis! You just need to recline the bassinet (just like the toddler seat) and then fold the chassis. It will take up some space, but still less than an open stroller.
So if you want to save some space at home, but don't want to detach the bassinet every time you come back from a stroll, you can easily fold it and store the buggy with bassinet attached.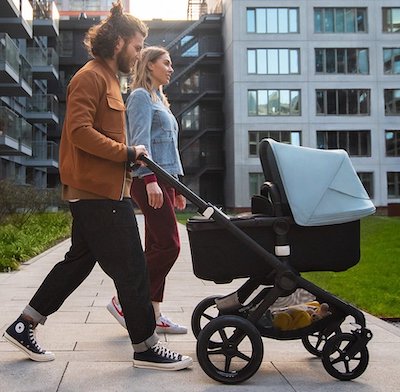 Infant Car Seat Compatibility
Bugaboo Fox and Fox 2 can be also used as a travel system. You can easily attach an infant car seat to the frame, instead of the seat/bassinet.
Both strollers are compatible with many popular car seat brands: Britax, Chicco, Cybex, Maxi-Cosi, Nuna and Peg Perego.
Full list of infant car seats compatible with Bugaboo Fox and Fox2:
Nuna Pipa
Nuna Pipa Lite
Nuna Pipa Lite LX
Cybex Aton M
Cybex Aton Q
Cybex Cloud Q
Cybex Aton 2
Maxi-Cosi Mico 30
Maxi-Cosi Mico Max
Clek Liing
Peg Perego Primo Viaggio 4-35 Nido
Peg Perego Primo Viaggio 4-35
Britax Romer Endeavours
Britax Romer B-Safe 35
Britax Romer B-Safe 35 Elite
Are you looking for a convertible stroller that you could use from birth till toddlerhood? Check my list of the best convertible strollers that have option of attaching bassinet or infant car seat.
Handlebar
This stroller from Bugaboo has height-adjustable handlebar. It easily telescopes in and out. There are few height settings, from about 34.6 to 42.5 inches from the ground so even very short and very tall parents can find a comfortable position and push Bugaboo Fox (or Fox2) easily with one hand.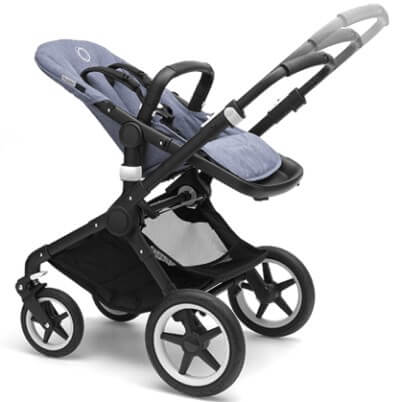 To adjust the push bar height you need to unlock these two white buckles on both sides of the bar, slide it in or out, depending on your height, and lock the buckles again.
Extendable handlebar is really awesome because it gives taller parents more space behind the stroller, in contrast to rotating handlebar which forces tall parent to stay very close to the stroller. With Bugaboo Fox tall parents with longer legs can comfortably walk behind the stroller without kicking the rear axle or wheels.
Moreover, the handlebar on Bugaboo Fox 2019 and Fox2 2020 have leather-ish cover which gives the stroller more luxurious appearance.
Wheels & Suspension
Bugaboo Fox has forever-air tires, the same that you can find on Donkey2 and Cameleon3. They are really great because they can handle even rough, bumpy terrain and provide very smooth ride, but they don't require inflating and you don't have to worry about punctures.
Front wheels are 8.5″ and swivel, which makes the stroller very agile and easy to maneuver, but they can be also locked straight for going over more difficult terrain. The rear wheels are 12″.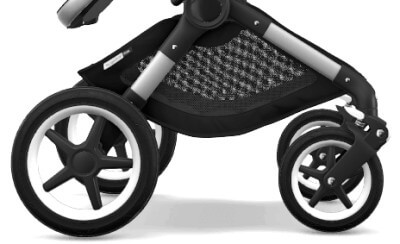 There is advanced central-joint suspension, plus additional rear-wheel suspension, which really make the ride more stable and cushioned. Maybe it's not as smooth as with jogging strollers, but still it's very comfortable and your baby won't get bumped around.
Thanks to big wheels and shock-absorbing suspension you can take Bugaboo Fox/Fox2 for a stroll to the woods as it will handle grass, gravel and bark chips. It's also perfect for strolling around the city – cracked sidewalks won't be a problem for this stroller.
Moreover you can take it for shopping at the mall or quick trip to the grocery store as it's very maneuverable and easy to navigate and turn.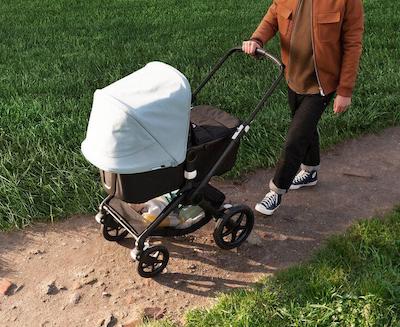 There is one more feature that I have to mention. You can put Bugaboo Fox/Fox2 into two-wheel position. It's a useful function, especially when you want to go through snow or sandy beach.
Thanks to two-wheel position you can easily pull the stroller behind you. But I would recommend doing it without the baby in the seat as the stroller is less stable in this position and feels more heavy.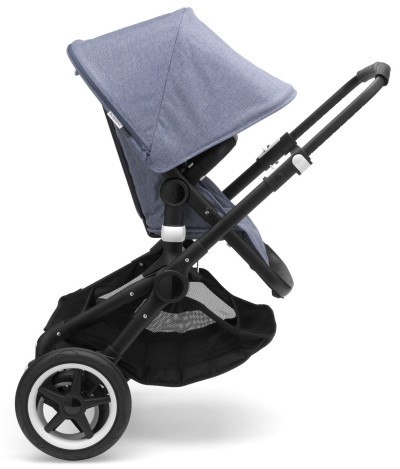 Parking Brake
This is the feature that I love about Bugaboo Fox! It has really awesome parking brake operated by foot. To lock the rear wheels you need to press a pedal, located next to the left rear wheel. The pedal has good size so you won't have problem with reaching it or pressing it.
To disengage the brake you don't have to lift it, like in many other strollers (which is not very comfortable if you're wearing sandals or high heels). Here you just need to press the pedal once again. Super smart! Engaging and releasing the brake is very simple and this is truly flip flop friendly brake.
There is also one more awesome feature. There are also color indicators that show when the brake is engaged or disengaged. When you lock the wheels the indicator will be red and when you press the pedal again and release the brake the indicators will be green.
There is one thing that you should keep in mind. The pedal is located very close to the basket so you need to be careful when pressing it, so you don't touch the basket fabric. My tip: Don't push the brake pedal with your whole foot, just use your toes.
Storage Basket
Spacious storage basket is another advantage of Bugaboo Fox and Bugaboo Fox 2. On both strollers the basket is exactly the same and has weight capacity of 22 lbs. It can accommodate large diaper bag.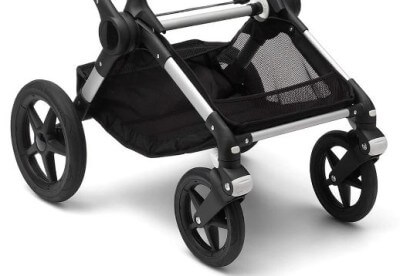 The basket is easily accessible from behind the seat. When the seat is reclined you can reach the basket also from the front.
Size & Weight
This stroller is 23.6 inches wide so you will easily fit through doorways and elevators. Moreover, Bugaboo Fox 2019 and Fox2 2020 are pretty light and easily to lift.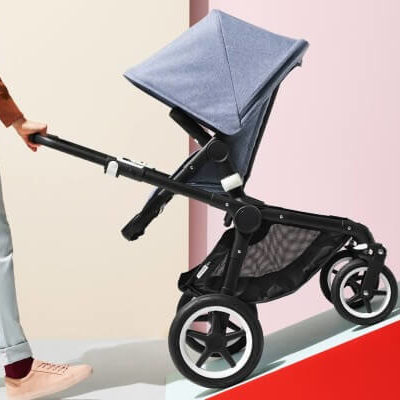 Both versions of Fox are much lighter than Bugaboo Buffalo and UPPAbaby VISTA. Fox weighs 21.8 lbs. 2020 Fox2 weighs exactly the same – 21.8 lbs. It is not that much as for a full-sized, convertible stroller. Lifting or carrying it is not effortless, but totally doable.
You should keep in mind that it is a weight of the lightest configurations – which includes only the chassis, seat and wheels. If you add storage basket, bumper bar and canopy the weight increases up to 26.9 lbs. It's comparable to UPPAbaby VISTA V2. Nevertheless, parents rave about this stroller being so light and easy to push with one hand!
Folding
First of all, you can fold Bugaboo Fox Stroller and Fox2 Stroller with bassinet or toddler seat attached (front or rear facing).
How to fold Bugaboo Fox?
Folding is quite simple, but takes some practice. First you need to set the handlebar at the lowest position, then lift two buttons on both sides of the bar and lower the seat unit. Then you just need to pull the handle behind the seat and the chassis will close in half. There is an automatic lock and self-stand for easier transportation and storage.
Folding mechanism on Fox2 works exactly the same, however the triggers have been relocated to the front of the frame – so they are easier to find and use.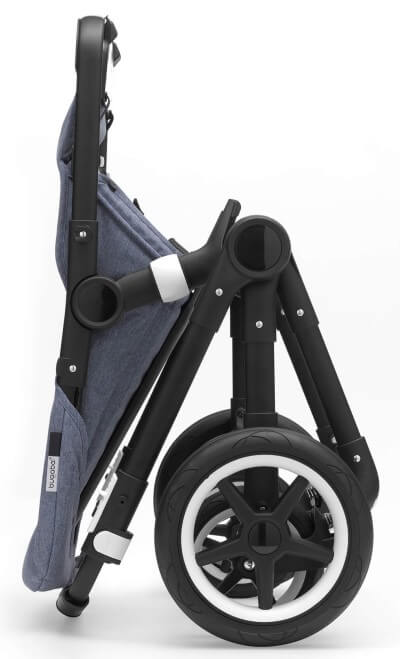 With the seat attached the stroller takes up a lot of space, as the seat unit doesn't fold in half (nor does the bassinet).
Dimensions of folded Bugaboo Fox 2019 with seat: 18.1″ x 23.6″ x 34.6″ (one-piece fold).
Dimensions of folded Bugaboo Fox2 2020 with seat: 18.5″ x 23.6″ x 35.4″ (one-piece fold).
It's much easier to store Bugaboo Fox at home or in a car trunk if you remove the seat first. You can even make the stroller more compact and detach the wheels too.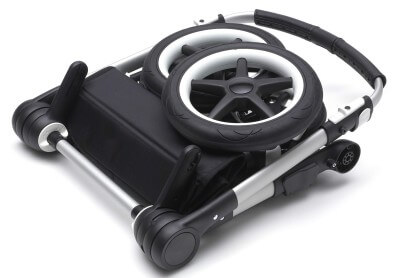 Dimensions of such a compact two-piece fold are: 26″ x 21.3″ x 7.5″. It's the best way to store the stroller, for example for the next baby.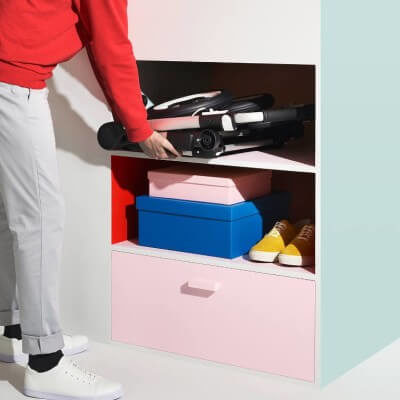 Pros & Cons
Pros
Cons

Pros

---

+ Thanks to included bassinet fabrics it's suitable from birth

+ Reversible seat with one-hand deep recline

+ Huge, extendable canopy – for full protection from the sun

+ The new 2020 Fox2 has improved canopy with 2 mesh peek-a-boo windows

+ Adjustable telescoping handlebar makes pushing convenient for tall and short parents

+ Agility & maneuverability – you can steer and turn the stroller with one hand even on uneven terrain and in tight places

+ Tires are non-inflatable

+ Big storage basket

+ Sophisticated, stylish look

Cons

---

- Folding takes some practice

- Folded stroller takes up quite a lot of space (when the seat and wheels are attached)

- Accessories are sold separately and quite expensive

- This stroller is a very pricey
What other parents think about Bugaboo Fox & Fox2?
This is a new stroller from Bugaboo – Fox2 has been on the market only for few weeks and they are not so many online customer reviews. Therefore I will refer to 2019 Bugaboo Fox reviews – since the stroller hasn't change that much, and its performance should be very similar.
Parents seem to love how fashionable and comfortable this buggy is. It has tight turning radius, pushes easily with one hand and rolls super smoothly, even if you stroll on bumpy cracked sidewalks. It's rather not for rocky trails, but on paved or gravel trails it works great. If you like walking at higher pace, Fox will also suit you as it really cushions the ride and it's very easy to steer. Previous owners recommend Bugaboo Fox for uneven NYC streets.
Moreover, parents mention that the stroller feels light and stable, the suspension is amazing, and the possibility to fold the stroller with the bassinet attached is very convenient.
Another advantage is the fact that the bassinet is overnight sleep approved – you just need the Bugaboo stand.
One more things that parents love is the fabric – it's plush, cozy and everything is removable for easy machine-washing! Besides, the seat is placed high up on the frame so you can use it as a high chair in restaurants.
Some parents complain the fold mechanism is not straightforward. Another downside is that the access to the storage basket is a big difficult when the seat is facing parents and fully upright (you need to go to the front to access it).
If you'd like to read more real customer reviews I encourage you to visit Amazon. Below you can also see some photos of happy Bugaboo Fox owners, that I found on Instagram.
Specification
Stroller
Data
Stroller Type
Convertible
Stroller Weight
21.8 lbs
Weight Limit
48.5 lbs
Stroller Dimensions
33-42" x 24" x 35-43" (L x W x H)
Fold Dimensions
2019 Fox: 18.1" x 23.6" x 34.6"
2020 Fox2: 18.5" x 23.6" x 35.4"
Handlebar Height
34.6" – 42.5"
Bugaboo Fox & Fox2 – Colors
Just like other Bugaboo strollers, Fox is available in many color versions. The famous Dutch brand offers a wide variety of colors for canopy, seat, bassinet and when the chassis, grips and wheel caps! Thanks to such a huge personalization you can create your own Fox, just how you like it (you can do it on PishPoshBaby).
The chassis is available in two colors: black and aluminum. The seat fabrics and bassinet (with apron) come in 5 colors: black, grey mélange, green mélange, red mélange and blue mélange.
Fabrics for the sun canopy (with UPF 50+) are available in 14 color versions! You can choose neon red, olive green, soft pink, sky blue, ruby red, black, fresh white, sunrise yellow, grey mélange, red mélange, blue mélange, birds, waves or tucan.
Faux leather grips (handlebar, belly bar and bassinet carry handle) can be purchased in three colors: black, brown and cognac.
Wheel caps are available in 4 color versions: brilliant white, dark red, glossy black and wood.
Below you can see all options for each part of the Bugaboo Fox Stroller.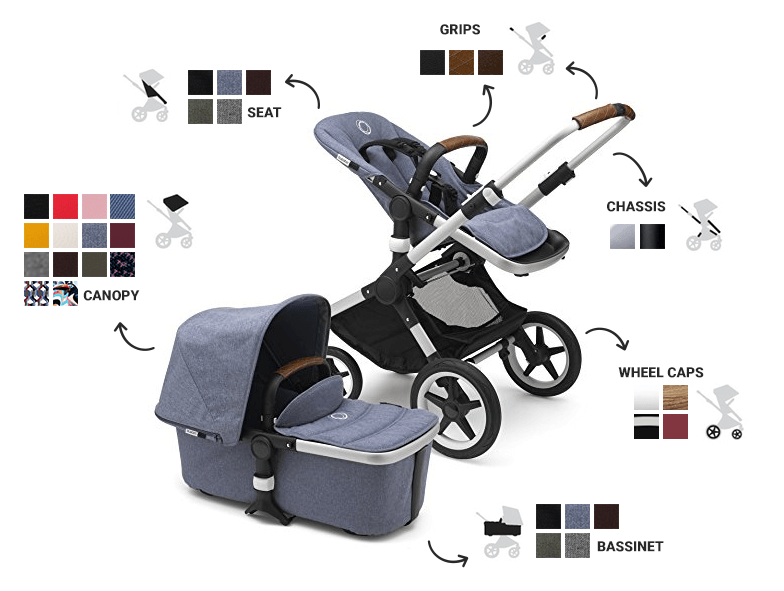 If this is too much for you and you cannot decide which colors to choose for each part, Bugaboo Fox comes in ready-made versions. You can check if it's on sale right now here.
For Bugaboo Fox2 the offer is right now a bit smaller. You can choose black or silver (aluminum) frame, grey melange or black fabrics for the seat/bassinet, and one of seven colors for the canopy: grey melange, blue melange, black, red, soft pink, vaporblue, or fresh white. I recommend you to check availability on Amazon – here you can choose one of the ready-made designs.
Accessories For Bugaboo Fox & Bugaboo Fox2
Although Bugaboo Fox is an expensive stroller is doesn't include any accessories. If you would like to have a cup holder or a snack tray, you need to purchase it separately.
Below you can see the most useful accessories that are compatible with 2019 Bugaboo Fox and 2020 Fox2.
Image
Description
Cup Holder

– It's compatible with all Bugaboo strollers. Thanks to it you can keep your water always at hand or you can put there your baby's sippy cup.

Breezy Sun Canopy

– This canopy has nice mesh side windows, small peek-a-boo window so you could check on your baby whenever you want and a front window so the baby could watch the surrounding when he's still fully protected from sun rays. It's a great accessory and a must-have on summer, since the canopy included with the stroller doesn't have any vents or peek-a-boo window.

Snack Tray – This tray, designed for Bugaboo Fox, has one beverage holder and enclosed storage for baby's snacks or small toys.
Wheeled Board

– Bugaboo Fox is a single stroller, but it allows to attach a board for second, older child. It's a perfect solution for toddler who usually prefers to walk, but gets tired on longer distances and for a preschooler.

Stroller Organizer

– Great accessory that allows parents to keep their essentials and personal items within reach. There is a big zippered pouch where you can fit some diapers, wipes, sippy cup and some soothers. There are also two small compartments for your phone, keys and other small valuables. Great thing about this organizer is that it easily converts into a hand bag so you can just grab it and go shopping.
Bugaboo Fox vs Fox 2
For 2020, Bugaboo has updated this stroller by improving some of the features and changed the name of the stroller to Fox 2.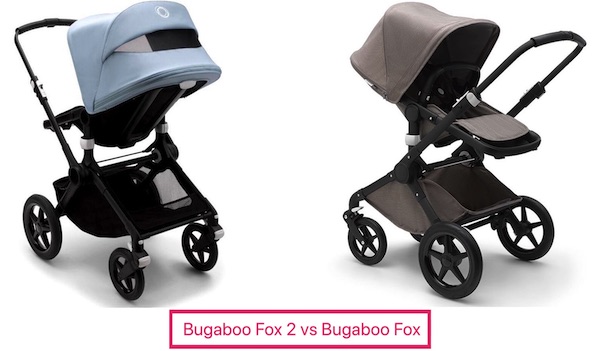 What's the difference between Bugaboo Fox and Fox 2? If we compare these two strollers, we will discover 5 main differences between Fox and the new Fox 2 which include:
Fox 2 has a mesh peek-a-boo window on the canopy – I'm so glad the brand improved one of the biggest issues with the old Fox.
Fox 2 has improved recline lever – it now works more easily.
On Fox 2 the bassinet has a rotating carry handle (which also double as bumper bar) and it has integrated side pockets – so you can keep your small essentials at hand.
2020 Fox 2 has redesigned folding triggers – now it's at the front of the frame, not on the underside, which makes it easier to find and use.
New colors for 2020 Fox 2 – there are new ready-made color packages for the new model, as well as new colors for the canopy (if you decide to customize your stroller and choose the colors separately for the frame, canopy and seat fabric). What's important the price for Fox2 did not increase!
Bugaboo Fox vs Bugaboo Buffalo vs Bugaboo Cameleon3
So the new stroller from Bugaboo – Fox, is quite similar to the Buffalo as it is supposed to replace this "old" stroller. It has some of the features that Buffalo had, however the manufacturer did improve some of the functions that parents complained about. It has also similar features as the Cameleon3 has.
If you're curious what are the differences between Bugaboo Fox, Buffalo and Cameleon3 or which Bugaboo stroller is the best, the table below should be helpful for you.
| | Bugaboo Fox | Bugaboo Buffalo | Bugaboo Cameleon3 |
| --- | --- | --- | --- |
| Image | | | |
| Weight | 21.8 lbs | 26.2 lbs | 21 lbs |
| Weight Capacity | 48.5 lbs | 50 lbs | 37.5 lbs |
| Seat Recline | One-hand | One-hand | Two-hand |
| Footrest | Plastic | Fabric | Fabric |
| Wheels | 8.5" & 12" | 10" & 12" | 6" & 12" |
| Suspensions | All-wheel suspension | No suspension | Adjustable front-wheel suspension |
| Brake | Footbrake, press to engage, press again to disengage | Footbrake, press to engage, lift to disengage | Handbrake |
| Storage Basket | Mesh basket with capacity of 22 lbs | Large basket with capacity of 22 lbs | Stiff-fabric bucket basket with capacity of 9 lbs |
| Fold | 1-piece fold | 1-piece fold | 2-piece fold |
| Maneuverability & Ease Of Use | Stable, agile and easy to turn, but pushing requires using a bit more force on harsher terrain | More heavy and difficult to push and turn, especially on bumpy terrain | Great maneuverability, feels light, but it's less agile and smooth on rougher surfaces |
At the first glance Fox, Buffalo and Cameleon3 look very similar. However Bugaboo Fox has many improvements which make it much better than other single Bugaboo stroller. It's lighter, more agile and more easier to navigate on harsh terrain than Buffalo. You can easily push it with one hand and it glides like a breeze even over a grass! I would say Bugaboo Fox is a better, improved version of Buffalo stroller.
Moreover, it's only slightly heavier than Cameleon3, but has bigger front wheels and more advanced suspension which make it suitable for more types of surfaces and the ride is smoother. Fox is easy to maneuver and has much bigger storage basket – perfect for shopping lovers.
If you're wondering what's the difference between the Bugaboo Fox and Cameleon, I would say the former one is more versatile and multi-purpose.
Bugaboo Fox vs UPPAbaby VISTA
When I saw Bugaboo Fox for the first time I thought that it looks very similar to UPPAbaby VISTA. Both strollers are high-end, luxury products made of top-quality materials and they both look stylish and trendy.
However there are some important differences which determine which stroller will work better for you and your baby. In the table you can see major differences. Below there is a detailed comparison of Bugaboo Fox vs UPPAbaby VISTA 2018/2019.
| | Bugaboo Fox | UPPAbaby VISTA |
| --- | --- | --- |
| Image | | |
| Weight | 21.8 lbs | 26.6 lbs |
| Expandable | No | Yes |
| Weight Capacity | 48.5 lbs | 50 lbs - main seat and 35 lbs - Rumble Seat |
| Wheels | 8.5" & 12" | 8" & 11.5" |
| Suspension | All-wheel | All-wheel |
| 2-Wheel Mode | Yes | No |
| Seat Recline | 3 Positions | 6 Positions |
| Footrest | Non-adjustable | Adjustable |
| Canopy | Huge, extendable, 3-panel canopy, no peek-a-boo window | Large 2-panel canopy with long pop-out sun visor & magnetic peek-a-boo window |
| Storage Basket | Mesh, elastic storage with capacity of 22 lbs | Stiff basket with capacity of 30 lbs |
| Fold | One-piece fold, automatic lock & self-stand, pretty wide | Easier and quicker folding, one-piece fold, automatic lock & self-stand, quite flat fold |
| Fashions | Easier and quicker folding, one-piece fold, automatic lock & self-stand, quite flat fold | 9 standard colors + 3 new colors for 2019 , you cannot mix colors of canopy and seat |
| Price | More expensive than VISTA | Pricey, but cheaper than Fox |
The biggest difference between Bugaboo Fox and UPPAbaby VISTA is the versatility. Fox is designed only for one child, it doesn't expand to a double stroller. You can attach a wheeled board to Bugaboo Fox for second, older child, but you cannot add second seat, bassinet or car seat.
UPPAbaby VISTA is an expandable stroller which means you can use it as a double stroller: with one or two bassinets, toddler seats or infant car seat, or you can mix the seats if you have kids of a different age. You can also attach a PiggyBack Board for the third, oldest child. As you can see Bugaboo Fox is a great option for example for a newborn baby and preschooler, while the UPPAbaby VISTA is awesome solution for twins + preschooler or newborn + toddler + preschooler.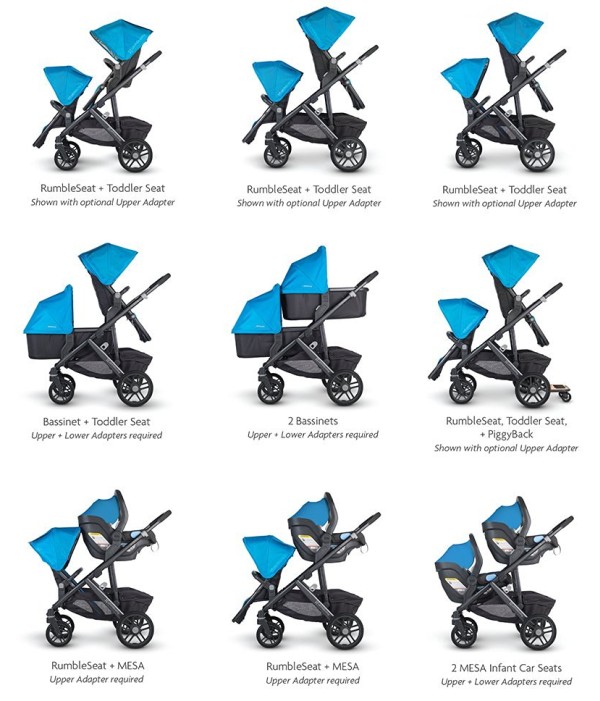 VISTA is significantly heavier than Fox (almost 5 lbs), but it's still one of the lightest expandable strollers! It is heavier, because it has to be strong enough to hold two or even three kids.
Both strollers can handle many types of terrain, even the rough and bumpy surfaces. However, Bugaboo Fox pushes more smoothly as the pressure is distributed across the whole frame. VISTA is also very convenient to steer, but with an older and heavier kid or during going over bumps pushing is a bit harder and you may feel some shocks.
Bugaboo Fox works on snow and grass slightly better than VISTA, as the wheels and suspension cushion the ride a bit more. Moreover Fox features two-wheel mode which is very useful when you need to drag the stroller over snow or sandy beach or bring it up stairs.

Both Bugaboo Fox and UPPAbaby VISTA have huge storage baskets, however the latter one has even more spacious bin with higher weight capacity (30 lbs, instead of 22 lbs!). Be careful with VISTA's storage basket – it's so big that you could easily fit there so many things that weigh more than 30 lbs, but it would decrease stroller's stability.
Another differences between VISTA and Fox is folding mechanism and folded size. VISTA is more easy to close as it takes less steps and can be done within few seconds. Folding Fox is not very difficult, but it takes about 6 steps and a bit more time.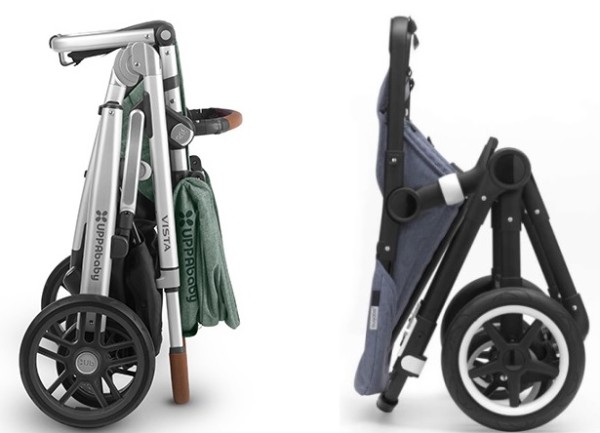 Moreover, UPPAbaby VISTA 2018/19 has very narrow self-stand, especially for a full-sized stroller. Bugaboo Fox also features one-piece self-standing fold, but the seat sticks out further, making it more bulky and difficult to transport or store. So comparing the one-piece fold (frame + seat) UPPAbaby VISTA is smaller and thanks to that it's simpler to store at home.
However, one-piece fold may not be perfect for transporting in a car trunk (it's more difficult to lift the chassis and seat at once and it may not fit it). Sometimes it's easier to detach the seat from the frame and transport two pieces separately. And here Bugaboo Fox wins – the frame itself is small than VISTA's and both pieces of Fox are more convenient to carry (you can use the belly bar and the bar below the seat as a carry handle).

The last big difference between Bugaboo Fox and UPPAbaby VISTA: customization. The former one offers really wide variety of color options. You have 2 colors for chassis, 5 colors for seat and bassinet fabrics, 14 colors for the canopy, 3 colors for faux leather grips and 4 colors for wheel caps! You can mix and match all colors just how you like it. On the other hand, VISTA offers 8 color versions which are really beautiful, but you cannot mix colors of the canopy and seat, you just choose one of the prepackaged color versions.
As you can see both stroller have some significant differences and depending on your needs and preferences, one of them may suit you better 🙂
Check my full review of UPPAbaby VISTA
See UPPAbaby VISTA price on Amazon
See Bugaboo Fox price on Amazon
Keep in mind
Although this stroller is all-terrain, on very rough, bumpy ground it will bounce a little bit. The ride is cushioned but not as smooth and soft like with jogging strollers.
3 Reasons Why You Will Love Bugaboo Fox
1. Since it comes with a bassinet and toddler seat it can be used from day one and it can be the only stroller you will even need.
2. This stroller is a pleasure to use for parents: it has one-hand reclining seat, telescoping handlebar and smart parking brake that is easy to use even in flip flops.
3. It's made of high-quality materials and fabrics – not only stylish and luxurious but also very strong and durable.
My rate:
Do you like Bugaboo Fox Stroller? It's a really expensive model, so before you decide to buy it make sure it really meets your needs.
Bugaboo Fox is not what you need? Check out other awesome strollers for 2020.
---
All pictures of Bugaboo Fox and Fox2 belong to Bugaboo. Sources:
All pictures of UPPAbaby VISTA belong to UPPAbaby. Source:
Your trust is really important to me: This post contains affiliate links. If you choose to buy something using these links, I receive a small commission, at no extra cost to you. Your support helps me run this blog. Thank you so much 🖤 Zooey