Are you looking for an urban and multi-functional stroller with reversible seat? You can't decide between UPPAbaby CRUZ V2 or Bugaboo Bee 5? If the answer to these two questions is yes, you are in luck. I have looked at these two popular strollers, and I'm ready to give you the scoop on which one is the best: UPPAbaby vs Bugaboo.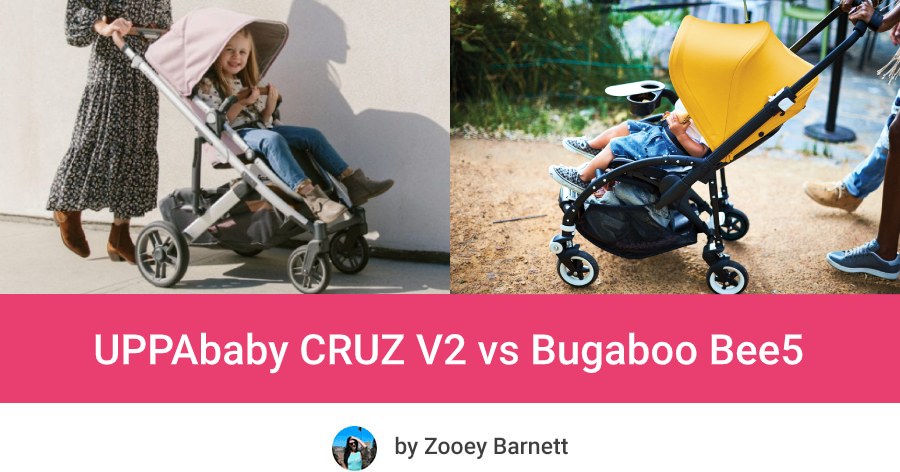 UPPAbaby has released an updated version in 2020 called CRUZ V2, with several exciting improvements. Bugaboo Bee5 has been the same since 2017 but the range of features offered definitely makes it a smart choice. Both strollers are recommended for parents who prefer to have a single stroller just for one child, and don't need an option to expand.
However, each of these two strollers have some benefits and limitations that every parent should know before making the purchase.
Let's dive into our UPPAbaby vs Bugaboo comparison and find out whether Bee 5 or CRUZ V2 is smarter investment.
This article contains affiliate links.
Bugaboo Bee 5 vs UPPAbaby CRUZ V2 – Differences & Similarities
Both Bugaboo Bee 5 and UPPAbaby CRUZ V2 are top-of-the-line strollers, made of high quality materials designed to serve you for years (and maybe even few kids). There are some crucial differences between them, so you will need to pay attention to everything here and decide which one is best for your family.
UPPAbaby CRUZ V2
Bugaboo Bee5
Seat suitable from 3 months up to 50 lbs
Seat suitable from 6 months up to 37.5 lbs
Options for newborns: bassinet, infant car seat, Infant SnugSeat
Options for newborns: bassinet, cocoon, infant car seat
5-position recline
3-position recline, including near-flat and upright positions
Backrest is 20" tall
Backrest can be adjusted from 18" to 21" (seat depth is also adjustable up to 15")
Handlebar adjusts from 40.5" to 43"
Handlebar adjusts from 35.5" to 42.5"

7" front wheels & 10" rear wheels + all-wheel suspension

6" wheels +

independent 4-wheel suspension

Large storage basket with capacity of 30 lbs
Medium storage basket with capacity of 8.8 lbs
Less compact fold, the seat fabric folds outwards
More compact fold, the seat fabric folds inwards
22.8" wide
Slimmer design, easy to steer (only 21" wide)
Weighs 25.5 lbs
Weighs 19.6 lbs
UPPAbaby CRUZ V2 vs Bugaboo Bee 5 – What's included
Advertised as an urban stroller, the Bugaboo Bee 5 basic package includes: seat unit (base, seat fabrics, canopy), chassis with wheels, wheel caps, and storage basket, handlebar grips and a stroller rain cover.
It might interest you to know that Bugaboo Bee5 can also be purchased with a bassinet as a 2-in-1 set (you can see the full package here). What's also important, all add-ons and accessories are also sold separately so you can add these extra items later, whenever you need them or change some of the parts like canopy fabric or wheel caps and customize the stroller accordingly to your liking. More on Bee5 customization later!
With the UPPAbaby CRUZ V2 you will get the following: stroller frame with toddler seat and bumper bar, wheels, storage basket and real leather handlebar & bumper bar covers, a toddler seat insect nest, and a toddler seat rain shield.
You can also add to your package a bassinet or UPPAbaby MESA Infant Car Seat, or add these accessories later. I included a list of UPPAbaby accessories at the end of this comparison.
Looking at the basic package, there is just one difference to notice: the insect mesh cover that CRUZ includes, which Bee5 misses.
It is noteworthy that despite the additional accessory, CRUZ V2 is actually a bit cheaper than Bee5 (depending on the colors the difference may be somewhere between $20 and $150).
UPPAbaby CRUZ V2 vs Bugaboo Bee 5 – Toddler Seat
The Bugaboo Bee5 stroller has a toddler seat with a weight limit of 37.5 lbs. It is recommended to babies over six months of age, or able to sit up. On the other hand, the toddler seat of UPPAbaby CRUZ V2 has a capacity of up to 50 lbs. Its design, however, allows for it to be used by babies starting at three months of age.
While the Bee5 has 3 recline positions, the CRUZ V2 offers 5 positions. Both adjust super easily with a one-hand lever.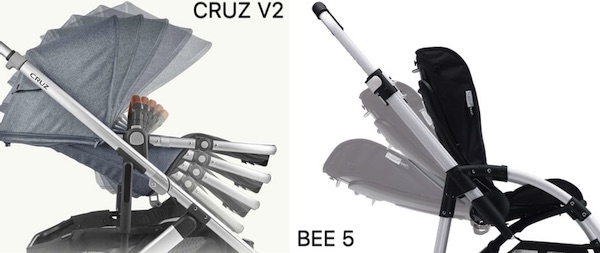 The important difference between these two strollers is that CRUZ is equipped with a bucket-style seat (when you recline it, the whole seat goes back, there is no fully-flat recline), while the Bee has a standard seat where the backrest reclines independently from the rest of the seat unit.
The recline on Bugaboo Bee is really impressive, it's almost flat!
What I really like about the Bee seat is how upright it is! If your toddler doesn't like sitting in a reclined seat and gets fussy because he can't see anything, he will love this seat. Bugaboo Bee5 is one of the best lightweight strollers with really upright seat.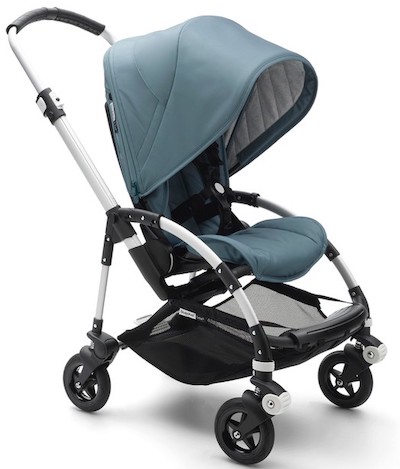 In the CRUZ V2 stroller, the seat back has 20″, which is usually enough for a 3-3.5 year old child. It is also noticeable that the calf rest in this stroller is longer than in the Bugaboo, providing more support for toddler's legs. This means an added level of both comfort and safety.
The seat back of the Bugaboo may seem small at the first glade, but don't worry – it extends!
It has a height of 18″, but you can slide it up as the child grows – up to 21″. The seat depth can also be adjusted, from 11″ to 15″. This is a definite advantage, as the stroller can accommodate taller children. With these dimensions, Bee5 should serve you for at least 3-3.5 years (of course it will depends on your child's size).
It's a good thing that the seat depth is adjustable, because you can make the seat longer and more comfortable for a nap on-the-go. Having a leg rest would make it even more comfy, it's a pity Bee5 doesn't have it!
Another crucial difference that I have to mention is the seat height from the ground – the seat unit on Bugaboo Bee 5 is mounted about 20″ from the ground which is pretty low.
This means taking the baby in and out of the seat may be a bit harder and require more bending, especially if you are tall. With CRUZ V2 this may be more convenient. On the other hand, when the seat is closer to the ground, it may be easier for older child to climb in and out of it on their own.
The seats on Bugaboo and UPPAbaby strollers are reversible, therefore when the child is younger he/she can ride facing mommy, and when they get older and more interested in observing the surrounding, you can reverse the seat to face out.
I prefer the adjustments on CRUZ V2 though. You simply click two buttons and the seat detaches easily. Reverse it and it clicks back on.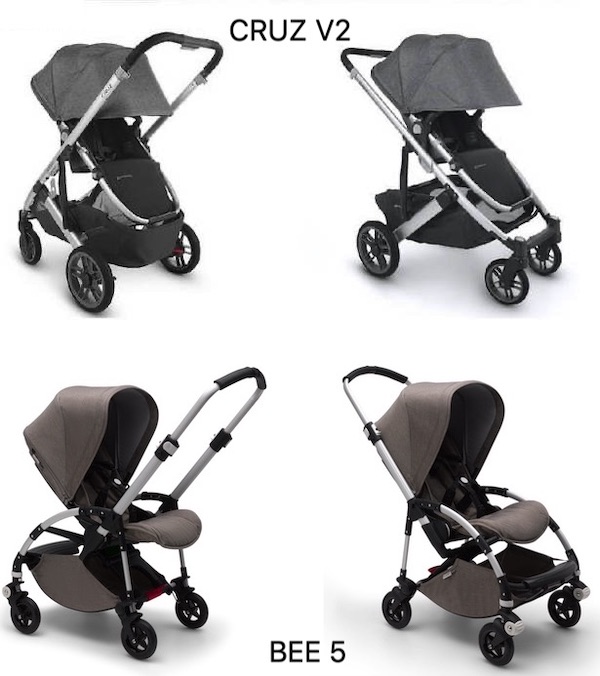 With Bee5 reversing the seat is slightly more complicated as you need to fold the seat first, detach it, and keep it squeezed tightly while installing it again, otherwise it won't click back on. Once you get a hang of it, you'll be doing it within few seconds.
Both strollers have a no re-thread 5-point harness as a safety feature. Each is very easy to adjust as the child gets taller.
A huge advantage, in my opinion of Bee5 stroller is that all the seat fabrics (including the canopy) are machine-washable. UPPAbaby fabrics are removable too (although it's a bit more difficult), but the brand only recommend hand-washing.
UPPAbaby CRUZ V2 vs Bugaboo Bee 5 – Bassinet
As I briefly mentioned earlier, the bassinet option is available in both strollers. It allows parents to use either the Bugaboo or the UPPAbaby stroller from the first day of life, ensuring a comfortable and safe environment for the newborn baby. Overall, the bassinet of the CRUZ V2 seems to be better, with more options offered. Let's take a closer look.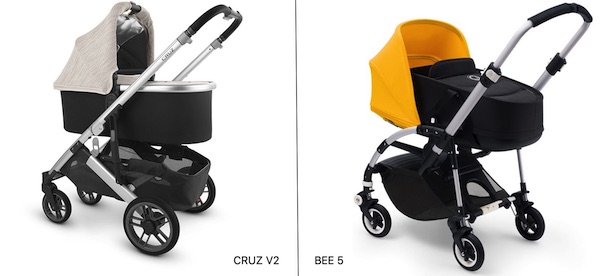 UPPAbaby Bassinet is recommended from birth up to 20 lbs and it comes with a bug shield. I always rave about its advantages like: awesome breathable base and mattress, lots of mesh vents in the canopy that increase the airflow inside the bassinet, and the possibility to use it for overnight sleeping (the bassinet stand is sold separately here).
On the other hand, the Bugaboo Bassinet set includes: the base, fabrics, mattress, apron, required adapters.
It not as rigid and UPPAbaby Bassinet and it's not approved for overnight sleep. But for strolling with a newborn baby it's sufficient and it does provide safe and supportive space.
It attaches to the stroller frame, instead of the seat. The fabric is machine-washable. It takes less space than UPPAbaby Bassinet therefore it's easier to transport in a car trunk or to store at home. Moreover, it's much lighter, thus easier to carry.
PRO TIP: If you want to use the Bee5 from birth, but would prefer cheaper option than the bassinet, there is another option: Bugaboo Cocoon. It's about the half the price of the bassinet! Just keep in mind it's even less rigid, it attached to fully reclined seat and you need to use the harness to keep your baby securely in place. For occasional and short walks it's a great option, if you want to save some money.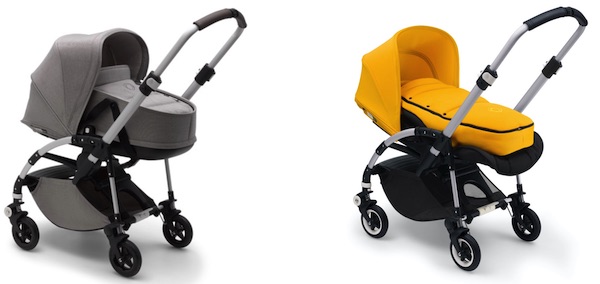 Infant Car Seat Compatible With Bugaboo Bee 5 & UPPAbaby CRUZ V2
The Bugaboo Bee 5 is compatible with the following car seats:
Cybex: Aton M i Size, Aton 2
Nuna: Pipa, Pipa Lite, Pipa Lite LX
Maxi-Cosi: Mico AP, Mico 3, Mico Max 3
Clek: Liing
Chicco: KeyFit, KeyFit 30
Adapter is required for each of the mentioned infant car seats, so that the stroller can properly attached to the frame. I found the Chicco adapter on Amazon. All other car seats work with one adapter available for example on PishPosh Baby. Please note that some car seat brands offer their own adapters.
The UPPAbaby CRUZ V2 is compatible with the following car seats:
UPPAbaby: MESA Infant Car Seat
Maxi-Cosi: Mico Max 30, Mico Max Plus, Mico AP, Mico, Mico NXT, Cabrio, CabrioFix, Citi
Cybex: Aton and Aton2, Cloud Q series, Aton M
Chicco: KeyFit, Keyfit 30, Fit 2
Nuna Pipa, Pipa Lite, Pipa Lite LX
With the exception of the UPPAbaby MESA Infant Car Seat, you will need an adapter for each of these car seats. Keep in mind that the adapter will increase the overall cost of the stroller, not to mention it will represent an additional component to worry about.
Nevertheless, CRUZ V2 works without adapter at least with UPPAbaby car seat which is a big advantage. Transition from car to stroller is a breeze!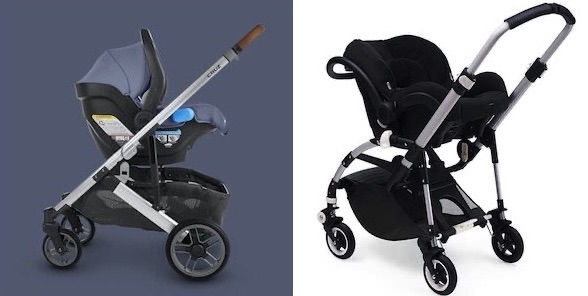 UPPAbaby CRUZ V2 vs Bugaboo Bee 5 – Canopy
The canopy of the Bugaboo Bee5 is extendable, reducing the overall exposure to the sun, as well as wind and rain. It has 3 panels, including one that opens with a zipper, and offers a protection of UPF50+. The fabric is water repellent. The biggest downside for me is the lack of the peek-a-boo window or mesh vents.
With the UPPAbaby CRUZ V2, you also get an extendable canopy with UPF50+ fabric. It was recently redesigned for 2020, and now it's really long providing lots of shade. Two mesh peek-a-boo windows allow parents to easily check up on their little ones, as well as ensure the adequate ventilation in the warm season.
Note: Bee5 canopy is available in a wide array of colors, so you can customize the stroller to your liking. You can purchase the canopy independently from the stroller, if you want to make it more fashionable. All patterns can be found here.
In terms of canopy size it's a tie, but when we consider the breathability of CRUZ V2 canopy I think it's better.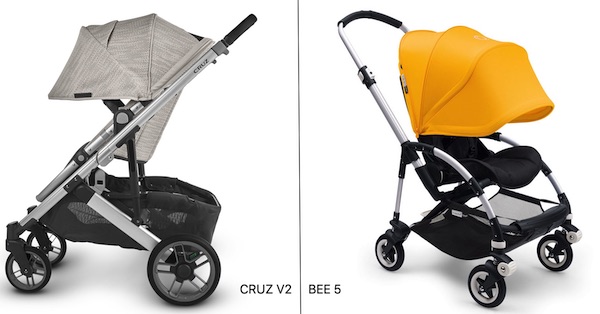 UPPAbaby CRUZ V2 vs Bugaboo Bee 5 – Handlebar
Short and tall parents will enjoy either one of these two strollers, as both come with extendable handlebars. Easy to customize, they are perfect for any height.
There is a slight difference, with the Bugaboo Bee5 offering handlebar that slides lower – which for very short parents may be really convenient.
Bee 5 handlebar height: 35.5″ – 42.5″
CRUZ V2 handlebar height: 40.5″- 43″
Regardless of your height, you will find that both the Bugaboo Bee5 and UPPAbaby CRUZ V2 are comfortable to push. There is no need to worry about back pain, and you can enjoy the time spent outside with your baby.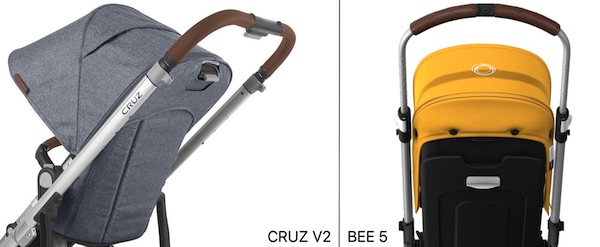 The best thing about these handlebars is that they extend by telescoping, giving tall parents more room behind the stroller. If you have long legs, you don't have to worry about kicking the back of the stroller while pushing it.
It's a good thing that CRUZ has telescoping handlebar, because its storage basket sticks out pretty far and tall parents would kick it without extendable handle.
You can also purchase Bee5 handlebar grips as accessories and change them whenever you want. With CRUZ V2 there is a handlebar cover replacement available too, but note that the leather cover will not fit on the existing leather cover (it has to be ripped or taken off).
Bugaboo Bee 5 vs UPPAbaby CRUZ V2 – Wheels, Suspension & Brakes
With the Bugaboo Bee5, you will get an independent four-wheel suspension system, which allows for facile maneuverability of the stroller. Both the front and rear wheels have 6″ and they are made from hard rubber and filled with foam.
Even though Bee5 was designed as an urban stroller, it handles slightly rough terrain surprisingly well! On larger bumps it shakes a bit, flat hard-packed gravel, short grass or cobblestone won't be a problem for it!
What's noteworthy is that Bee5 has special wheels caps that decrease dirt and dust accumulation in the wheels.
With the 2020 UPPAbaby CRUZ, you get bigger wheels: 7″ at the front and 10″ at the back. Tires are polyurethane. There is new upgraded all-wheel suspension.

So which of these two strollers rolls more smoothly and handles more types of terrain?
It's important to notice that CRUZ V2 has completely new suspension system. If I were to compare Bee5 with the old CRUZ (2018/2019) I would choose Bee5 without any hesitation! The previous version of CRUZ had some shaking problems even on small bumps. However, the new model – V2 handles off-road much better! It's still not suitable for large bumps, but grass, gravel driveway or cracked pavement won't be a problem.
So I would say now CRUZ V2 and Bee5 perform very similar, maybe the UPPAbaby stroller handles slightly more challenging terrain thanks to large wheels at the back. But frankly, I'm not sure if those rear wheels themselves are worth getting 6 pounds heavier stroller (yes, CRUZ V2 is 6 lbs heavier than Bee 5). If you're choosing CRUZ V2 over Bee5 don't just focus on the wheel size, make sure you're okay with all other features!
Whether you go for a Bee5 or CRUZ V2, you'll enjoy one-hand steering and pushing. Turning is effortless too!
When shopping for a stroller, one of the most important characteristics to check out is the brake.
From the start, it should be mentioned that both have excellent foot brakes, with easy access. In the Bugaboo Bee5, the brake is found between the rear wheels and it is simple to use, offering a high level of security. The pedal is pretty big, easy to find and press. It's pretty much sandal-friendly.
In the CRUZ V2, the brake is located on the back frame, but there are two pedals: red for engaging and green for releasing the brake. They are easy to spot. You can press it effortlessly, regardless of the shoes you are wearing. Yes, it will work wonderfully, even if you have decided for sandals. It won't ruin your pedicure, because you only need to tap it, no need for lifting the pedal!
Bugaboo Bee 5 vs UPPAbaby CRUZ V2 – Storage Basket

Adequate storage space is essential when you have a baby, and you need to leave the house with diapers, wipes, toys, snacks, blanket, and so on. The storage basket is your best friend and you want it to be as spacious as possible.
The Bugaboo Bee5 is advertised as an urban stroller, so it should come as no surprise that its storage space is somewhat reduced. Thus, the basket can hold up to 8.8 lbs of parents belongings. For a medium size diaper bag it should be sufficient.
It can be accessed quite easily from the front, however the access at the back is a bit blocked, because of the frame base construction. With the bassinet attached, the access will be even more difficult and require lots of bending (mainly because the bassinet is mounted really low).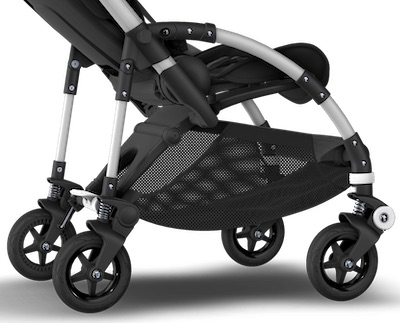 By contrast, the UPPAbaby CRUZ V2 has a larger basket – recently it got even bigger and now has impressive capacity of 30 lbs! It will accommodate not only your diaper bag, but also grocery bags, mom purse and jacket.
The access to CRUZ V2 basket is very easy from the back, when the seat is facing out. When you reverse the seat and the child is facing you, the access will be easier from the front.
Bugaboo Bee5 vs UPPAbaby CRUZ V2 – Size, Weight & Folding
Given the fact that you will need to frequently fold, carry, transport the stroller in your car trunk or store in your apartment, it's best to opt for something you can handle easily on your own.
| | CRUZ V2 | Bee5 |
| --- | --- | --- |
| Weight with toddler seat | 25.5 lbs | 19.6 lbs |
| Stroller width | 22.8" | 21" |
| Fold size | 33" x 22.8" x 16.5" | 35.4" x 18.3" x 12.6" |
It is clear that the Bugaboo stroller is significantly lighter (almost 6 pounds!) and features more compact fold. If you are going to carry the stroller a few flight of stairs every day heavy buggy will be super annoying. Dealing with a stroller that weighs under 20 pounds will be much, much easier.
Now let's take a look at how these two strollers fold (CRUZ on the left, Bee on the right).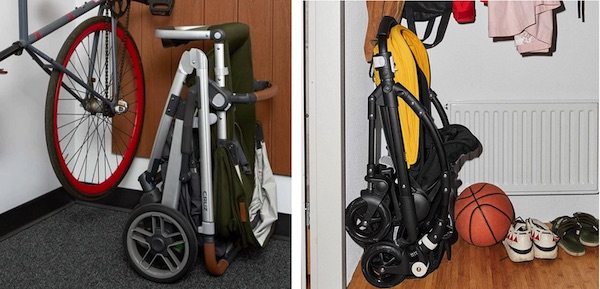 What do all parents dream of? That's right. We want a stroller that folds quickly and without too much effort. And you are in luck, as both Bugaboo and UPPAbaby have created a stroller that matches the description.
The Bugaboo Bee5 is quite compact when folded, which makes it easy to store. In order to fold it, however, you will have to use both hands: you just need to lift two triggers on both sides of the handlebar and the stroller collapses down. Moreover, it's a 3D fold which means it also gets narrower!
With the UPPAbaby CRUZ V2, the fold looks a bit different. You will still need to use two hands to lift two triggers on the handlebar and then with one hand you can fold the stroller backwards. It will collapse in half.
I like the Bee5 fold for 3 reasons:
The seat fabric folds inwards, so nothing gets dirty (in contrast to CRUZ where the fabric folds outwards and is exposed to dirt)
Obviously folded Bee5 is more compact than CRUZ V2
It is super easy to unfold with one hand (you just press the parking brake area with your foot while holding the handlebar and the stroller basically opens on its own)
There is one reason why I like CRUZ V2 fold:
The buggy stands on its own when folded. To make Bee5 self-standing you need to purchase this prop accessory.
Bee 5 vs CRUZ V2 – Colors & Customization
CRUZ V2 is available in 9 fashions. From 2020 collection you can choose: Alice, Finn, Hazel, Sierra; and from 2019 collection you can get: Bryce, Emmet, George, Jake or Jordan. Keep in mind that you cannot change the color of the canopy or customize the frame color. Some colors may have slightly higher price – you can check all of them here.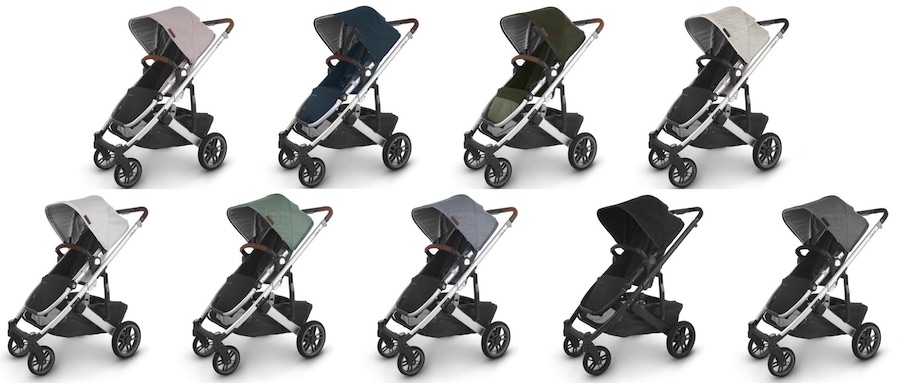 Bugaboo Bee 5 offers HUGE customization! You can choose black or silver base, then you have 10+ color options for canopy, 6 colors for the seat fabric (not all of them are currently available though), 3 colors for handlebar grips and 4 colors for the wheel caps. You can create your own Bee5 stroller just how you like it! You can also choose one of the ready-made sets, available for example at PishPoshBaby.com.

Accessories For Bee 5 & CRUZ V2
Both stroller offer wide range of add-ons. For Bee 5 and CRUZ V2 you can get a bassinet (the latter one is a bit more affordable), as well as the board for second child (again, UPPAbaby offer slightly cheaper one than Bugaboo).
There are also multiple accessories to make your experience with the stroller more pleasant and to make he buggy more versatile: cup holder, snack tray, parent console, adapters for infant car seats, footmuff and many more.
Among Bugaboo add-ons there are three that stand out:
Cocoon – it attaches to the main seat (in flat position) making it suitable for newborn baby. His way you can skip the bassinet.
Breezy canopy – awesome canopy with multiple mesh windows hat provide excellent airflow.
Parasol – perfect for keeping the baby cool on hot days with no wind
Among UPPAbaby accessories there are two accessory that I really like:
Infant SnugSeat – this insert attaches to the main seat making it suitable from birth. It gives additional support for newborn baby body and head.
Bassinet stand – to use the bassinet for overnight sleep you will need this stand. Once your baby outgrows the bassinet, you'll be able to use the stand for your laundry if you add this hamper insert.
Final Decision: Is UPPAbaby CRUZ V2 Or Bugaboo Bee 5 Better?
When it comes to debating between UPPAbaby CRUZ vs Bugaboo Bee, you have two amazing strollers but no clear winner. Both are convertible, with a wide range of attractive features and just as impressive line of accessories.
After reviewing both strollers I think the Bee5 is better choice for urban parens, as it offers basically the same features, quality and performance as CRUZ V2, but weighs 6 pounds less and is more portable.
Nevertheless, both CRUZ V2 and Bee5 have some advantages and limitations and it's not possible that one will suit all parents.
Below you can find a list of reasons why you may prefer one or he other buggy. It's just my personal opinion, but I hope this will give you better insight what to expect from both strollers.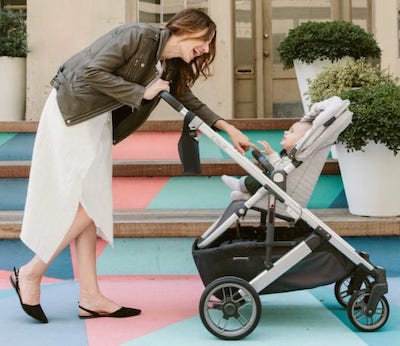 Reasons to choose UPPAbaby CRUZ V2:
Roomy toddler seat suitable from 3 months, with much higher weight limit
Huge storage basket with 3x higher capacity
Very easy to push
A bit lower price
UPPAbaby offers wonderful bassinet for CRUZ V2, which is very breathable and approved for overnight sleeping, it"s the best option for newborn baby – safest and most supportive
Significantly larger rear wheels (although I don't think those rear wheels themselves are worth getting a 6 pound heavier stroller; if you want to choose CRUZ V2 over Bee5 you should rather be sold on other features).
We consider the CRUZ V2 to be the better choice for parents who need a larger stroller, not only for urban rides but also for the occasional off-road. It is also the ideal choice if you are looking for additional storage space. High-quality materials and a wide range of accessories make this stroller an attractive option. Another reason pro-CRUZ is the bassinet with rigid walls, awesome breathability and best supportive mattress.
>> If you're thinking about getting the UPPAbaby stroller you may also want to read my CRUZ V2 vs Nuna MIXX comparison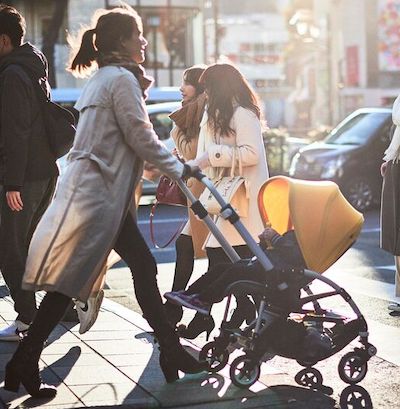 Reasons to choose Bugaboo Bee 5:
Much lighter and easier to lift and carry
Slim design and effortless one-hand steering perfect for urban strolls
Narrower and shorter – easier to maneuver in tight places
Compact, yet robust – works well for everyday errands and for travel
Fashionable parents will love the wide range of customizable parts
Super large expendable canopy with UPF50+ protection
2 options to use Bee5 from birth: cocoon or bassinet – both are lightweight and easy o store
If you are looking for a stroller that has all the characteristics of a great stroller but is lighter in weight, the Bugaboo Bee5 might be a better choice. The stroller seems tailor-made for the city, being comfortable and compact. Bugaboo allows parents to customize it according to needs and personal preferences. There are also limited editions available for those looking for something truly special. Bee5 feels light, and it's very nimble.
---
Sources:
---
The purpose of this article is informative. It's not a substitute for medical consultation or medical care. The author of this article does not accept any responsibility for any liability, loss or risk, personal or otherwise, incurred as a consequence, directly or indirectly, from any information or advice contained here.