UPPAbaby recently released upgraded version of their famous stroller – VISTA 2020. Correction: this puppy has a new name – the UPPAbaby VISTA V2.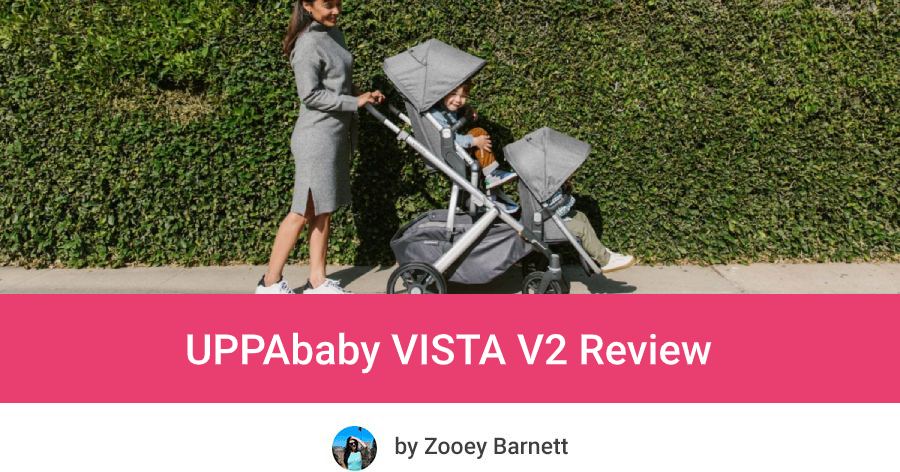 Since you are here, you must be wondering: "What are the differences between the VISTA 2020 vs VISTA 2019?", "Is the new heir to the coveted VISTA throne worth the money?". Well, that's what I will help you to find out in the next couple of minutes.
While this is a review of UPPAbaby VISTA V2, I will also be comparing features of the VISTA 2019 with the new changes on VISTA V2. Also, I have included a side-by-side comparison of VISTA 2020 vs 2019. If you don't have time to read the full review, you'll find most important information in the table below!
Let's get straight to it, and then we'll move on to the detailed review.
This post contains some affiliate links.
UPPAbaby VISTA V2 2020 vs VISTA 2019 – Comparison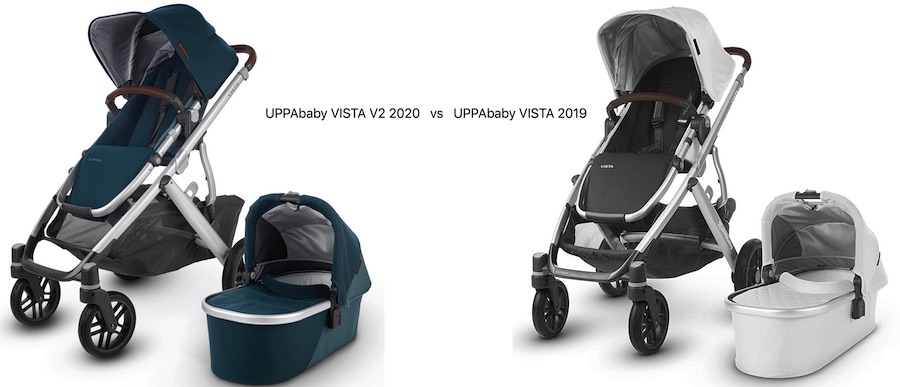 UPPAbaby VISTA V2 2020/21
UPPAbaby VISTA 2019
Larger seat with 20" tall seatback and deeper footrest
19" tall seatback

No-rethread harness

Manually adjustable harness

No change in wheels size and design, but now there is color-coded front wheel lock indicator

Polyurethane wheels, handle multiple types of terrain

Redesigned all-wheel suspension system

All-wheel suspension
The canopy has 3 fabric panels which give even more shade, there are two mesh windows

The canopy has shiny silver pop-out visor and

a single ventilation window

UPPAbaby logo embedded on a leather tab attached on canopy

Large logo on canopy

9 colors: Sierra, Finn, Hazel, Alice, Jordan, Bryce, Gregory, Emmet, Jake

10 colors: Bryce, Spenser, William, Henry, Gregory, Emmet, Jordan, Jake, Jakie, Sabrina
Save $200 OFF VISTA in Jordan color
Check On Amazon If Previous Model Is Now Cheaper
UPPAbaby VISTA V2 2020 – Features
Seat
Starting with the most essential component of any stroller, the seat is perhaps what got the most significant improvement with VISTA V2.
The regular seats of VISTA and VISTA V2 strollers look pretty much similar in design and are meant to support babies from 3 months up to 50 lbs/40 inches.
However, a close inspection of the specs reveals that the new seat backrest on VISTA V2 is an inch taller at 20″ (VISTA 2019 seatback is 19″). It also has a deeper footrest (2.5″) compared to that of the VISTA 2019 (2″).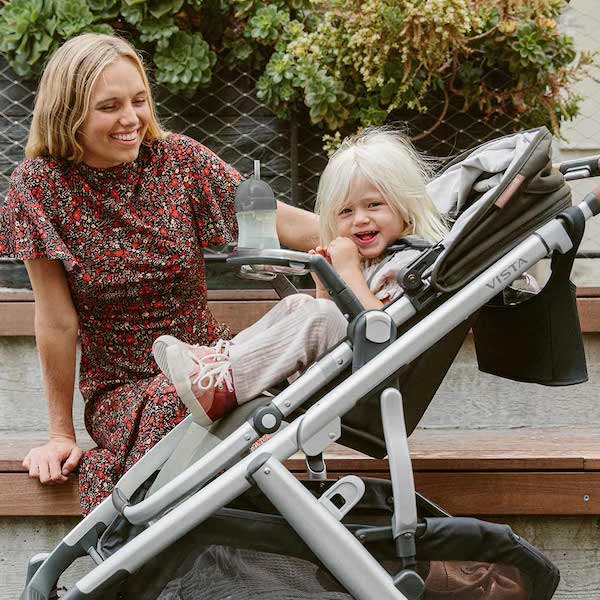 Another incredible change here is the no-rethread five-point safety harness. With this type of harness, adjustment is very easy, because you don't have to take off the seat fabric and pull the straps in and out of the holes.
Compared to the manually adjustable harness of the older VISTA, this new system makes height adjustments quicker and hassle-free. It's much more convenient, especially if babies of different heights will share the seat.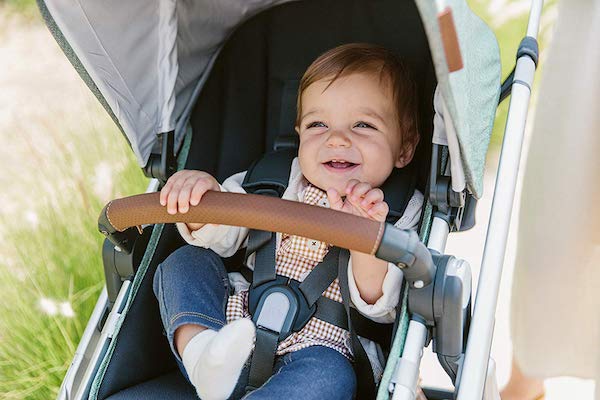 VISTA V2 2020 seat is also reversible – the baby can face you or the world. It offers 6 recline positions, and what's so impressive here is that you'll need just one hand to lower and raise the seat. Thanks to the bucket-style seat, the footrest also moves with the backrest during reclines for optimum comfort when napping.
Generally, while the VISTA 2019 seat was satisfactorily comfortable, the new changes for the VISTA V2 will hands down, take your baby's comfort to the next level.
SALE ALERT! 🥳
You can now save $200 on UPPAbaby VISTA V2 in gorgeous Jordan color. Grab your discount here 👈 Stocking is limited so hurry up!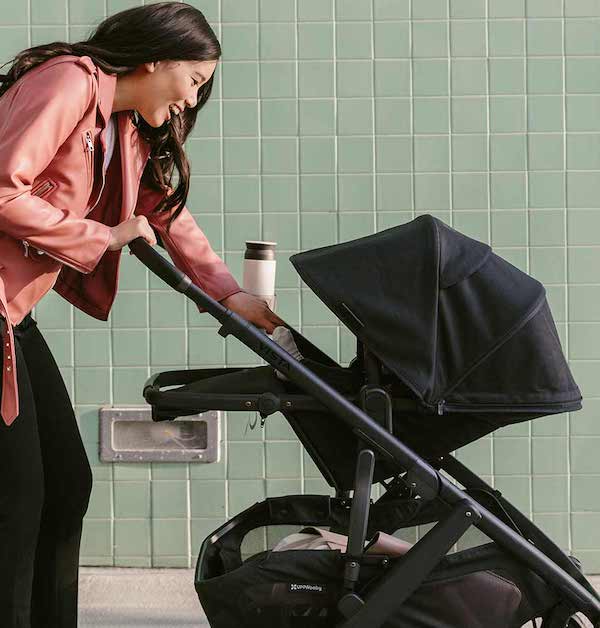 Bassinet
The bassinet didn't receive any upgrades. Honestly, this is one of the best bassinets that I came across in the last couple of years (!), and I don't think it needed any improvements.
This bassinet is designed to accommodate your newborn until he/she is 20 lbs/25″ tall. It has excellent aeration thanks to the perforated mattress pad and the vented base. The back panel of the canopy can also be unzipped on hot days to improve air circulation in the bassinet. Honestly, this is one of the most breathable bassinets ever!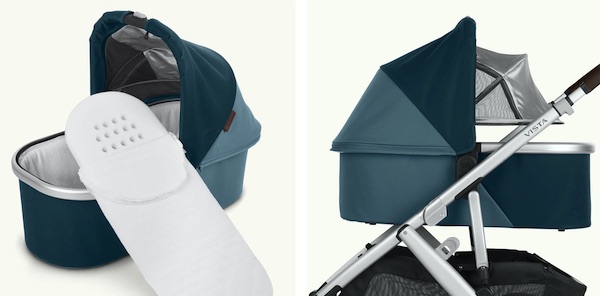 There is also a pop-out sun shade that fully protects the baby from harmful sun rays. With UPPAbaby bassinet you don't have to worry that your baby gets hot, sweaty, or worse – overheated.
What I like so much is that this bassinet has been approved as a primary sleeper for the baby, when fitted with the UPPAbaby Bassinet stand (see it on Amazon here). This makes a lot of sense when you need to have 2 sleeping places for the baby: one upstairs and another one downstairs, for instance. Or you can simply use this bassinet instead of a crib, which is a space-saving solution for those who live in a small flat.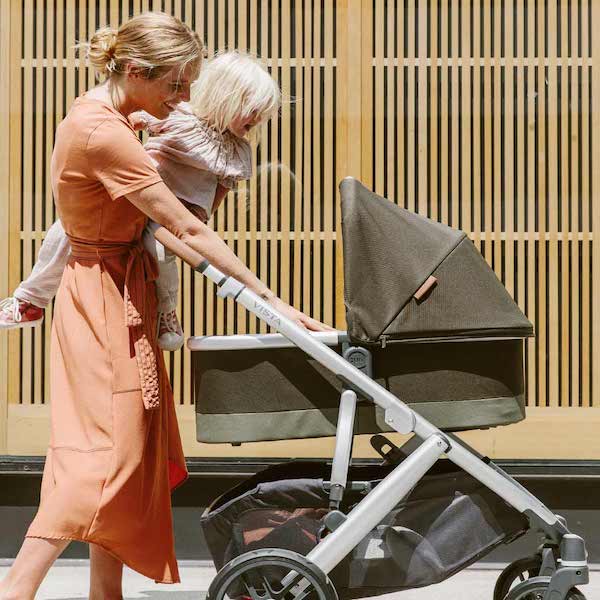 Because of all the reasons mentioned above, UPPAbaby VISTA V2 has been chosen on LittleBabyGear as one of the best bassinet strollers.
Seating Configurations
If you have 2 babies (either twins or an infant and a sibling), this stroller's ability to expand into a double might be the key highlight for you. This feature is available in all VISTA strollers, and it allows you to attach a second bassinet, a rumble seat (supports up to 35 lbs), and even a car seat.
Even better, you can attach a piggyback board to allow a third child to join in the stroll at theme parks, zoos, and malls.
All the seating configurations allows the VISTA V2 to adapt to your exact needs. This is a very flexible stroller, as the picture below shows. Nevertheless, I don't like some of the configurations as their design does not meet the needs of parents of twins or kids of different age. You can read more about my concerns in my comprehensive review of VISTA 2017-2019.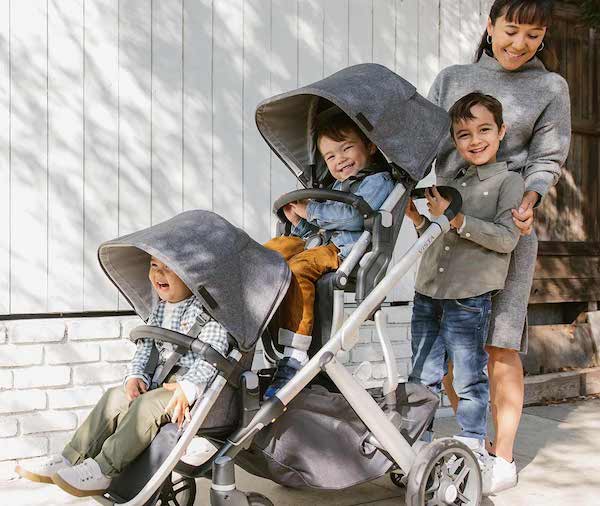 UPPAbaby VISTA V2 2020 Travel System
Note that to convert this stroller into a travel system using a car seat, you'll need to purchase an adapter kit. VISTA V2 is compatible with infant car seat brands like: Chicco, Maxi Cosi, Nuna and Cybex (of course not all models).
Good news is that VISTA V2 still works with UPPAbaby MESA infant car seat with no adapters. It simply click onto the stroller frame. It's works smoothly and reduced the amount of accessories you need to buy.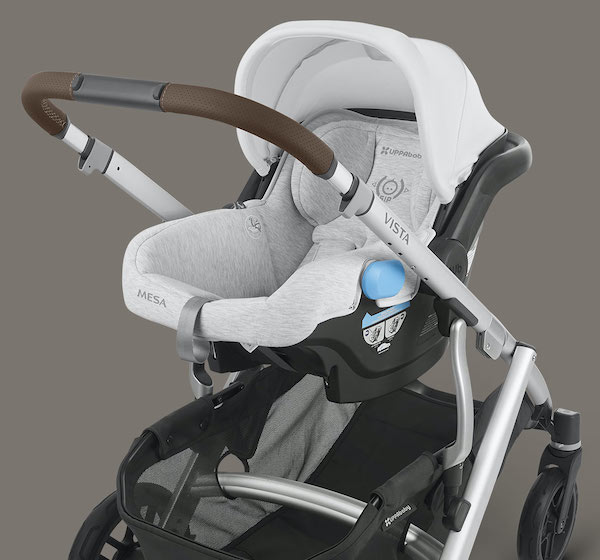 Canopy
One of the key selling points of the UPPAbaby VISTA 2019 is its large sunshade with two extendable panels and a handy pop-out sun visor made of shiny silver material.
With the 2020 UPPAbaby VISTA V2, the canopy has been redesigned and now it doesn't have the sun visor, but it has 3 large panels so it gives even more shade than the canopy on the previous model. The third panel opens with a zipper.
The new stroller's canopy also offers more ventilation in that it features two mesh windows (the VISTA 2019 has one).

Another significant aesthetics upgrade of the UPPAbaby VISTA V2 is the logo that has now been embedded on a small leather tab attached to the canopy. This is a premium departure from the large letters that VISTA 2019 uses.
These changes give the new VISTA V2 canopy a sophisticated look that you'd want to see in a high range stroller. But what's most important, protection from the sun and elements is now even better with this improved canopy.
Oh, and just like in previous versions, 2020 VISTA V2 allows you to slide the canopy up as your child gets taller. Awesome feature!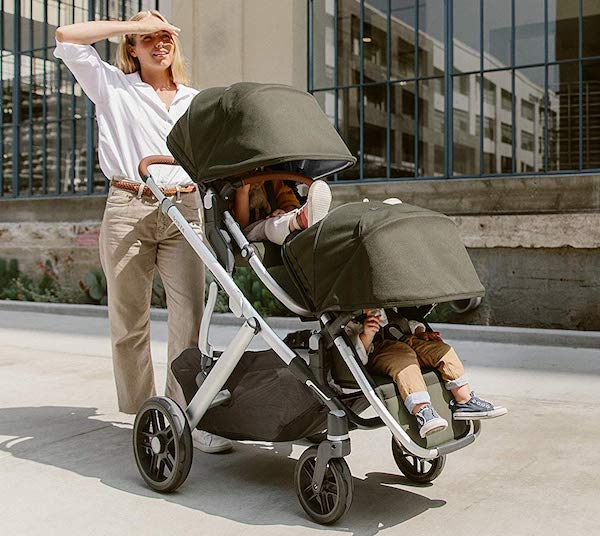 Handlebar
This new stroller uses the same handlebar that UPPAbaby VISTA strollers have been using since 2018. This is a height-adjustable leatherette handlebar that gives the VISTA 2020 a premium look and feel that you'd expect on a stroller at its price range. This leather material is the same used for the bumper bar and on the logo tab.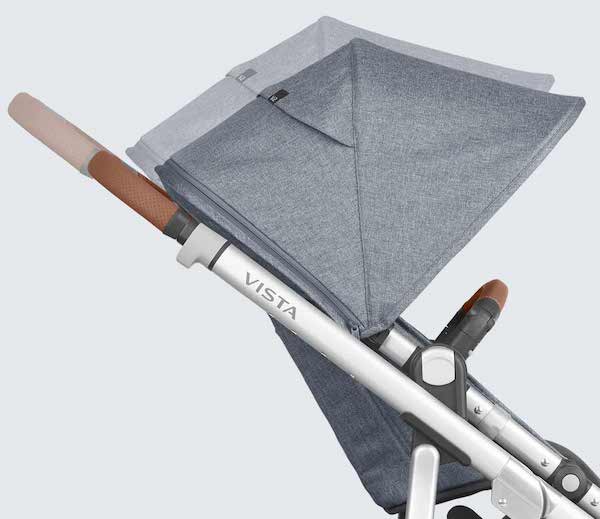 Personally, what I like most about this handlebar is that it adjusts by telescoping. I'm not a fan of handlebars that adjust by rotating up and down.
Wheels & Suspension
UPPAbaby has been redesigning VISTA's wheel and suspension systems with almost every new release. That's the same case with VISTA V2 2020.
The wheels have the same size as last year (11.5″ rear wheels and 8″ front wheels) and are made of polyurethane. The new wheels on VISTA V2, however, are notably softer and the all-wheel suspension system has been redesigned for much smoother strolls regardless of the terrain. 2020 VISTA V2 has new spring suspension which cushions the ride over bumps. It makes this pretty much an all-terrain stroller.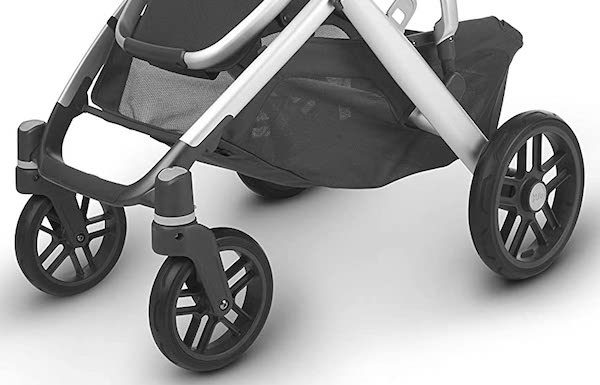 Another feature that most safety-freak moms like me will appreciate is the visual indicator on the new stroller's front wheels locks. These are color-coded indicators that show when the wheels are securely locked (or not). This eliminates all anxiety and doubts so that you can stroll with confidence.
Maneuverability
Although I'm yet to give VISTA 2020 a test stroll, I believe it will be a breeze to push, just like its predecessor.
The beauty of VISTA 2019 is pushing it with one hand, even with a passenger on board. However, it gets notably clumsy once you convert it into a double.
As such, you need a little bit more effort when steering in tight corners and crowded spaces. Since the size of the stroller has not changed, the maneuverability remains the same.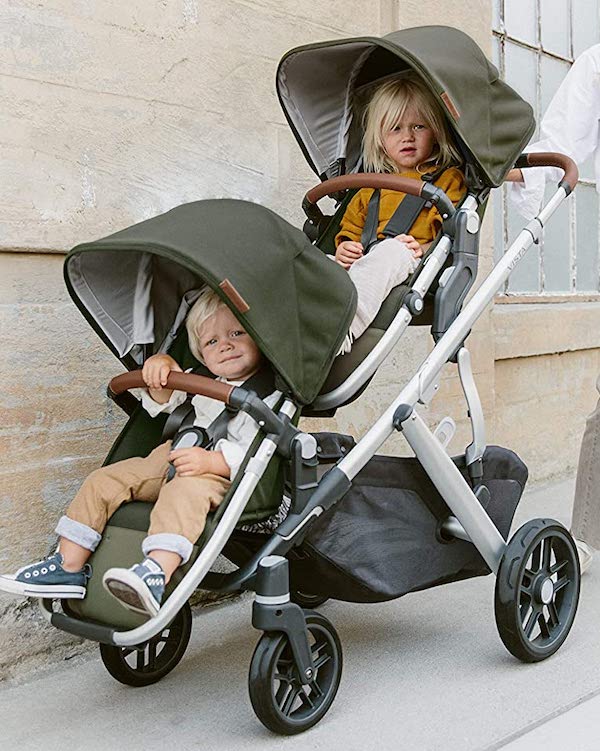 All in all, the polyurethane wheels of these strollers will take you through all types of terrains from chipped and pitted sidewalks to grass, gravel, and snowy roads. It might struggle on dry sandy beaches, but walking right by the water where the sand is compacted and less fluffy might work. Just remember to clean the wheels from the wet sand afterwards!
Brakes
The UPPAbaby VISTA 2020 utilizes the same braking system of its predecessor too. Anyone who've used the VISTA 2019 will affirm that the brake was one of its best parts. So, it's not surprising that UPPAbaby decided to retain it – you don't fix what's not broken – right?
The VISTA V2 uses a foot-operated brake pedal that you simply tap once to engage and tap again to release. This brake pedal's tap-tap mechanism is not only pedicure-friendly, but it's also easy to use barefooted!
Importantly, this pedal also has a color code (green and red) to inform you when you've successfully engaged or released the brake.
Storage Basket
Presently, the VISTA 2019 has one of the roomiest cargo baskets of all strollers and can accommodate 30 lbs worth of cargo (groceries, toys, jackets, and diaper bag among other items).
This space has not changed much with the VISTA V2. But the basket of the latter has a much sleeker design. It has also dropped the snaps that are found in the 2019 VISTA.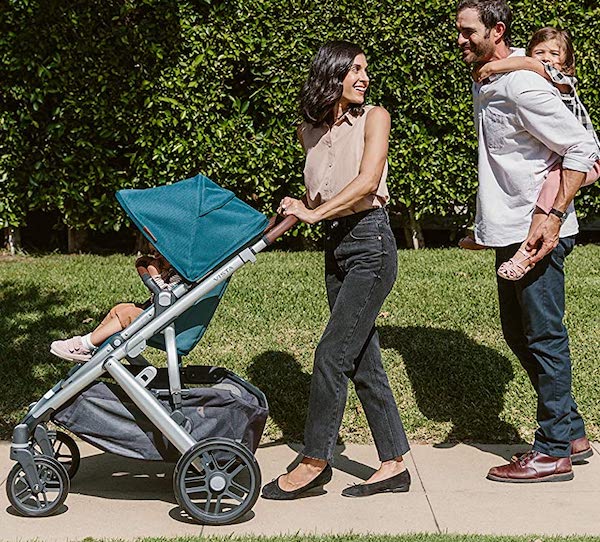 Similar to the VISTA 2019, the VISTA V2 2020 basket also has a pocket that can hold some of your small items like keys and phones or car seat adapters.
Size, Weight & Folding
The size and weight of the VISTA V2 have not changed that much from the VISTA 2019. Now it measures 36″ (L) x 25.7″ (W) x 39.5″ (H) when opened, and 17.3″ (L) x 25.7″ (W) x 33.3″ (H) when folded. The frame and one regular seat weigh 27 pounds (0.4 lb more than older version).
This isn't the lightest or most compact stroller on the market, and by the same token, it's not the heaviest or bulkiest.
Folding the VISTA is easy-peasy, and you'll only need one hand for that. What's more, is that the stroller has an automatic lock and self-stands for added convenience.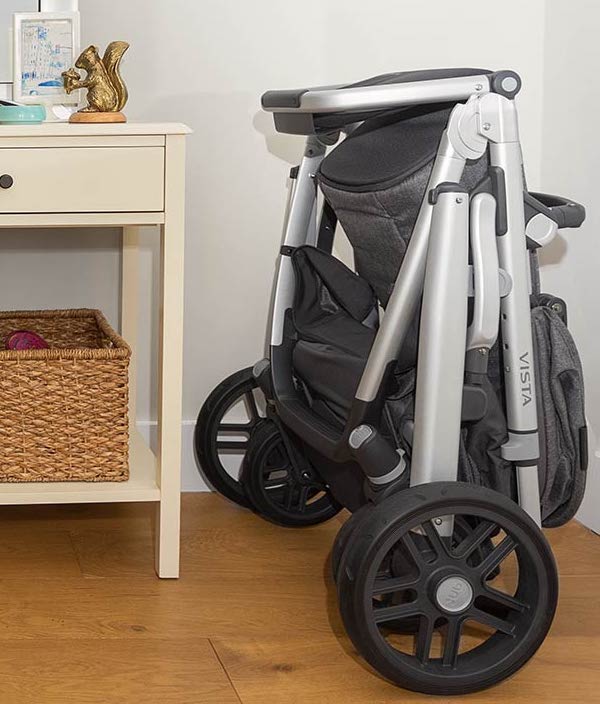 Pros & Cons
Pros
Cons

Pros

---

+ Comfortable roomy seat with deep recline (operated with one hand)

+ Easy to adjust no-rethread harness

+ Includes one of the best bassinets ever (breathable, approved for overnight sleep)

+ LARGE canopy with good ventilation

+ You can use it for one, two or even three kids!

+ Each attachment clicks onto the frame with ease

+ Good wheels that handle many types of terrain

+ One-hand steering, easy turning (at least in a single mode)

+ Probably the largest storage basket ever - holds up to 30 pounds!

+ Easy one-step folding, self-stand, automatic lock

+ It even folds with two seats attached!

+ Other convenience features like: telescoping handlebar, canopy that slides up and down, flip-flop friendly parking brake

Cons

---

- It weighs 27 pounds which may feel heavy for some parents

- Although fold is super easy, it does require using both hands

- Some of the seating configurations in a double mode are not that great

- It gets bulkier as a double stroller, turning and navigating in a tight space may be challenging (because the stroller gets quite long)
Colors
UPPAbaby VISTA 2020 will bring four new colors to the catalogue. It has also retained most of the colors of the VISTA 2019 but with a few changes. A few colors have been dropped too.
New colors of the VISTA V2:
Finn Deep Sea (silver frame + chestnut leather handlebar)
Sierra Dune Knit (silver frame + black leather handlebar)
Hazel Olive Green (silver frame + saddle leather handlebar)
Alice Dusty Pink (silver frame + saddle leather handlebar)
2019 colors continuing to 2020:
Bryce White Marl (silver frame + chestnut leather handlebar)
Emmett Green Melange (silver frame + saddle leather handlebar)
Gregory Blue Melange (silver frame + saddle leather handlebar)
Jordan Charcoal Melange (silver frame + black leather handlebar)
Jake Black (silver frame + black leather handlebar)
Colors that have been discontinued:
William Oxford Chambray
Henry Blue Marl
Spenser Tartan Plaid
You can see 2020 fashions in the picture below – new colors are in the top row, colors from 2019 continued in 2020 are in the bottom row.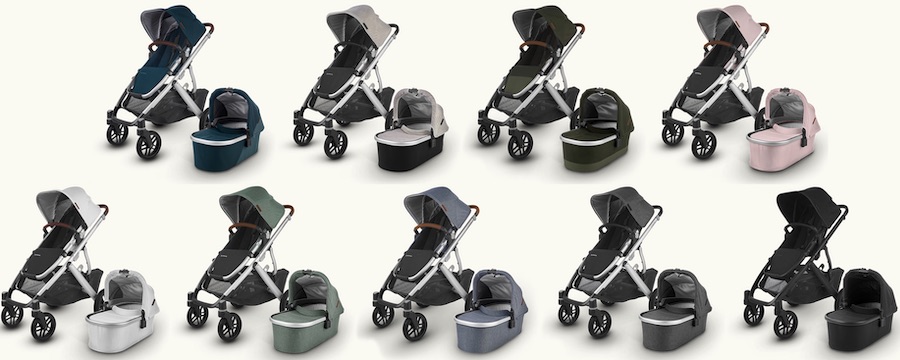 UPPAbaby VISTA V2 2020 – Accessories
There are many accessories that you can add to make your VISTA V2 even more convenient. UPPAbaby offers additional attachments that allow to expand the stroller, as well as many items for extra parents' and babies' comfort. In the table below you can see some of the accessories that can be found on Amazon – I picked the most useful items.
| Image | Info |
| --- | --- |
| | UPPAbaby Bassinet - If you'd like to use your VISTA V2 for two newborn babies you'll need second bassinet (one is included in the basic set). You can choose the bassinet in the same color as your stroller or pick any of the 9 available fashions. UPPAbaby bassinet is one of the best on the market: it ensures good airflow inside, thanks to vented base, perforated mattress pad and mesh panels on the canopy. It's also approved for overnight sleep so you may use it instead of a crib, if you have limited space in your apartment. |
| | UPPAbaby Bassinet Stand - As I mentioned above the bassinet is approved for overnight sleep, you just need a secured place where you could put it on. And here comes this stand. The bassinet clicks onto it, just like it clicks onto VISTA frame. |
| | UPPAbaby RumbleSeat V2 - This is the new version of sibling seat. It has the same features as the regular seat. However, the weight limit is lower and this seat is a bit smaller. Nevertheless, it allows you to expand your VISTA V2 from a single to a double stroller and use it for twins or kids of a similar age. |
| | UPPAbaby Infant SnugSeat - It's an additional insert that attaches to the regular seat (in most reclined position) and gives the baby extra support for their delicate head and body. According to the manufacturer you can use it even from birth! |
| | UPPAbaby PiggyBack Board - This is perfect solution for older sibling who sometimes gets tired and occasionally likes to use the stroller. The board attaches to the back of the stroller and provides convenient place for older child who needs a break from walking. Weight limit: 55 pounds. |
| | UPPAbaby Carry-All Parent Organizer - Although VISTA V2 provides parents with giant storage basket, it's always good to have a small organizer for small valuables within reach. You can stash your phone, wallet and keys there. |
| | UPPAbaby Snack Tray - It's a useful accessory as it provides place for child's sippy cup and snacks. It attaches to the same spot as the bumper bar with simple clicks. |
| | UPPAbaby Toddler Seat Rain Shield - If you live in area where it often rains, it's good to have the rain shield and always keep it in the storage basket - just in case. |
| | UPPAbaby Travel Bag - This bag makes transporting VISTA V2 much easier as it protects the stroller from scratches, stains and other damages. It's also a useful accessory if you want to store the stroller for the next child. |
UPPAbaby VISTA V2 Release Date
The UPPAbaby VISTA V2 was released in February 2020. You can now get it on Amazon – keep in mind that availability for different fashions often changes! If you'd like to see which colors are available right now and compare their prices – click here.
I also recommend you keep an eye on previous models of VISTA, as there might be some discounts for them since the newer model is out (here is VISTA 2019 on Amazon and here is the VISTA 2018 – it's the same as 2019 model, only the colors are different).
UPPAbaby VISTA V2 vs CRUZ V2
My review wouldn't be complete if I didn't take a closer look at the differences between VISTA V2 and CRUZ V2. To be honest, now these two strollers are very similar. Of course the biggest difference between them is the fact that VISTA V2 expands into a double stroller, while CRUZ is just a single stroller. However, the functions and the way these two strollers look are very, very similar.
In the table below I gathered the most significant differences.
UPPAbaby VISTA V2
UPPAbaby CRUZ V2
You can add second seat, bassinet or infant car seat
Only one seat/ bassinet/ infant car seat can be attached
Bassinet included
Bassinet available separately
Bigger wheels: 8" front wheels & 11.5" rear wheels
7" front wheels & 10" rear wheels
Weighs 27 pounds (frame + seat)
Weighs 25.5 pounds (frame + seat)
Wider frame:

25.7"

Narrower frame: 22.8" (easier to fit in small places)

A bit smaller footprint - 36"
Longer footprint - 37.5"

Fold: 17.3" x 25.7" x 33.3"

Smaller fold:

16.5" x 22.8" x 33"

Giant basket with weight limit of 30 lbs
Large basket (a bit smaller than VISTA's) with weight limit of 30 lbs
Very expensive (You can check exact price on Amazon)
Expensive, but not as much as VISTA V2 (You can compare its price here)
If you're hesitating whether to choose VISTA V2 or CRUZ V2, I can only tell you that now these two strollers are almost the same. CRUZ V2 is like a lighter, single-only version of VISTA V2. The upgrades made for CRUZ V2 (especially on the wheels and suspension) made this stroller so much better. Therefore if you need a stroller only for one child – CRUZ V2 is great choice. If you plan on having more babies soon – VISTA V2 seems to be a better option.
---
Source of pictures:
All pictures belong to UPPAbaby. Source: https://uppababy.com
Your trust is really important to me: This post contains affiliate links. If you choose to buy something using these links, I receive a small commission, at no extra cost to you. Your support helps me run this blog. Thank you so much 🖤Zooey